Your Personal Paradise (Royal Belize)
Royal Belize:
YOUR PERSONAL PARADISE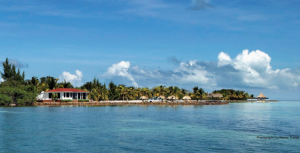 Located just nine miles off the mainland coast of Central America's Belize sits the seven-and-a-half acre private island known as Royal Belize. Royal Belize appears as a picture-perfect postcard surrounded by the sparkling, turquoise Caribbean Sea. Situated in the South Water Caye Marine Reserve, the island's surrounding waters are teaming with birds and sea life. The world's second-largest reef is only four miles away.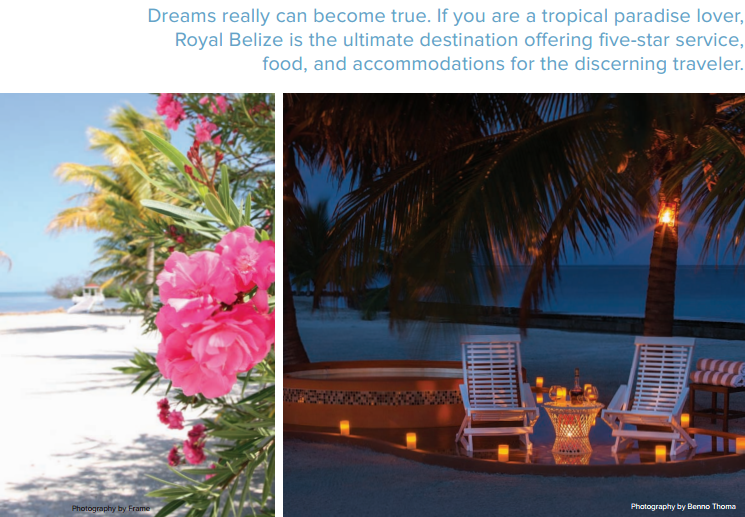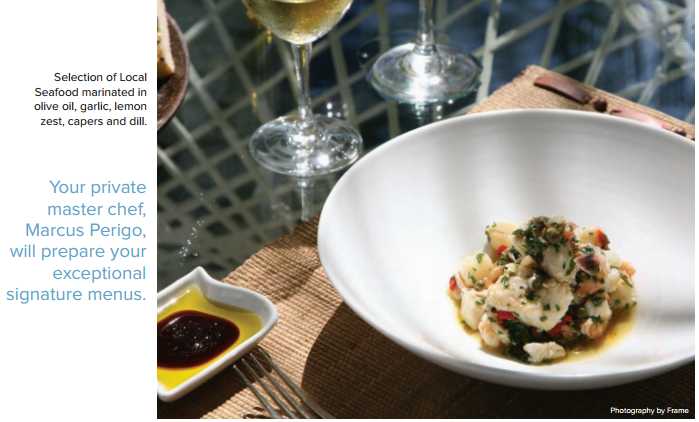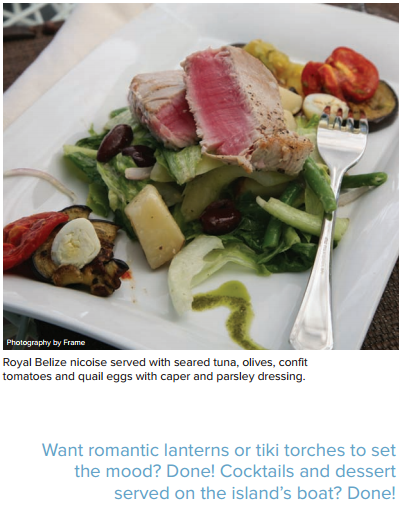 Royal Belize is truly a private island, purchased ten years ago by the current owners who started work immediately on what would become their personal paradise. Two years ago, they decide to share it with others who wanted the experience of vacationing on a private island.
In keeping with the island motto, "paradise personalized," each booking is custom tailored for guests. The service provided by the staff of Royal Belize is impeccable. While you are staying on the island, your concierge, Peter Luppi, will detail your needs, likes, and dislikes. Your private master chef, Marcus Perigo will prepare your exceptional signature menus. All meals will be customized for you and your guests and adjusted for any food allergies or restrictions. The presentation and menu prepared by Chef Perigo is world class.
Employees are only seen when needed and pride themselves on being invisible. The island is kept in perfect condition; footprints in the sand are raked away and loose palm fronds disappear as if by magic. Guests do not have a care in the world.
All accommodations are equipped with ipads to message your concierge– simply send a note and your needs will be taken care of promptly. You can choose from three uniquely beautiful places to stay while on the island. Villa Alba, the largest of the accommodations, sits right on the water's edge. Massive windows look out over the endless views; cool polished stone floors and décor from around the world as well as local pieces from Belize makes this villa memorable. Casa Catalina with its Caribbean pink exterior features, in addition to the indoor bedroom, an outdoor bed on a private deck so you can sleep under the stars. So imagine: a private tropical island, the warm sea breeze, a bed under the stars…now thatis romantic! Casa Valentina is a stunningly decorated casa separated from the other side of the island by a charming footbridge that crosses a small canal running through the island's center. This casa features a sundeck, dock, and waterside hammock.
When you're ready to dine just pick a spot on the island—the staff will set up tables and chairs wherever you like. Want romantic lanterns or tiki torches to set the mood? Done! Cocktails and dessert served on the island's boat? Done!
If you are not relaxing in your cozy surroundings or enjoying world-class dining and drinks, there are other exciting activities to do. Take a wave runner out for a spin, kayak in the crystal blue waters, snorkel around the edges of the island, or take the boat out for a short ride to the reef. Royal Belize is the ultimate honeymoon location and not just for the newly wedded. Did you get married 10, 20, or 30 years ago? Perhaps you were never able to take that luxury honeymoon and now you are a professional couple needing a romantic getaway. Or maybe you're celebrating a milestone anniversary. What could be better than a private island, being waited on by your own private staff?
The island is also perfect for intimate lux weddings. There are a variety of additional accommodations a short boat ride away for guests attending your destination wedding on Royal Belize. Peter Luppi will be happy to provide information and make all needed arrangements.