Choosing the right invitation can be a daunting task. What kind of paper? Are RSVP cards a thing of the past? How much should I budget for invitations? Do I really need to send Save the Dates? Look no further, we'll answer your questions and decipher all the invitation lingo, so you can focus on designing the perfect invitations.
Save the Dates
It is generally thought to be a good idea to send save the dates out about four to six months prior to your wedding. Unless you are having a short engagement or a very intimate ceremony, sending out save the date cards is smart because it allows your guests to ensure their availability and make travel arrangements, if necessary. There's no need to break the bank for these, a simple card with the name of the bride and groom, wedding date, and city of the event is plenty of information to include. For a little more personalization, include a photo of the happy couple. An engagement photo is perfect! This post card style save the date is available from Minted.com.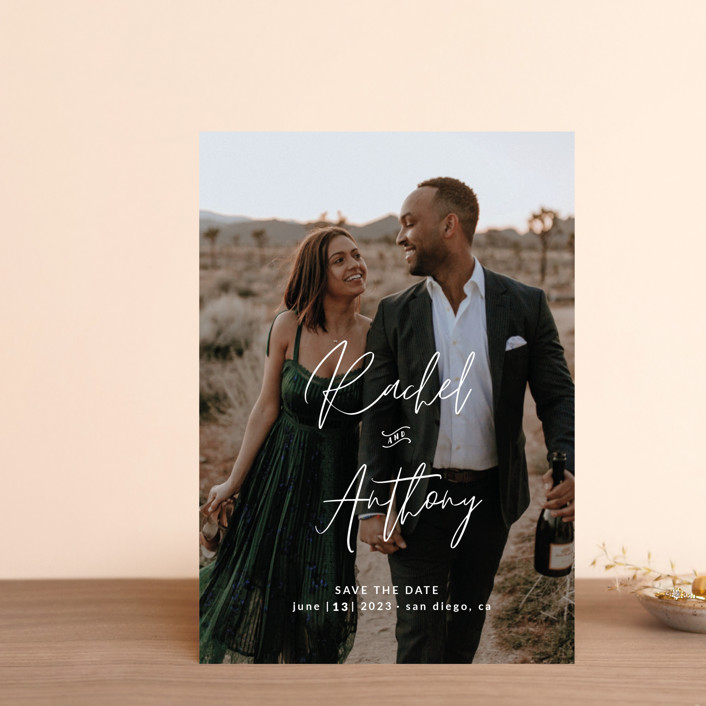 The Invitation Suite
First of all, what even is an invitation suite? It includes the invitation plus all other stationary included with the invitation. This usually includes the response card and envelope, a reception card, a weekend itinerary, and travel accommodations and directions (if necessary). All of these components are certainly not required, and with with rise of wedding websites, they're beginning to become a thing of the past. If you're going the traditional route, however, you'll definitely want to include the majority of these paper goods. This anatomy of a wedding invitation image from Invited by Lamaworks is the perfect visual to go along with all this information.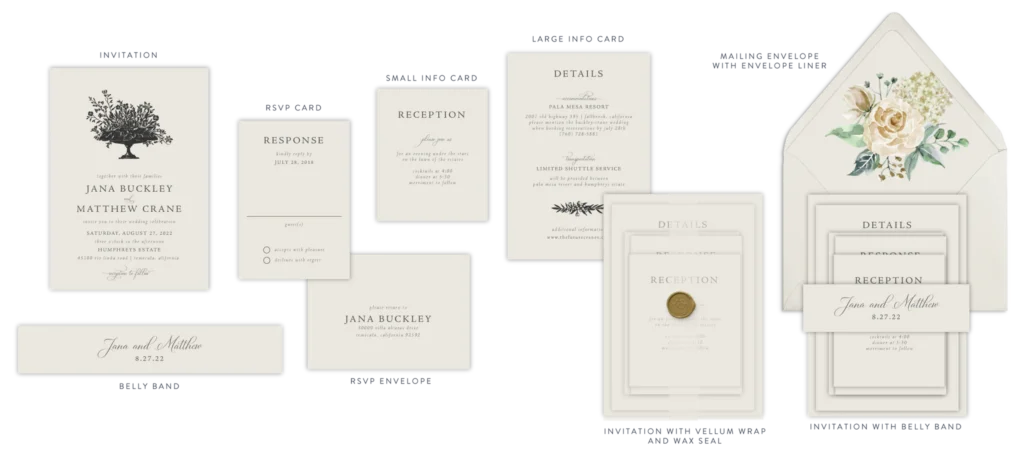 In addition to choosing which components are necessary for you to include, you also must choose what paper and printing style is best for you. There are so many choices, this is absolutely not a comprehensive list, but just a few of our favorites.
Paper Styles
Recycled paper invitations are both cost efficient and good for the environment. A win-win, right? That's why it is one of our favorite options. There are a variety of choices in the recycled paper category, so there's something for everybody.
For an elegant look, linen finish paper is a wonderful choice. It pairs well with a simple design, since the texture is very prominent. Depending on vendor, this option is around the same price point as recycled paper.
My personal favorite, a vellum invitation is modern and budget friendly. The vellum invite can stand on its own or serve as an overlay on top of a card stock photo. Traditionally, vellum is used as sleeve in which the invitation is enclosed. Using this material for the invitation itself is a modern twist on a traditional idea.
Lastly, a thicker card stock option, like a 35pt, or a board style is a unique choice to make your invitations pop. The thickness of the paper makes the overall weight heavier, so take that into account when budgeting for postage.
Let's Break It Down
Now that you know what's traditionally included in an invitation suite and you've chosen your printing style, it's time to decide exactly what components you need to include in your personalized suite.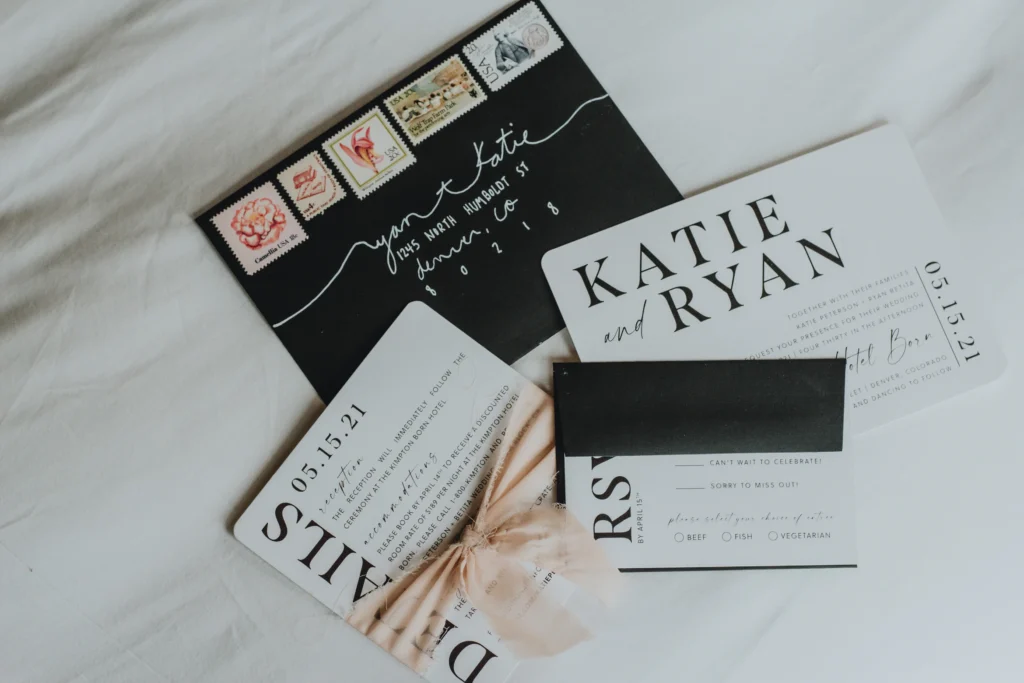 The Invitation Itself
Of course, this is the most important part! It is becoming more and more common to just send the invitation itself. If you're opting to do this, be sure to include a link to your wedding website where your guests can RSVP, access your registry, and see travel accommodations.
Whether you're going the traditional route with the entire invitation suite or the more simplistic route with only the invitation, don't forget to include basic information. Typically, the names of those hosting the wedding appear at the top of the invitation. Traditionally this is the bride's parents, but that is certainly not always the case. Beneath that, a common phrase is "…request the honor of your presence at the marriage of (bride and groom's name)." Another option is to say "Together with their parents, you are cordially invited to celebrate the marriage of (bride and groom's name)."
You must also include the date and time of the ceremony, the location, if there will be a reception following the ceremony, the location of the reception (if different), and the dress code . A QR code or URL to your wedding website is a great idea, even if you are including all the elements of the traditional invitation suite.
Response Card
The RSVP Card, or response card, and its pre-addressed return envelope can be included if you chose not to handle RSVPs electronically. Have a space for your guest to fill out their names and they number of people attending. Be sure to make it clear who exactly is invited by filling out the number of seats reserved for each party prior to sending out the invitations. Also include the RSVP date and a box for them to accept or decline. Consider adding a line for dietary restrictions or a space for guests to choose their dinner option.
Small Information Card
The small info card can be used to describe the details of the reception. These are usually a good idea if the reception is being held at a different location than the ceremony. If you're serving dinner be sure to include the wording "dinner reception" on the small information card along with a timeline of events, like when cocktail hour begins and when the meal is served, and directions to the second venue from the ceremony location.
Large Information Card
The large info card is where travel accommodations and a weekend itinerary can be presented to your guests. This is a good place to tell your guests if you have a block of hotel rooms available at a near by hotel. If you're hosting any other events that weekend, like a welcome dinner or day after brunch, include that information here. To avoid giving your guests an overload of information, point them to your wedding website for more information.
How Much Do I Need to Budget?
There are many details that dictate how much your stationary will cost. Including day of stationary, anywhere from 2% to 6% of your overall budget can be set aside for stationary. The more components you include in the invitation suite, the more expensive the invitations will be, which is why more and more couples are using their wedding website to provide information that was once included in the suite. Based on a recent study, save the dates cost on average $150 while invitations and RSVP cards cost $230 combined. This will also depend on how many invitations you're sending out. An average price is around $2 per invitation, but of course there are options below and above this price point.
It really all depends on you! I'm sure that might not be the answer you came here looking for, but it's the truth. If you would rather spend a greater portion of your budget on an amazing venue or beautiful flowers, then invitations can be done on a budget. If stationary is really important to you, then allocate a greater portion of your budget towards that. It really is your day, so do what is important to you! We hope this guide made those overwhelming decisions a little easier for you.
If you are planning a wedding in Roanoke Virginia, Richmond Virginia, Fredericksburg/Northern Virginia, The Shenandoah Valley, Coastal Virginia or in Charlottesville/ Lynchburg Va. we can help with your wedding planning and ideas.