On the social media platform TikTok, brides have begun talking about a private dinner option, and the idea has taken off. It's recently become very popular, perhaps even trendy. Modern brides are looking for every opportunity to savor the day and get those special moments alone with their new spouse, and this is just one of the great ideas that's been born. Let's break down the details so you can decide if this choice is right for you and your soon-to-be spouse.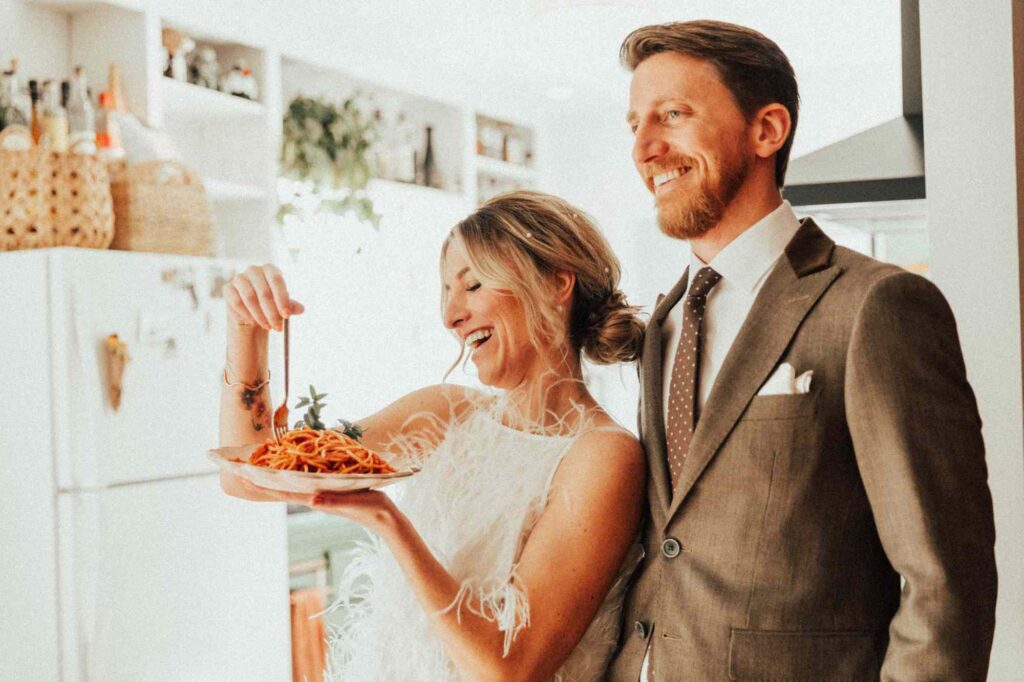 So What Exactly Do You Mean by "Private Dinner"
It's just what it sounds like, really. After your ceremony and post-ceremony photos, it is common for the bridal party followed by the newlyweds to enter the reception and then for dinner service to begin. This private dinner trend suggests to alter this traditional timeline and schedule 15-20 minutes for you and your spouse to eat dinner somewhere in private before entering the reception. No matter your timeline or situation, anyone can add fifteen more minutes to cocktail hour if it'll allow you to have some alone time with your spouse; it is all about you two, after all! Extending cocktail hour will be a breeze especially if you have appetizing hors d'oeuvres and some sort of activity or entertainment for your guests.
3 Reasons Why You Should Add This to Your Timeline
1. Enjoy your dinner
Many couples barely have time to eat at all during the reception. There are so many things to do: dances, toasts, and greeting guests, that it is difficult to actually enjoy the meal you picked out. One reason to have a private dinner is so that you can actually savor the meal. After a long, potentially stressful day, it will be so nice to have a peaceful meal and enjoy the catering you chose.
2. Alone time
One thing that is hard to come by on wedding day is alone time. It's all about you two, so take the time to savor the moment. You'll only have one wedding day, so this private meal will give you and your spouse the chance to have the "OMG we're actually married" moment together before partying the night away with your friends and family.
3. Gives your the opportunity to greet guests
Lastly, like I mentioned earlier, the newlyweds and bridal party usually begin dinner service by going through the buffet line or being served the plated meal first, followed by your guests. Having already eaten allows you to greet your guests as they're being called to go through the serving line. Instead of eating during the reception, you and your spouse are available to greet guests, take those coveted photos, and talk with family and friends while they're enjoying dinner.
Is A Private Dinner Right for My Wedding?
Ultimately, that decision is up to you. Amongst the stress of wedding planning and the perfecting all the details, don't forget what your wedding is really all about: you, your spouse, and the love you have for each other. If this alone time is really important to you before entering the reception, your bridal party and guests won't mind waiting twenty minutes more for the reception to start. It is sometimes suggested not to pencil this time in if you are having a very intimate reception, but just like I said, this day is ultimately about you, so do what is important to you!
If you are planning a wedding in Roanoke Virginia, Richmond Virginia, Fredericksburg/Northern Virginia, The Shenandoah Valley, Coastal Virginia or in Charlottesville/ Lynchburg Va. we can help with your wedding planning and ideas.