How do you make those magic wedding moments last forever? Your pictures! Every married person will give you the same sage words of advice: invest in a good photographer for your wedding. We have all heard the horror stories of people who had a friend or family member shoot their wedding as a favor, but unfortunately just owning a camera does not a photographer make. The truth is that wedding photography is just as much of a technical science as any other form of fine art, and you wouldn't trust your brother-in-law to paint your portrait, would you?
When it comes to your wedding day, it pays to pay for photography. This may be one of the most expensive line items on the wedding planner check list, but there are dozens of pro tips that go into posing, lighting, and aperture that you really should enlist the help of a photography nerd! Those crisp, perfectly curated photos with just the right light are no easy feat, in the moment and in post. Just check out these styled shoots, part 1 and part 2, for some inspiration!
So, what happens when you are the photographer and it's time to get married yourself? We found a local Virginia professional wedding photographer that got married and handed the camera over to someone else for a change. We asked Jessica Shea what it's like for a pro photographer to trust another artisan with her own wedding photos. Jessica's niche is capturing the unique details that couples choose for their knot-tying celebration, as showcased on her gorgeous website, JessicaSheaPhotography.com. The intentional elements that put the extra layer of their identity into each aspect of the event help her tell the story of the wedding couple as authentically as possible. Thus, when it was Jessica's turn to get married, she had to relinquish her medium of choice and become the muse of another artist. The outcome ended up being everything she imagined, so we asked her for a few pointers for those of us who aren't professionals.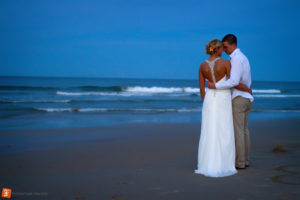 First, one way to prepare for hiring your photographer is to realize their expertise will contribute to decades of memories for the whole family tree. A photographer not only captures your event, but also creates keepsakes of family members that will be cherished for generations. While everyone is dressed up and together, it's the perfect opportunity to get family photos of formally posed groups but also everyone having fun and celebrating at the reception. Remember, the elderly members of the family will not be around forever; it could turn out to be the pictures of YOUR wedding that were the final images the family possesses. When investing in a photographer and videographer, consider the fact that they are providing both sides of your entire family with heirloom images.
Jessica experienced this first hand: "You can't put a price on the short video clip I have of my dad, who is no longer with us, taking a step back before I walked down the sand aisle and choking back tears as he said, 'is that not the most beautiful dress you have ever seen?'" Who wouldn't cherish that?!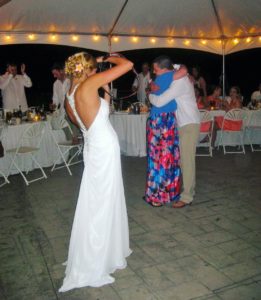 Second, give your photog as much information about the agenda as possible so they can thoroughly scout the event and have a detailed plan for capturing fantastic images of your wedding. Even if they don't use it all, it can give them a good outlook on your expectations, values and how to style your wedding shoot. A good photographer will be closely involved with your wedding planner or whoever you have running the show.
Third, hire someone whose work you admire who also has a similar communication style as yours. If you are a working photographer, find someone who you can trust completely and give yourself the freedom to flit about and enjoy yourself without being in work mode! Put luck on your side by working with a mentor or colleague who you have great communication with; that will help to avoid jeopardizing any friendships and keep things professional. She also encourages photographers to pose to get a feel for what it's like being the subject, like this adorable shot of her in Cancun! "I've been photographed several times since [my wedding], and in my opinion, I think every photographer should be on the other side of the lens at least a couple of times to see what it feels like," Jessica advises. "It can be downright awkward, and it's why I constantly give feedback and direction to my clients."
Whether you are a photographer in need of a chill pill when it comes to allowing someone else to take your wedding photos or a bride in search of hiring cues for the right photographer, just remember that if the love is right, the photos will shine. Keep the main thing – your marriage – in the spotlight of all your decisions and make sure each aspect of your celebratory day reflects the love you have for each other. The more authentic your wedding day, the more pleased you will be in the long run with everything from punch to pictures. Say cheese!