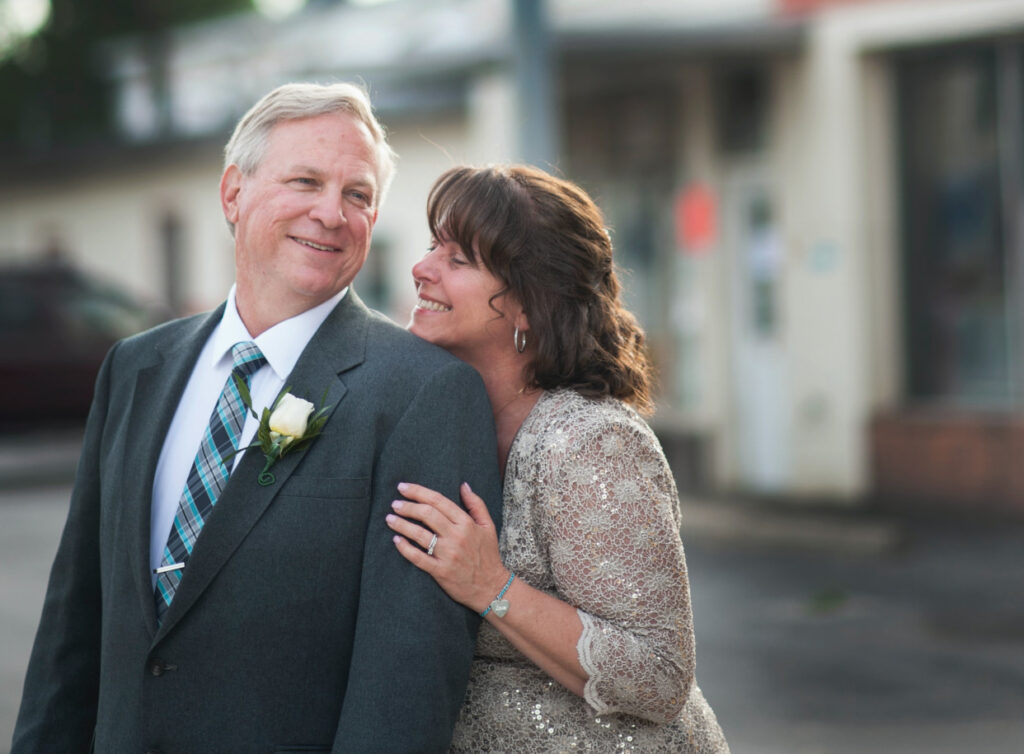 So often when you look for hints and tips for wedding plan ideas and information, you just see materials aimed at Millennials and Gen-Xers. But people under 40 aren't the only ones planning their weddings – and we wanted to offer some thoughts on this. So, here's a few tips to get things started in our mini-series of Baby Boomer wedding plans.
Basic Planning Tips – Leading Up to the Big Day
Your Wedding Gown
For some reason, some folks think that the wedding gown for a mature bride has to be simple or less "the" dress than for those who are in their 20s and 30s. There's no reason to believe this, unless, of course, that's what you want. But if you want a bold, elaborate, or intricate wedding gown, you should have that. "The" dress is just that for everyone – the dress.
Your wedding gown in your 75th year is just as important as it is in your 25th. Go as bold, or as simple, as you want.
Your Wedding Registry
Though I'm a Millennial myself, I got married at 35. That means I already a lot of the things that typically go on wedding registries. So, instead of bulking out the registry with tons of items like blenders and flatware (though, I confess, my old blender had broken, so we needed a new one!), the registry was more about the things that would make life more convenient as a two-person household instead of just filling the cabinet with dishes.
One of the best trends I've seen for the registry, too, for folks who've already got their kitchen stocked is the experiential list. This applies to folks who've been married before as well as those who are walking down the aisle for the first time.
Many of the wedding registries out there allow you to not just pop over to Amazon for a quick request for the latest and greatest tea sorter, but they provide ways to add for funds for experiences.
When choosing these experiences, think:
Art classes – virtual or in-person
Order-in packages for romantic nights at home – wine subscriptions, virtual vacation packages with tastings, etc.
Romantic getaways – now or future
Honeymoon funds
Dance lessons or dance events
Meal kit subscriptions
Theater and film tickets
Streaming subscriptions for easy date nights and dance parties at home
Classes you can take together on Udemy, Eventbrite, etc.
Concert tickets
Picnic supplies
Beach supplies
Supplies for your favorite couple activities (sports equipment or lessons, kayaks, etc.)
Basic Planning Tips – The Big Day
Most of us have these preconceived notions of what a wedding should include. If you're feeling old-fashioned and want all those things – traditional ceremony, standard vows, etc. – that's great. Go with that! You should have the wedding of your dreams.
But if you're feeling more free-spirited as an adult who's come into their own by now, embrace that and led that heart lead the way for your special day.
Ditch the Expectations
Most of us have grown up with specific expectations of what we should have in our wedding. The traditional first dance, the multi-tiered cake, the fancy heels, and all that. These things are beautiful and wonderful – but only if they're what we want.
As you plan your special day, think not of what you expect or what your family might expect, but think about your dreams and wants. If you're planning your wedding vow renewal, a second wedding, or the first wedding of your lifetime, expectations shouldn't be a part of your planning – unless they're your own.
If you want to wear a white dress and you've been married before, go for it. If you want to wear an emerald green medieval gown, go for that! Your wedding day is your day. If you want a dance party featuring all the latest KPop songs, do that! Expectations from society shouldn't dictate your plans.
Choose a Venue You Love and Feel Connection With
If my husband and I ever decide to renew our vows where I grew up (Florida), I already know the venue I'd choose: the Quincy Music Theatre in Quincy, Florida. This beautiful old theater is where I grew up doing performances and watching shows my friends and family members were in. This theater had a huge impact on the formation of my very being.
You may not have a QMT, but there's likely someplace (a garden where you work, a zoo that you volunteer at, a restaurant where you met your partner, etc.) that means more to you than another venue. If possible, book this for your big day, even if it's not a typical venue for a wedding.