Your hair and makeup the day of your wedding can be the most frustrating or the most glamorous part of the whole bridal ensemble. It might be tempting to think that since you do your own hair and makeup each day for work you can skate by with some extra eye shadow and informal hair. Maybe you're a chapstick-and-ponytail girl and you don't wear makeup at all! Regardless of your daily use habits with cosmetics, hiring a professional makeup artist can mean the difference between achieving the look you imagine for yourself or being dolefully disappointed on the big day.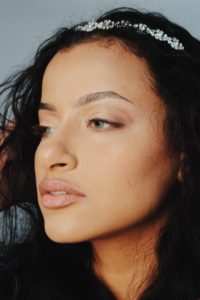 Makeup artists are professionals, so they know how to apply, blend, and sometimes create products to get the right tones and shadows on your face. They approach your bridal look with the same dedication of a painter who has an entire "toolbox" of artistic conventions that can be used to make a painting come to life. Most bridal looks are classic and natural, but there is still a science and an art to the application. Someone who has been trained in these skills can bring details to your look that you may have never imagined!
A makeup artist is not simply someone with more brushes and products in her case than you do; he or she is someone who has studied the field of cosmetics, knows the tools and tricks of the trade, and has a complete nerd meltdown over new techniques. Hair and makeup for your big day is truly just as important as the all-hallowed gown! Your hair and makeup should complement the style of your gown and the tone of the entire ceremony (something like one of these suggestions), adding richness to the theme you envision. When the doors open and reveal you, the bride, to your waiting fiancé and all in attendance, you should glow with the smile of someone who is ready to celebrate their love and feels comfortable and at their very best.
Each woman has her own beautiful features that really pop when highlighted, and every bride should be made up to look like the most glowing version of herself. Some women don't wear makeup at all, some wear conservative makeup every day, and some women use it as a means of self-expression and artistic style. These looks might give you some inspiration! Cosmetics can be just as much an artistic medium as paint and ink, and each bride not only has her own look but each artist renders it uniquely.
So how do you choose a makeup artist for your wedding? Just like any other vendor, interviewing a few different professionals will help you get a range of options, and look for artists who capture the essence of their subject without altering their appearance too much. Kenya Battle, owner of Kenya Alia Makeup Artistry in Virginia Beach, suggests searching for an artist who is really good at applying base makeup to the skin. If the foundation is flawless and natural-looking, there is more visual focus on the eyes and smile. "You only get to do this once," she says, "this is their wedding, not just any formal occasion. They want that 'me but better' wow factor."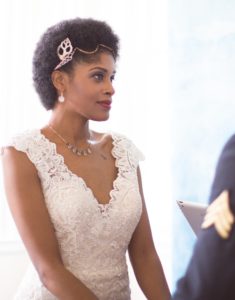 Makeup artists love to see their client's reaction when they unveil the final look, hearing their glee or taking their critiques. They also keep up with professional aspects of their craft, like using products that last a long time and considering undertones in color. Schedule a trial run day for your makeup so you know whether you and your artist are on the same page with the finished product; you can reduce the day-of anxiety by eliminating surprises when it comes to makeup.
Erica Courdae, owner of Silver Immersion On-Location Hair + Makeup, has been in the wedding business for 13 years and services Virginia,the D.C. area, and Maryland. She suggests choosing a makeup artist based not only on portfolio, but on personality; a bride and her attendants will be spending hours with the hair and makeup team, which will be the first vendor they come in contact when it's wedding day. The makeup artist can set the tone for the whole wedding day experience. "Each look is a different iteration of a woman's inner beauty," Erica says. "My team and I place more of an emphasis on what women love about their features rather than what they want to cover up."
Some brides have a hard time deciding on their look, possibly from Pinterest overload or opinionated friends and family. Erica has found through working with many brides (sometimes coaching them on all kinds of wedding minutiae!!) that the more confident they are, the more likely they are to love the outcome. Whether you have a good idea of your preferences or you're not into makeup and just want to look classy and polished, find a makeup artist that you connect with and can trust to say, "make me look like a bride!"
From the palette of colors, composition of lines, to the layers of light and shadow, everything about makeup is interwoven with the world of art, and your bridal makeup will be a masterpiece, too.