Today's inspiration comes from our Publisher's daughter's wedding held on November 11, 2017 at Rixey Manor near Culpeper in Rixeyville overlooking the foothills of the Blue Ridge Mountains.
Of course when you are the daughter of  Virginia Bride Magazine's owner and publisher expect that the wedding is going to be a DREAM wedding!
This is part one of a part 4 series, first we will take you behind the scenes of the wedding morning as the bride, family, and bridal party prepare for the big day.
Check back next Thursday as we take you through behind the scenes with the groom, family, and bridal party.
All photography by Tim Souza Photography
The below photographs show us how a great photography team can capture and stage those special moments that happen during the rush of the wedding day as everyone gets ready, a story really, of your wedding timeline. These are memories that you will want to capture in order to remember your day, as it goes by so fast!
Vendor Sources include:
Venue for rehearsal dinner, ceremony, reception, weekend accommodations for bridal party and family members, brunch, hot chocolate bar, bar tending staff
Engagement, bridal portrait and all wedding photos
Rehearsal dinner and all wedding day events videoed
Music, Music, Music and More Music
Ceremony music, reception music, professional up lighting, signature gobo, master of ceremony, after party music
Custom save the dates, invitations, and menu cards
All flowers for ceremony, reception, bridal party, family members
Appetizers, main courses, and drinks
Wine and champagne
Linens, chargers, glass ware, napkins
Lanterns for guest tables, display easels
Rustic farm tables for head table, antique buffet for desserts, table signs
Monogrammed cookie favors, cupcakes, and wedding cake
Rehearsal Dinner Music
Hair styling for bridal party, mother of the bride and groom, grandmothers
Make-up for bridal party
Essense of Australia designer wedding dress for ceremony and reception
Sophia Tolli designer wedding dress for bridal portrait and pre-wedding social media, David Tutera earrings and bracelets
Mother of the bride dress, bride's maids dresses
Bachelorette wine tour, post wedding transportation by limousine to The Salamander Resort
Short Honeymoon- ( following wedding weekend) The Salamander Resort and Spa– Middleburg, Virginia
Long Honeymoon- ( Summer of 2018) The Marriott, Aruba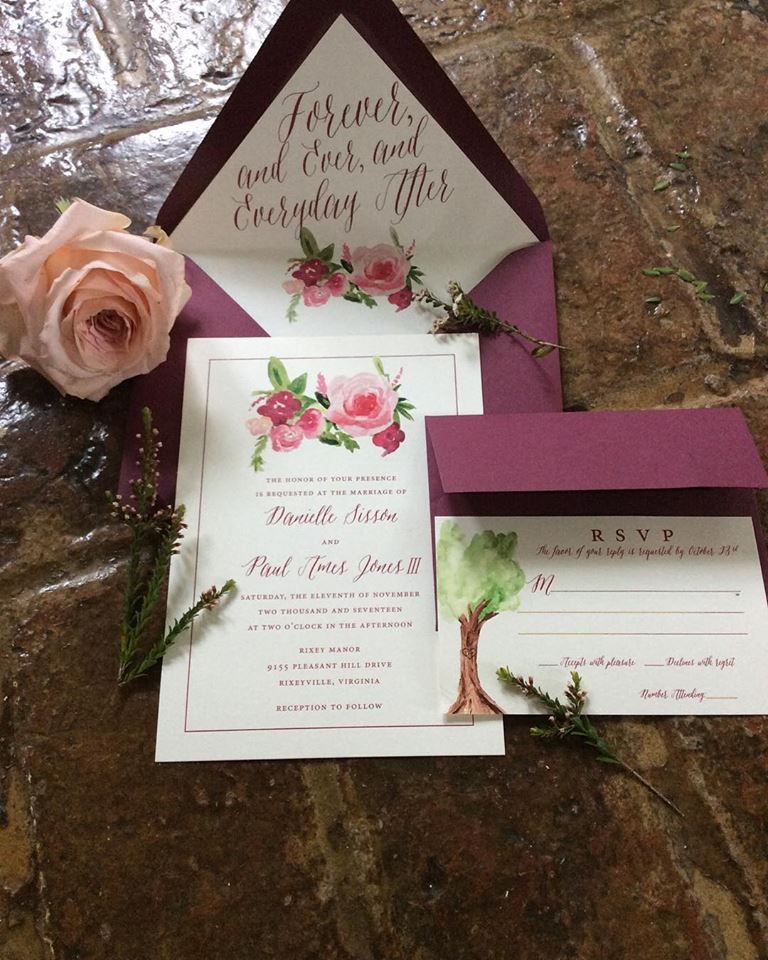 Save the dates, invitations, and menu cards by A Paper Wedding– Lynchburg.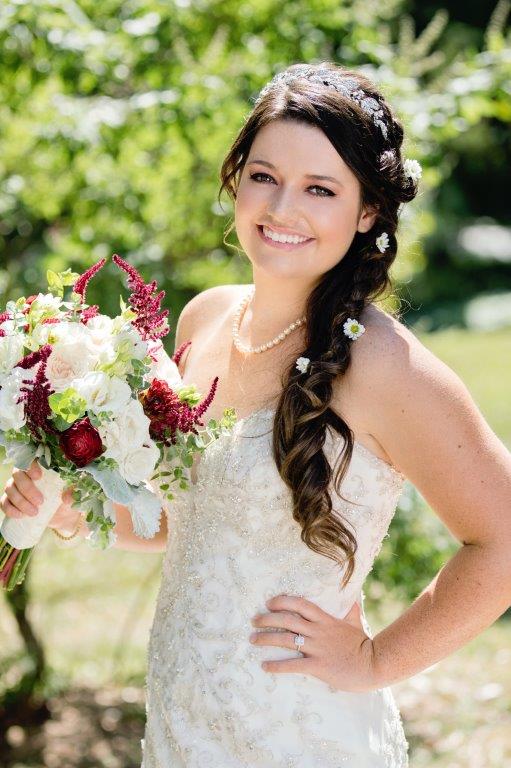 Bridal portrait dress number 1- Designer gown by Sophia Tolli – That's My Dress Bridal, Fredericksburg.
To be featured on the summer cover of Virginia Bride Magazine.
Portraits taken at the family home Historic Leafwood– Saluda.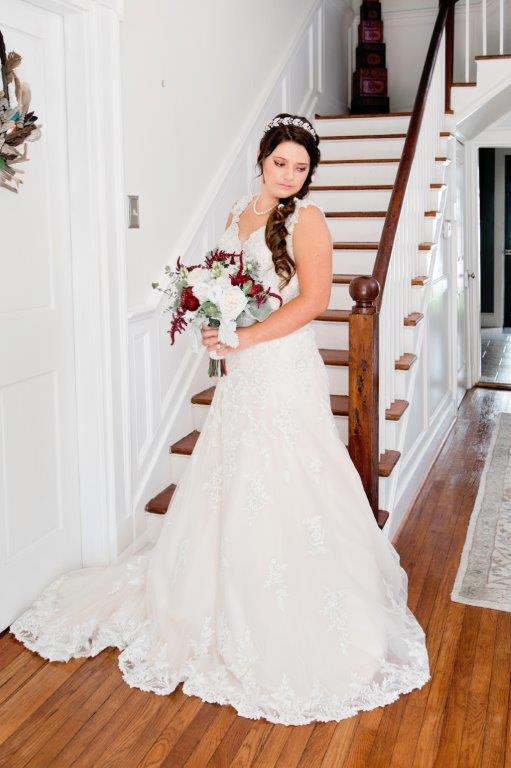 Bridal portrait with dress number 2- designer gown by Essense of Australia-  Becky's Bridal, Buena Vista.
This portrait was converted to a canvas, a service also provided by Tim Souza Photography, framed, and was displayed at the reception.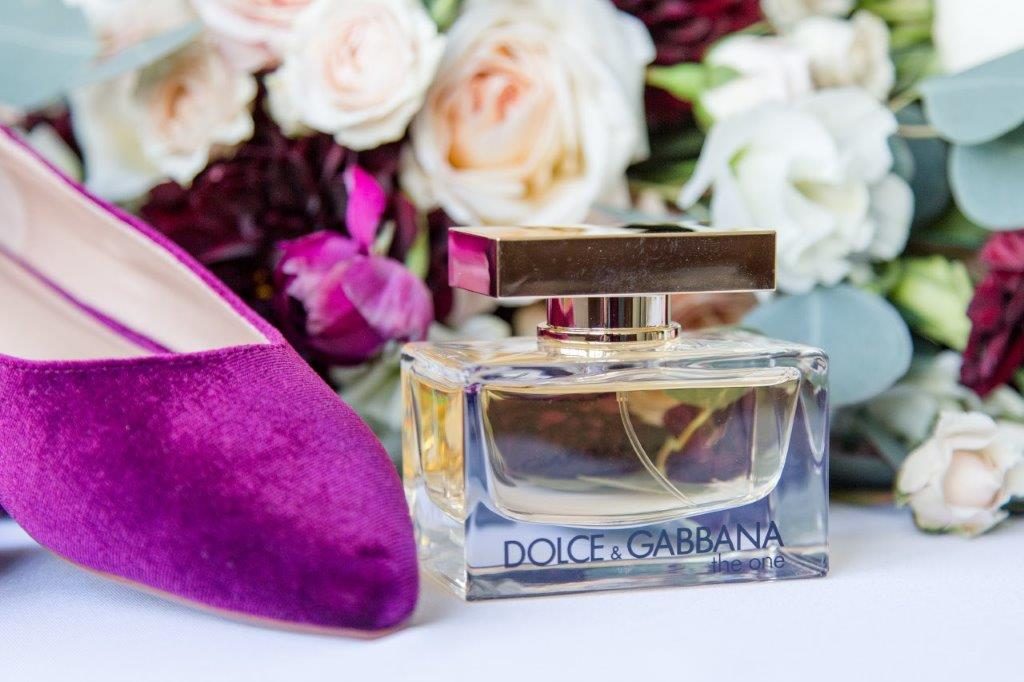 All wedding flowers are by Vogue Flowers
Vogue Flowers is located in Richmond.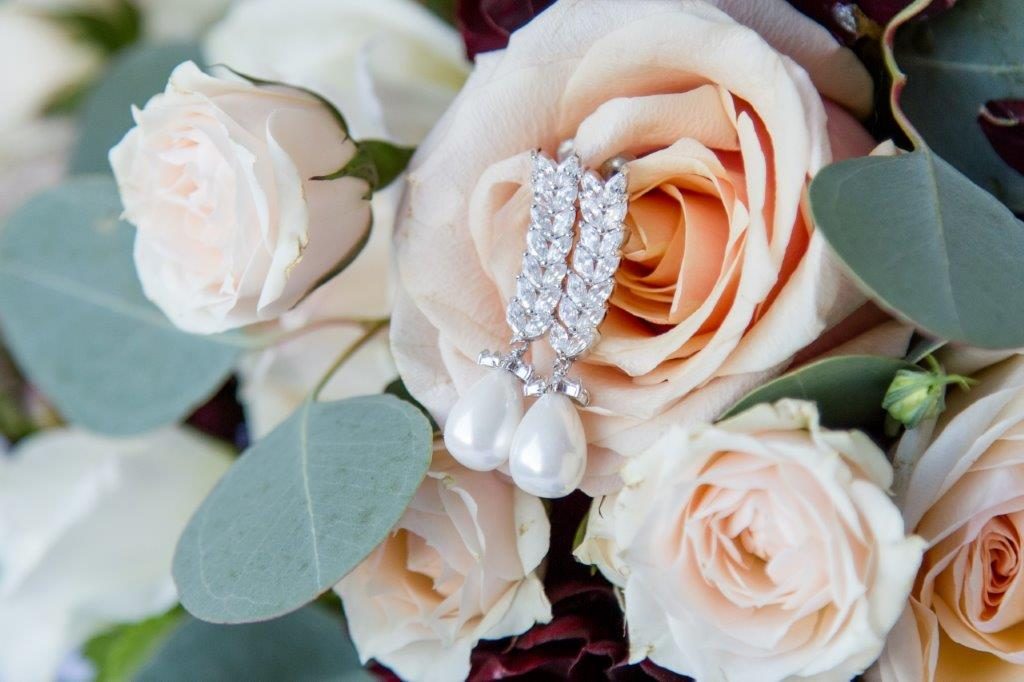 Earrings by David Tutura available at That's My Dress Bridal
That's My Dress Bridal is located in Fredericksburg.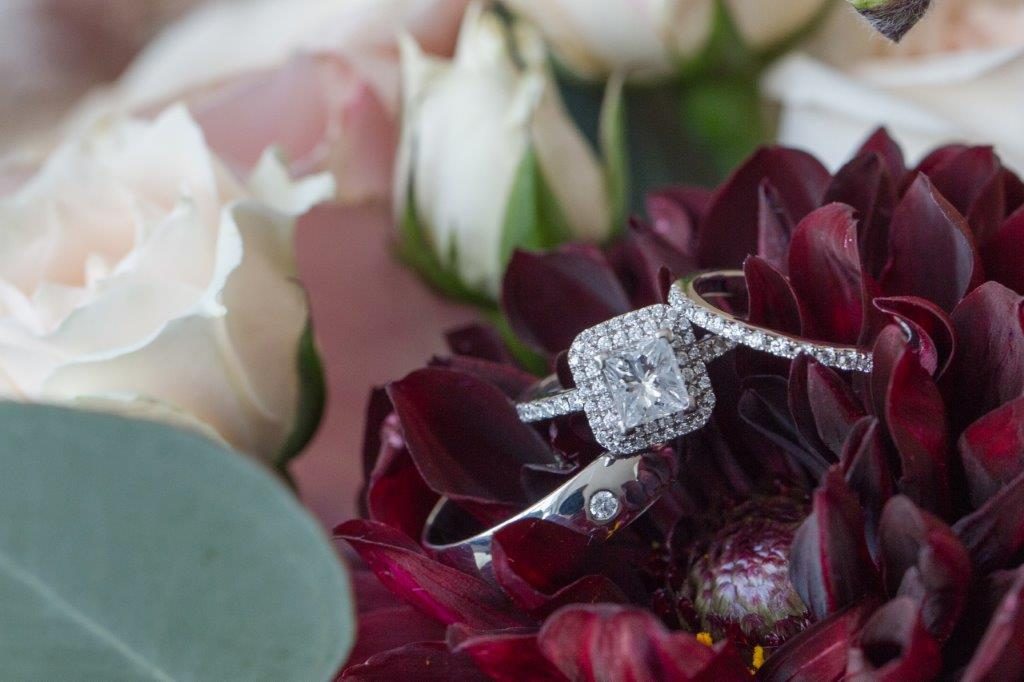 Wedding Rings and diamond engagement ring – are from the designer collection of Valina available at  Sycamore Jewelers 
Sycamore Jewelers is located in Chesterfield.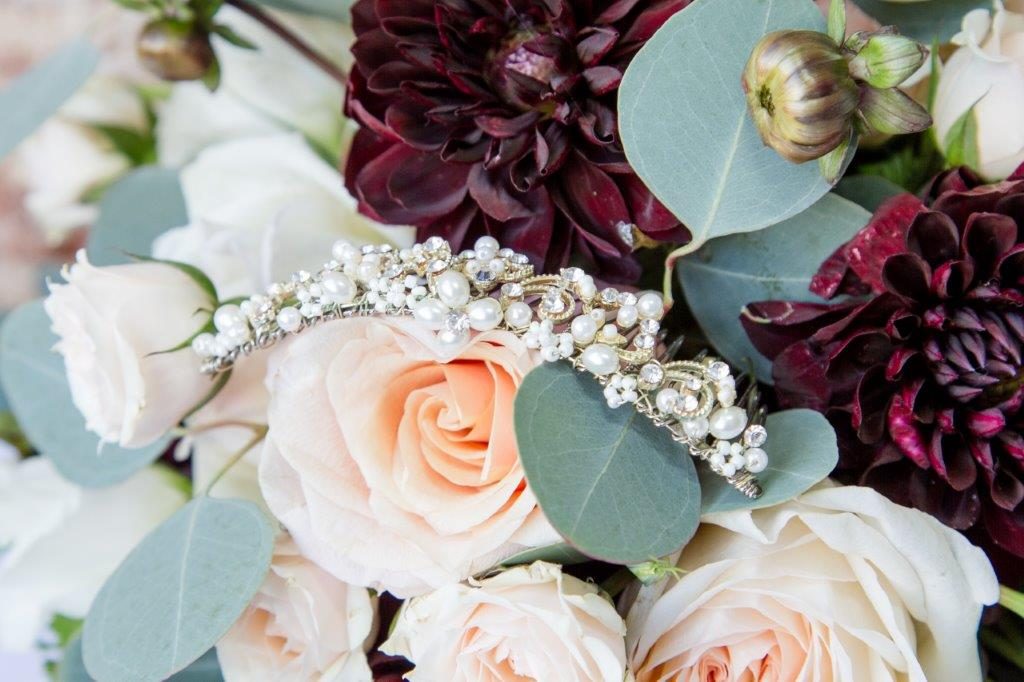 Pearl and diamond hair comb was the bride's something borrowed from her mother, Angeline that was worn by her mother when she wed.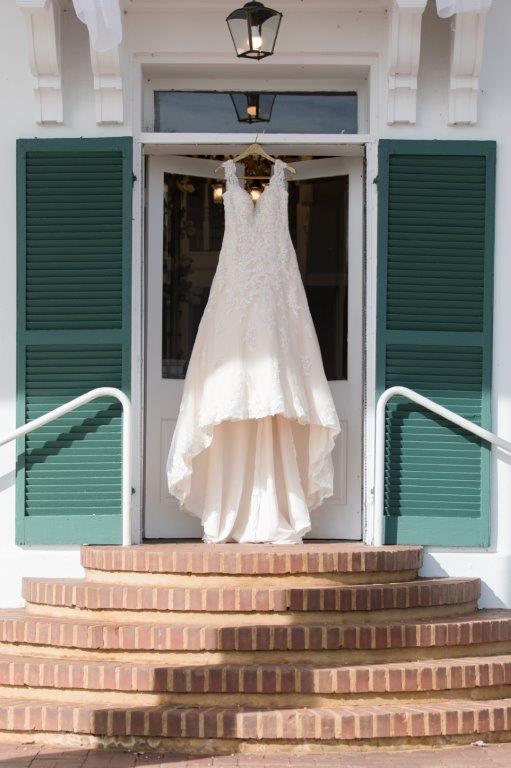 The designer dress- Essense of Australia in blush- purchased at Becky's Bridal 
Becky's Bridal is located in Buena Vista.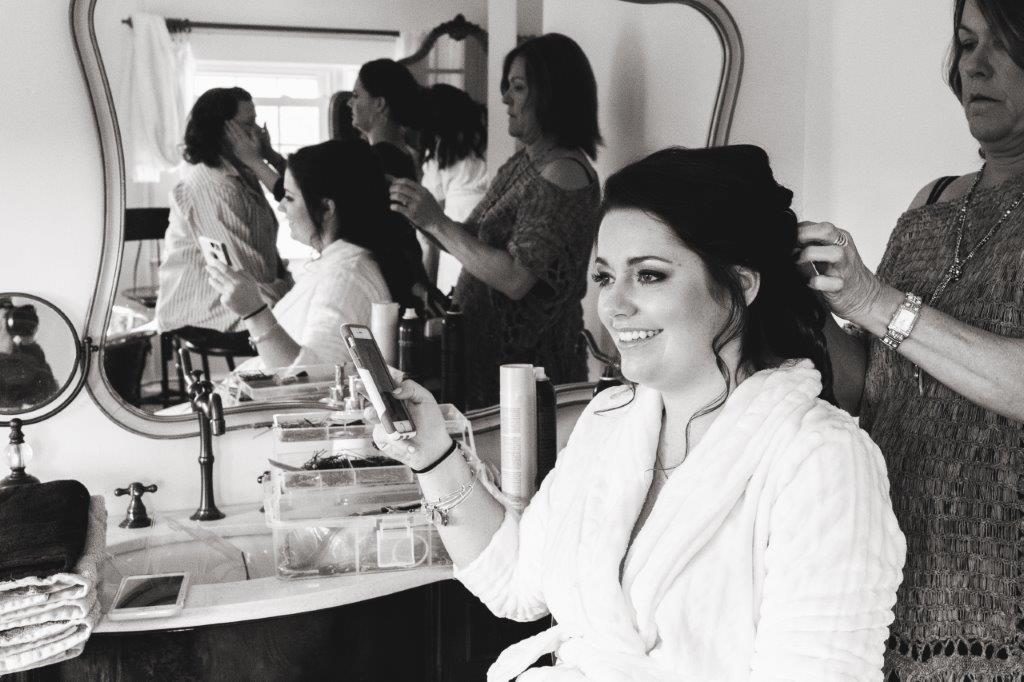 And here is the bride, Danielle, getting her hair styled by Leslie Mitchell Salon.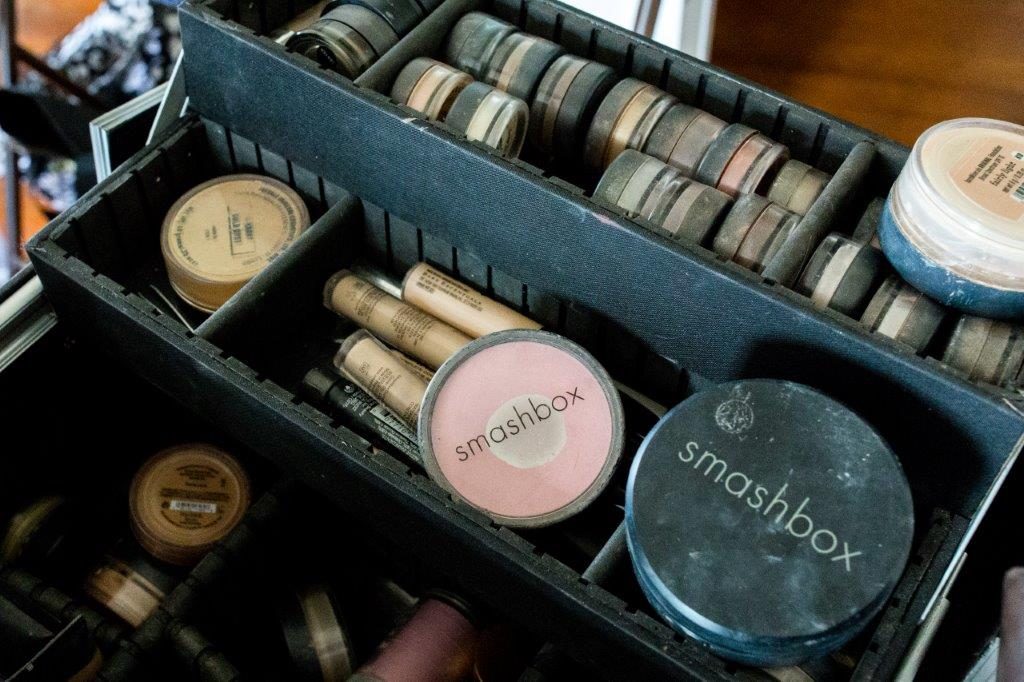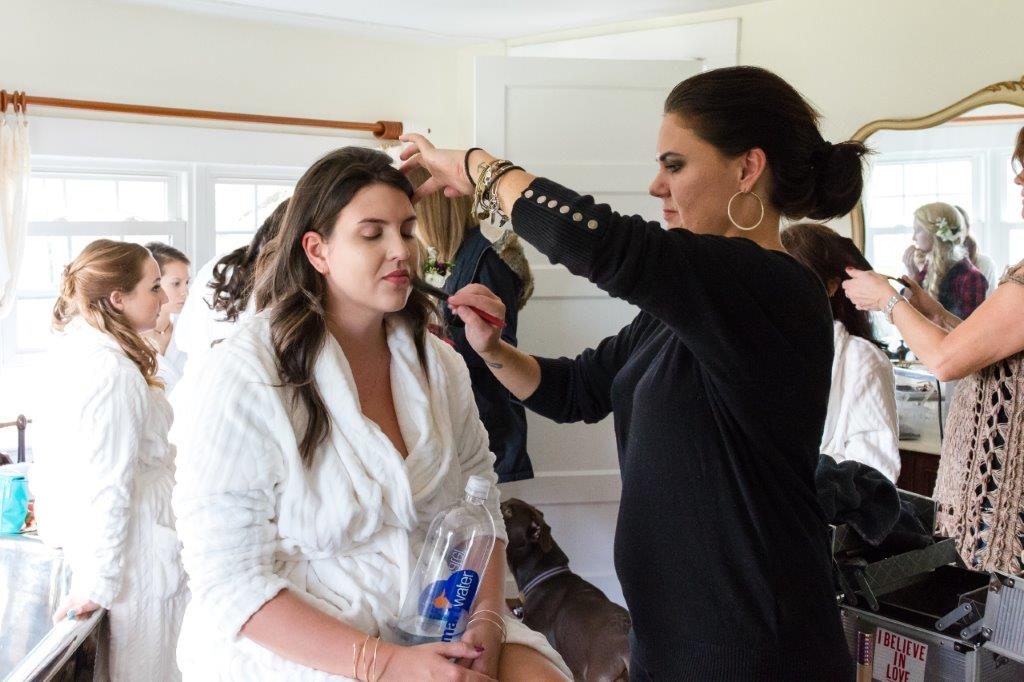 Make-up artist Jolina Does Makeup working her magic, not that these girls needed it, as they were all so beautiful!
Both Leslie Mitchell Salon and Jolina Does MakeUp are located in Roanoke, they travel for weddings.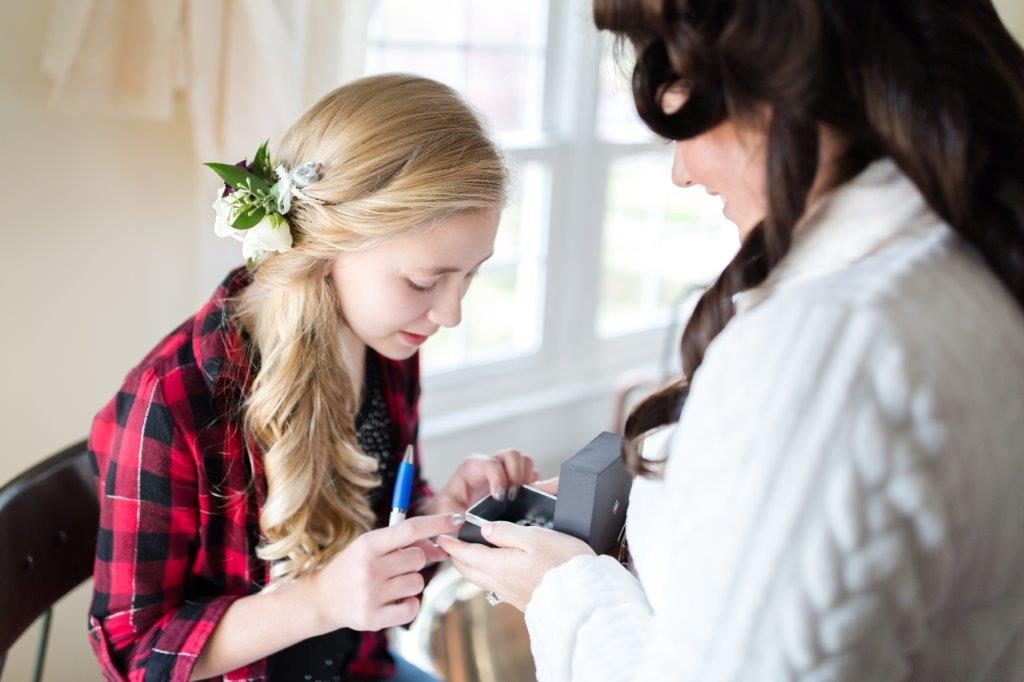 The flower girl receiving her gift from the bride.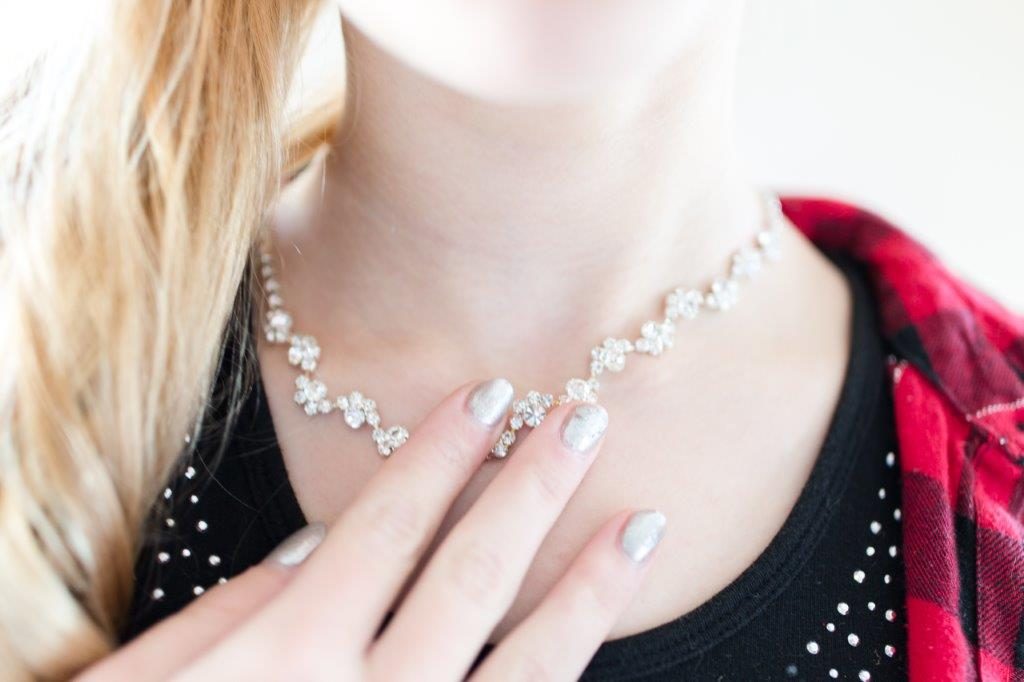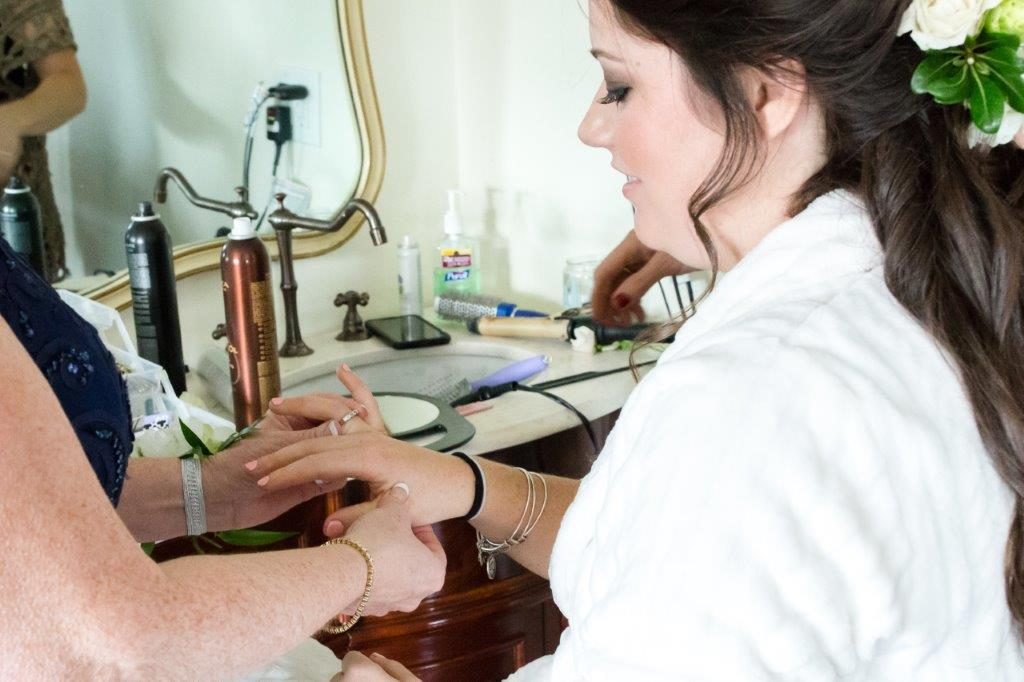 The Bride's something old, being put on her finger by her mother, is an heirloom diamond wedding band. The ring is very special as it was  Danielle's  grandmother's wedding ring, who passed it down to the bride's mother when she married Danielle's father. Danielle's grandparents, and her parents shared the same wedding date. Now the ring has been passed on to Danielle to continue the tradition. This was a poignant and emotional moment as both Danielle's grandfather and father are deceased.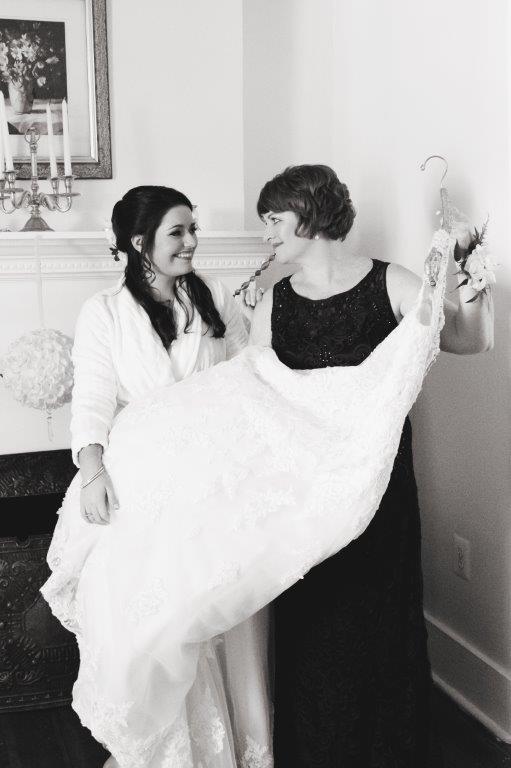 Danielle and mom as she prepares to slip on her dress!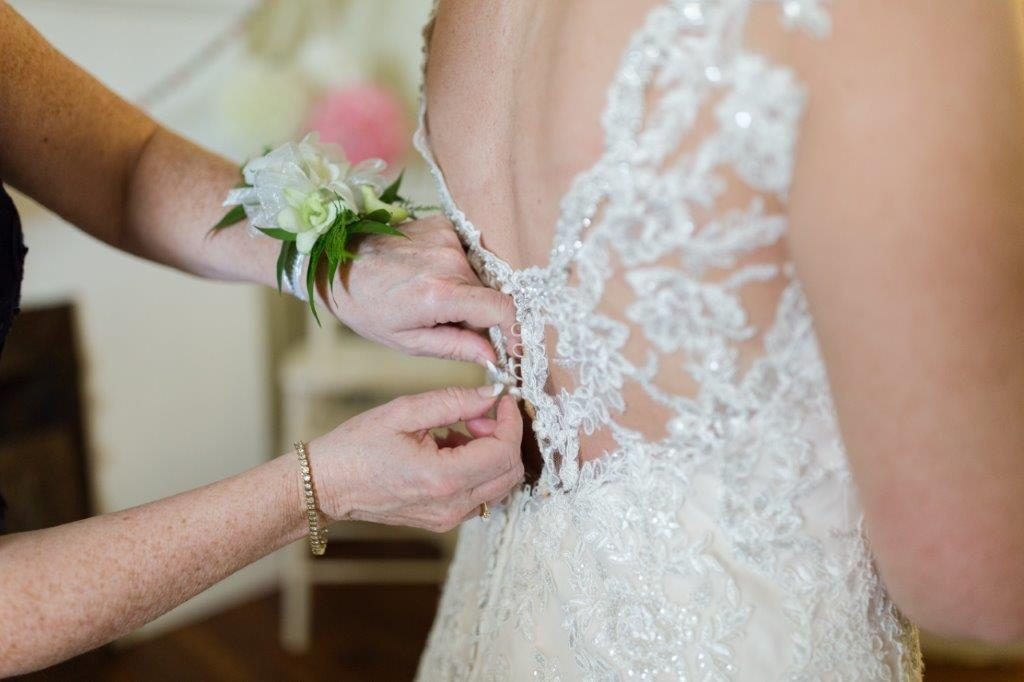 Mom fastening the dress.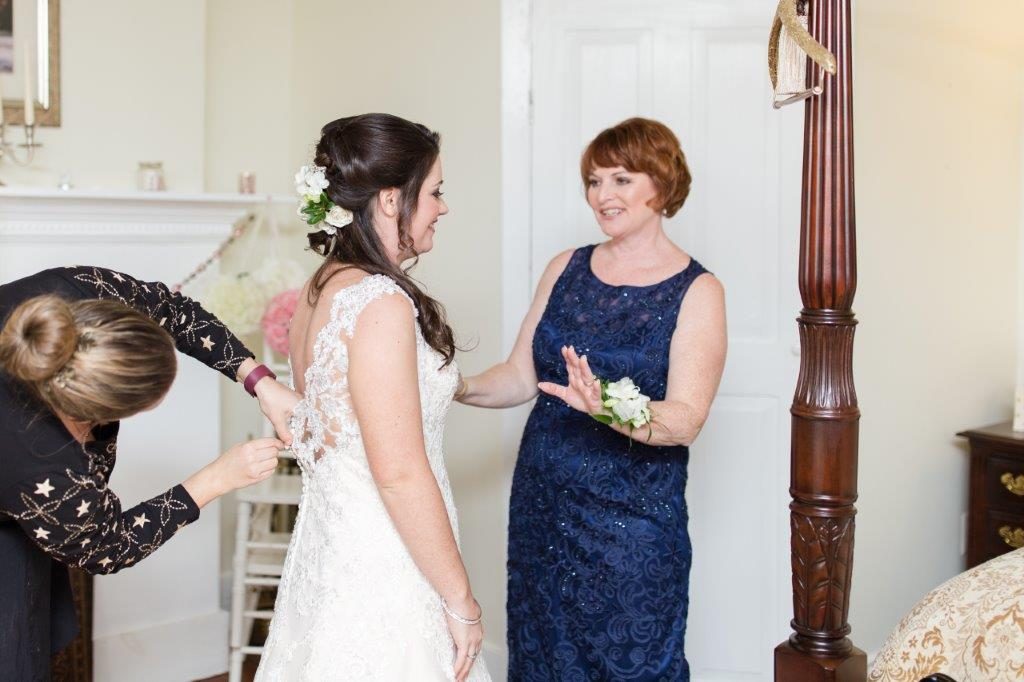 Our Publisher's dress is a designer gown by Cameron Blake purchased at Six Pence Bridal in Richmond.
Here Danielle gets a finishing touch to her dress by Rixey Manor's owner- Isadora Martin- Dye.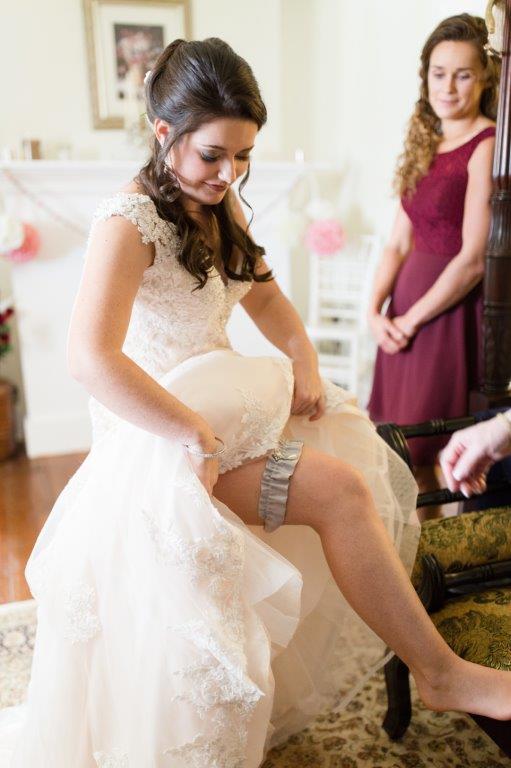 Showing off the garter, the something new.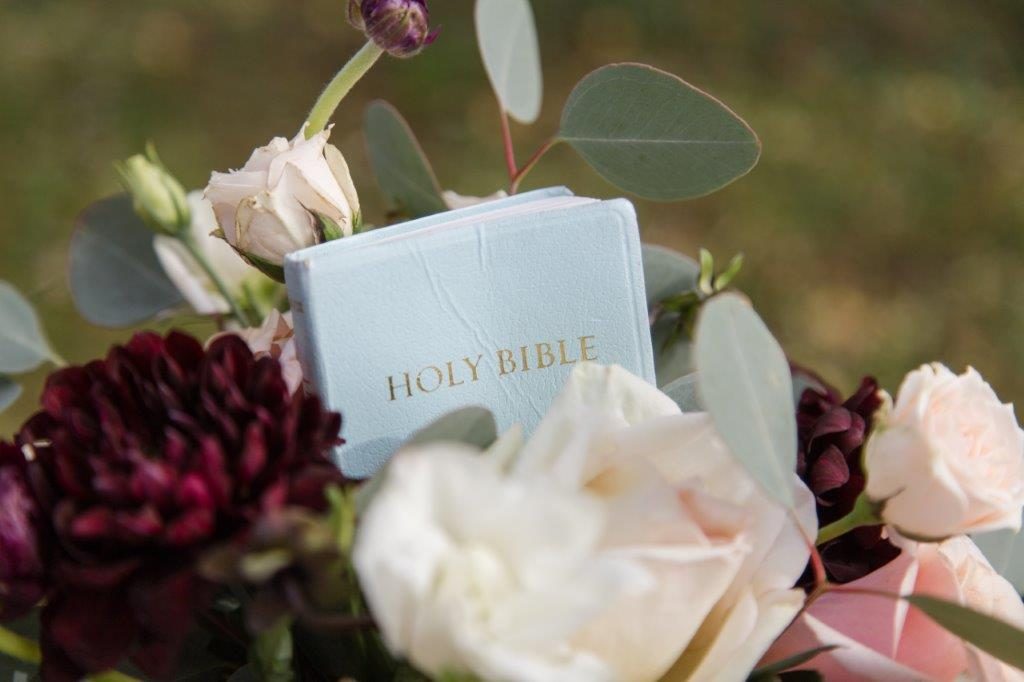 And the something blue is Danielle's christening bible which also has her father's wedding ring attached with a ribbon tucked into her bridal bouquet.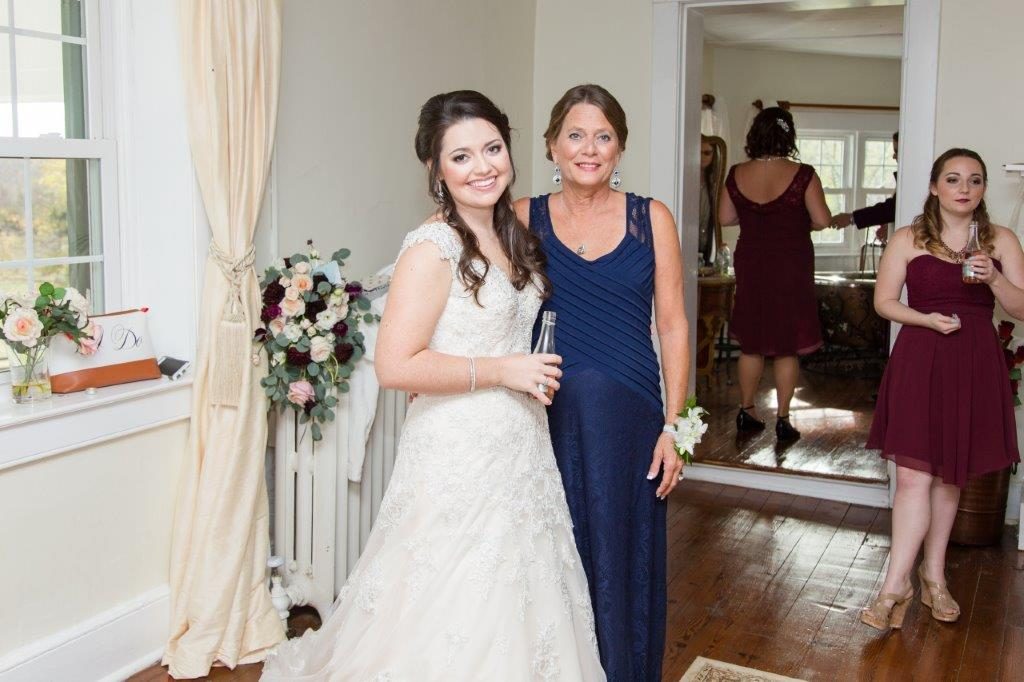 A special moment with soon to be mother in law, Iris.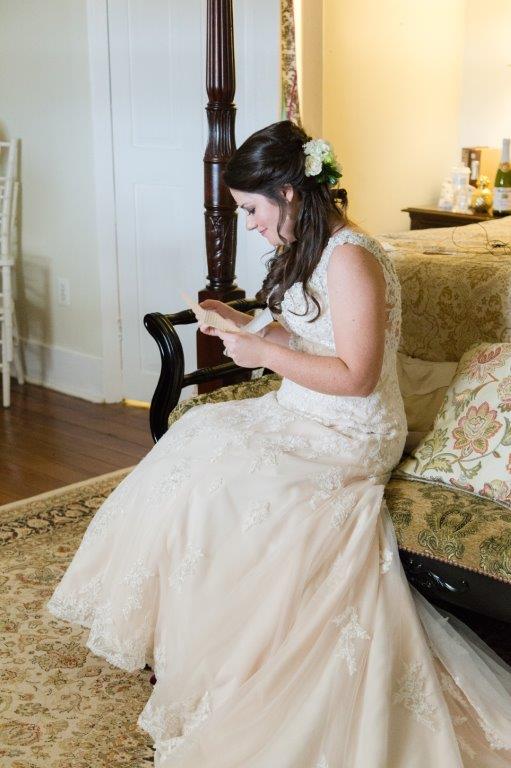 Danielle reads a romantic letter by her soon to be husband Paul ( PJ).
Danielle takes a quiet moment to reflect before going down stairs.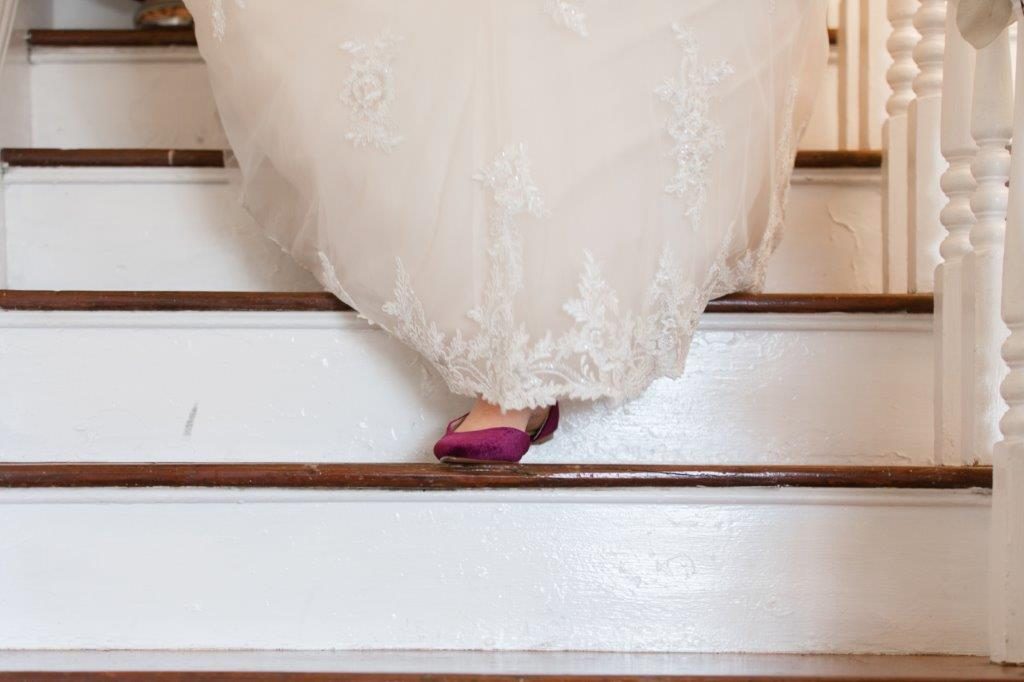 and she steps outside for first looks with her step-father, Grady.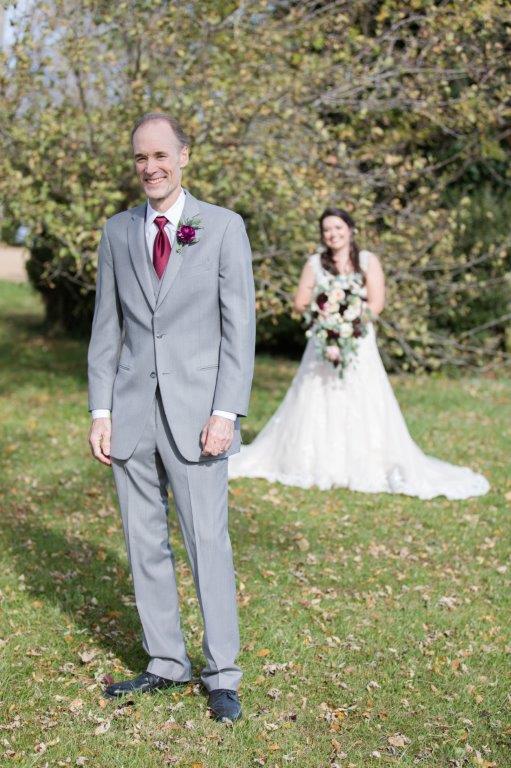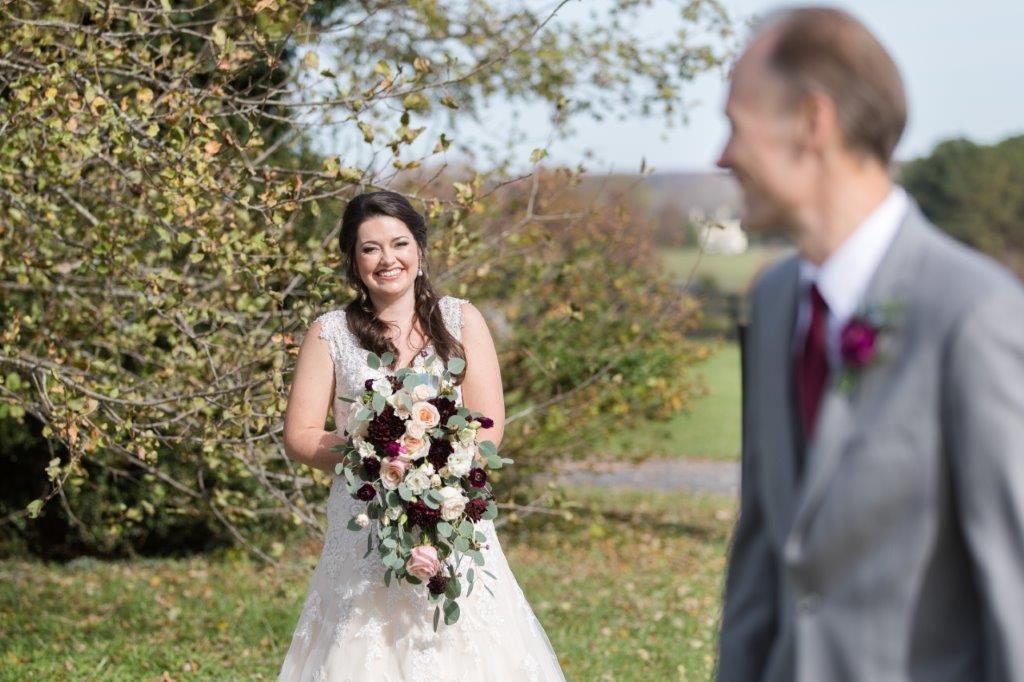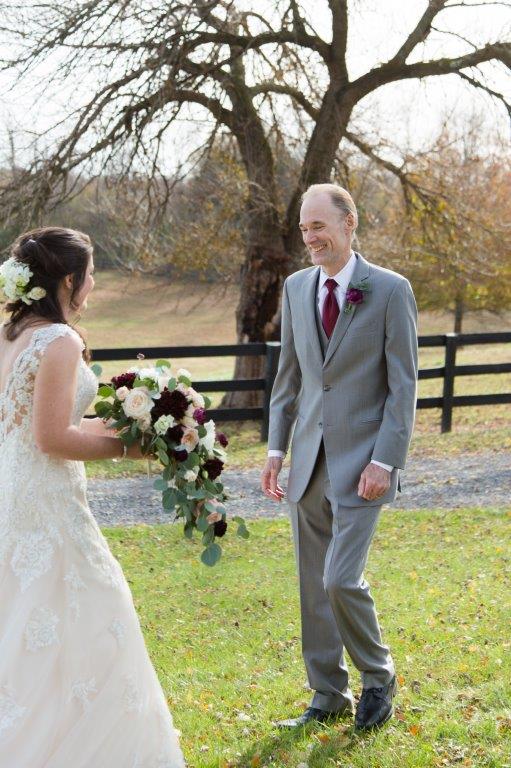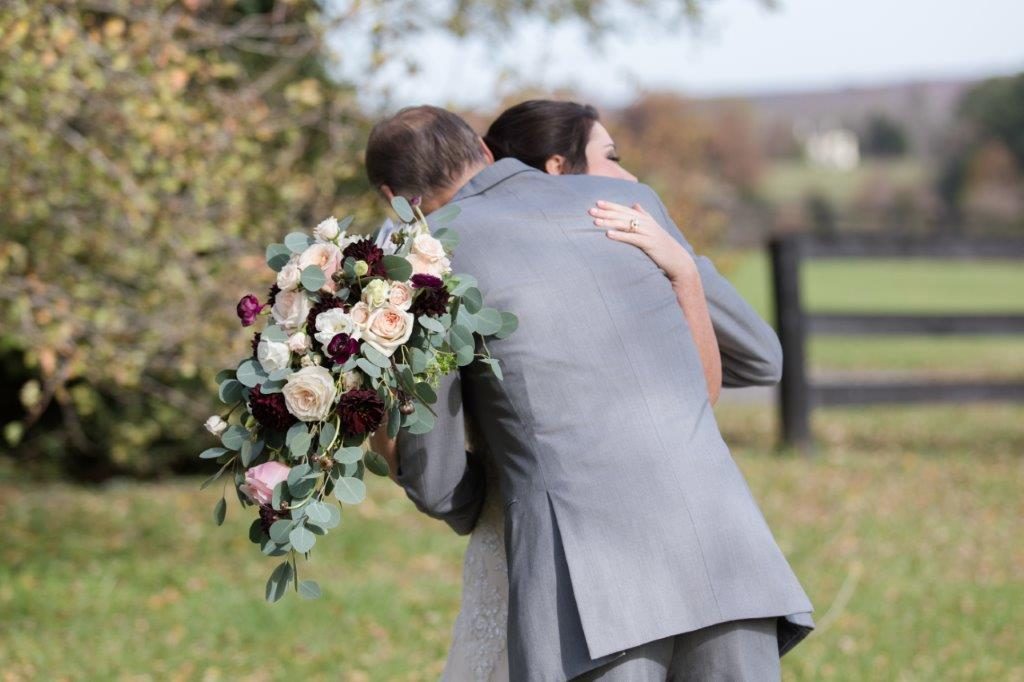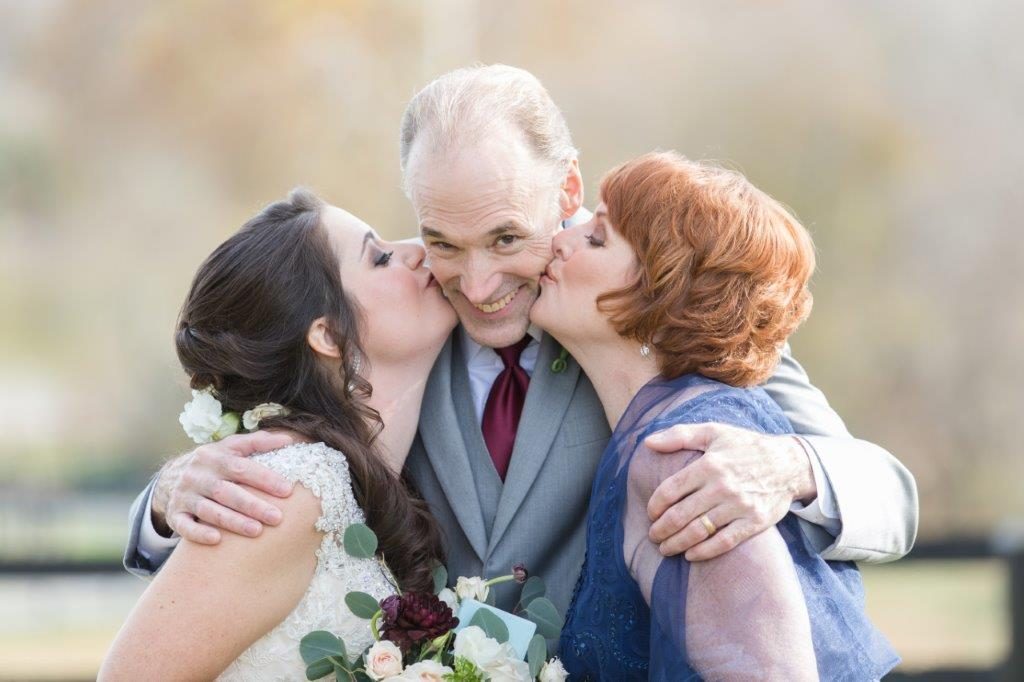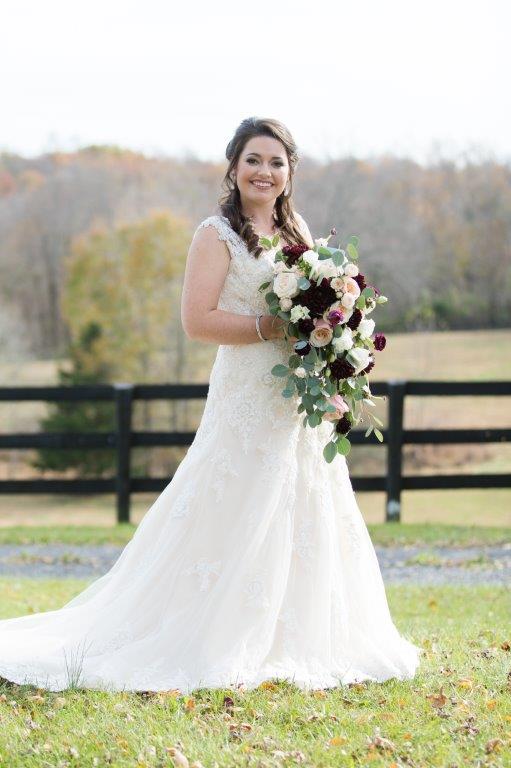 The Beautiful Bride!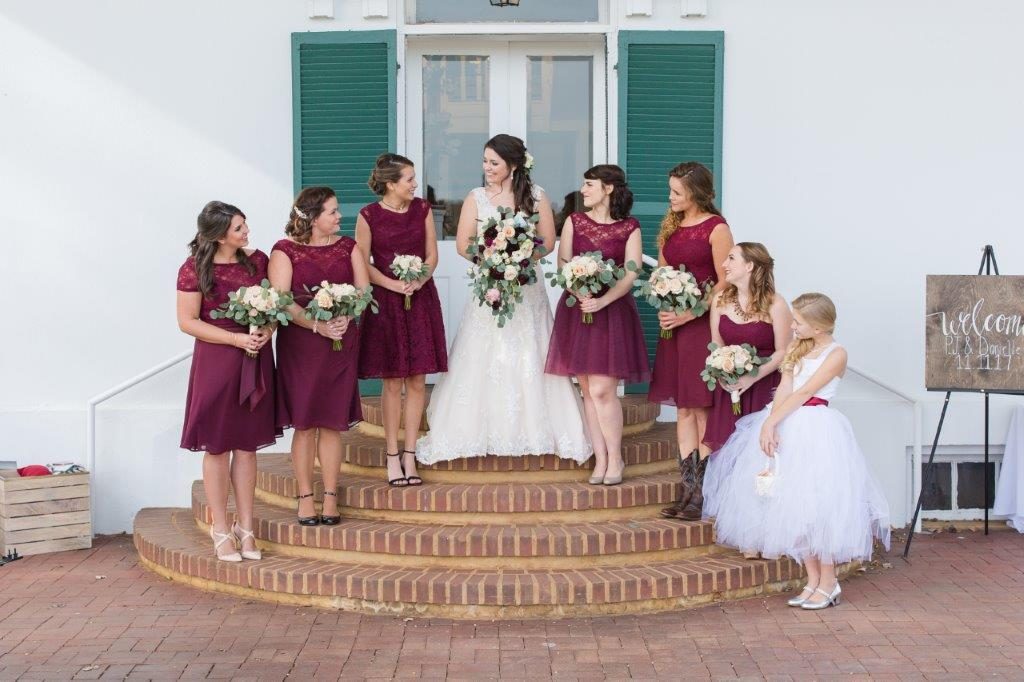 The Bride Maid's dresses are from Six Pence Bridal of Richmond.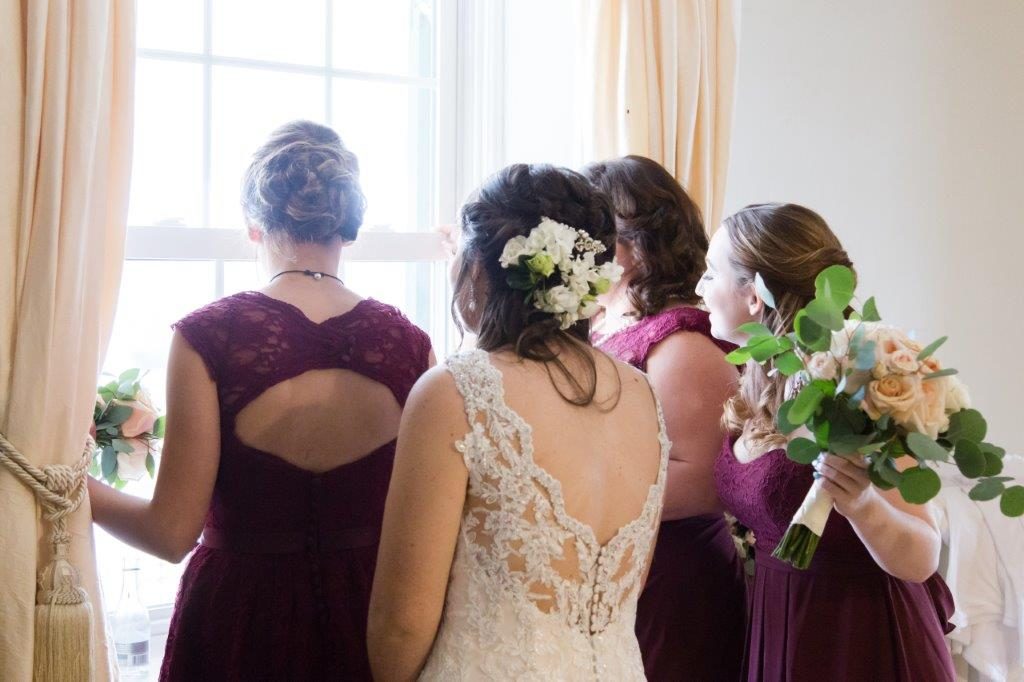 The Excitement builds.
Don't forget to check back next week for part 2!
If you are planning a wedding in Roanoke Virginia, Richmond Virginia, Fredericksburg/Northern Virginia, The  Shenandoah Valley, Coastal Virginia or in Charlottesville Va, we can help with your wedding planning and ideas. 
Virginia Bride Magazine features the best Virginia Weddings and Virginia Bridal Shows. Get  it all in one place. Check our blog posts regularly for the latest bridal shows in Richmond VA, Roanoke, Va. The Shenandoah Valley, Fredericksburg Va, and in Charlottesville.