Choosing the right venue and setting for your wedding is one of the most important decisions you will make.
Let's explore a chic venue nested in the Blue Ridge Mountains, in Lexington, Virginia.
This venue is a featured venue in the spring 2020 issue of Virginia Bride.
The Seclusion – An Intimate Wedding
By Leah Spradlin
Marriage is a public acknowledgement of deep intimacy between two people. It is a magical experience to find that person with whom your soul feels at rest, and it is this intimacy and the celebration of two people finding a home in each other that makes a wedding possible. Some wedding couples are drawn to a ceremony that gives them privacy and solitude rather than fanfare and publicity. They desire a time to escape with their closest friends and family so they can get married in a peaceful, "away from it all" retreat. If you love this idea, there is a new and sought-after wedding venue in the mountains of Virginia, called The Seclusion.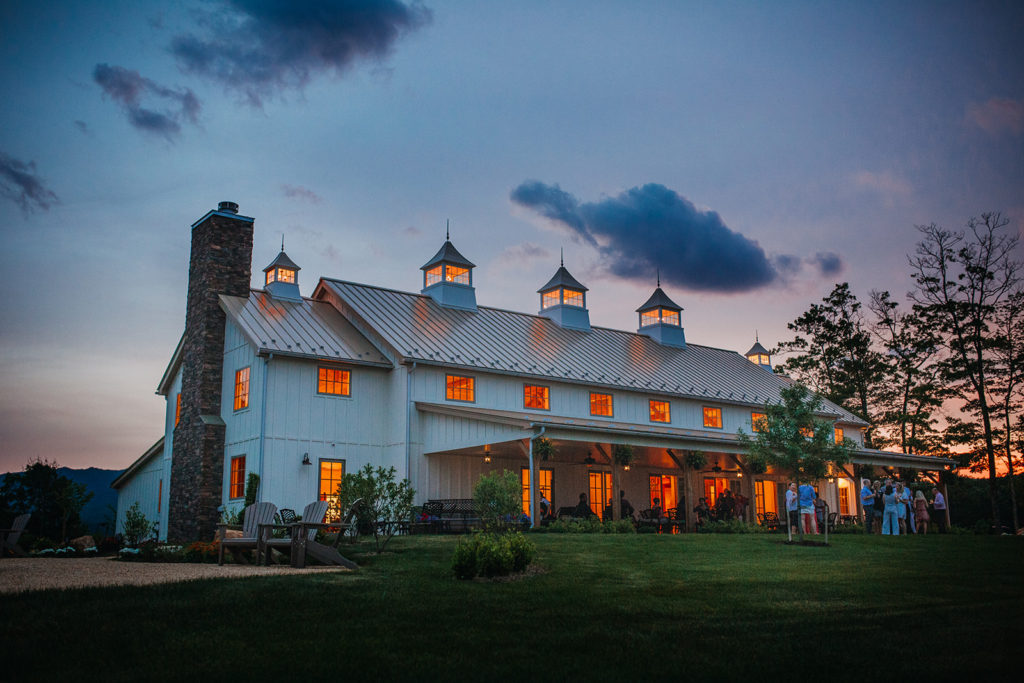 The Seclusion is not just a chic, rustic barn, but a luxurious venue embracing rustic elements in a modern way. This haven of rural elegance is tucked away on 72 private acres of majestic Shenandoah Mountain land with panoramic views of breathtaking scenery and ample luxury amenities. There is no noise or sound pollution so your wedding guests will be met only with the dedicated quiet of the mountain air as the backdrop for the event of a lifetime. There is no other traffic – just the wedding couple and their favorite people. The Seclusion is a private sanctuary for the most glorious day of your life.
The Seclusion venue and property was created from scratch, after careful planning and a meticulous selection process, as a getaway venue for brides and grooms to truly detach from the hustle of life back home and surround themselves with tranquility and nature. Everything about this property centers around complete privacy and withdrawal from stress, making this an ideal location for wedding ceremonies and receptions.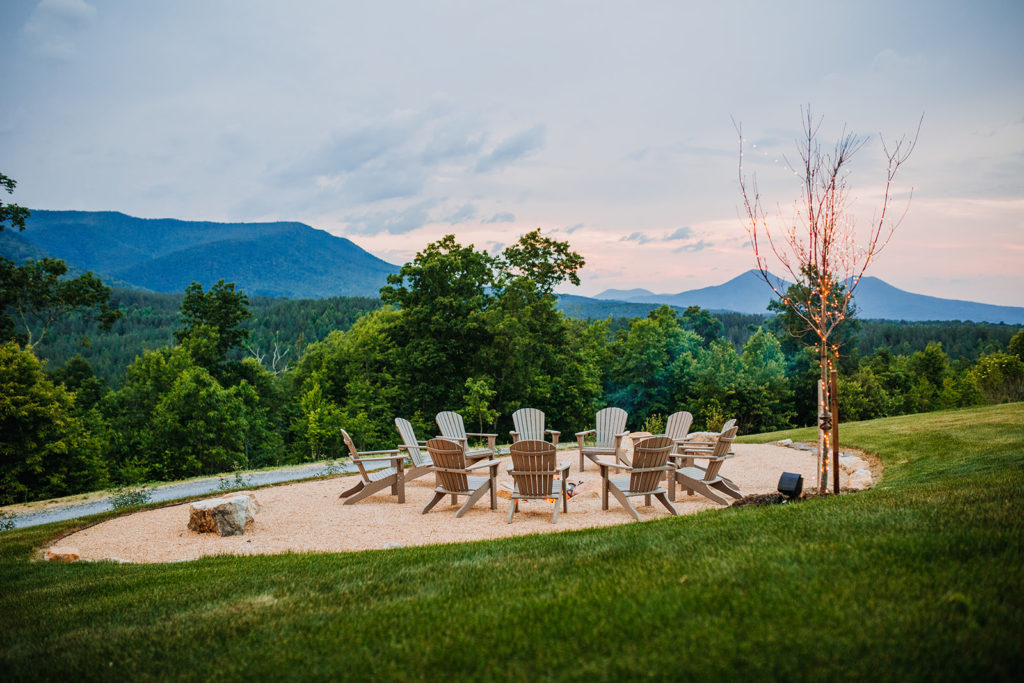 Owners, Brian and Trish Daniel knew they wanted this wedding venue to be completely sheltered from the busy world in order to offer sanctum and peace to their clients. Developing the site was a difficult task, but the magnificent final result turned out to be the very vision they hoped for. The spectacular views of the surrounding mountains and valley below the property give The Seclusion an otherworldly mystique. The Daniels knew that giving brides and grooms a reprieve from the hectic planning and organizing that leads up to their big day is the perfect footing from which to begin married life – rested, charmed, awed, and with lungs full of fresh air.
As you come around the bend in the road, you will see the veranda perched high on the property, draped with curtains and hanging ferns swaying in the breeze. The cupolas glow with warm light, beckoning you onward. Approaching down the long drive toward the main entrance, the next thing to take in is the warm taupe exterior and the entire valley of light reflecting incandescently from the walls. A landing made from Tennessee Flagstone leads to a pair of large barn doors outfitted with handmade iron handles, which have been handcrafted by the owners and inspired from travels to the Old World. Handsome iron sconces add a striking balance and conjure sepia-toned notions of a bygone era of romance.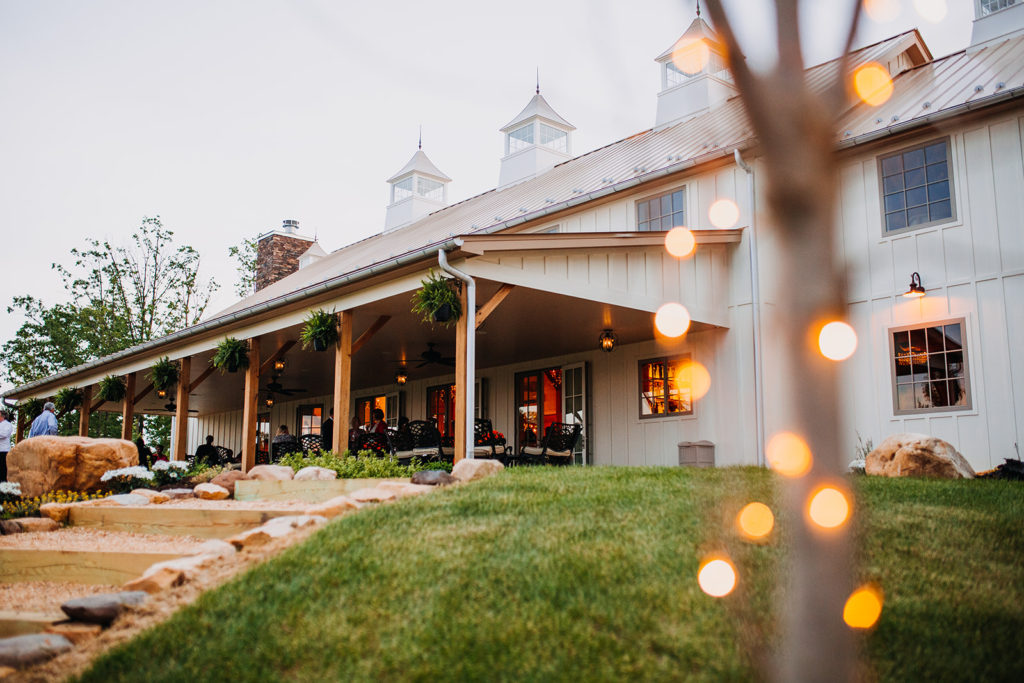 Once inside, the honey-colored wooden floors stretch far and wide between the huge oak timbers and creamy white shiplap walls of the Great Hall, a massive stone fireplace, and the diffused illumination of custom chandeliers. Cozy leather seating nooks invite conversations to spark among your family and friends who may not have seen each other in a while. And what jump starts re- connections better than a good classic cocktail? The wooden bar, four inches thick and made of 200 year old oak, crowns the bar top with a full complement of libations behind. Will it be a dry martini or an old fashioned with a twist?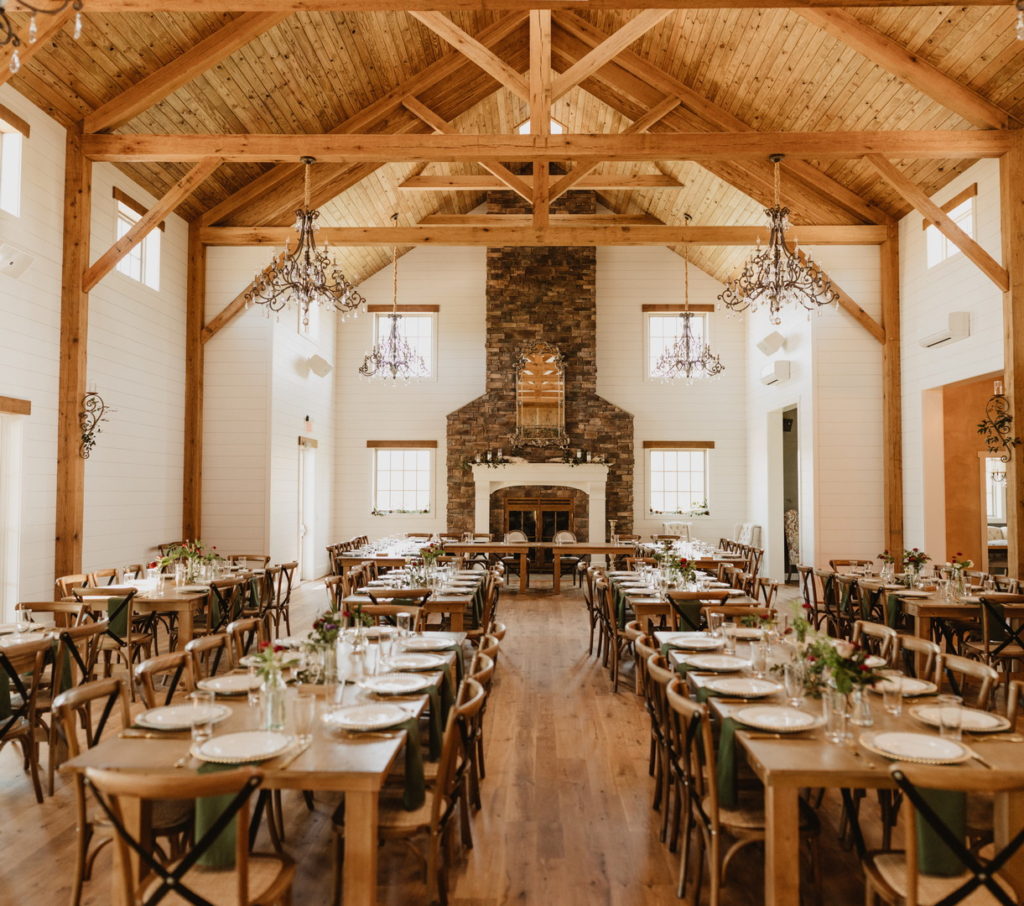 Beyond this Great Hall, the French doors open onto the large covered veranda that offers a 360-degree overlook, beholding the mountains, valleys, and skyline of the Shenandoah. It is clear why the owners chose this site to create a property that feels harmonious with the surrounding scenery. What more vivid inspiration is possible than the dramatic chiaroscuro of distant mountains on the horizon?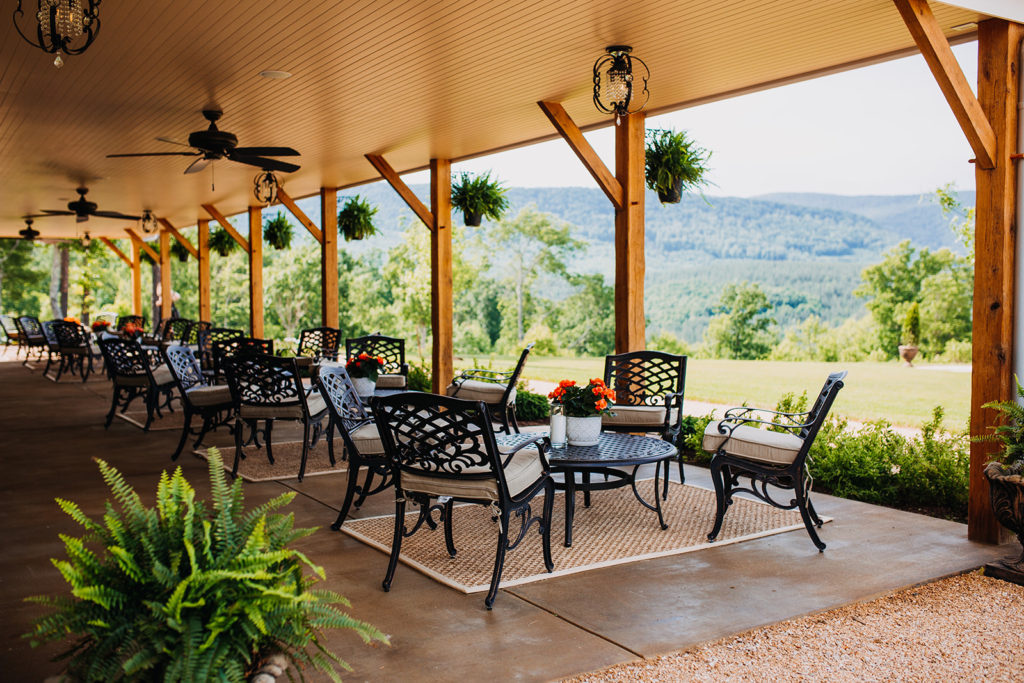 Amidst the understated glamour, The Seclusion is a hive of carefully planned details and features. Here are some of the ways the brilliant owners ensure their wedding guests always have a peaceful event:
While it is off the beaten path, the drive has been constructed to handle any size vehicle including tractor trailer rigs, so any number of furnishings and accouterments can be delivered.
A fully loaded, high-end commercial kitchen is at the disposal of the caterer of your choice, and there are several recommended vendors on the FAQ's page at www.theseclusion.com.
On-site furniture includes up to 200 white ceremony chairs with white cushions, as well as rectangular farm tables and x-back hall chairs with ivory cushions that seat up to 200 people for the reception. Everything is set up and broken down by The Seclusion staff, so no need to recruit helpers from your wedding party.
Elegant tableware and bar ware for up to 200 is also available, but linens will need to be provided by the client. All lighting is dimmable, including the elegant chandeliers decorating the venue, for full control over the ambiance of the event.
The Seclusion is about 14 miles from historic downtown Lexington, VA, which offers plenty of noted restaurants and accommodations, shopping and attractions if you wisely choose to come around a few days early.
Each event package includes property rental by the whole day from 8:30 am to 11:00 pm, so no need to rush in and out to allow another wedding to come in.
Package prices only vary based on the season and are, for the most part, all-inclusive, which reduces the number of decisions and minutiae for brides and wedding planners to worry about – more focus on the couple!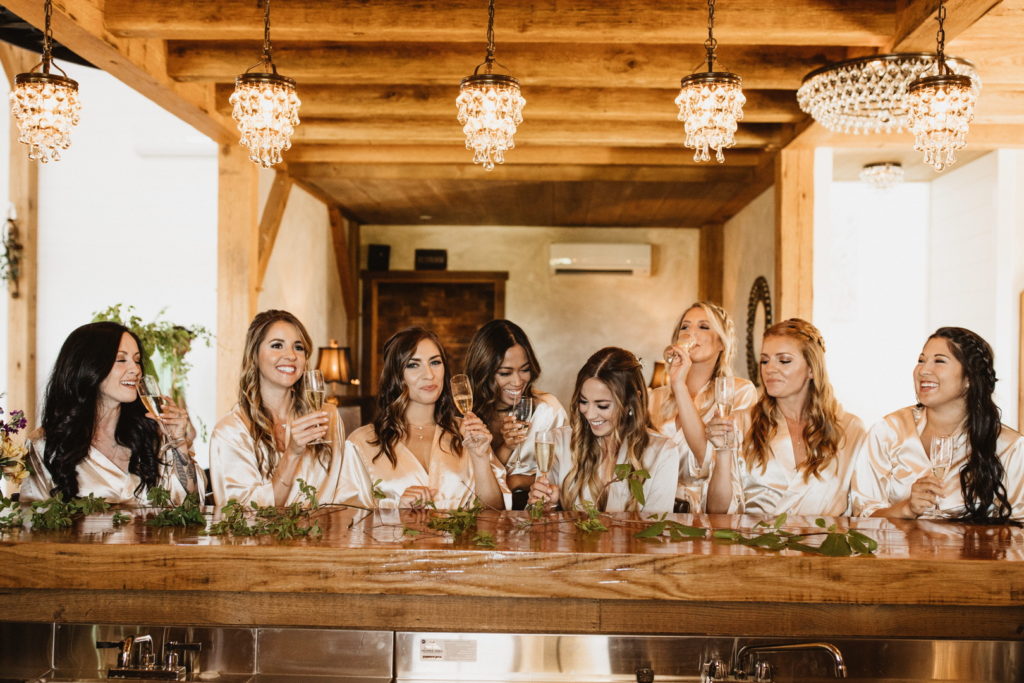 Additional accommodations include The Loft, a blushing bridal suite with full bathroom, wet bar, Bose stereo system, and an iron balcony overlooking the Grand Hall. What a photo opportunity! Nearby, a groom's dressing room, ruggedly referred to as The Quarters, is decorated with masculine charm and has a full bathroom, big screen TV, stereo, freezer/refrigerator, corn hole boards, and a separate fire pit for outdoor entertainment and enjoyment. Four-season climate control inside the building, handicap accessible restrooms, a custom designed audio and PA system, and three outdoor fire pits (with attendants!) are just a few of the other opulent details that are provided with venue rental.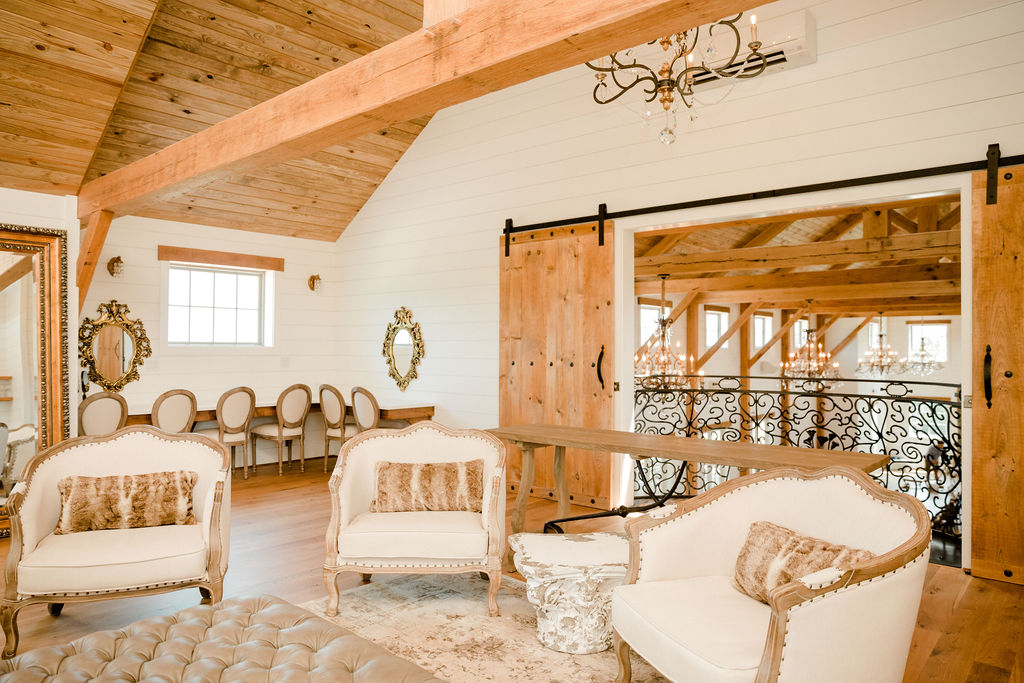 The Seclusion is a shelter of solitude where you can breathe deep and delight in the intimacy of the landscape with your loved ones and your soul mate. For your wedding day, allow the mountains to echo back to you that unexplained feeling you discovered in your fiancé; a sense of dynamic yet still, home and adventure, the past, present, and future all laid out before you.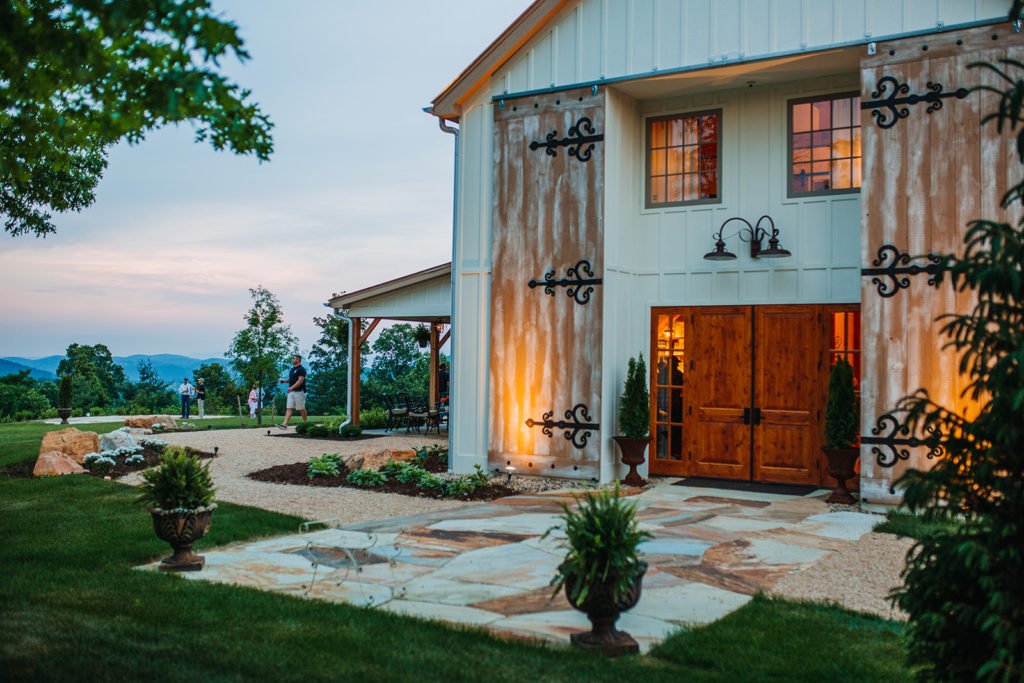 Hours are by appointment only.
info@theseclusion.com
540.464.3575
If you are planning a wedding in Roanoke Virginia, Richmond Virginia, Fredericksburg/Northern Virginia, The  Shenandoah Valley, Coastal Virginia or in Charlottesville/ Lynchburg Va, we can help with your wedding planning and ideas.