Styled shoots are a creative way for photographers, stylists, and other wedding pros, to show off their talent and visions to inspire readers for their own wedding planning.
Today's shoot focuses on an organic theme which was the vision of Exceptional Events by Elisa.
The Scoop:
Elisa's vision, in partnership with Twinbrook Floral Design, lets the title speak for itself. The team envisioned a natural yet elegant look, enhanced by fresh floral décor, natural elements such as iron and wood, and a touch of soft candlelight. The thoughtful florals elevated above the table with robust central garlands cascading to the floor allowed the flowers to breathe naturally creating a magical and organic dining experience.
As the Pantone Color of the Year had not been revealed yet, Twinbrook and Elisa opted for a neutral range of nudes with a pop of pink. Brandon suggested textured and natural elements – leading to the design name – ORGANIC! This includes an assortment of flowers, cotton napkins, restored farm wood tables, camel back chairs with linen cushions, and ceramic charger plates. The candlelight gives a romantic vibe while the exquisite "Cerise" (cherry) dessert in hot pink gives the table setting a huge splash of color.
VENUE
2941 is one of the most celebrated restaurants in the metropolitan area. The restaurant is nestled in the heart of Falls Church, VA known for its lush landscaping, koi ponds, waterfalls, world-class artwork, and a lakeside view.
Named by Washingtonian Magazine as a 100 Very Best Restaurant in 2017, Northern Virginia Magazine
​ as one of the Top 50 Best Restaurants in 2017, and by Eater DC as a 38 Essential Washington Restaurant, to name a few accolades. 2941 continues to charm gourmands with its sophisticated yet relaxed ambiance, outstanding service ​and inventive cuisine.
TABLESCAPE
Elisa collaborated with Twinbrook Floral Design to create a truly lavish 16ft head table featuring a 10ft long elevated floral installation floating above a thick robust set of garlands cascading over the table edges onto the floor. This entire piece was illuminated by a sea of candlelight. A design comprised of multiple elements, the look lends itself to the simplicity of early Spring blooms and greenery with the sophistication of a luxury dinner party. It amplified organic elements such as wood and steel, nestled among textural greenery and soft blooms of white and blush tones. Finished with various candlelight styles including votive candles, radiance LED candles from the top of the elevated floral, hanging crystal terrariums with tealight candles, and a collection of Monet stemmed glass cylinders with floating candles. This table demands the attention of its guests and creates an intimate space to enjoy the company of your loved ones.
THE FOOD
Executive Chef Bertrand Chemel presents contemporary American cuisine accented with bold French and Mediterranean flavors. Exquisite and inventive cuisine, outstanding customer service and a great view are only part of the dining experience at 2941 Restaurant. Beautiful tablescapes can be part of the experience and a compliment to the edible masterpieces that are plated for their guests.
The "Cerise" is a scoop of pistachio ice cream in a cherry "shell" with cherry sauce – it is truly edible art!
THE FLORALS
Twinbrook showcased a robust collection of floral products beginning with a base of greenery composed of Elaeagnus vine, Italian and Israeli ruscus, seeded and silver dollar eucalyptus, huckleberry foliage, smilax vine, lemon leaf, and jasmine vine. Bloom varieties included playa blanca rose, blush mikado spray rose, white vivian spray rose, blush Clooney and white ranunculus, sahara and quicksand rose, white veronica, white lisianthus, and hydrangeas.
Twinbrook Floral Design's wedding and special events division has grown steadily since it began in 1994, and has become a comprehensive design studio alongside its wholesale division, Metro Flower Market, which opened in July of 2018. Twinbrook designers bring over 150 years of collective experience to the table, including memberships with the Society of American Florists. Whether using innovative materials, creative imagination, or traditional floral methodologies, this family-operated business prides itself on providing stunning flowers with stellar service. Twinbrook has been featured in Washingtonian's Bride & Groom as well as Carats & Cake as a premier florist. A consistent "Couples Choice Award" recipient the past 10 years on Wedding Wire and The Knot, Twinbrook Floral Design provides clients with budget-conscious ideas while providing luxurious results that leave a lasting impression.
THE DETAILS
The secret to a GREAT tablescape is in all the details.
Stationery and invitations set the tone for any event. Invitations provide a "sneak peek" of what is to come. They share logistics details, event themes and colors, as well as the requested attire. This invitation suite is simple, yet elegant. The design was brought to life and matches the flatware and charger plates. The soft colors flow with the floral and table décor color palette; while the paper compliments the rest of the natural elements, adding rich texture to the table settings. Caitlin used a linen finish paper. It is a high quality, cotton blend paper with a textured, slightly crosshatched surface—it feels like linen fabric, hence its name. This paper finish provides an elegant look.
Rossana's canned camelback chairs offer an 'old-world elegance' to the ambiance of the table décor. The antique-inspired chair is a top choice for couples, and pairs perfectly with neutral colors. The chairs have a rustic look to them that ties together the farm wood table and fresh roses with this Organic Design.  The chairs are adorned with white linen cushions to provide guests comfortable seating while they enjoy the event.
Using custom intelligent lighting can transform any room into something magical. Intelligent lighting is a great way to elevate a tablescape and/or design, create ambiance and catch your eye. Bob did an amazing job finding the right lighting color that both compliment the design, and at the same time frame the table setting.
What we love:
The lovely muted colors, the simple elegance of using organic elements is just stunning!
And that cheery dessert, not only adds a pop of color, but is so yummy looking!
The following photos are by Butterfly Photography: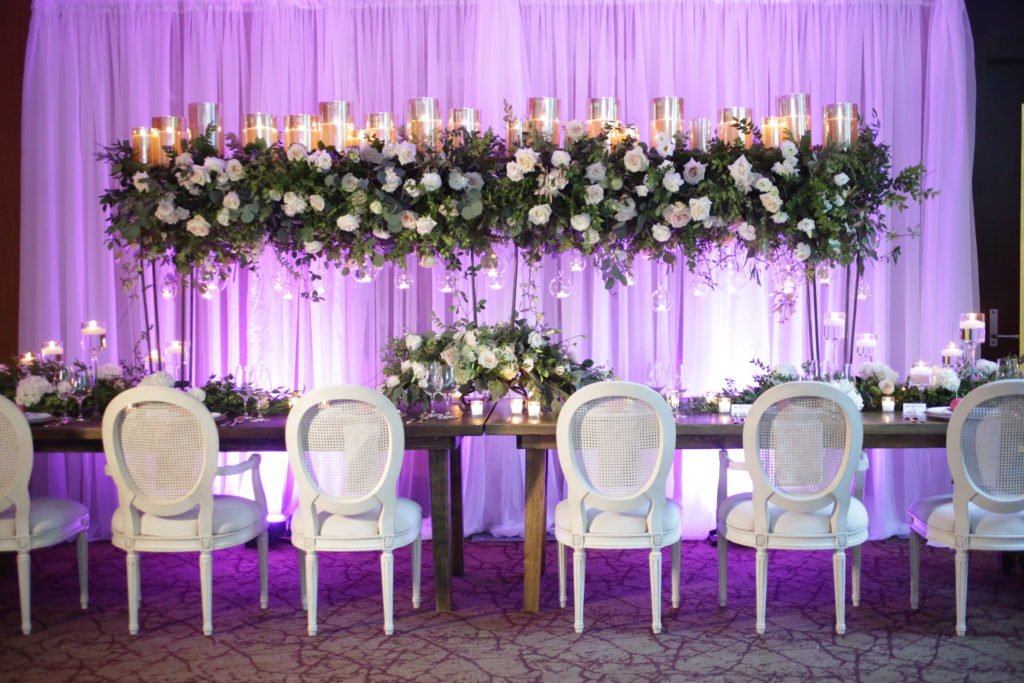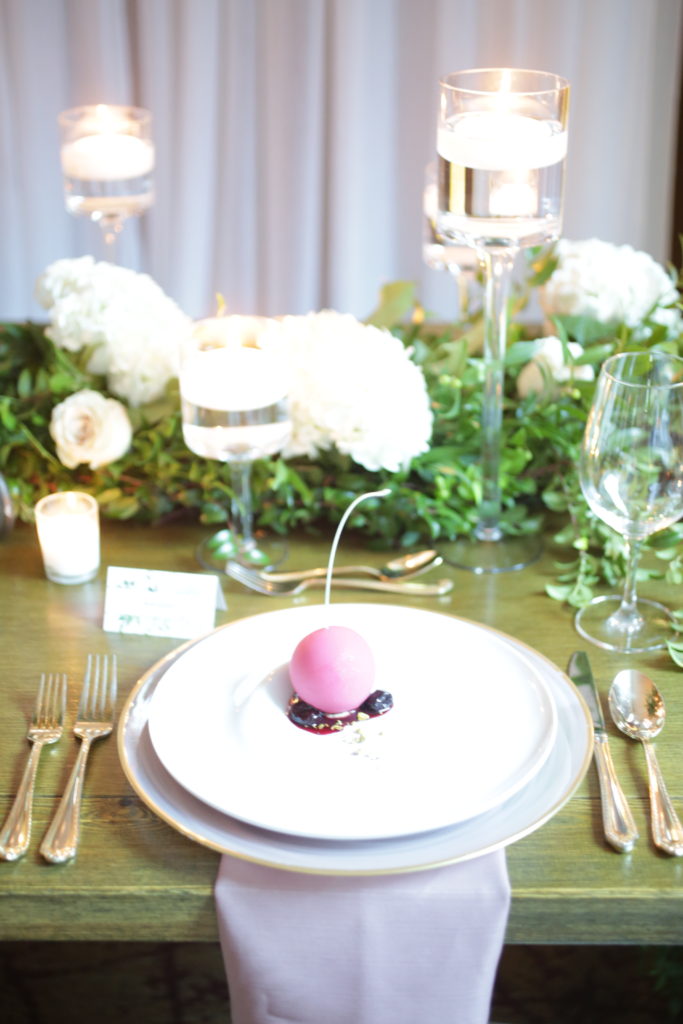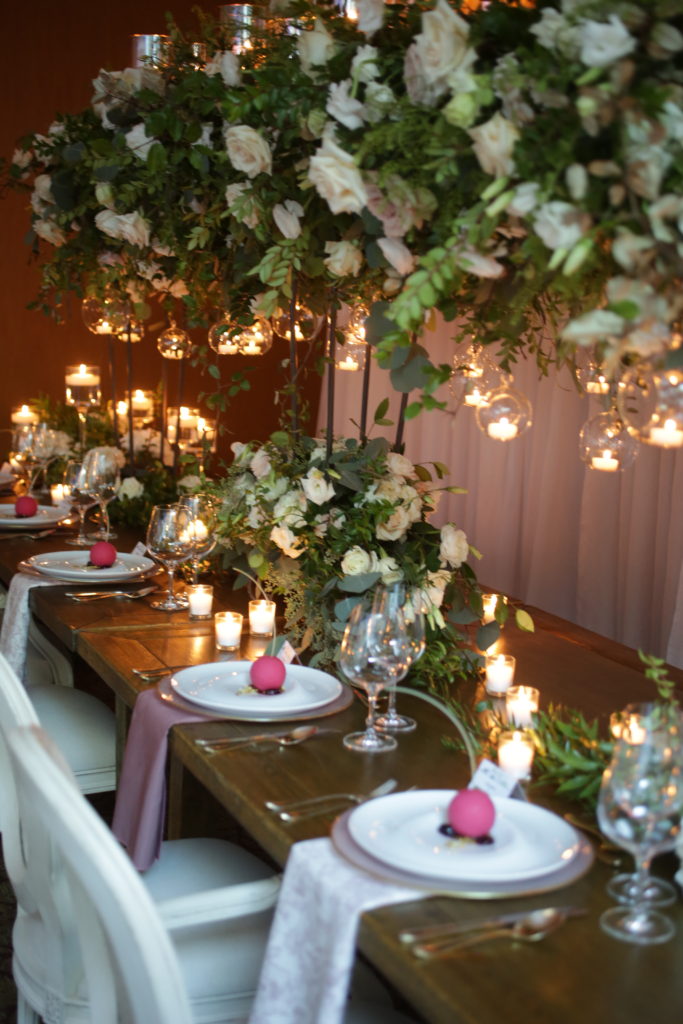 These photos by Lux Photography: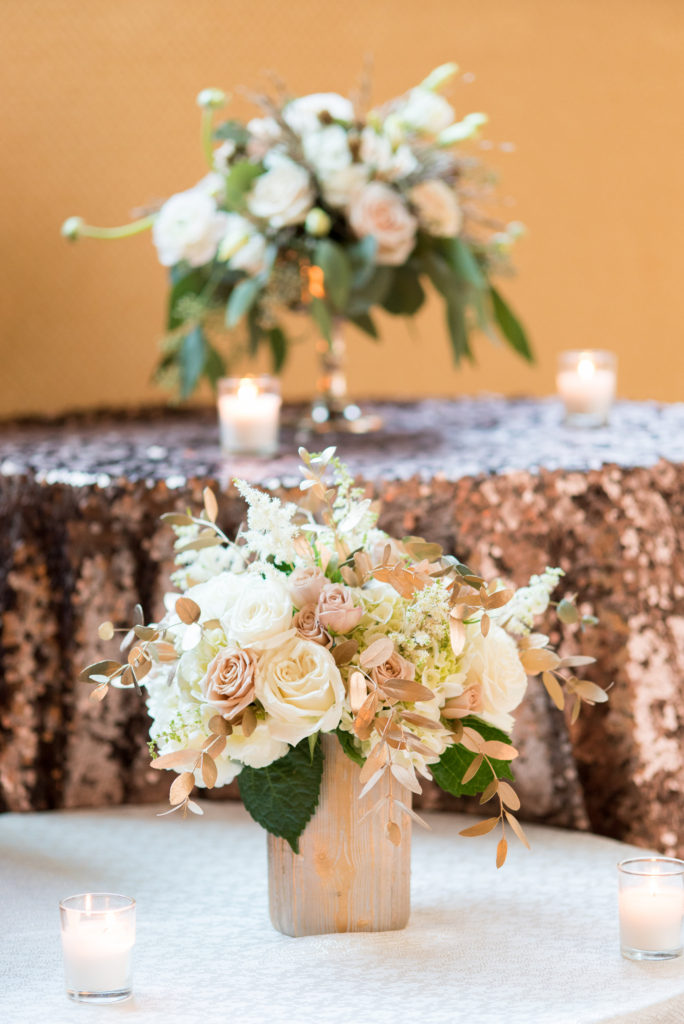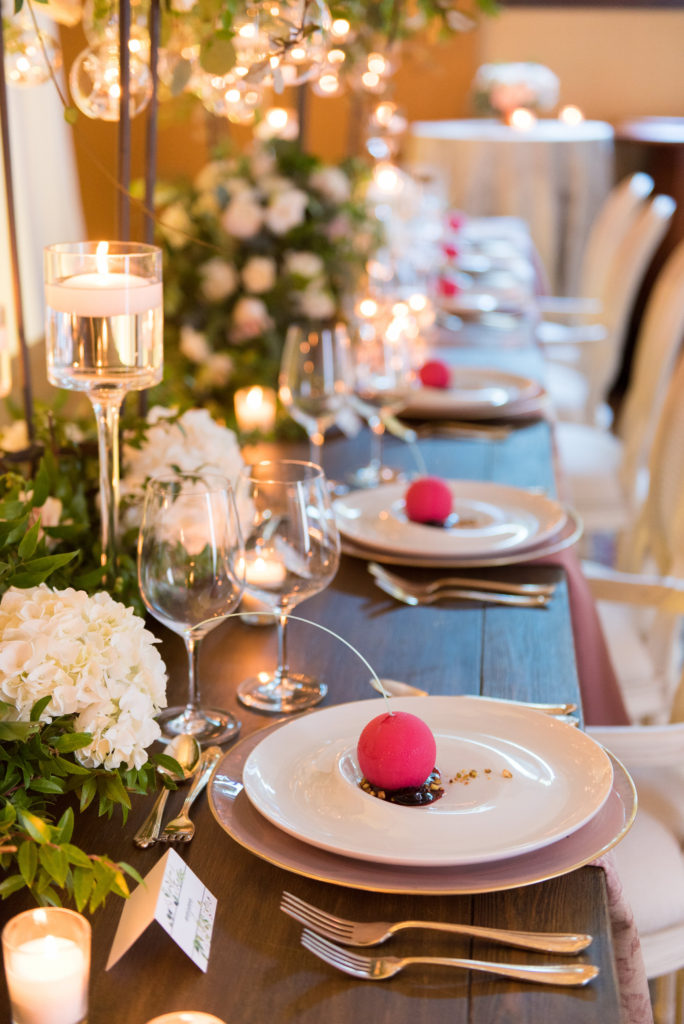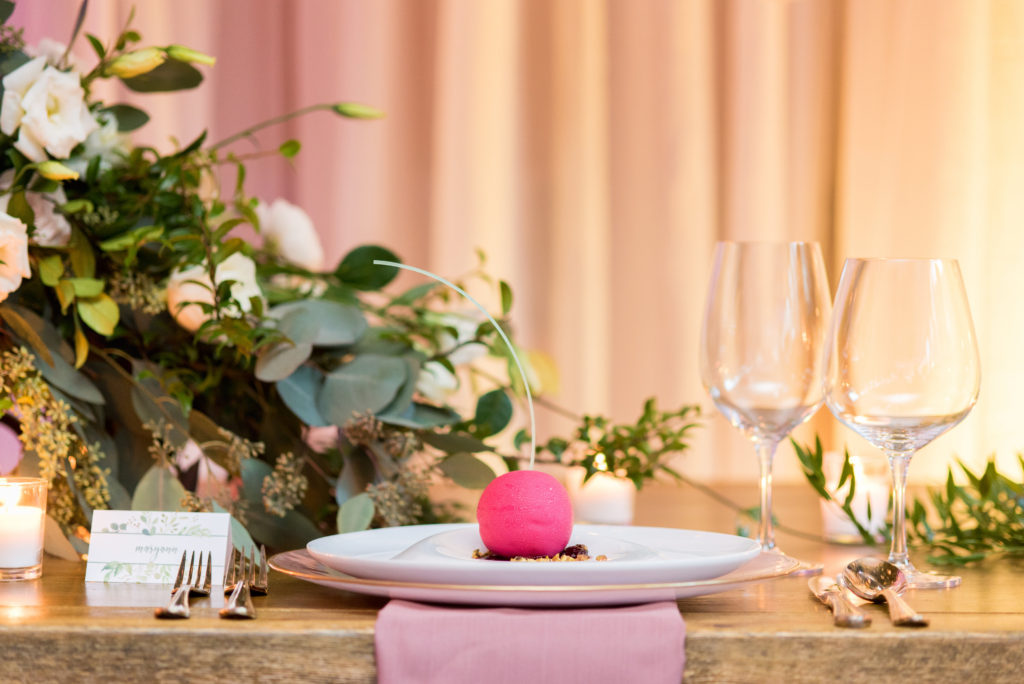 Sources:
VENUE
2941 Restaurant
Contact: Michelle Marquez
Phone: (703) 270-1511
Email: Michelle.Marquez@2941.com
Website: www.2941.com
Facebook: www.facebook.com/2941restaurant
Instagram: www.instagram.com/2941restaurant
CATERER
2941 Restaurant
Contact: Michelle Marquez
Phone: (703) 270-1511
Email: Michelle.Marquez@2941.com
Website: www.2941.com
Facebook: www.facebook.com/2941restaurant
Instagram: www.instagram.com/2941restaurant
EVENT DAY OF COORDINATOR
All for You Events & Designs
Contact: Tasha Wells
Phone: (202) 550-2166
Email: tasha@allforyoued.com
Website: www.allforyoued.com
Facebook: www.facebook.com/All-For-You-Events-and-Designs
Instagram:  www.instagram.com/allforyoueventsanddesigns
EVENT PLANNER & DESIGNER
Exceptional Events by Elisa
Contact: Elisa Yu-Shan Lion
Phone: (703) 752-6287
Email: eyushan@exceptionaleventsbyelisa.com
Website: www.exceptionaleventsbyelisa.com
Facebook: www.facebook.com/exceptionaleventsbyelisa.com
Instagram:  www.instagram.com/exceptionaleventsbyelisayushan
FLORAL DESIGNER
Twinbrook Floral Design
Contact: Brandon Schenk & Tonya Evans
Phone: (703) 978-4509
Email: brandon@twinbrookfloraldesign.com / tonya@twinbrookfloraldesign.com
Website: www. twinbrookfloraldesign.com
Facebook: www.facebook.com/twinbrookfloraldesign
Instagram: www.instagram.com/twinbrookfloraldesign
LIGHTING
Dominion Wedding Entertainment
Contact: Bob Yutzy
Phone: (703) 989-1874
Email: bob@dominionwed.com
Website: www.dominionweddingentertainment.com
Facebook: www.facebook.com/dominionweddingentertainment
Instagram: www.instagram.com/dominionweddingentertainment
PHOTOGRAPHER
Butterfly Photography
Contact: Sanaz Fahimi
Phone: (571) 274-7107
Email: photographycenter@yahoo.com
Website: www.butterflyphotographycenter.com
Facebook: www.facebook.com/butterflyphotographycenter
Instagram: www.instagram.com/sanazbutterflyphoto
PHOTOGRAPHER
Lux Photography
Contact: Amanda Godlove
Phone: (703) 966-0227
Email: agodlove@luxphotoservices.com
Website: www. luxphotoservices.com
Facebook: www.facebook.com/luxphotoservices
Instagram: www.instagram.com/luxphotoservices
RENTALS (Linens, & Napkins)  
BBJ Linen
Contact: Brittany Bonta
Phone: (202) 945-7631
Email: bbonta@bbjlinen.com
Website: www.bbjlinen.com
Facebook: www.facebook.com/BBJLinen
Instagram: www.instagram.com/bbjlinen
RENTALS (Chairs)
Bella Villa Antique Vintage Rentals
Contact: Rossana Funiciello Smith
Phone: (571) 921-0356
Email: squirrel@bellavillavintagerentals.com
Website: www.bellavillavintagerentals.com
Facebook: www.facebook.com/bellavillaantiques
Instagram: www.instagram.com/bellavillashop
RENTALS (Tables & Table Settings)
Sammy's Rentals
Contact: Sammy Pineda / Christine
Phone: (703) 361-6216
Email: info@sammysrental.com
Website: www.sammy'srental.com
Facebook: www.facebook.com/Sammys-Rental-Inc
Instagram: www.instagram.com/sammysrental
STATIONERY
KK's Stationery & Printing
Contact: Caitlin Troilo-Waddell
Phone: (540) 317-5440
Email: iinfo@kay-kays.com
Website: www.kay-kays.com
Facebook: www.facebook.com/KKsPrintingStationery
Instagram: www.instagram.com/kksprinting
If you are planning a wedding in Roanoke Virginia, Richmond Virginia, Fredericksburg/Northern Virginia, The  Shenandoah Valley, Coastal Virginia or in Charlottesville/ Lynchburg Va, we can help with your wedding planning and ideas.