Written by: Elisa Yu-Shan Lion (Exceptional Events by Elisa)
Edited by Natalie McCarthy & Jenna Hamilton
Many couples are choosing to select smaller ceremonies to celebrate their special day. Couples have been redistributing their budgets to spend more on the details; designer dresses, intricate floral décor, luscious ceremony arches, mouthwatering menus, etc.
When having a smaller ceremony, we wanted to find a place that we felt could bring all the details to life. To give our readers some inspiration, we had an editorial photo shoot to showcase four different looks at the various sites at the gorgeous Luray Caverns.
Luray Caverns, home to the largest caverns in the eastern United States, are 400 Million years old, and extend for 64 acres of which just a few are available to the public. The towering stone formations are simply breathtaking.
The caverns have a cathedral-sized room with ceilings 10-stories high where just a select number of weddings a year take place. The campus now includes 2 barns and a 100+ year old manor house where you can host your upcoming wedding in a very unique way.
We are honored and excited to be a part of the preferred wedding pros to service the couples choosing to get married in the Luray Caverns campus and Shawnee Farms Estate.
The experience is one of a kind; everything from the awe-inspiring natural wonders, the Great Stalacpipe Organ, the amazing views of the Blue Ridge mountains, the homie accommodations, to the excellent customer service from the team that runs the facilities, this is a one in a lifetime experience.
It took a couple of months to plan the logistics, select the amazing team of wedding pros who executed a one-of-a-kind vision, finalize the designs, and execute the shoot.
Here is a "Sneak Peek" of this unique project.
DESIGN 1:  Bohemian Caverns
Tucked underground, in the world-renowned Luray caverns we have set up our ceremony to highlight the natural wonders. In order to properly showcase the reds and yellows in the breathtaking caverns, we selected a complimentary color palette with natural textures (jute, rattan, wood, pampas grass and more).
The Great Stalacpipe Organ has been in operation since 1957 and is the largest musical instrument in the world covering 3.5 acres.
Natalie wore a ballgown from The Atelier Couture by Jimmy Choo (exclusively available through our friends at Zoya's Atelier); a dreamy and magical gown for the avant-garde bride.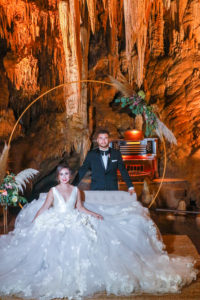 DESIGN 2:  Winter Rhapsody
Barn weddings and rustic venues have become one of our favorite settings to celebrate this time-honored tradition. The Caverns boast two gorgeous barn locales, that give you a natural intimacy and personal feel that is simply unmatched. Surrounded by the scenic views of the vineyard and mountains, this rural location is sure to make a wedding day feel dream-like.
We knew this hidden haven needed the perfect quaint-meets-elegance look to match. The winter blue brings a combination of style and grace that feels almost dream-like.
Crystal wore a gown by British designer Suzanne Neville and a short feathered cape (capelette) by Jenny Packham.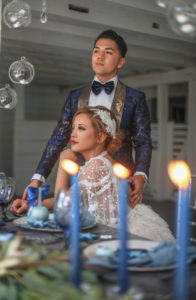 DESIGN 3:  Timeless Elegance
We loved the Shawnee Farms Estate (Manor House was established in 1863) for the simple beauty and effortless elegance this venue brought. The old farmhouse-vintage setting made it truly feel as if love lived here. The sense of timeless charm reminds us that love is forever.
The beautiful barn and sweeping countryside views are paired with classic details to bring dignity and poise to the perfectly serene setting.
Crystal wore "Carmella", a gown by British designer Suzanne Neville.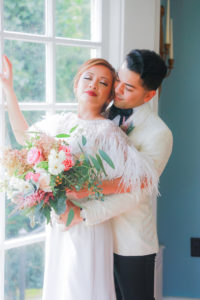 DESIGN 4:  Ah-MAZE-ing Elopement
Love and Labyrinth go hand-in-hand, as seen in the Cavern's Garden Maze.
The super green maze with natural real green trees were trimmed to be in the shape of a maze. With hidden doors, water fountains and secret gardens, this picturesque location felt riddled with hidden truths about love and marriage. We were able to pair ceremonial looks that were trendy and fun, making this natural aesthetic feel both dignified, yet authentic and relatable.
Natalie wore "Romy" a relaxed two-piece crepe ivory embellishment suit by British Designer Suzanne Neville.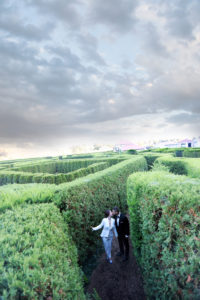 These stunning designs were brought to life in collaboration with these talented wedding pros (in alphabetical order): BBJ Linen, Butterfly Photography, Fine Art Wedding Film, Glam Face by Khatera, Kadi Bakes, Karin's Florist, Old Town Tuxedos, Sammy's Rental, Seriously Sweet, Stanlion, Via Paper Boutique, Zoya's Atelier
Stay tuned for more photos and details to be featured in Virginia Bride Magazine's January 2021 print edition, and Fall 2021 print edition, along with several blog pieces and social media posts.