The Valentine Museum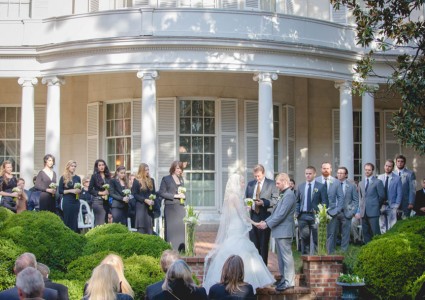 Vendor Deal
       One year
museum
membership to anybody who books their event.
Let Your Story Begin With Us.
Choose between indoor and outdoor areas, start and end times, a range of pricing, and caterers from our preferred list.
We offer spaces appropriate for both ceremony and reception. We also are a wonderful location for rehearsal dinners, bridal showers and engagement parties.
Our capacity for receptions is 150; for a seated dinner, it is 75. Rental fees vary based on event requirements.
Facility Highlights
– The beautiful Valentine campus is conveniently located in downtown Richmond.
– The historic 1812 John Wickham House provides a photogenic backdrop for your special day.
– Dance under the stars. Our garden includes suitable space for dancing.
– The Valentine's Wedding Coordinator serves as the principal point of contact with you and the vendors.
– You are not required to use pre-specified time slots.
– Ceremony contracts include time for rehearsal (subject to some restrictions).
– Changing room available.
– Tours of the 1812 John Wickham House may be added for your guests.
Available Spaces
Valentine Garden – This picturesque private green space is nestled in the center of an urban environment and centers on a fountain courtyard behind the historic Wickham House. 15,000 square feet
Auditorium/Reception Room – This large multipurpose room has hardwood floors and contemporary lighting. 1,750 square feet
Gray Family Terrace – An elegant, brick and blue stone outdoor space located on the south side of the museum building. The terrace can be tented and features vintage neon signs from Richmond businesses.
Capacity
120 people – reception
60 people – seated