Set Your Dress In Stone with StoneWear Ceramics!
After "I do," your wedding dress shouldn't have to spend the rest of its life in the back of a closet. Celebrate the beauty of your big day and let your wedding dress shine with a StoneWear Ceramics' personalized wedding dress sculpture.
StoneWear Ceramics creates custom ceramic replicas of wedding dresses and occasion gowns. Each piece is hand-built, and every dress is different — designed to celebrate the incredible woman who wears it. And each thoughtful design is made to last long after you've put your wedding dress away.
StoneWear Ceramics' beautiful, personalized sculptures capture the finest details of your wedding dress or occasion gown and ensure that the wonderful memories of your big day are preserved and always on view! Each sculpture is 12-14 inches tall, roughly the size of a wine bottle or vase, making it the perfect size for any space.
Whether you're looking for a meaningful wedding gift as the mother-of-the-bride, searching for a special, group gift from the bridesmaids to the bride-to-be, or celebrating your love story with a thoughtful, personalized anniversary gift, a StoneWear Ceramics' replica makes the perfect, heirloom-quality present that will be treasured for years to come.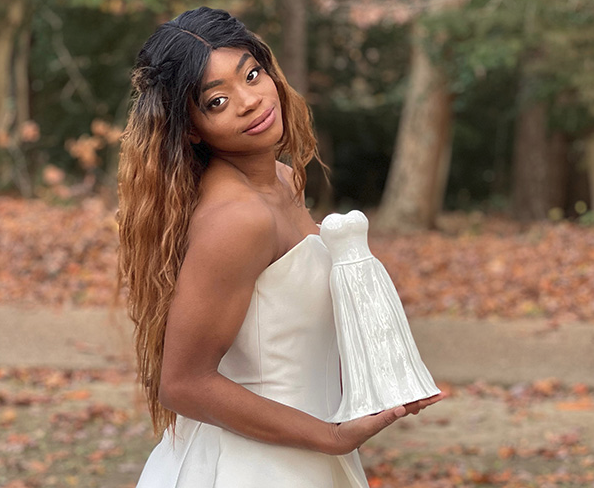 CATEGORIES: Charlottesville/Lyncburg, Fredericksburg/Northern Virginia, Keepsake Gifts, Richmond, Roanoke/Blacksburg, Shenandoah Valley, and Unique Services
WEBSITE: https://stonewearceramics.com/
PHONE: 757-276-1828
EMAIL: studio@stonewearceramics.com
FACEBOOK: https://www.facebook.com/stonewearceramics
INSTAGRAM: https://www.instagram.com/stonewear_ceramics/
Gallery