Sinkland Farms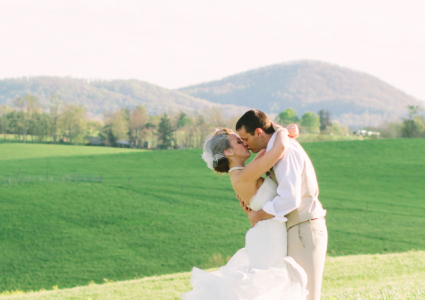 Sinkland Farms is an award winning Wedding Venue in Southwest Virginia with spectacular views of the Blue Ridge Mountains, and has unique event spaces to select from for wedding ceremonies, rehearsal dinners, wedding receptions and wedding showers/parties.
The Tuscan Pond wedding site of 5 acre's features beautiful garden's, majestic pillars and a duck pond connected to a trickling creek with rustic bridge. White distressed, hand-made benches are included with this site.
Located behind the Cottage Shoppe, The Meadows highlight most of the 125 acres of the property creating a spectacular view of the Blue Ridge for wedding themes of rustic to shabby chic, bohemian to fantasy.
The 5,000 square foot event Barn originally provided sleeping quarters for the Holstein dairy cows, and has been renovated with its signature feature, a bottle chandelier constructed by a local craftsman. A second enclosed barn, featuring a two story vaulted ceiling with interior open cupola's has recently been constructed. This unique structure is connected to the event Barn by expansive courtyards.
The Sinkland Farms Manor House has been featured in magazines and is of eclectic decor style boasting fireplaces built from stone off the farm, hardwood floors, and adorned with antiques, family pieces and contemporary finishes. The house will provide that extraordinary additional element for entertaining and celebration on the wedding day for friends and family.
There is an art to planning the perfect wedding. Let us be your canvas for Exquisite Southern Style.