Common House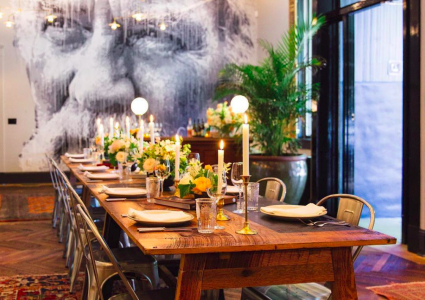 Common House is a sought-after wedding and event destination, exuding a romantic elegance. Ripe with history and design, our two locations in Charlottesville, VA and Richmond, VA are an emblem of their cities: a convergence of vintage charm with an eclectic aesthetic. Our spaces offer a unique and diverse experience for any occasion, including full wedding ceremonies + receptions, rehearsal dinners, bridal showers, welcome parties, post-wedding brunches and so much more for celebrations of all sizes (specific capacities differ per location).
Timeless yet modern, our premiere venue spaces, Vinegar Hall (Cville) and Union Hall (RVA), boast high ceilings, an open layout, natural lighting and local decor that fills the space with a rare ambience.
We offer all-inclusive dining, beverage, and furnishing services, custom tailored to meet any need. From full receptions, to rehearsal dinners, to bridal showers and after-wedding brunches, we are here to make your wedding dream a reality.
For more information on our Charlottesville space and pricing, contact Bailey Leitch, Director of Events, at: bailey@commonhouse.com.
For more information on our RIchmond space and pricing, contact Shelby Howick, Director of Events, at: shelby@commonhouse.com