Buff City Soap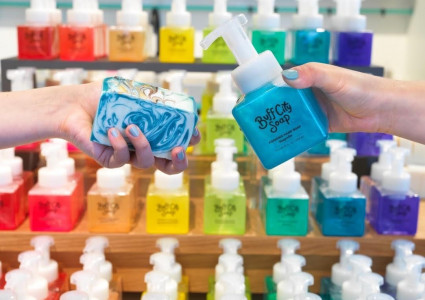 Buff City Soap makes it a priority to provide our guests with products that are free of sulfates, artificial detergents, and harsh chemicals – instead, we use plant-based, skin-safe ingredients that you can actually pronounce.
Our products are made with gentle ingredients such as Shea & cocoa butter, and different oils like coconut, palm, olive, and jojoba oils to keep your skin soothed, moisturized, and smelling fabulous!
What makes us unique, is that each bar of Buff City soap is handcrafted in-store in our Soap Makeries.
Yes, you can watch us make it and even customize products yourself! That means you get to see exactly what goes into the products and onto your skin.
We provide a variety of handmade, plant-based products that include: whipped body butters, bath bombs, soap whip, epsom salt, laundry soaps, body and foot scrubs, and so much more!