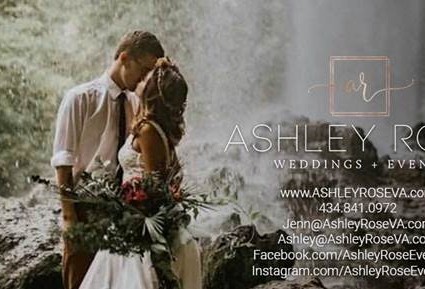 Welcome to Ashley Rose Events, a full service event studio serving Central VA and beyond. A successful event is all in the details, and we are your go-to team! We offer wedding planning, production and design, destination planning and much more. You'll find our extraordinary service ensures a remarkable event.
We'd love to chat with you about our proven formula to create a magical event and how to effectively bring your vision to life. It's where we belong, and we promise you'll sense that the moment we meet. 
After all, a perfect plan is lost without expert execution. We work your shining vision into every precise attention to detail, allowing you to enjoy the moment and have peace of mind. A great deal of thought, time and effort is devoted to every client, in order to provide the benefits of an Ashley Rose experience. We believe in collaborating with incredible people to create your most unforgettable and unique celebration.
Our packages are customizable to accommodate every taste and budget. We obsess over all things planning to help you discover new and innovative event ideas. 
With top-notch industry connections and area expertise, the Ashley Rose team can offer the perfect special touches to your event, bringing your dream and visions to life while saving you countless hours of planning time. The team is committed to being community leaders by giving back with yearly charity events and raising awareness for various non-profit organizations. You and your guests are sure to remember the Ashley Rose Experience! 
Take a sneak peak at our client love letters:
"When we first met Ashley at our initial meeting, she said her main goal was that on our wedding day we would be able to relax and not have to take care of last minute details or that anything would be unexpected or incomplete. She went above and beyond that, and my husband and I had complete confidence in her to advocate our desires during our wedding day. We had to make last minute changes due to weather, and the outcome was absolutely stunning. Ashley was a crucial part of our day and wedding planning process. She listened to our needs, allowed us the freedom to relax & enjoy our wedding, and treated us more like friends than clients. We're so thankful to her for everything!"
"Jenn did an incredible job on my wedding!! I contacted her very LATE in the game (2 months before the wedding) feeling overwhelmed about not having enough money or time or knowledge and she was so sweet and helpful. She made me feel relaxed about everything – it was like a HUGE weight had been lifted. She did a perfect job on everything. I couldn't be more pleased with her work. Everything went off without a hitch – decor, ceremony, photos – everything was beautiful and the day was one of the highlights of my life. Hire her if you want a perfect wedding. Thank you Jenn!"