Ashley Dorton Photography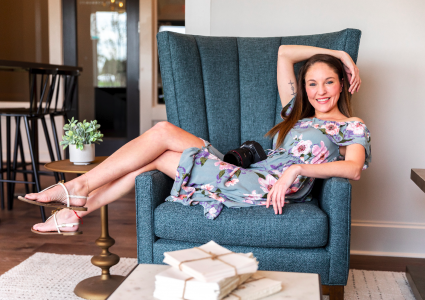 Hi, I'm Ashley! In 2013, I was an aesthetician who had a knack for using my Canon Rebel T3 to take personal photos of my life and friends. That hobby slowly bloomed into a small photography business, and that year, I took my first ever second-shooting gig at a wedding. Eight years later, my passion for documenting life's most precious moments and inspiring others to pursue their dreams has been my driving force as a seasoned business owner.
I live in the good old heart of Virginia with my Daughter Reagan, and our Yorkie Terrier, Daisy. I love being by the water whenever possible, and I'm the first to volunteer if there's water-skiing or wakeboarding involved. I'm passionate about spreading positivity, eating taco bell (or any Mexican food, really), and making an impact. When I'm not wearing my mom hat, there's a good chance I'm busy talking astrology with friends, aligning my chakras, giving back to local charities, or jamming out to country music during an intense editing session.
My photography style is bold, colorful, and timeless. I'm a sucker for black & white photos and often feel they're best-fit for candid moments that exude emotion. I strive to capture my clients at their "ultimate happy" by creating a genuine and natural experience behind my lens. I enjoy encapsulating small details, raw emotions, and unique connections. My clients will tell you- I'm an extremely organized type-a personality, and I like to run a tight ship (must be the Virgo in me). You can always count on me to arrive early and ready to provide clear direction during a shoot. We will laugh, we will play, and we will likely become friends and grab food afterward. That's my thing; cultivating life-long relationships by turning clients into friendships. I'm a firm believer in pouring love into the people who support my goals and dreams, so don't be surprised when you receive a random text of encouragement, a 'thank you' package in the mail, or a personalized holiday card from my family to yours. Once we've worked together, we're in this thing for life, baby!
Do I sound like the perfect photographer for you? Do you want to follow along and support my journey as a "mompreneur"? Contact my website and find me on social media! I'd love to connect.