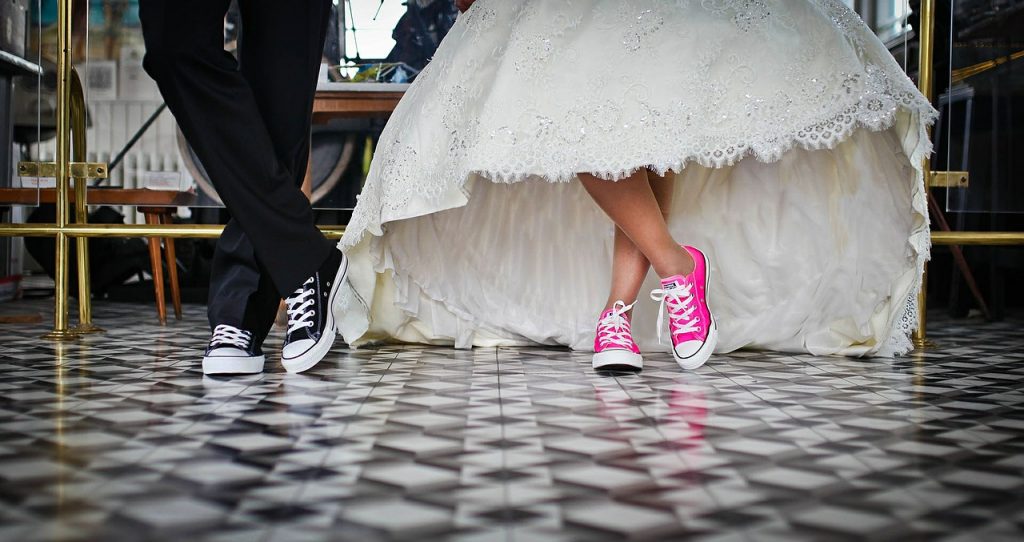 I've seen boots and flip flops, so I had to wonder why I saw people get bent out of shape regarding wearing tennis shoes at weddings, particularly the bride and groom. But there are as many great reasons to wear tennis shoes as there are reasons to wear formal shoes. Maybe more.
Wear Them For Comfort
If you are not use to wearing formal shoes, you might find them stiff and uncomfortable. Finding a pair of comfort shoes might be the perfect solution to taking some of the stress out of the big day. Happy feet. Happy heart.
Show Some Style
You don't need to wear the same style you would wear to the mall or for a long walk. There are many sneakers that are bedazzled, bright, shimmery, or on fleek. Wear a pair that contrasts with all the pastels and ivory. Or bring in the bright color of your theme color.
Be Tongue in Cheek
Now if you have a very formal wedding and formal reception hall, it might be just fun to kick off the dance wearing a favorite pair of sneakers. You can pick the perfect moment. After all, the shoes tell you a lot about the person. Declare who you really are.
Be For Real
If you can't wear formal shoes, don't stress about it. Who do you know who would really judge you for your shoes at your own wedding? So be comfortable. Don't ruin your day with pinching, painful shoes. Have fun and be comfortable at your wedding.
---
– Virginia Bride Magazine features the best Virginia weddings and Virginia bridal shows. Find it all in one place. Check our blog posts regularly for the latest show information.