When it comes to getting engaged, the proposal is something that is remembered forever. That special moment when he/she pops the question is a milestone in life that changes everything. For some people, opening a ring box and getting down on one knee is not enough to express the love and joy they feel for their soon-to-be spouse. 
Here are some of the most unique marriage proposals that led to some of the most amazing weddings in Virginia Beach. Copy them or make them your own or just read for your own entertainment. Love is a wonderful thing, isn't it?
A Glowing Memory
One guy wanted to make his proposal special so he wrote out the words "Will you marry me?" in glow-in-the-dark letters, sticking them to the ceiling of their bedroom. When they went to bed and turned out the lights, she looked up and couldn't believe it. How could she say "no" to that? When he turned on the light, he already had the ring ready to put on.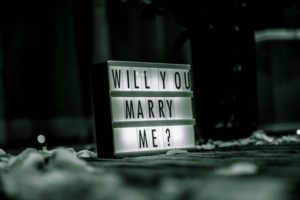 Scrabble It
Play a game of Scrabble, but cheat a little. Make sure you have the letters to spell out "Will you marry me?" then when she places down a letter that you can build off, spell it out and wait for her to realize what just happened. Make sure to have the ring ready!
Virginia Beachy
A guy wrote down his proposal on a piece of parchment paper then stuck it in a bottle. After corking it, he slid it into his suit coat pocket then took his girlfriend to dinner. After dinner they strolled on the beach where he discreetly dropped the bottle into the incoming surf. Pointing it out excitedly, they ran up to it and he let her open it. When she read it, her reaction was priceless.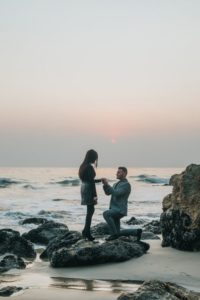 Sandy Sentiments
A woman went to the beach early and spelled out "Will you marry me? In the sand, then went back to get her girlfriend for a walk on the beach. When they came upon it, she dropped to one knee and opened the ring box.
There Were Signs
A guy in New York City wrote separate words on white pieces of cardboard spelling out "Will You Marry Me?" After planning to meet his girlfriend for lunch in Central Park, he gathered some strangers on a park bench and gave them the signs, asking them to hold them facing downward on their laps until he walked by and gave the signal. Sure enough, 5 minutes later the lovely couple walked by as the signs were raised. She screamed in surprise!
Text Fun
Text your lover letting her know you are planning a night out with a new couple named Will and Mary who will be picking you up by car, but tell her that you're concerned about how to sit in the car because the backseat is small. Ask who should sit in the front. She will of course say you. Then say, "oh and Mary in the back?" And she will agree. Then ask her to repeat it. "She will most likely say "Will and you in the front and Mary and me in the back." Repeat it by saying "So, Will, me, Mary, You?" She'll say, "yes, Will, you, Mary, me?" Of course you will say "Yes!!!" and burst through the door with a ring. 
Party Favors
Have a party and select a group of 5 friends to wear a t-shirt that you had made with one word on each shirt, including a separate one for the question mark. At a certain time in the party ask your lover to take a picture of you and your friends, who will now be wearing the t-shirts that say "Will You Marry Me?" with you standing in the middle. When she goes to take the picture she'll see your proposal, then you can drop to one knee and pull out the ring.
Have Your Cake And Eat It Too
Have a cupcake made into the shape of a ring box and hide the ring inside. After dinner, hand her the cupcake for a fun dessert. When she cuts into it, she'll be surprised by the ring inside; it'll be your perfect moment to get down on one knee and ask for her hand. 
The Sky's The Limit
One man hired a plane to write the words "Will you marry me?" in the sky while he and his girlfriend lay in the sand on Virginia Beach. What a romantic surprise! Imagine laying on the sand and looking up to see writing in the sky meant just for you.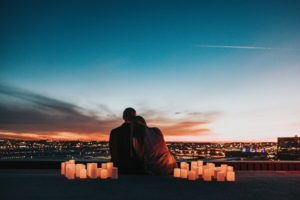 No matter how you do it, you will always remember your wedding proposal and so will your lover. You can make it funny, romantic, eventful or simple. What matters most is that you are taking the next step in your life and in your relationship. Marriage is not something to take lightly, but when you find that special person, it will last a lifetime. So propose your heart away with these ideas or conjure up your own unique proposal, good luck!