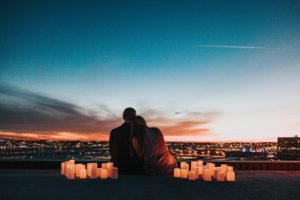 Big events bring a lot of potential waste with them. Here are some tips for making your wedding a little more earth friendly than you might have realized was possible!
This topic is widely controversial, and this article does not claim to have all the scientifically sortet empirical evidence on the matter. But we do want to start the conversation and offer a few ideas for brides who are eco-conscious to at least spark some options. A good place to start is to simply think about each purchase and ask yourself: is this going to be thrown away or reused? If it's going to be thrown away, is it biodegradable? Navigate buying choices accordingly.
Everything in Moderation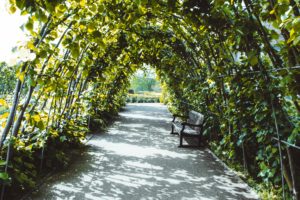 Many brides and grooms choose to check off the big items from the wedding plan checklist first, and as soon as possible. These weightier decisions help the couple feel like they have the major work out of the way and lends a sense of accomplishment to a wedding couple. A lot of these choices revolve around the reception: the venue, caterer, DJ, cake, décor, and geographical location all inform the final outcome of the reception, and within these choices there are ways to reduce, reuse, and recycle.
Resource your vendors locally and emphasize your focus of reducing waste during your wedding reception. Interview several companies and find which ones might prioritize your goals the most. Using local caterers and food purveyors reduces vehicle emissions and travel expenses, and local breweries and restaurants usually have quirky and creative menu options that may be more in liking with your themes than a big caterer. Ocean to table and farm to table vendors are generally aware of sustainability practices and open to maximizing any efforts to reduce agricultural or oceanic abuse.
Use your event as an opportunity to build awareness. If you're going to go to the trouble to be careful how you outfit your event for the planet's benefit, don't hold your light under a bushel. Make a big deal about it! While you and your soon-to-be spouse are and should be the center of attention, make it known that you want your celebration to be considerably "green." Give your guests a clue to your mindfulness at the first touch point: Invitations. Use recycled or bamboo paper invitations, or better yet, skip the delivery fuel usage and production costs and send digital invites!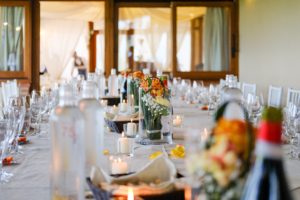 Obviously, renting the dinnerware, tableware, glassware, and linens are the best reusable solution for your reception. If your wedding is not being formally catered and has something of a more casual theme, using paper plates is still better than Styrofoam. Create signage near entrance points and beverage stations to make people aware of the focus on sustainability by having recycling and compost bins available next to garbage receptacles.
Lighting is another consideration; a daytime wedding and reception can be crafted to utilize natural light, but a little more planning may be needed for an evening wedding with a reduced electric footprint. Wax or battery powered candles save on energy… but does the battery powered usage outweigh the electric footprint and do candles made of paraffin really support the environment? We don't claim to have the answers but simply want to get you thinking so you can come to the best conclusion for you. An evening wedding requires more lighting, so opt for reusable options rather than single use items that will be thrown away.
Details and Design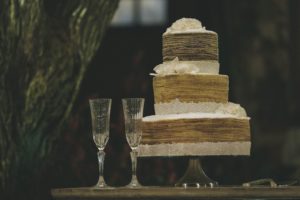 When you get down to the finishing touches, don't fool yourself into thinking that just because these are smaller decisions they don't matter in a meaningful way. One fork is a very small part of an entire wedding, but if one fork is multiplied by several hundred guests, it becomes an impactful decision to consider.
When searching for décor, start by browsing the internet for recycled paper decorations or sustainably produced options. Zerowastestore.com  and  www.Ecopartytime.com are a couple of good resources to get you started thinking green. These extra details can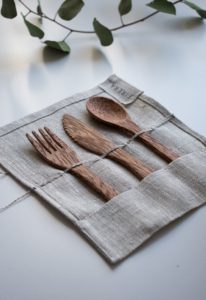 not only reduce the environmental footprint of your event but will also surely lead you to design choices that you would not have stumbled upon without doing additional research. Items like linen cupcake wrappers may not have organically crossed your radar, and homemade confetti made from hole-punched leaves can give your reception an earthy tone in more ways than one. There's a reason "earthy" design never goes out of style.
Plan a drink menu that can avoid the use of straws (like wine and bourbon only) or opt for paper straws if you need to sip. Think about decorating with potted plants rather than cut flowers and let each of the attendants choose a pot or two to keep after the wedding (make sure to save your favorites for you and your new spouse!). You could even use seed packets as wedding favors to send home with your guests. And for goodness sake… if you want people to throw stuff at you as you leave the church, just stick to old-fashioned birdseed.
No matter what your wedding color palette, your wedding can still have a shade of green in every category. If you have other green solutions you have seen or used in weddings, comment below. Cheers to nature-friendly nuptials!