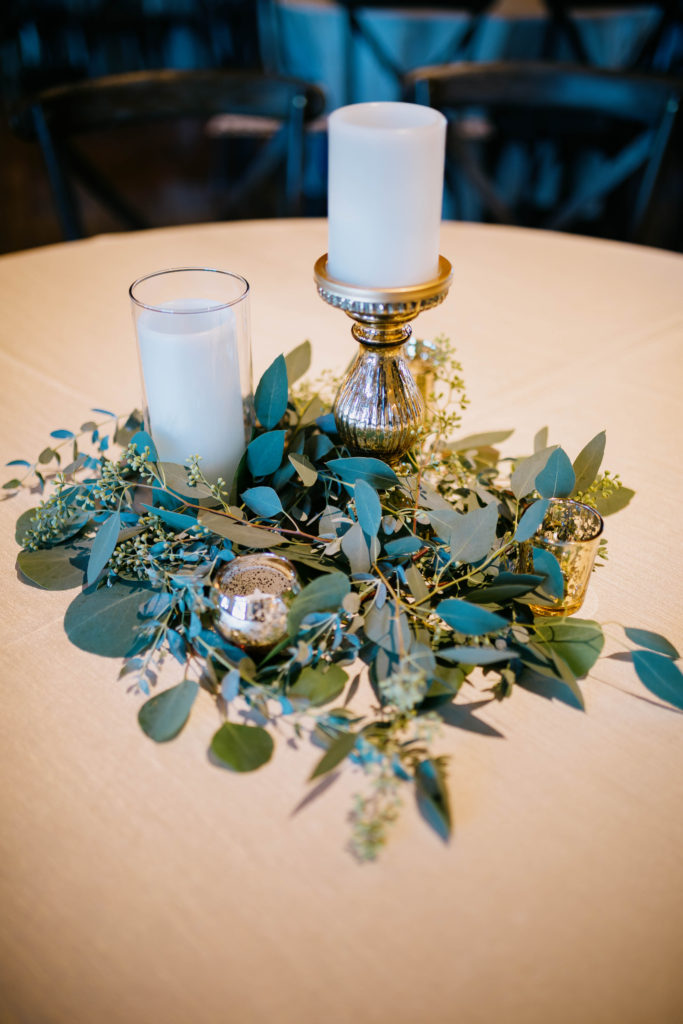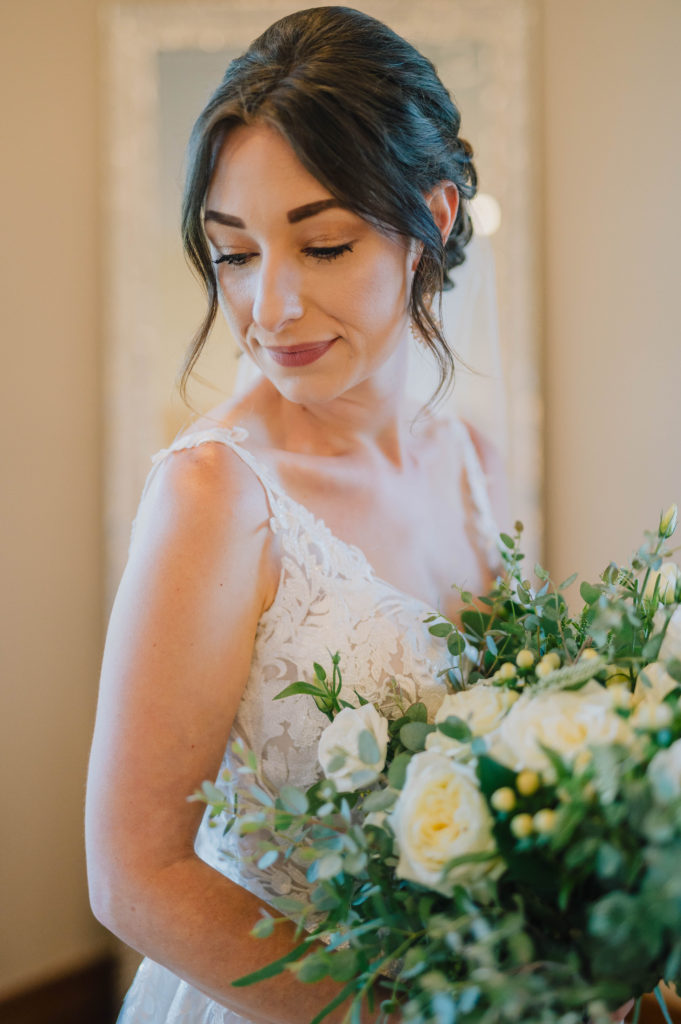 Molleigh and Trevor met during the production of a Christmas play at their church. "One of his friends told me that he had a crush on me and that he had liked me for some time. We started talking in February (the play was in December) and officially started dating March 2017. And here we are now!"
While they were dating, Molleigh was finishing her Bachelors and Trevor was working full-time, doing a lot of third-shift work, so many of their first dates consisted of him bringing coffee to her while she studied. "He knew that coffee was my love language! I do remember the first evening he was coming to see me while I was at school and I remember having these crazy butterflies in my stomach. I was so nervous and so excited."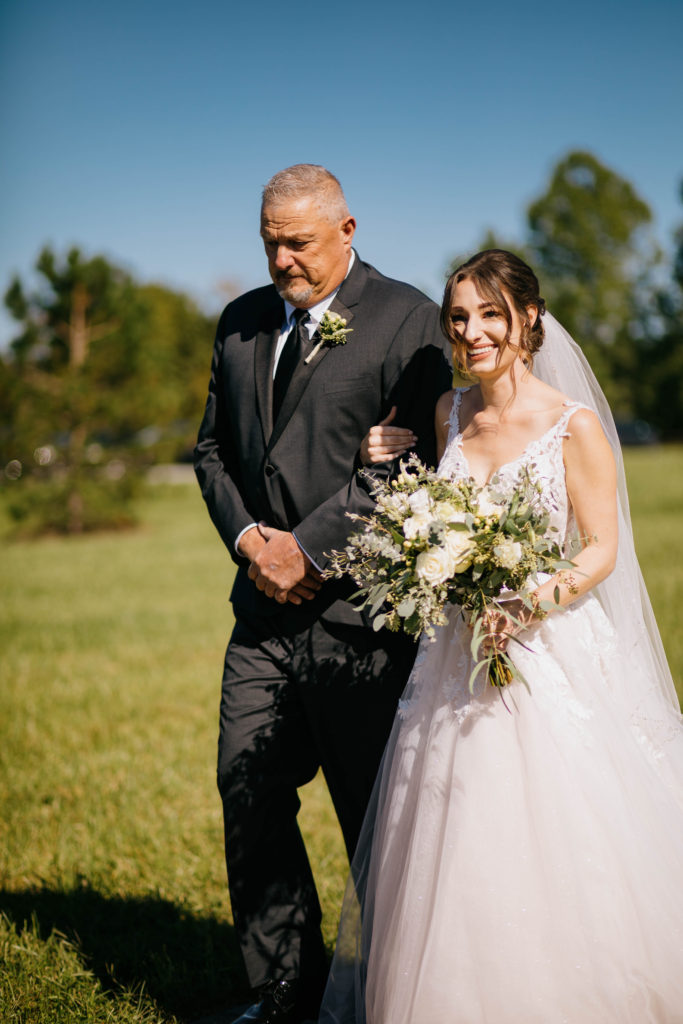 Molleigh and Trevor had a truly magical Virginia wedding this Autumn. "We really wanted to make the day as non-traditional as we could, but keeping in some of the obvious traditions. For our Unity ceremony, we both took Communion together. It was a beautiful showcase of God's love for us and us coming together as a married couple to serve Him together, honor him, and respect and love each other the way that Jesus loves us. Instead of cake, we had cheesecake because it is my FAVE in all the world. We also served tacos and nachos at the wedding, to just make it fun and different for the guests!"
The pair decided to hold their wedding at the Glass Hill Venue in Goode, Virginia. "From the time the venue opened in 2017, I KNEW that that is where I wanted to get married. No matter what. We took our parents and siblings to view the venue, and before we got out of the car, we both looked at each other, got choked up and just KNEW it was the place for us. It will hold the most special place in our hearts. My husband always said he wanted me to have free reign to plan our wedding and make it special…I never expected him to fall in love with it like I did. It was perfect."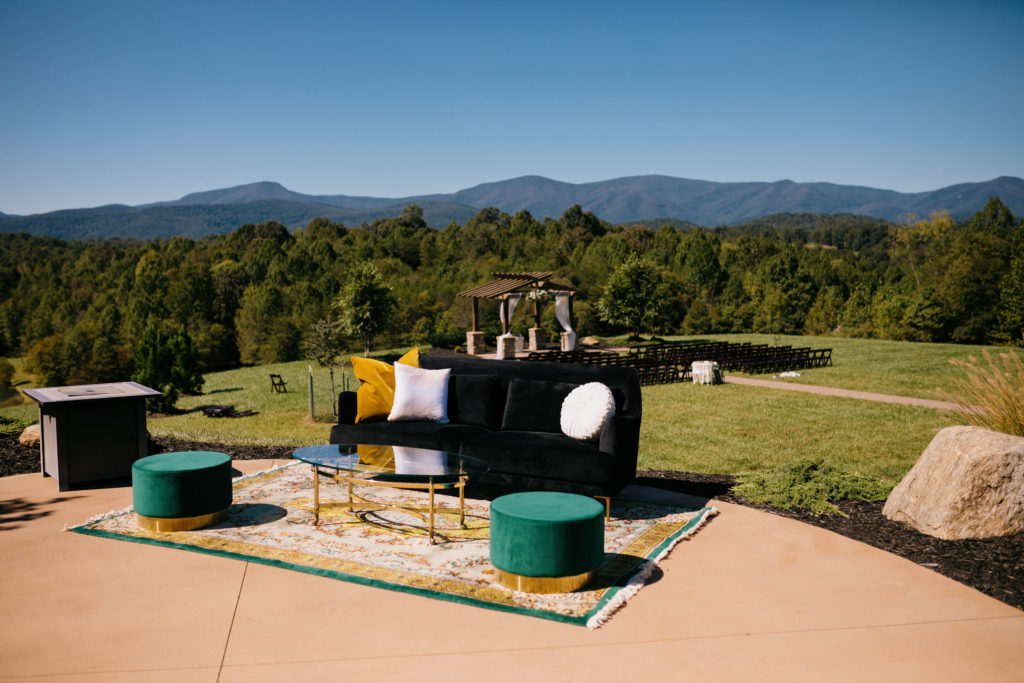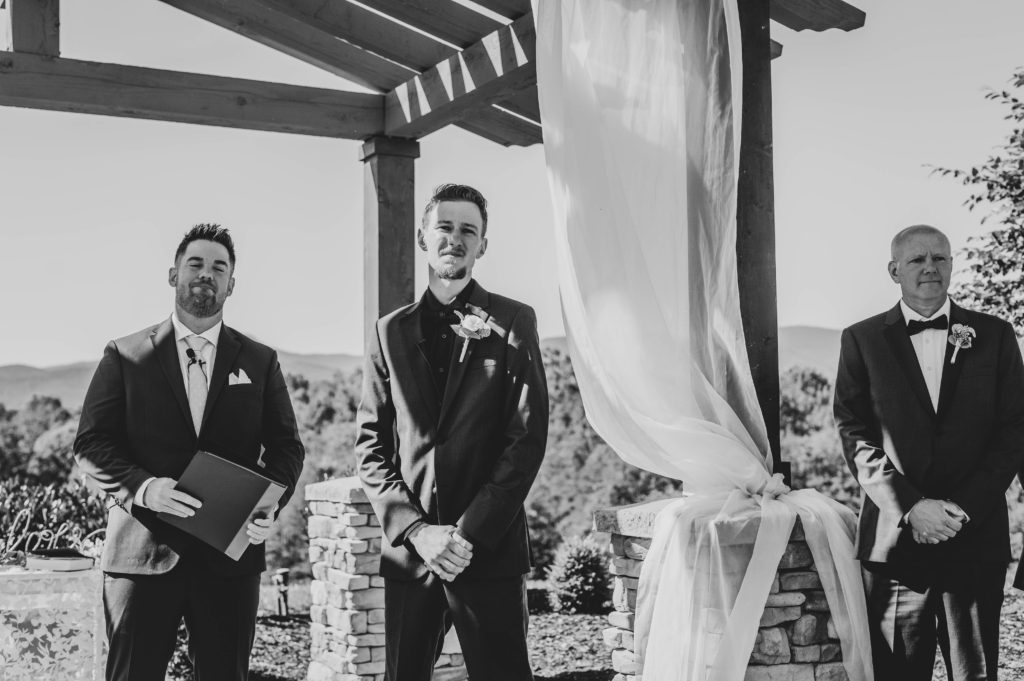 The Scoop:
Bride: Molleigh, 28, Community Liaison for Centra Alan B. Pearson Regional Cancer Center
Groom: Trevor Lee Creammer, 22, welder at Cooper Steel
Wedding Date: September 20, 2020
Number of Guests: 130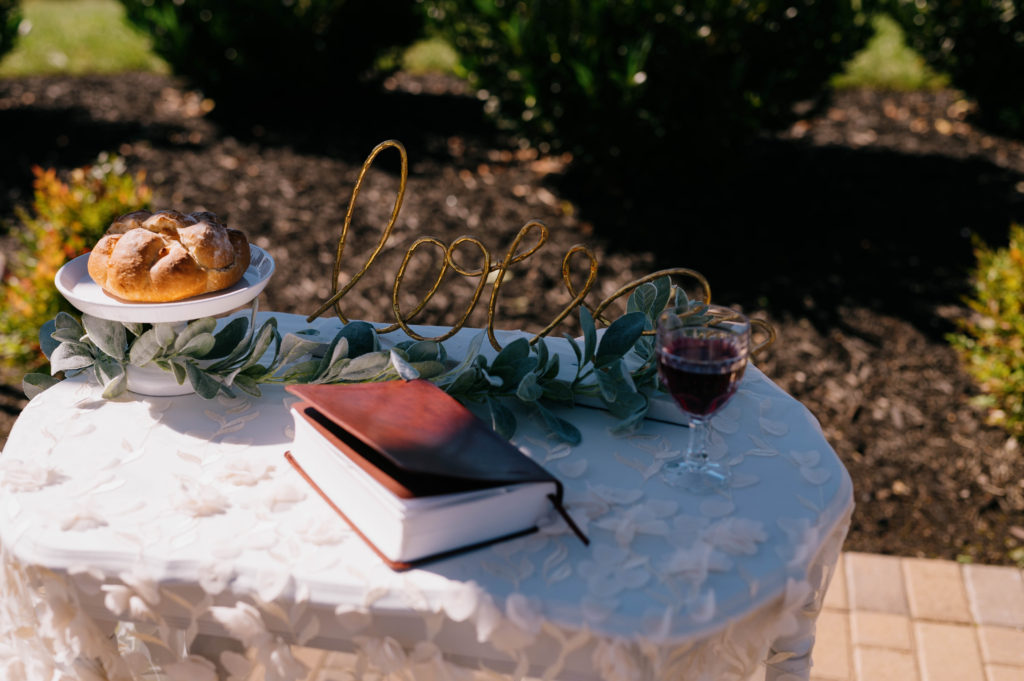 Molleigh originally went into your wedding dress consult thing she'd opt for long sleeves and sleek, form-fitting style gown. "Little did I know that I would fall in love with this exceptional ball gown. The lining of my dress was a blush color, so it steered away from the traditional white/ivory, but it was so stunning. My shoes were all gold-sparkled heels. Even though you couldn't see them, they still were so fabulous!"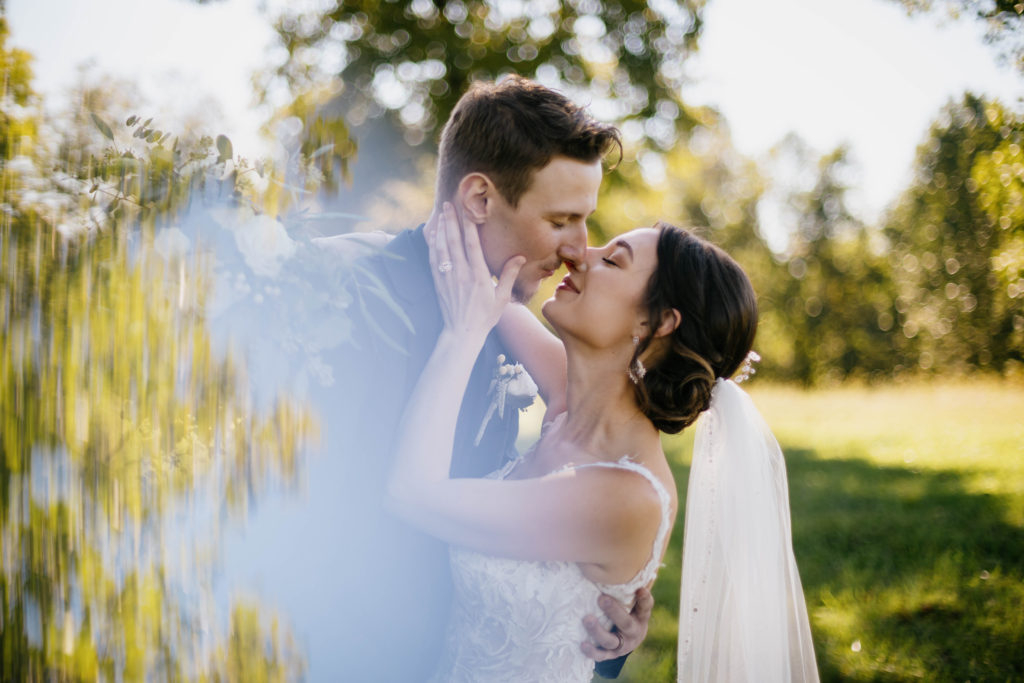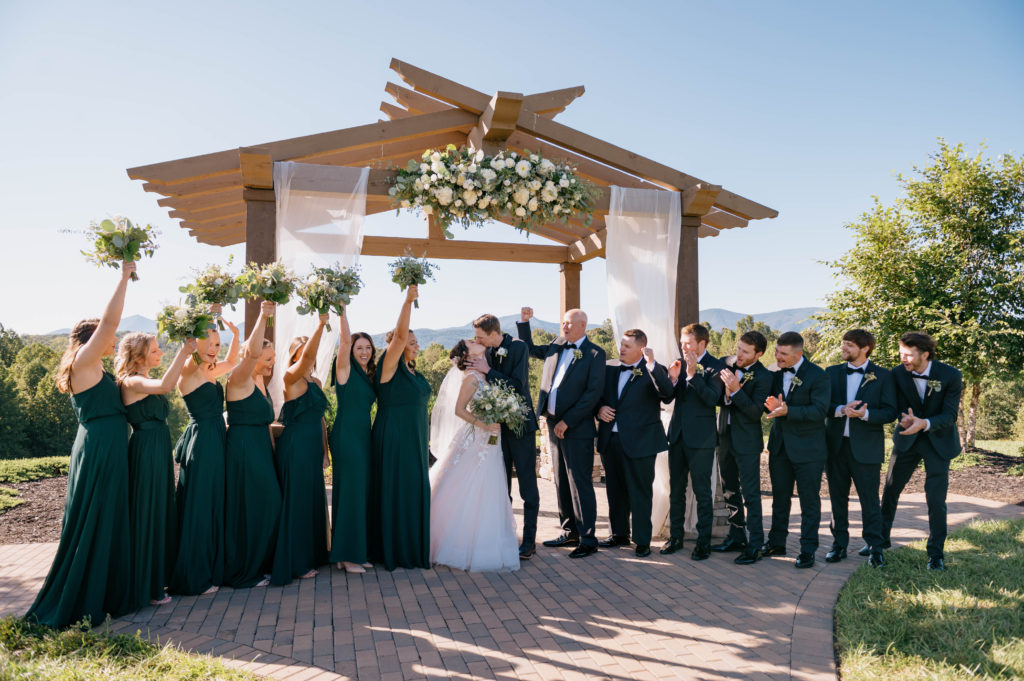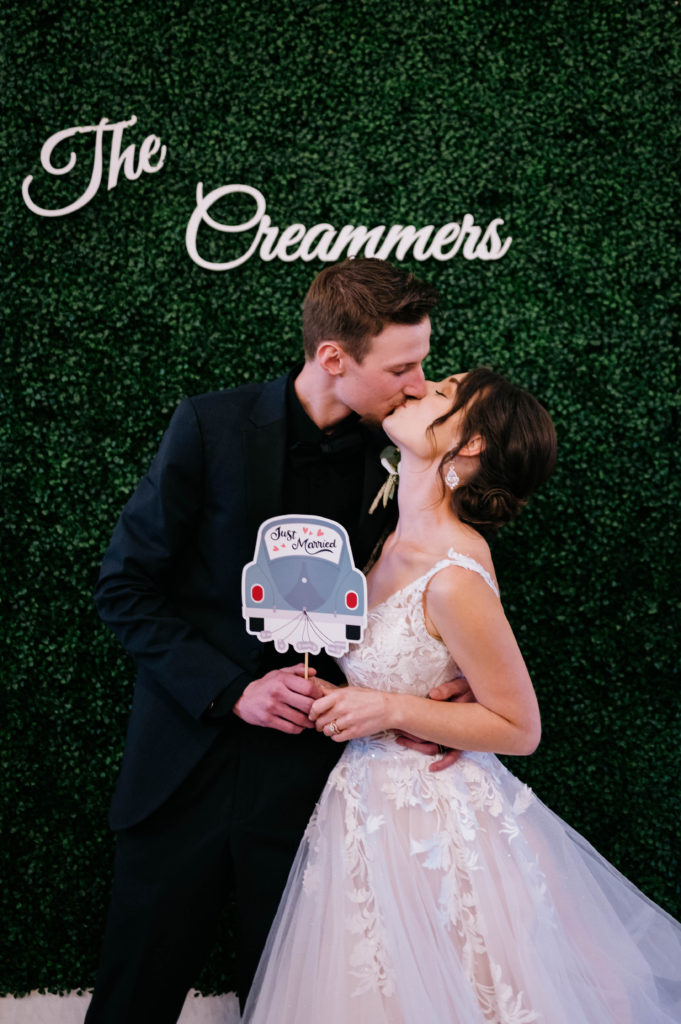 Molleigh and Trevor opted for a modern, chic wedding with loads of greenery, gold pillar candles, boxwood wall, velvet black coach with emerald ottomans, and all the chic and modern elements Molleigh could find.
Their colors were deep emerald, ivory, gold, and black – all of their favorite colors combined into their theme. "We wanted our wedding to be chic and unlike any we have ever been to, and I have never been to a wedding where they selected those colors before! I originally wanted a Christmas wedding so that is where the deep emerald came into play, but my husband really wanted us to get married in the fall, specifically September. And I am so thankful we did! It was the most perfect day!"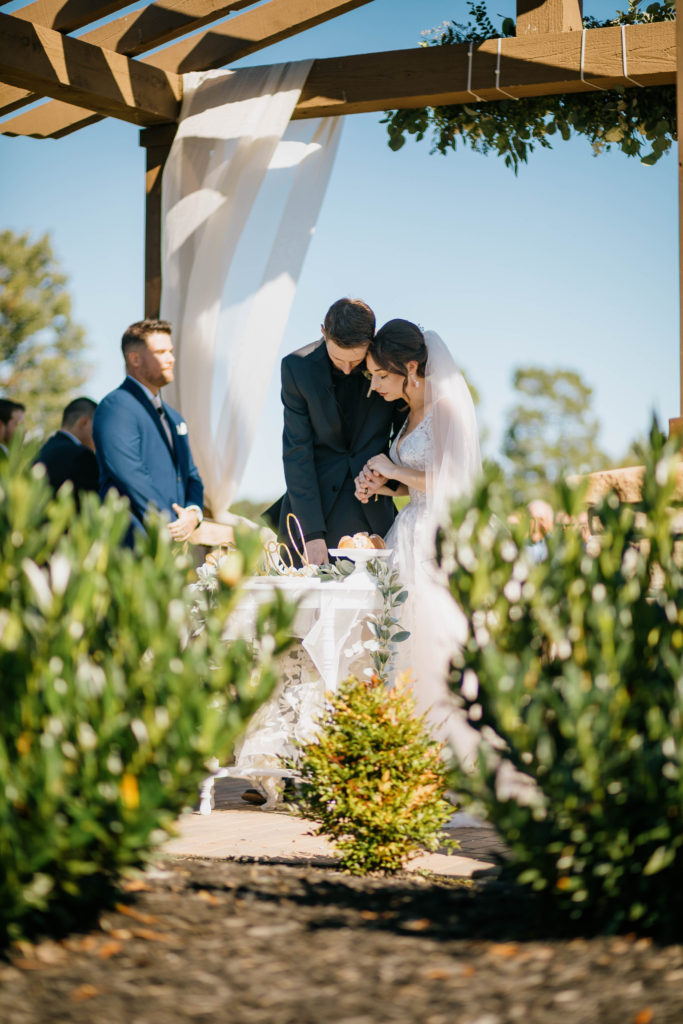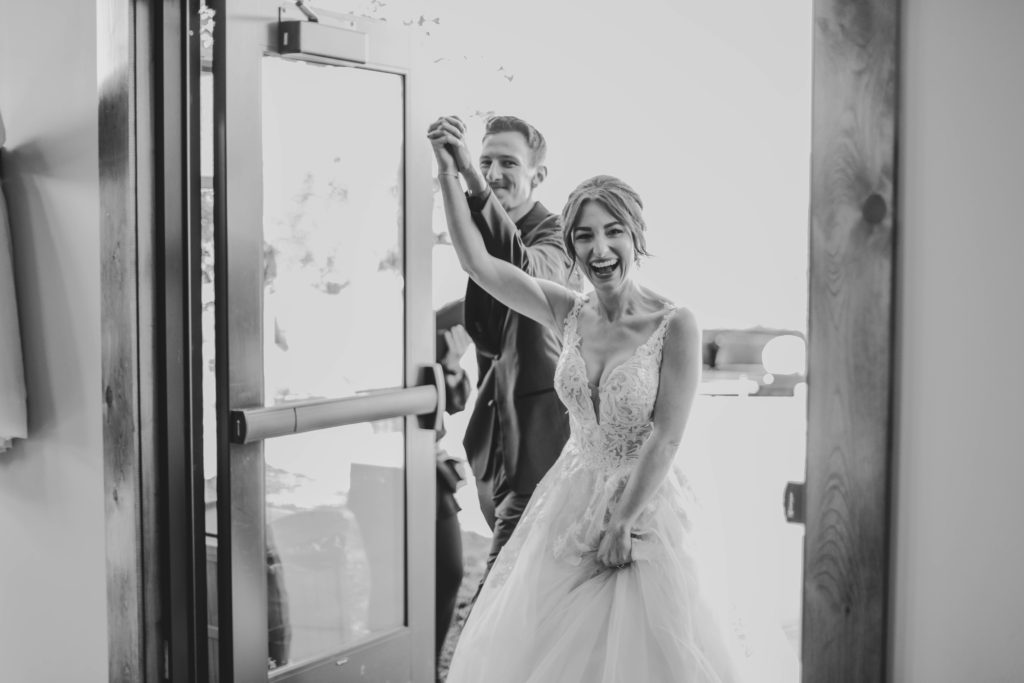 "We were so fortunate to have all of our favorite people at the wedding. There was one special lady to me, My "Auntie" Carolyn who was able to come. We hadn't seen each out in a while since my sweet grandfather passed away and she moved to South Carolina. It was the sweetest to have her there to celebrate the day."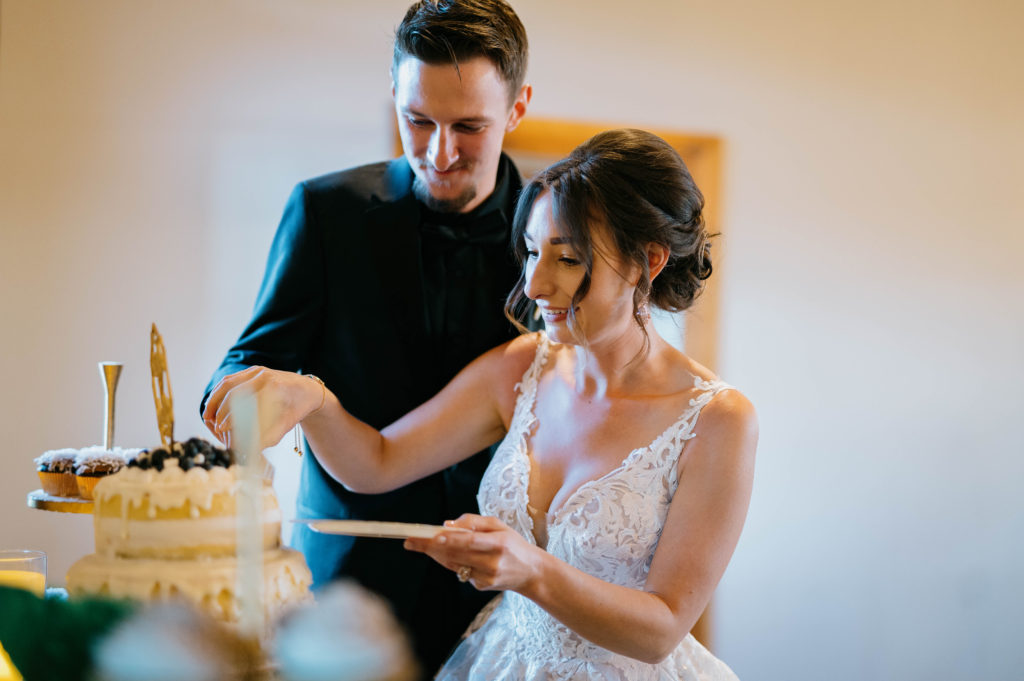 Molleigh offers these words of encouragement and advice to brides to be. "The week leading up the wedding is the craziest week of your life. And when the day comes, you seriously have a sense of peace that you have never had before. I am extremely OCD so I was worried about something going wrong, and even if something did, I never had a clue and what I did know about, didn't even matter because I knew I was marrying the love of my life and that is all that truly matters. Focus on the day and what it really means. Yes, the wedding is big for us girls and we want it to be special and magical, but at the end of the aisle is all that really matters."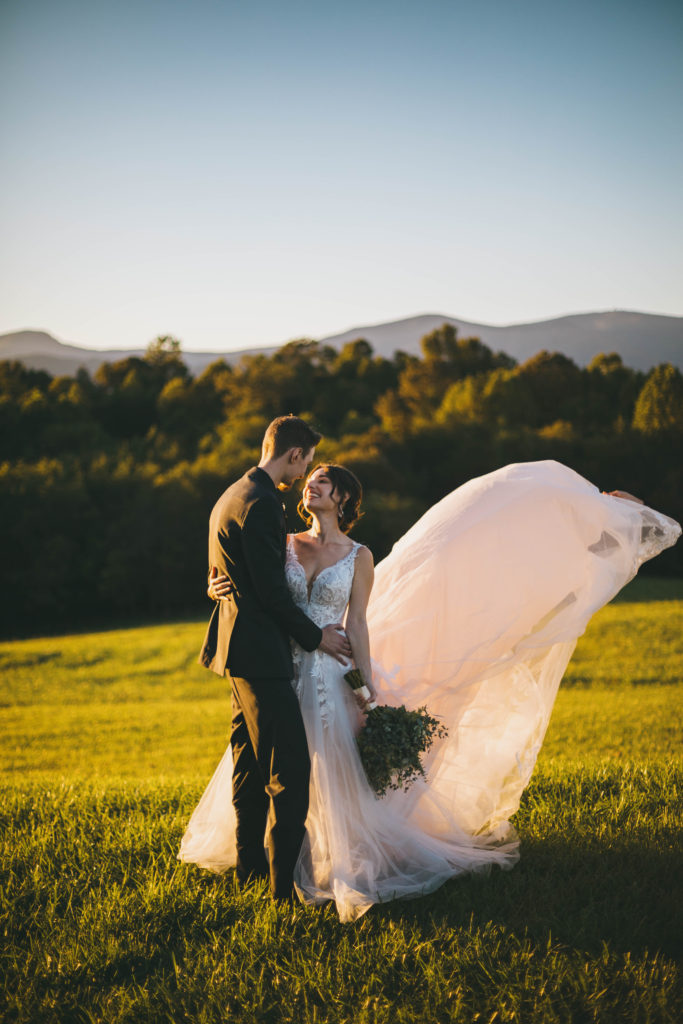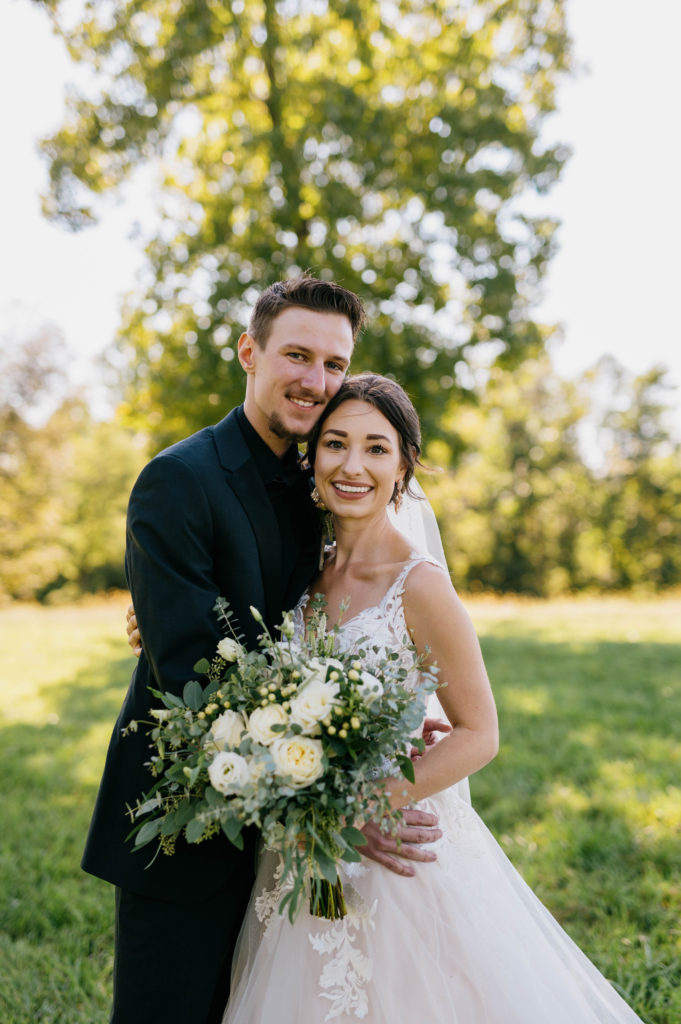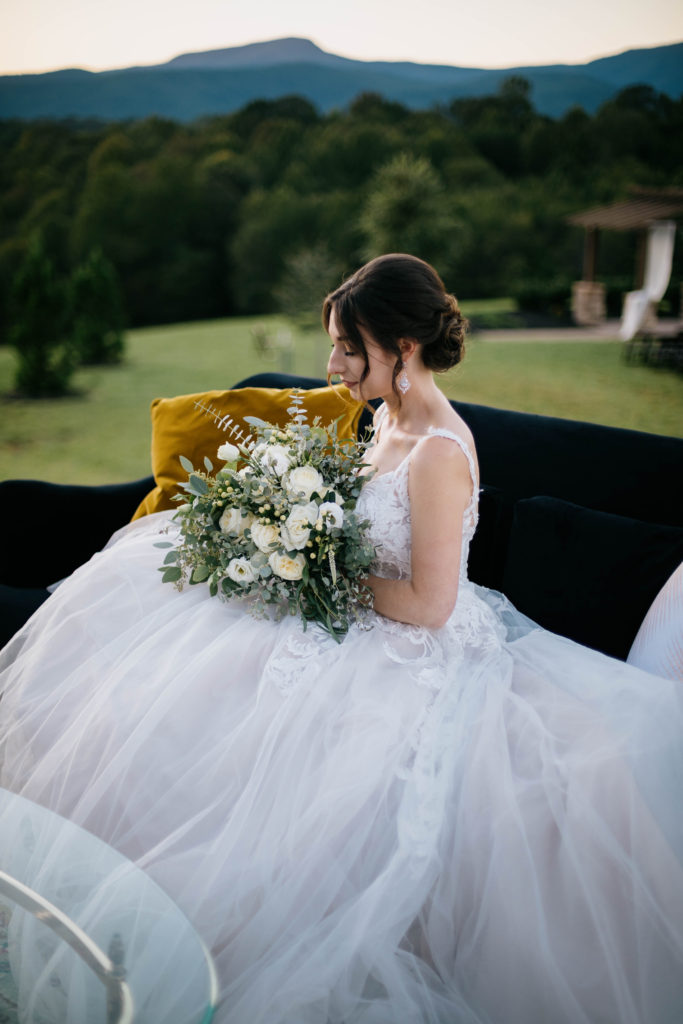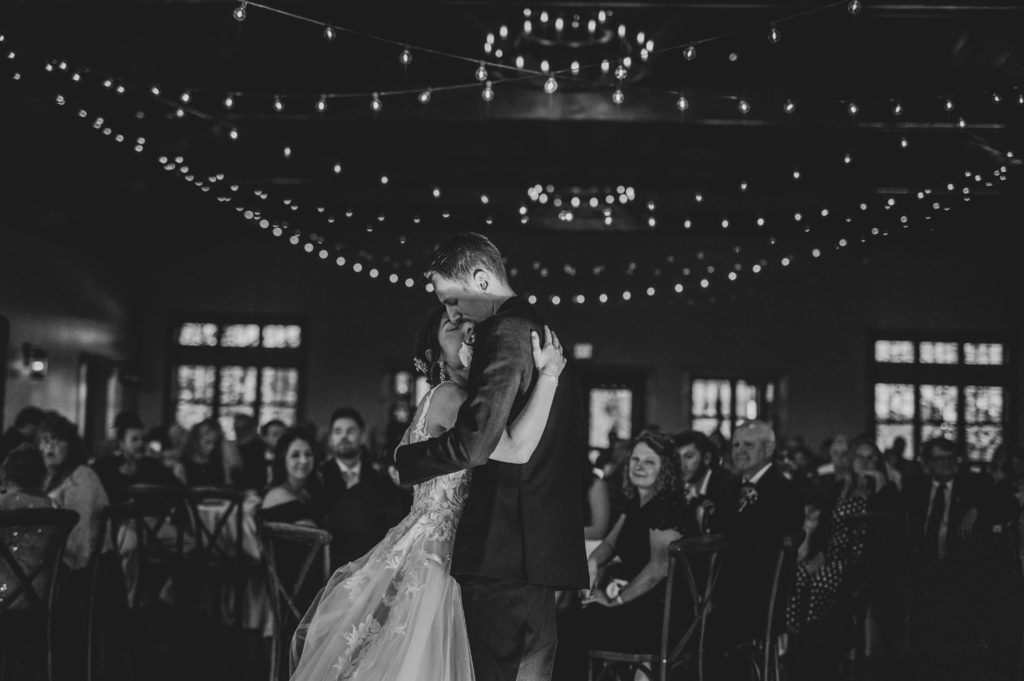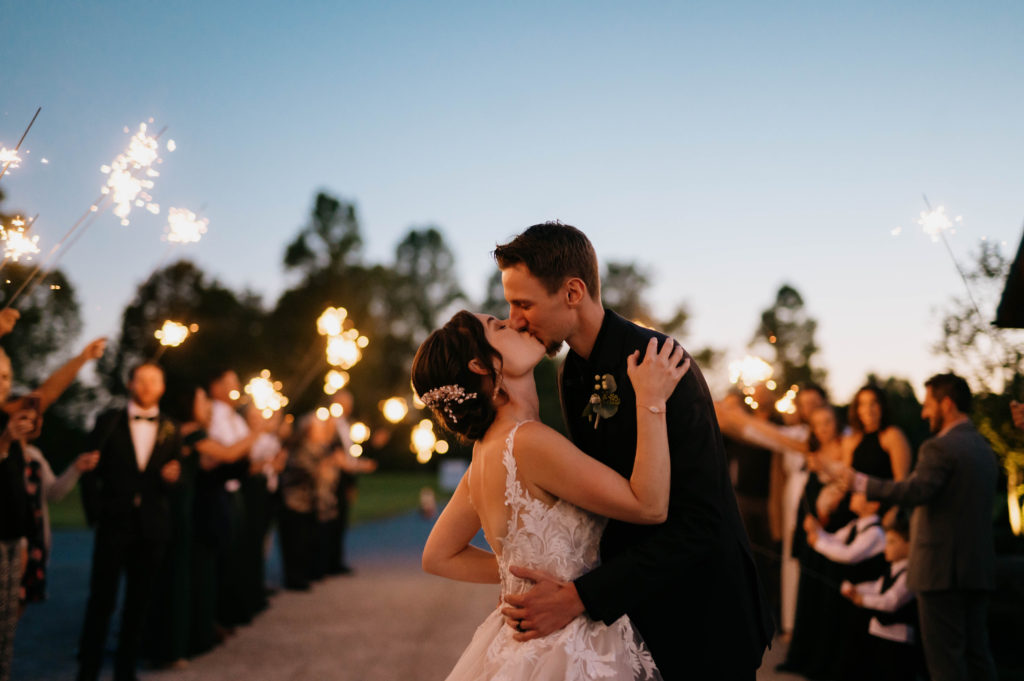 Thank you for sharing your story with us, Molleigh and Trevor! Congratulations to you both!
Vendor Credits
Venue(s): Glass Hill Venue, Goode, VA
Photographer: Randi Bryant at RNB Photography
Day of planner: A Little Party Events
Officiant: Seth Campbell (good friend of the bride and groom)
Gown: Ashley Grace Bridal
Veil: Etsy
Shoes: Amazon
Hair: Anna Carson at The Final Look
Makeup: Bride
Bridesmaids dresses: Birdy Grey and Lulu's
Formal wear: Men's Wearhouse
Flowers: Bloom by Doyle's
Rental Equipment: Happily Ever After Rentals
Catering: Avenue Foods
Music: Music, Music, and More Music
Cake: Simply Vanilla Cheesecake
Honeymoon: The night of we stayed at the Virginian in downtown Lynchburg. Due to COVID, we had to postpone our actual plans. We went to Hilton Head, SC and will go to Turks and Caicos for our one year (hopefully!).