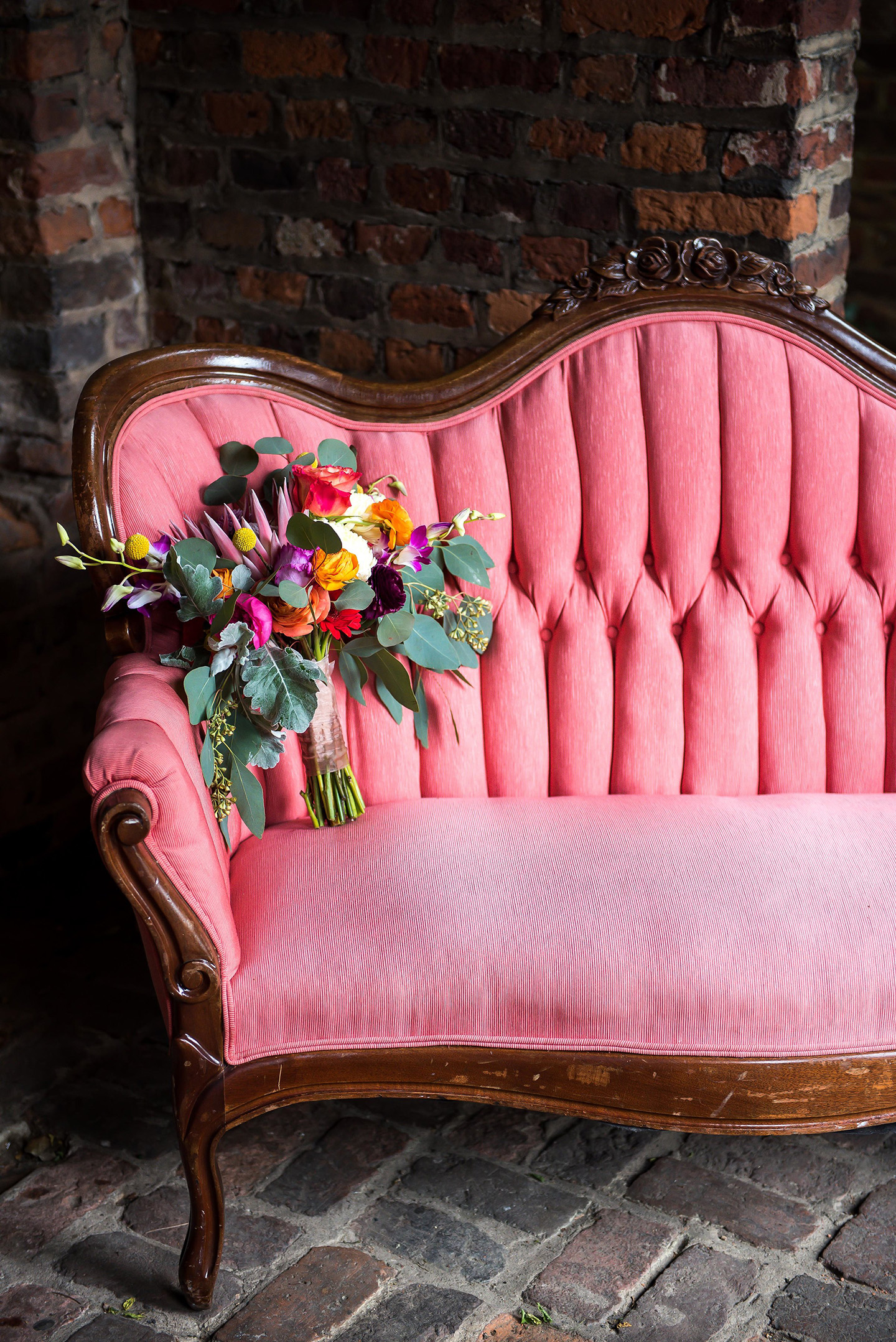 There's nothing I (Tilley, your wedding obsessed blogger) love more than a colorful and quaint wedding and that's just what Phil and Meridith's big day was!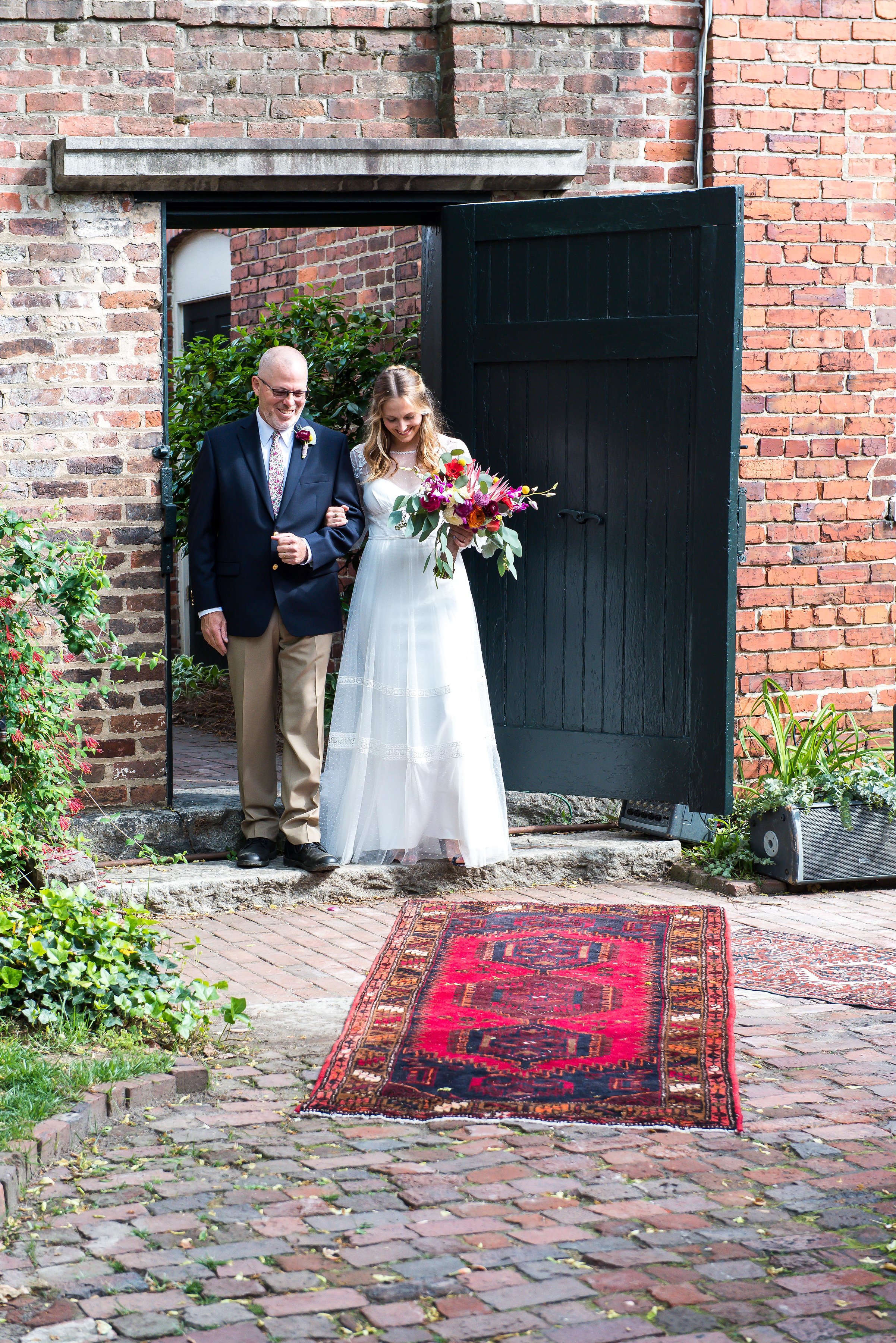 Meridith walked down the aisle with her father in May of this year at the Poe Museum in Richmond, VA.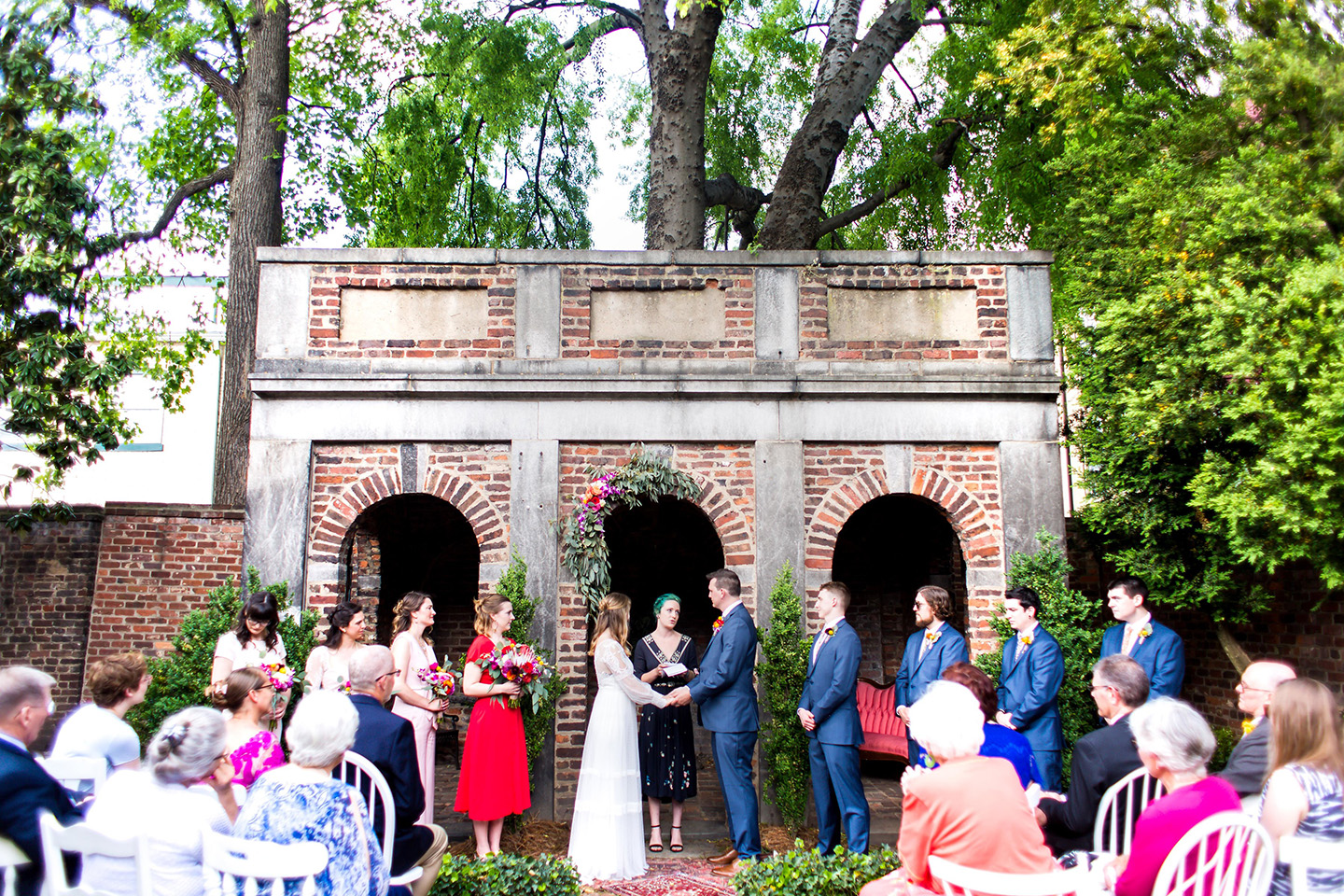 She had met Phil in 2011 when they moved in across the street from one another in Richmond! They were just good friends for a while, then even lost touch at one point, but as fate had it, they re-met when he just happened to be the roommate of Meridith's best friend's boyfriend!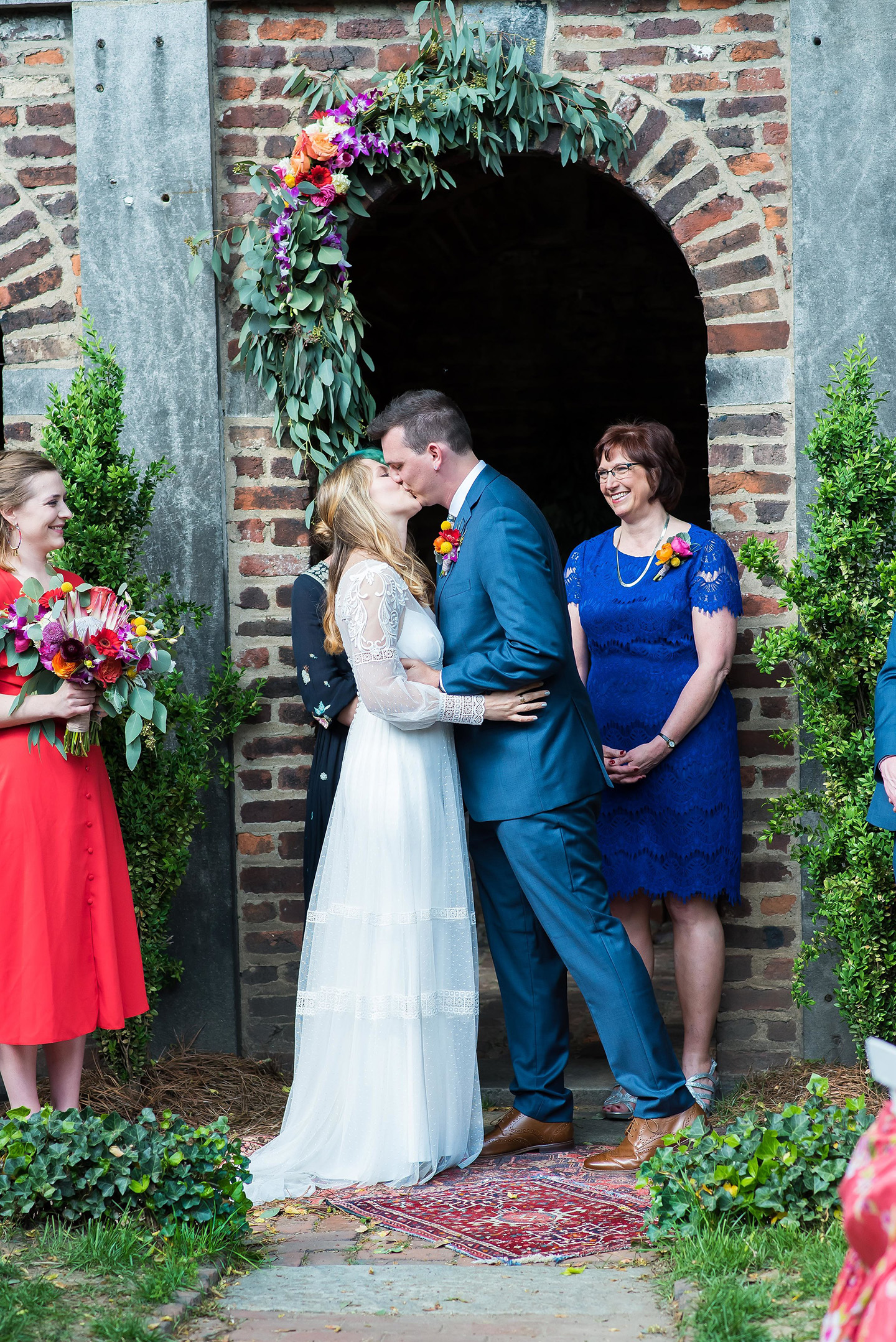 With a kiss, they were wed!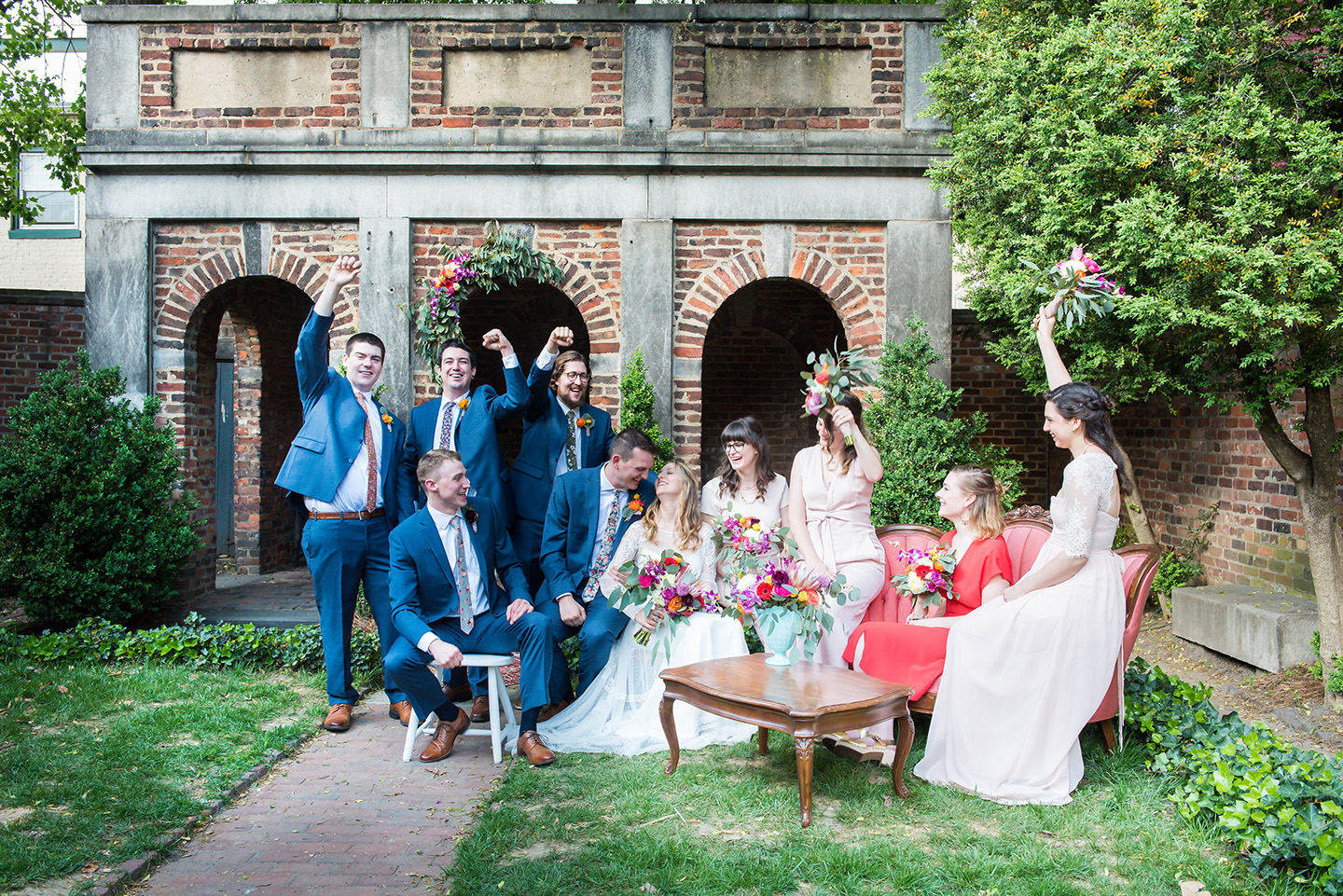 Their bridal party was pretty pumped for the newlyweds as they posed perfectly on the lawn of the museum on vintage furniture from Paisley and Jade.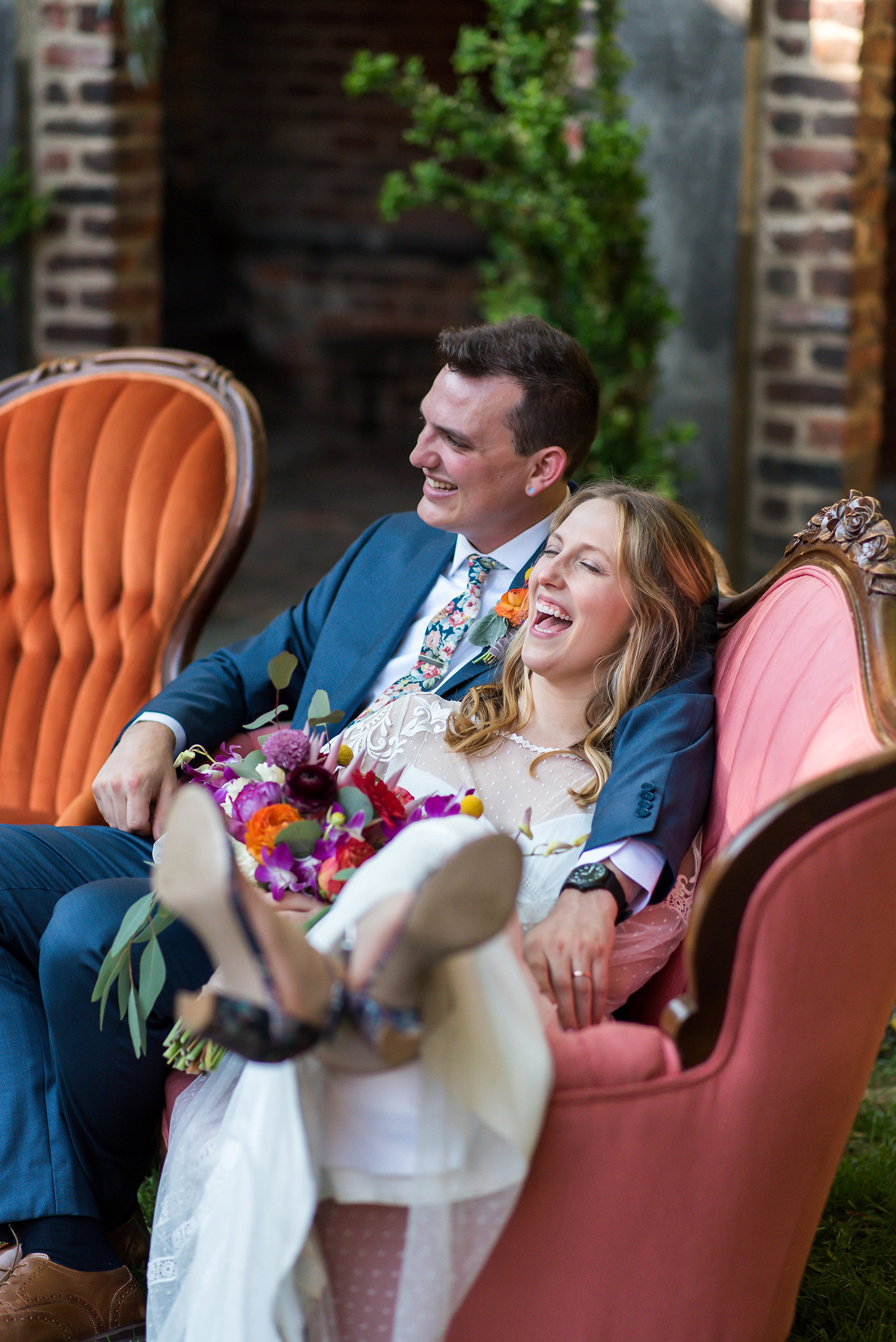 Such a fun loving couple!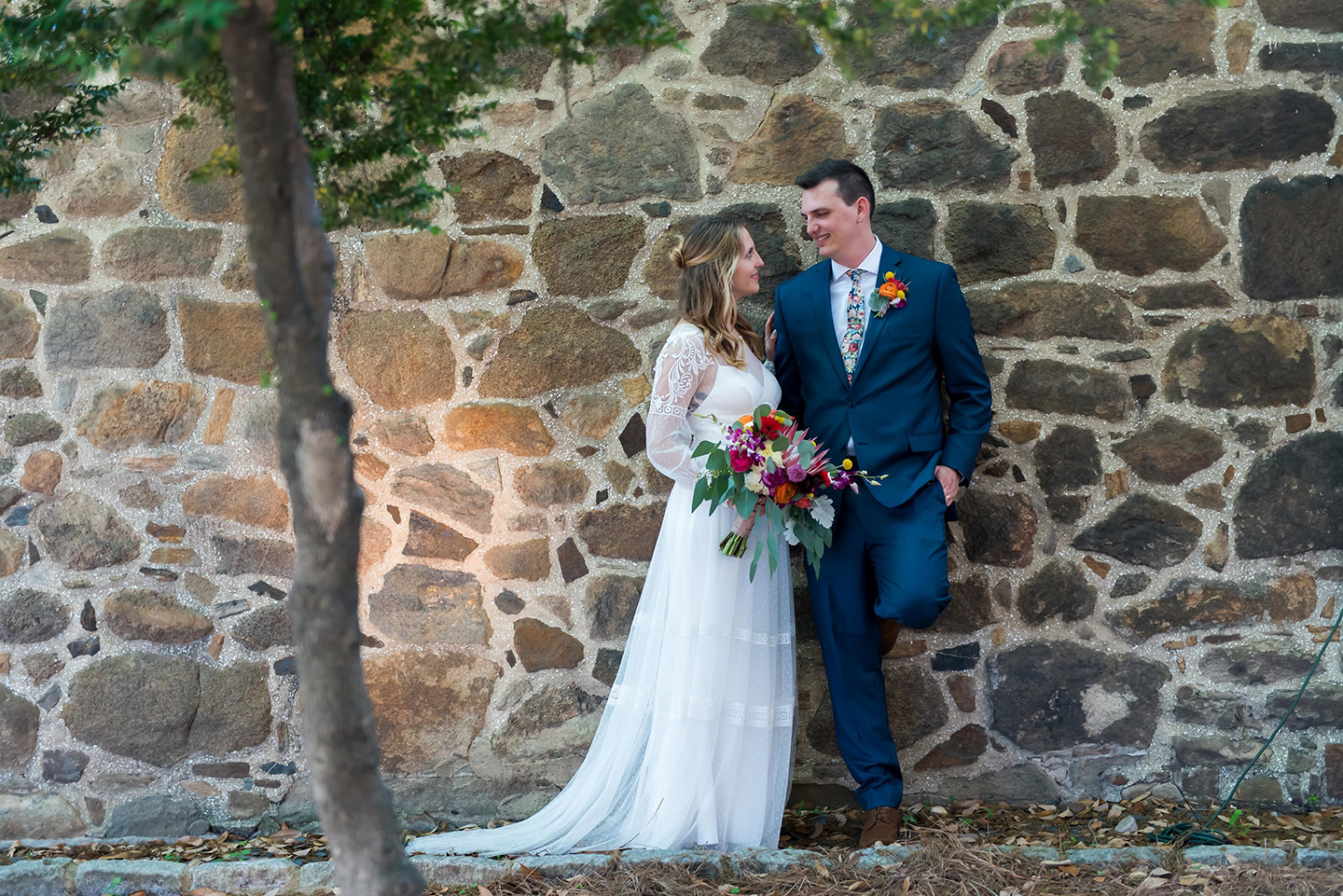 And I love Meredith's dress! She is effortlessly gorgeous!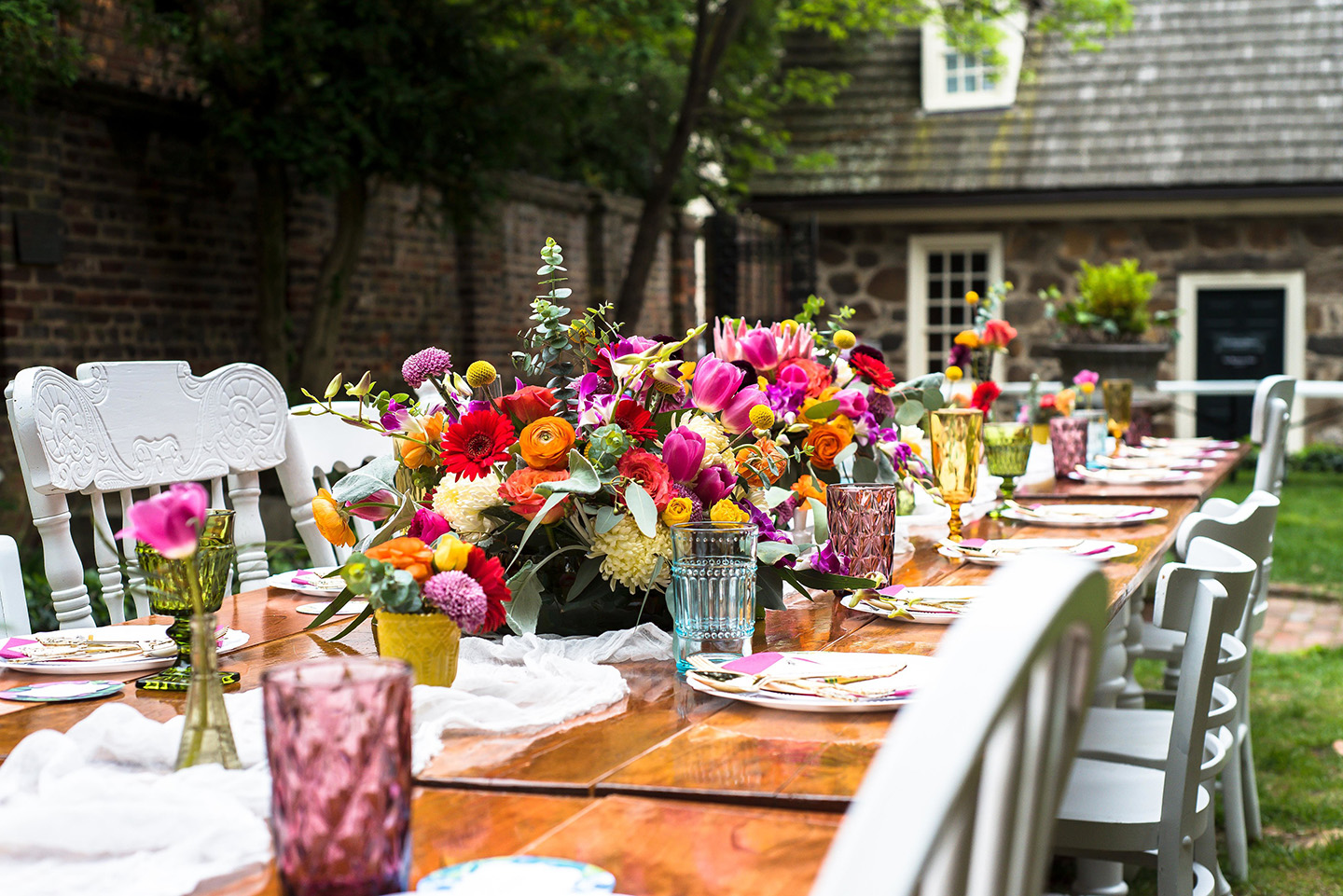 Their reception took place outdoors on farm tables with mix-matched chairs! I could just die over the flowers ?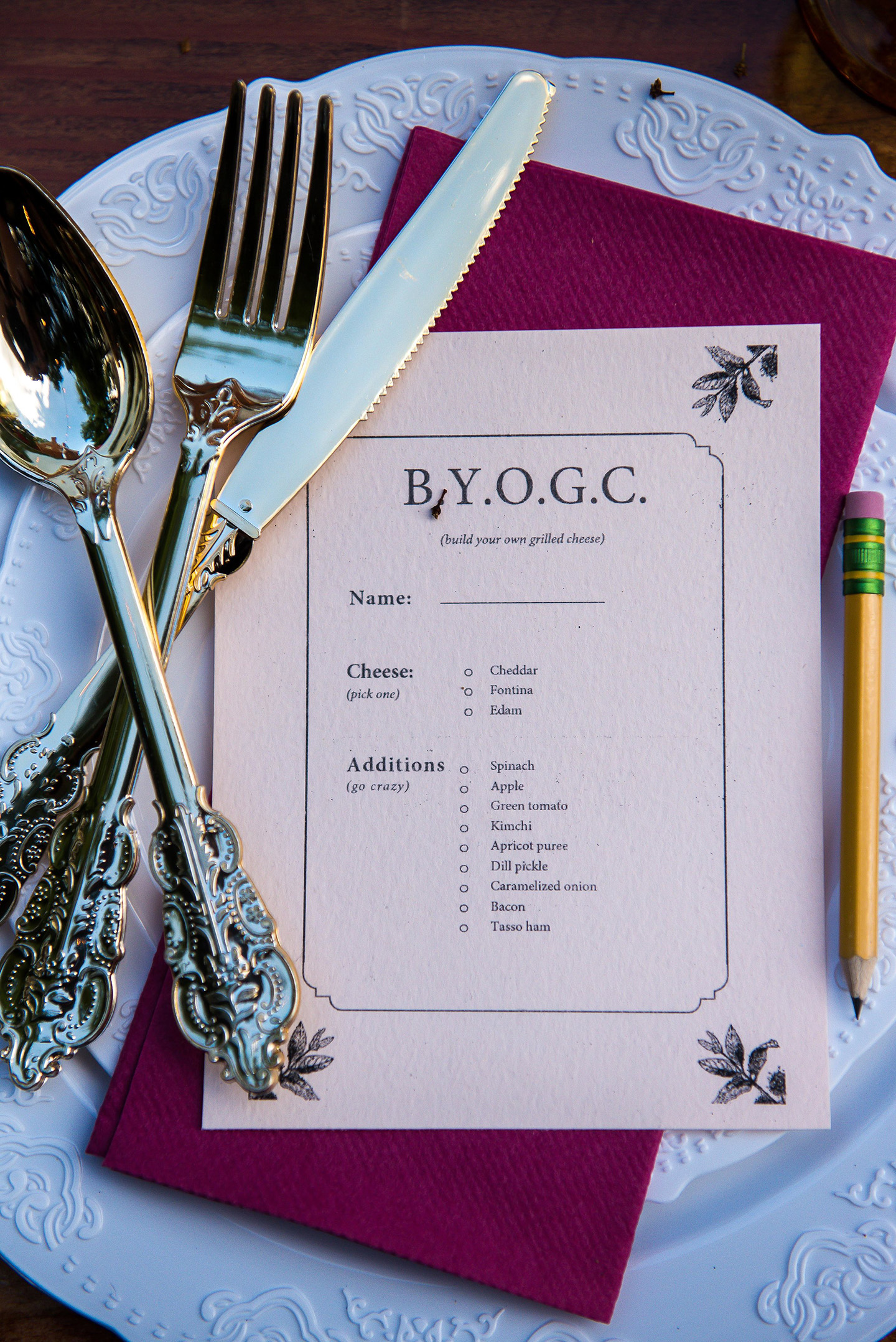 Atop each place setting a was a "build your own grilled cheese" card…such a cool idea!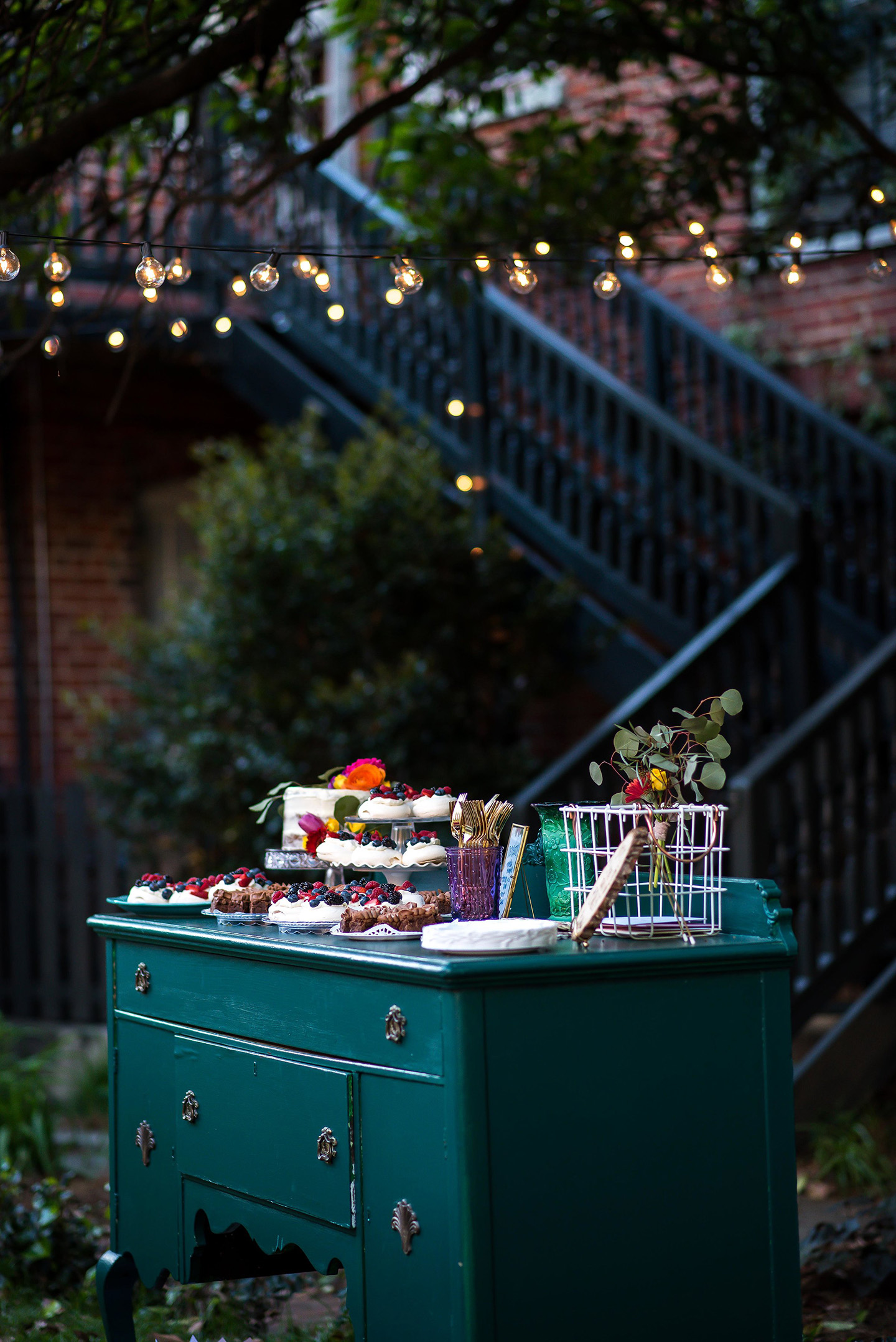 Their dessert table was equally as cool and set up with different options for guests!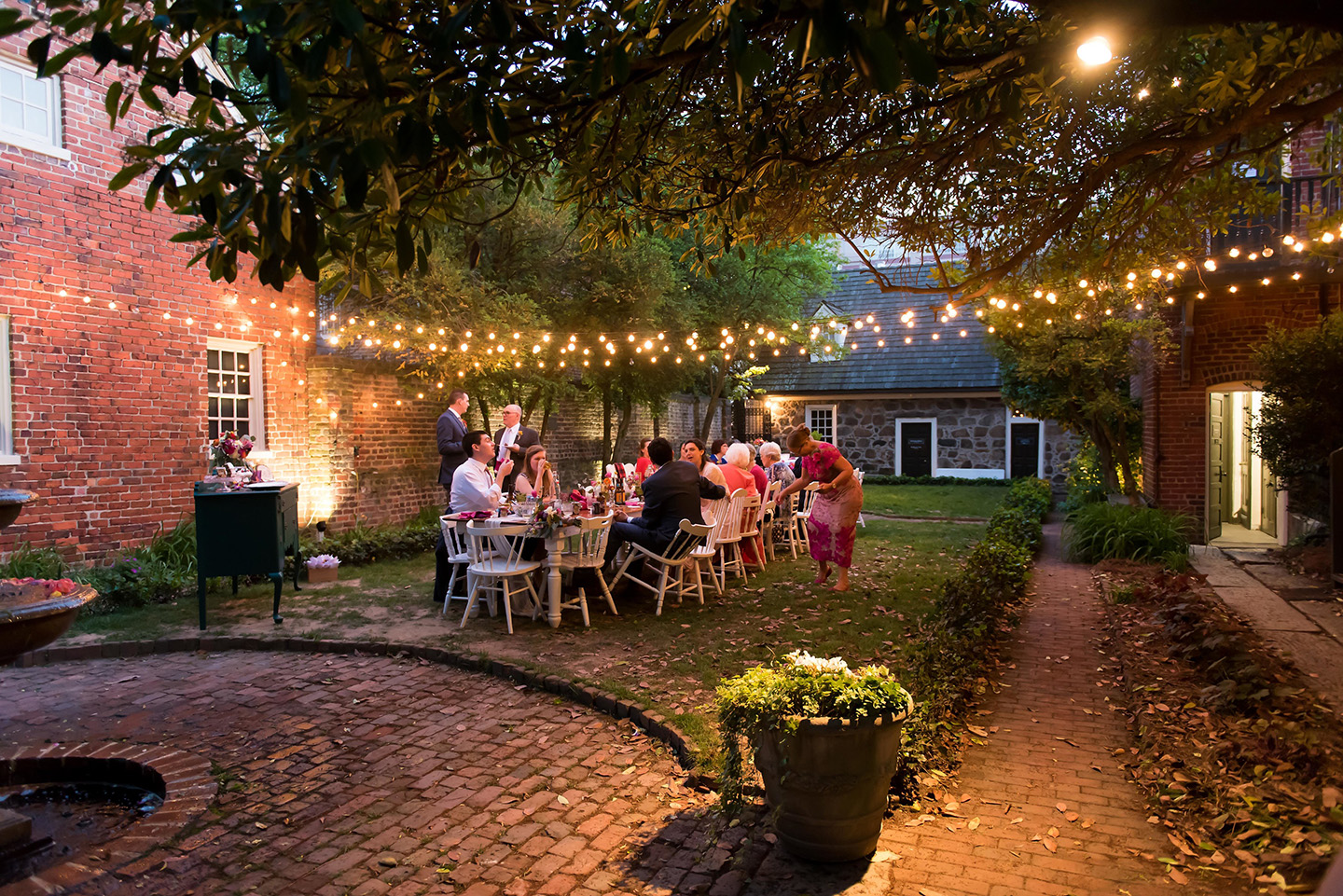 They dined, laughed and enjoyed a night to never be forgotten under the stars! Congrats Phil and Meridith!
Photos by: Aniko Levai
From the Bride:
What was your favorite detail from the day? "My absolute favorite detail of the day was the flowers. I sourced bulk stems and arranged them all myself (with some great help from my mom and bridesmaids) from my bouquet to the boutonnieres, to the alter arch piece! It was my passion project as my dream has always been to be a florist someday. I could not be more proud of how they turned out! Another favorite detail was our Bluebarb (blueberry rhubarb) jam take away jars which my grandma made from the fruit in her own garden and our dessert table which my pastry chef cousin professionally executed in our own kitchen while we were arranging flowers in the dining room!"
What advice would you give to a bride to be? "I would recommend to brides (and grooms) to stay focused on what matters and on what you truly want out of your own day! Don't overthink it. Oh, and take time to eat! Everyone told us we wouldn't, but we proved 'em wrong! ;)"
Want to be featured on this weekly online blog? Just email us! Want no be featured in our printed magazine? Just email us! **Being on this online blog does not hinder or guarantee a wedding will be in the printed magazine, both are up to the discretion of the editor, Angeline Frame. If your wedding has been chosen for print, she will reach out to you directly.** Thank you for following Virginia Bride Magazine! Stay tuned for more weddings and the best Bridal Shows in Virginia