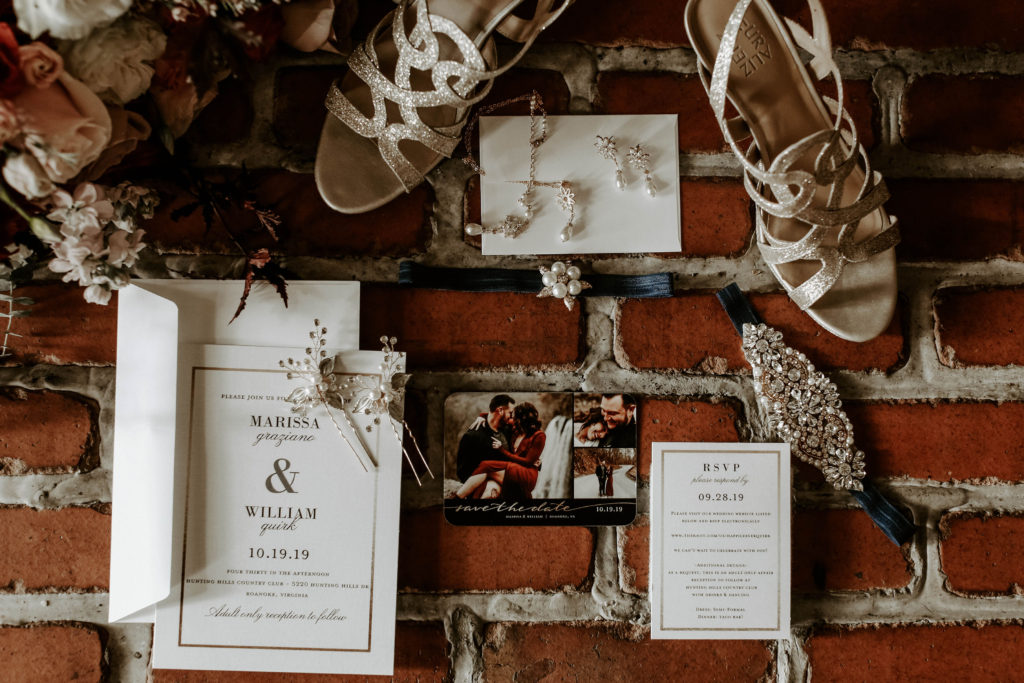 Marissa and William met while working together, starting as a long-time friendship that ultimately turned into something so much more. Marissa didn't want to "ruin [their] friendship," but she was simply delaying the inevitable. Once they started dating, well, the rest was laid out.
For their first date, they went to a restaurant in downtown Roanoke and had dinner. Afterward, they walked around chatting. "He swept me off my feet."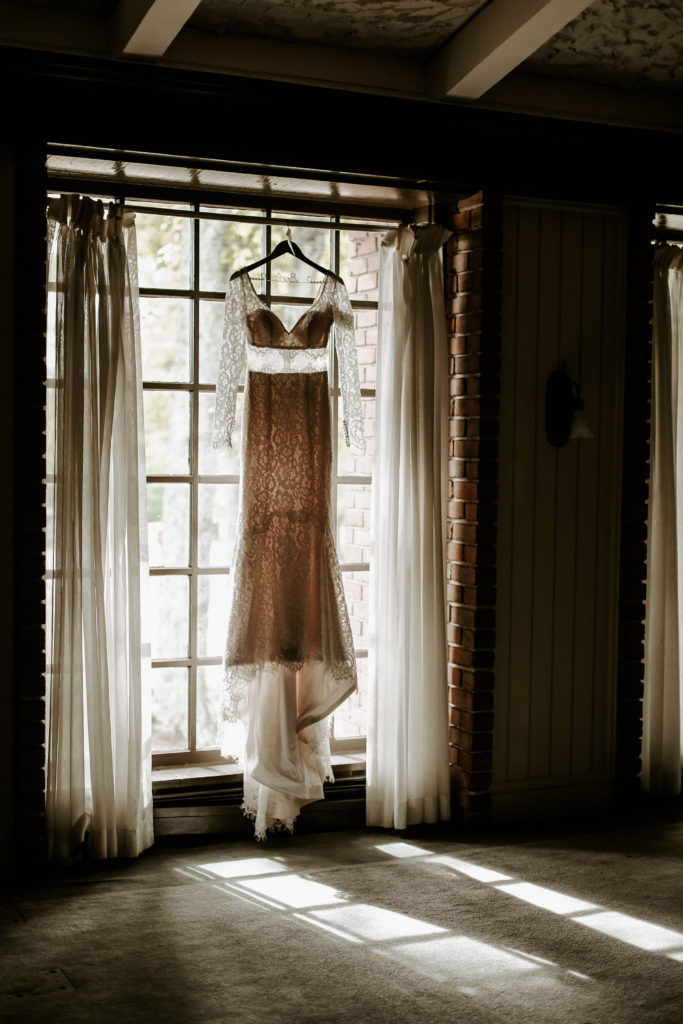 Marissa wanted the wedding to feel fun and romantic. "There were a lot of little details we made sure to add that just made it all about us and the people we loved. It was a storybook wedding."
They went with Vintage Glam with a Modern twist for everything, with a Vogue, moody feeling, celebrating their love with a Fall wedding feel.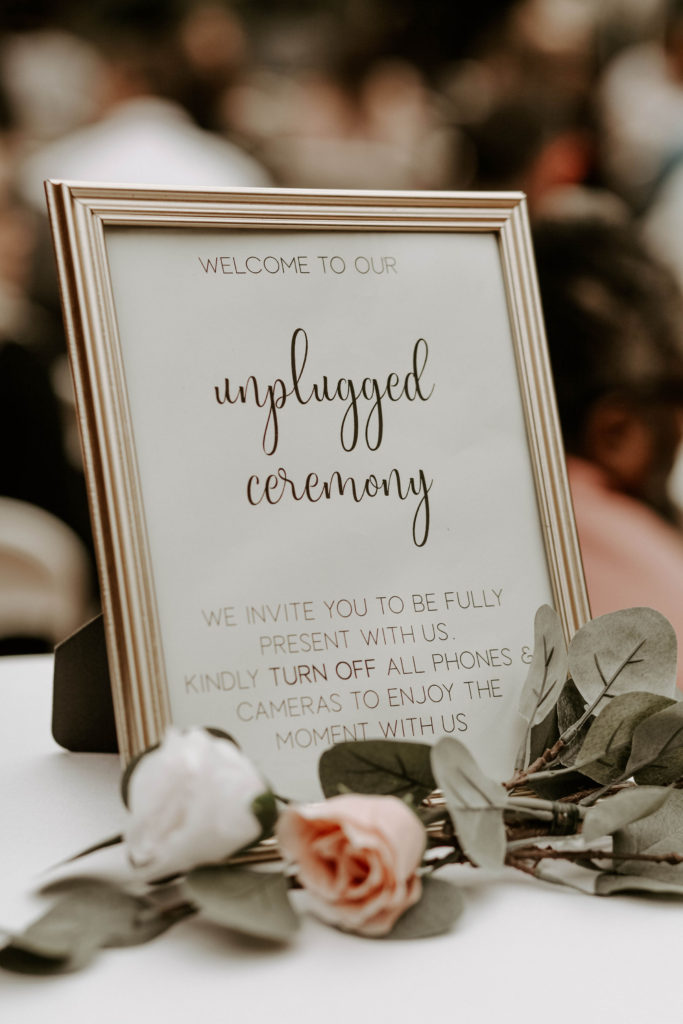 The Scoop
Bride: Marissa, 30, Artistic stylist at Beauty Is… Hair studio & Educator for L'ANZA Healing Hair Care
Groom: William, 34, Physical Therapist Assistant at University for Physical Therapy
Wedding Date: 10-19-19
Number of guests: 150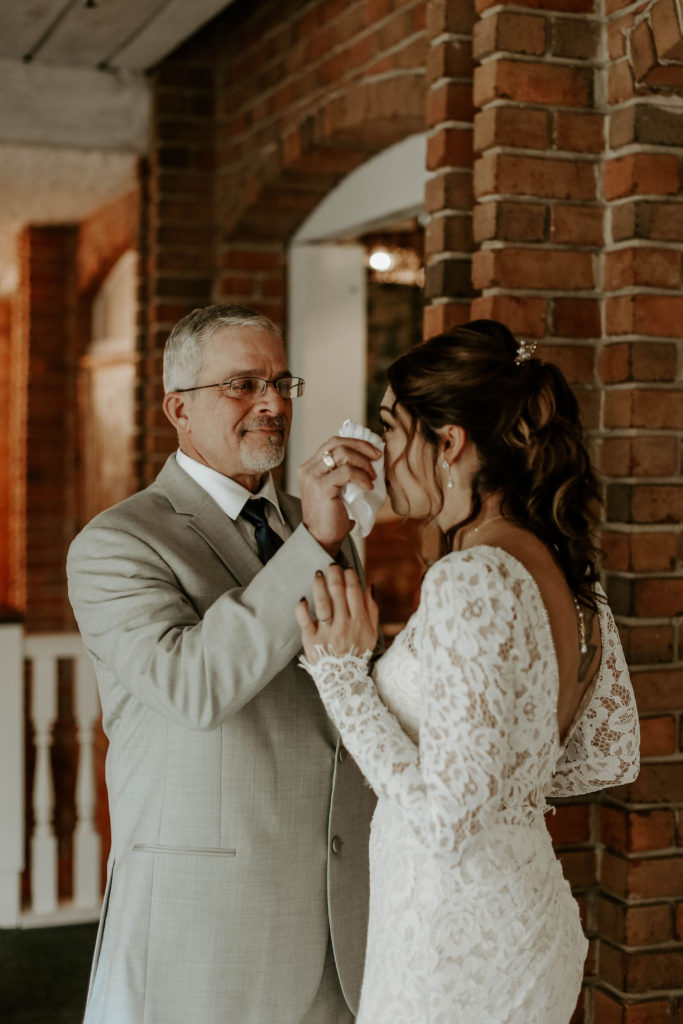 When it came to choosing their venue, Marissa knew she wanted someplace beautiful and practical, with plenty of room.
"I loved the Hunting Hills Country Club because of the Brick Patio! The three brick patio, with the wrought iron was so beautiful surrounded by the trees. My guests had plenty of space to go inside or outside as they pleased. The fire pits in the evening were the perfect cozy touch. Plenty of bathrooms and parking too."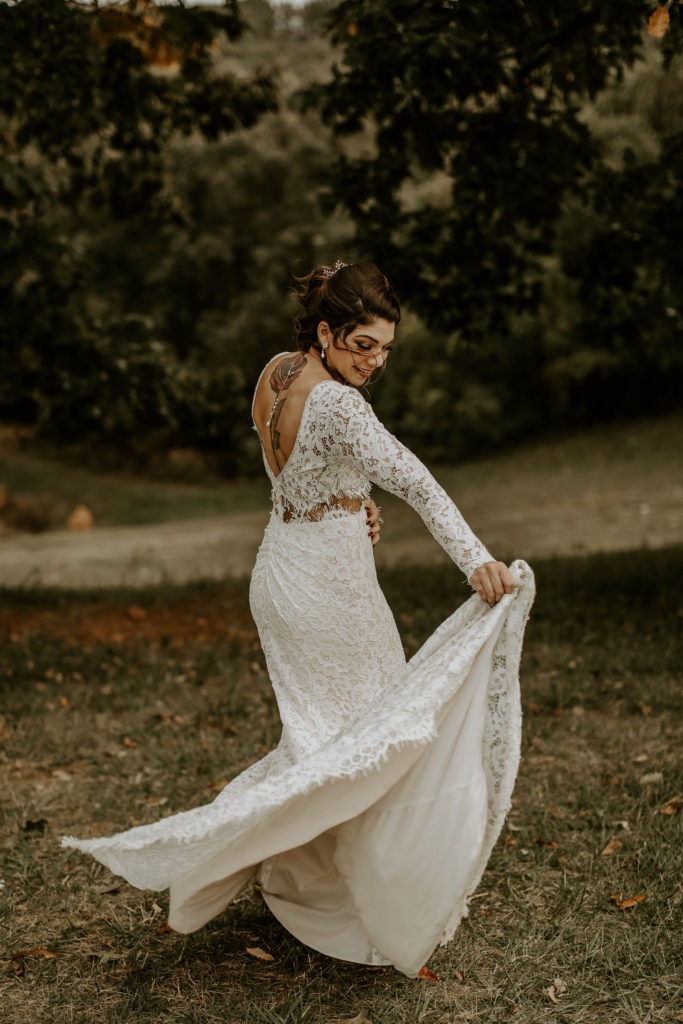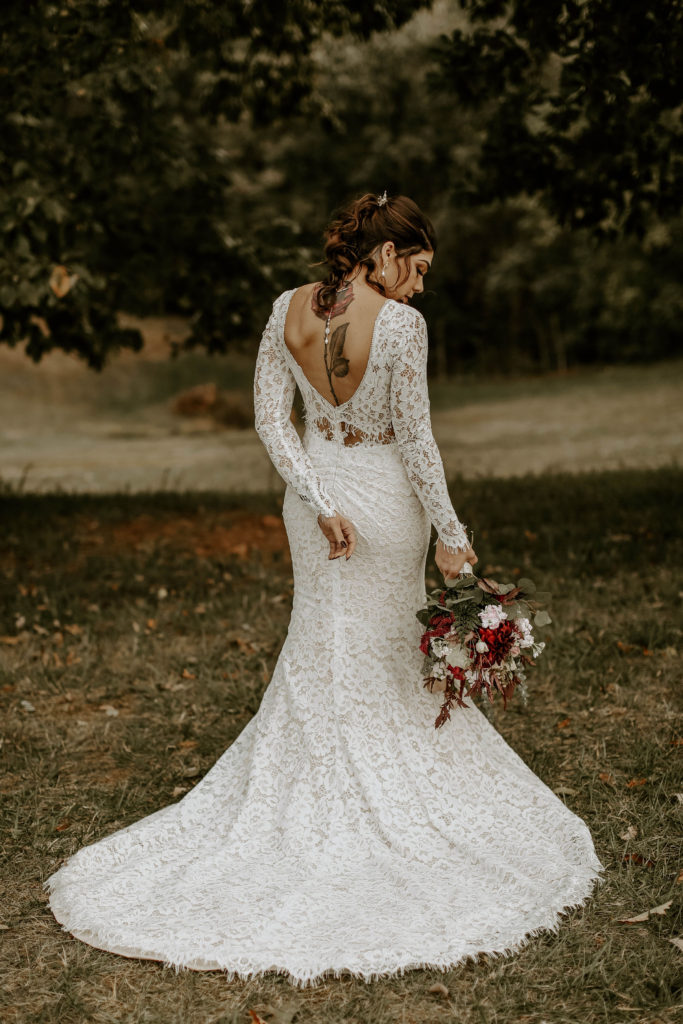 Marissa's gown is a long-sleeve, full-lace mermaid gown, with an open U-shaped back, and a small illusion cut-out in the front. There's a slight V-neck line, which is lined in rhinestones for her perfect Vintage glam, sexy gown all in one.
The wedding band and engagement ring once belonged to William's grandmother.
"My husband is 6'7 and I'm only 5'4 (on a good day) so I wanted to make sure I had tall shoes, but also that they were comfy! I found the perfect pair of Naturalizers. They were the Cameron Ankle strap heel, in Gold glitter. I wanted them to pop. They had a small platform and a slightly thicker heel, so I was able to get all the height without the hurt! I wore them all night dancing!
My jewelry I ordered from Etsy…I had a teardrop-shaped, backdrop necklace with a small pearl and rhinestone that looked perfect with the low cut back of the dress and earrings to match."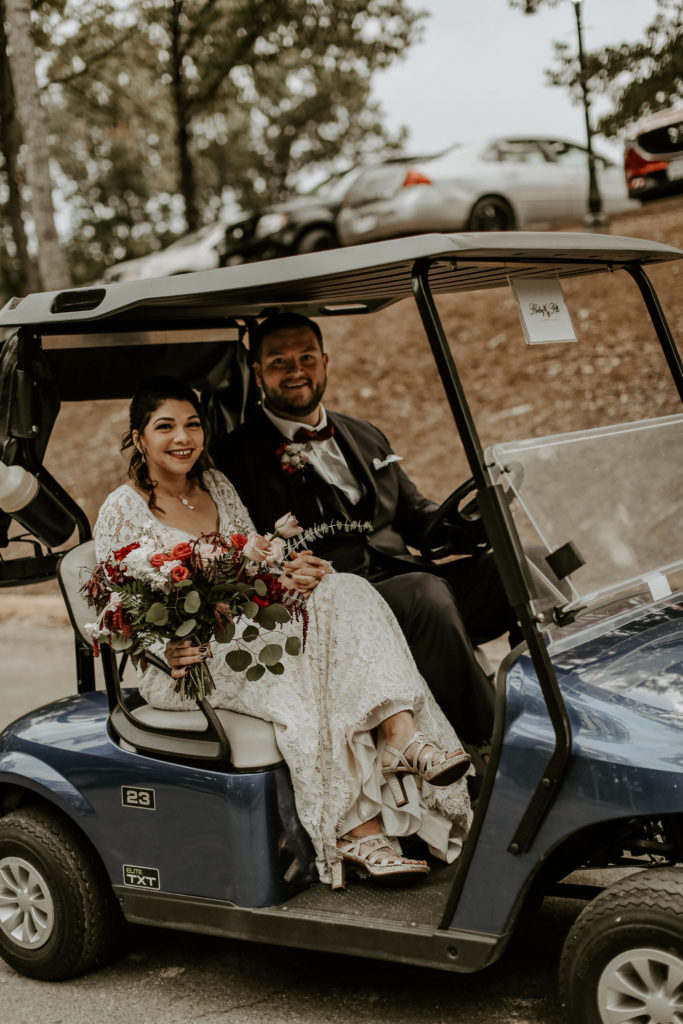 For their colors, Marissa chose moody jewel tones. "I wanted a modern twist on some classic glam. Navy, Dark Green, Burgundy, and Gold accents for the win. It just felt so Romantic."
For the bridesmaids, she chose forest green for their gowns.
"I wanted a nice color to look great for all my girls since they all have different skin tones! The Dark Green Forest color from the White Vera Wang collection at Davids Bridal was perfect! I wanted it to be different than the standard burgundy you see at a lot of fall weddings, especially because I wanted to use Burgundy as an accent color. I picked the brand and color of the dress, and then let the girls picked whatever style they liked and fit best! I wanted to make sure they felt beautiful in the dress they were wearing!"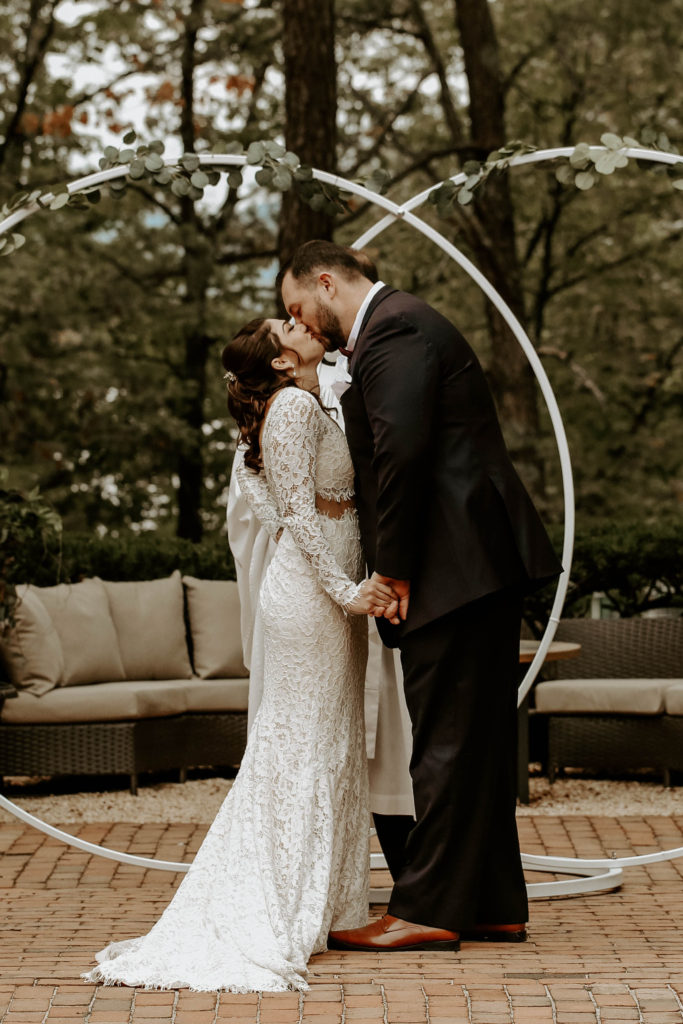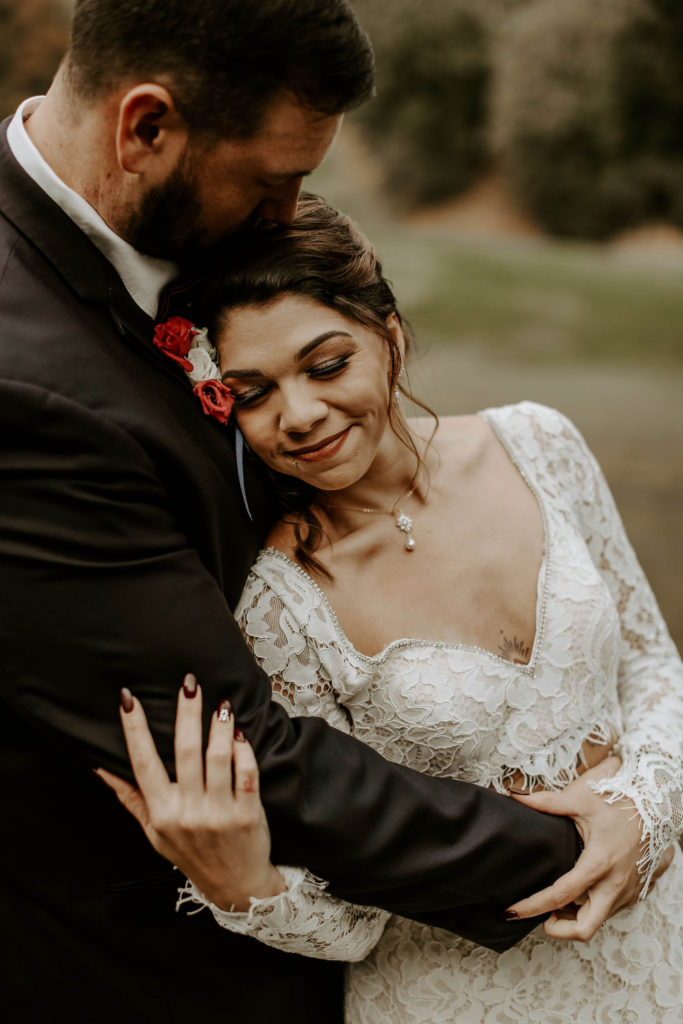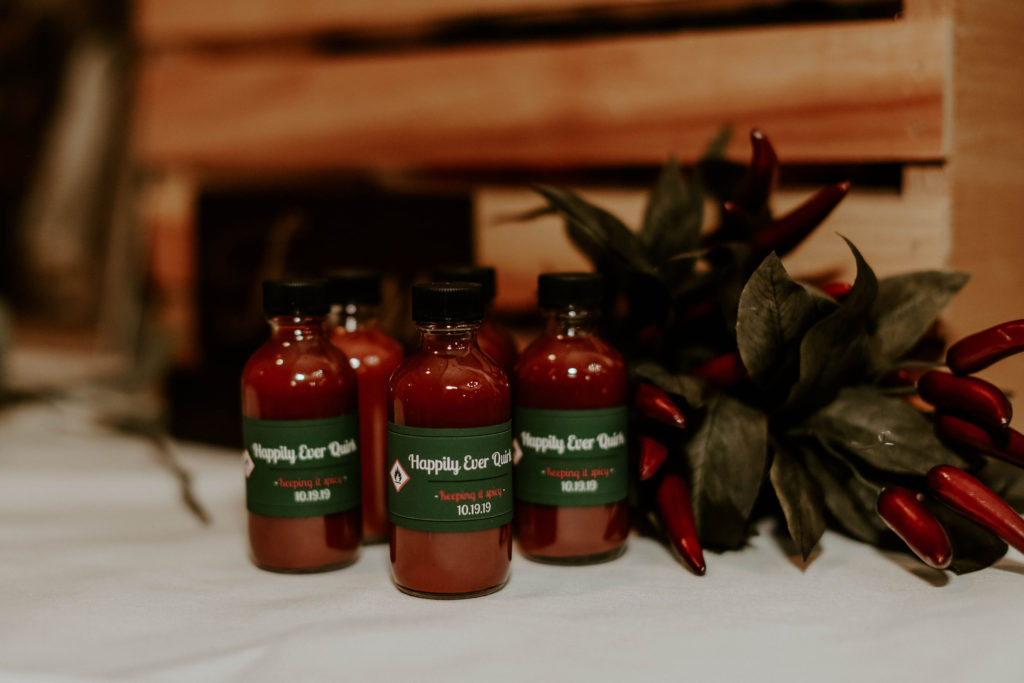 Marissa and William wanted a truly genuine "them" wedding. So, for their wedding dinner, they opted for a taco bar – their absolute favorite. The taco bar is "kind of our thing."
Which they additionally celebrated with some fun touches. "For our wedding favors, we had little bottles of hot sauce. It was perfect! We purchased bulk food grade bottles online, and then the labels from Avery separately. Once
you receive the labels, you can customize and print yourself! I loved it!"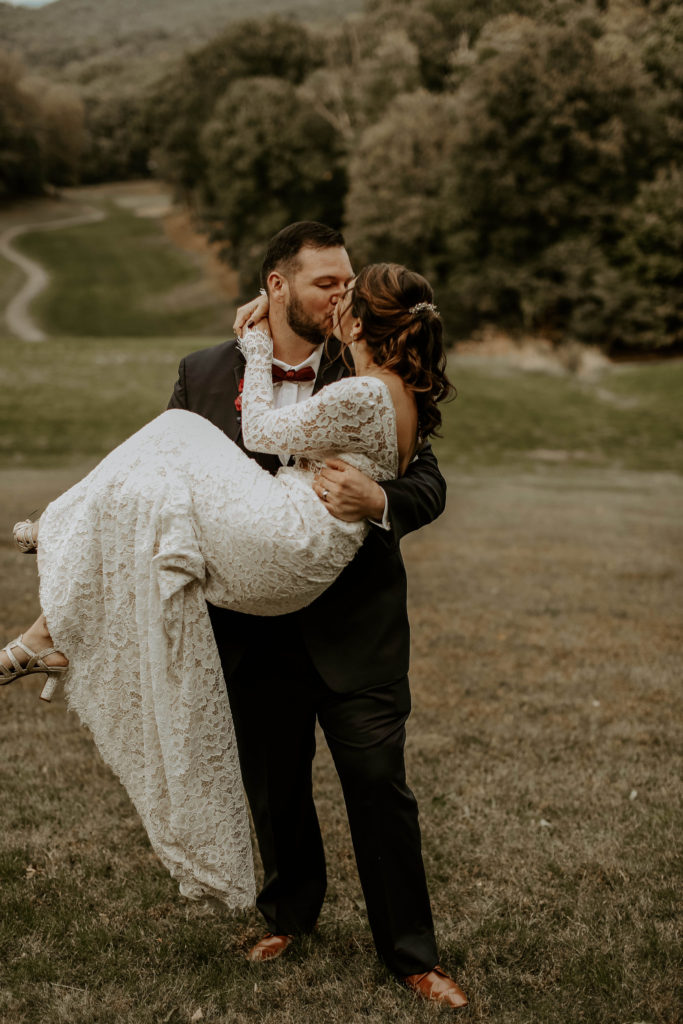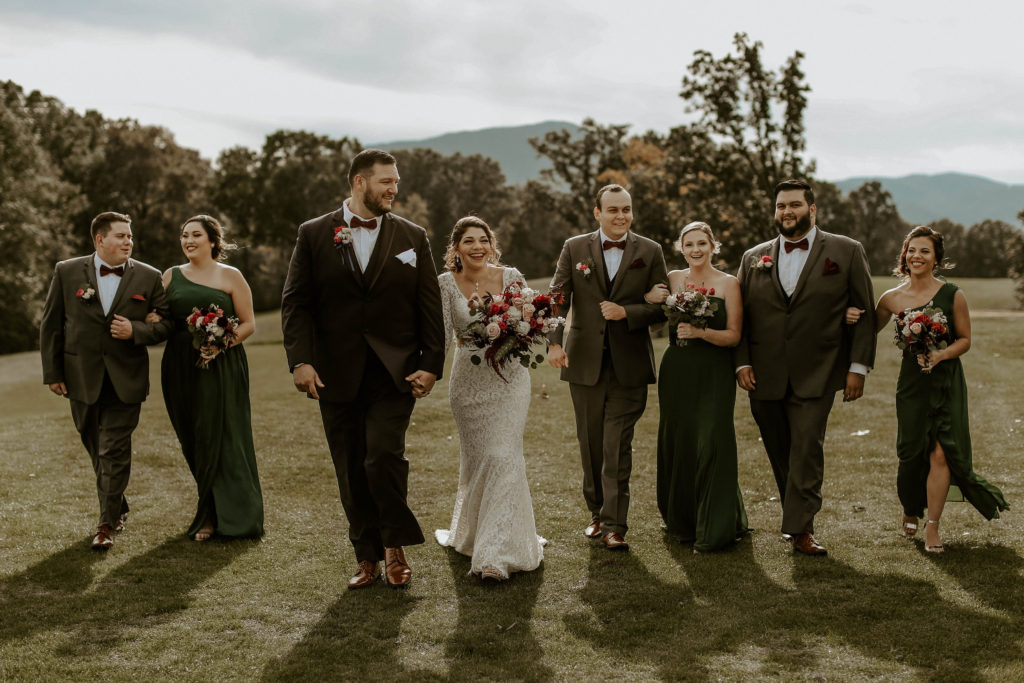 "My Husband is from Southern California, and his brothers were in our wedding [party]…The guys all walked out to the instrumental of California Love by Tupac and let me tell you it was perfect! I'm really big into music, so I made sure our playlist reflected us in every way!!! All of our family and friends loved it. It was perfect!
We had all of our families together at once! I have a large Italian family, and both of us have blended families. My husband's side of the family from Southern California came across the country. My family came from Upstate New York and surrounding areas just to be with us for our day too. It was so special to have everyone together."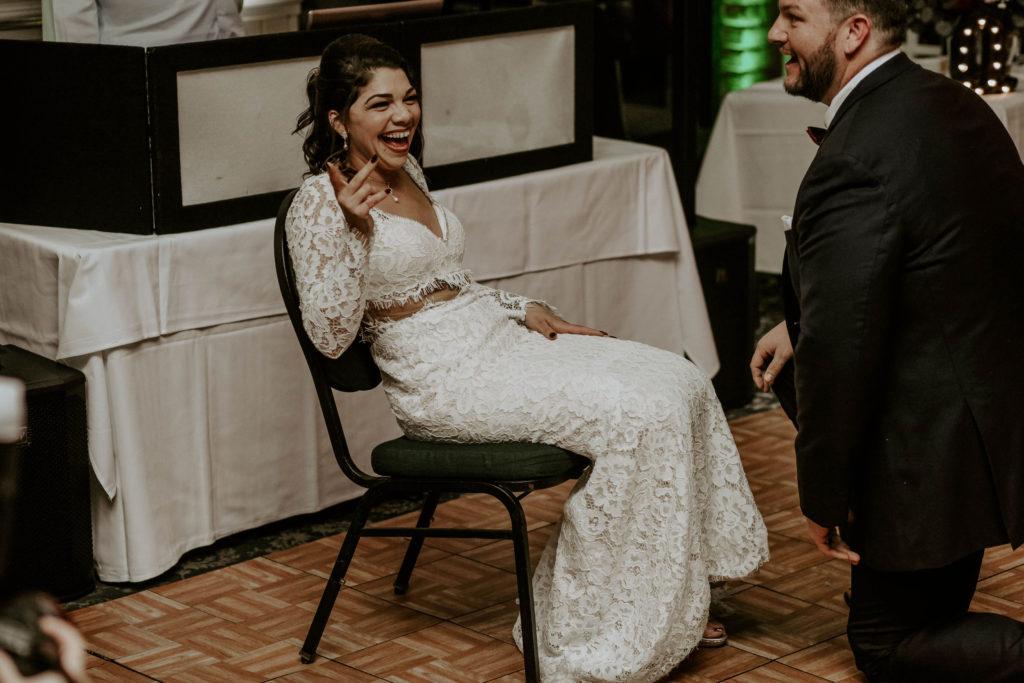 Marissa offers this advice to brides planning their own weddings now.
"At the end of the day, it really is all about you and your spouse. I realized I was so worried about how everyone else would perceive my special day, that I wasn't enjoying the process! Towards the end of my planning, I realized it would have been a lot less stressful had I just done what we wanted to do and go with it, and that's just what we did. To save yourself stress, just do YOU! Taco bar instead of a plated dinner? GO FOR IT. First dance, or no dance, or small wedding or a big wedding, whatever it may be. While I do get that tradition [weddings] are amazing…don't get caught up on all that. Make your own traditions and make your own memories. They will be with you for the rest of your life! Plus, it makes for a great story."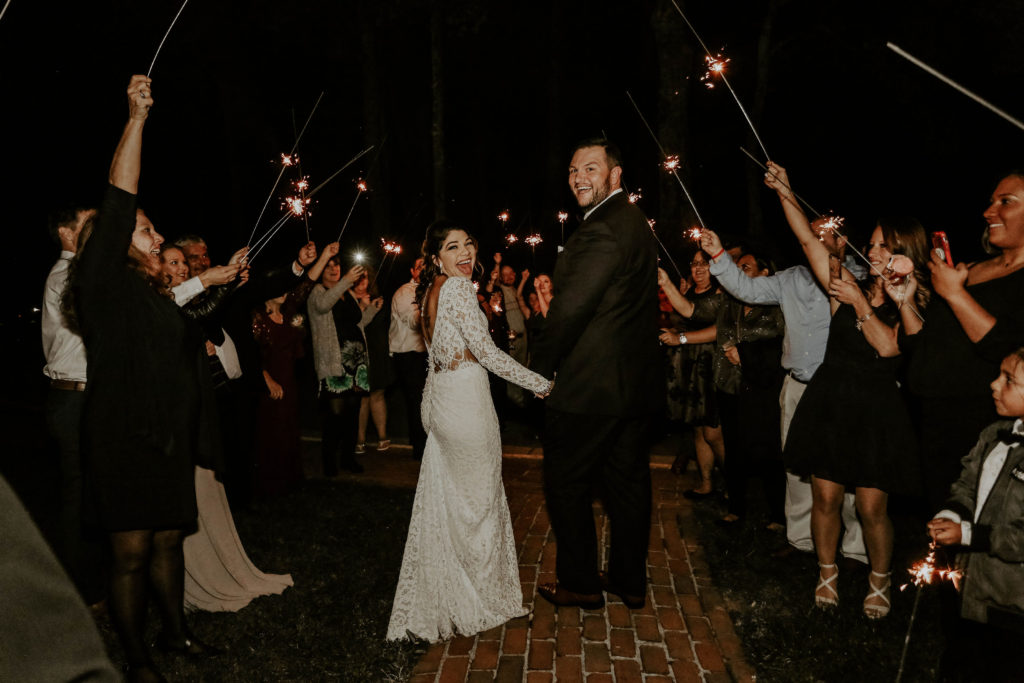 Vendor Credits
Venue: Hunting Hills Country Club, Roanoke VA, 540-774-4435
Photographer: Hannah Lee Photography, Hannah Lee Photography on Facebook, 540-759-0325
Day of planner: Kasey Robertson, Roanoke, VA
Officiant: Brian Morgan – Church of the Holy Spirit, Roanoke, VA
Gown:  Designer Ashley & Justin – Bride House, Prom Pageants and Pretty Things, Roanoke, VA
Shoes: DSW, brand – Naturalizer
Hair: Beauty Is… Hair Studio, Roanoke,VA
Makeup: Vanessa Hosaka & Anna Gladden
Bridesmaids dresses: David's Bridal
Formal wear: Men's Wearhouse
Invitations: Shutterfly
Flowers: Flowers by Kimberly, Roanoke,VA
Rental equipment: Aztec Rental
Catering: Hunting Hunting Hills Country Club, Roanoke VA, 540-774-4435
Music: Blue Ridge Entertainment, Roanoke,VA
DJ:  John Reed
Cake: Shannon Rickered at Shannon's Bake Shoppe, Roanoke, VA
Favors: mini hot sauce bottles – guests customized their own at the reception
Honeymoon: Maui, Hawaii