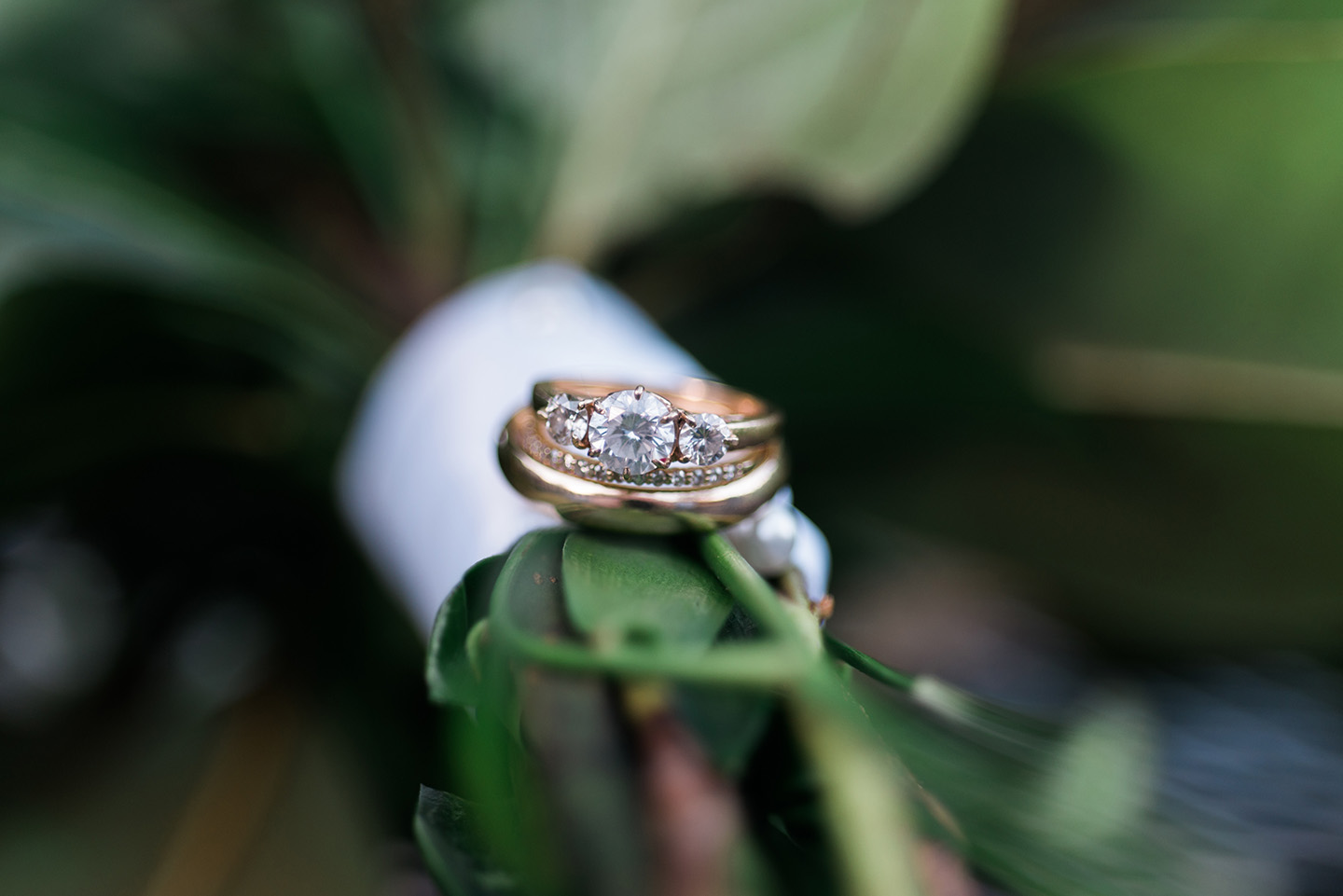 Yesterday might have been the first day of spring but it is still chilly here in Virginia so I thought we would look at a beautiful November wedding for today's feature! This one took place at the Irvine Estate in Lexington, VA.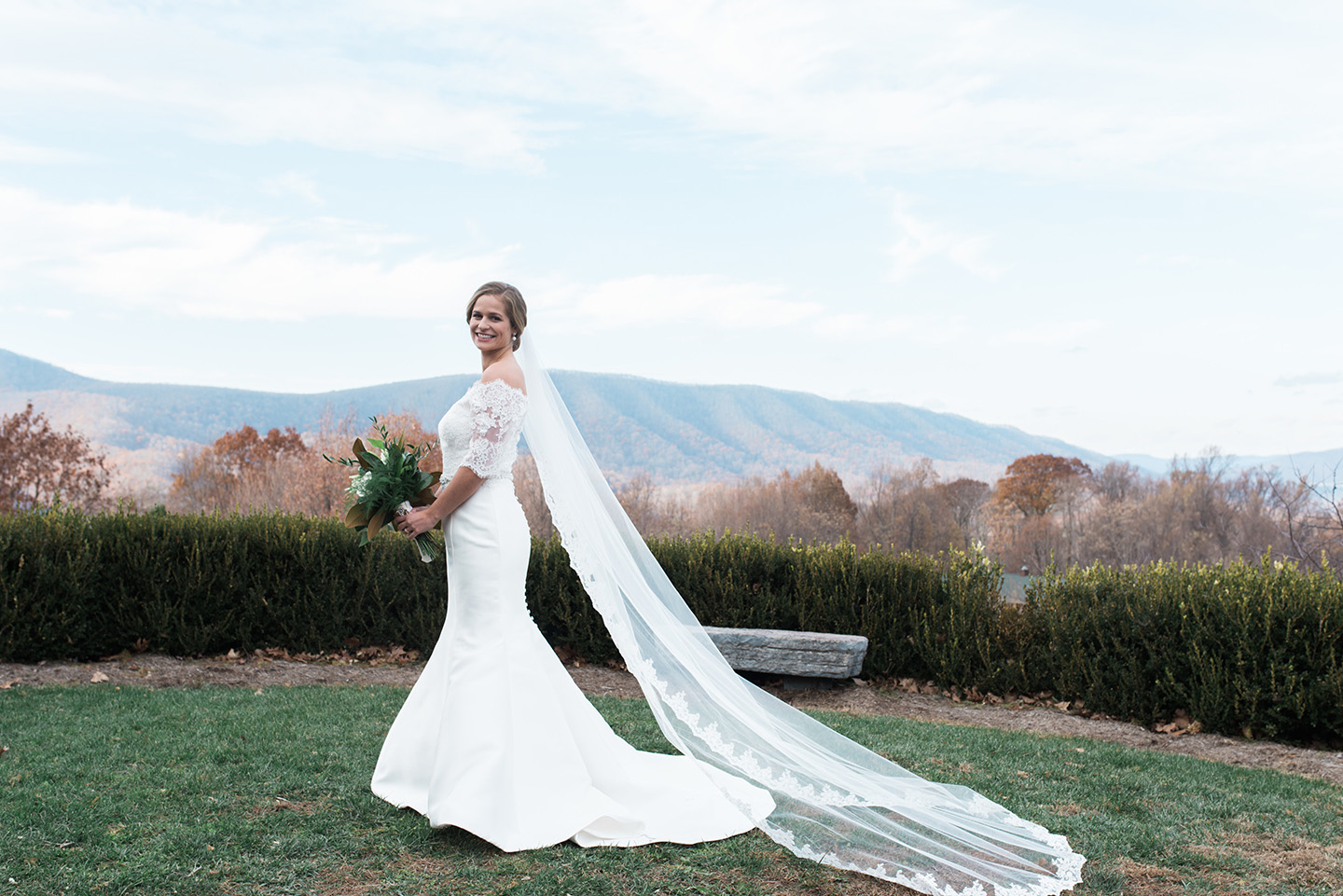 Liza met Watts when they were just kids. "His mom babysat my sister the day I was born. Our sisters were really good friends, but we moved away for several years then when we moved back it was like we didn't miss a beat," she recalled.
I am in awe of her dress and veil! And how perfect are the mountains in the background ?!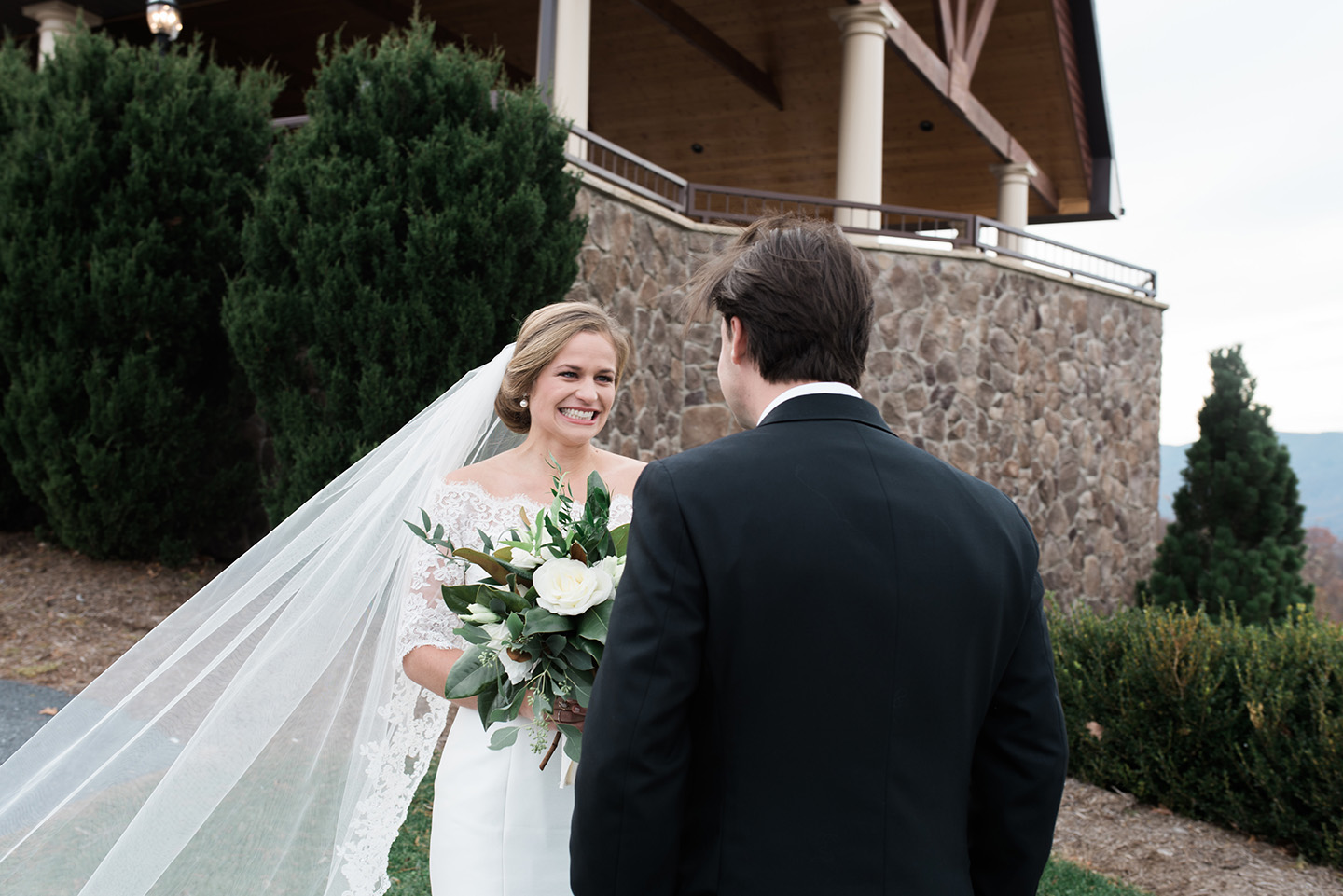 Since their ceremony was planned for sunset, the pair started their day with a first look! Plus Liza wanted to get out those pre-wedding jitters.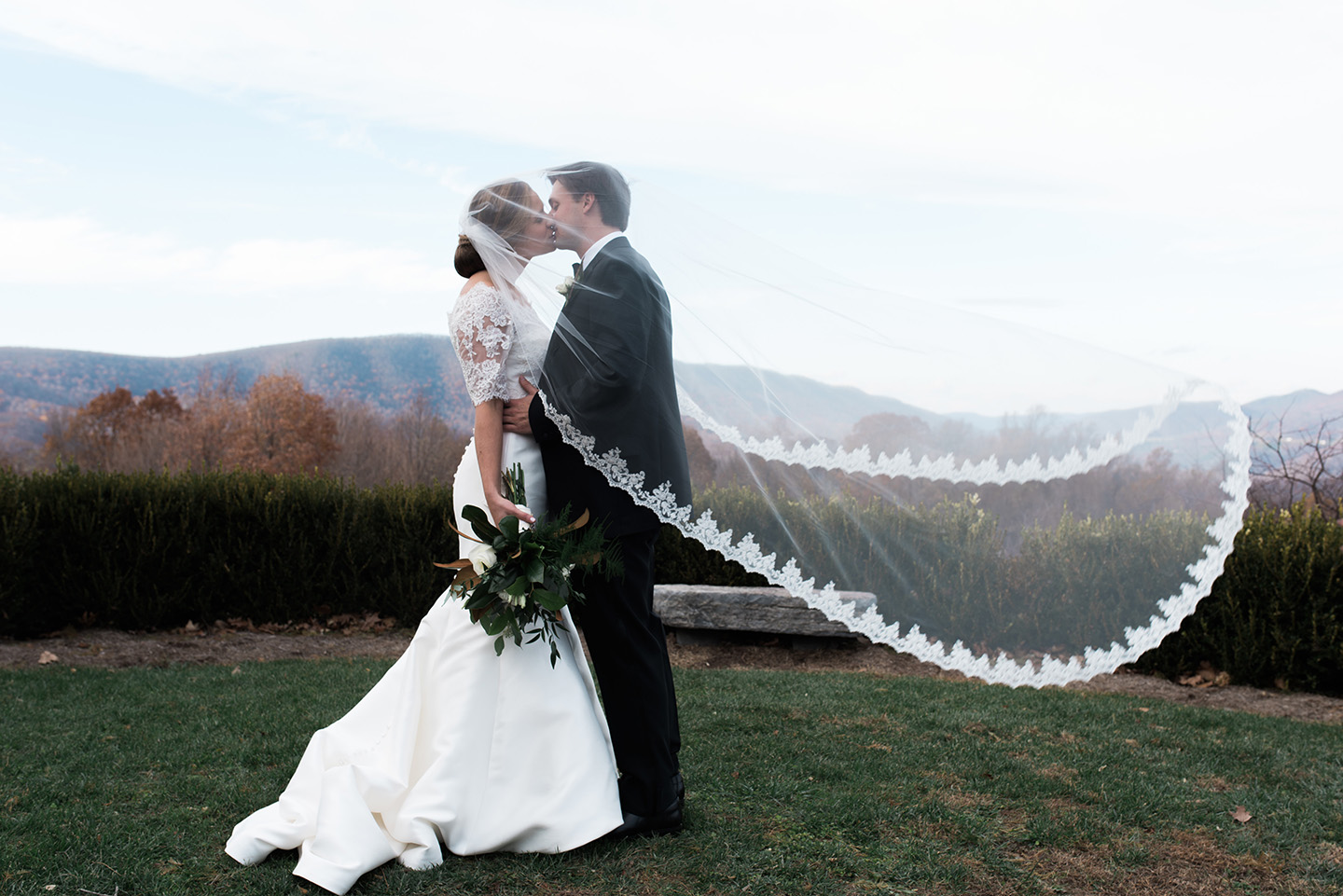 We always love a first look because it allows for photos like this ?! PERFECTION!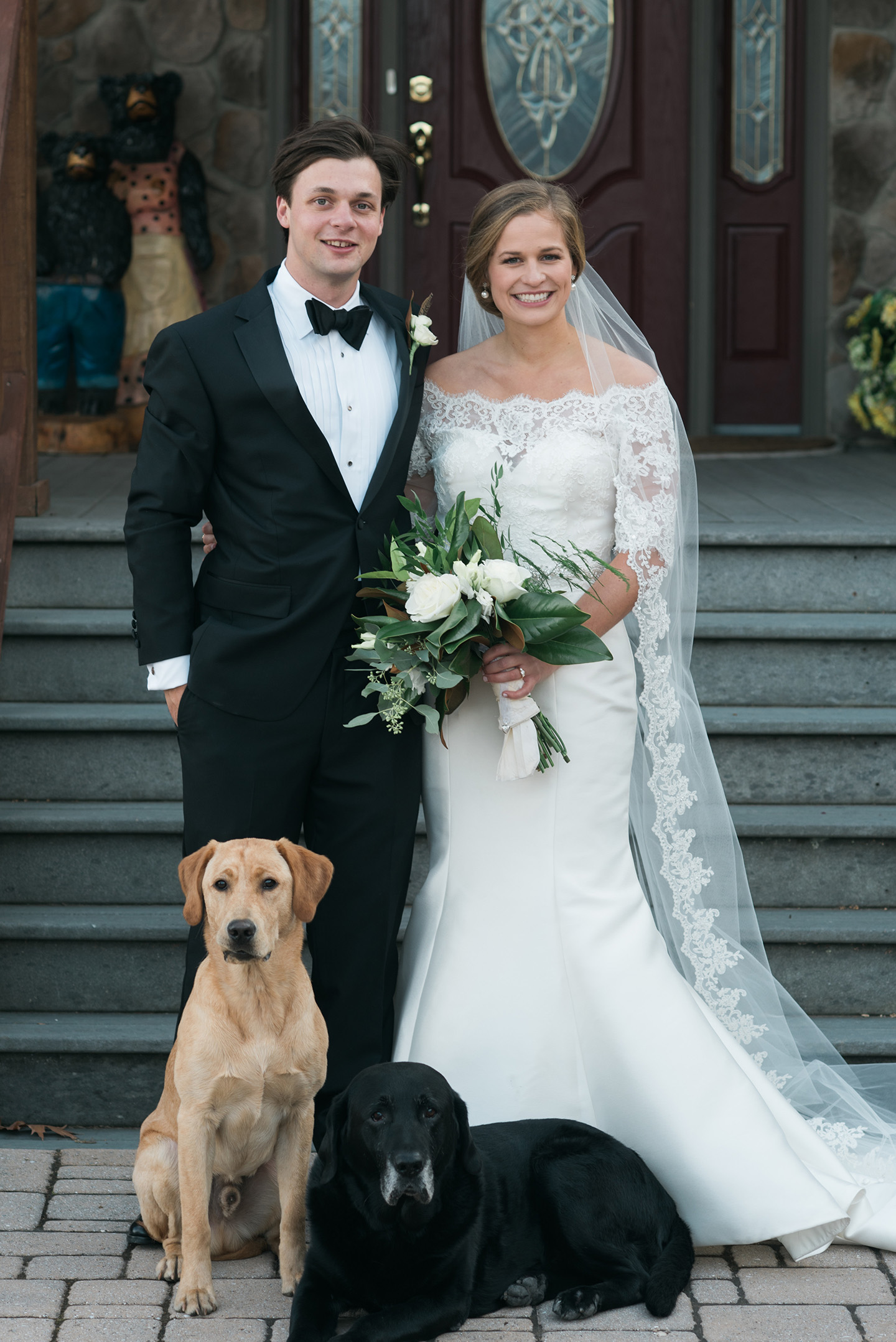 And how cute are those pups?!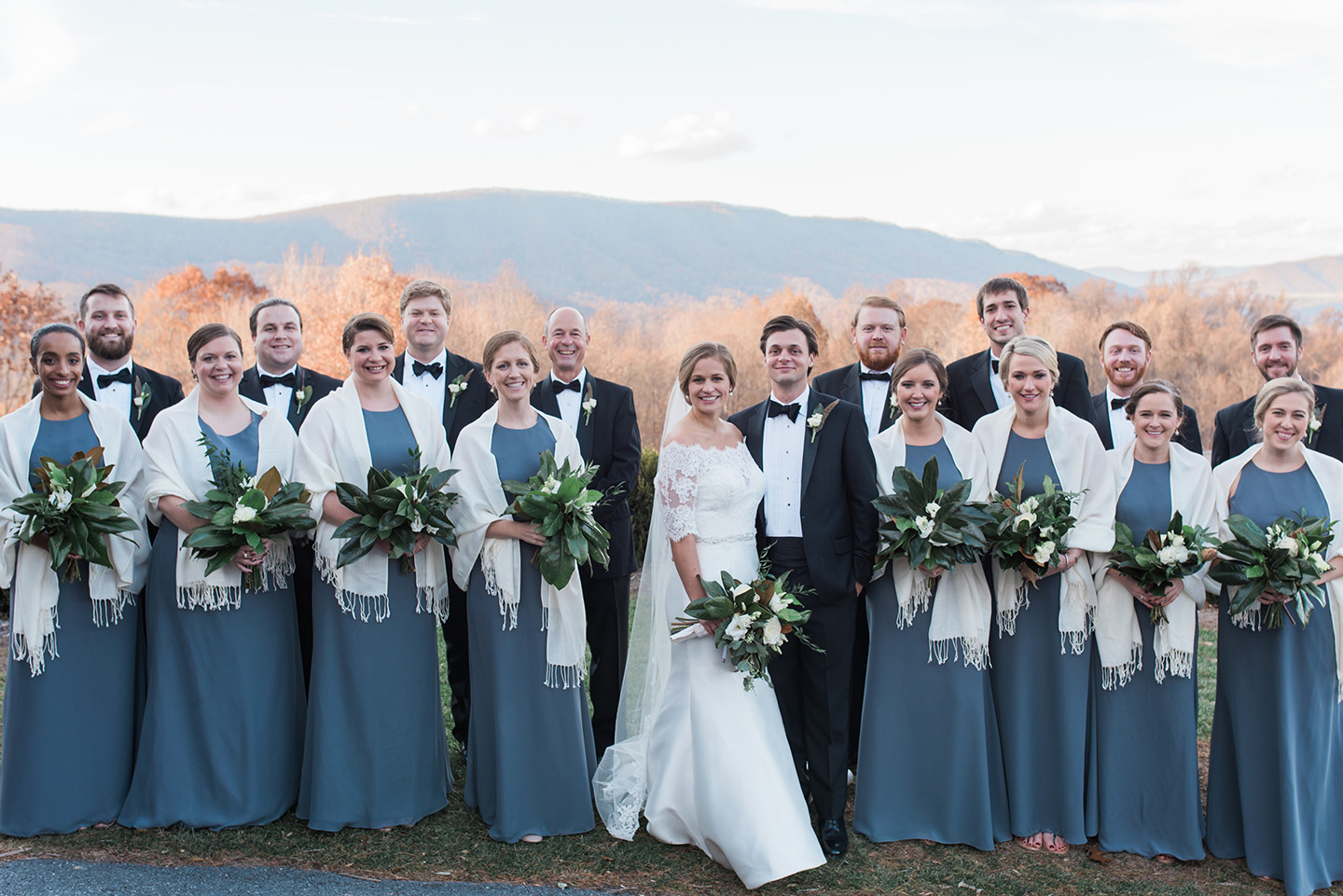 They wanted the flowers to represent them as a couple so they spent the week before cutting magnolia leaves out of Watts' parent's yard and collecting pheasant feathers from the Burks' annual pheasant hunting trip to North Dakota! What a cool personalized detail and we love how the bouquets look with the dusty blue bridesmaids dresses!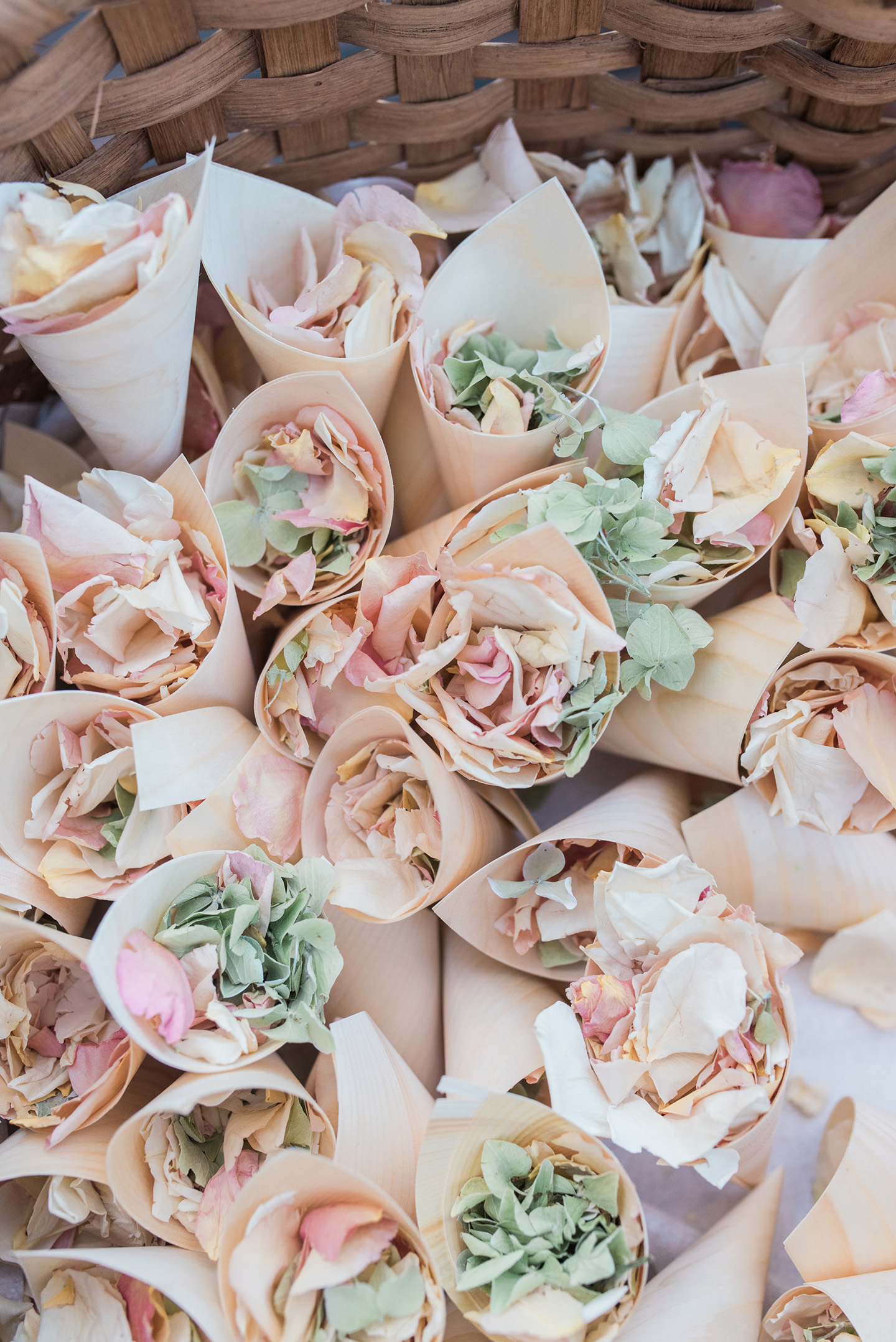 When it came time for their sunset ceremony, guests grabbed a cone filled with flower petals to throw over the couple after they were married.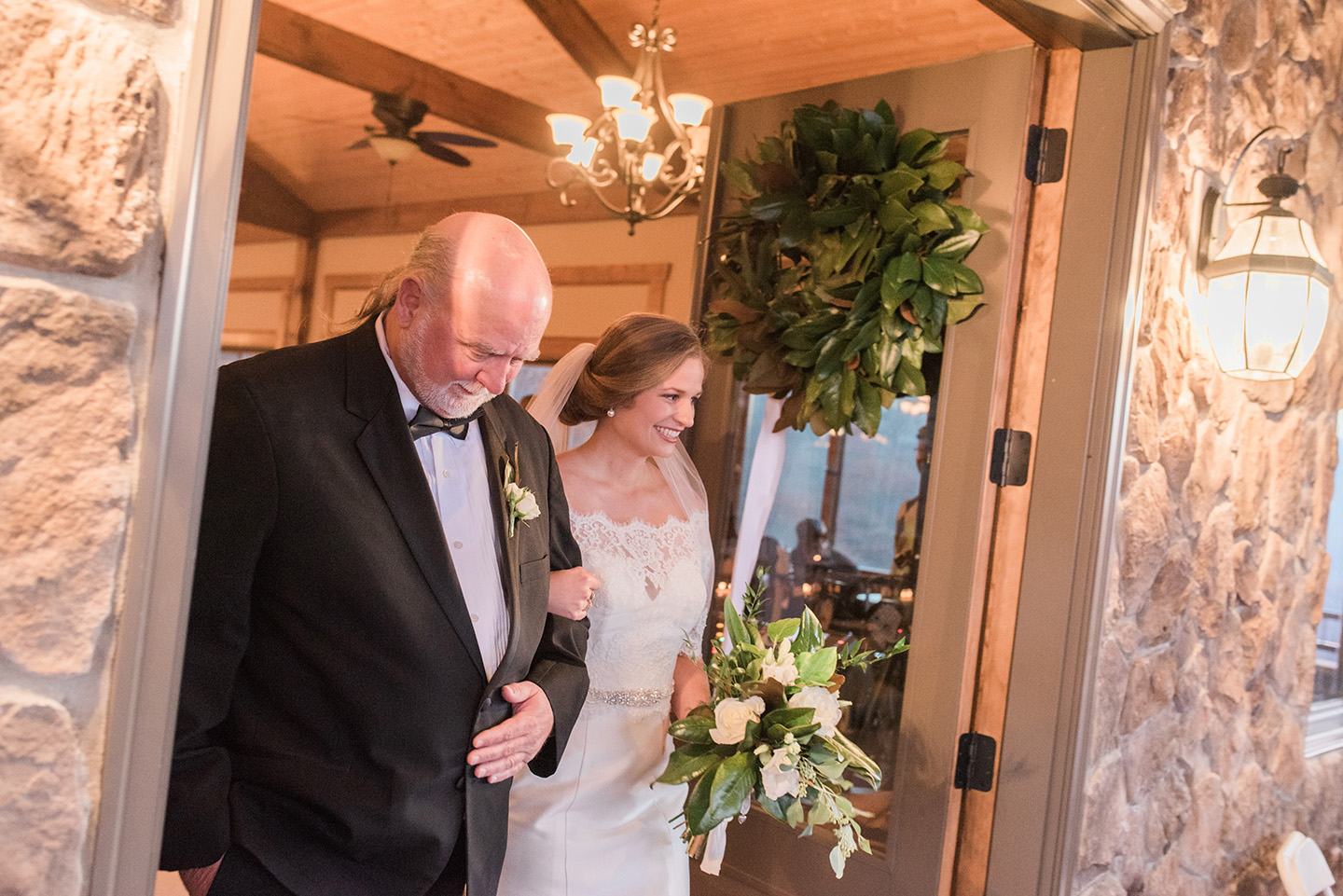 Liza's dad escorted her down the aisle with the sun setting in the background.
Shortly after, they were pronounced man and wife!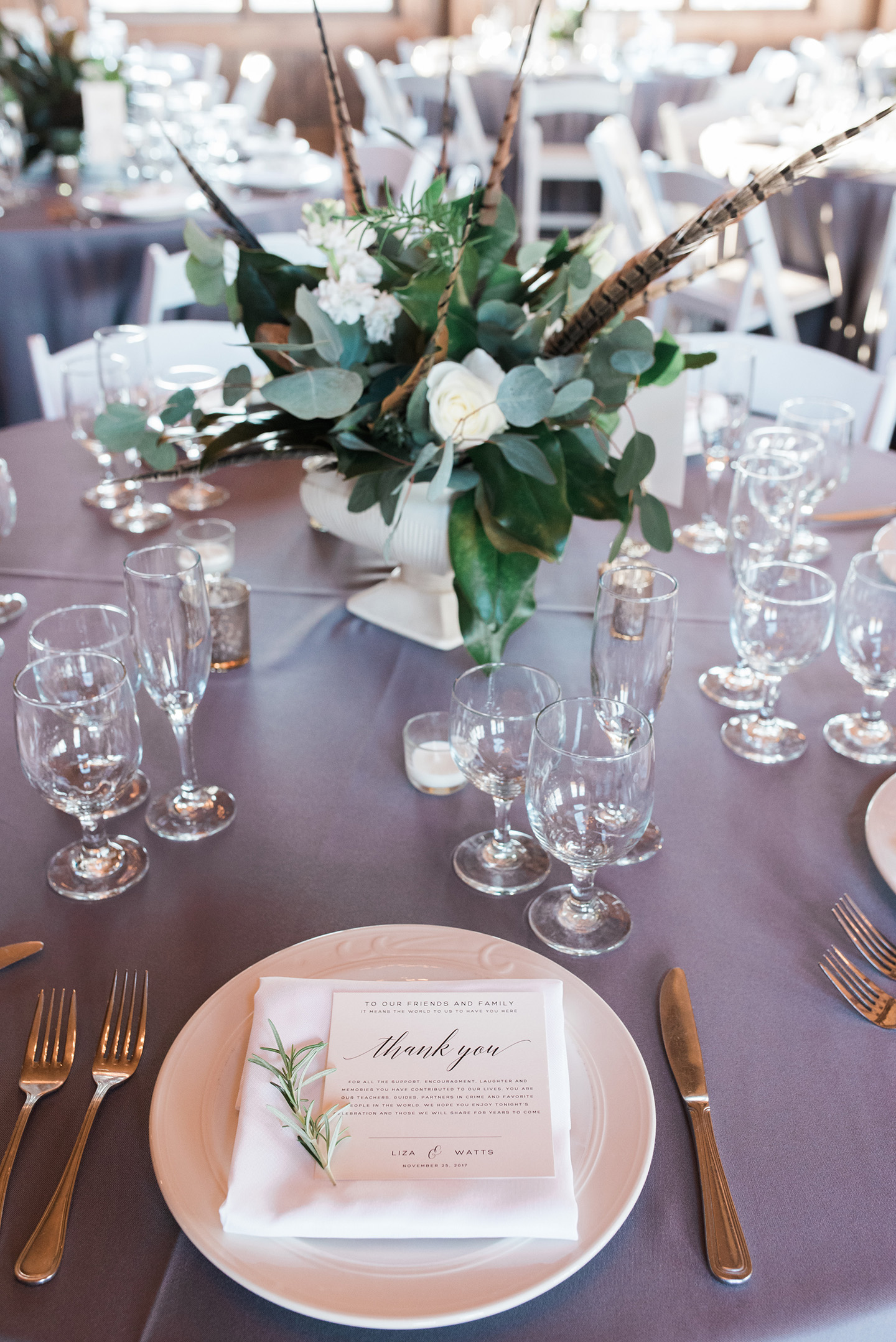 The reception took place indoors and the decor was centered around a neutral template with of course more beautiful magnolia leaves and pheasant feathers.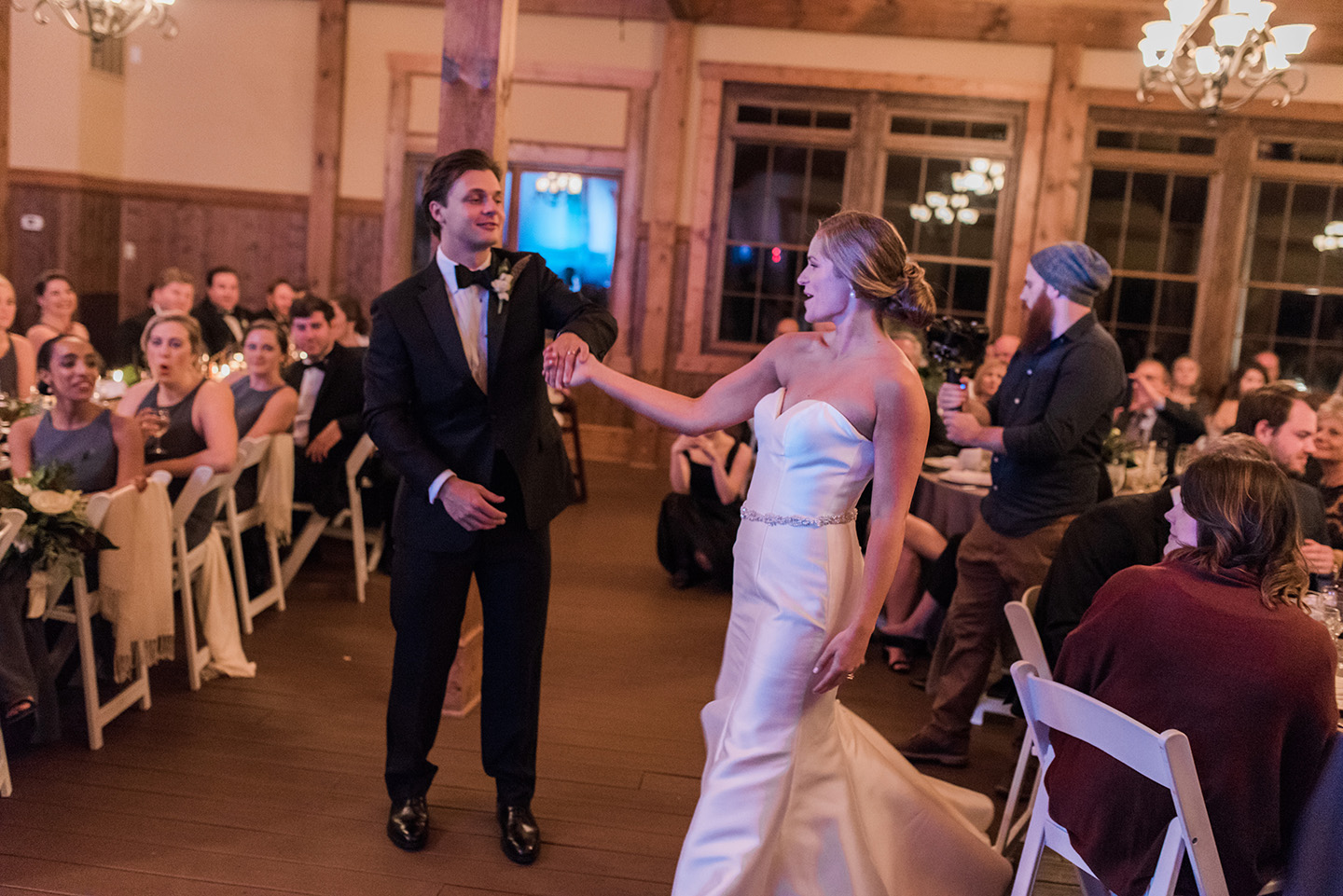 After shedding her lace bolero to reveal the beautiful sweatheart neckline of her gown, Liza and Watts danced the night away!
From the bride:
What was your favorite detail from the day? "Can I have two? My first favorite detail was getting ready Saturday morning. My extended family and Watts' stayed in the lodge at House Mountain (where we got ready) and it was just so heartwarming walking in Saturday morning seeing our extended families share stories, laughter, and excitement. It seemed to be a true depiction of a marriage – two families coming together. My second favorite was definitely our 10-minute firework show towards the end of the reception. We were so close to the fireworks, they were truly magical."
What advice would you give to a bride to be? "Honestly – it is totally worth the money to have a wedding planner or at least a day of coordinator. Our wedding flowed perfectly because our wedding planner knew exactly what we wanted and just made it all happen. I didn't have to do anything the day of our wedding – which was a little hard for me to pass the torch off, but I am so glad I did because I got to spend time with family and really cherish the memories. There are so many little details that are bound to go wrong and I am so glad I didn't know about any of them until weeks after my wedding! The other advice I have is don't be afraid to ask around who makes cakes, does hair/make-up, etc. A lot of the vendors I used don't have store fronts they just enjoy baking and/or doing hair and make-up. This helped us save a lot of money and did not fail to impress us!"
Photos by Solas Photography Studio