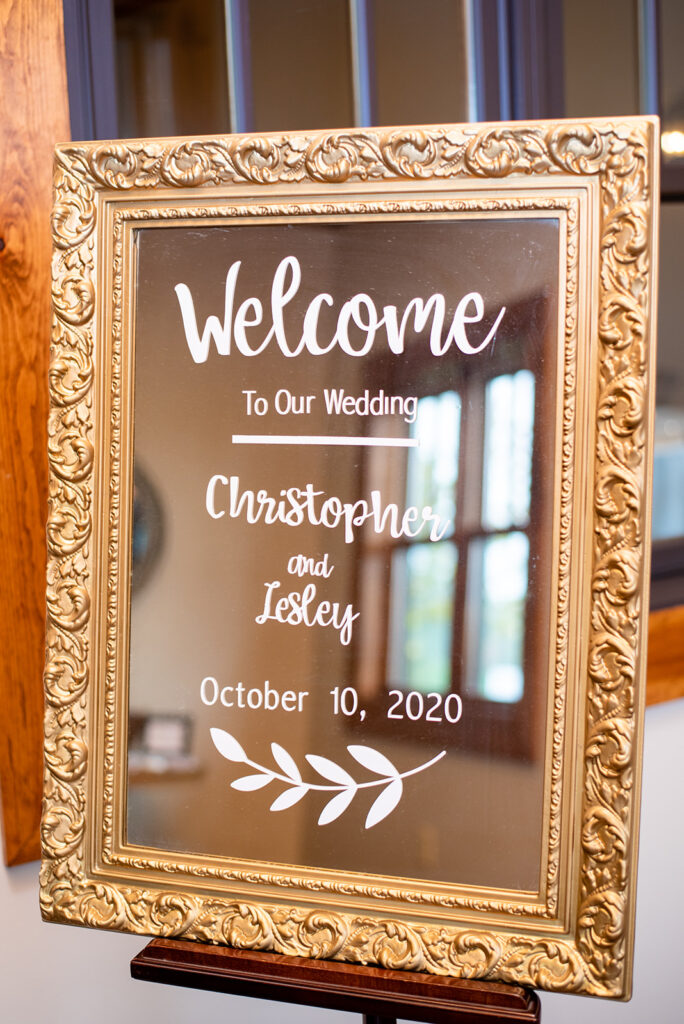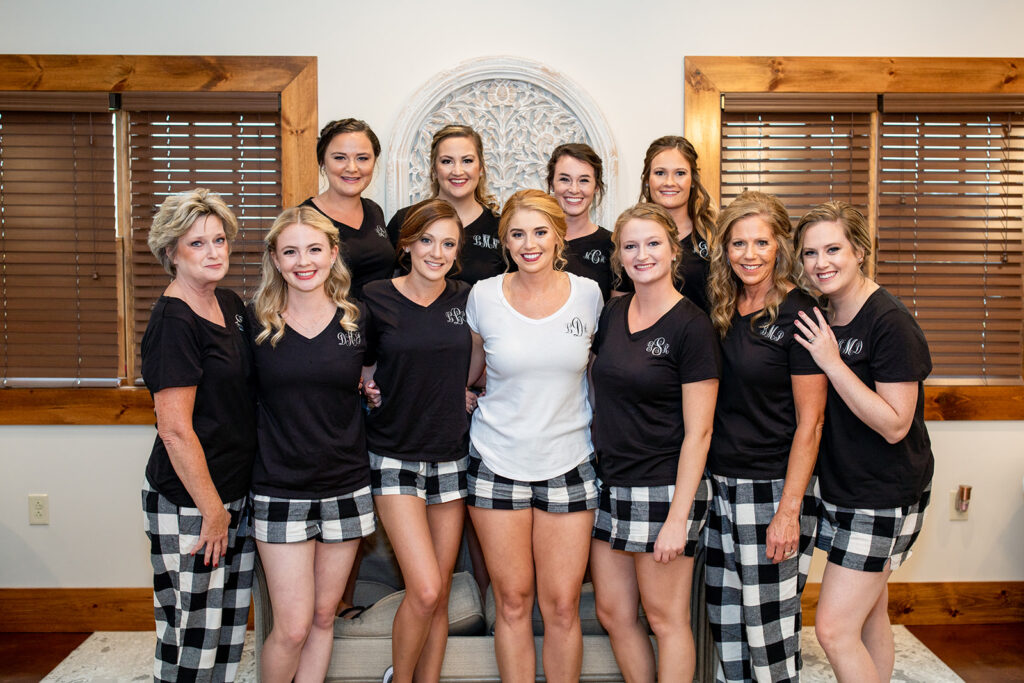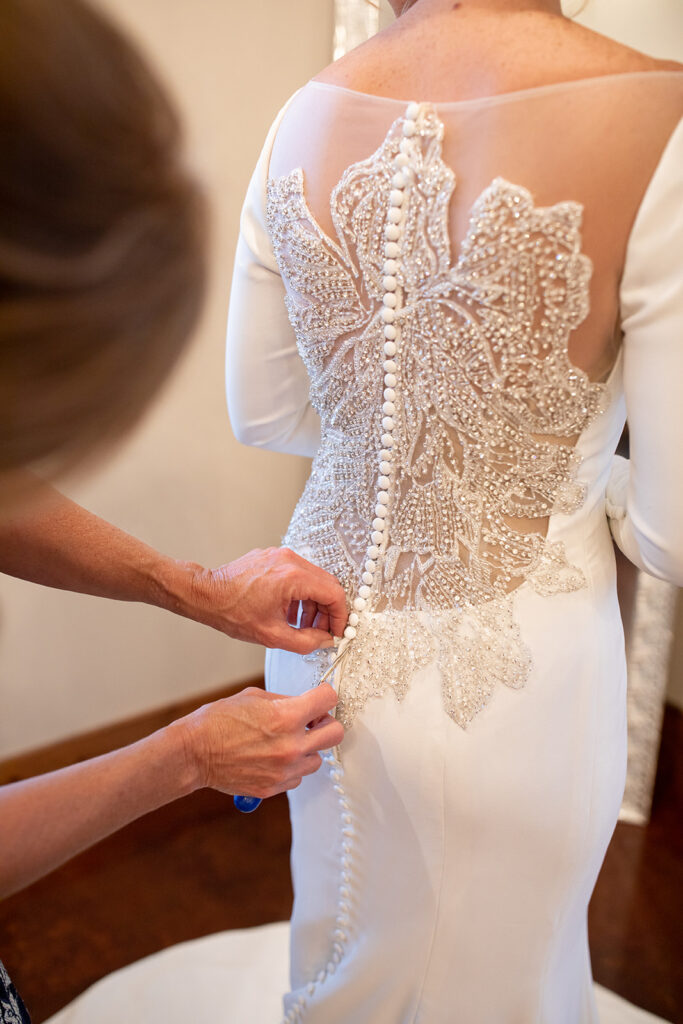 This week, in our real Virginia weddings stories series, we're taking a peek into the gorgeous wedding and beautiful romance of Lesley and Chris, a couple who met in the seventh grade.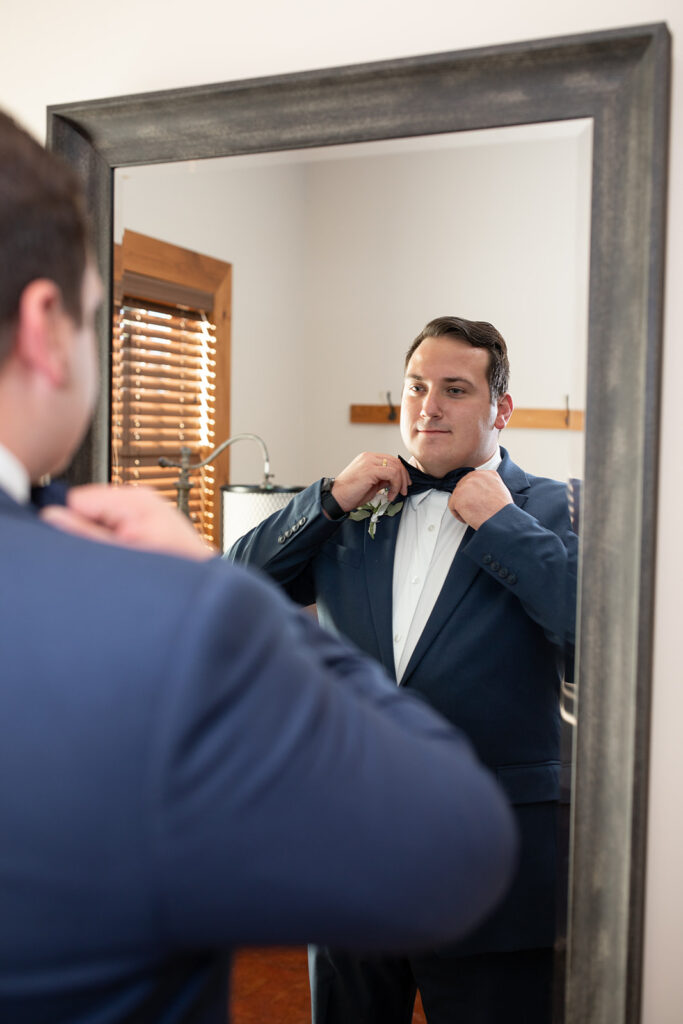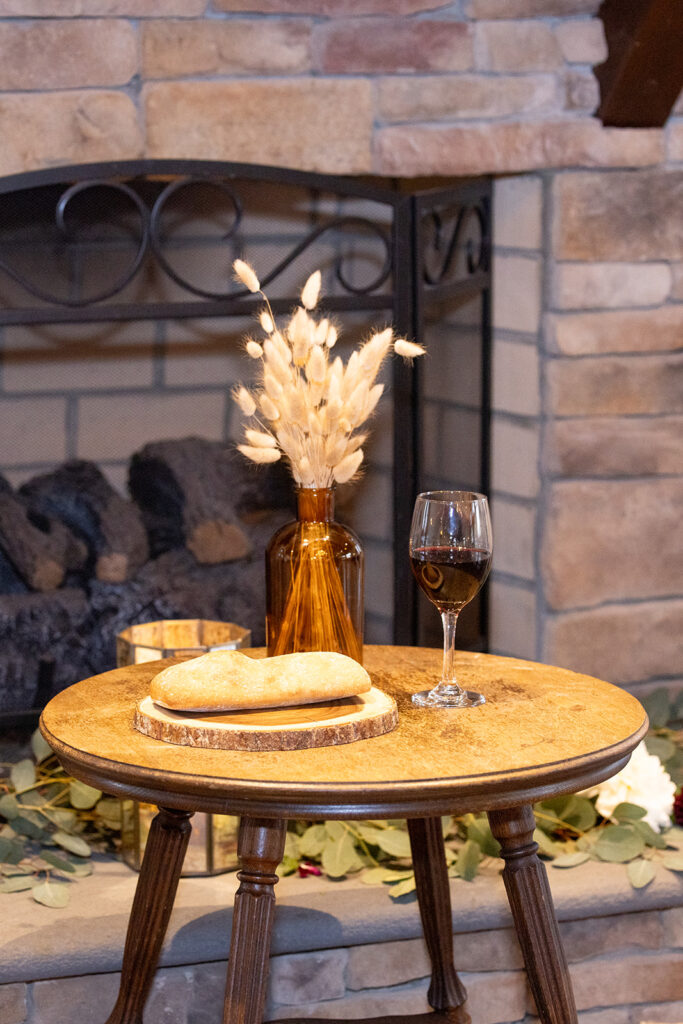 "Chris and I first met in seventh-grade math when we sat next to each other in class. Following our 7th grade year, our school re-districted students, which resulted in me having to switch schools. We lost touch during high school but remained familiar with one another as our moms worked together as nurses at our local hospital and we had many mutual friends.
"Years later, following my graduation at James Madison University, Chris reached back out to me and asked me on a date. Having just gotten out of a long-term relationship, I was hesitant to jump back into a new relationship.
"While at dinner with a friend (who was one of my bridesmaids) I was talking with her about my reservations and hesitations jumping back into something new (especially since I was about to relocate for graduate school in the upcoming months). She urged me that she thought I was ready and while I was in the bathroom STOLE my phone and answered Chris that I would go on the date with him…. And thank goodness she did! We joke and say had she never done that we may not be married today… But I think I would have said yes regardless."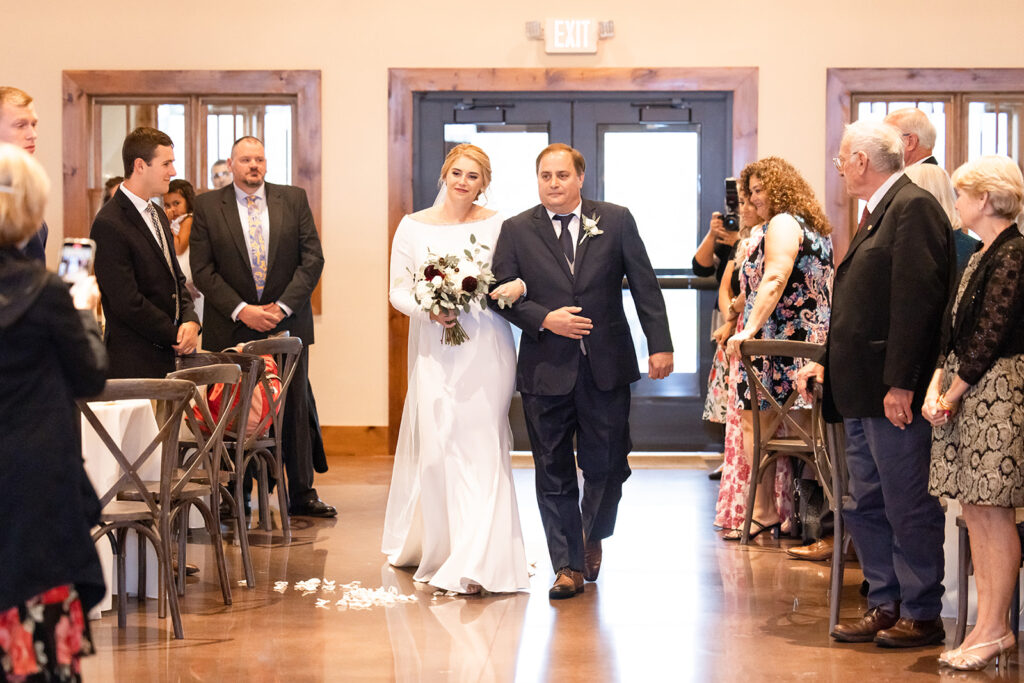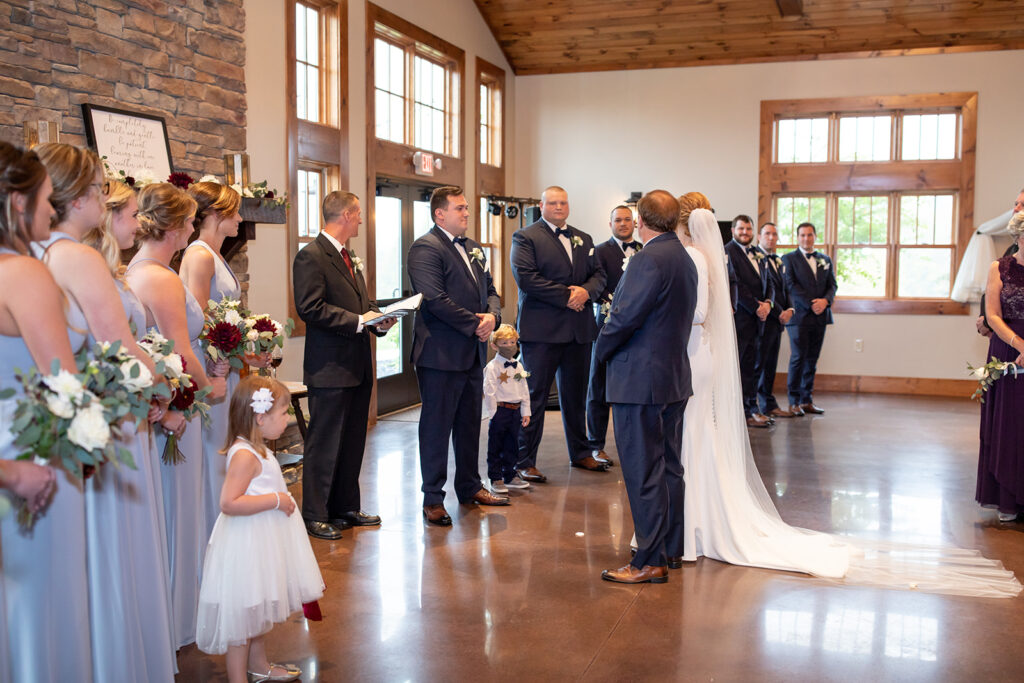 Being an outdoorsy girl, Lesley absolutely loved their first date. "We met up with Chris's childhood best friend (who was later his best man) and his wife. We went skeet shooting and Chris then took me to pet some donkeys located on the farm. He didn't know this when he took me to meet them, but donkeys are my favorite animal (so weird I know). He scored major brownie points there.
"Following our daytime outing, the two of us went out to a nice dinner at a local restaurant where we spent hours talking. One of my favorite things about our first date was the instant connection and comfortableness we had with one another. I felt like he had been my best friend for years, and it was only our first day together.
"He disclosed on our first date that he had been wanting to ask me out for months, but knew I was trying to finish up my undergraduate degree, applying to grad school, and had just gotten out of a long-term relationship and wanted me to be able to focus and heal. On our very first date he showed me a respect, patience, and love I had never experienced from a partner. He put his own desires and wants second to mine and waited until he thought my mind and heart were ready and he could not have come at the more perfect time."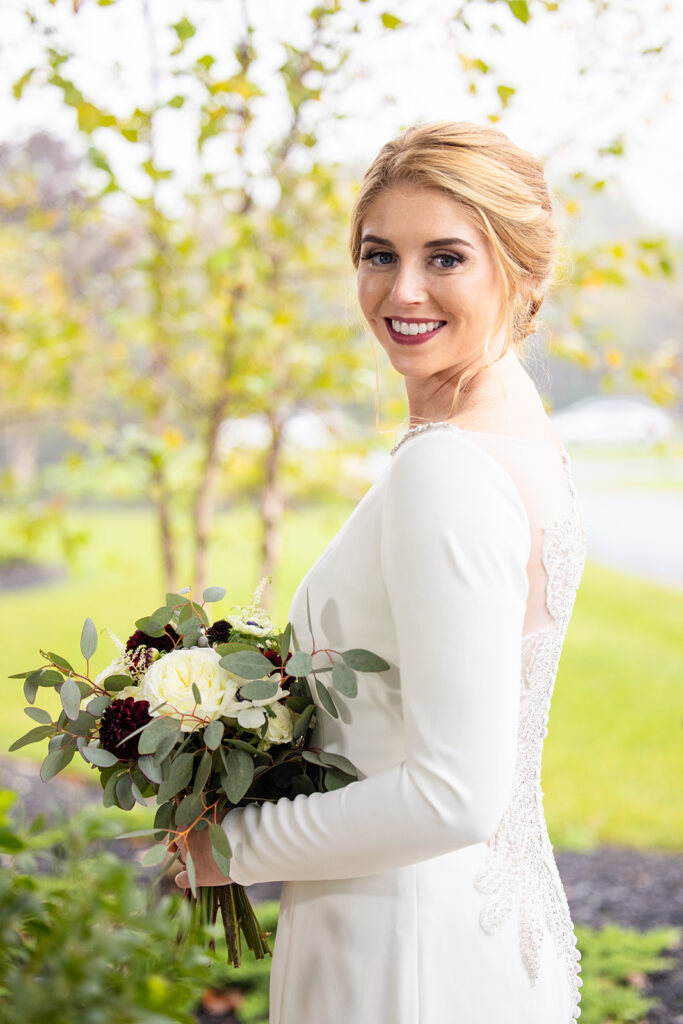 The Scoop:
Bride: Lesley, 25, Physician Assistant
Groom: Chris, 26, Police Officer
Wedding Date: October 10, 2020
Number of Guests: 140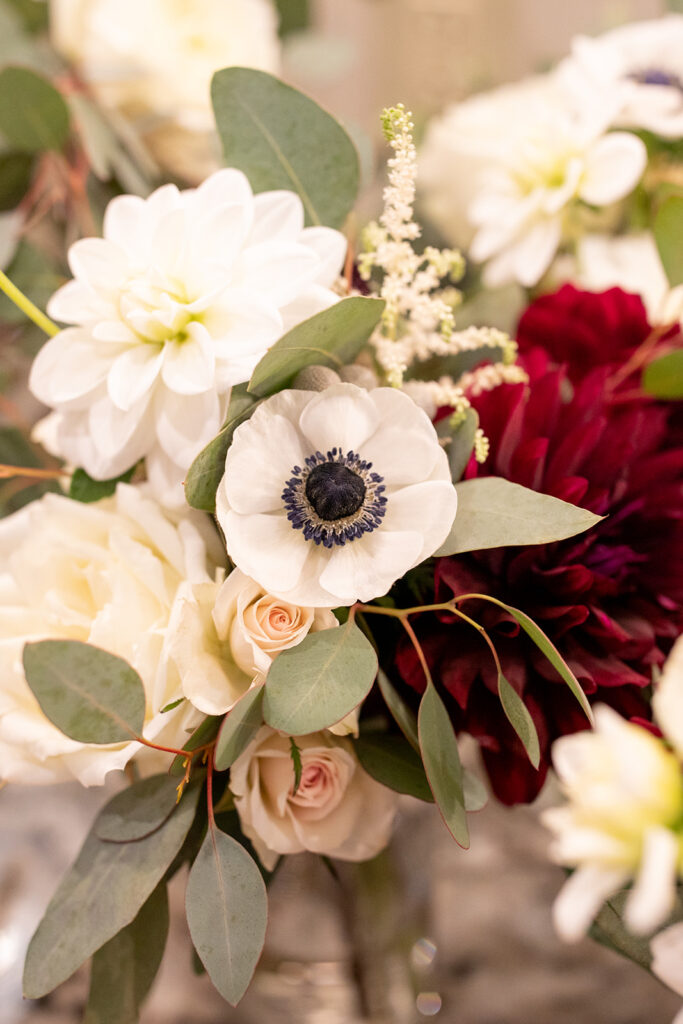 Lesley and Chris made their wedding incredibly special for their guests and themselves via many touches.
"For starters, we got married on my maternal grandparents' 56th wedding anniversary. Growing up I said I wanted to marry a man as kind, gentleman like, and loving as my Pepaw (Grandpa). Chris was just that, so it seemed so fitting to share a special day with them. We also got married on one of our flower girls 4th birthday, so it was definitely a day of celebration.
"Another thing I found extremely special was I had my stepdad walk me part of the way down the aisle and my dad the other part so he was the one able to give me away. I was truly blessed with two wonderful fathers so being able to share that moment with both of them was very special.
The couple also had their brother-in-law brew signature beers and cider for the wedding day. "He brews beer as a hobby in his basement and his beers are amazing! It was extremely special to have our family share their incredible talent with our guests and the signature drinks made just for us and inspired by our tastes.
"We also got married in Lynchburg VA on a weekend when hurricane Delta was rolling through. It rained the whole day and we couldn't get outside at all. However, our beyond wonderful photographer met us back out at our venue following returning from our honeymoon and we got to "fake" our wedding for repeat, stunning sunset pictures. We were so thankful for her taking her time to come take photos we can cherish for a lifetime. Then on the way home she sent us a Starbucks gift card to enjoy a coffee on her. She is truly amazing!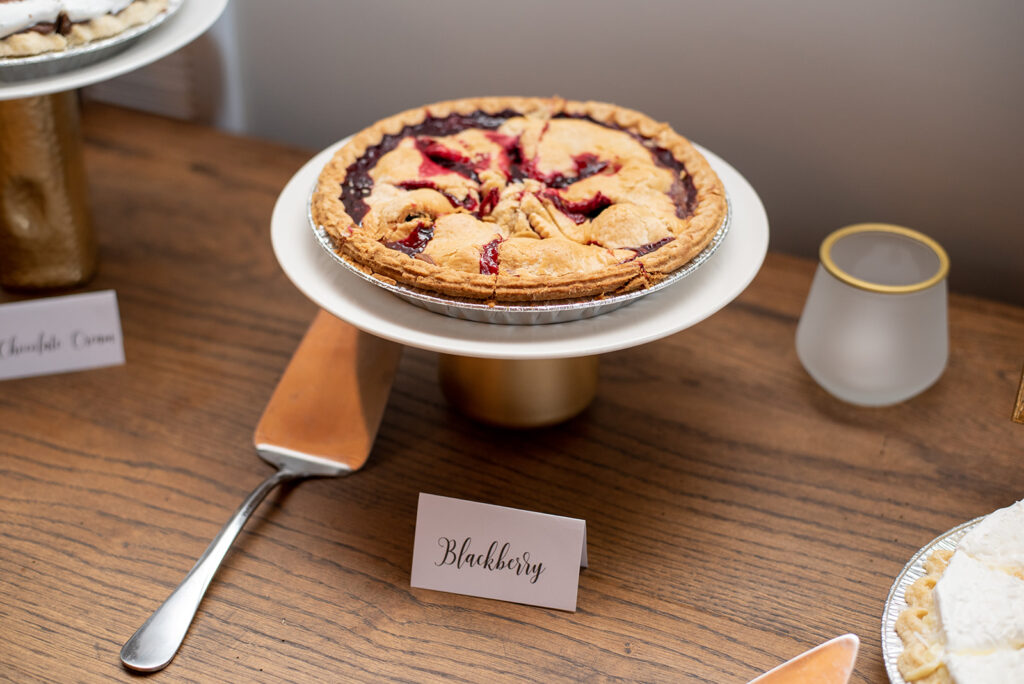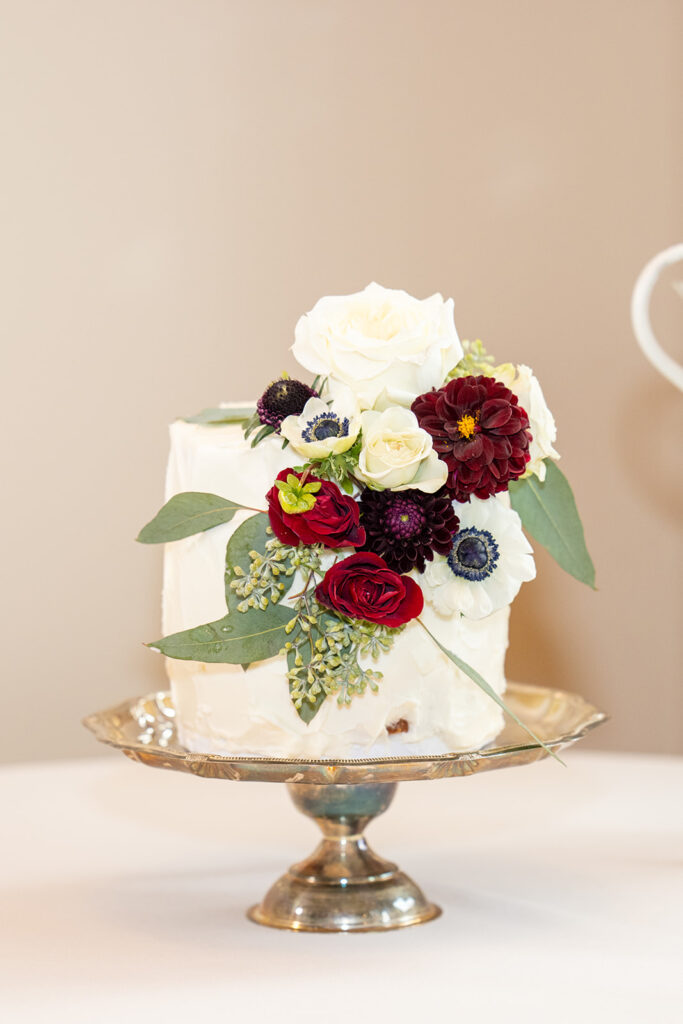 "Lastly, Chris is not a huge fan of cake so we decided to have pie for dessert instead. We got our pies from a hometown Amish country store called the Ole Country Store and they were delicious! However, I on the other hand love cake so our caterer also made us a small serving cake so we were still able to smash some cake in each other's faces.
Lesley's wedding dress was a long-sleeved, fitted and flared crepe dress with a beaded illusion back. They added a small beaded belt to the boat neckline to add a little something "extra" to the front of the dress, as well.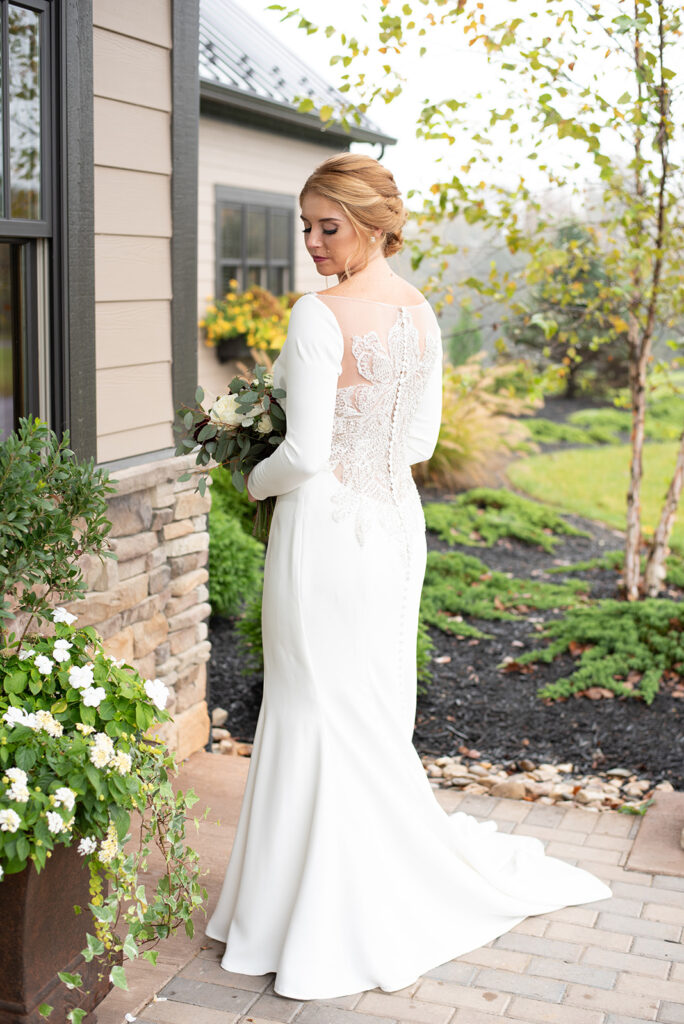 "When I was searching for a wedding dress this was everything I thought I didn't want, and actually walked away from it initially. In my mind, I had an idea of what I had always wanted to wear on my wedding day and it was hard to overcome that visual when in the bridal store. However, I knew it was the dress for me when every dress I tried on following that dress I would compare it.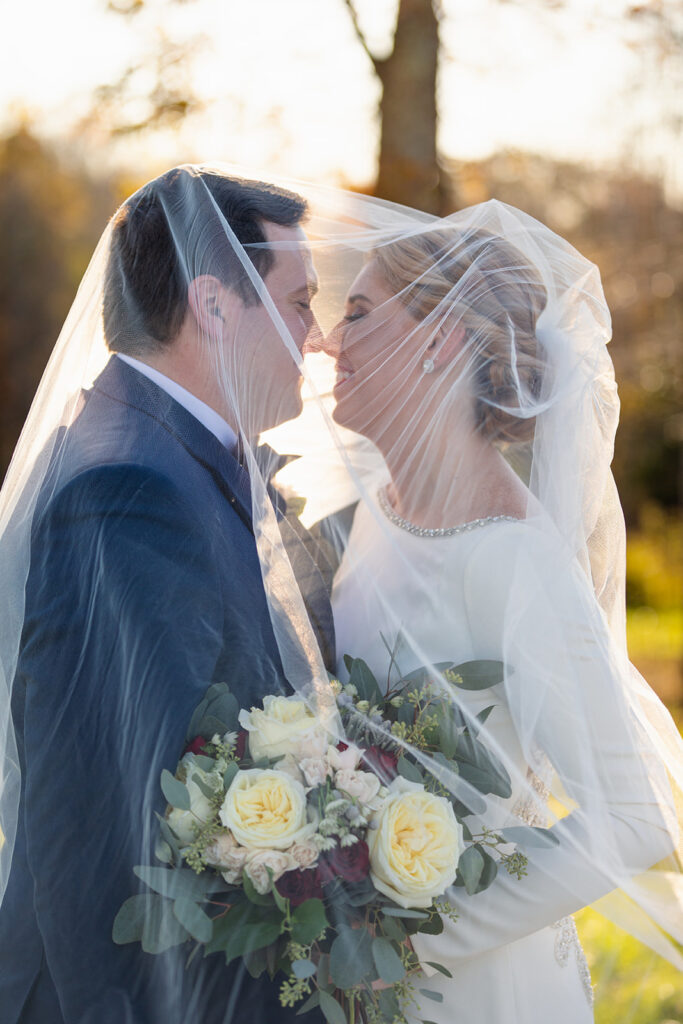 As to the colors of the gorgeous wedding, "Growing up I knew I always wanted to get married in the fall. I have always loved the warm, comforting colors, which is why we went with burgundy and navy blue. I chose to add dusty blue accents because I thought it brought a lighter, airier feel to the color palate."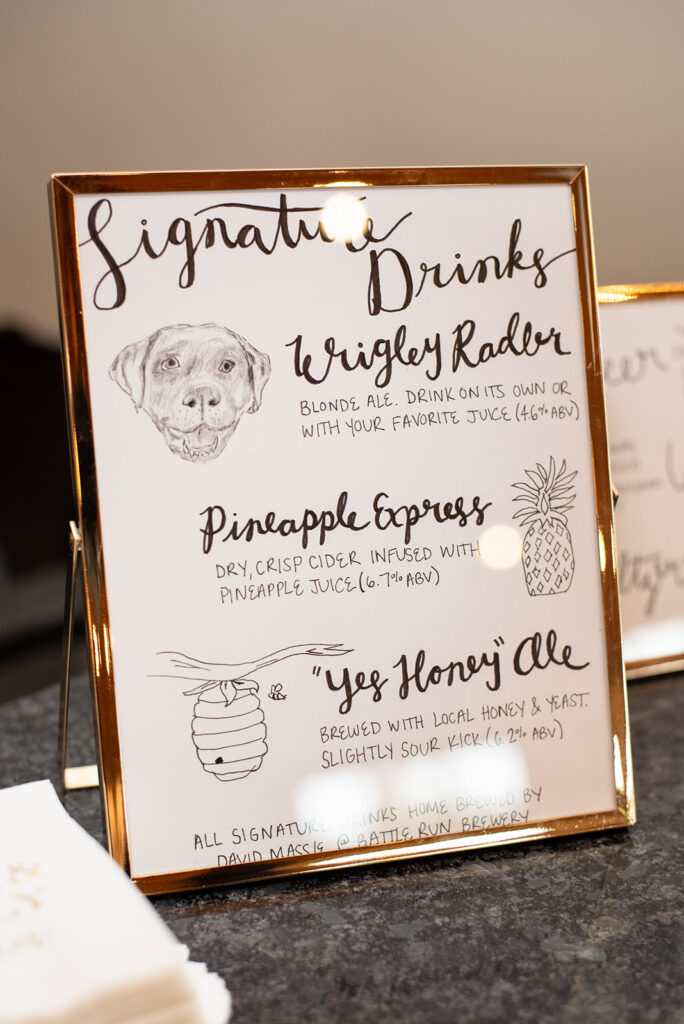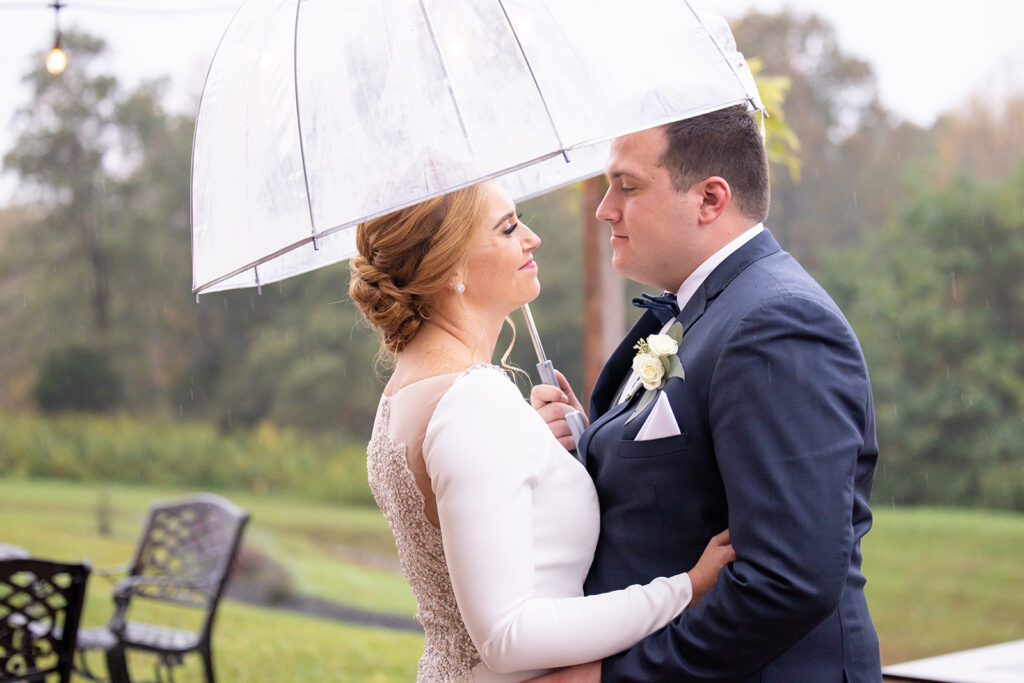 I think often couples can get bogged down in details of planning a wedding that it can be hard to truly enjoy the process and remember the true meaning of the celebration; marriage. My inspiration for the big day was to focus on the excitement of getting married. Were things perfect, no! We had a hurricane pass through for goodness sake, but on that day NOTHING could have killed our joy and I wanted our family and friends to experience our love through that joy, and I hope they did.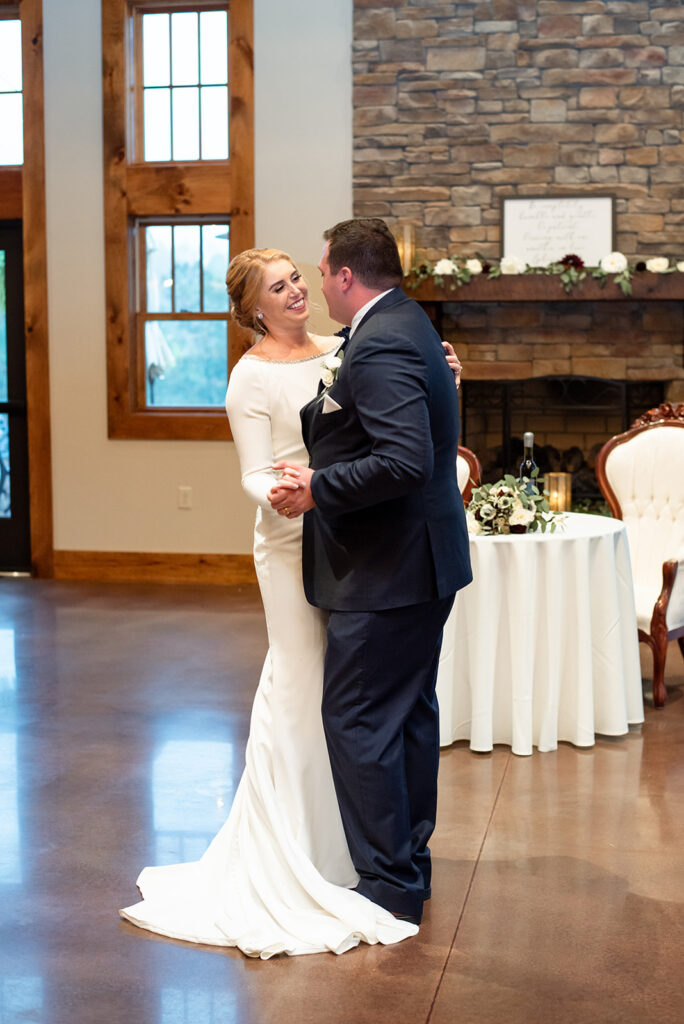 Lesley found inspiration for their big day in an unusual place.
"I was inspired by my late Nana's china. My paternal grandparents, my dad and his siblings immigrated from England when my dad was about 10. They moved to the states for my Papa's work and my Nana loved England with her whole heart, so it was hard for her to leave.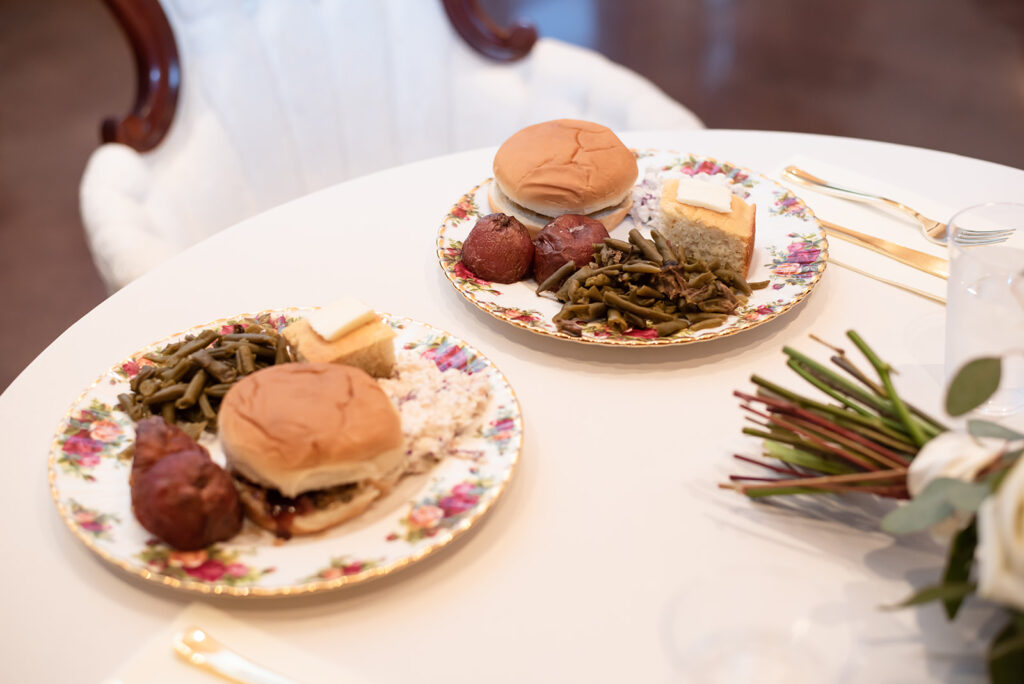 "They sailed over on the Queen Elizabeth II and were only able to carry a certain amount of luggage on board. Her only stipulation for moving across the pond was my Papa get her the China set she had always wanted so they could transport it over to the states with them. My Nana also loved that china. Every Christmas she would use her fine china and make delicious English pastries. When I see my Nana's china I smile because I think of her. It embodies her so well: beautiful, elegant, timeless. On our wedding night, Chris and I ate our first dinner as a married couple on my Nana's china and I could feel her presence so evidently."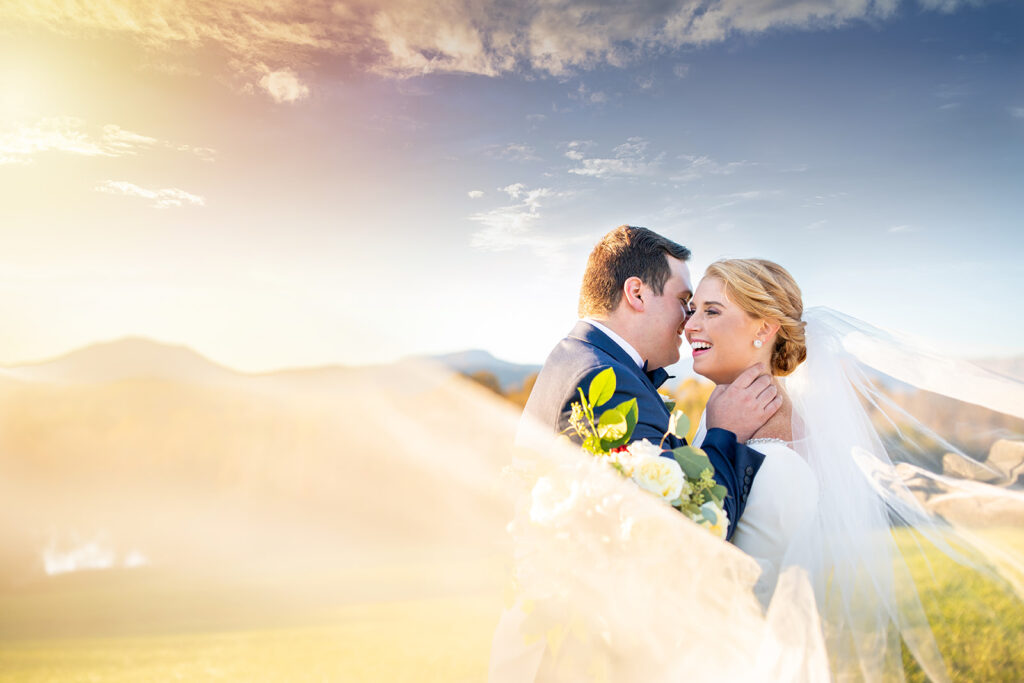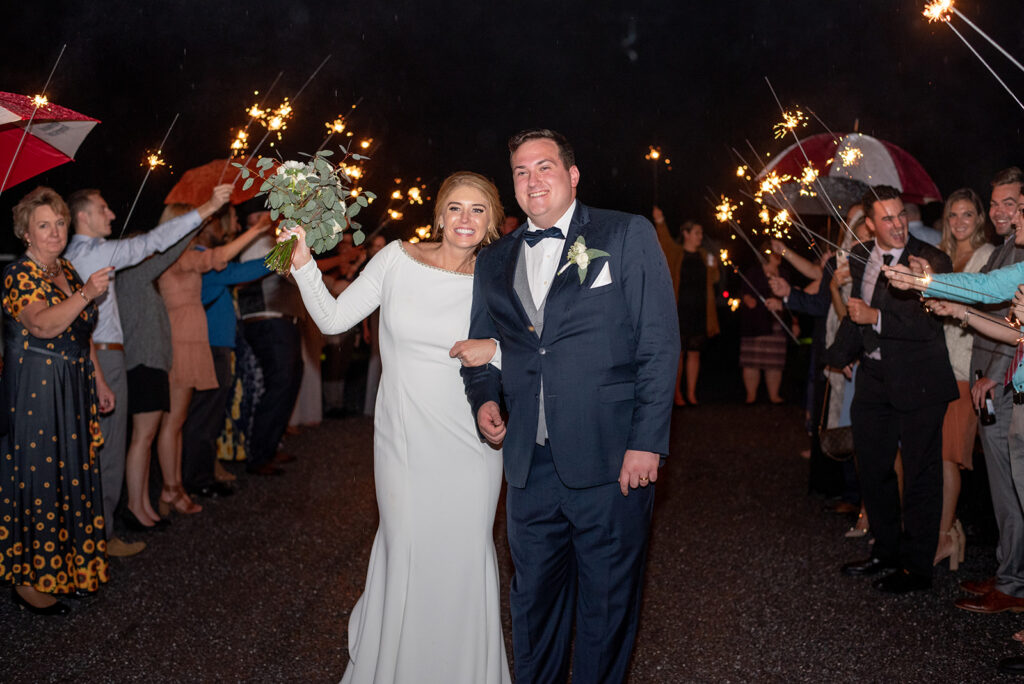 Thank you so much for sharing your special day with us. Congratulations to you both!
Vendor Credits
Venue: Glass Hill Venue, Goode, VA
Photographer: Suzanne Pfeiffer at Clark Street Photography, Forest, VA
Day of planner: Ashley Rose Events, Ashley Nash, Lynchburg, VA
Officiant: Mark Jenkins, Couples home church pastor at Mountain View Community Church, Culpeper VA
Gown: Vivid Bridal Boutique, Woodbridge, VA
Gown Designer: Justin Alexander
Alterations: My's Bridalterations, Manassas, VA
Veil: BridalsByTeri
Shoes: Target
Hair: Jessica Comiskey, Forest, VA
Day of the wedding: Make up by Summer, Summer Hubbard, Lynchburg, VA
Day of make-up sunset couples' photos: Monica Huseby, Culpeper, VA
Bridesmaids dresses: The Dessy Group
Formal wear: Generation Tux
Invitations: Shutterfly
Flowers, Rental Equipment, Catering, Cake: Love is in the Air, Forest, VA
Music: DJ Vicki Thompson, Blacksburg, VA
Favors: Bailey's Cookie Bar, Culpeper, VA, baileyswan1@gmail.com
Pies: Ole Country Store, Culpeper, VA, 540-547-4449
Honeymoon: St. Orchid Secrets Resort, Jamaica