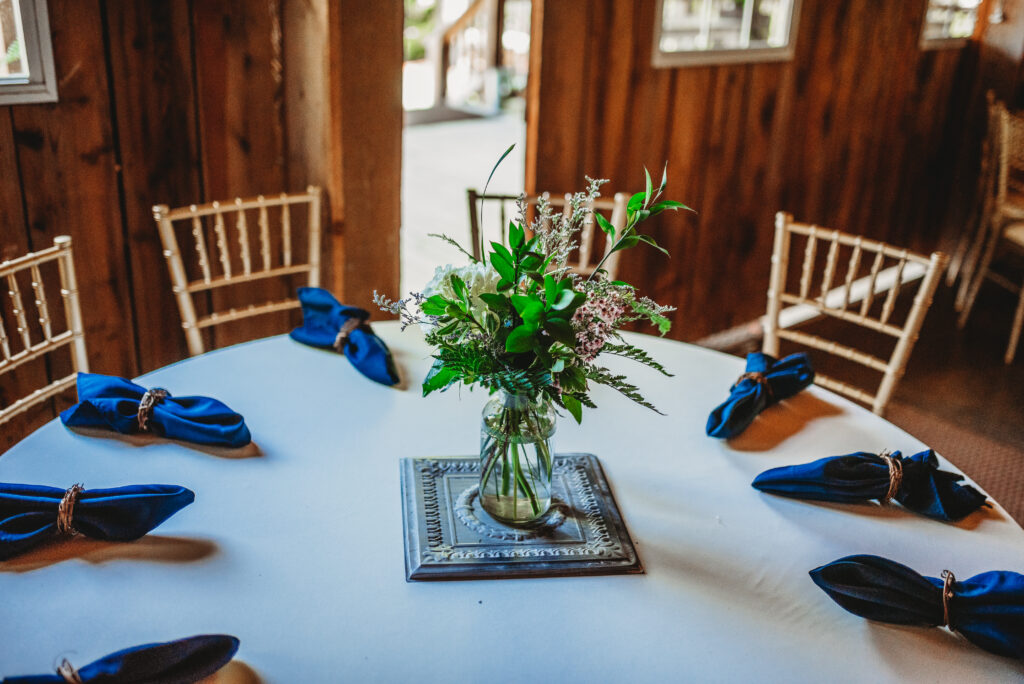 This week, our Virginia weddings tale begins in New Castle, Virginia, where Leah and Josh met. "He is a few years older than me, and I had the biggest crush on him when I was in the 8th grade and he was graduating high school. He had no interest in the swooning middle schooler as he started his journey into adulthood.
"We didn't start spending time together until several years later when we connected at our friend Nathaniel's house in the fall of 2016. We started hanging out more and things quickly went from friendship to feelings and the rest is history."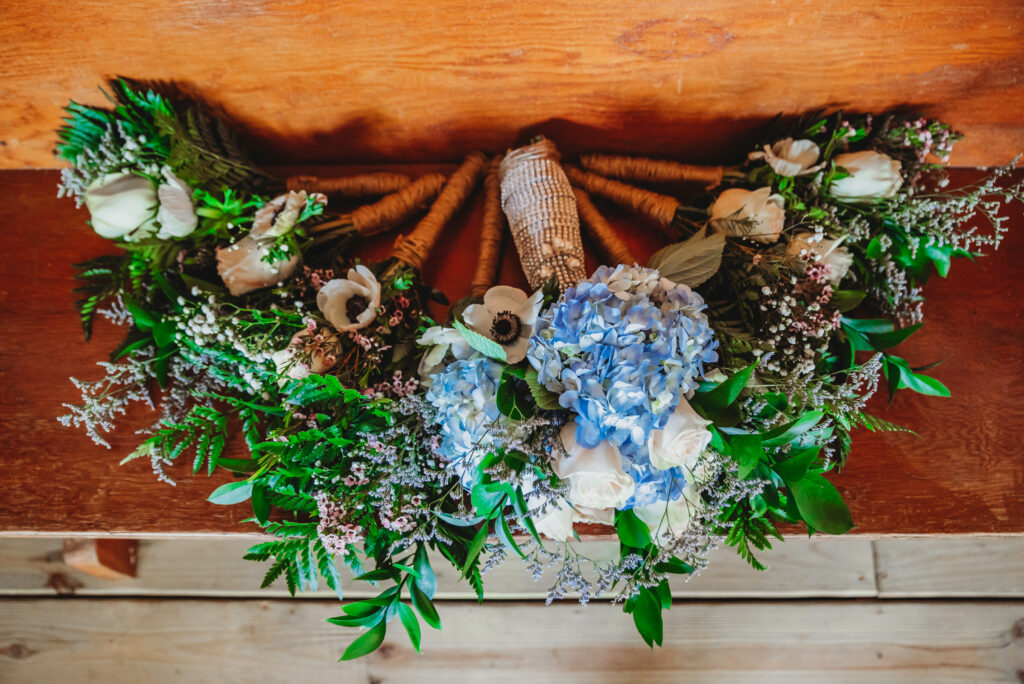 "Our first 'real' date was simple and sweet. We went to Olive Garden for dinner and shared lots of laughs as we got to know more about each other and our shared love for pasta. Afterwards we went bowling where he attempted to teach me how to keep the ball out of the gutters with little success. We were instantly comfortable with each other. It was a perfect night."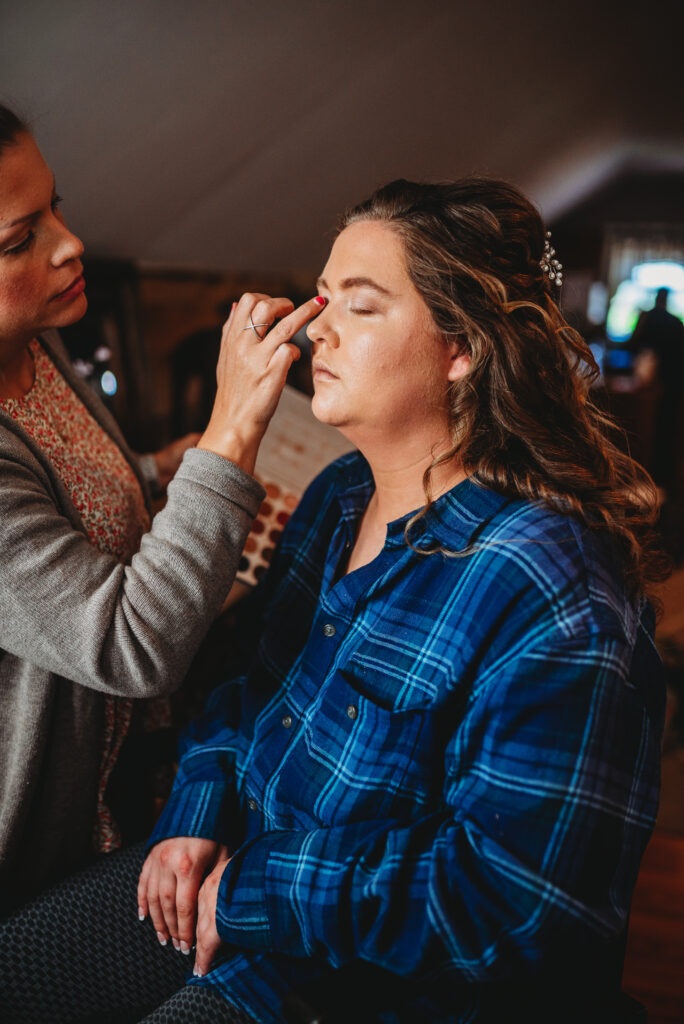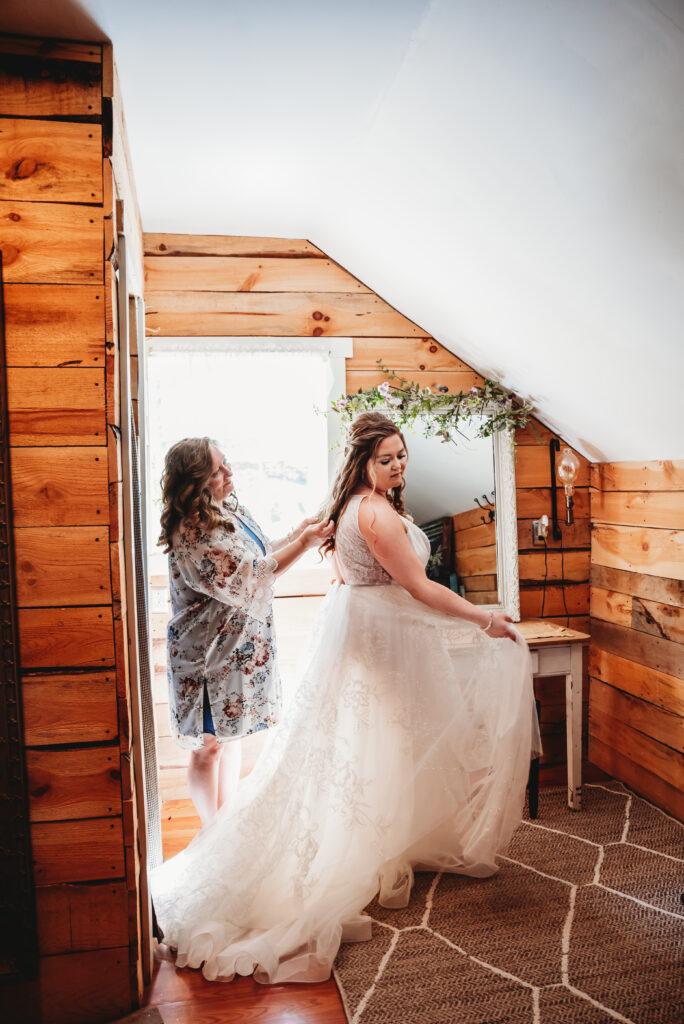 The Scoop:
Bride: Leah, 25, ERSEA Coordinator, TAP Head Start
Groom: Josh, 29, Construction Inspector, MBP
Wedding date: May 8, 2021
Number of guests: 125
For this big day, Leah found her dress at David's Bridal. "It was everything I hoped for and more! My mom and I are super into Disney and she always had a vision of me getting married in a 'Belle' gown. My dress had sparkly roses all throughout in a champagne color that reminded us of Belle's dress and the rose from Beauty and the Beast. My shoes were simple sandals with rhinestones that were given to me by one of my mothers-in-law. My mother let me have her veil, my grandmother let me borrow a beautiful set of blue earrings and a necklace and I also had a special bracelet that was designed for me by my great aunt who is a jewelry designer who lives in San Diego, CA. The bracelet was originally a necklace that belonged to my great-great grandmother, and it was designed into a bracelet for the big day."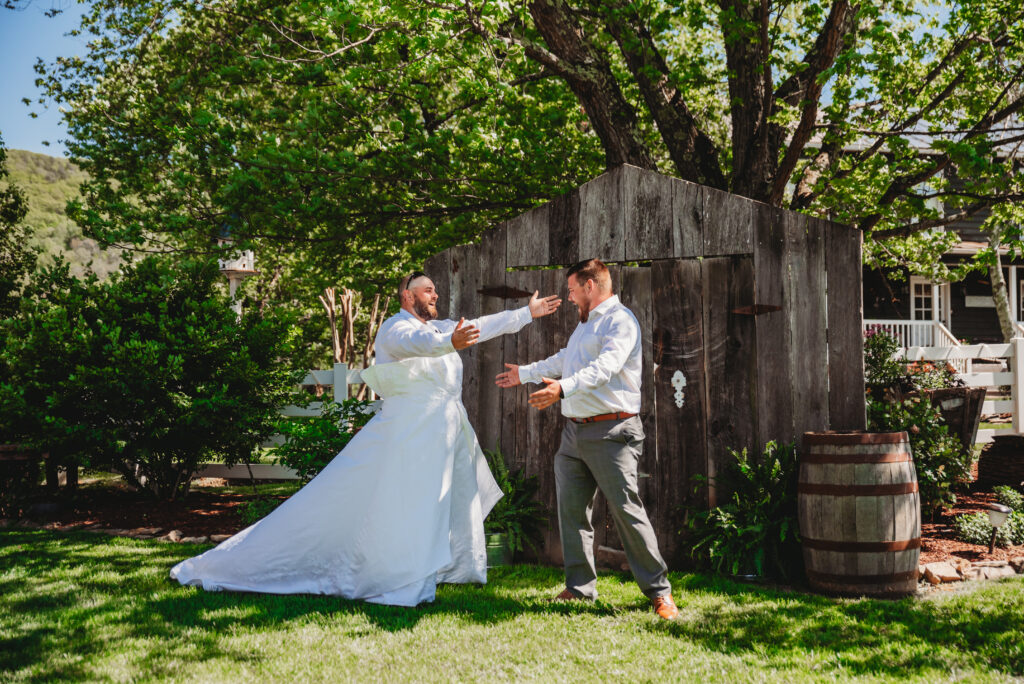 "One of the best moments of the day happened right before the ceremony. Since the day I got engaged, I knew I wanted to plan a special surprise for my husband. I coordinated for a year with our photographer and our friend, Reece, to have a special 'first look' moment. Instead of seeing me in my dress when Josh turned around, he was greeted by one of his best friends wearing his step mom's wedding dress. It was a great way to shake off the nerves before walking down the aisle."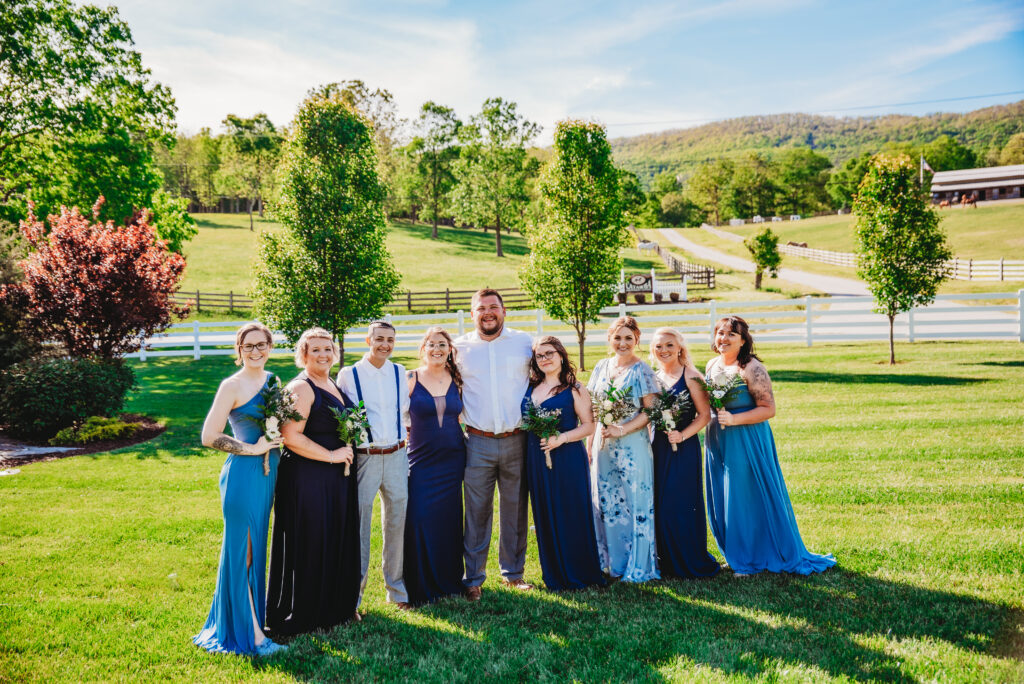 "One thing that was very important to me was that my bridesmaids felt as comfortable and beautiful as I did on my wedding day. The only request that I had was that the dress was some color of blue. My husband and I did not have a maid of honor or best man, but my sister, Kristin, stood beside me and her floral dress really tied all the colors together. All the girls ended up getting their dresses from David's Bridal."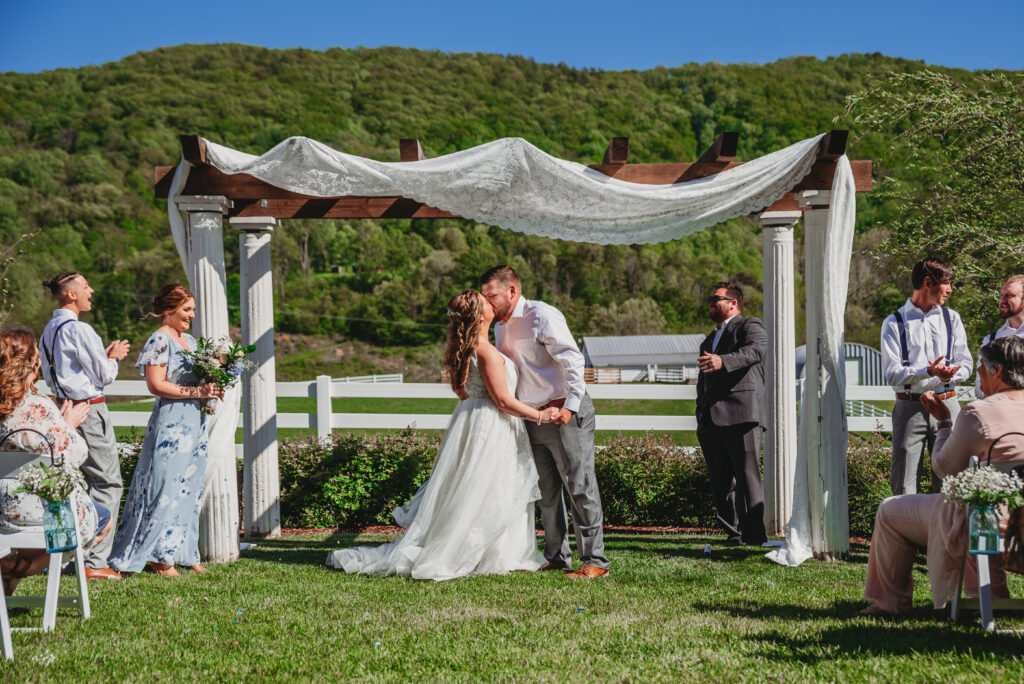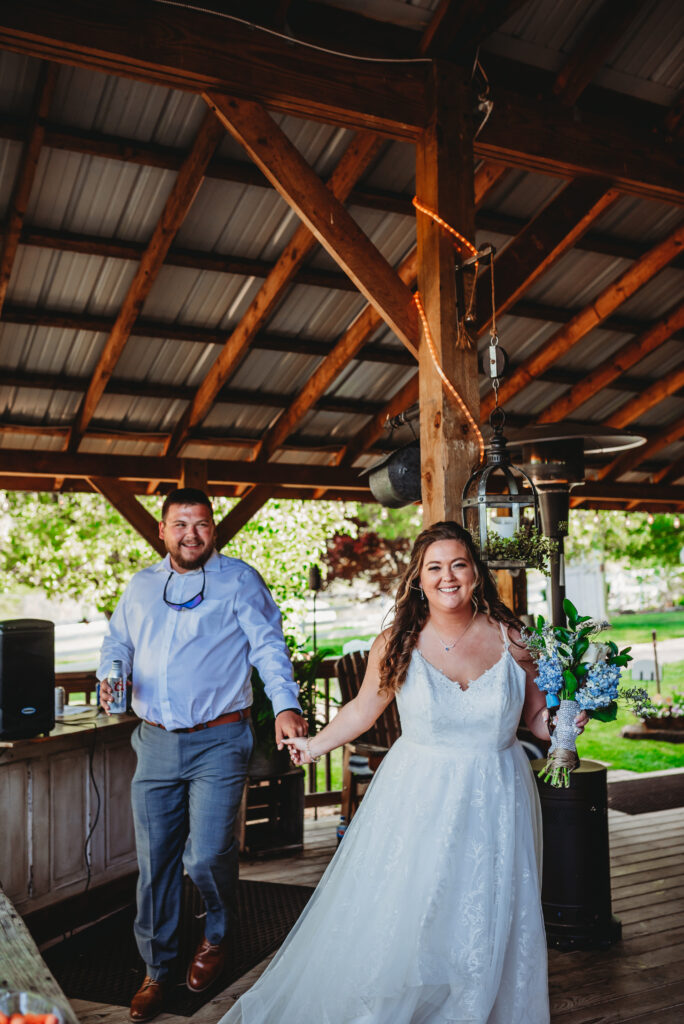 Leah's favorite color is so adamantly blue that anyhow who knows her knew it would be a big part of her and Josh's special day. "My vision for the wedding day was rustic and simple. I opted for a lot of simple flowers and greenery that mixed in with the beauty around us, from the Blue Ridge Mountains in the background, to the barns, trees and flowers that complimented the property."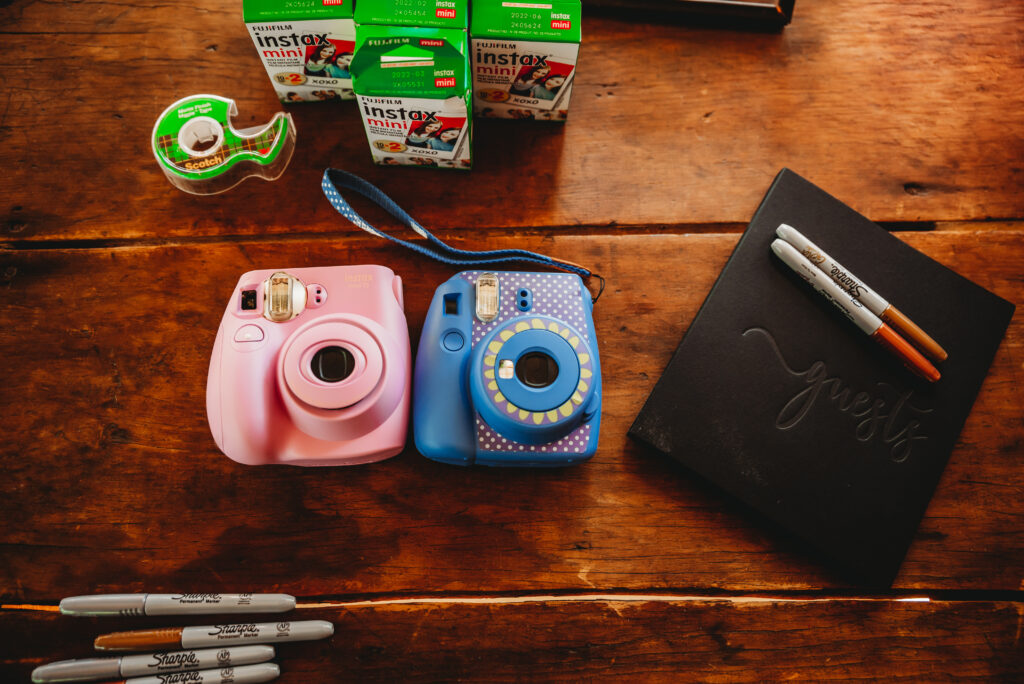 "One of my favorite little details from the wedding day was our guest book. We got a couple of Polaroid cameras, extra film, metallic markers, and a photo book. We then asked our guests to snap a picture of themselves or with their group and place it in the book. They were then able to sign the page with their picture. My husband and I already enjoy looking through the book and seeing pictures of all our favorite people from our special day."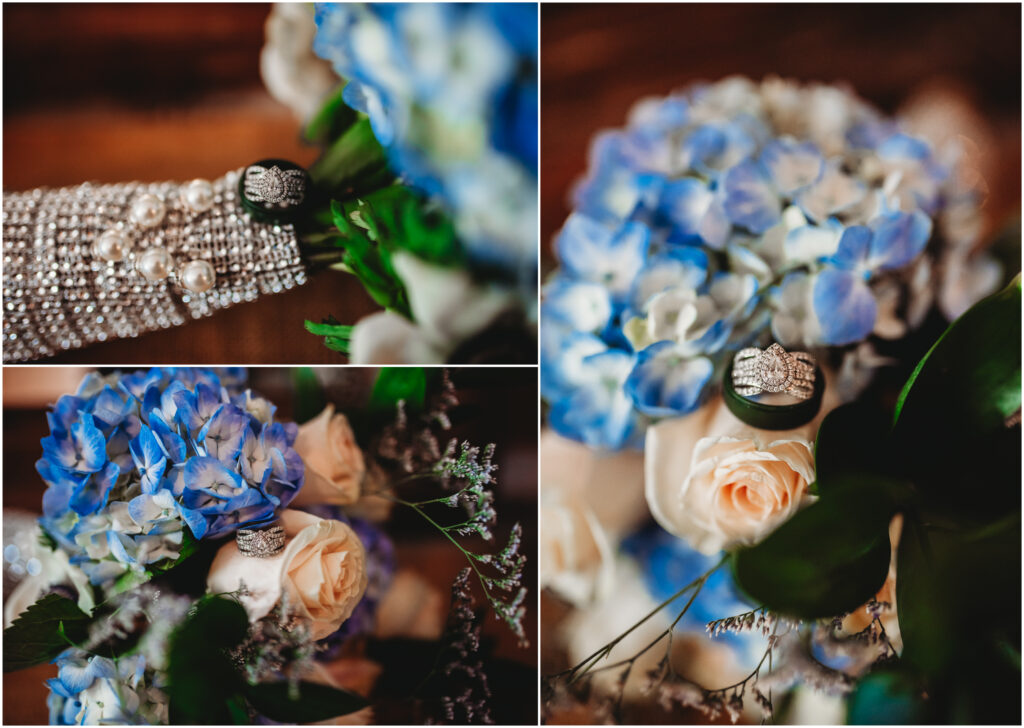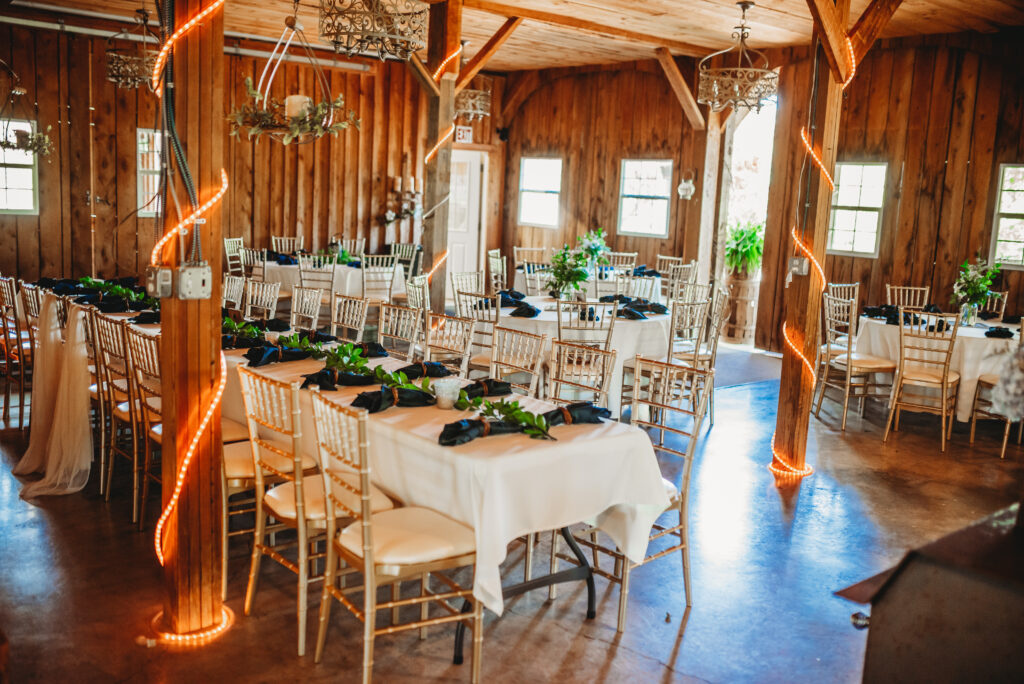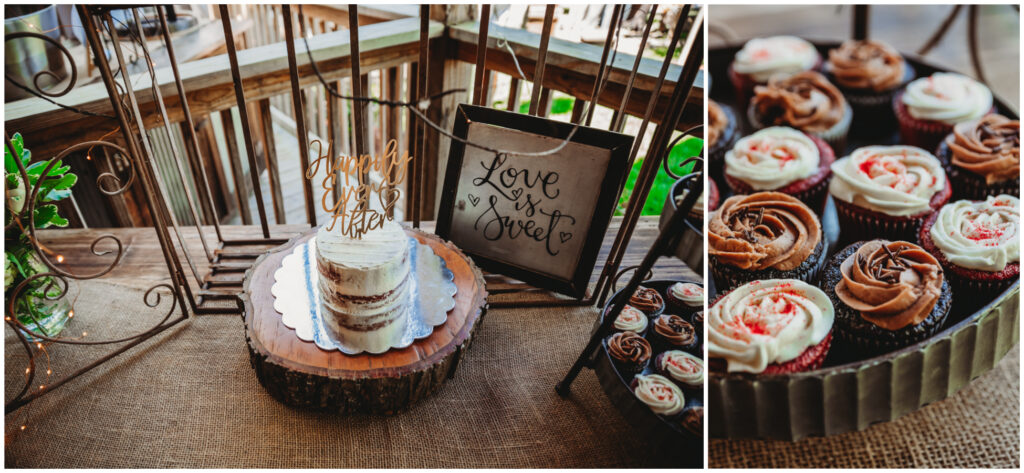 "Our venue, Triple J Farm Events, was absolutely perfect. The owners, Kim and Jeanie are longtime friends of my family and I have been lucky enough to know them most of my life. When I was in high school, I took my prom pictures and senior pictures on the beautiful property before it was even a wedding venue, so it was very special to me that I was able to celebrate another big milestone with them. They were amazing to work with and made sure every moment of the evening was magical."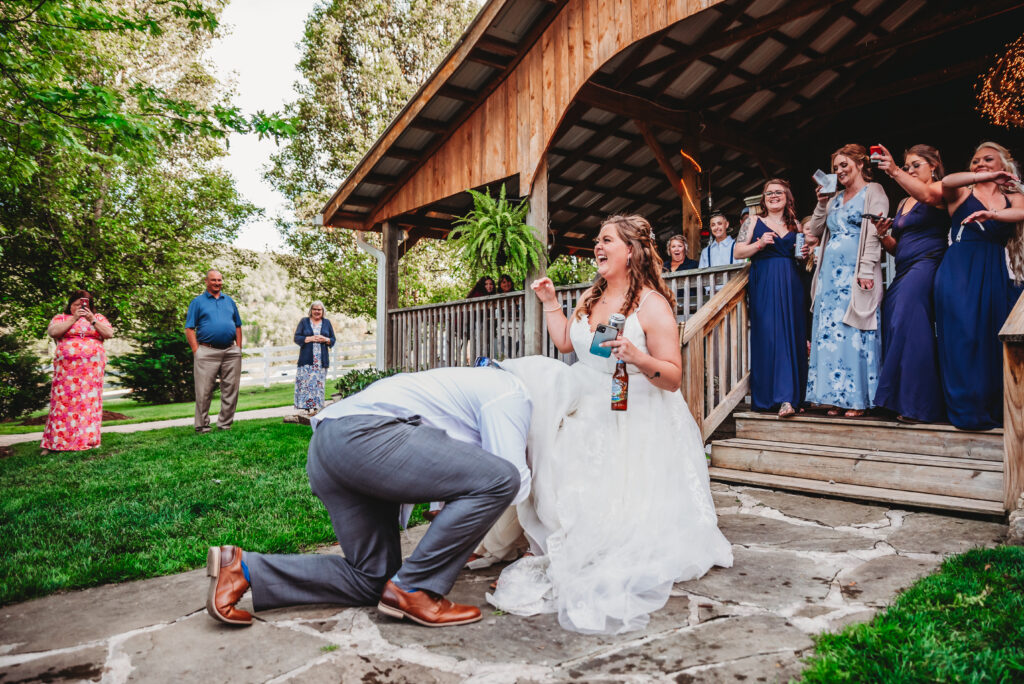 Leah offers this advice to fellow brides planning their special days: "Take moments to enjoy [your special day]. Everyone says the day flies by, but you don't truly realize it until you're in the moment. I took a few minutes on the night of the wedding, stood back alone, and took it all in. It was nice to see the love and support from our friends and family and gave me chance to really appreciate the day."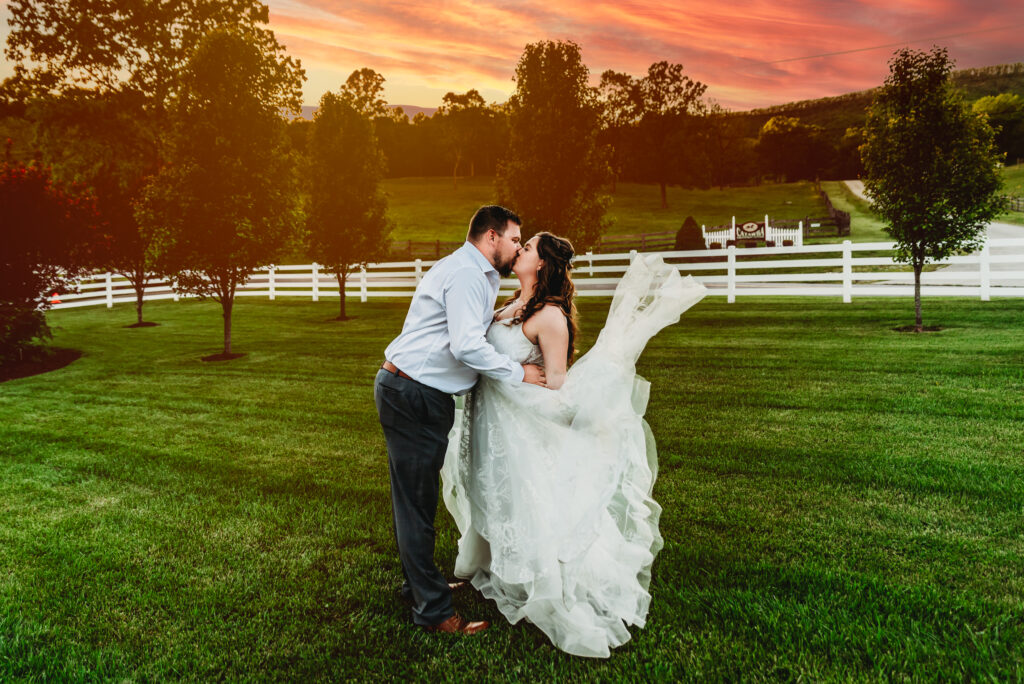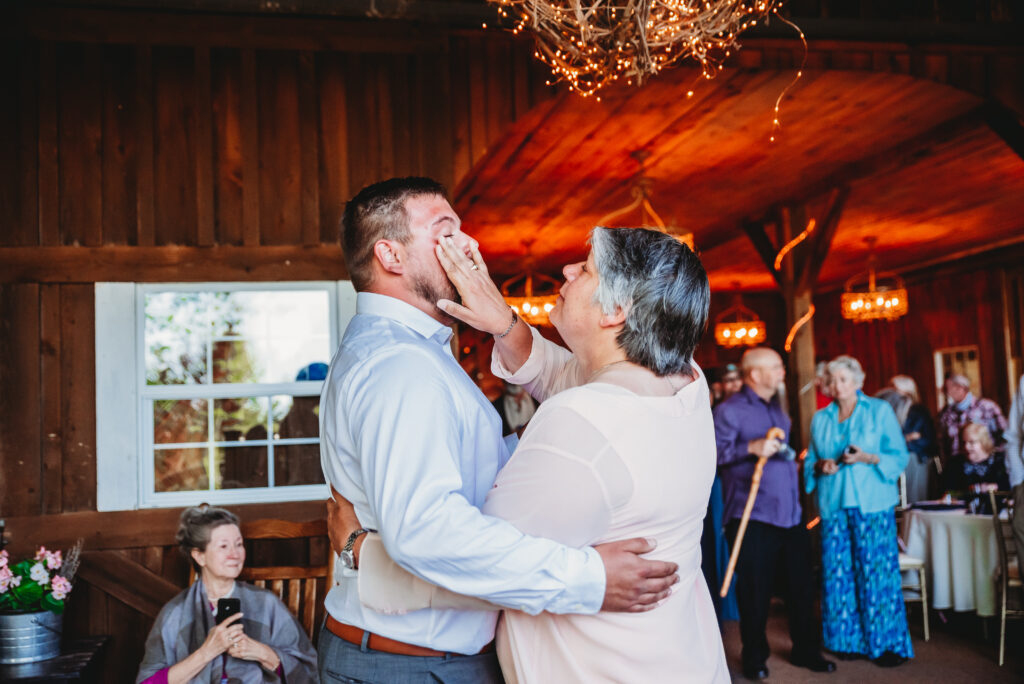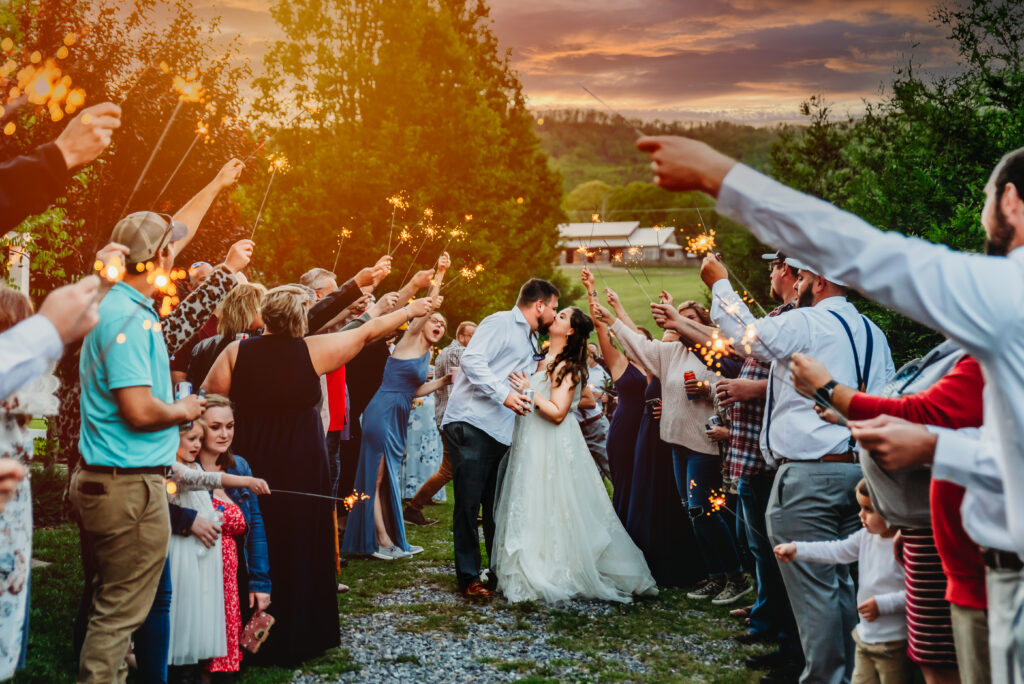 Venue: Triple J Farm Events, Kim Bolden – (540)309-3173, Catawba, VA
Photographer: Taylor Ward Photography, Taylor Ward, Tmward1022@gmail.com
Day of planner: Sherri Sloss – family friend
Officiant: Jack Sieloff – Groom's Cousin
Gown: David's Bridal – (540)563-5800, Roanoke, VA
Veil: My mother's
Shoes: One of my mother-in-law's
Hair: Embellish Hair Studio – (540)206-3482, Roanoke, VA
Stylist: Emily Bannard and Alex Cramer
Makeup: Glam By Kimberly M., Kimberly Manning – (540)355-5487
Bridesmaids' dresses: David's Bridal – (540)563-5800, Roanoke, VA
Formal wear: Shirt and Pants from Macy's, Suspenders from Amazon, Shoes from Johnston and Murphy
Invitations: Shutterfly
Flowers: Provided by TSF of Roanoke, (540)343-4461, Roanoke, VA – Bouquets were put together by my mom, sister and myself
Catering: Mission BBQ, (540)613-5513, Roanoke, VA
Music: Krista Johns – family friend
Cake: Savannah Dooley – (540)759-0457, Independent at Home Baker
Favors: Seeds from Lowes, Envelopes from Etsy (put together by myself and my husband)
Honeymoon: We spent a relaxing week in a cabin in Ober Gatlinburg, Tennessee. We spent the week exploring Gatlinburg and Pigeon Forge!