First off, I love when the bride and groom's names start with the same letter. I am an alliteration junkie (after all my personal blog is called Tilley's Threads). But when the bride starts the day with the smile and sass like Jen does below, I KNOW I am going to love the whole day!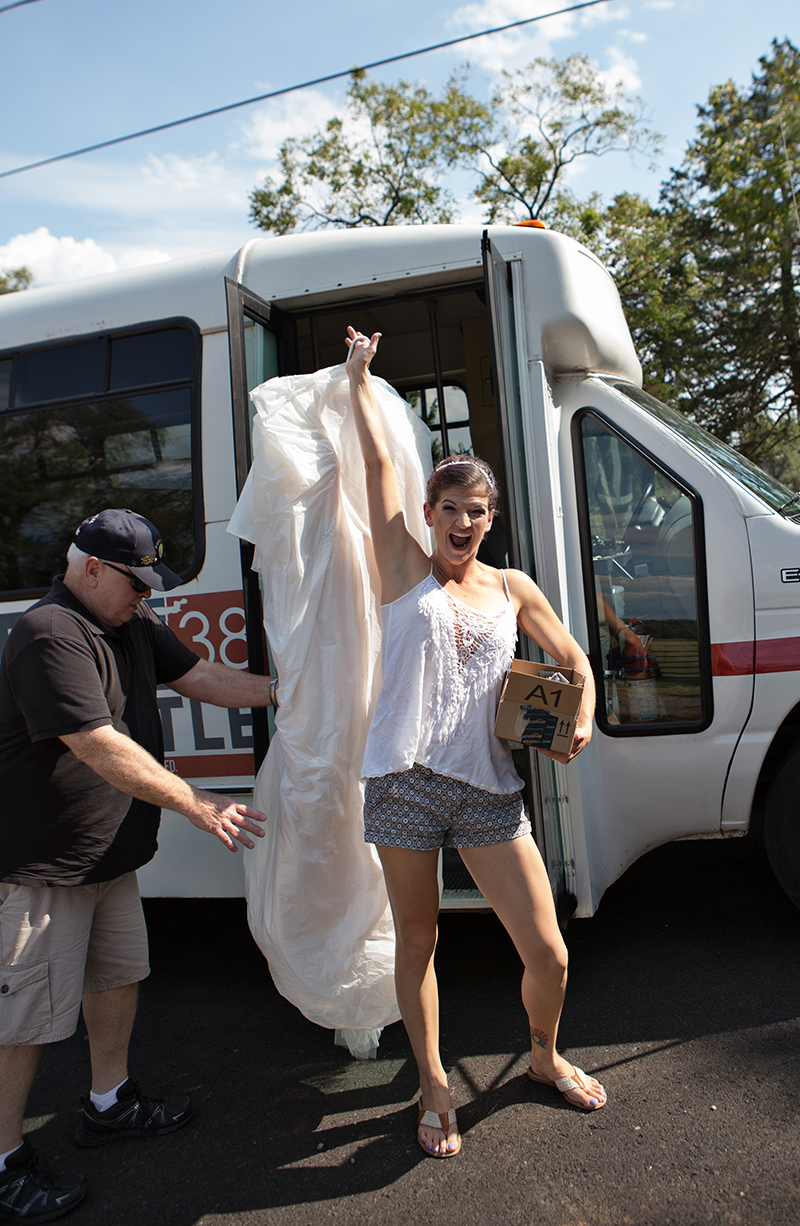 How cute is she?!
Jen met Jeff at a mutual friend's house where Jeff said, "I can still remember how much energy she had and how she just lit up the whole room! I couldn't help but smile. She seemed amazing." Unfortunately, the pair didn't get to talk much until their paths collided a year later at a birthday party. Ladies, from this story we can learn that that eye contact you made at the bar this weekend may not not be in vein! There is hope 🙂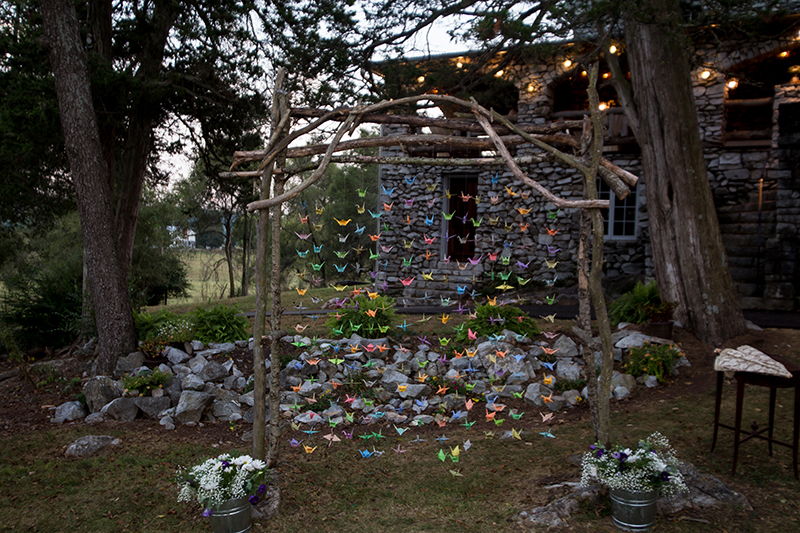 Their big day took place at the Melrose Caverns in Harrisonburg, VA. As a fun and creative couple, they really wanted their wedding to be colorful and magical. The paper cranes on their alter was the perfect way to set the stage for that.
Another fun fact, they did a special energy harmony ceremony and a couple's meditation in the morning as the sun rose on our wedding day instead of a first look. I can get on board with that. So cool!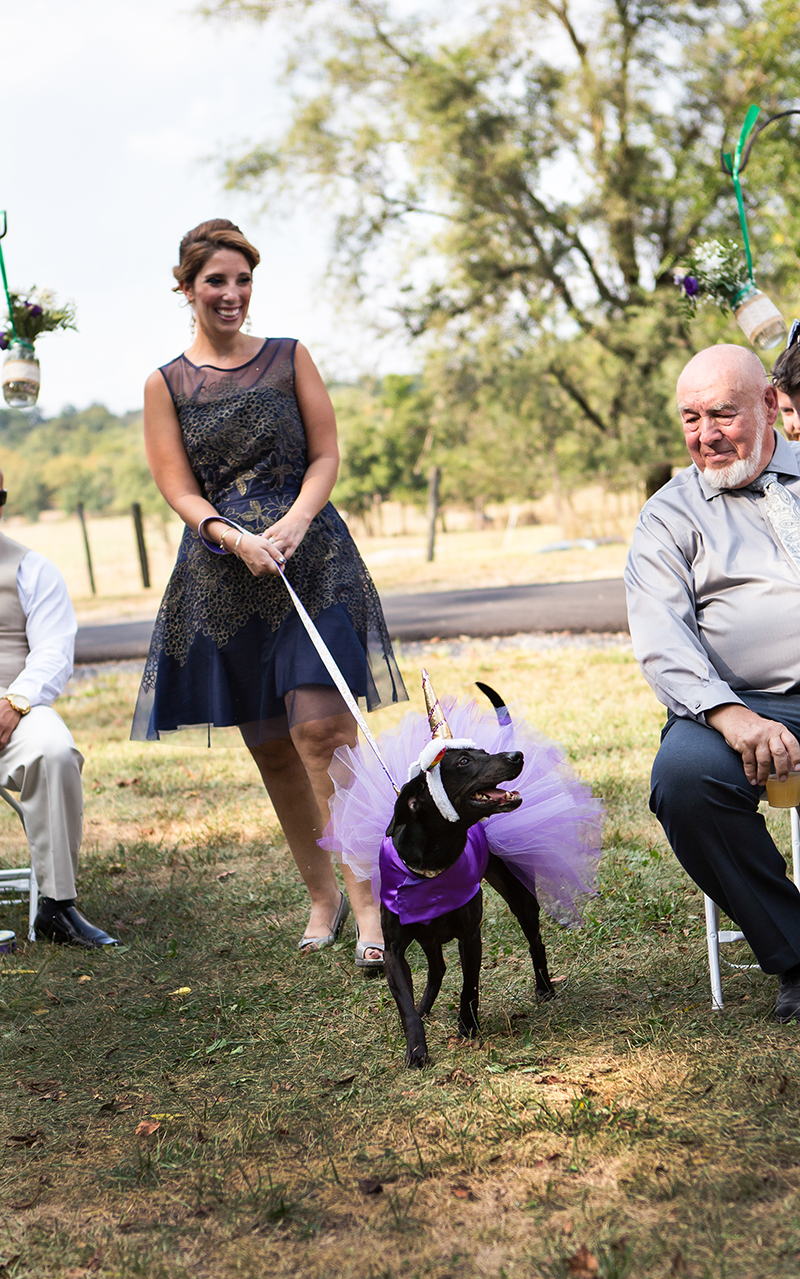 The ceremony began with their sweet pup walking down the aisle in this adorable purple tutu.
In front of the paper cranes and their loved ones, they pledged forever.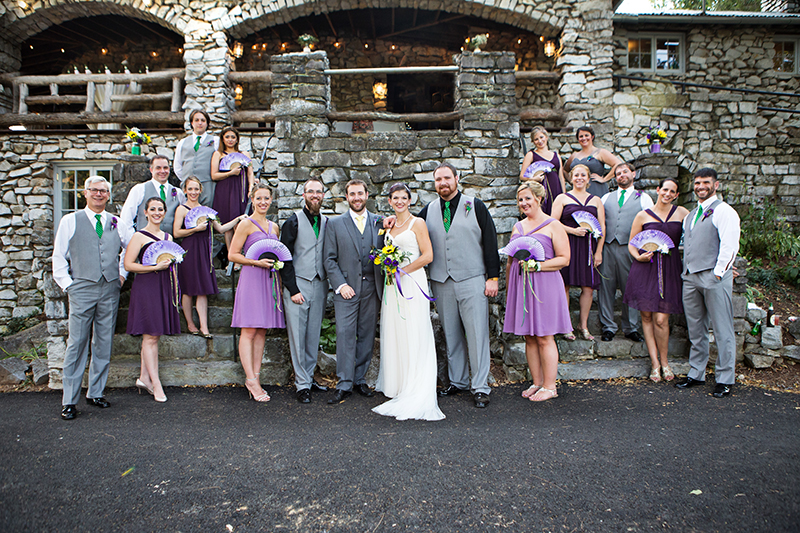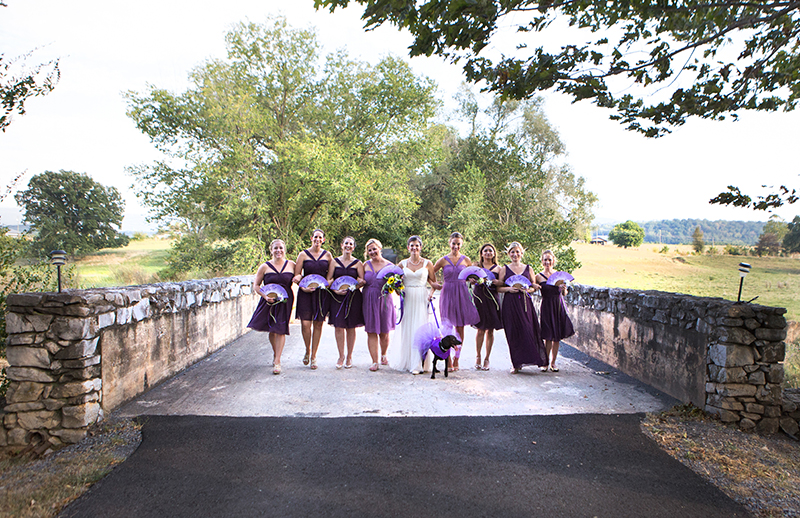 To go with her pup's purple tutu, Jen's bridesmaids wore purple gowns and carried purple fans. I love the pop of yellow in Jen's bouquet!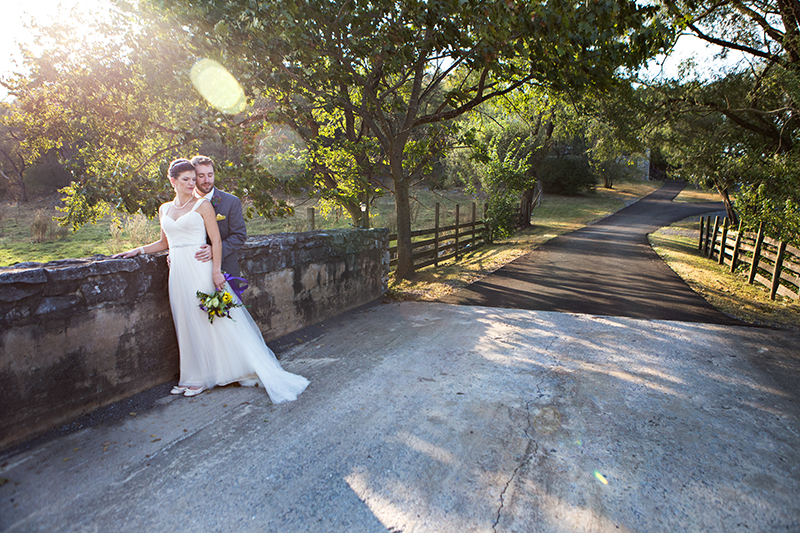 But what I love the most is obvious bond between these two.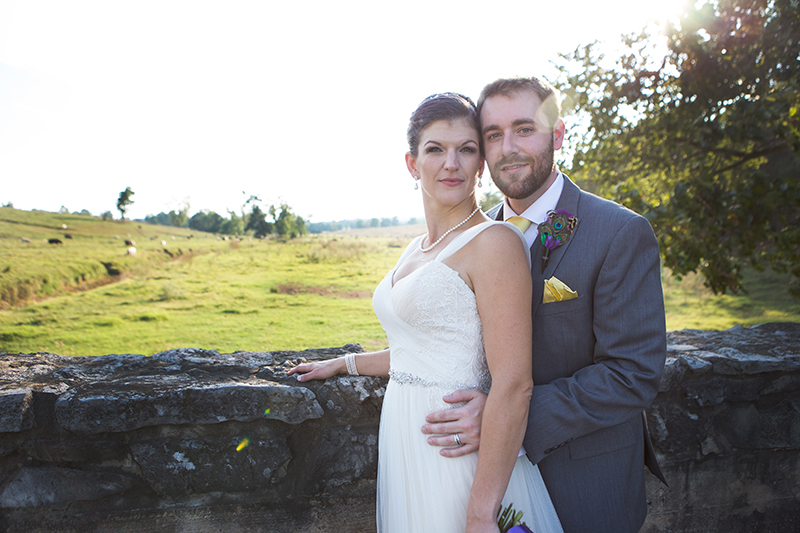 The details on her dress are swoon-worthy! And the peacock feathers on his lapel are perfect for their whimsical theme!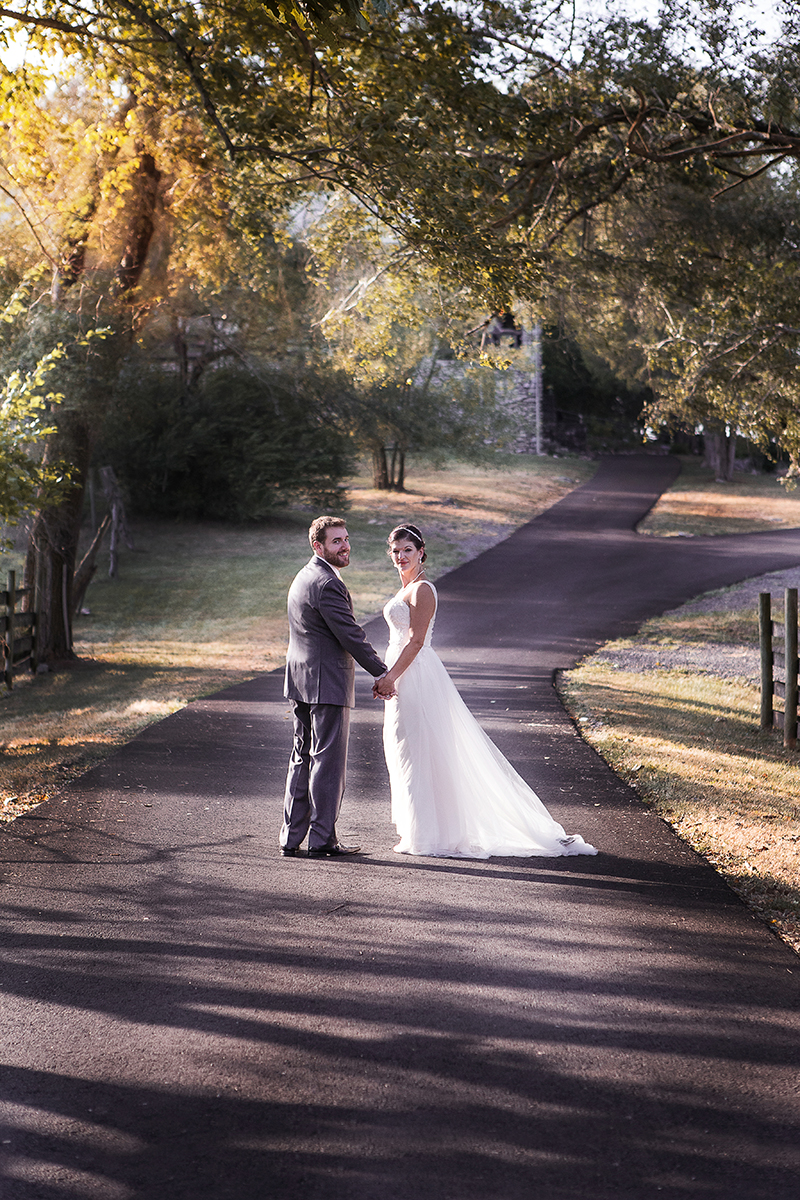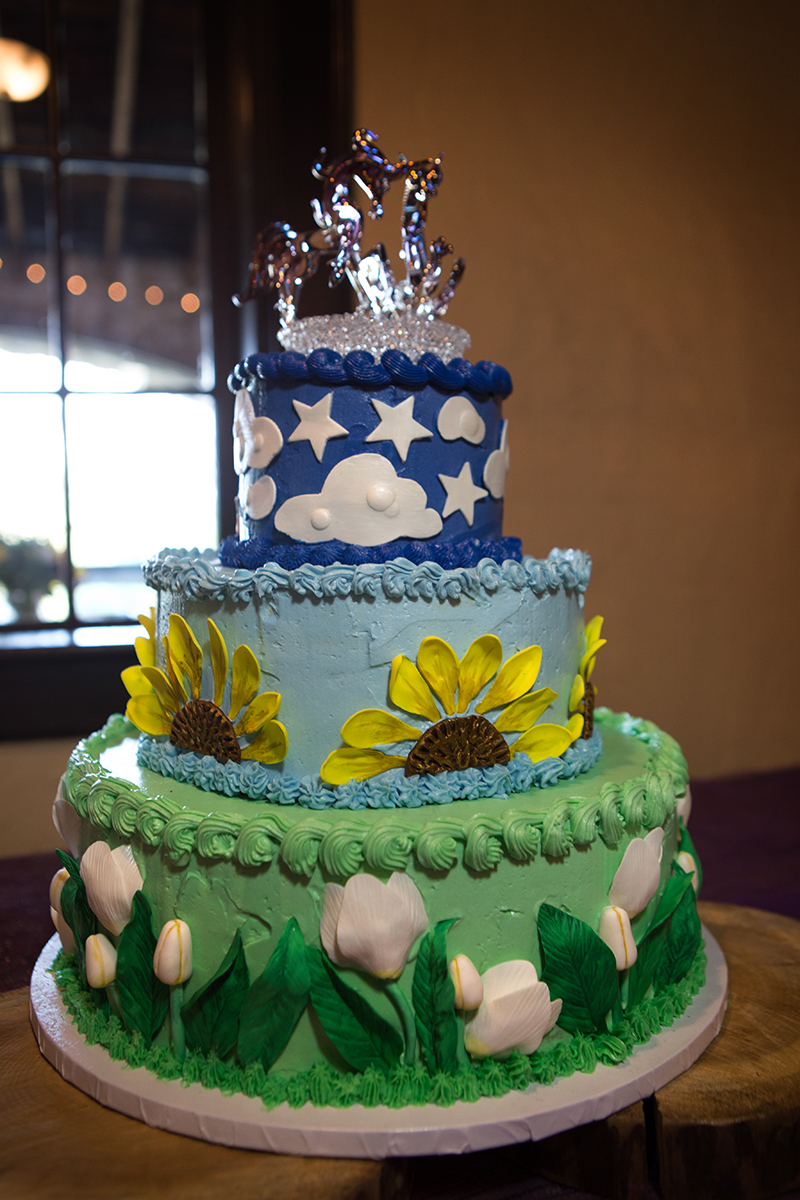 Their reception was filled with fun details like this amazing cake…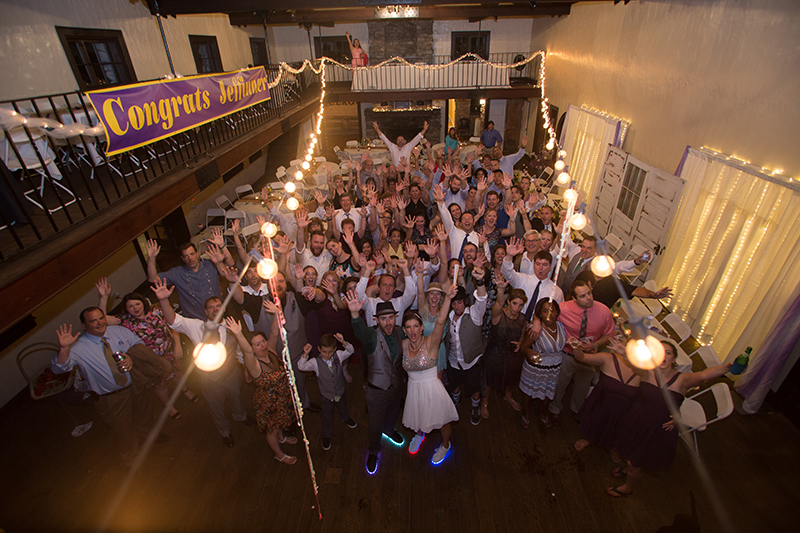 AND a hilarious banner made by their families that says "Congrats Jeffinner!" Lol, obsessed.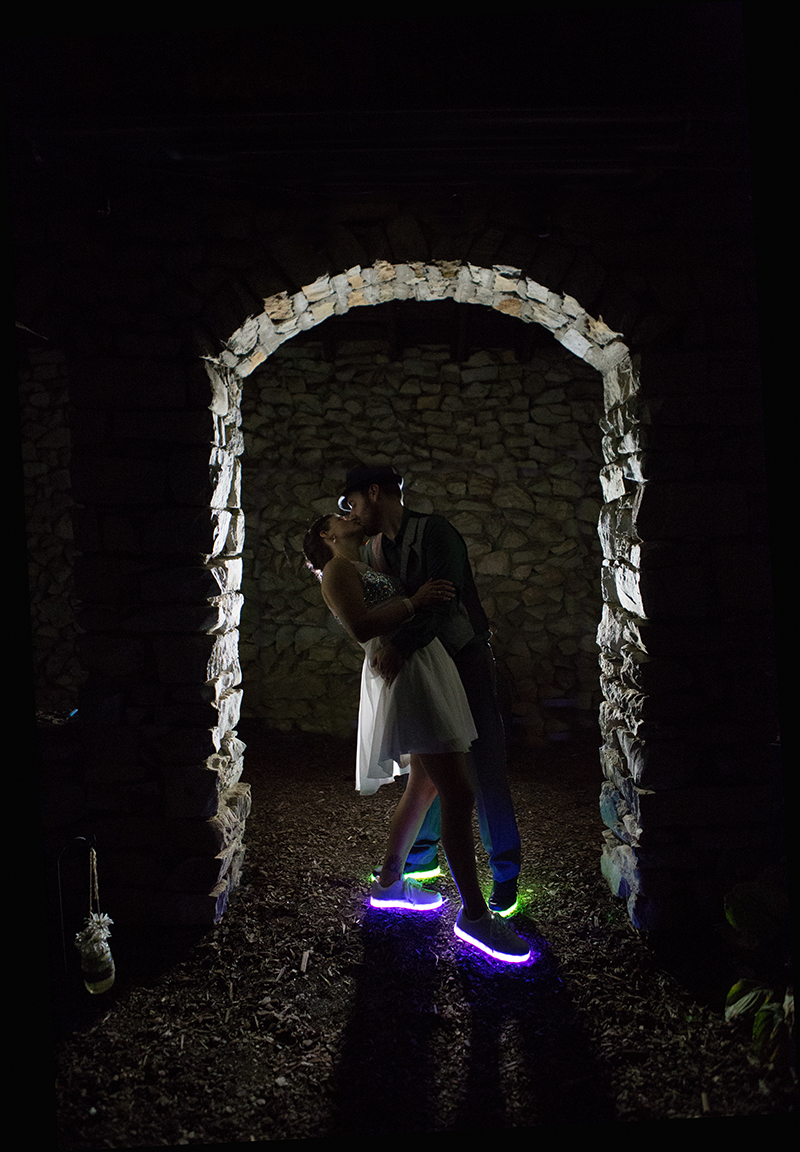 Congrats to this extremely fun couple!
From the Bride:
What was your favorite detail of the day? "Oh it's so difficult to say! But I think my favorite detail was our cake and cake topper. My aunt baked and decorated it with tulips on the first layer in remembrance of Jeff's grandma, sunflowers on the second layer which were the main flowers in my bouquet, and clouds on the third layer with a blue sky to show the sky's the limit…and all the decorations were edible. We had two flavors – chocolate with raspberry filling, and then carrot cake. And to top it off, we had an awesome, custom-made glass blown dragon and unicorn cake topper. And our shoes…ohmygod shews, our reception shoes had LED light around the base, we literally lit up the dance floor!"
What advice would you give to a bride to be? "I would tell her to really enjoy being engaged and the whole planning process. It's easy to get stressed and overwhelmed in all of the details, but don't forget that you're getting ready to spend the rest of your life with your soulmate and it's something to be excited about! Also, maintain open communication with your partner, listen to what they're likes and dislikes are so that your big day is a true reflection of both of you."
Photos by Mina Habibi Photography
Virginia Bride Magazine features the best Virginia Weddings and Virginia Bridal Shows. Find it  all in one place. Check our blog posts regularly for the latest show information.