Virginia Bride features weddings weekly here on the blog. Being featured in the blog does not necessarily mean they are featured in the print magazine.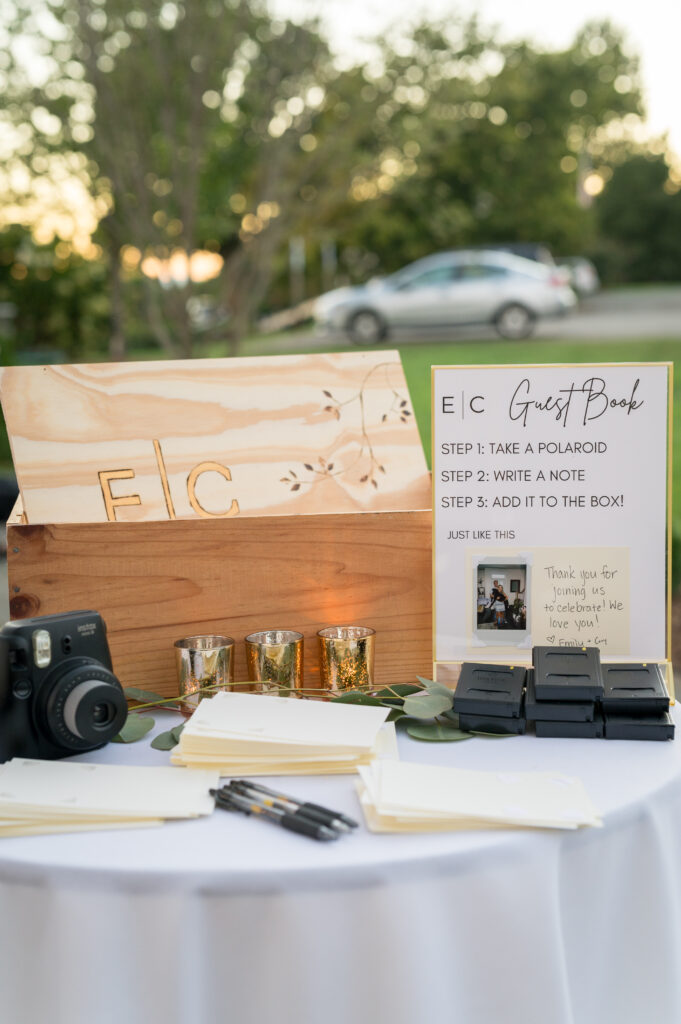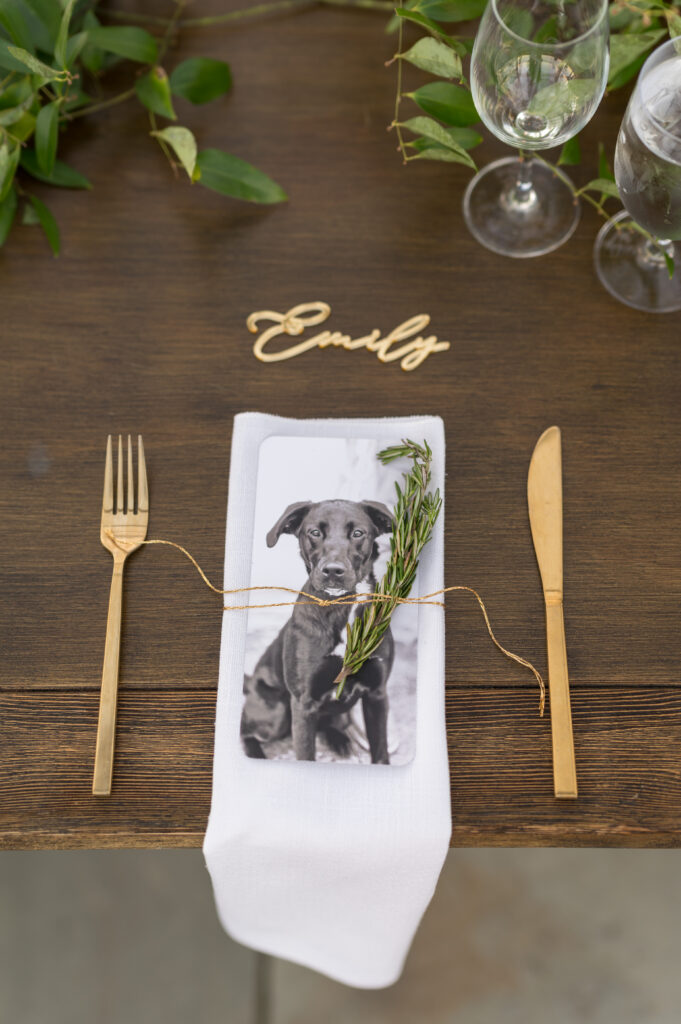 This week's real Virginia wedding story comes from the Bumble dating app, when both Emily and Cory swiped right. "We both moved to Charlottesville in 2014 but it took 4 years for our paths to cross. We can only imagine the number of times we were probably at the same events and in the same bars. We chatted on the app for a little while before deciding to meet for drinks."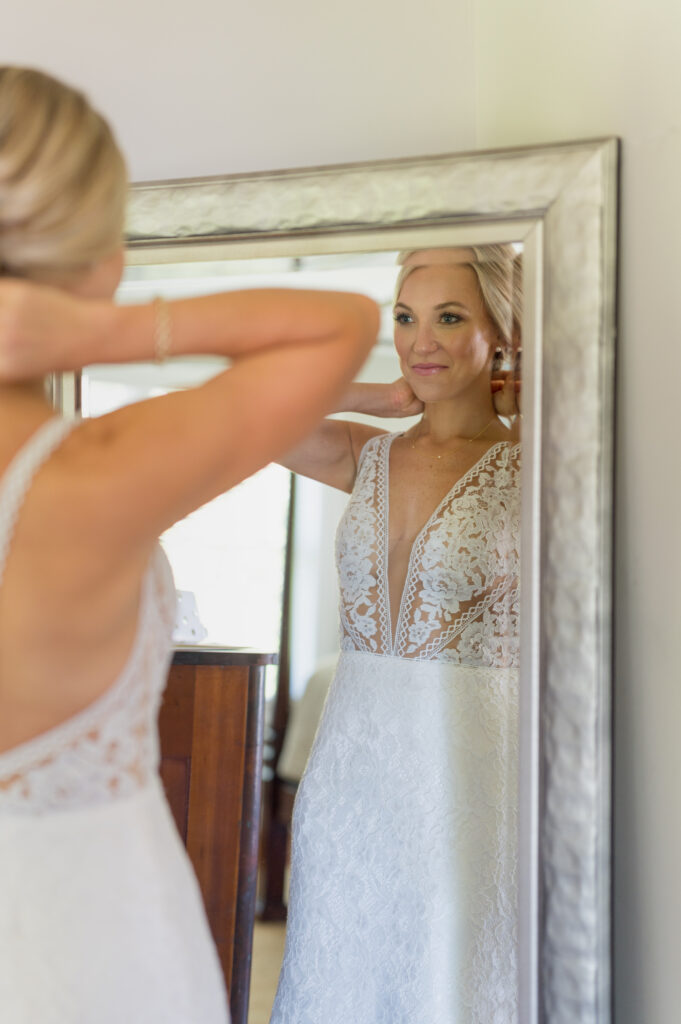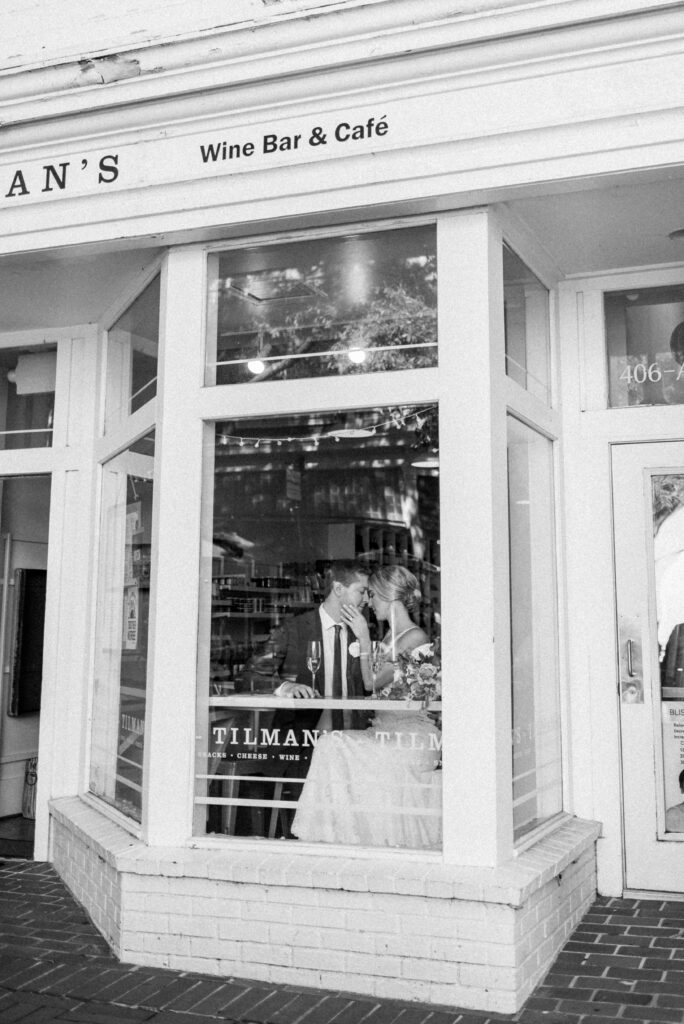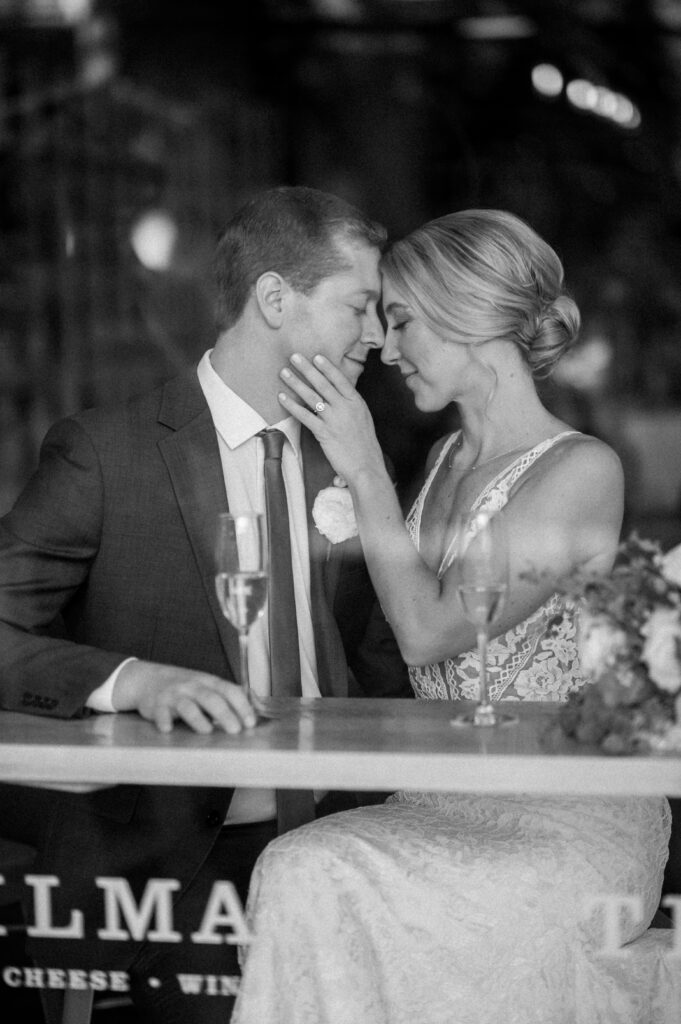 "Not knowing that Cory didn't really like wine at the time, I suggested meeting at Tilman's [for our first date], a local wine bar on the Charlottesville downtown mall. We could not have asked for a more beautiful August evening. The conversation flowed easily, so we got a second round. We both talked a lot about our incredible families, one of the first signs we were right for each other. Luckily, Cory has gotten very into wine over the past several years, so a wine bar couldn't be more fitting for our relationship's starting place!"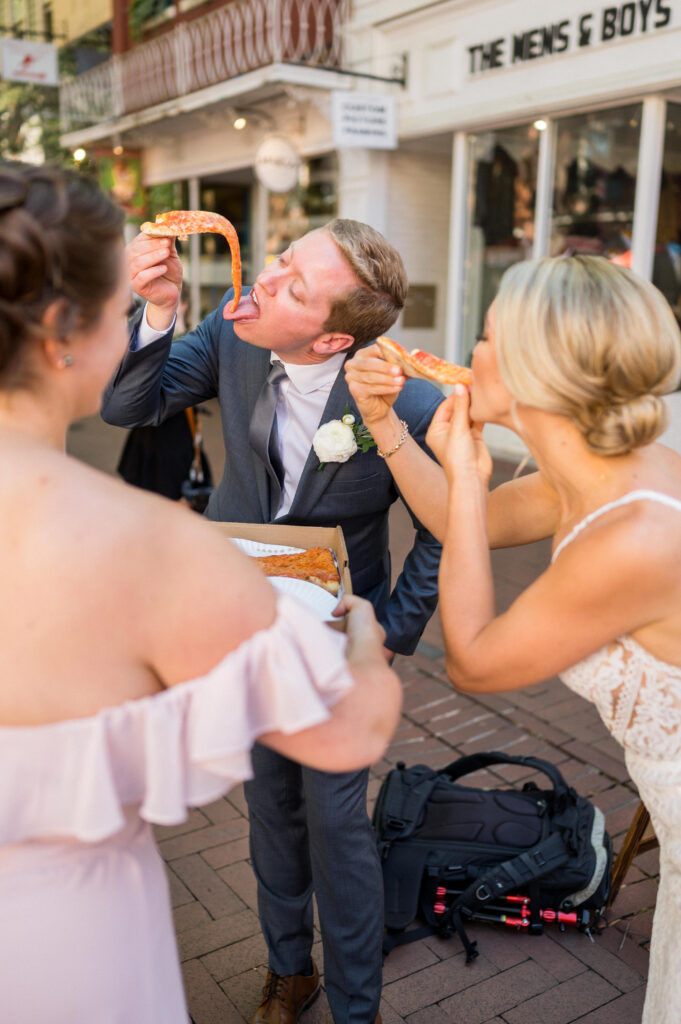 "We got married at The Market at Grelen but we decided to do our first look on the Charlottesville downtown mall where we first met – right in front of Tilman's. After the first look, we had a toast (or two) in Tilman's. We shared our first date spot with the same family and friends we raved about on night one. (Shout out to our amazing photographers for accommodating our complicated request!) I also requested a last-minute pizza delivery when I smelled Christian's!"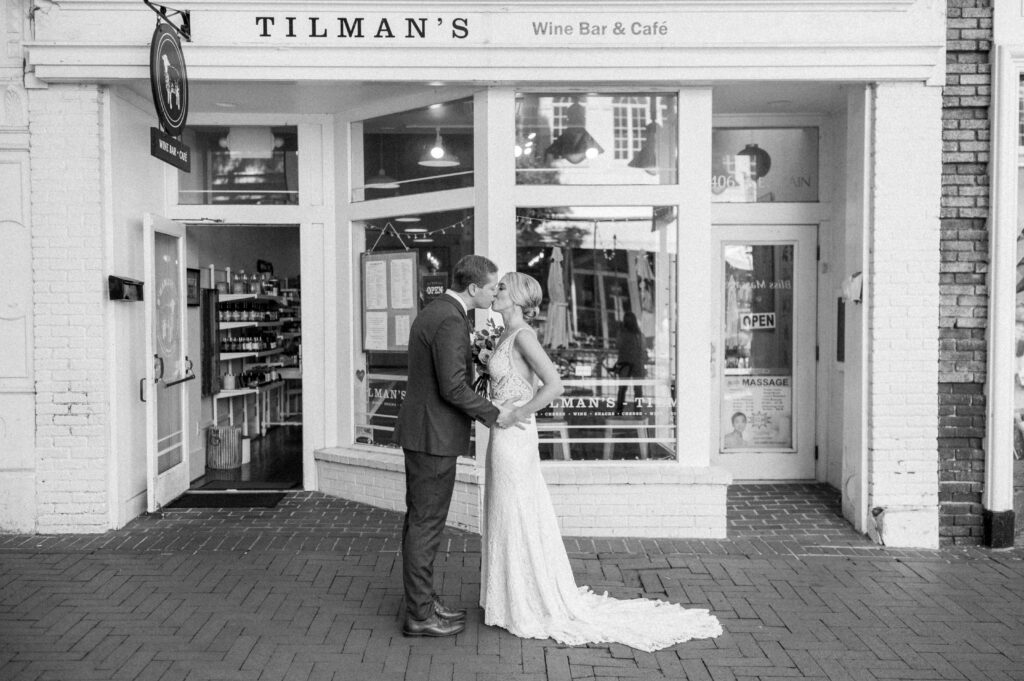 "My sister, Liz, was our officiant…but not officially. Liz isn't a Virginia resident, so one of our closest friends in C'ville stepped in to get certified the week of our wedding and joined under the arch for the proclamation of marriage. Liz planned the perfect ceremony and Kim stepped in for the official assist!"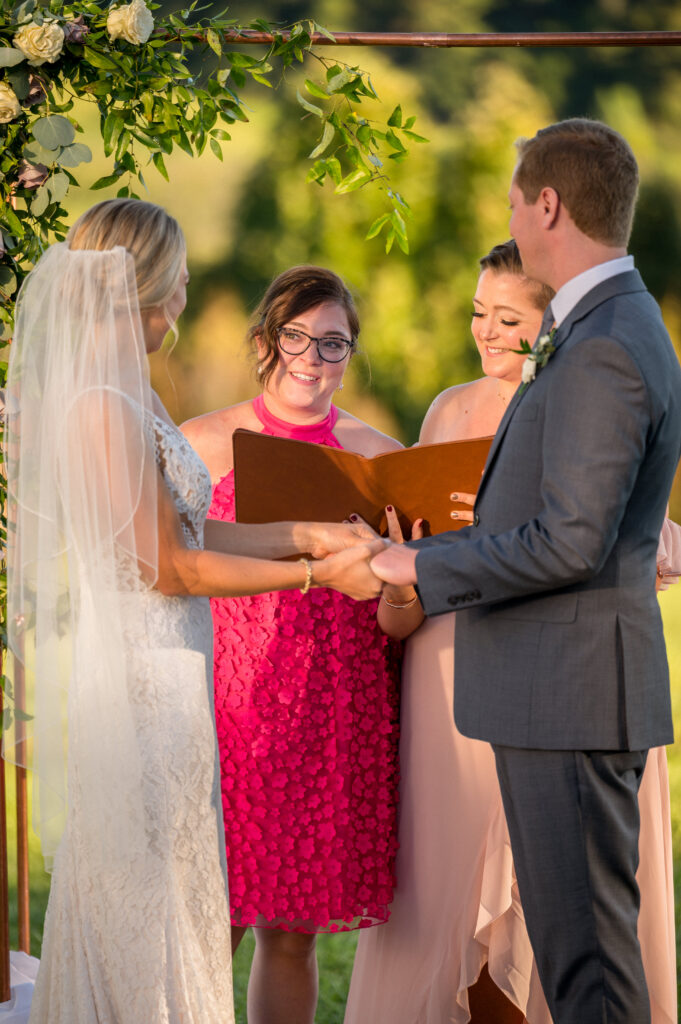 "Neither of us are big fans of cake so we did actually have ice cream instead of cake at the wedding! The Market at Grelen makes their own ice cream so we did several ice cream tasting flights to pick flavors for our wedding. Instead of a cake cutting, we had an ice cream scooping. Now we serve ice cream at home with our gold 'the Kohlers' scoop!"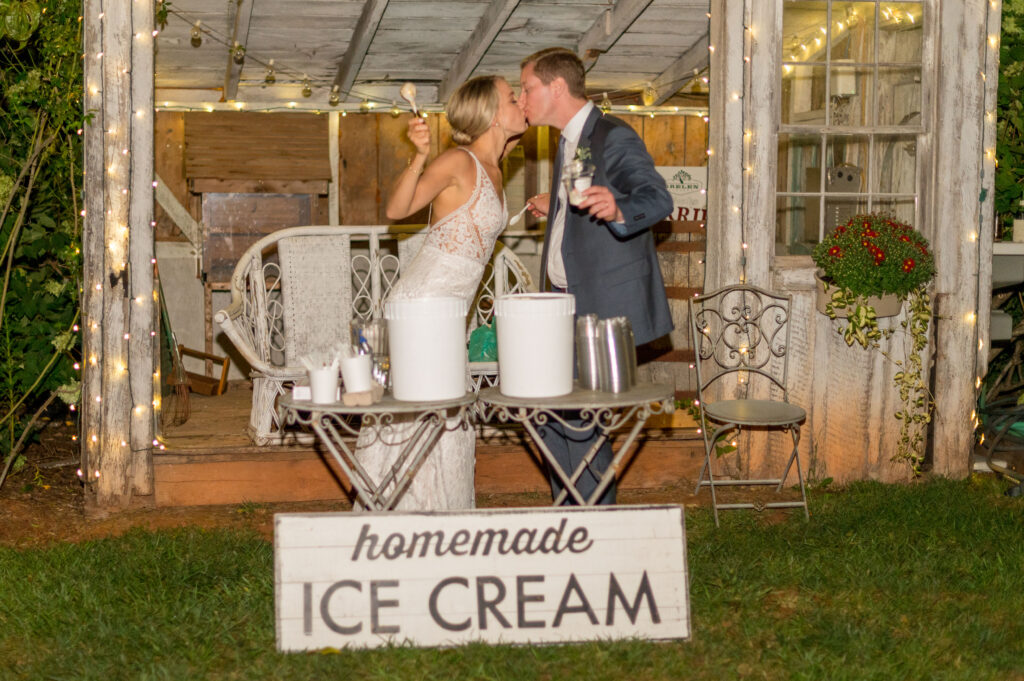 "Instead of a traditional guest book, we asked each of our guests to take a Polaroid, write a note, and add it to a 1989 wine box that my parents bought to commemorate the year she was born. We sealed the box, along with a bottle of wine to age 10 years, and we plan to open it on our 10-year wedding anniversary."
"Cory's Mom's family is from Minersville, PA, right next to the home of the Yeungling Brewery. When it came time to choose signature drinks, Cory's love of Yeungling made his pretty obvious! Mine was a classic margarita. My mom did watercolors for each of our drinks signs."
The Scoop
Bride: Emily, 32, Research Assistant Professor, University of Virginia School of Education & Human Development
Groom: Cory Kohler, 32, Pediatric Registered Dietitian, University of Virginia Health System
Wedding date: 9/24/2021
Number of guests: 130
"I wore a Mikaella lace gown (Style #2330) that I bought in Richmond at Urban Set Bride. I was sold on the dramatic low back and the illusion lace (after making sure I got the thumbs up from my mother-in-law). I sewed a piece of my mother-in-law's dress into my hem, continuing the tradition started by my two fabulous sisters-in-law."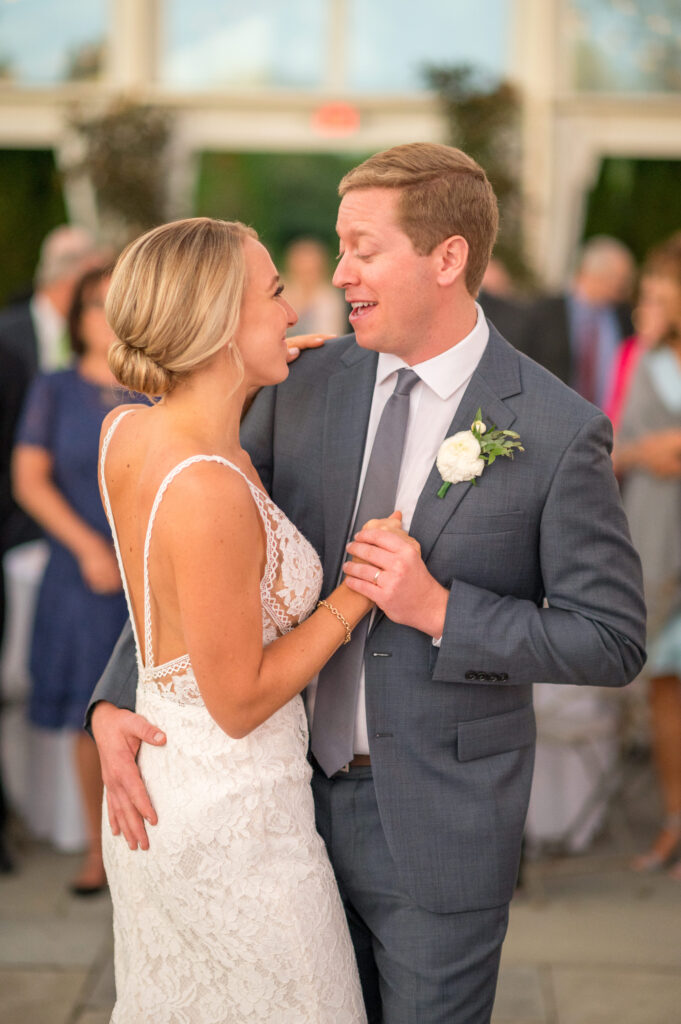 "On the day before I graduated college, my mom gifted me her 10-year anniversary ring while we were sitting in the car in a BJs parking lot. So, on the day before our wedding, she gifted me my pearl wedding earrings while we were sitting in the car in the 5th street station parking lot."
"Cory picked the perfect necklace to give me on the day of our wedding, which I've worn pretty much every day since."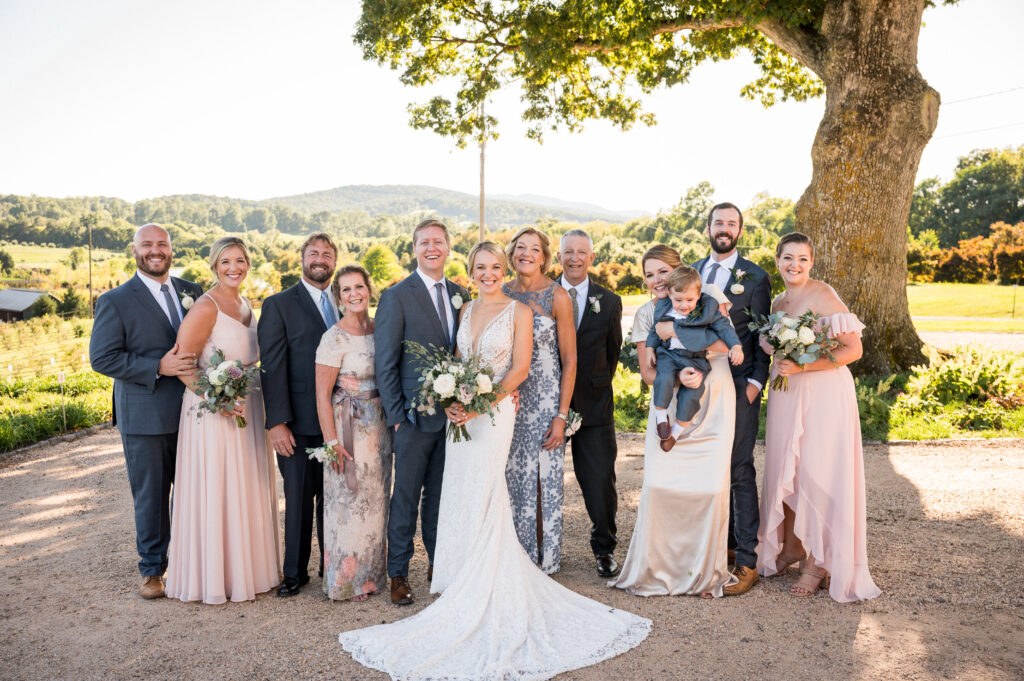 "The bridesmaids were a variety of shades of champagne and pale pink from Revelry – all different colors and fabrics."
"I'm known for my love of all things gold. Other than that, we wanted to embrace the natural beauty of The Market at Grelen. We kept things very clean and simple, lots of natural greenery, whites, and pale pinks – always with a touch of gold!"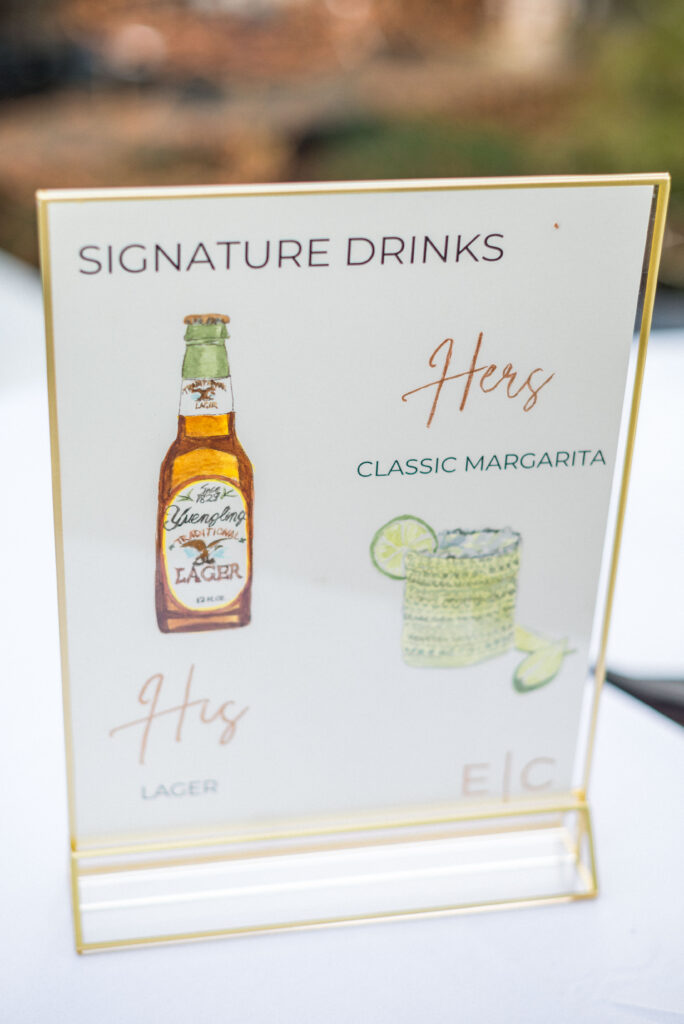 "My mom wasn't quite sold on a wedding in VA until we got to The Market at Grelen. We were all completely sold by the view of the orchards in the mountains, the romantic garden cocktail space, and the clear roof tent to see the stars."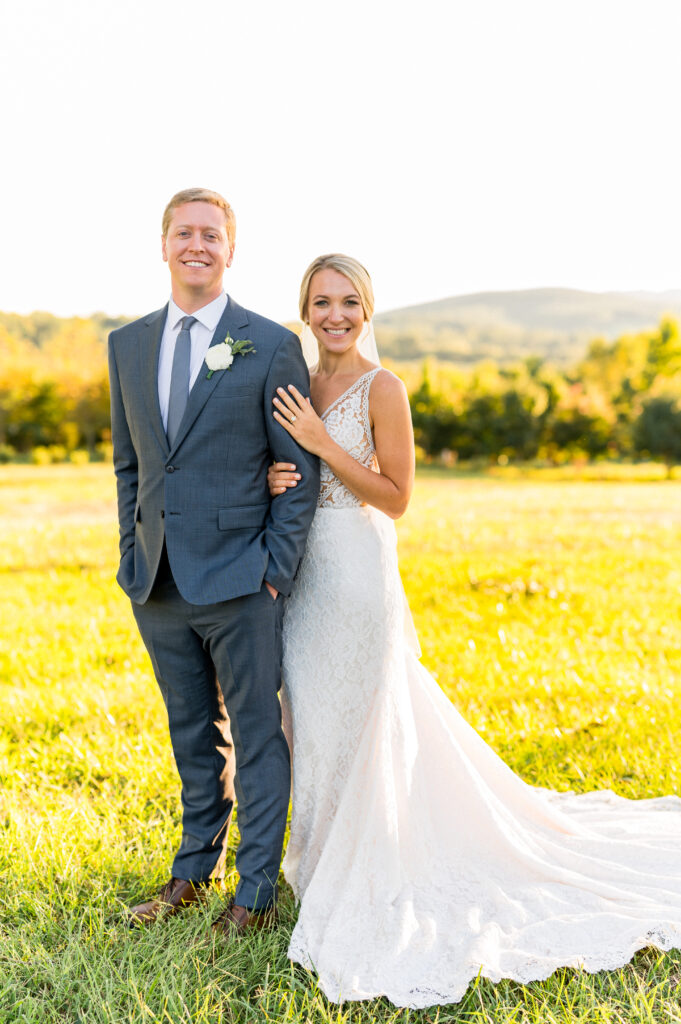 "We loved having a Friday wedding! We got to spend Saturday at a few of our favorite Charlottesville wineries and Kardinal Hall with guests who were able to stay. We weren't ready to say goodbye after the wedding and loved the chance for more time together!
"Don't sweat the small stuff! Our nephew would have much preferred playing with rocks and trucks to walking down the aisle. Everyone laughed as he screamed his way down, and we have such fun pictures!"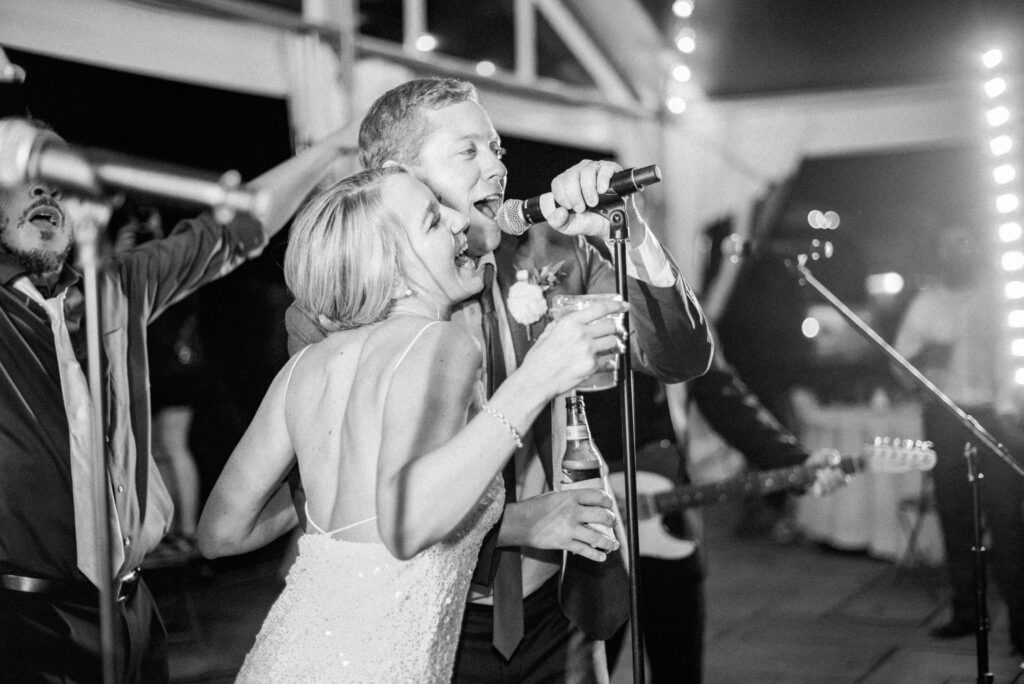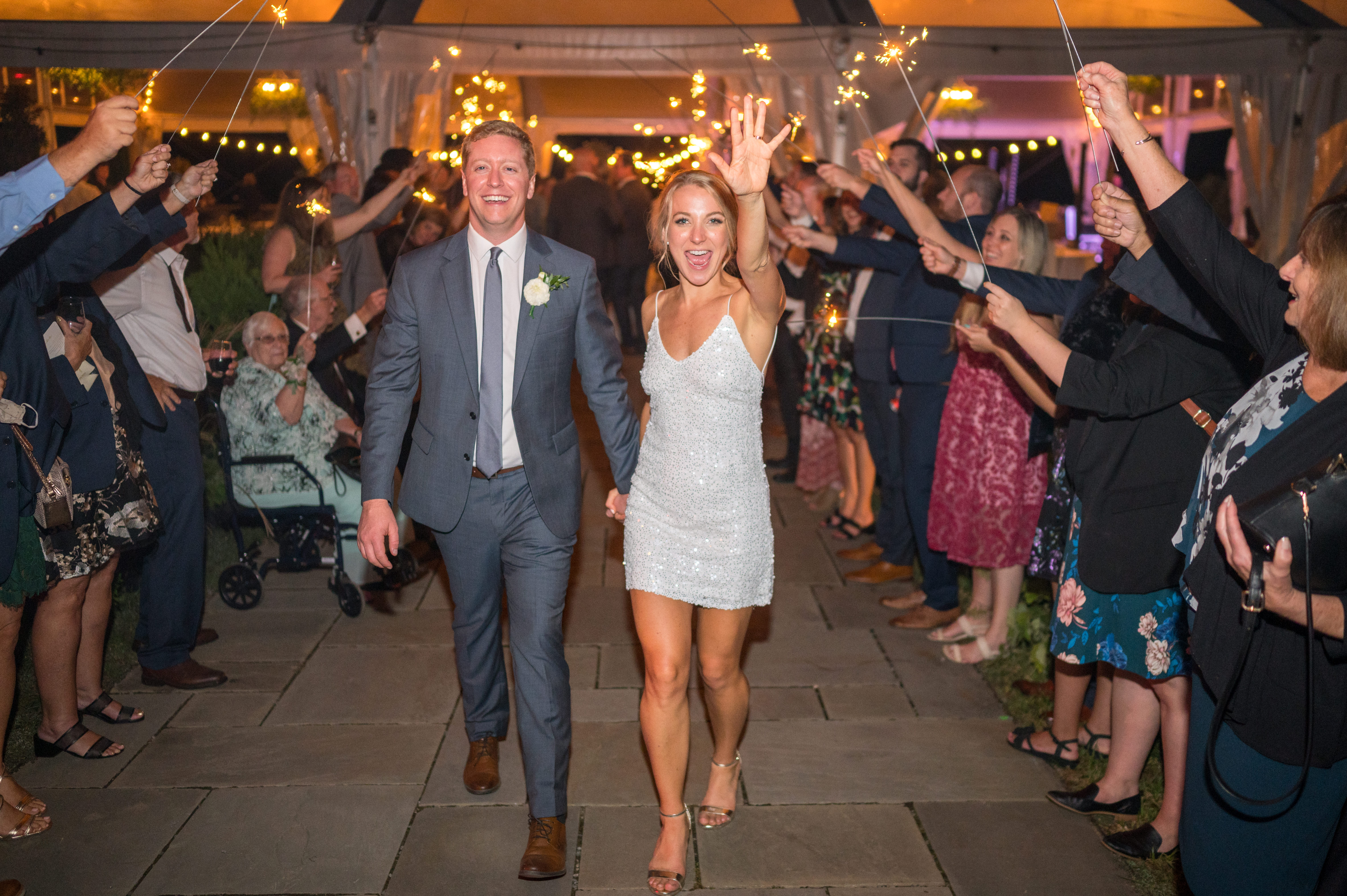 Vendor Credits
Venue: The Market at Grelen
Photographer: Hunter and Sarah Photography
Month of planner: Remembered Events
Officiant: Liz Barton (Emily's sister)
Gown & Veil: Urban Set Bride
Shoes: Sarah Flint
Hair & Makeup: Ave42
Bridesmaids' dresses: Revelry
Formal wear: Jos A Bank
Save-the-dates: Magnet Street
Invitations: Minted
Flowers: A Floral Event
Rental equipment: MS Events
Catering: l'etoile
Music: The Dickens, Sam Hill Entertainment
Ceremony/Cocktail Hour Music: Duo Boheme
Videographer: Pretty Films
Transportation: Albemarle Limousine & Ambassador Limousine
Where did you go for your honeymoon?
We had to push pause on our honeymoon but we took a small mini-moon right after the wedding to Emily's family home on the Outer Banks. We're hoping to take a honeymoon around our one-year anniversary. Send any ideas our way!