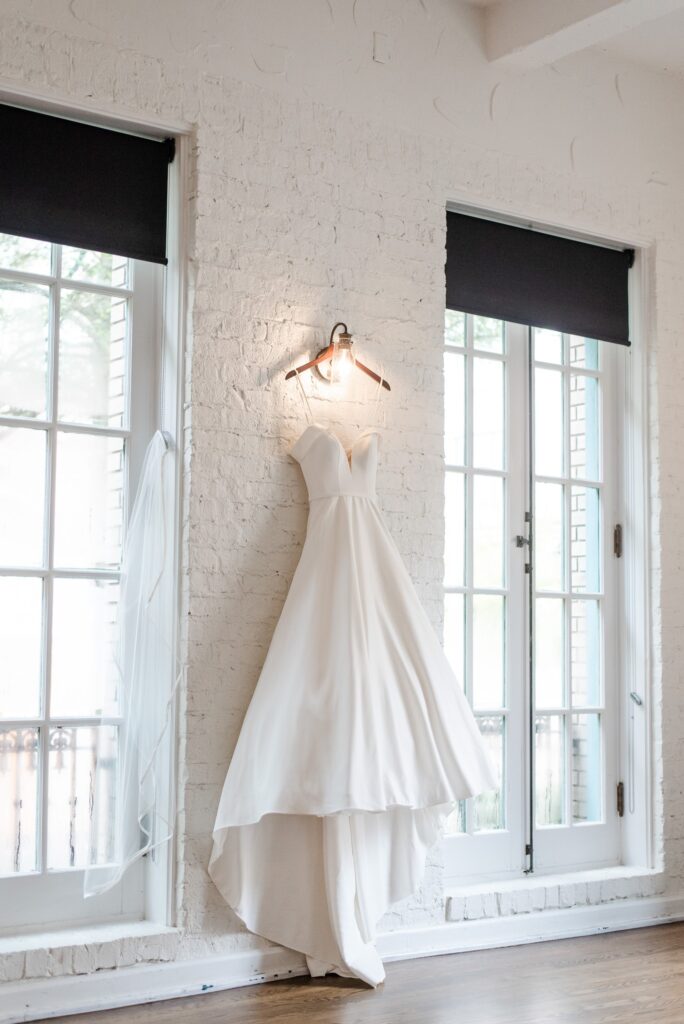 This week's beautiful Virginia weddings story comes from the delightful Delaney and Alexander who eagerly shared their special day with us.
When asked how they met, Delaney responded, "Oh my goodness, this is one of my favorite stories! Alexander grew up going to Norfolk Christian schools but I grew up in Virginia Beach City public schools. I ended up transferring to Norfolk Christian during my 11th grade year, and luckily Alexander was one of the people I had met prior to my transfer through mutual friends. Since he was one of the few people I knew (I say "knew" lightly – we had only met once or twice prior to the switch), we quickly developed a friendship, and it helped since we ran in the same friend circle.
"It didn't take long for me to recognize that there was something super special about Alexander, but he took a little longer to come around! He will tell you that he always knew I was special but didn't initially see a romantic connection. I was new at the school and didn't want to come across as someone who was purely into dating guys, so I kept my crush a secret for a few weeks. However, our math teacher suggested that I ask Alexander to the Sadie Hawkins dance and I initially freaked out because I was afraid that I was being too obvious about my crush. I quickly brushed it off and told our teacher that I wasn't going to the dance, etc. etc., but then our teacher offered me extra credit if I asked Alexander to the dance, and as if that wasn't enough, he then offered the ENTIRE CLASS extra credit if I asked Alexander. There was no turning back at that point! I ended up asking him to the dance and thankfully he said yes – although he was on SCA (the student assembly that hosts the Sadie Hawkins dance) so he would've had to go to the dance anyways, and he is such a gentleman he wouldn't have turned me down!
"The dance was a luau theme, and it was held in our school gym (aka not glamorous AT ALL) but it quickly became a night we will never forget. Alexander says that it was at that dance, while we spun around to "Can I Have this Dance?" from High School Musical 3, that he realized I could be his forever. It was an obvious choice for our first dance at our wedding 🙂 We started going on dates after the Sadie Hawkins dance, and the rest is history!"
For their wedding, "We also asked our math teacher to read scripture from 1 Corinthians 13 in our wedding ceremony, which was SO special considering the impact he has had on our lives both individually and as a couple, especially."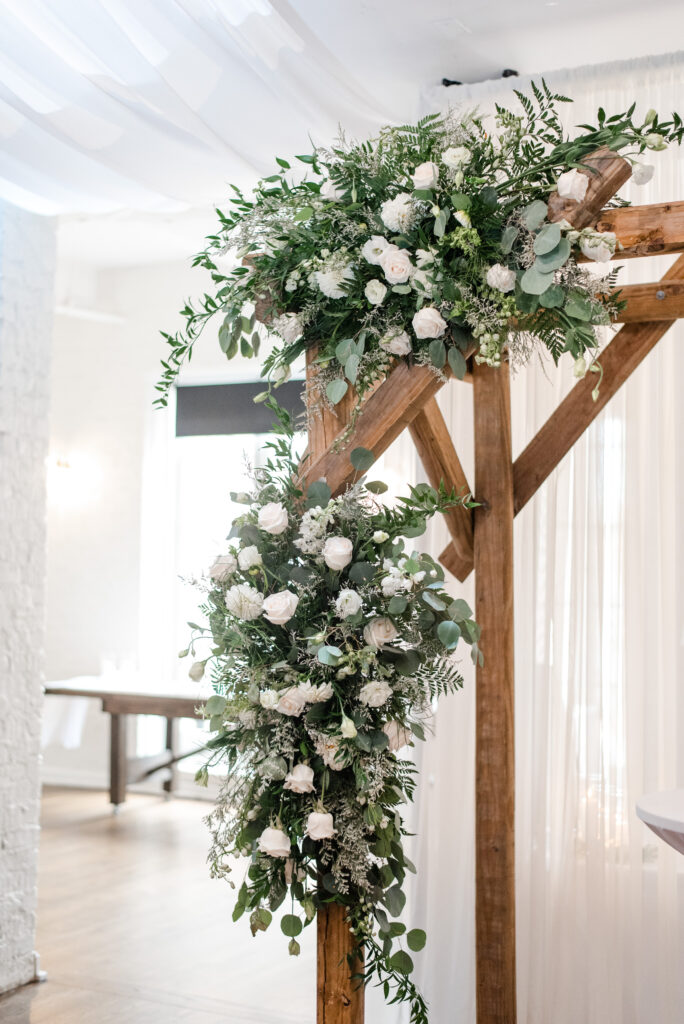 The Scoop
Bride: Delaney, 22, Administrative Assistant for Champion Title & Settlements
Groom: Alexander, 23, Associate Merchant for Dollar Tree/Family Dollar
Wedding date: August 14, 2020
Number of guests: 125 at our ceremony because it fell under religious ceremony regulations, 50 guests at our reception(s), which we split into 2 parts so that we got to dance with 100 guests total throughout the night!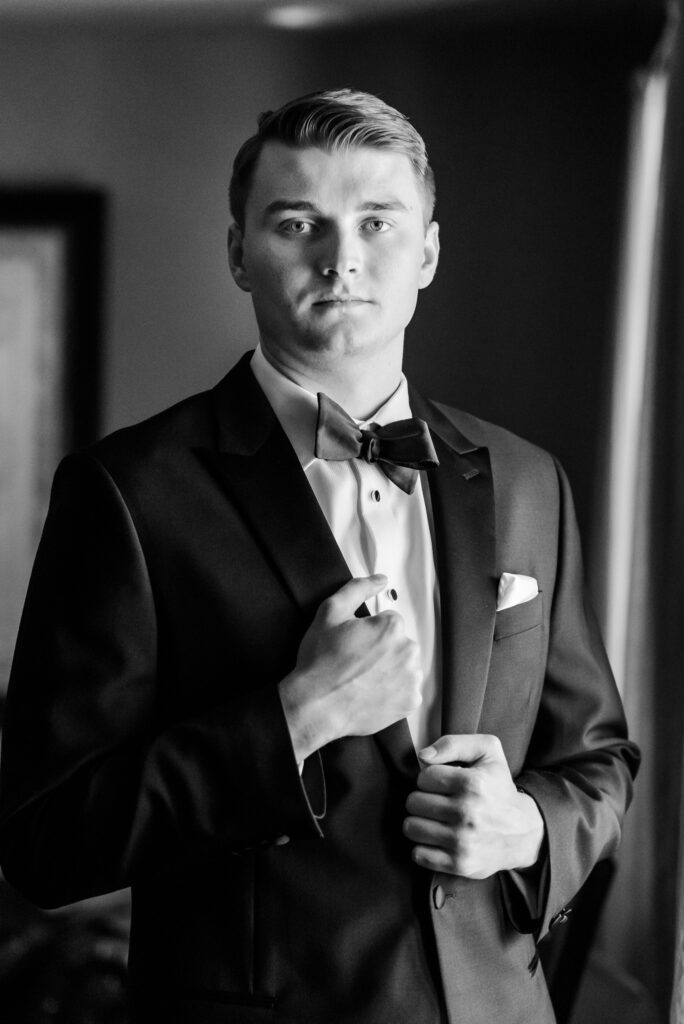 "One of my favorite details about [our wedding day] was the stitching on my dress – I absolutely adored the buttons down the entire back of my wedding gown, creating my very own Cinderella moment. I had always dreamt of a train with buttons and was very happy to fulfill that dream of mine, with a classic and timeless dress (the lady who helped me pick my dress reminded me that I could wear a tight dress in ANY color for ANY event, but you can only wear a white ball gown once- she was right!).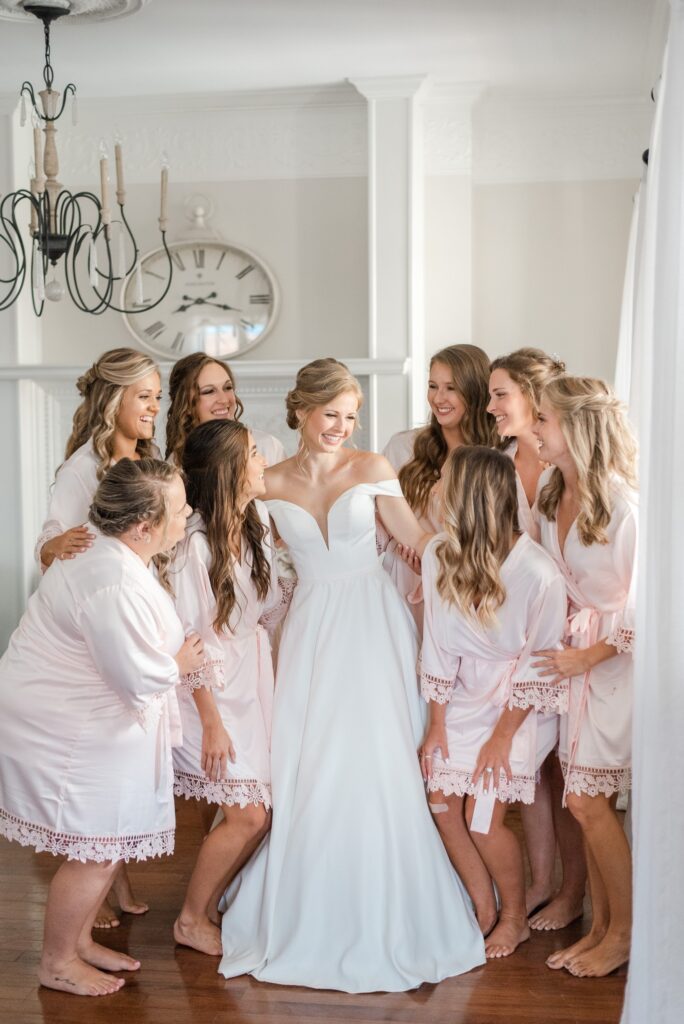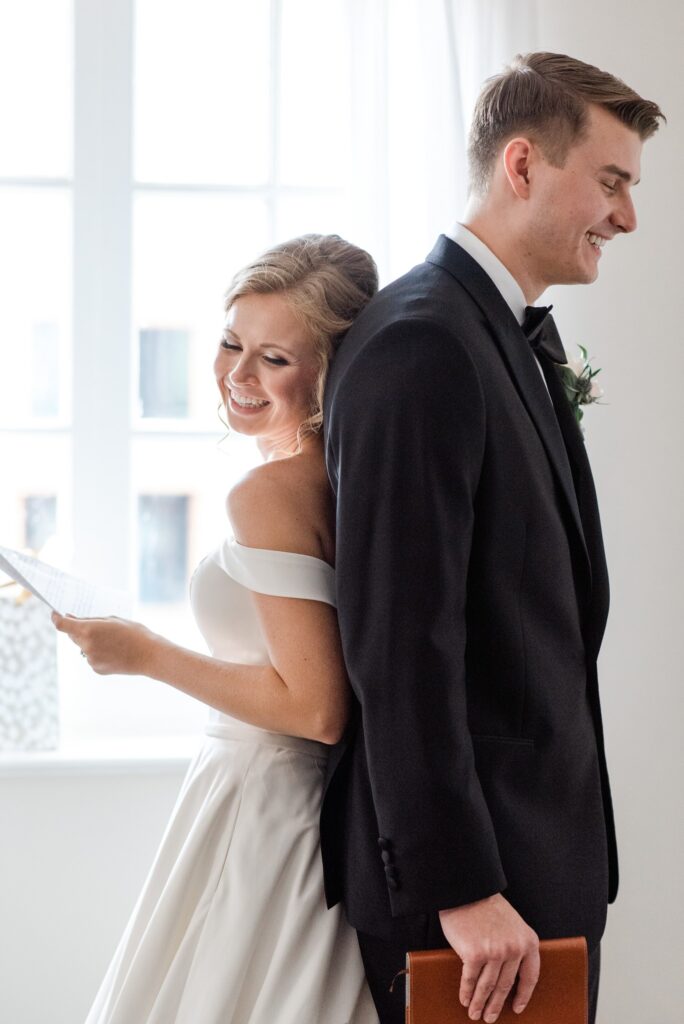 "I also loved my husband wearing a classic black tux, looking handsome as the classic groom. Another detail about my attire, in fact the most important part of my attire, that many would not know without hearing the story is that the diamond in my engagement ring is an heirloom from my husband's late grandmother. Before she passed away in December 2018, she told Alexander that she wanted me to have the diamond if I were to be the one he marries, which made me feel incredibly loved and special, although I didn't hear this story until after the ring was on my finger. Alexander coincidentally proposed 364 days after she passed away, the following December 2019. It is such a joy to be able to carry around such a family treasure, as the Brinkley Family has quite literally welcomed me with open arms."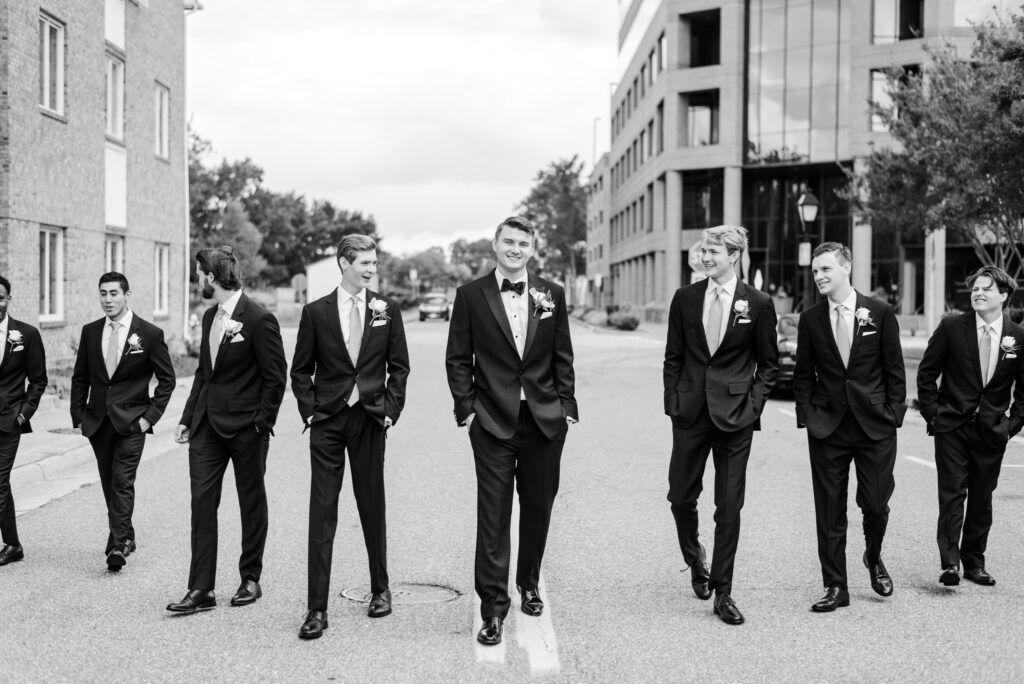 "Our bridesmaids dresses came from David's Bridal in the shade of Dusty Blue. I knew I wanted color in our wedding, especially since we had a late summer wedding, but I still wanted a color that would be timeless and relatively muted. I also LOVE the color pink (it is my favorite color) but I didn't want an overwhelmingly pink wedding. I knew I would want to look fondly on my color palette choices for many, many years to come and I am SO glad I picked the colors I did! We ended up using Dusty Blue and Blush Pink as our primary colors, accompanied by lots and LOTS of greenery. The pink mostly became present in the form of flowers, as well as my mother's jumpsuit and my sister-in-law's junior bridesmaid dress.
"Speaking of "dusty" blue – one of the flowers we included in our arrangements is called "dusty Miller" which is funny because my maiden name is Miller, so we joked around that it was very fitting to have my "dusty old name" included in a small detail."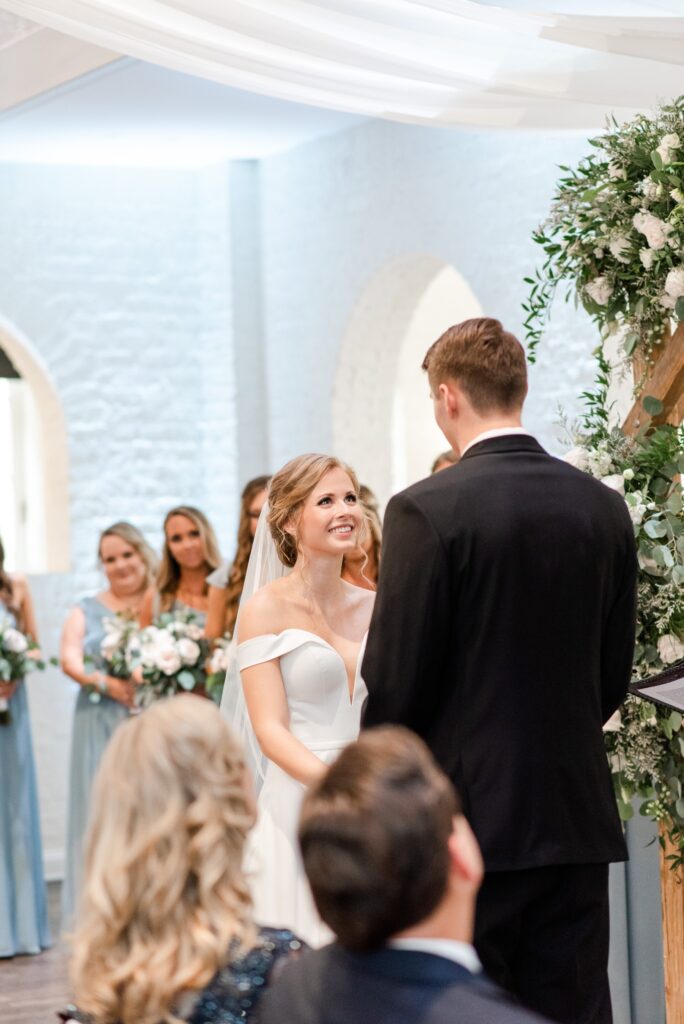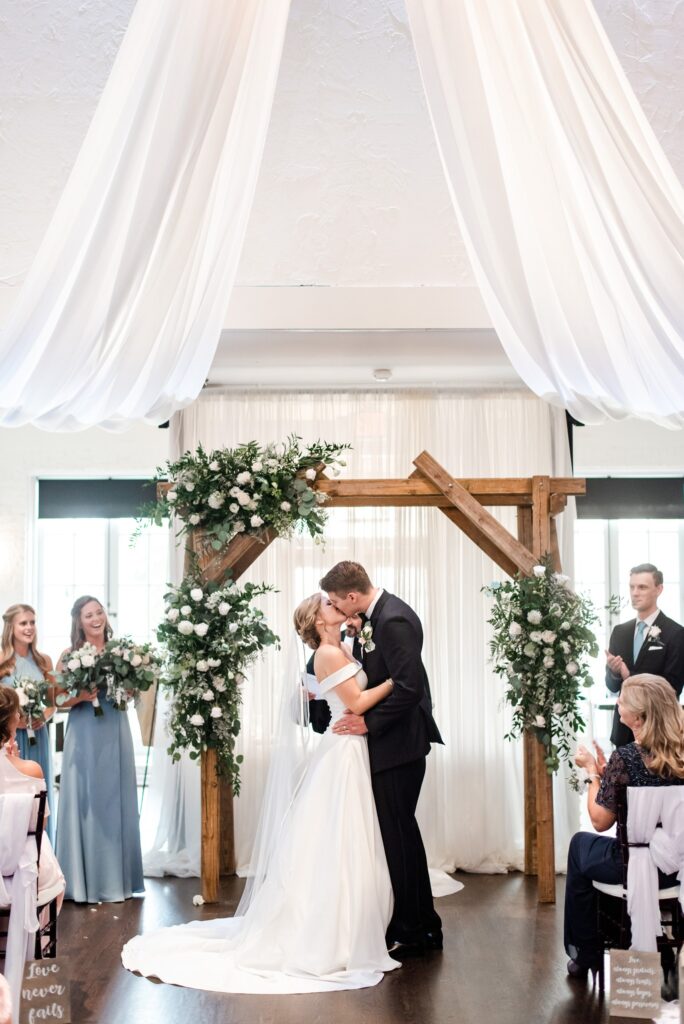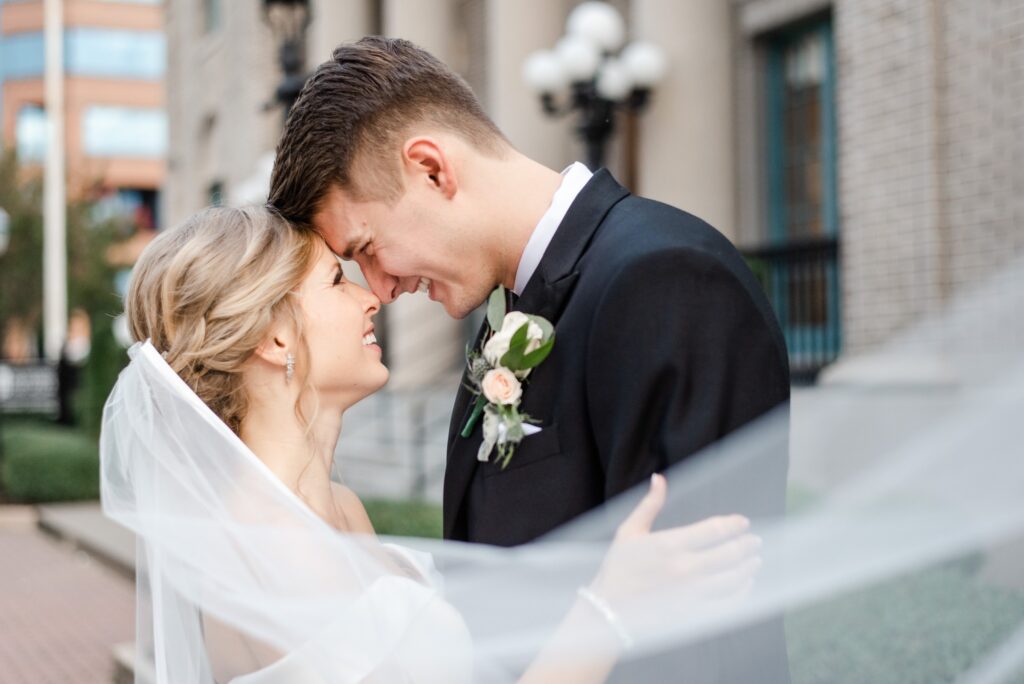 The venue we chose was so incredible in many ways. We honestly had our hearts set on another venue but our event planner encouraged us to view the Historic Post Office anyways, and as soon as we stepped inside we just KNEW it was the one for our big day.
"Both of our families live in the Hampton Roads area, so we knew we didn't want to travel beyond Richmond, and this location ended up being absolutely perfect, located right in the heart of downtown Hampton, VA. I love how the building has so much history, as does our relationship. The bridal suite was absolutely breathtaking and would've been immensely challenging to pass up while touring venues. However, the part that wowed us the most was the fact that older, historic parts of the venue were still in-tact, such as the historic mail vault and old delivery rooms. It was obvious to the two of us upon touring that the venue is full of stories, memories, and history, which very symbolically reflects our relationship. We started dating at the ages of 16 and 17 in 2015, with no idea that we would later be married as High School Sweethearts at ages of 22 and 23 in 2020. We found it to be quite fitting to be married in a place with so much history, as we celebrated the history that was enveloped in our relationship as well."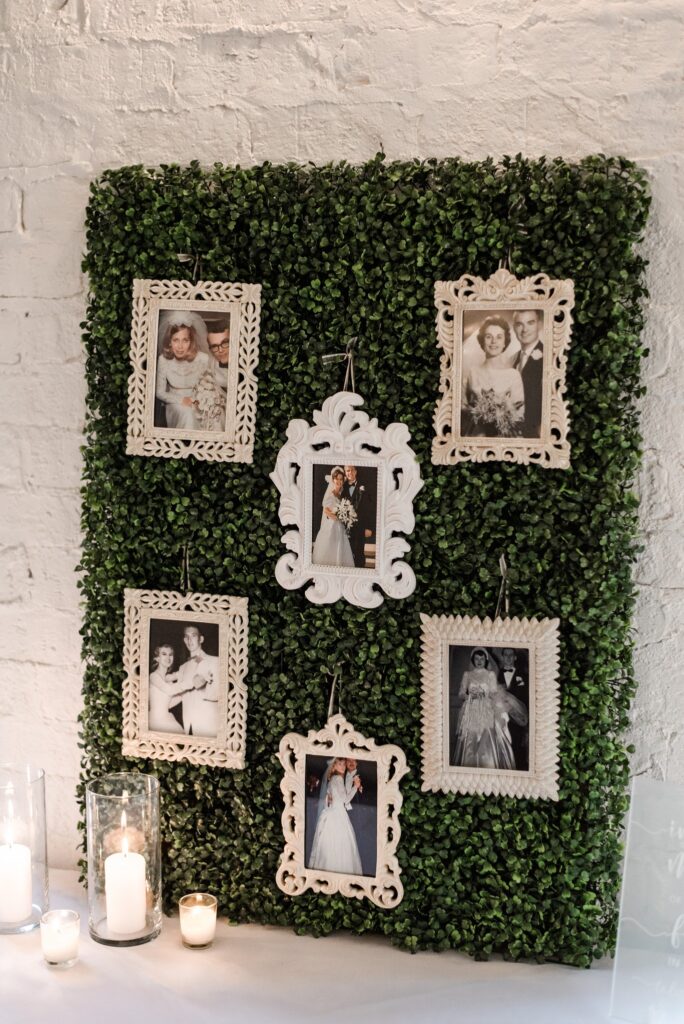 We asked Delaney if anything in particular inspired her wedding planning choices.
"There wasn't anything specific that inspired my day as a result of previous family weddings or anything like that, I just simply LOVE event planning and was so excited to make meaning out of all small details. I used to help our wedding planner with her previous weddings before getting a full-time job elsewhere, so I was able to pick various pieces of other weddings that I loved and learn from those experiences.
"I am an Enneagram One, aka perfectionist, but that also means I'm incredibly detail-oriented. This caused some stress at some points, but for the most part I am a typical Enneagram One Perfectionist, so I firmly believe that beauty is in the details! Although I know that the majority of my guests probably were not nearly as observational as I assumed they would be, I simply loved being able to relish in the joy of the simple and meaningful details of our day. First of all, I got a photographer with my wedding veil/wedding shoes and my baby hat/baby shoes. This was particularly sentimental for my parents to see, as the image immediately sent them into a wave of nostalgia, but it was also special for me to see as I reflected on where I had come from and where I was going. This remains one of my favorite photos from the day and I am so thankful for the idea to create that scene. Secondly, I created a moss wall inspired by pinterest and created a display of wedding photos from both my Husband and I's families. Not only was this very special for our parents and grandparents to see, but it was also very emotional for Alexander and I to be reminded of how many successful love stories had gone before us and were paving the way for a story of our own. I just LOVED getting to intentionally pick out every detail to fill our day with sentimental treasures.
"Our wedding was certainly an elegant, classic, timeless wedding, and that was definitely what I was hoping for! I worked a lot with our wedding planner to create mood boards based off of a light and airy feel that I desired. As previously mentioned, I really wanted to make sure that when I look back on our wedding in 50 years I still want to love all of the decisions we made rather than simply go with the "trends" of the time. I also worked really hard to embrace the bridal vibe and go specifically with lots of traditional wedding details, such as a ballgown dress rather than a tight one, a whole cake to cut rather than simply cupcakes alone, and things of that nature. We had a lot of gorgeous white flowers, tons of candles, and an extravagant chandelier. I tried to embrace the eclectic, unique vibe of our venue while also adding little details to make it as glam as possible."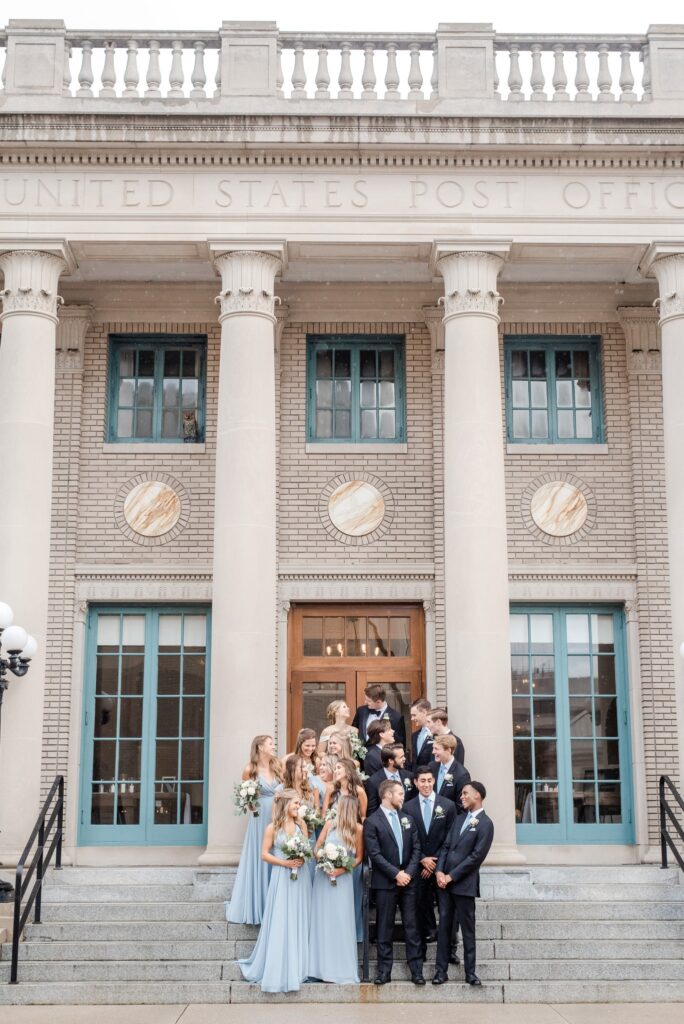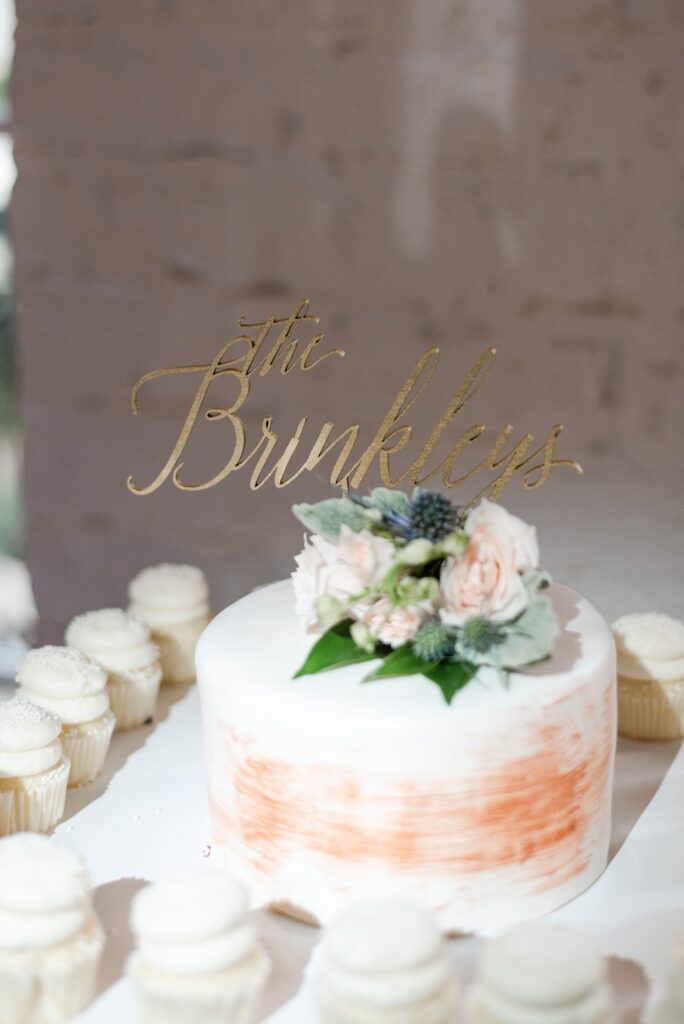 "We consider ourselves to be traditionalists, valuing many specialities and timeless choices made surrounding the idea of wedding planning, which ultimately inspired the timeless/romantic/bright and airy vibe for our wedding theme. That being said, we opted for traditional vows during our marriage ceremony, but we exchanged personal vows in an intimate and emotional "First Touch" moment shared before seeing each other for the first time at the altar. Many tears were shed, we laughed, we prayed fervently, we hugged, and prepared our hearts for the commitment we were about to make."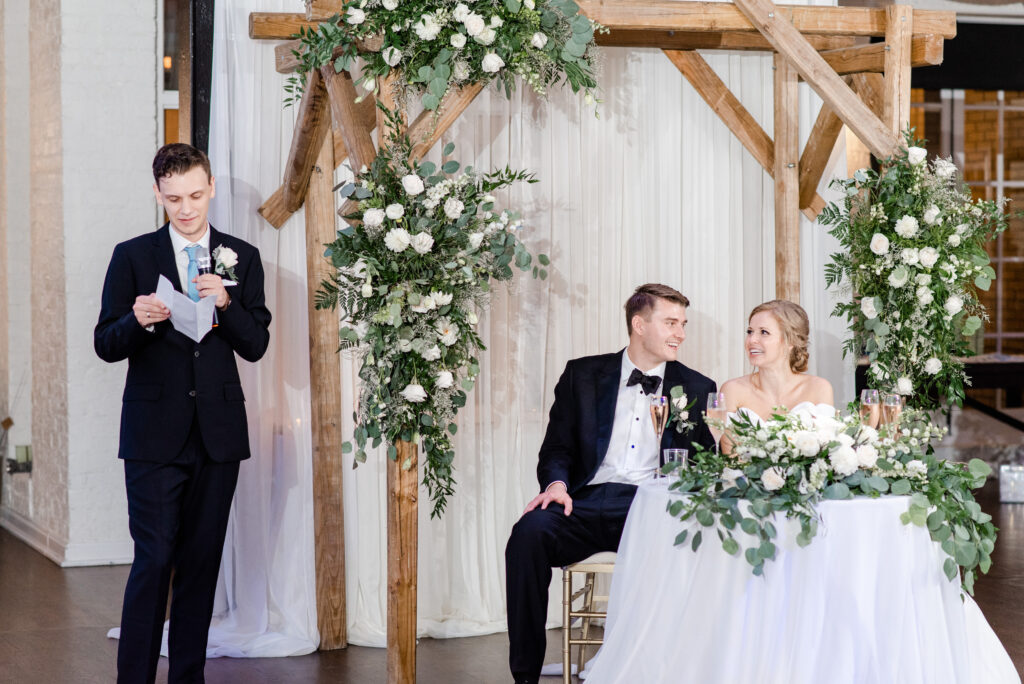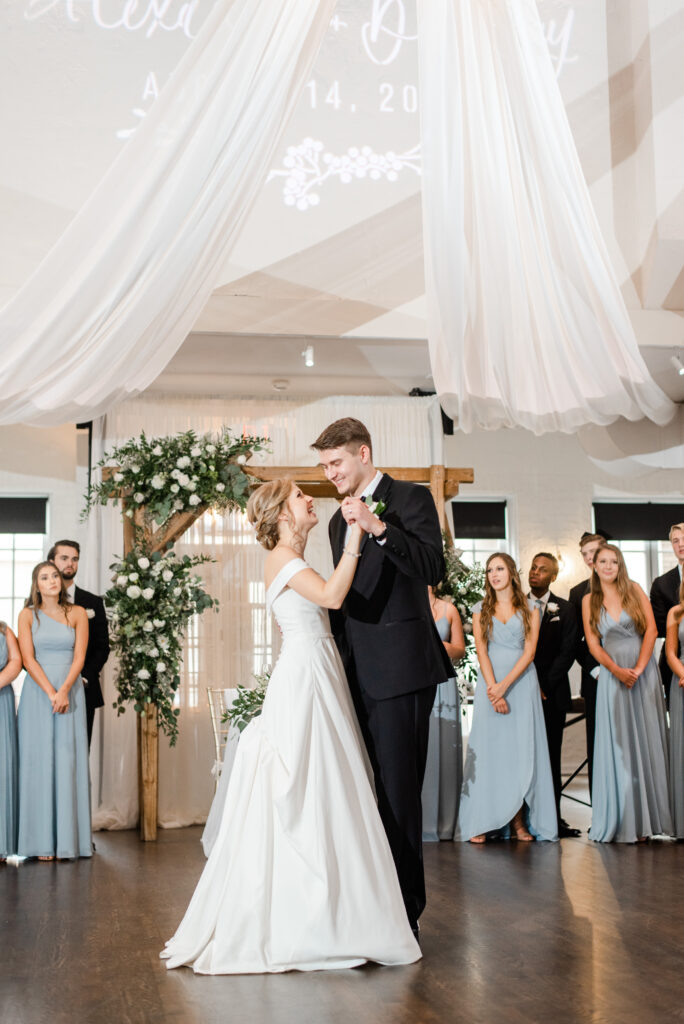 Delaney leaves fellow brides with these words of advice for planning your own special days.
"It's okay to have hopes and dreams for what your "big day" will be – I was often hard on myself for feeling sad about making changes to our plans due to COVID, however – it is normal and GOOD to care about such an important day. Wedding festivities have become a tradition for a reason, and they are to be treasured!
"On the other hand, I do encourage all of my fellow brides out there who are navigating planning in the midst of so much unknown to focus on your spouse above all the rest. At the end of the day, marriage itself is most meaningful and there is something to be said for the ability to let love triumph over situational circumstances…For many months we were unsure whether or not we would be able to share our big day with beloved family and friends, but we were determined to let love prevail. Truly, we strongly believed that there was no better time to shed some light and love into the world than in the midst of such darkness and uncertainty. As a result of the regulations being changed by the state exactly 2 weeks before our big day, we had to get creative quick…We ultimately had our dream ceremony with almost half of our original guest list, as it was a religious event, but we had a split reception in which we created a second reception space outside of our main venue…While many of my friends getting married in 2020 decided to postpone their ceremony and/or forgo a large wedding entirely, I am SO thankful that we did whatever was necessary to celebrate safely and made our dreams come true.
"At the end of the night, Alexander and I both felt as though all of the stress in the planning process was completely and entirely worth it. The Lord created marriage to reflect His relationship with the Church, so it's only natural that Satan would want to tear apart what God wants to bring together for His glory. It is important to fight for joy, light, and love, and to bring those things into the world however possible!"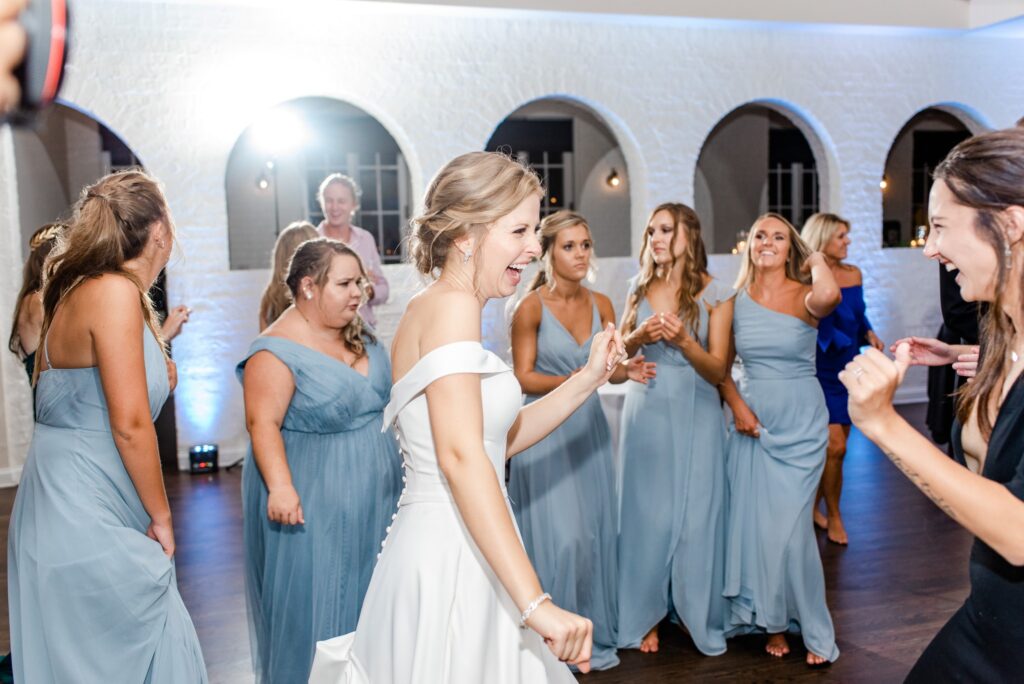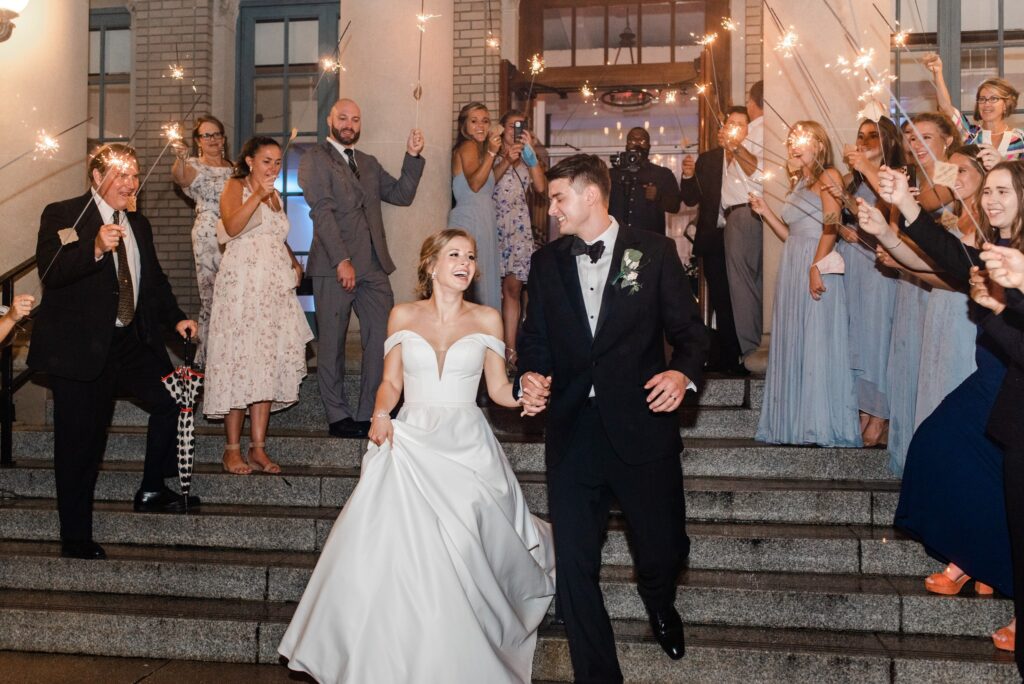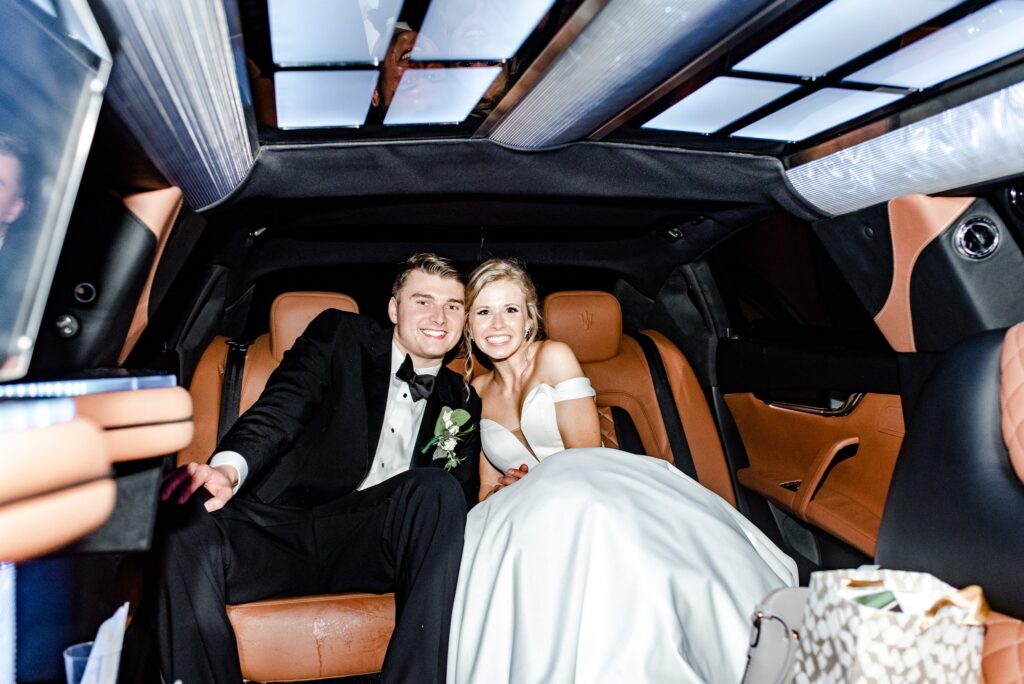 Vendor Credits
Venue: The Historic Post Office in Hampton, VA; 757-858-3885
Photographer: Courtney Timms Photography; Virginia Beach & Hawaii; 757-404-7807
Event Planner: Events By Jacklyn (Jacklyn Launi), Virginia Beach/Norfolk; 757-635-3547
Officiant: Carlos Rodriguez, Pastor of Redeemer Presbyterian in Virginia Beach; 757-761-4024
Gown & Veil: Studio I Do Bridals, Essence of Australia Collection; Virginia Beach & Roanoke; 757-491-1418
Bride's Shoes: David's Bridal; Virginia Beach; 757-455-8411
Bridesmaids' dresses: Dusty Blue from David's Bridal; Virginia Beach; 757-455-8411
Hair & Makeup: Jessica Barbini HMA; Chesapeake, VA; 757-298-0869
Formal wear: The Black Tux; 888-717-1588 & Tie Bar; 887-888-8437
Invitations: Minted; 888-828-6468
Flowers: East Beach Flowers (Dawn McFadden); Norfolk, VA; @eastbeachflowers; www.facebook.com/eastbeachflowers
Rental equipment: Waterford Event Rentals; Hampton Roads, VA; 757-448-5999
Catering: Mission BBQ; Chesapeake, VA; 757-276-5955
Music: Joey Launi (DJ; our wedding planner's husband); Norfolk, VA; 757-968-2630
Cake: My Vegan Sweet Tooth; Virginia Beach; 757-279-4789
Favors: Gigi's Cupcakes; Virginia Beach, VA; 757-491-3030
Transportation: Lavish Limousines; 757-506-6461; Hampton Roads, VA
Honeymoon: JAMAICA! We stayed at Sandals Resort, Montego Bay and loved every single second!