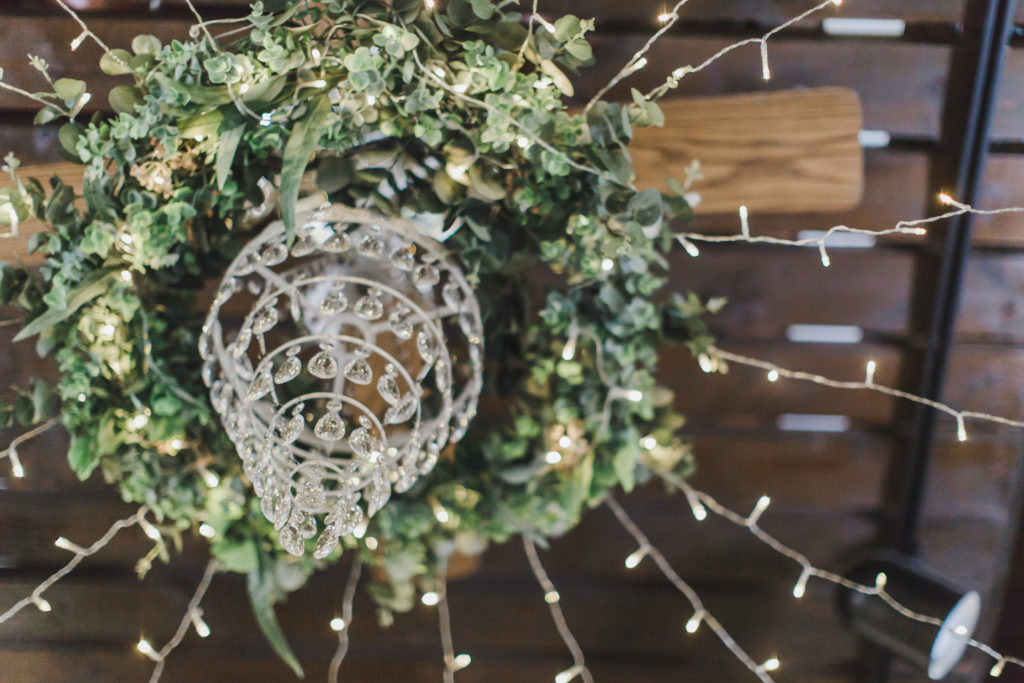 At orientation for Virginia Commonwealth University's Transfer program, Courtney and Jake sat down right beside each other. They snuck glances at each other while taking notes, occasionally catching the other's eye doing so, the importance of networking impressed Jake enough to introduce himself.
"I shook his hand and immediately thought that he was the most handsome man I'd ever met. We spoke to each other for a total of 4 minutes before he asked for my number. I requested him to take me to the Student Commons Center and we ended up getting lost for an hour, during this time we really bonded over the weird architecture in Richmond."
The lovely pair spent their first date, in May 2016, at the Virginia Museum of Fine Arts, "appreciating some of the more amusing colonial portraits with their intriguing faces and finding hounds that look particularly smug in the corners of the paintings."
Their date was filled with laughter as they began creating a lifetime of inside jokes.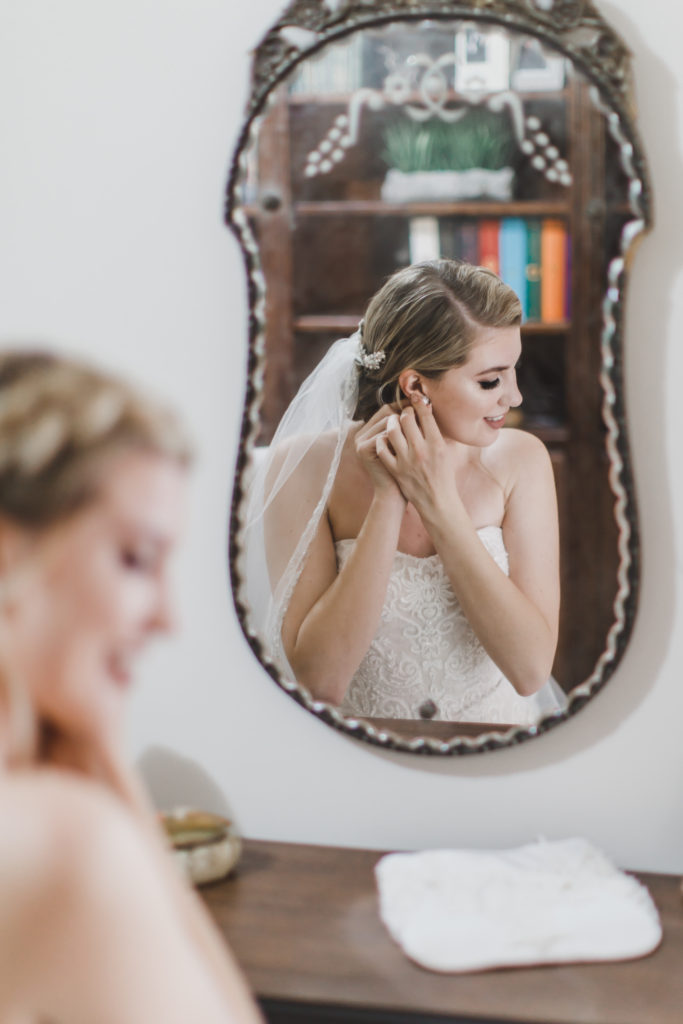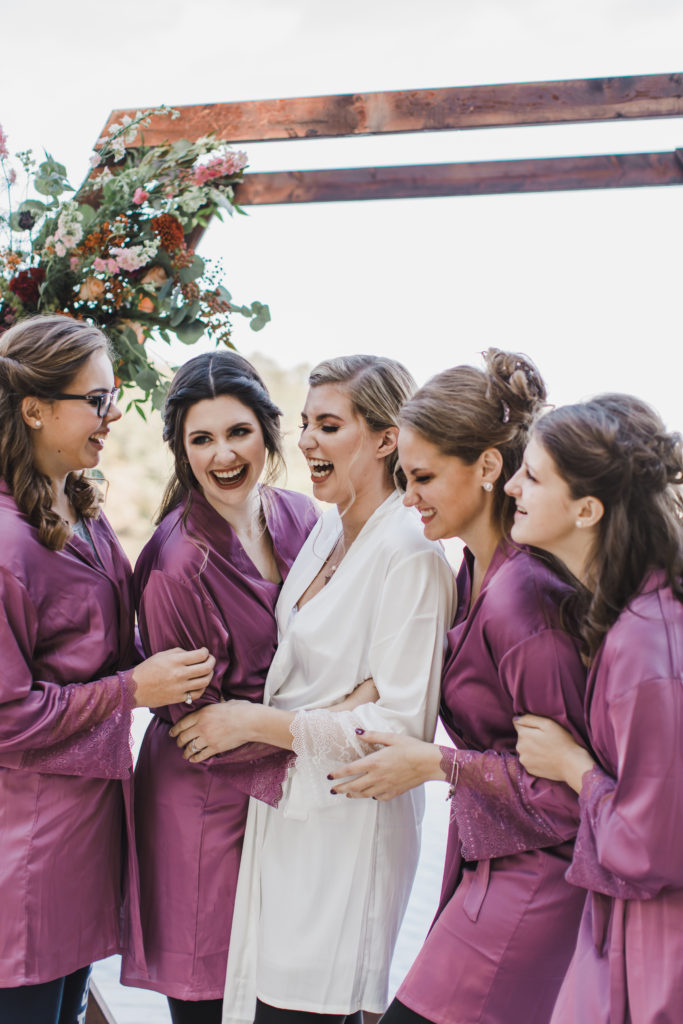 Courtney's mother and step-dad hosted the wedding at their beautiful Lake House, where Courtney grew up. "Jake and I both spent our childhood Summers on lakes, mine in VA and his in upstate NY. The setting brimmed with nostalgia.  Our getaway vehicle was the boat on which I learned to wakeboard. The reception was in the Lake Community Clubhouse. Our family and friends poured themselves into installing draped lights, chandeliers, window lighting as well as the handmade decorations. By the time all was said and done the utilitarian clubhouse appeared to be a scene out of a fairytale."
Courtney's maid of honor, Maddy Southall, blessed the ceremony with the beauty of her cello playing. Maddy performs with the Lynchburg Symphony and wrote an original piece that she performed at the wedding as the bridal march.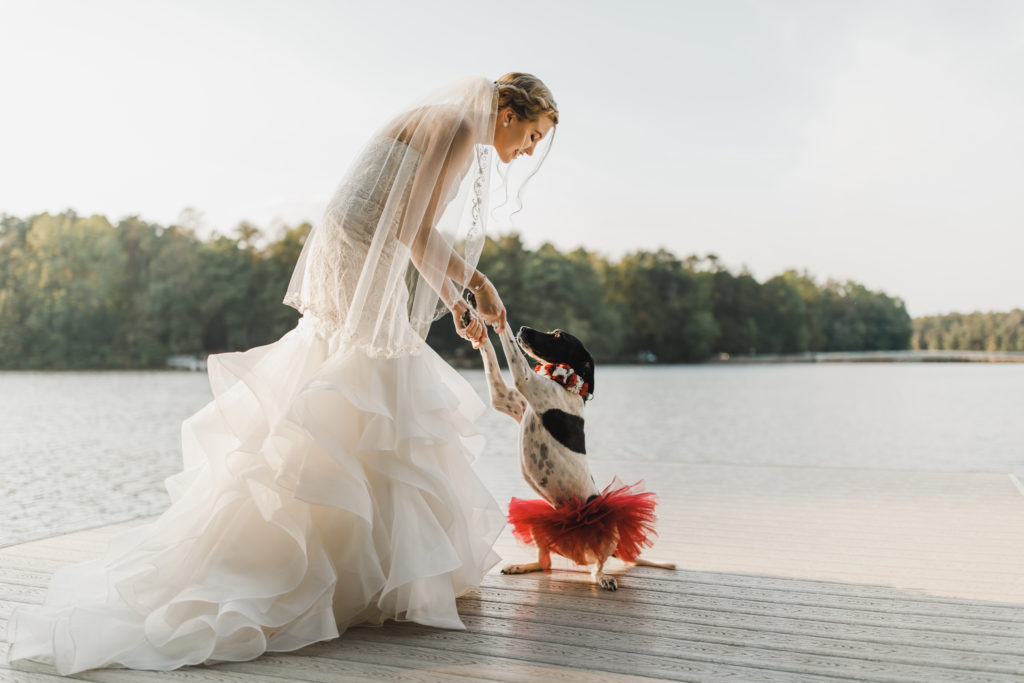 The Scoop:
Bride: Courtney, 23, Underwriter Assistant, Kinsale Insurance Company
Groom: Jake, 28, Global Fulfillment Analyst, McKesson Medical-Surgical
Wedding Date: October 19, 2019
Number of Guests: 115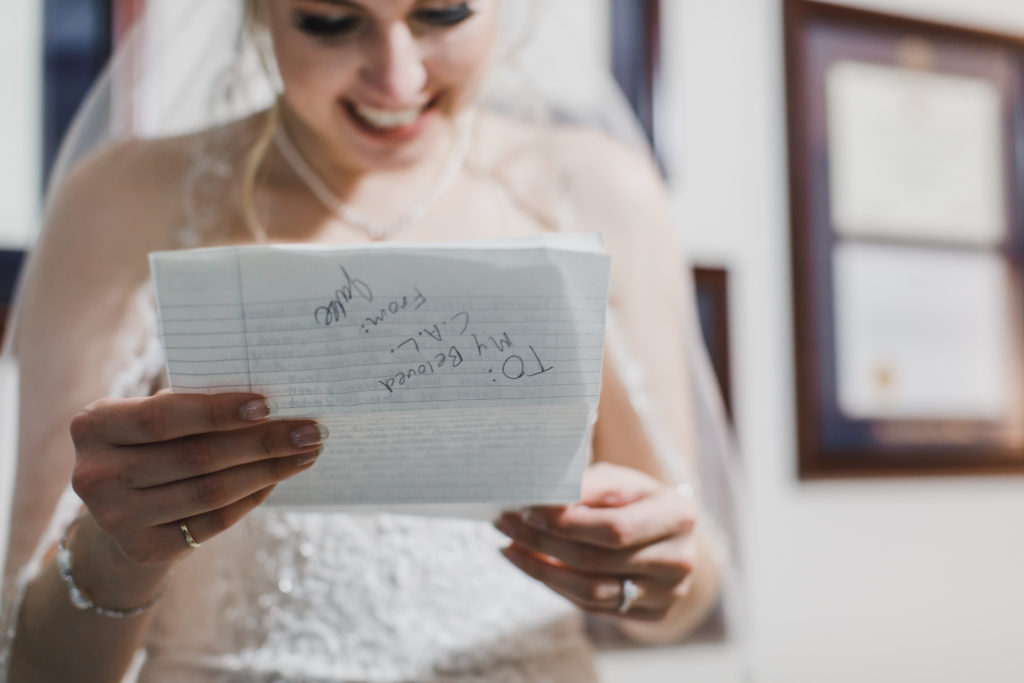 Courtney's gown was an ivory/champagne mermaid dress with a beaded bodice inlaid with intricate Baroque designs with a structured, tiered organza skirt. She had a hair vine custom crafted by Vintage Headdress in the UK. The vine was crafted around her great-grandmother's floral pearled broach, with Swarovski crystals and pearls to compliment her bodice while accentuating the heirloom's lustrous beauty. Courtney's clutch and garter were created from the fabric lace of her mother's wedding gown. The three pieces brought together three generations into a stunning ensemble for Courtney's special day.
Courtney wore additional heirlooms and family gifts, including a teardrop pearl necklace of her mother's (gifted by Courtney's father many years earlier), pearl stud earrings and bracelet from her great-grandparents, and the diamond in her engagement ring from Jake's parents, originally set in a 15th-anniversary pendant.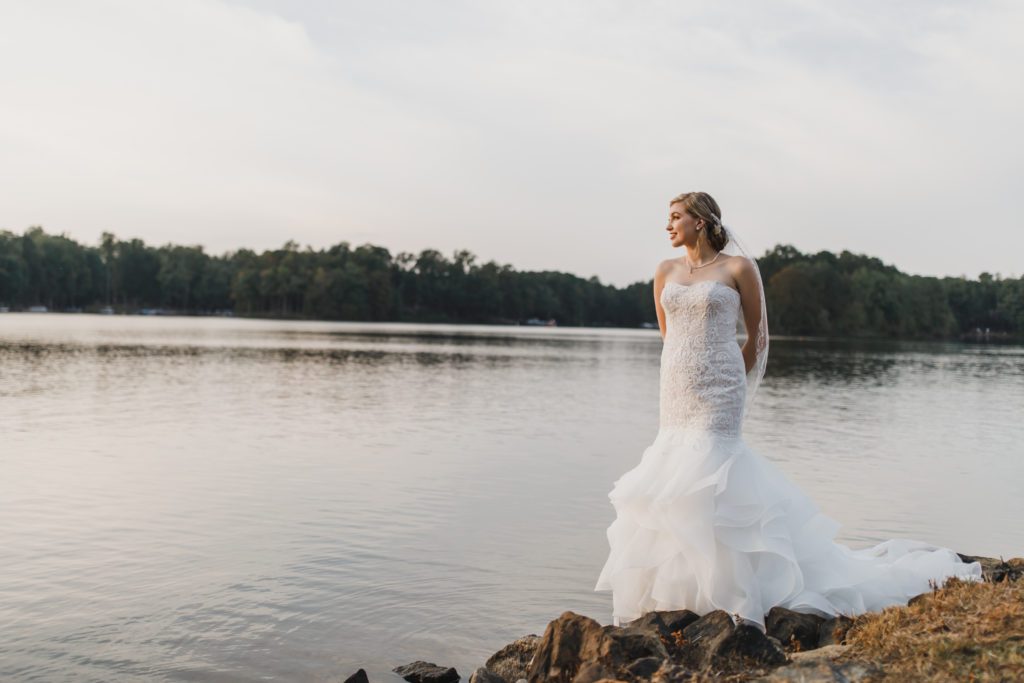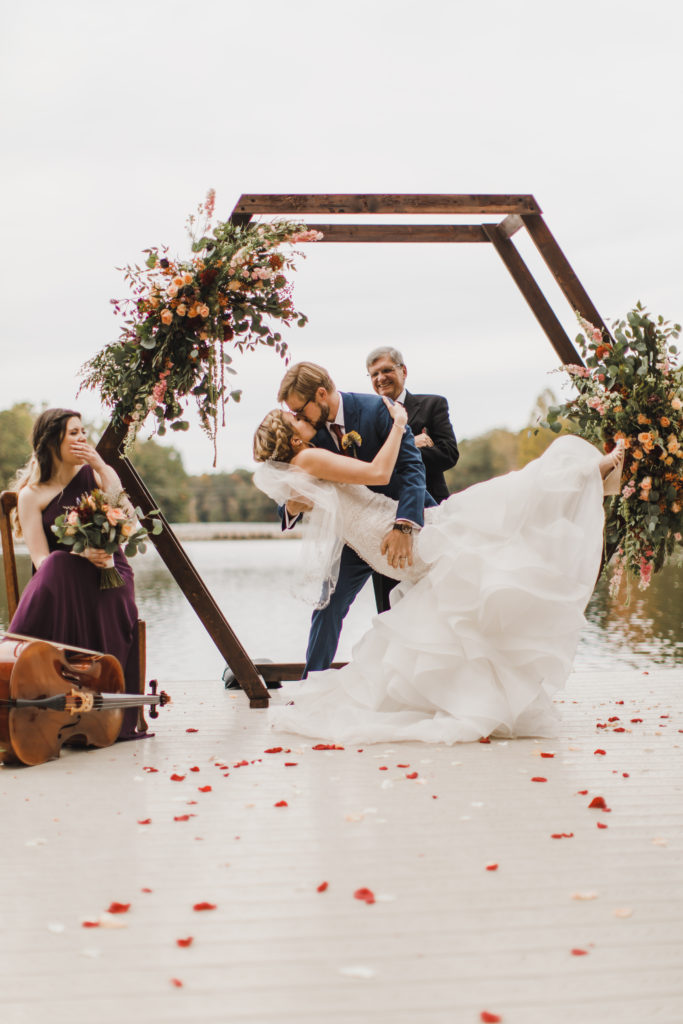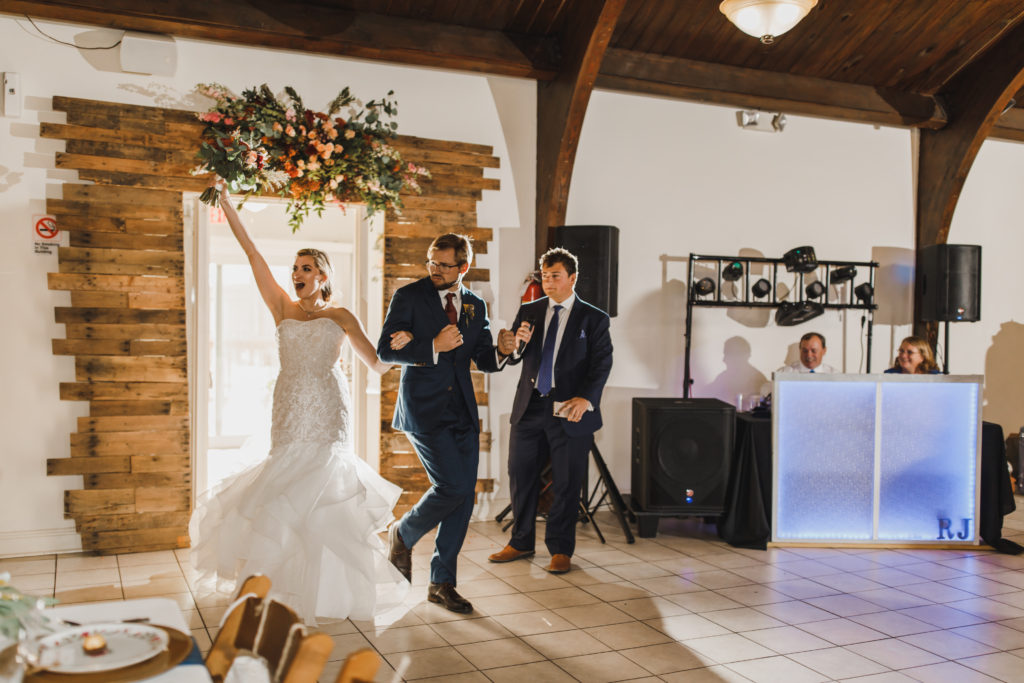 "Our wedding would be best described as fall elegance. It was very beautiful with the draping light chandeliers but still warm and cozy. The repurposed wood elements, such as the arbor, archway, and dessert table backdrop provided rustic touches."
Courtney and Jake wanted to use colors that made them think of Autumn and vibrant leaves. "Deep plum for the harvest, navy blue for crisp nights by the fire, crimson for the red leaves, and gold for our golden ginkgo trees. I picked a deep plum color for the bridesmaids' dresses, each one a different cut of chiffon to match their individual style from David's Bridal."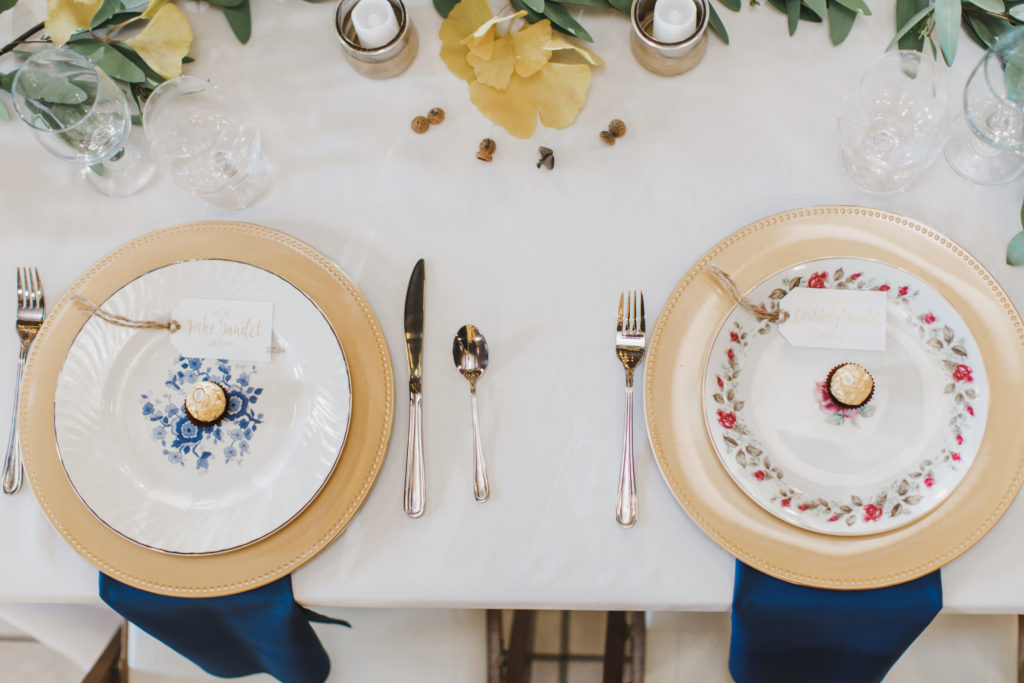 "The ginkgo leaf was a particularly important inspiration for our big day. The trees are all around Richmond and the VCU campus where we met and they turn a golden yellow in the fall. I used to commute to school and sometimes wouldn't be able to say goodbye to Jake but he would find a ginkgo leaf at his door to let him know I was thinking about him. We spread them throughout the tables in the reception, in my bouquet, the boutonnieres, invitations, wedding cake, and even in the script of the wedding boards."
Courtney and Jake wanted to have a fun wedding, reflecting their fun-loving spirits and encouraging the guests to really enjoy themselves. They set up yard games in the front lawn where the reception was held, with giant versions of Lawn Darts, Tic-tac-toe, Connect-4, Cornhole, and Ring Toss. They also provided a photo both with souvenir photos to take home as their wedding favors.
"We had an absolute blast with everybody there wasn't one dull moment the entire night."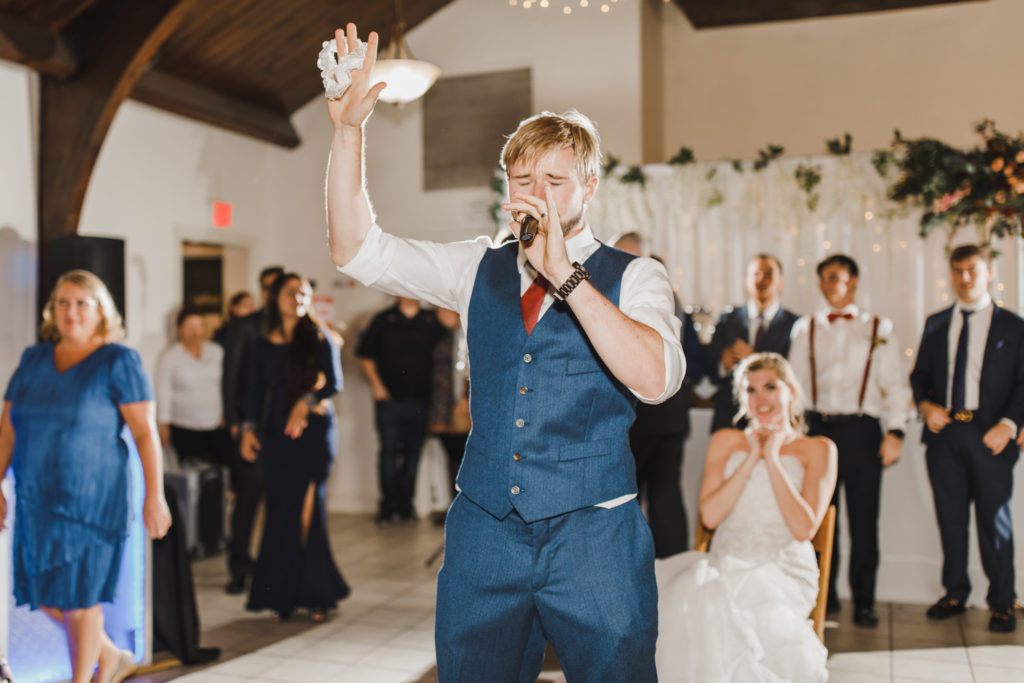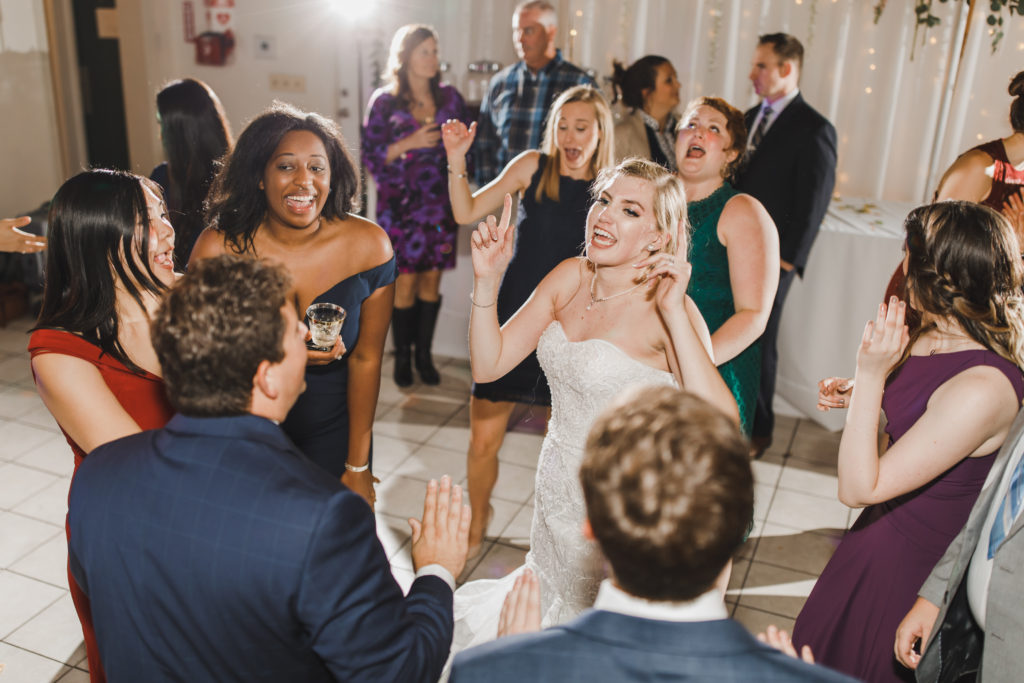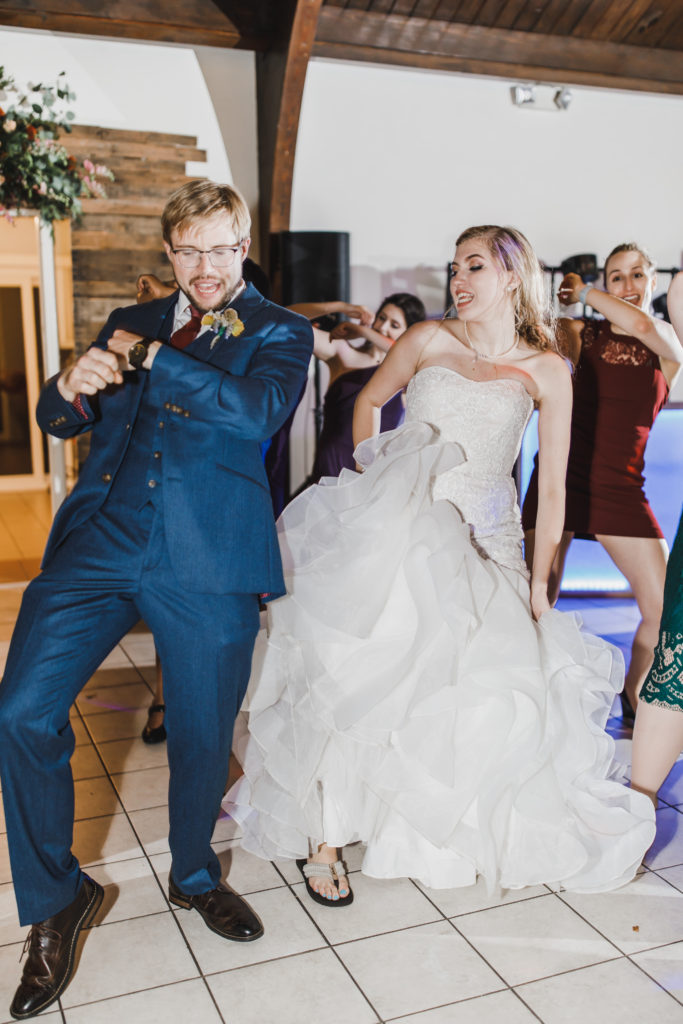 Courtney offers this advice for brides preparing for their special day. "A little word of advice for you and your loved ones, a lot of rules will still not be followed on the wedding day, such as no phones, no jeans, or even no kids. Things happen that you think you will get worked up over but that all completely fades away when you see the one you're going to marry. No one else matters except for the two of you and it's important that you enjoy each other on your special day."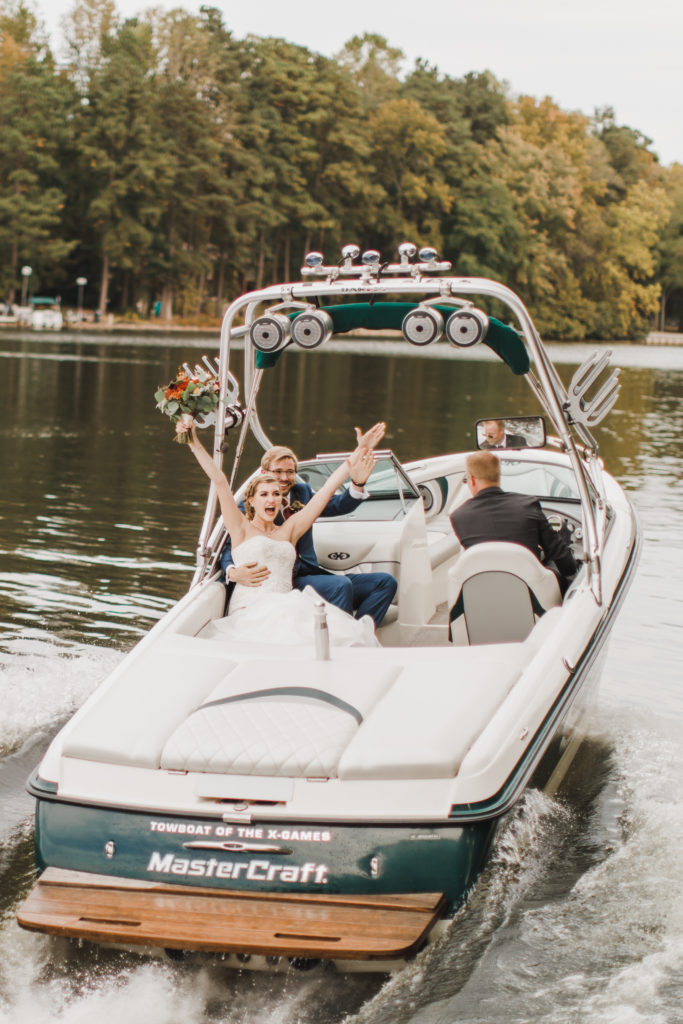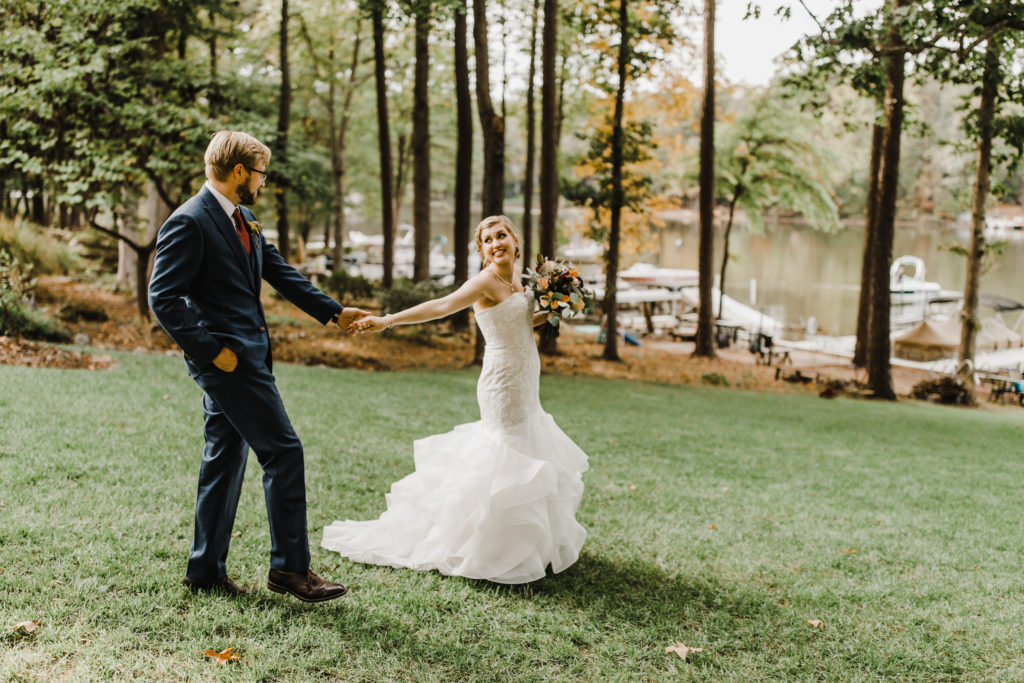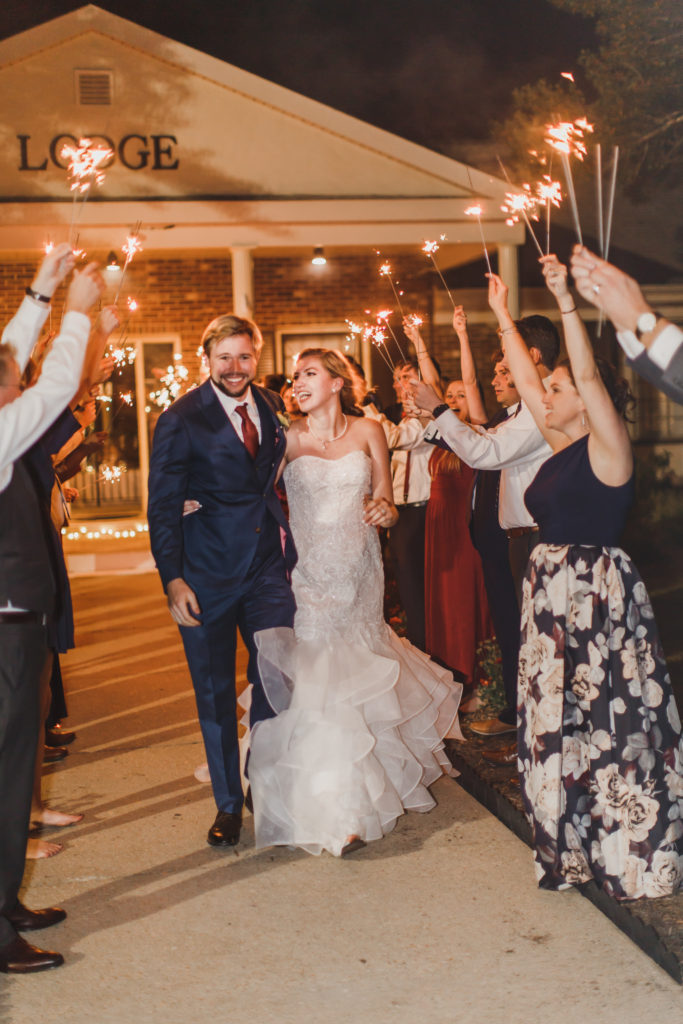 Congratulations to you both!
Vendor Credits
Venue: Lake Caroline Clubhouse, Ruther Glen VA
Photographer: Amber Harrington
Day of planner: Leigh Taylor from A Taylor Made Day, ataylormadeday@gmail.com, (305) 815-1714
Officiant: Randy Newsome, Round Oak Baptist Church, Woodford, VA
Gown: Scroll Lace Trumpet Dress by Oleg Cassini
Groom's Shoes: Joseph A Bank
Hair: Pizazz Hair Studio
Makeup: Stephanie Hertel, 804-316-4223
Hair Vine: custom made by Vintage Headdress, UK
Bridesmaids dresses: David's Bridal
Groom's Formal Wear: custom made suit from Indochino
Men's wear: Joseph A Bank
Invitations: Zola
Calligraphy:  Leigh Taylor from A Taylor Made Day, ataylormadeday@gmail.com, (305) 815-1714
Flowers: The Floral Palette, (540) 220-2878
Catering: Pifer Bros BBQ Company
Wedding Cellist: Madeline Southall, from Lynchburg Symphony
Cake: Leigh Taylor from A Taylor Made Day, ataylormadeday@gmail.com, (305) 815-1714
Favors: Photo Booth pictures from Flash Foto Booth
Transportation: The family boat
Mini-moon: High Top Cabin, Black Mountain, NC
Honeymoon: Italy – postponed until travel is safe again