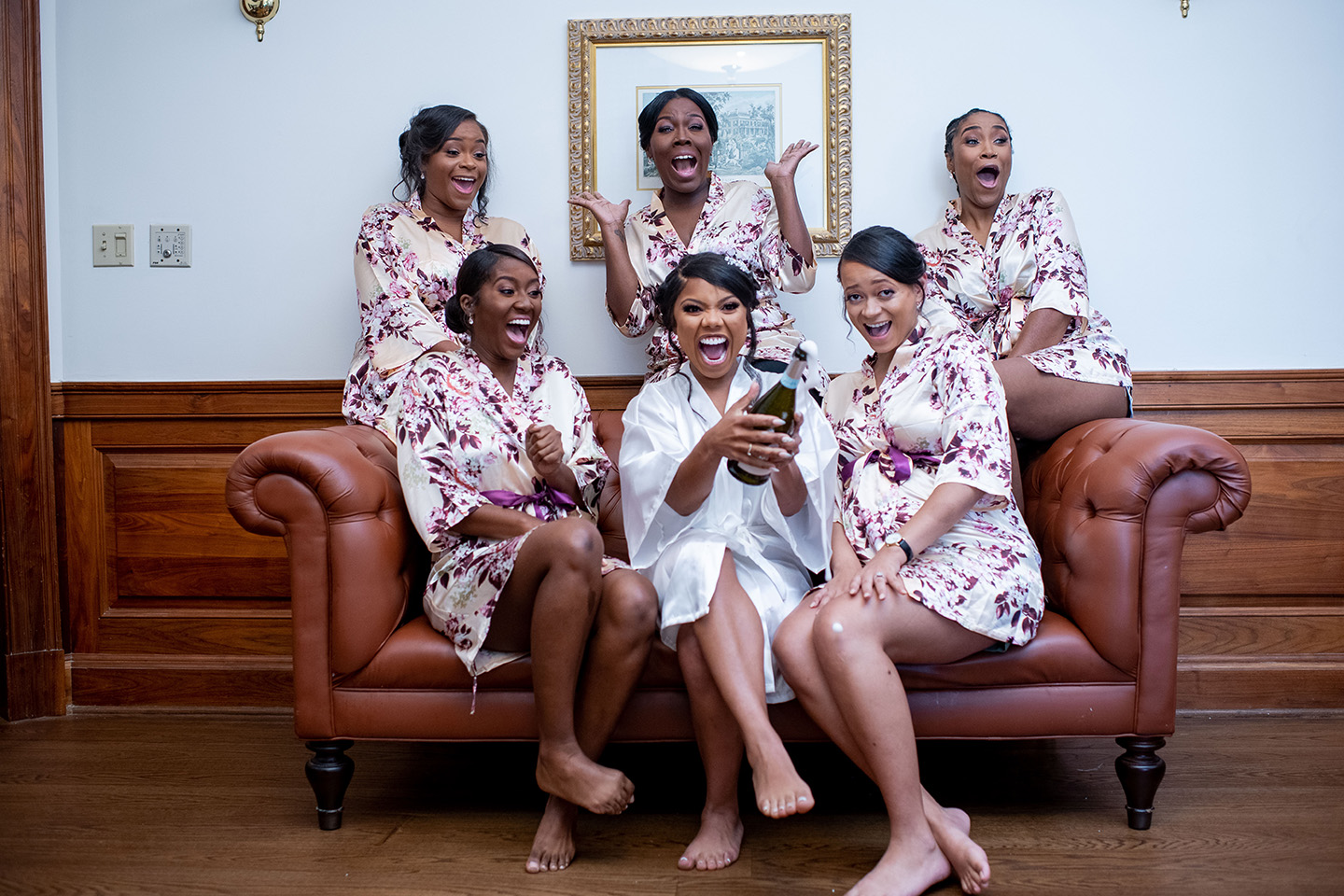 It's #WeddingWednesday and we are popping bottles with today's Bride, Ashley!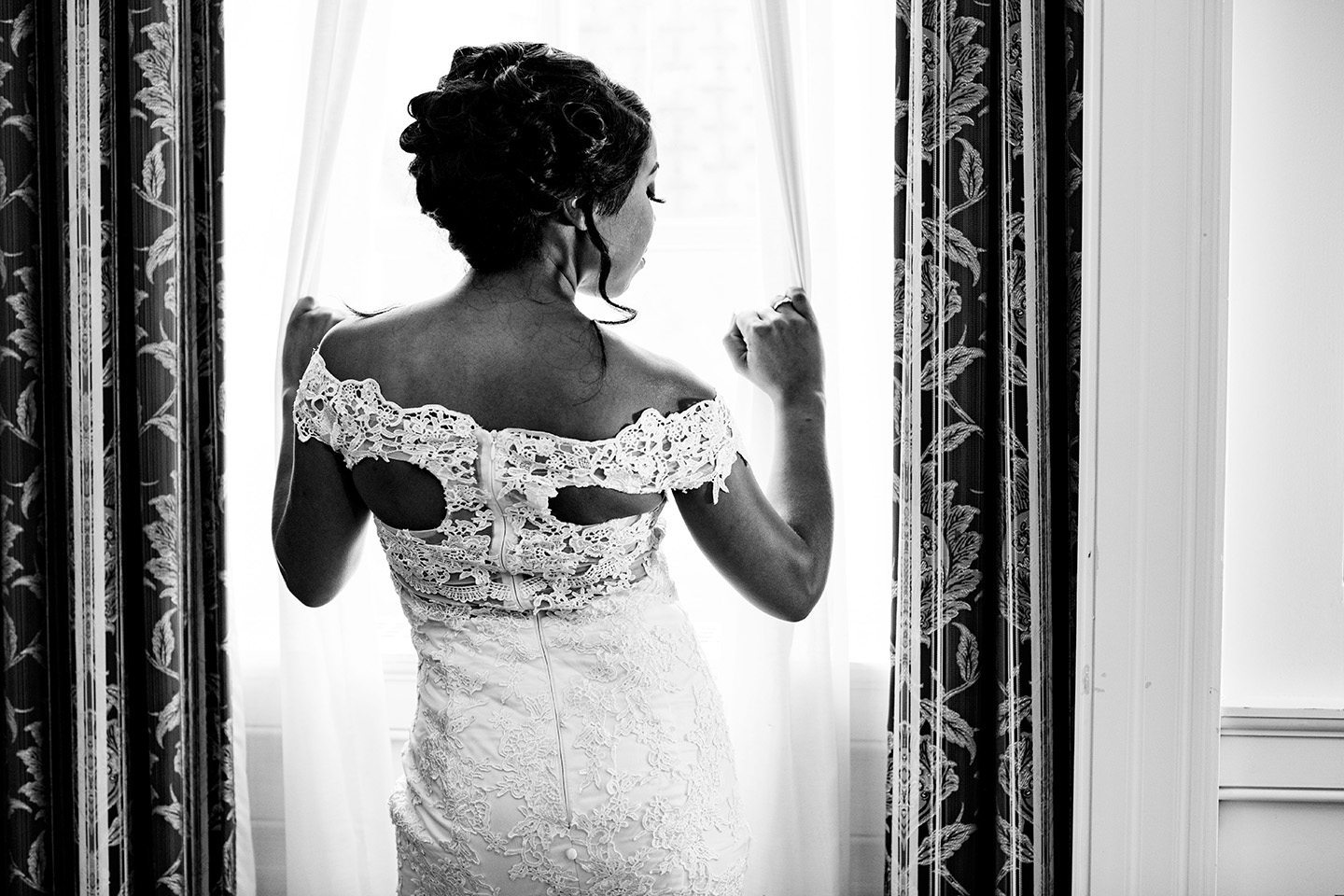 After getting ready with her bridesmaids, she slipped into this gorgeous off the shoulder lace gown to marry James.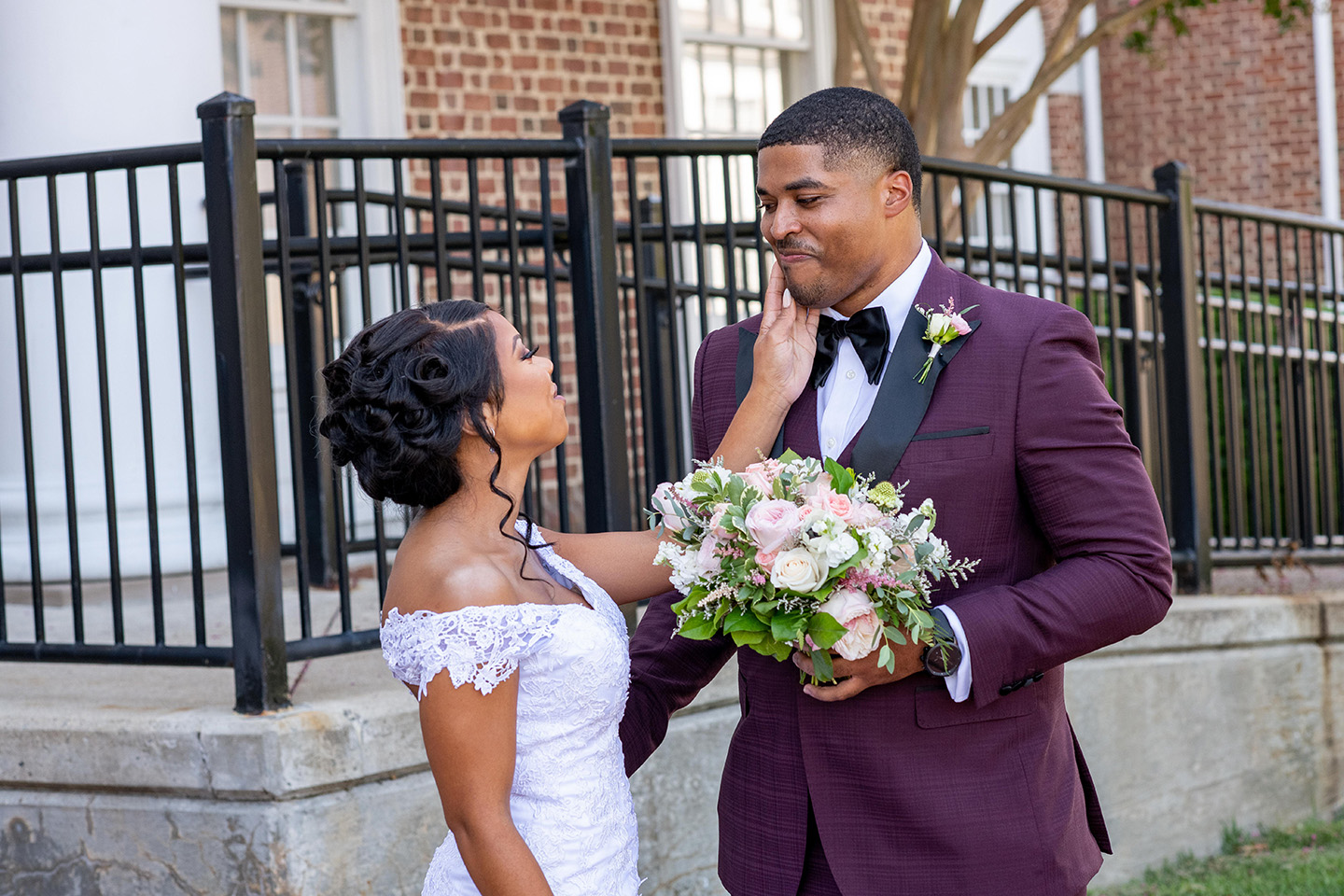 Their first look was filled with memorable moments and so much joy.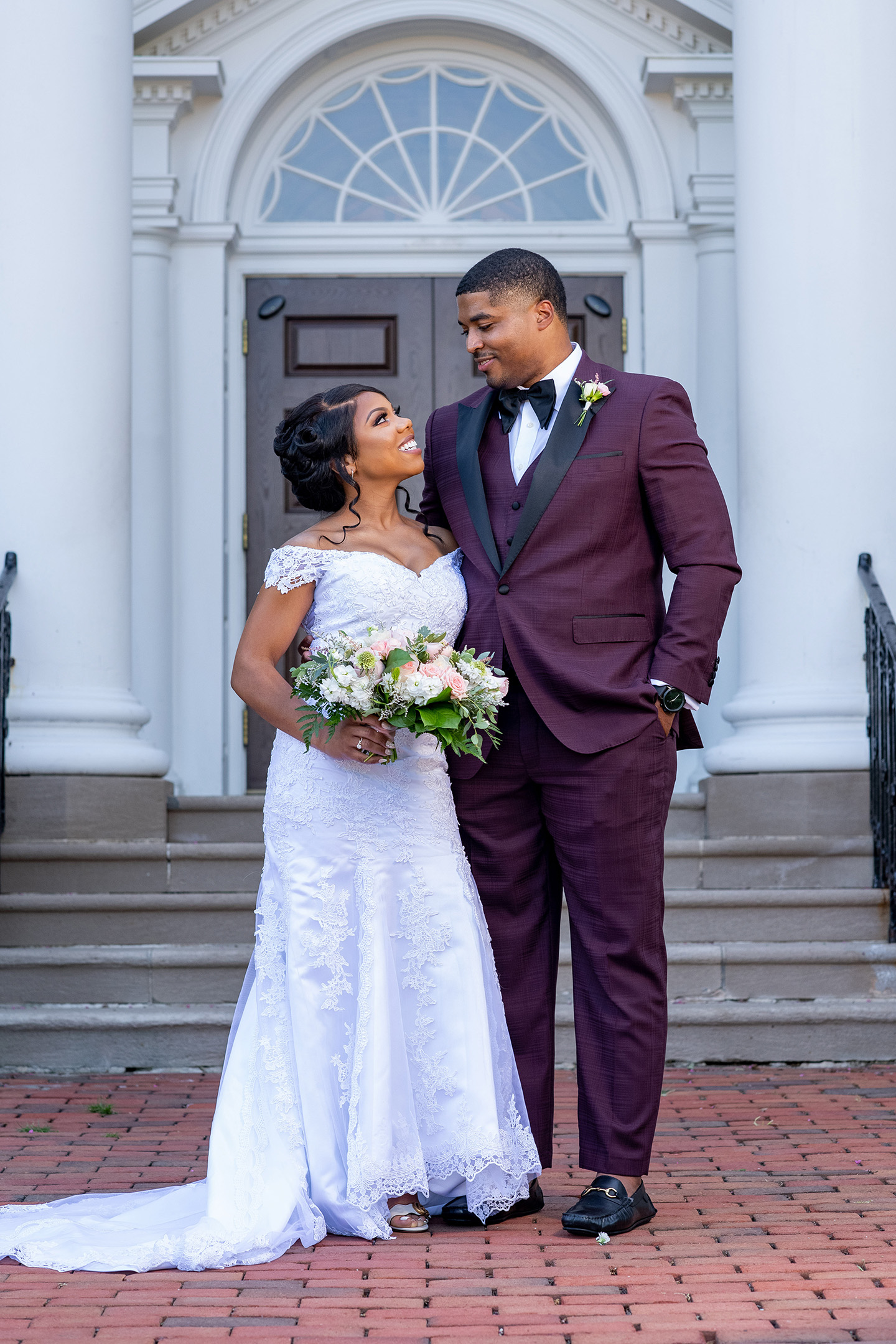 The pair had actually met when they were just kids as Ashley was friends with one of James's sisters. It wasn't until Ashley outgrew her self proclaimed "awkward stage" from high school to college that James reached out. She declined his invite for a date until years later when she asked if the invitation was still good. He said yes and "it was a wrap since then," Ashley said.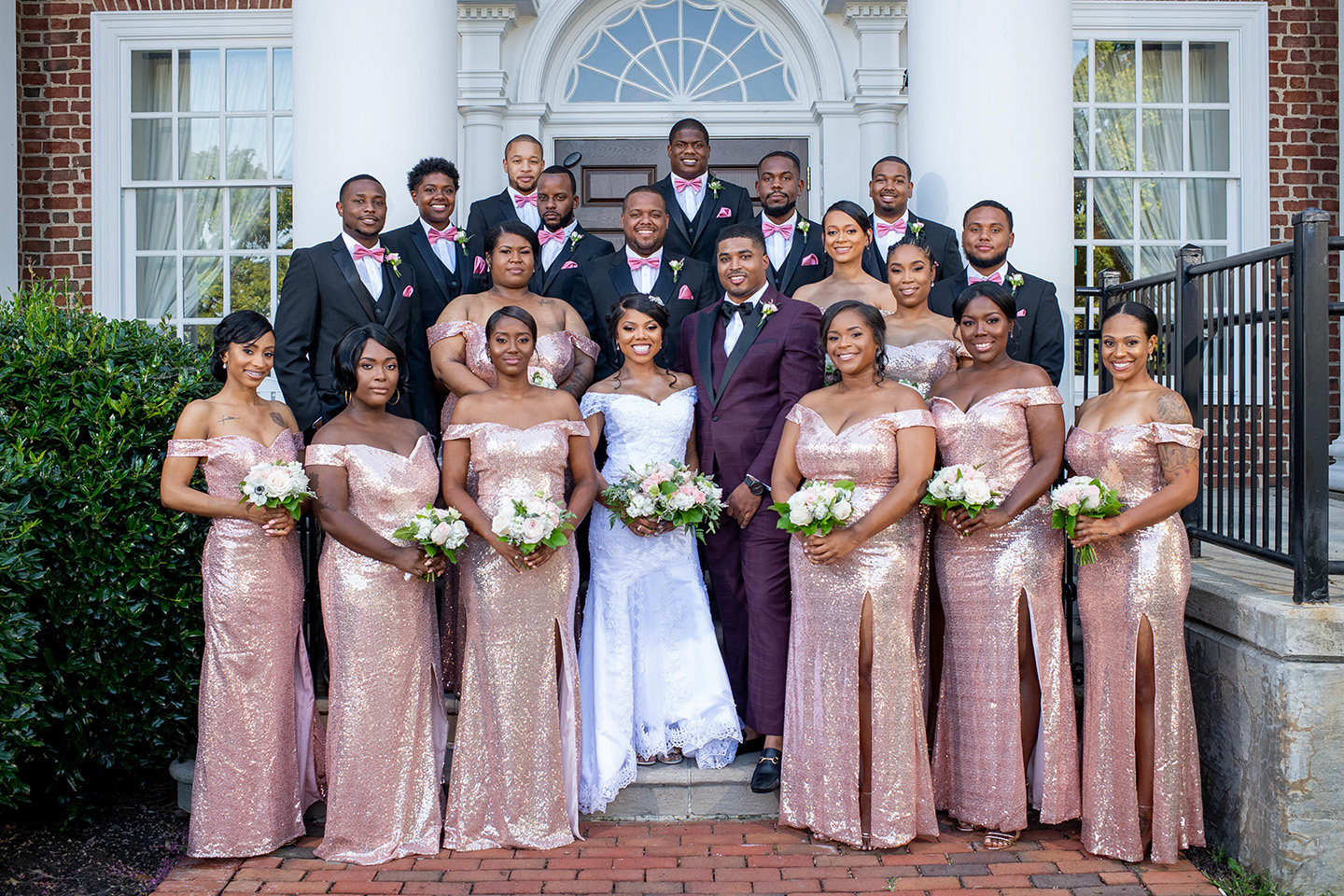 Have you ever seen a more glamorous bridal party?! Although everyone looks great and I really love James's suit, Ashley's beautiful smile stands out the most to me in this photo!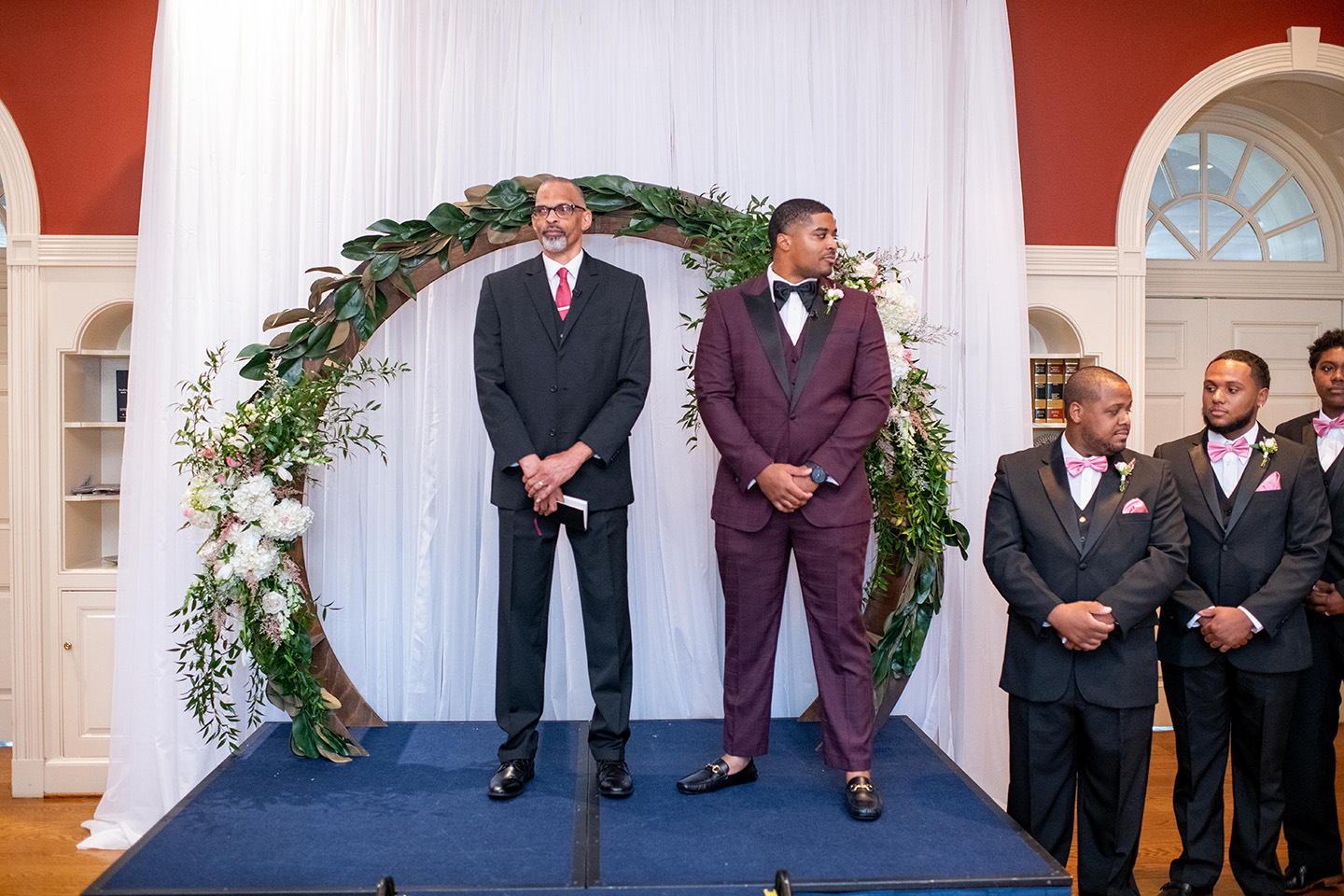 When it was time for the ceremony, James waited for his bride under a unique and stunning half-moon arch.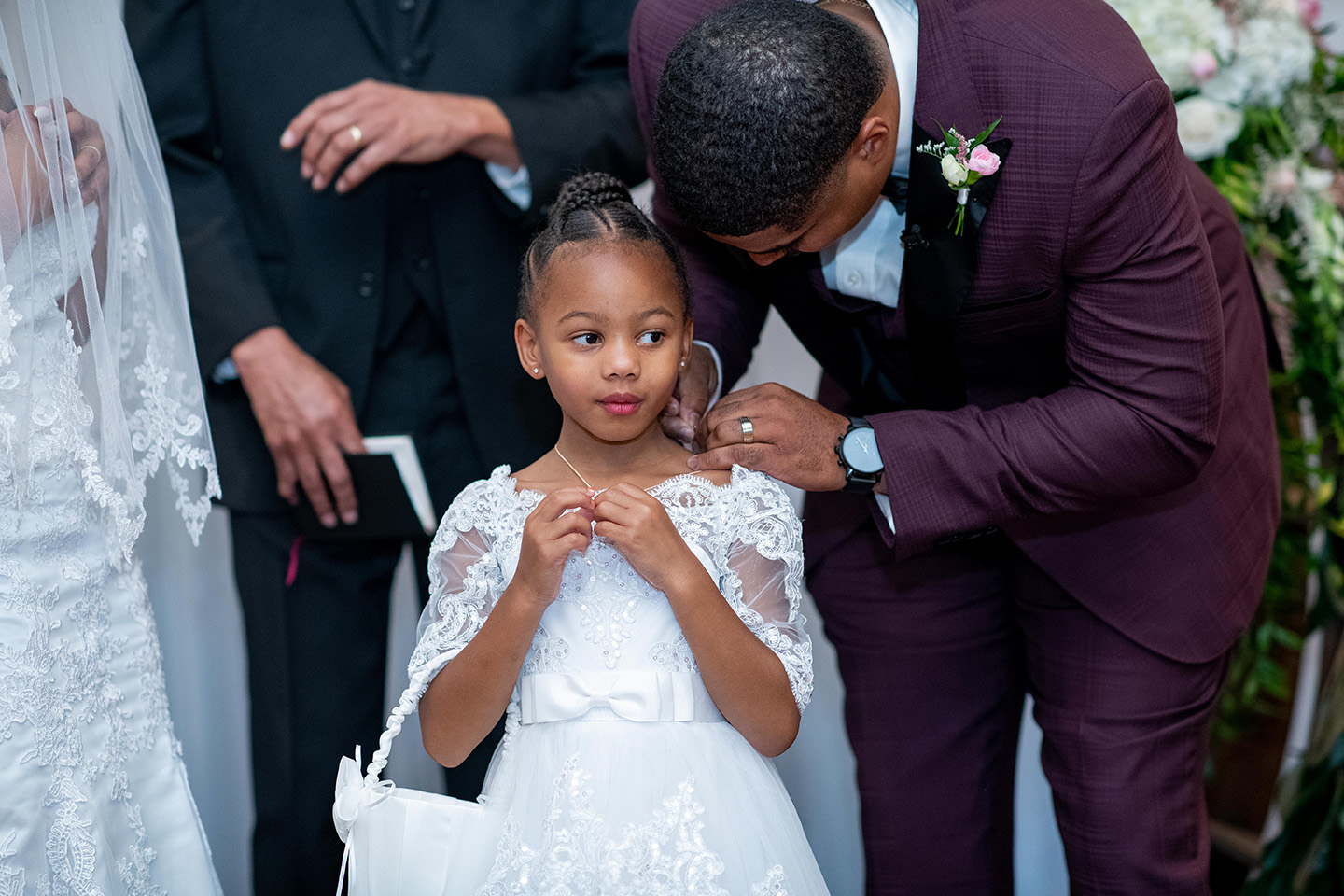 During the ceremony, James presented Ashley's daughter with an adorable ladybug necklace and matching earrings.
"She calls him Daddy… It is the best feeling in the world. It solidifies that I made the BEST decision in marrying the man of my dreams!" Ashely said.
I bet there wasn't a dry eye in the room…so sweet!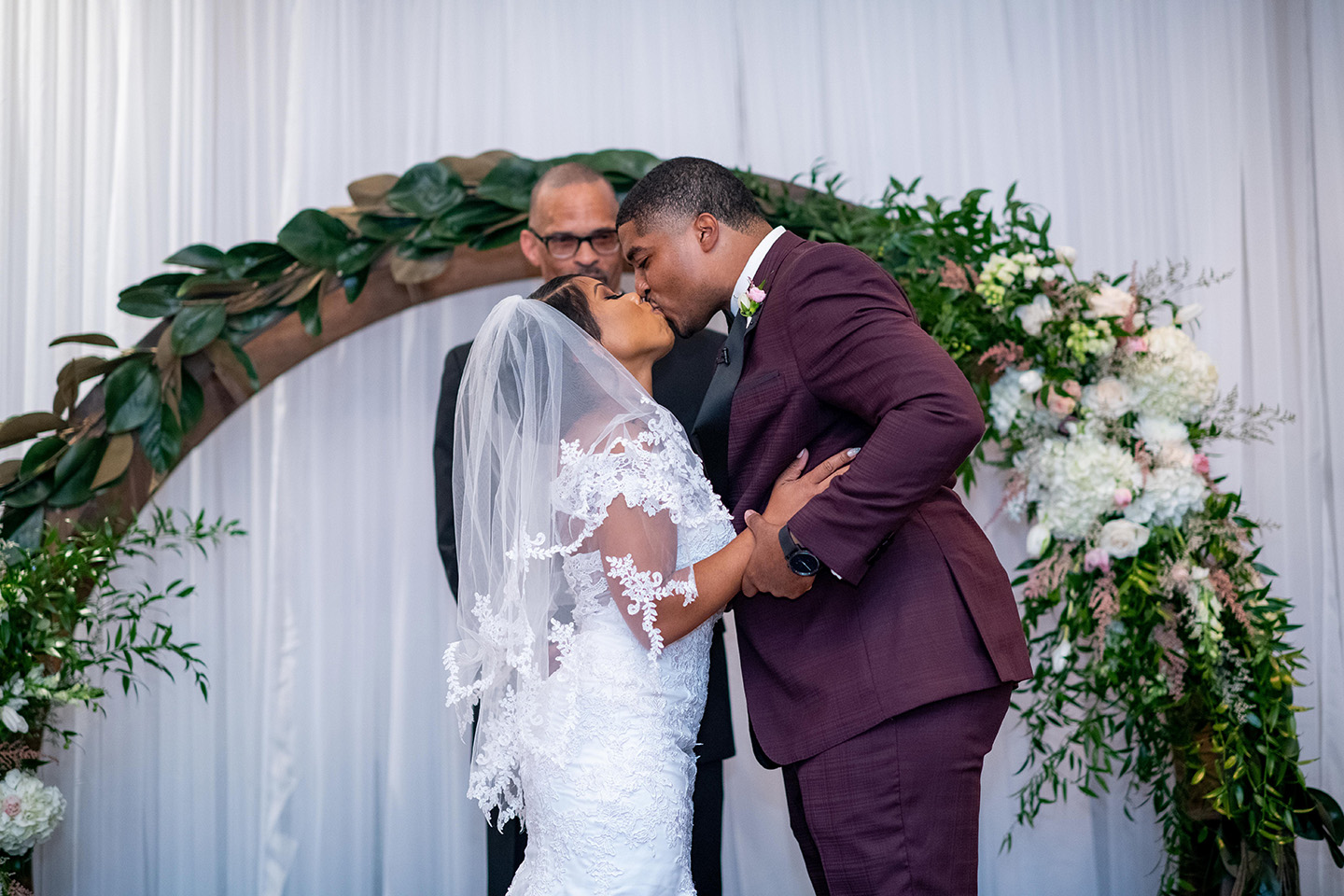 With a kiss, they were pronounced man and wife!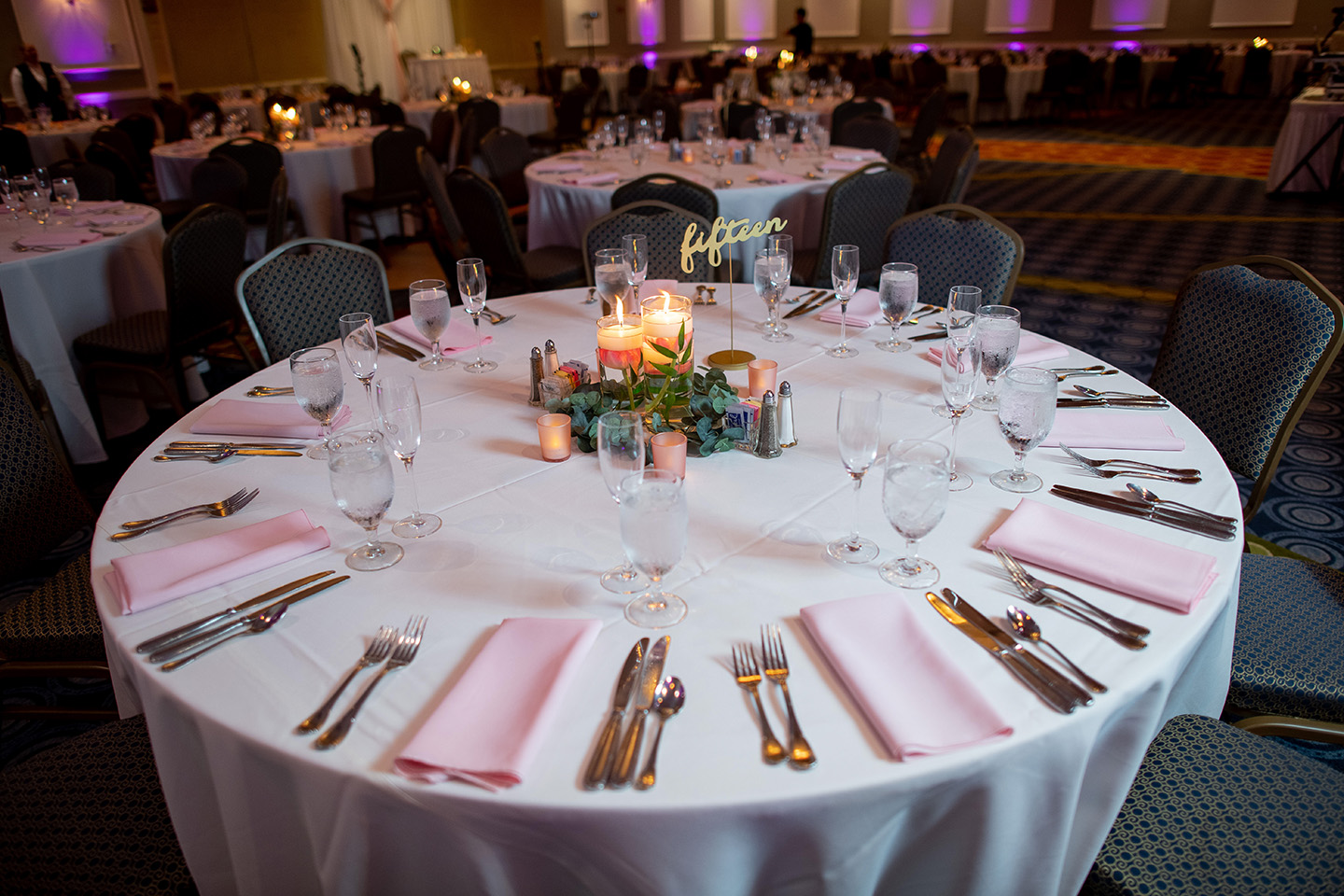 The reception continued inside the Virginia Crossings Tapestry Collection by Hilton and was decorated with blush, ivory with a few pops of gold and rose gold.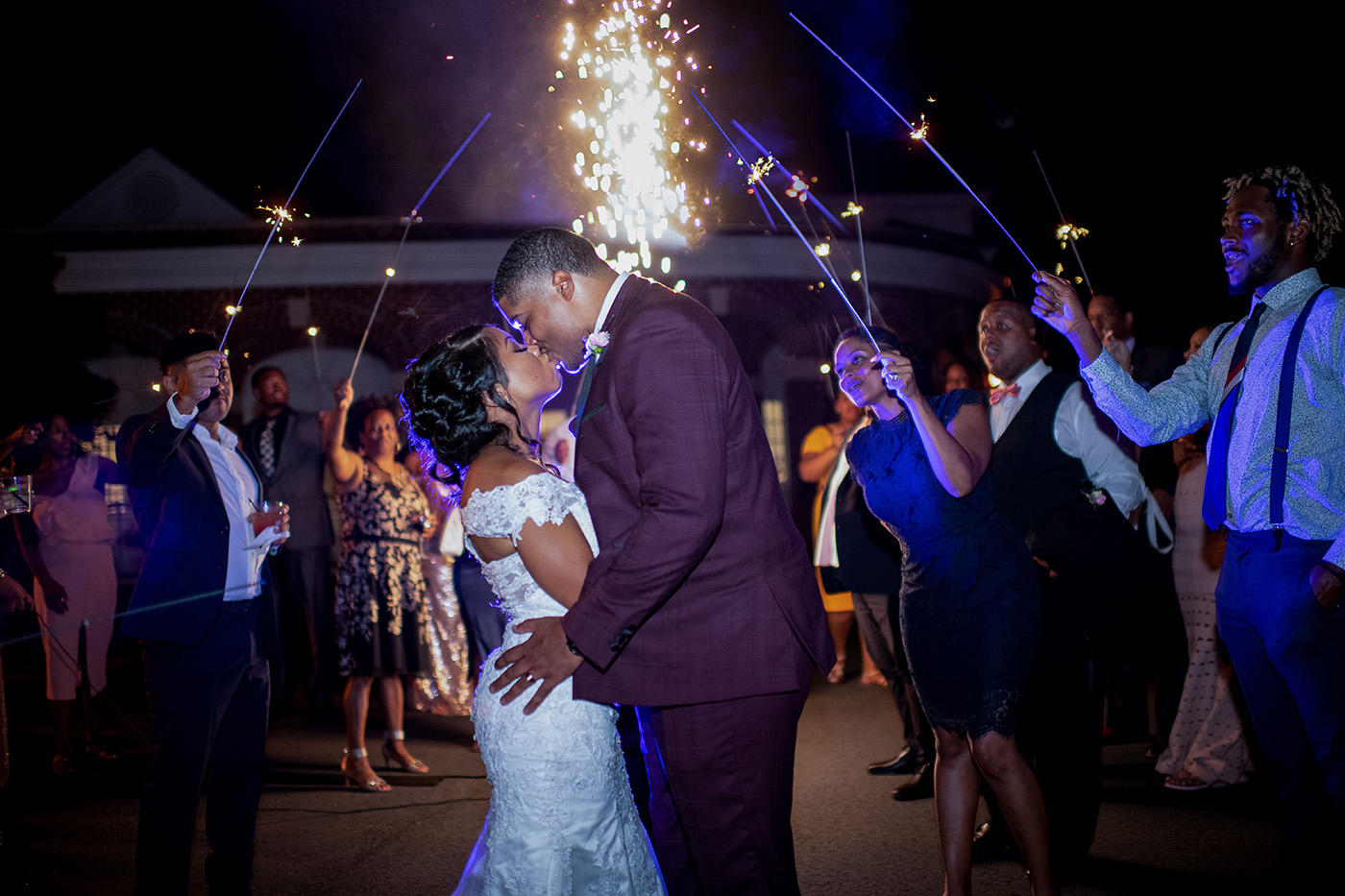 After a night of dancing, the couple bid farewell to their friends and family under a sea of sparklers! Congratulations Ashley and James!
From the bride:
What was your favorite detail of the day? "I really liked my half-moon arc, by Starry Nights Events, that was displayed at the altar as well as over the top of my cake! It brought a special touch to the amazing day!"
What advice would you give to a bride to be? "Enjoy the moment! Do not get caught up on things you want or wanted to happen on your special day! Everything is going to happen for a reason! Nothing will go exactly as planned, but just enjoy your time with your new husband, and celebrate life with your friends and family!"
Florist: Starry Nights Events by Tanya Cornwell
Sparklers/Monogram: Signature Dj's, Brandon Frazier
DJ: D'Andre Hunter
Makeup Artist: Nicole Gore Artistry
Videographer: Nowadayz Productions by Terrell Thompson
Drapery/ Lighting: The Master's Touch Floral & Event Design LLC
Cake: Baker's Kitchen by Alvina
Want to be featured on this weekly online blog? Just email us! Want to be featured in our printed magazine? Just email us! **Being on this online blog does not hinder or guarantee a wedding will be in the printed magazine, both are up to the discretion of the publisher, Angeline Frame. If your wedding has been chosen for print, she will reach out to you directly.** Thank you for following Virginia Bride Magazine! Stay tuned for more weddings and the best Bridal Shows in Virginia!