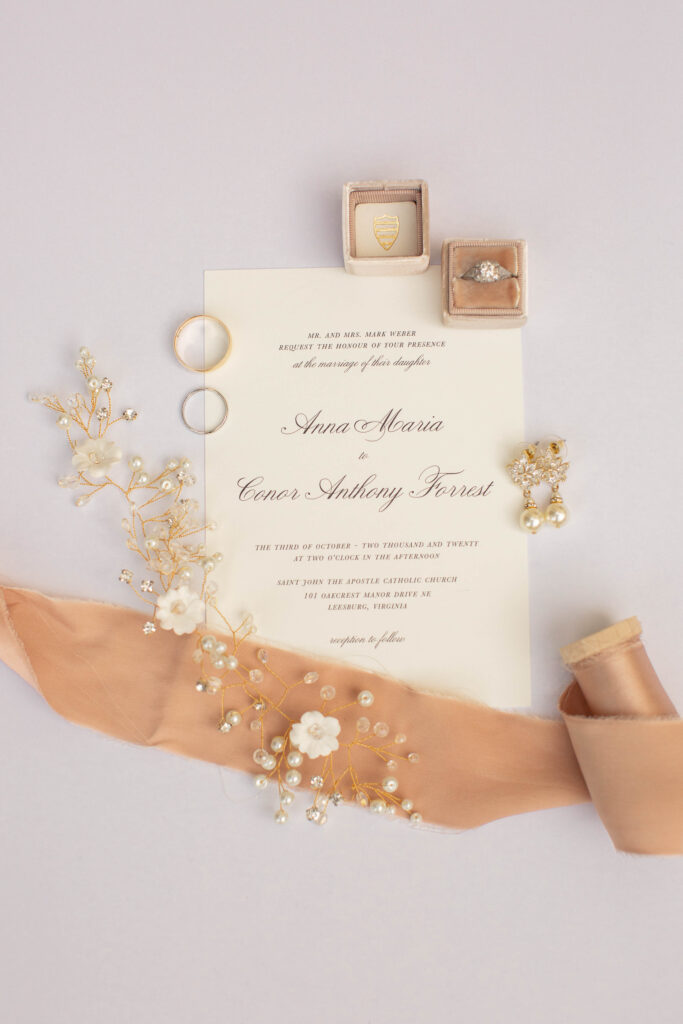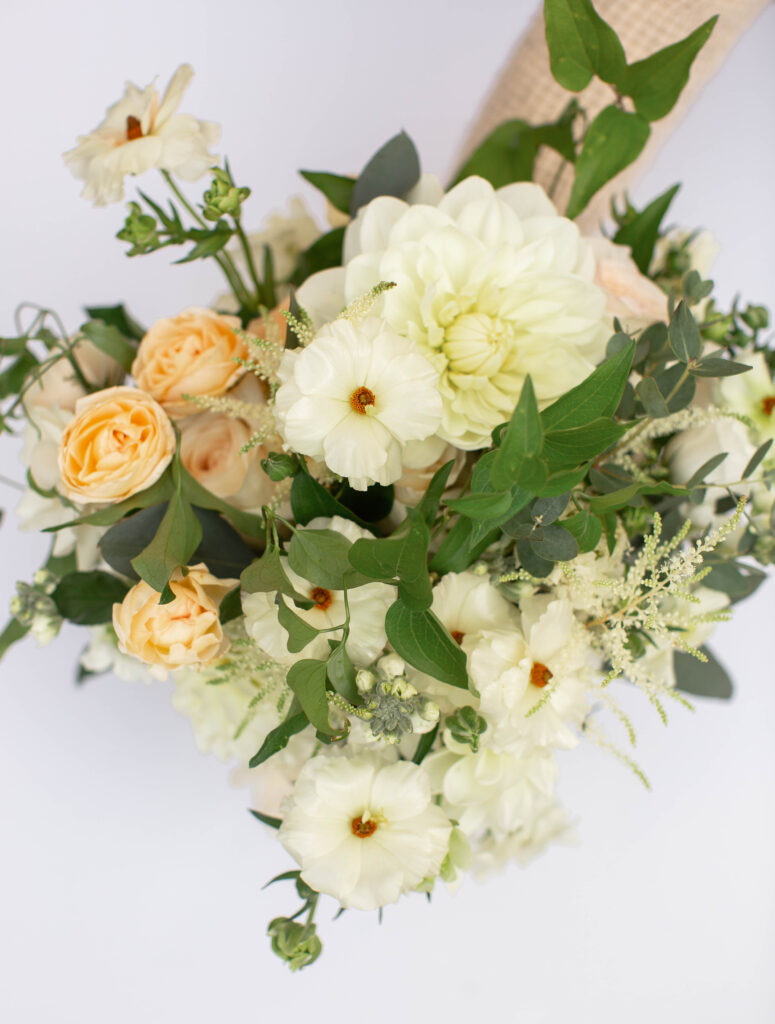 This week's Virginia weddings story comes from Anna and Conor, high school sweethearts.
Anna says they met when "I was a part of a volunteer group in middle school that went to various locations and did volunteer work. One of the locations we went to was Wheatland Farm, located in Purcellville, Virginia. The mission of Wheatland Farm is to provide an inclusive horseback riding, swimming program, and other services for children who have disabilities and their families, in a fun and inclusive environment. I went to help make easter baskets for a farm event and when I was making the basket for a boy named Joey, he started to get upset and cry.
"Right as he started crying, his big brother (my future husband), Conor, came and cheered him up and helped me finish Joey's basket. Immediately we started talking and laughing and struck up a friendship. When I loaded up in the van to go home with my volunteer group, Conor stuck his head in the door of van and asked me for my phone number. I gave it to him and giggled with my friends all the way home. We were friends from 7th grade until 10th grade, when he asked me out."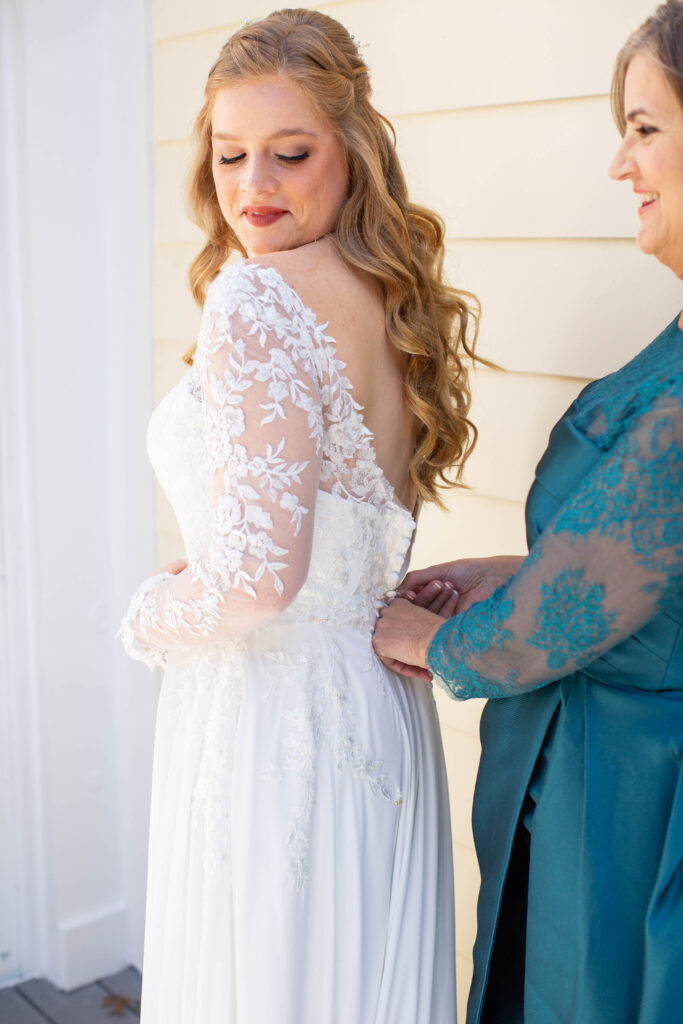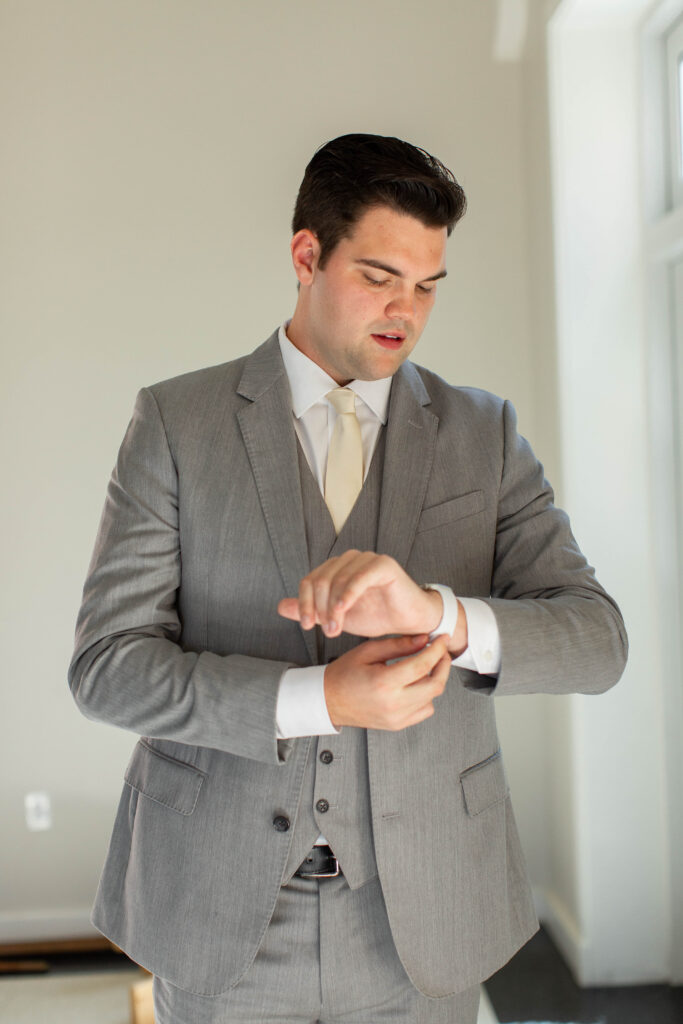 Conor shared the story of their first date. "Our first date was pretty cliché for a high school first date. I finally worked up the bravery to ask her out, and the best I could come up with was a movie. I couldn't really tell you much about what the movie even was, or what we talked about. But I remember two things very vividly. The first being that the girl I was on this date with was wildly more attractive than I was. The second being that we spent the majority of the evening laughing.
"We walked to a little burger joint down the street when the movie ended, and for the first time in my life, I found myself disinterested in a cheeseburger. I was having far too much fun with Anna. Let's just say, since then, we've gone on numerous dates of higher quality, and of course, cheeseburgers were involved in many of them. But my first date with Anna involved a night filled with laughter and an incredibly beautiful girl, and for those few hours, it was all I cared about."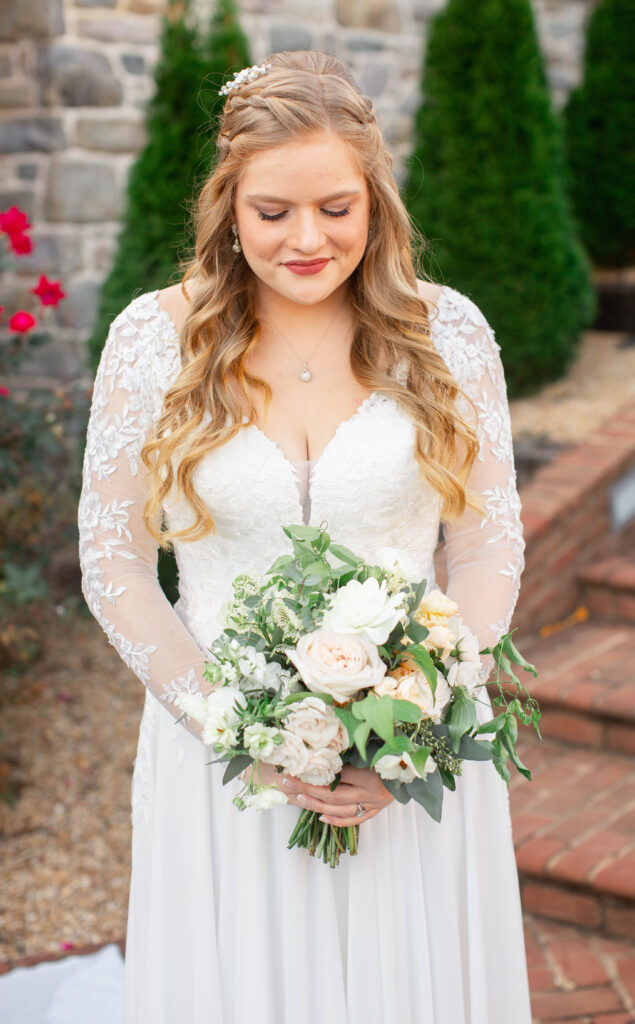 The Scoop
Bride: Anna Forrest, 23, Marketing Coordinator at ThunderCat Technology
Groom: Conor Forrest, 23, Podcaster and Freelance Sportswriter for multiple platforms
Wedding date: October 3, 2020
Number of guests: around 100 (maybe a bit over)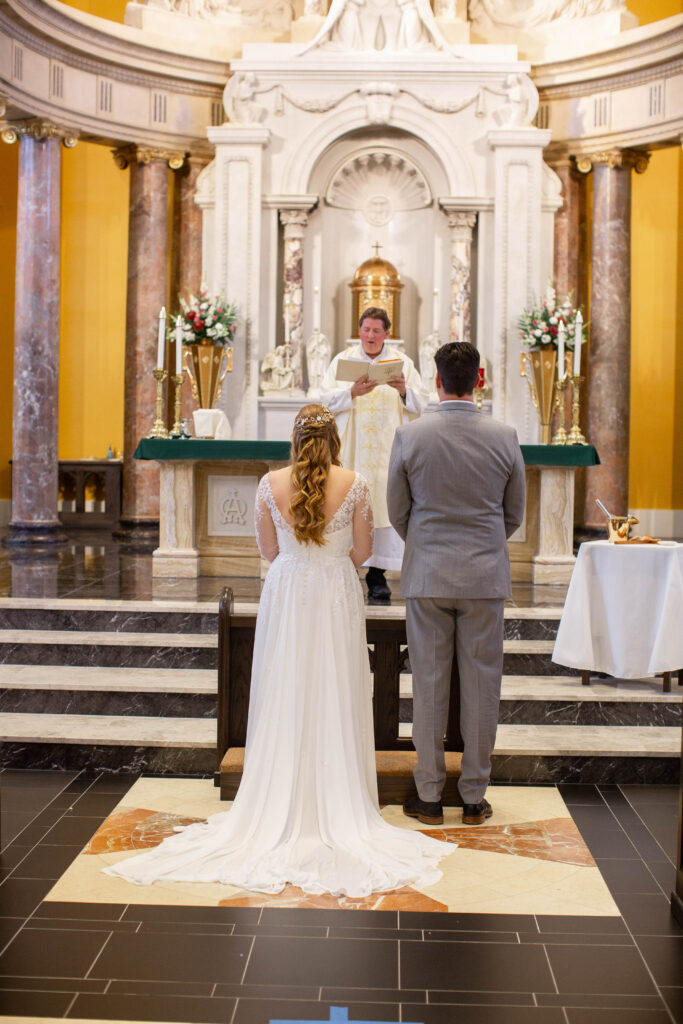 For their big day, they planned several special touches. "First and foremost, it was a long time coming. Since we were high schoolers, we both knew we wanted to get married. For us, it wasn't a question of if, but rather of when. That might sound silly since we were just 14 when we started dating, but we chose each other every day, worked through the good and bad and the highs and lows that come with being in a relationship. Our wedding day reflected that.
"We planned some really special elements to reflect the journey we had been on and all the important people who played a part in our love story. We got married at St. John the Apostle Catholic Church in Leesburg, Virginia. This church was really special to us, as we went to daily mass and spent lots of time there in the over 6 years of our dating relationship. We had Conor's brothers, Joey and Peter, be our ring bearers. They were wheeled in their wheelchairs in by Conor's Aunt and Conor's brother, Declan.
"Sadly, we weren't able to celebrate with all of our closest friends and family, as we got married in the thick of the COVID-19 pandemic. Conor's parents are both Irish immigrants, so we had the entire extended Irish family, and my grandparents and family members who could not travel to be there all live streamed in so they could be a part of the day. My paternal grandparents had passed on, as had Conor's brother, Johnny, and some other relatives who were very important to us, so we included their memories by having a memory table for them. Our First dance was ;Never Seen Anything Quite Like You' by the script, 'our' song. In general, we wanted the day to reflect us, our journey, and the people we loved most, so we designed it to be just that."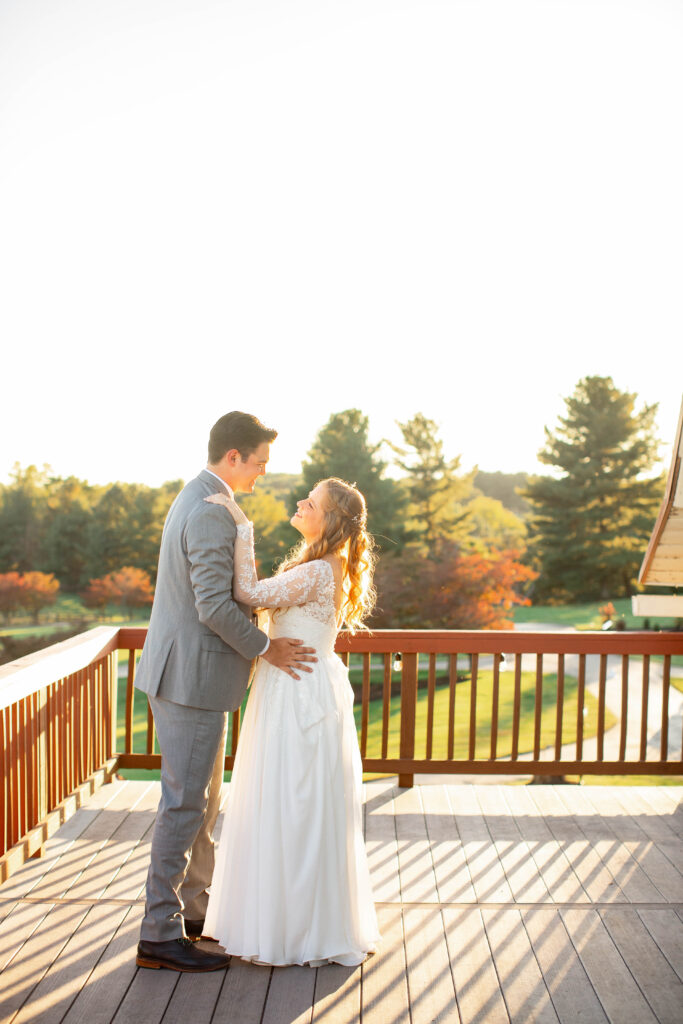 "I had a very flowy simple dress, with long sleeves and a lace top. It was just a shade off pure white, and it was exactly what I had been dreaming of. I didn't have a very normal wedding dress shopping since I planned the entire wedding during the lockdowns. Wedding boutiques were not open, so I bought dresses online, picked up wedding dresses from curbsides, and tried to find a dress that worked perfectly. There is a really funny picture out there somewhere of me standing on the bed with my sisters and trying to get the bedroom mirror far enough so I could see the entire dress in one mirror view.
"I ended up picking a Stella York dress that was bohemian, romantic, classic, and timeless all at the same time. I had a ballroom bustle to bustle up the dress for dancing. I got white lace Tom's shoes from David's bridal, so I could be comfortable for the entire day. I got my earrings from a Russian Esty shop, and my necklace from Macy's on a day I went Christmas shopping with my mom."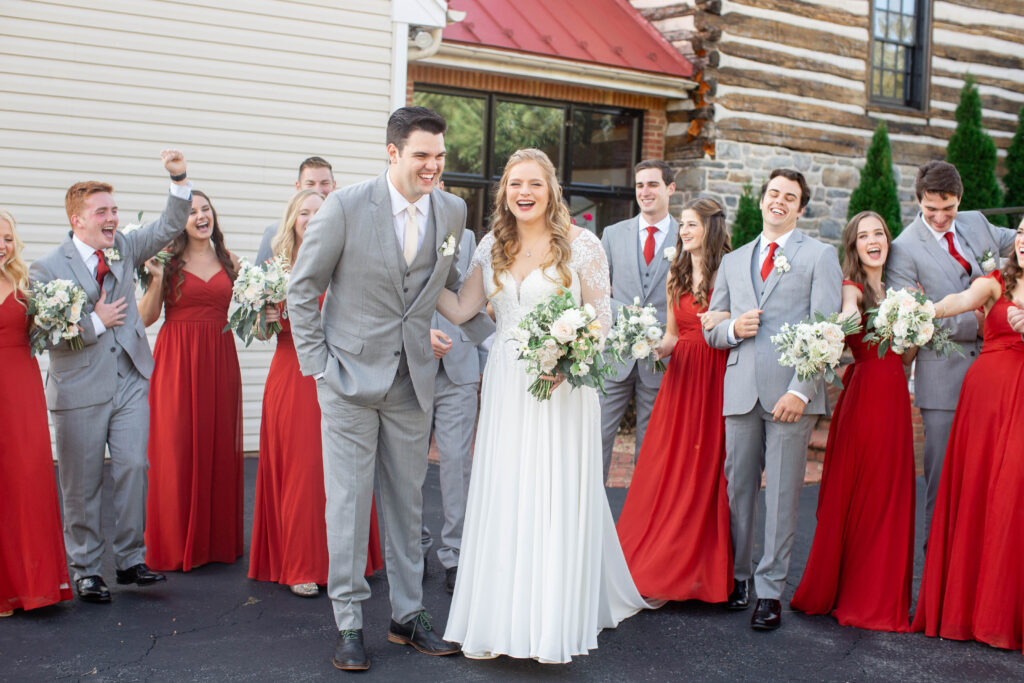 "The bridesmaids' dresses were in rust, from Azazie. I picked 5 styles bridesmaids could choose from but one color. In-person it was more of a burnt orangey rust color but shows up redder in the photos."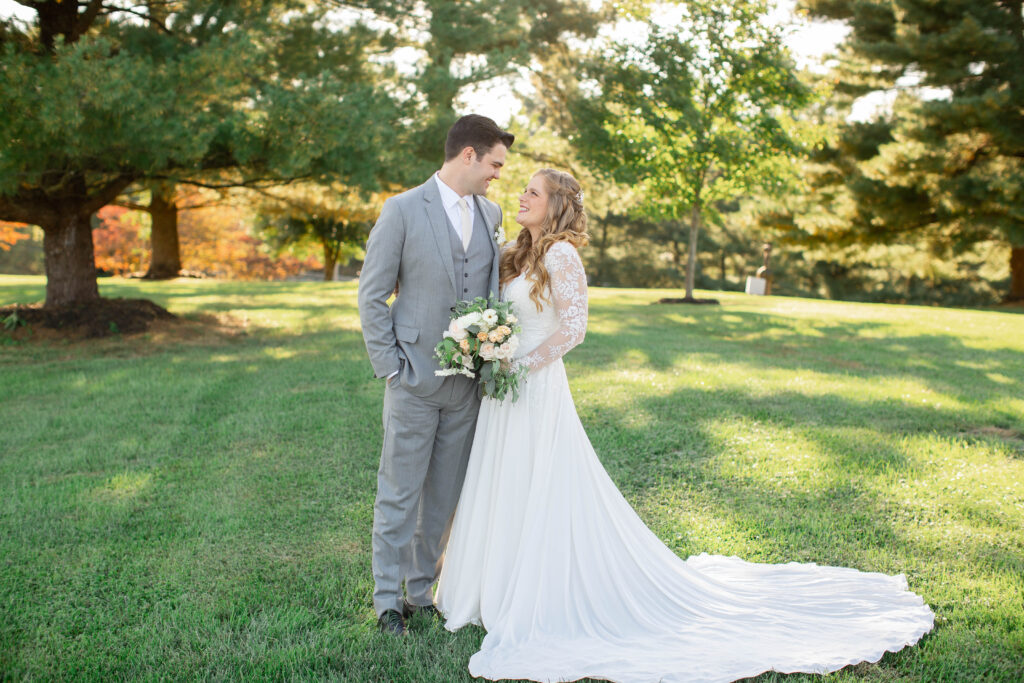 For their special day, Anna chose "ivory, warm yellow gold, and dusty green for my wedding colors. I choose red as a pop of color so the bridesmaids and groomsmen could stand out and be a part of the theme. The main objective was to have a very warm, rustic, and embracing feel as you walked into the barn. I wanted it to feel like a Maggiano's, just filled with dim light, candles, warm twinkle lights, and lots of ivory to just make the space feel incredibly romantic and timeless. Think of eating at an Italian restaurant in France or Rome, with candlelight being the primary source of light, and La Vie En Rose playing in the background. I really wanted my wedding to just be warm, and I chose the colors to reflect that desire."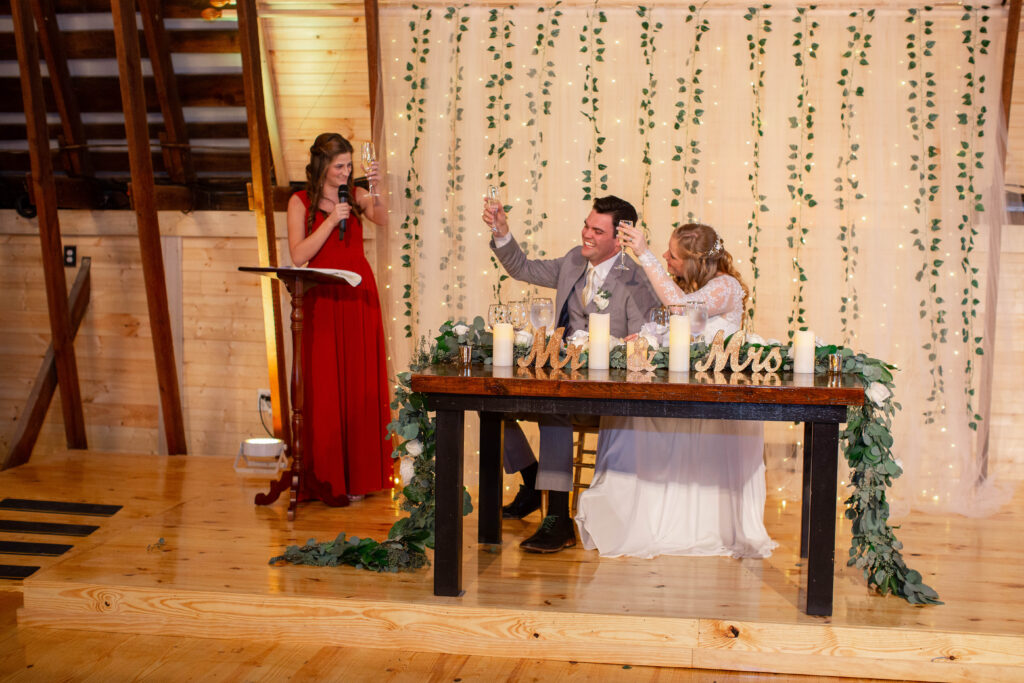 "The Venue was incredibly meaningful to Conor and me. Conor's family owns and operates Wheatland Farm, and we have both been volunteering for the farm for over 10 years (Conor even longer since his family owns, lives on, and runs the farm).
"When Conor and I were in high school, we used to go up to the barn, turn the chandeliers on, and envision what our wedding day would be like one day. We talked about having big farm tables, candles, and lots of family and friends about. We talked about how special it would be to have our photos of our wedding day at the farm since we would be taking our kids there one day to visit their grandparents and they could see where mom and dad got married.
"Planning the wedding was really easy because I had mentally planned it down to every last detail in my head so many times over at the very farm at which we finally did get married. The farm feels like home and getting married there was entirely natural since both of our families have been so involved with the farm over the years."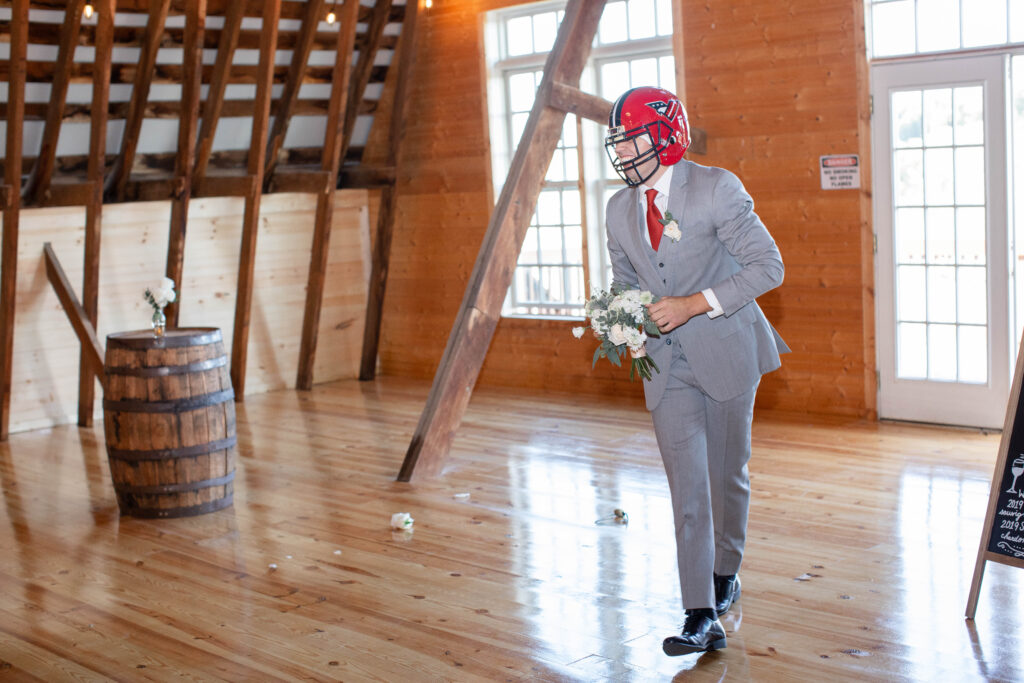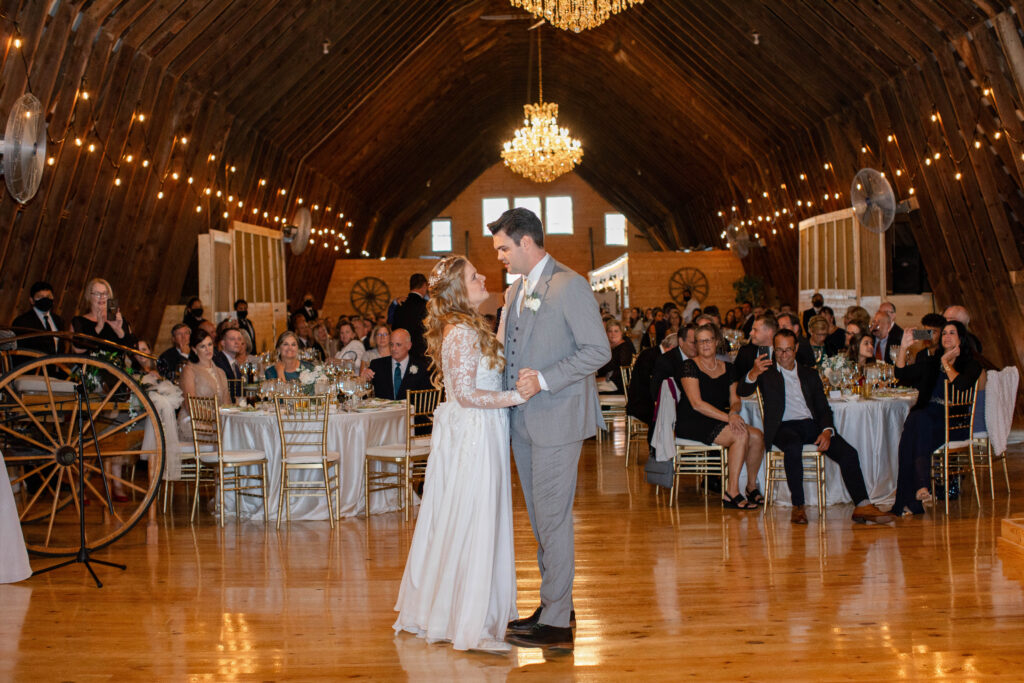 "Other than our incredible friends and family, we had a very small and simple day, with mostly our friends since COVID was still very real, and no vaccine was available. We were very sad to not have the overseas family, older family members, and many other friends and family with us on the day, but our relationship had seen other challenges in the past, so we embraced this, and celebrated with everyone from afar."
Anna and Conor chose to go with a timeless, classic, rustic with-a-farm-twist for their décor". It was very cozy and warm, but also had hints of Audrey Hepburn with gold votives, gold-rimmed china, and lots of greenery on each table. We used ivory tablecloths for the rounds, but long farmhouse tables without any tablecloths for a big portion of the tables. I wanted a natural, rustic, classic, and timeless feel the moment you stepped foot into the upper barn. I played a lot of timeless dinner music like Louis Armstrong, Dean Martin, and Frank Sinatra to complete the room, and used amber up-lights, gold votives, warm candle lights, warm crystal chandeliers (an amazing feature of the barn), and string lights down the sides of the barn to make sure it was very naturally lit.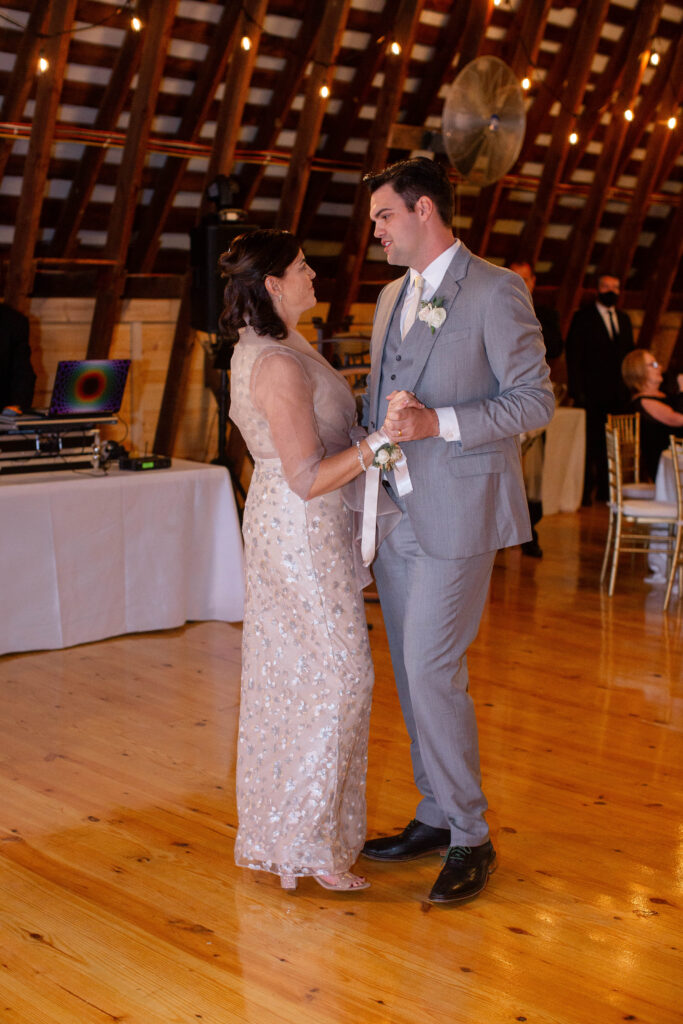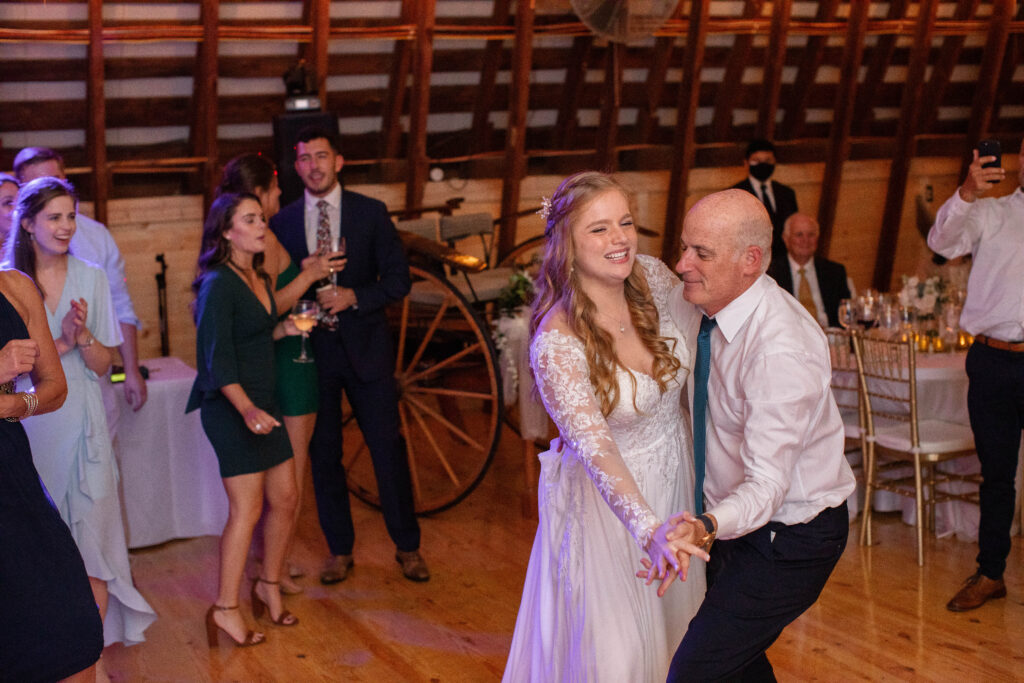 Anna leaves other brides with this advice, "Marry your best friend and choose each other every single day. Conor and I have been best friends for years, and even if we had gotten married in a mud pit, it would have been the best day of our lives."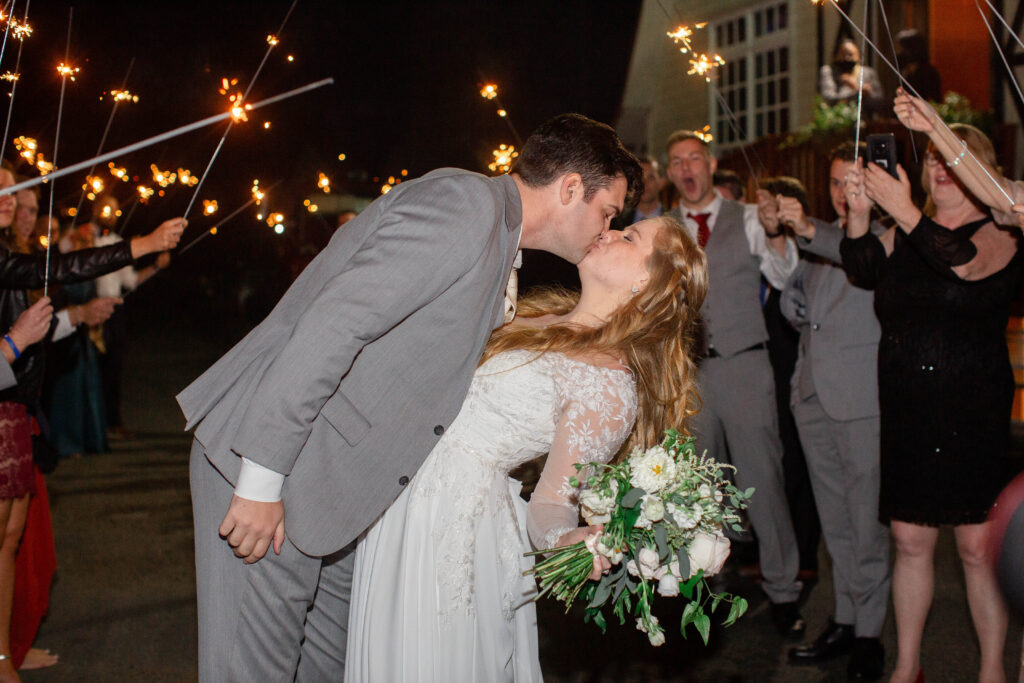 Vendor Credits
Ceremony Venue: St. John the Apostle Catholic Church, Leesburg, Virginia
Reception Venue: Wheatland Farm, Purcellville, Virginia, (703) 574-0511
Photographer: Kristen Cranham, kristencranhamphotography@gmail.com
Day of Planner: Fernanda Harman, Fernanda.harman@gmail.com
Officiant: Father Francis Peffley
Gown: Stella York Gown 6843 at Ellies Bridal, Alexandria, Virginia, (703) 683-8697
Shoes: Toms from David's Bridal
Hair: Ally Posey, (703) 899-1300
Makeup: Done by the bride (Swear by products: Urban Decay All-nighter setting spray, all of the mac matte lipsticks, Dior Airflash Spray Foundation, the POREfessional primer, and the Anastasia Modern Renaissance Eyeshadow Palette)
Bridesmaids' dresses: Azazie, styles to select from Raine, Everett, Daphne, Bianca, Bonnie, Tasha
Formal wear: Light Grey Suit from the Black Tux
Ties: Wide Matte-Satin from Azazie
Invitations: Shine Wedding Invitations
Flowers: House of Redman
Rental equipment: Sammy's Rentals
Catering: Casey Gardella at RSVP Catering, cgardella@rsvpcatering.com
DJ: DJ Dario provided by Bryan George Music
Cake: Lemon Pound Cake with Blackberry Yuzu Buttercream Filling from Liberty Baking Company
Favors: Personalized wedding chocolate bars by Just Candy and Hershey's
Transportation: Dulles Limousine
Honeymoon: Marco Island JW Marriott