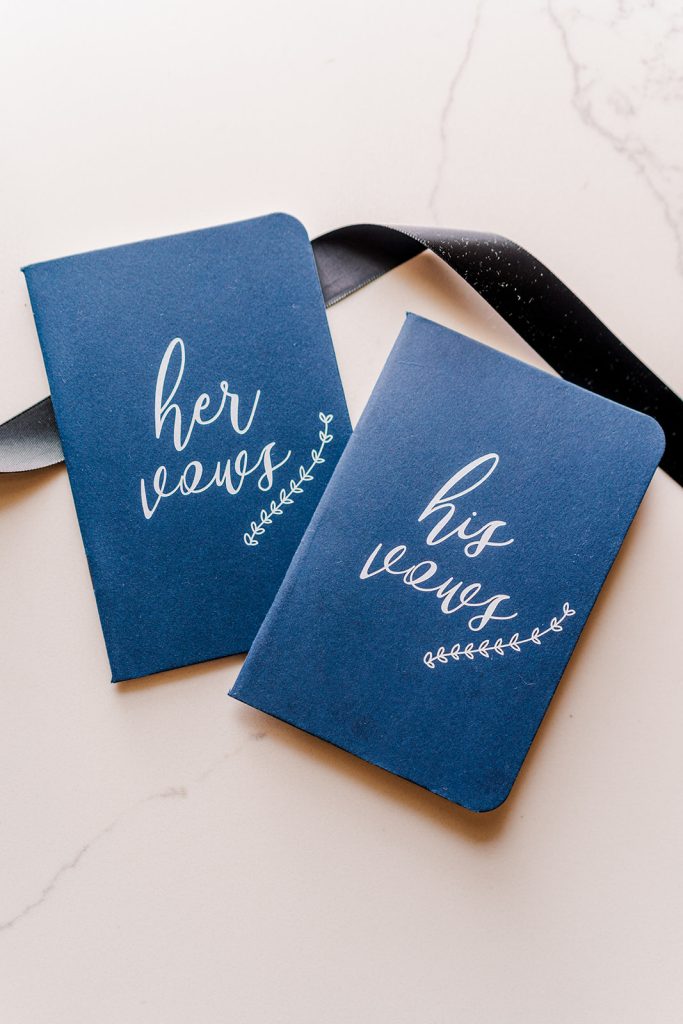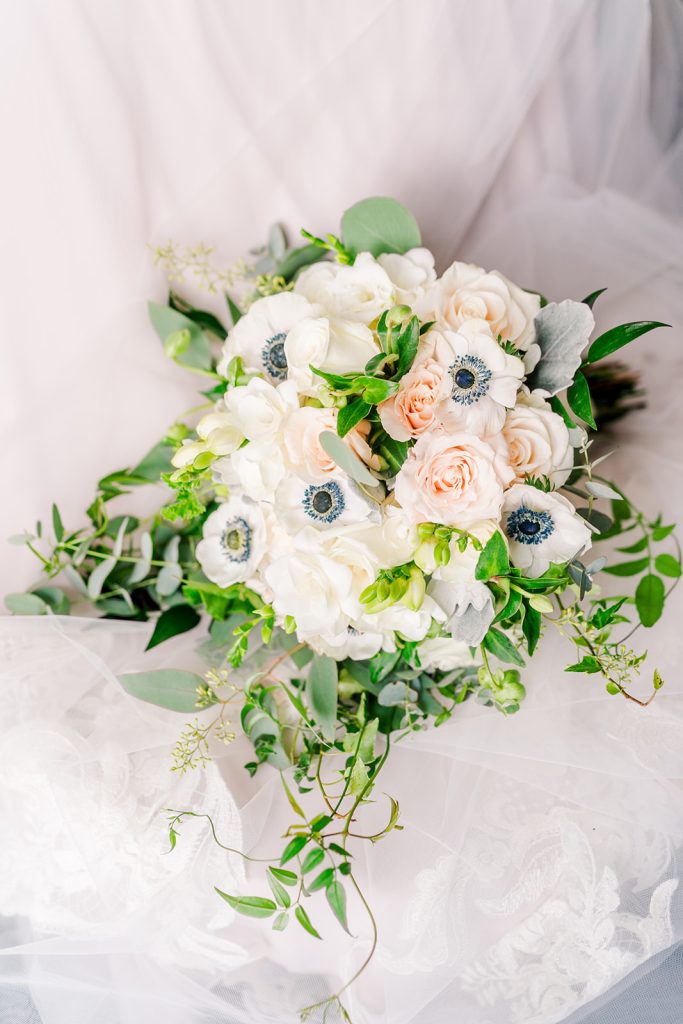 This week's real Virginia weddings tale comes from Alison and Michael as they said their I dos in D.C.
"Mike and I met in 2013. I was in my third year of medical school, and he was in his first year of law school. We met at a local bar in downtown Baltimore, close to Camden Yards. The bar remains one of our favorite spots to this day! We hit it off immediately; we enjoyed relaxed conversation, connected about the importance of family, and laughed about how tough being in school was, yet how we loved it. From there, we started jogging around Baltimore together as a way to date and stay active! Despite the chaos that is professional school, we found that being together refreshed us, made us healthier, and brought us joy. When I moved to Charlottesville, VA for residency, we managed a long-distance relationship and found our way back home to each other!"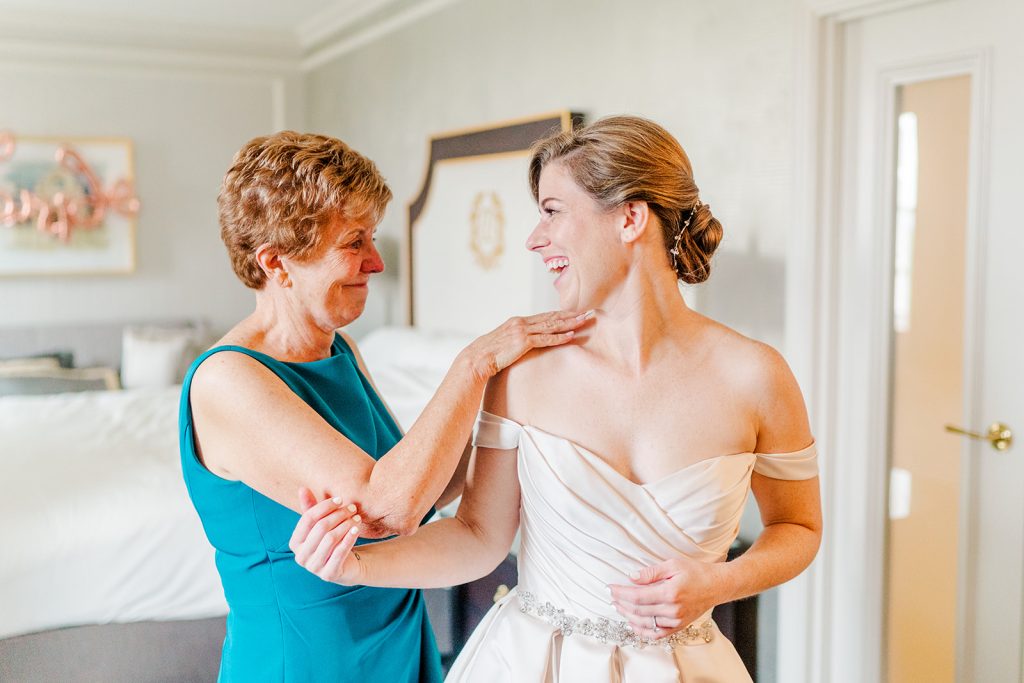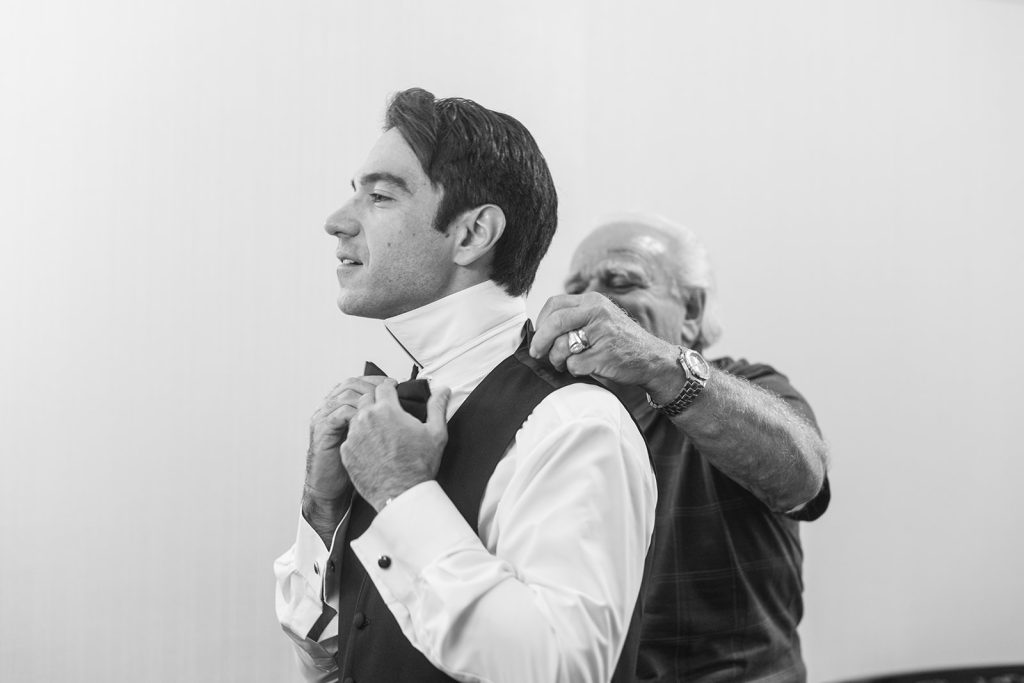 The Scoop
Bride: Alison, 35, Physician
Groom: Michael, 37, Attorney
Wedding date: 08/21/21
Number of guests: 215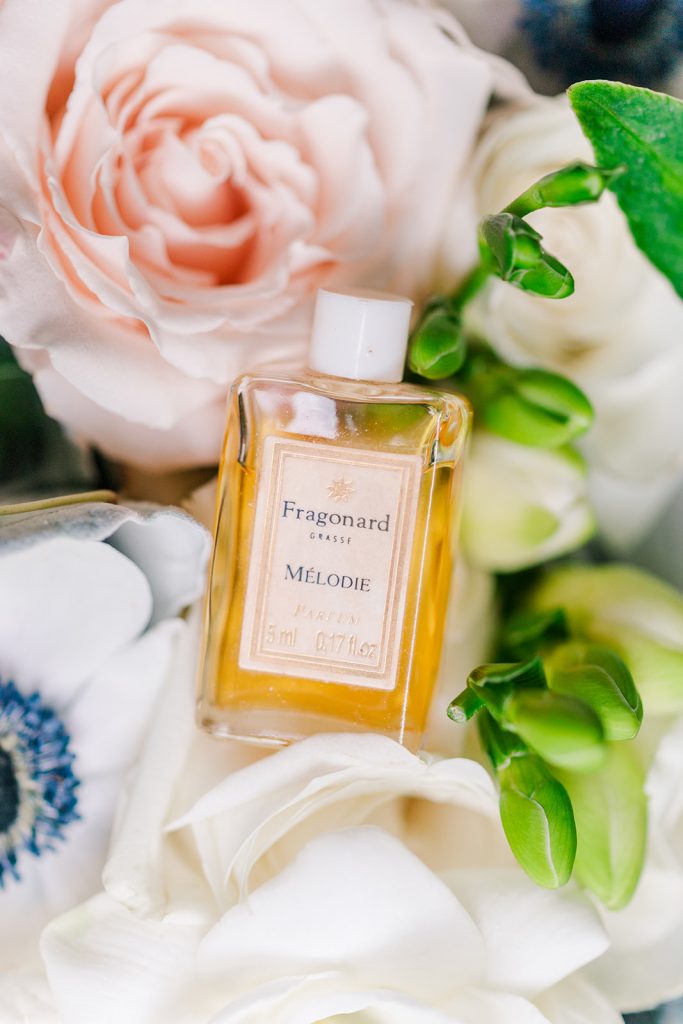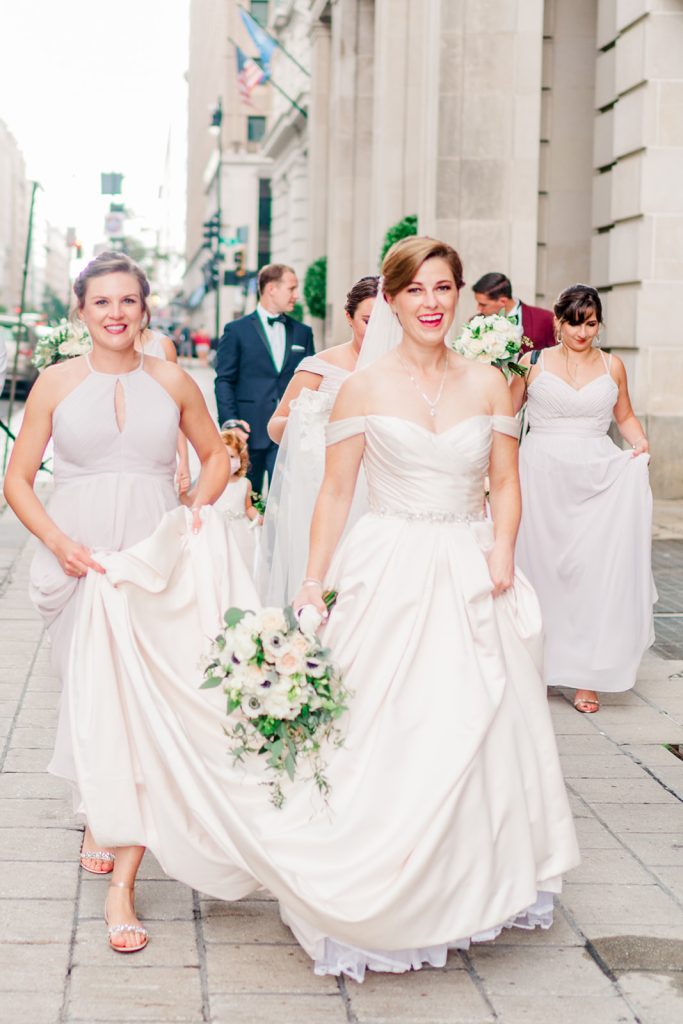 "Like so many other COVID plans, our wedding was pushed back and then pushed back again. As much as we wanted to celebrate and get married, we knew the importance of keeping our families safe. Instead of being stressed by round three, we were relaxed, flexible, and hoping for a fun celebration with our families and friends. The extra time gave us moments to plan the little things so that our personality was in nearly every aspect of our wedding. We hoped to contract with vendors that were meaningful to us. Our stationery was from the same shop as my mom and dad's wedding stationery in 1982. Our formal wear was from the shop down our street that we'd used on many occasions (some last minute!). Our venue was a place I had been years ago, and I'd dreamed of ever since! My perfume was a gift from my maternal grandfather after a trip to Paris 25 years ago. The list goes on, but most importantly, our officiant was one of our closest friends!"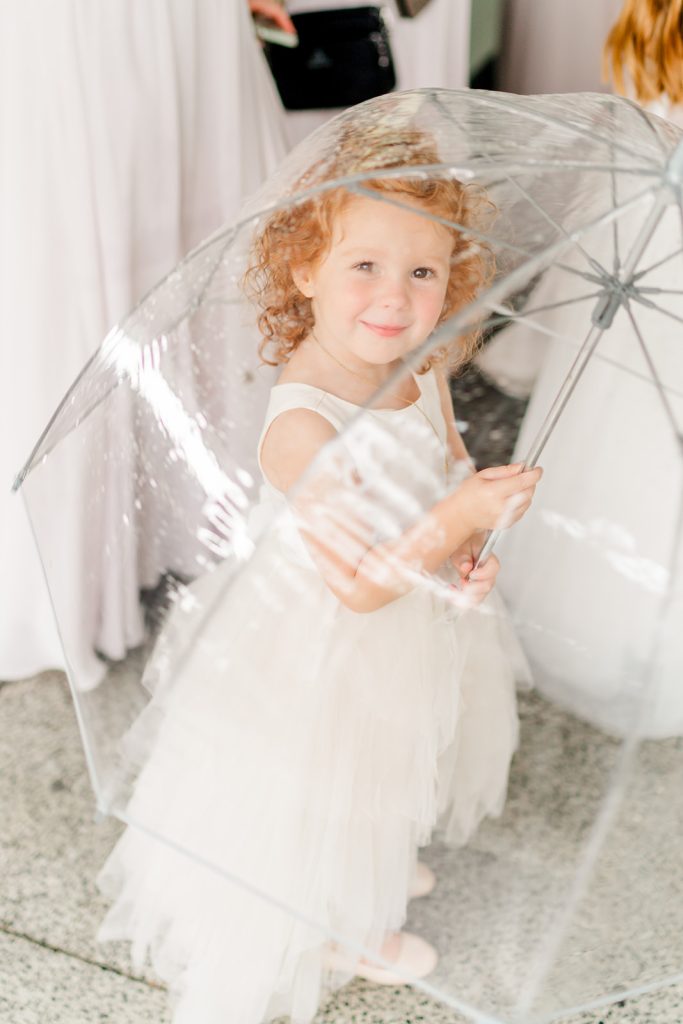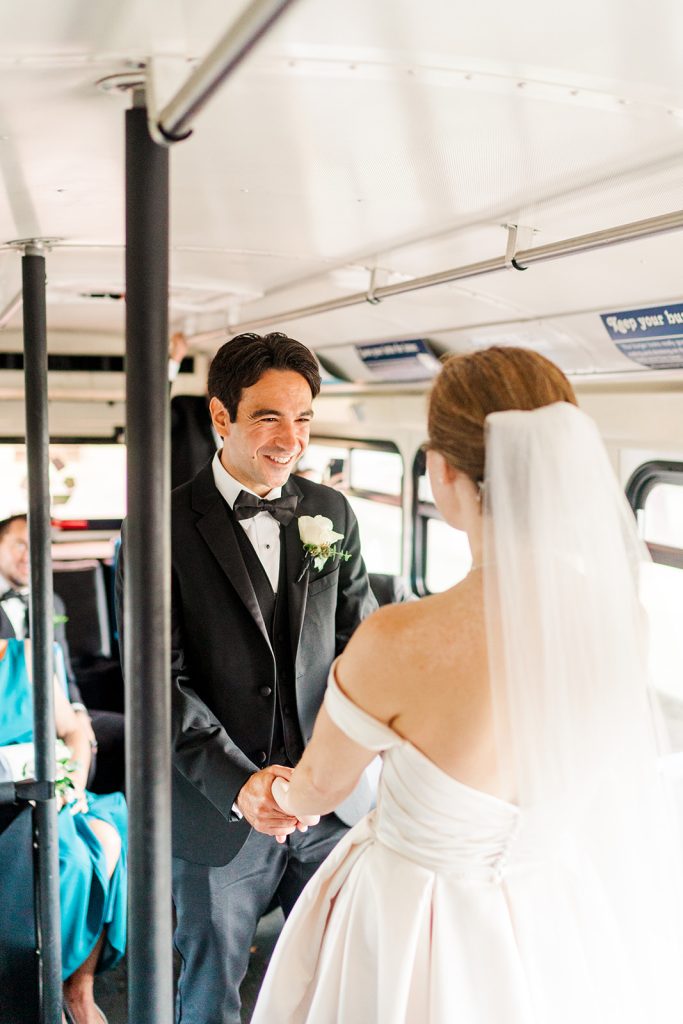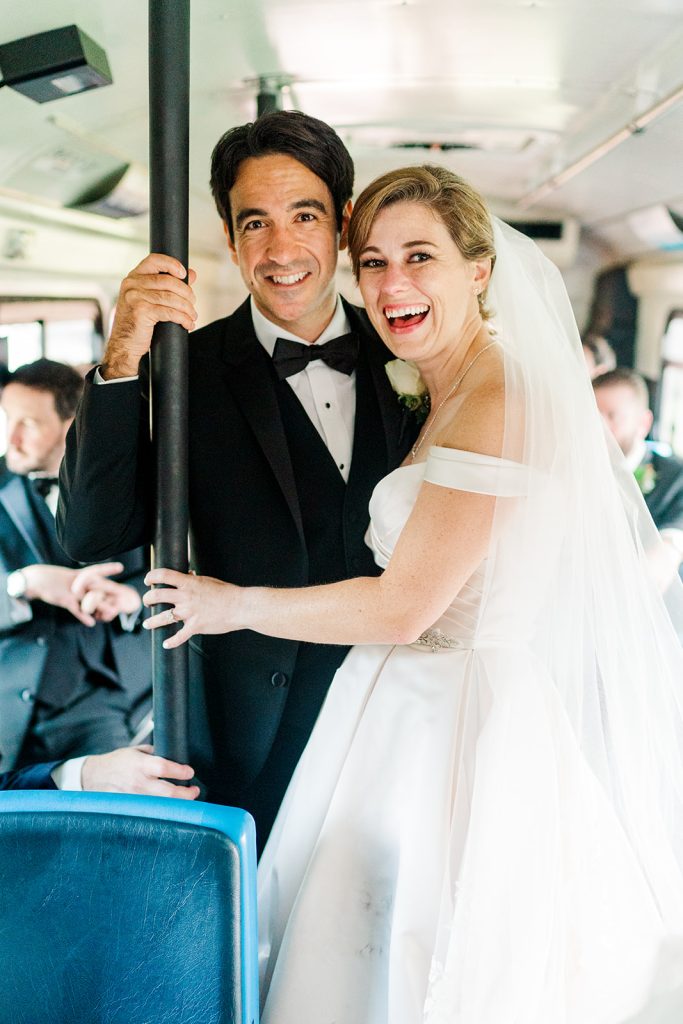 "Our ceremony had Jewish elements to celebrate Michaels' maternal family. His grandmother, 96, blessed the marriage during the ceremony and oversaw the Ketubah. The chuppah was covered with a prayer scarf belonging to Mike's great grandfather, over 100 years old. Mike's cousin, Harris, is a composer and wrote a new piece just for our ceremony – an incredibly special gift. Our bridal party was important to us, so instead of us being introduced last, we were introduced first so that we could meaningfully introduce our bridal party and tell a bit about them! Our table settings were handmade by me with corks from wine that we had shared with the person. One of our favorite pastimes is playing music. We sat in with Chico's Vibe, our awesome band, for one planned song (The Band's Ophelia) and one unexpected encore (Creedence Clearwater's Proud Mary). This was most certainly Mike's favorite part of the night! My brother, Raleigh, was deployed to Syria at the time of our wedding, but I wanted him included, and so there were "Flat Raleigh's" just about everywhere for people to take pictures with (just like Flat Stanley from elementary school.)"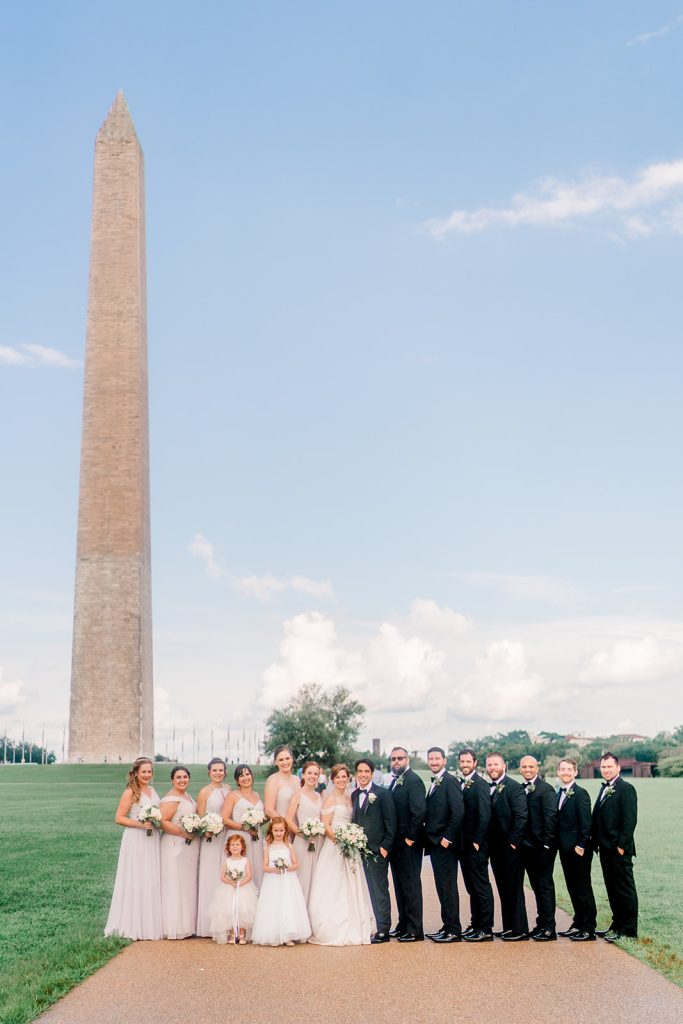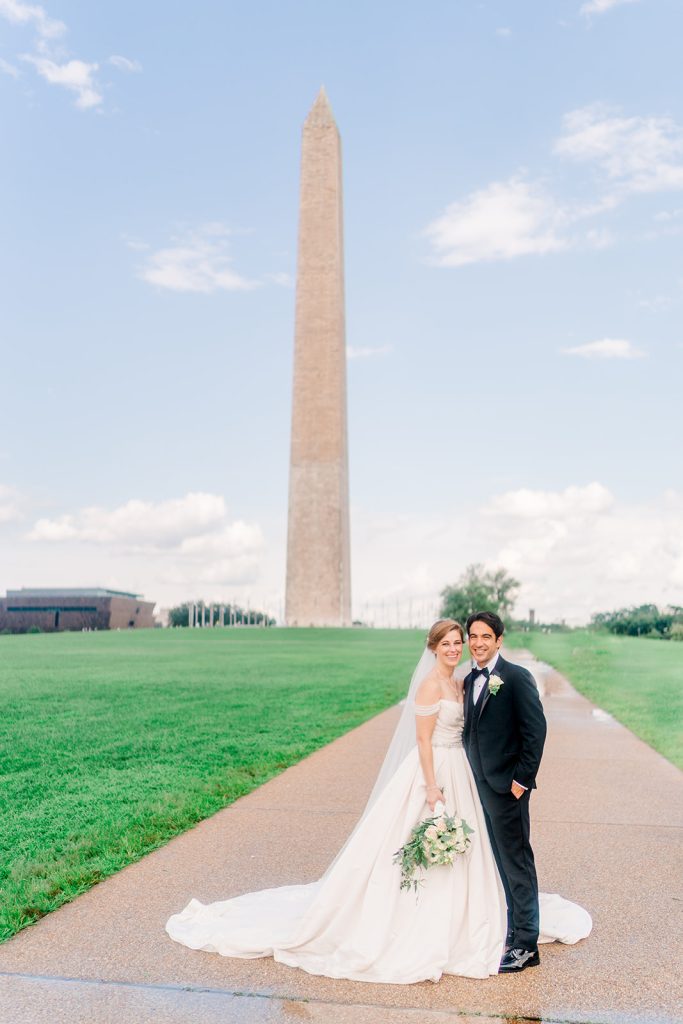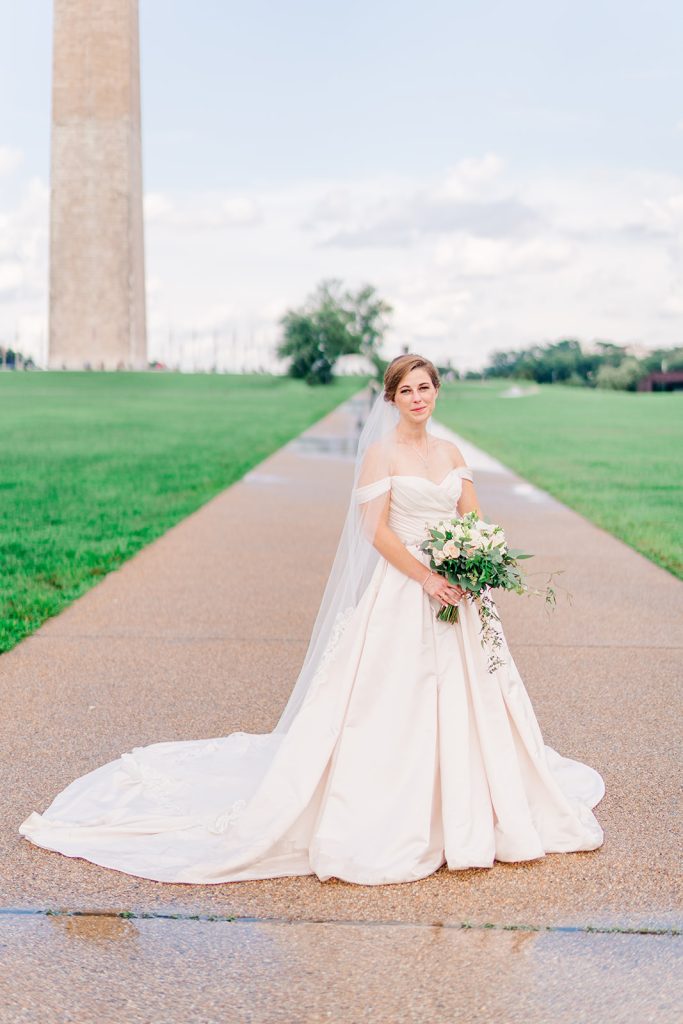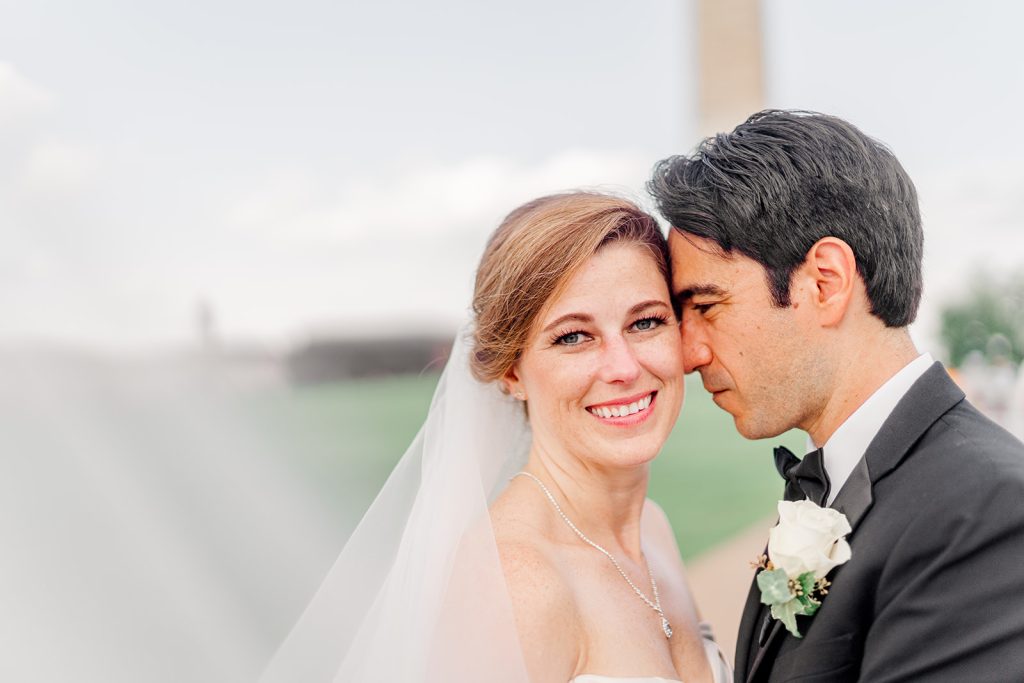 "We highlighted the fact that our families and friends showed us how to love by compiling their own wedding pictures and displaying them at the reception under the Chuppah. It meant a lot to us to have a piece of all the weddings that came before as part of our big day. Finally, the last song of the night was Toto's Africa – our intended honeymoon that couldn't happen safely during the pandemic. At the end of the song, our guests threw paper airplanes all around us – a tribute to travel and my dad who is a pilot."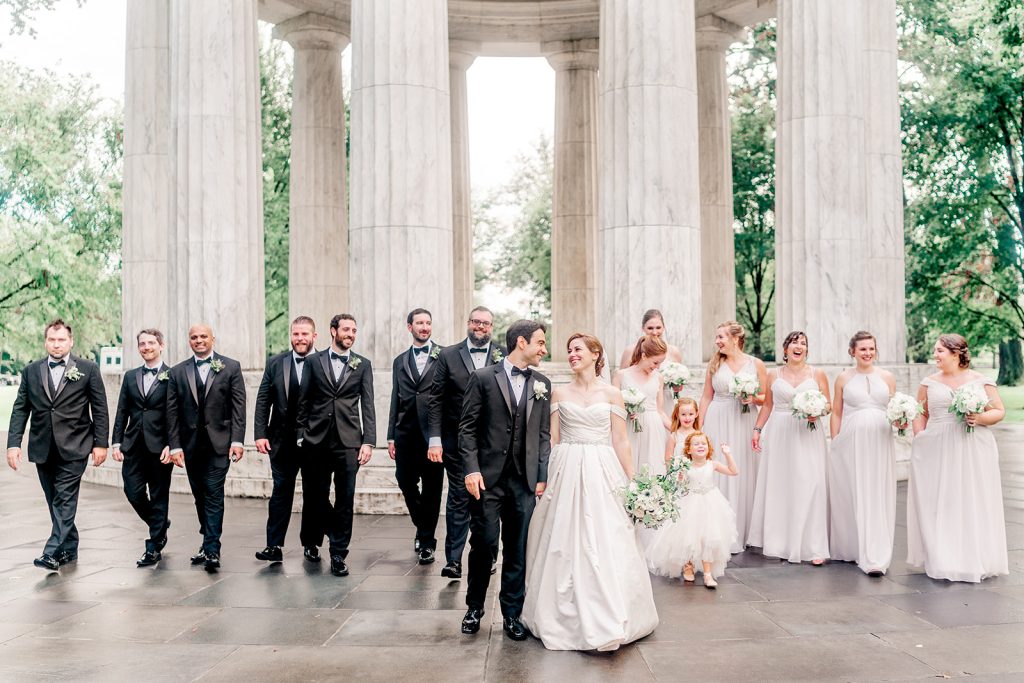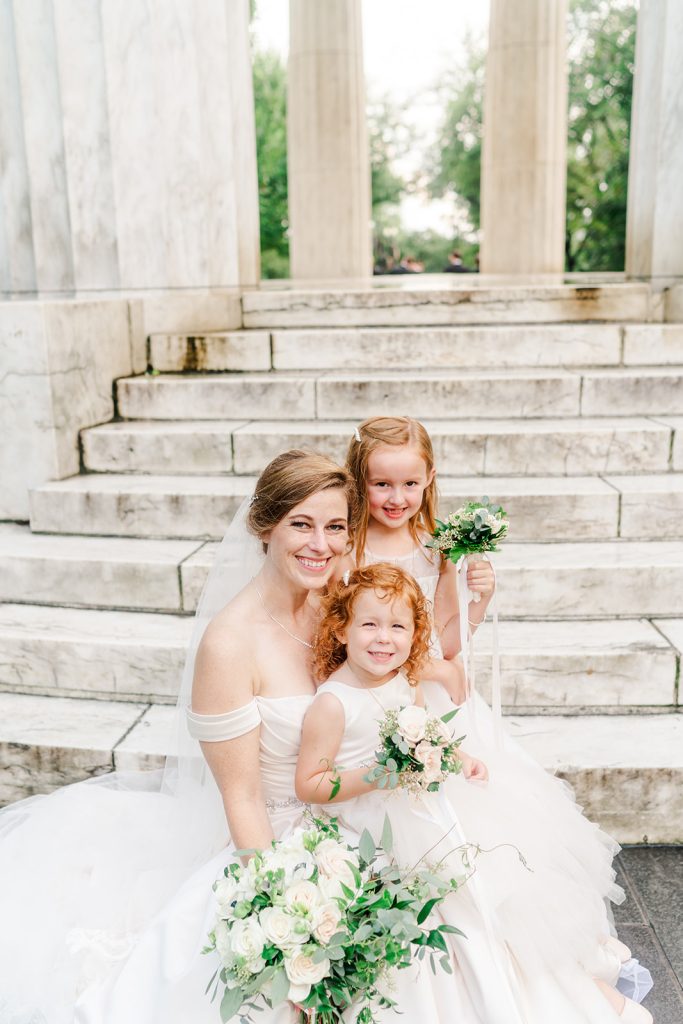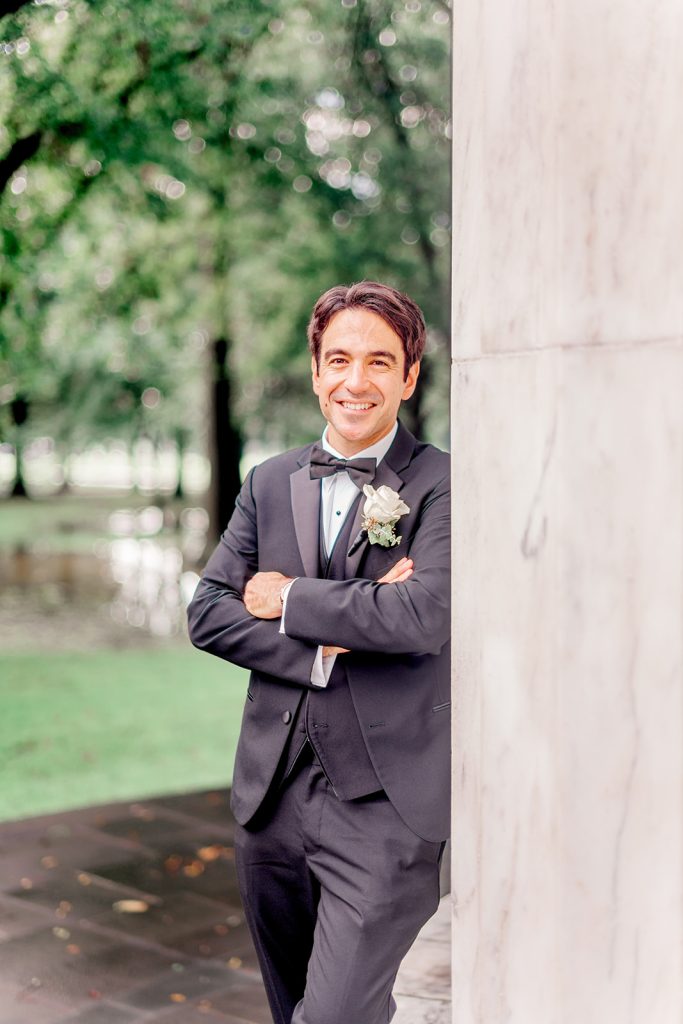 "Instead of buying new, I decided to keep my family close and use two family wedding bands as my own. One band was my paternal aunt's. She gifted to it to me after her husband passed away 6 years ago. The second is my paternal grandmothers from the 1940's – these were my something old. Now, I only wear my aunt's band because my grandmother's is a threadbare treasure, and I wouldn't risk losing it! My mother gifted me a Tiffany's heart bracelet on my wedding day – a tradition in our family – which I happily wore."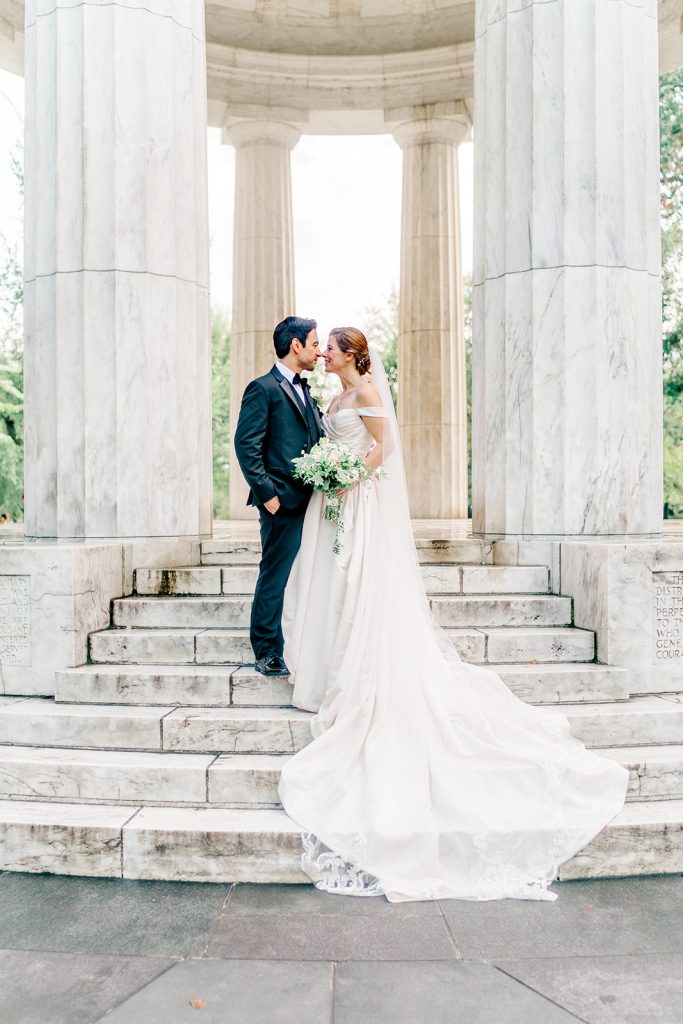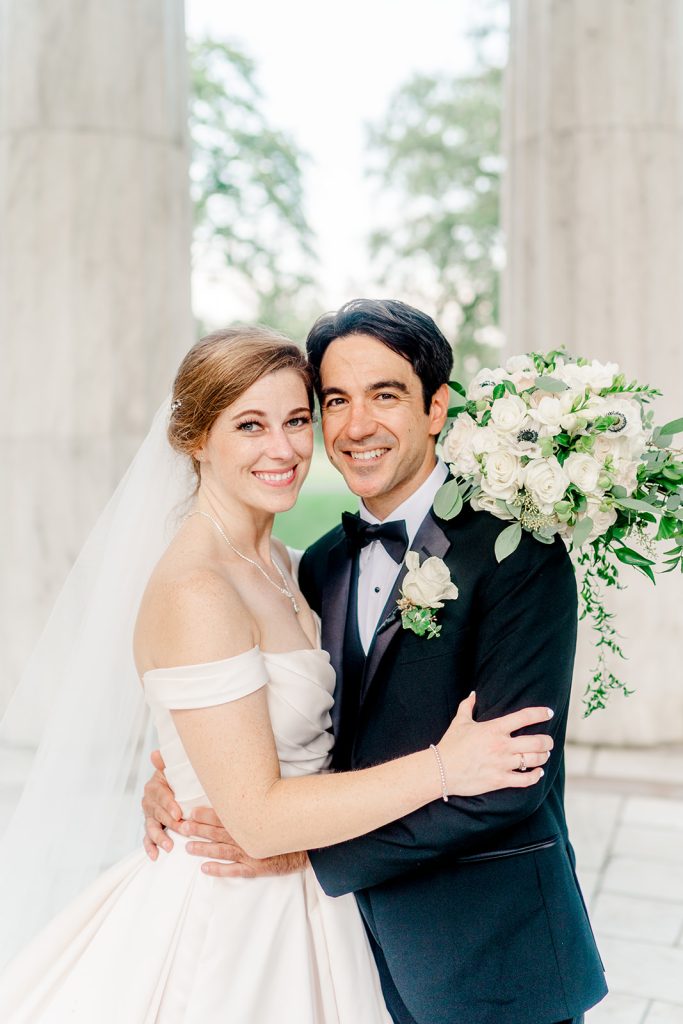 "I dreamed of a classic wedding and wanted a ballgown. I requested for my train to be extended to 12 feet! It was magical and exactly what I wanted – with pockets. (A note to future brides – long trains are heavy and beautiful. But if it gets wet in the rain, they are extra heavy. Consider that when taking your photos!) On the morning of the wedding, each of my bridesmaids and moms sewed a stich of a blue heart into the skirt of my dress, my something blue. This matched my matron of honors sewn blue heart from 10 years earlier."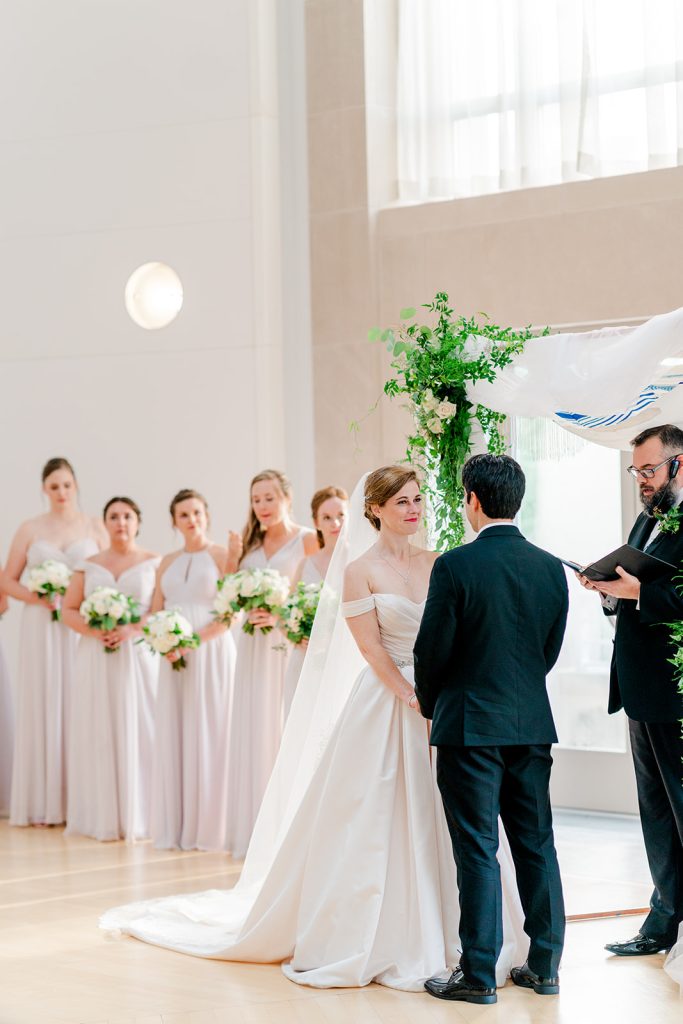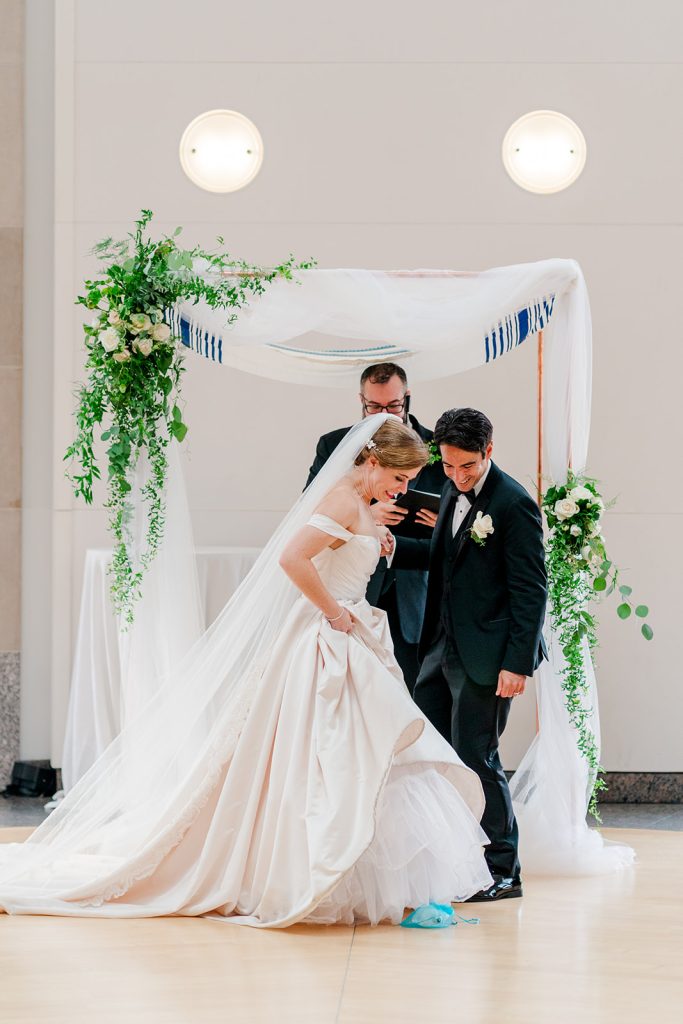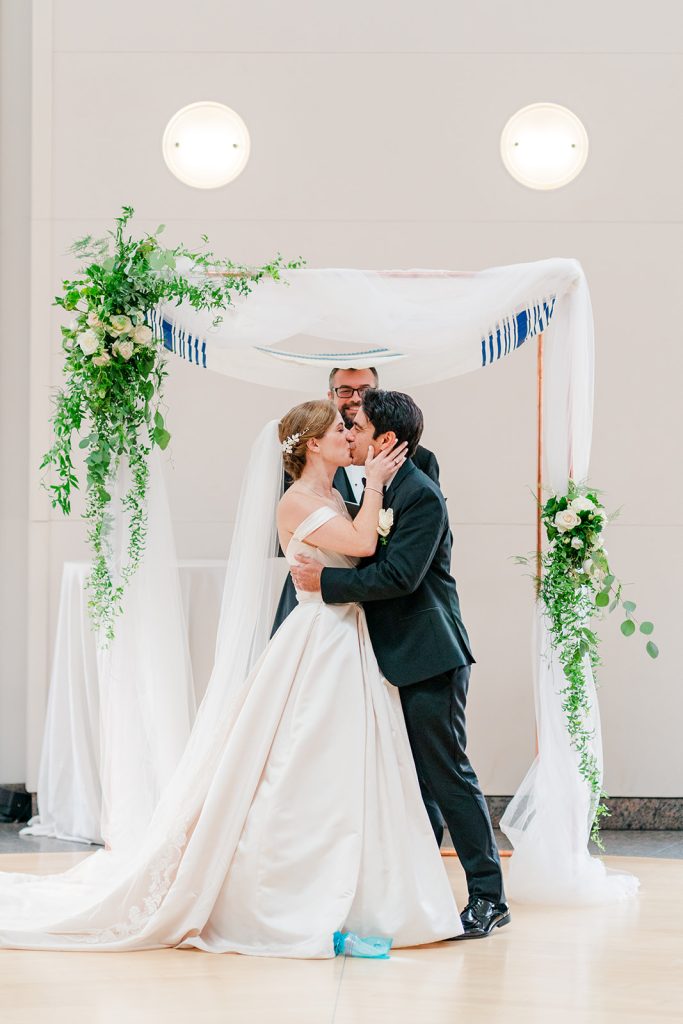 "Given our multiple changes in dates due to COVID, I decided on a neutral palate that would match any season – we decided on taupe for dresses. They were from Kennedy Blue and ordered more than a year ahead of the actual date. Oops! With multiple pregnant and postpartum bridesmaids, I would say wait until much closer to the wedding to buy those bridesmaid dresses!"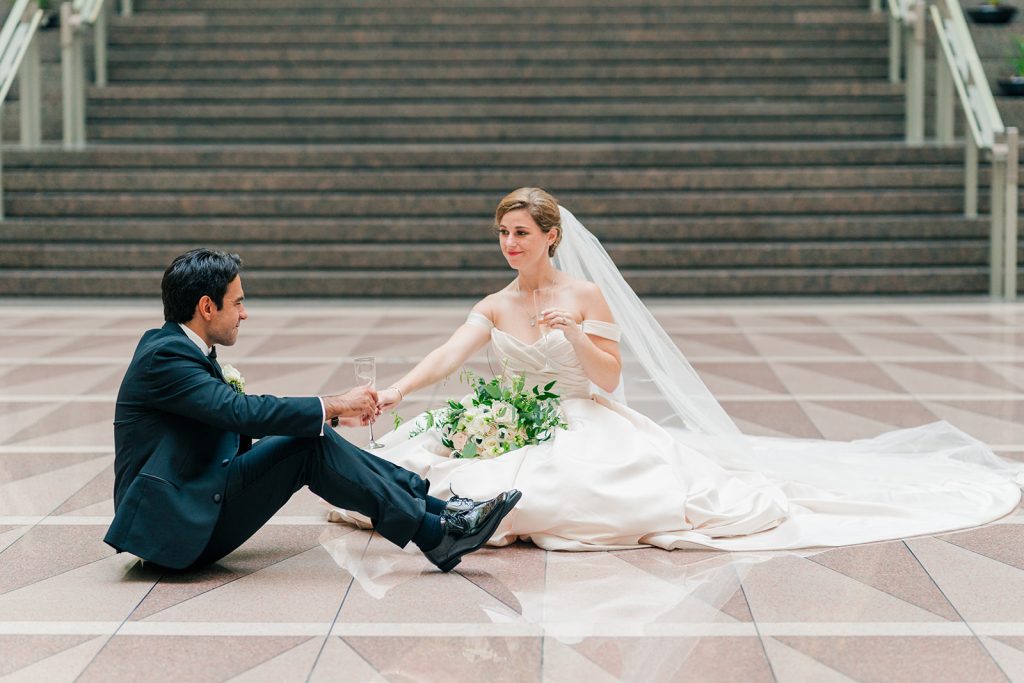 "I would have loved to have a fall wedding color theme, but with so many rescheduled dates, we wanted to have an easy theme that would look great no matter the season or weather. We were happy with the light and airy neutral colors – it made the day feel bright and ethereal."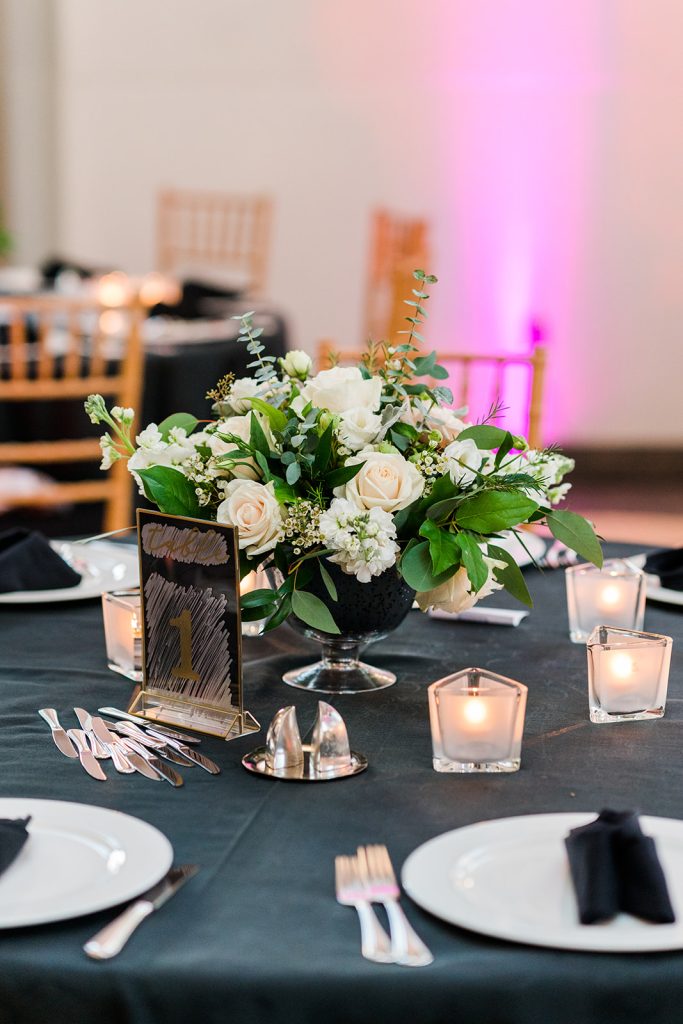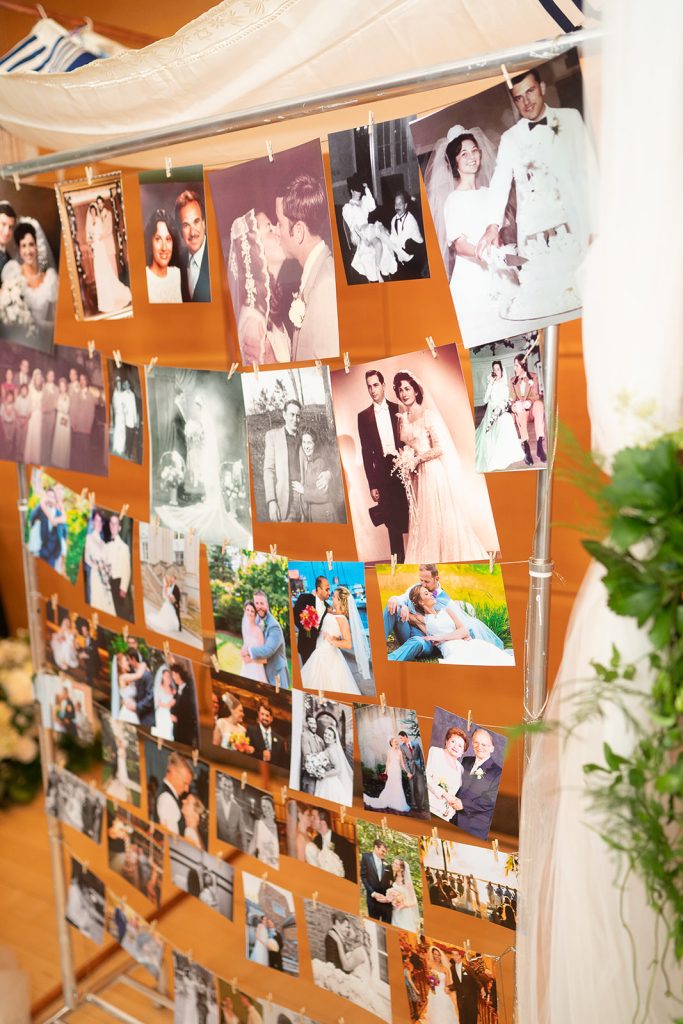 "Mike and I both worked in downtown DC and wanted it to be the backdrop of our wedding day. I remember going to the Pavilion Room at the Reagan Building over 15 years ago for another event, and I fell in love with the space. The staff do a wonderful job of transforming the room from ceremony to reception."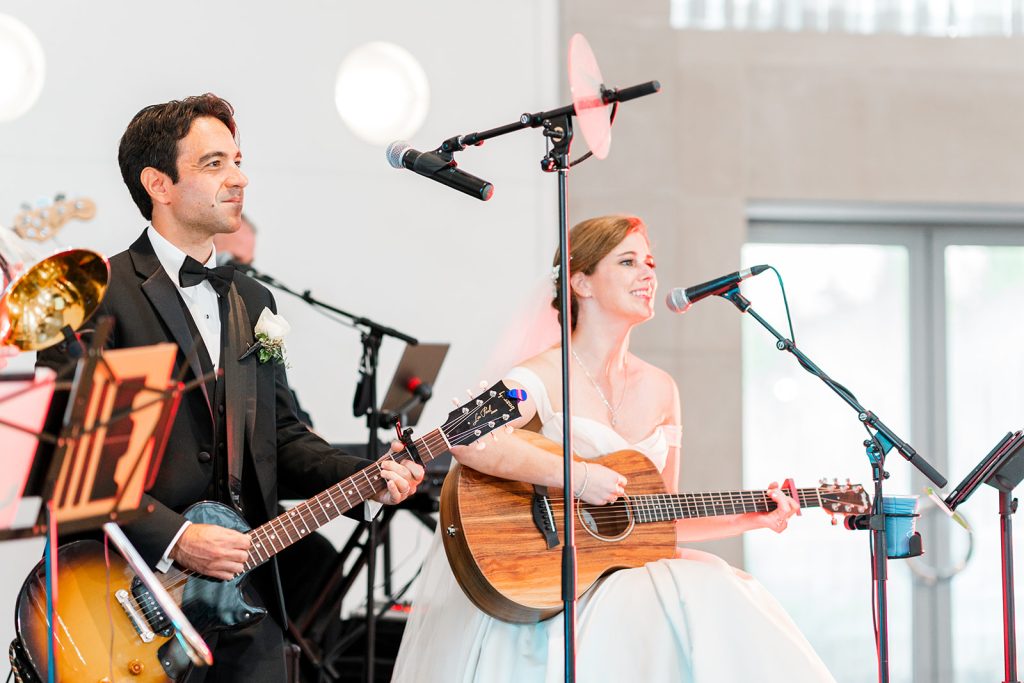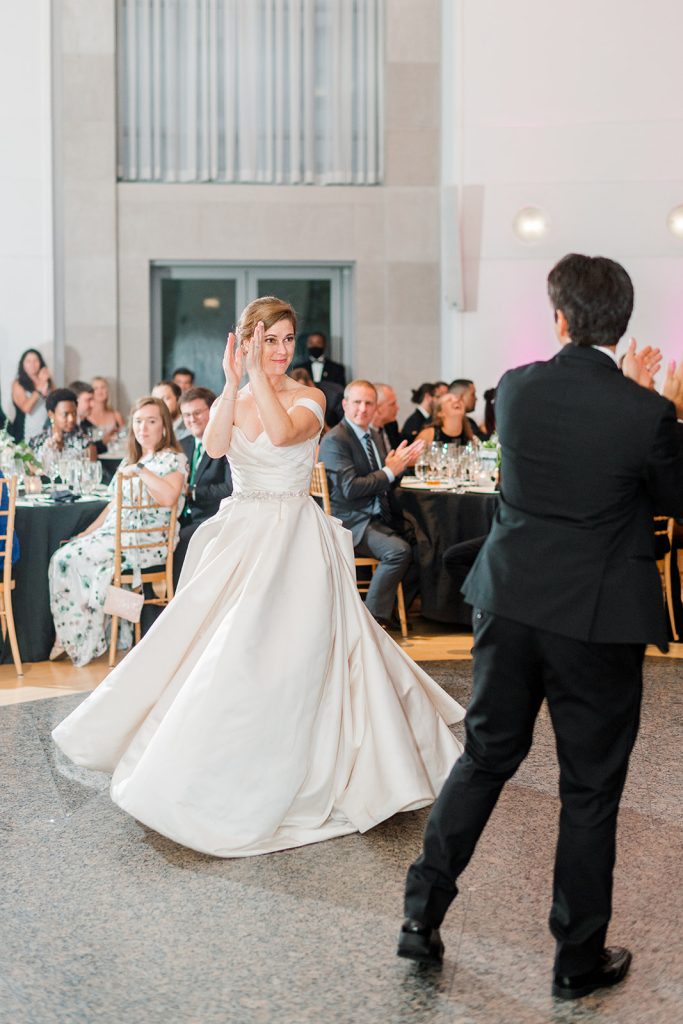 "We did not have one special guest, we had a group of the most important people in our lives. Our only surviving grandparent, Ada, danced until we closed down the place! We hugged our entire extended family, including nieces, nephews, and second cousins. My flower girls wore white with me and snuggled with me – I met them both on the first day of their lives! Colleagues from both Mike and my professional lives have become our friends and celebrated with us. Nine generations of my sorority 'big sisters' came from across the country to be together. It was the most amazing gathering of our people."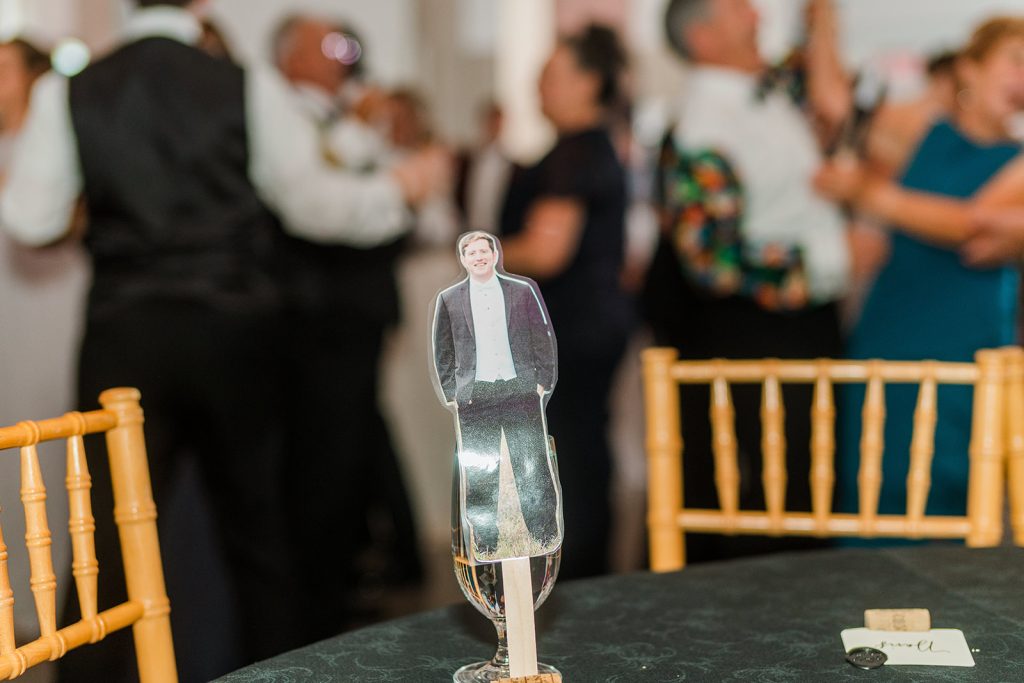 Alison leaves us with this advice for others planning their own big day: "There will be things that go wrong. On our wedding day, it poured rain, one of the groomsmen did not have pants with his tuxedo, and we were nearly an hour late to the ceremony because our bus driver got lost in DC. Who cares?! The rain made for beautiful photos and my bridesmaids Shout-wiped my dress to bring it back to life (key: keep shout wipes on hand.) Dorian from Lustre formalwear was a savior – she got pants for us in a blink of an eye. No one was upset with us for being late to our own party. It was much more important to look around and enjoy the company you are in. Look at your partner. Actually look! Hold hands with your best friends beside you. Sit down with your mom, dad, or whoever you love and laugh with them. It's the small moments that make a big day."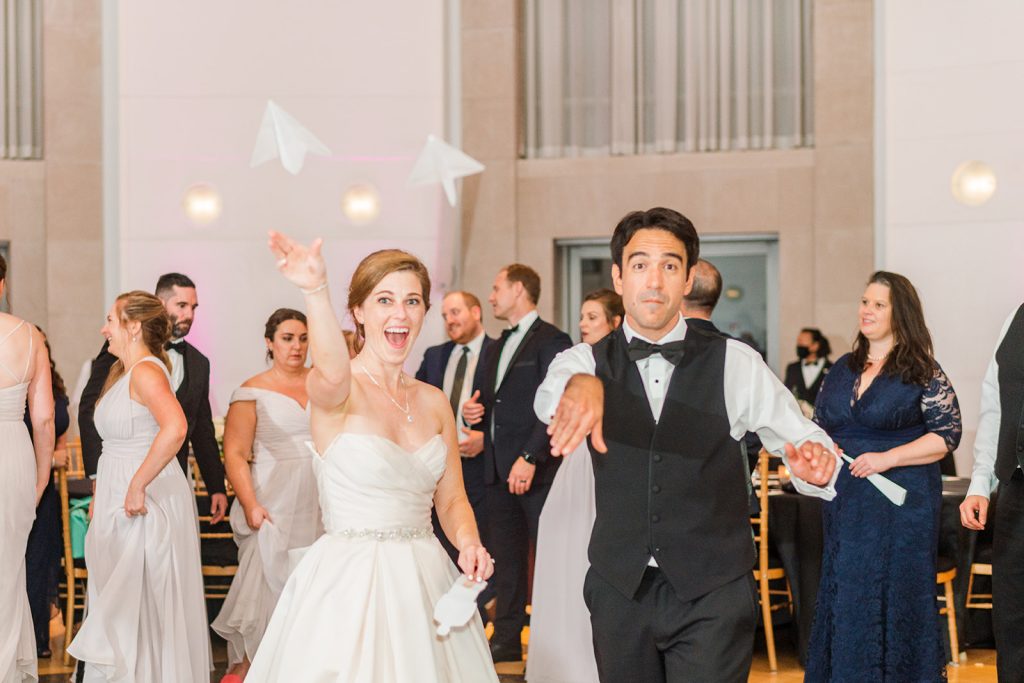 Vendor Credits
Venue: Ronald Reagan Building and International Trade Center
Photographer: Brooke Tyson
Month-of-planner: Joanna Higgison with Touche Special Events
Officiant: Chris Ramig (a close friend)
Gown & Veil: Urban Set Bride
Shoes: Badgley Mischka
Hair & Makeup: Perry Warren
Bridesmaids' dresses: Kennedy Blue
Formal wear: Lustre Formal Wear
Invitations: Reaves Engraving
Flowers: Holland Flowers and Wedding Loft
Catering: Ronald Reagan Building and International Trade Center
Music: Chico's Vibe
Cake: None (Krispy Kreme donut, instead!)
Favors: Krispy Kreme Donuts
Where did you go for your honeymoon? No pandemic honeymoon for us. Maybe one day!