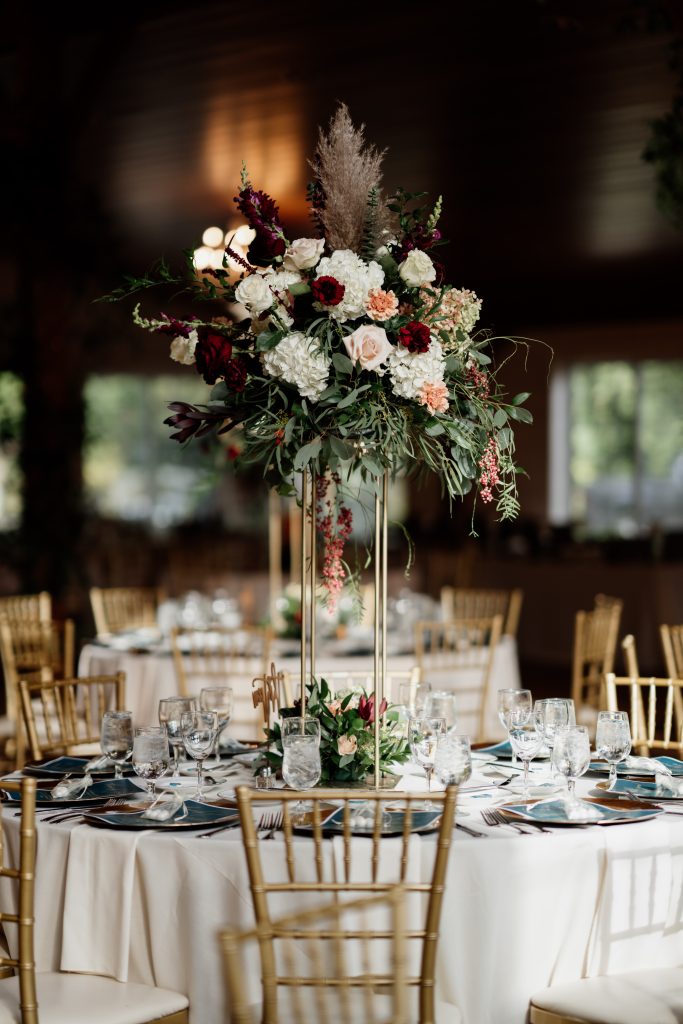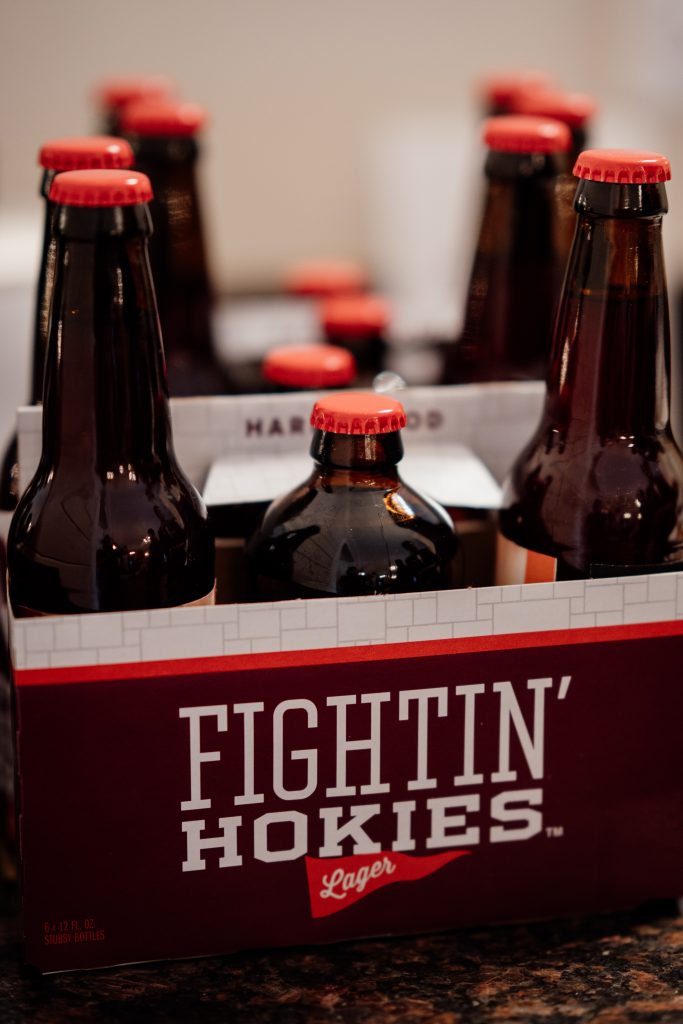 This week's real Virginia wedding comes from former students of Virginia Tech. Stephanie says, "We met at an off-campus house party while with mutual friends. I had just transferred from another university about two months prior to meeting and I was still getting used to the Blacksburg area. At the end of the night, Christian offered to walk me home after realizing we both lived across the street from one another. I remember thinking "I'll never see him again!" Little did I know that was just the beginning of so many memories we would make before graduating in 2017.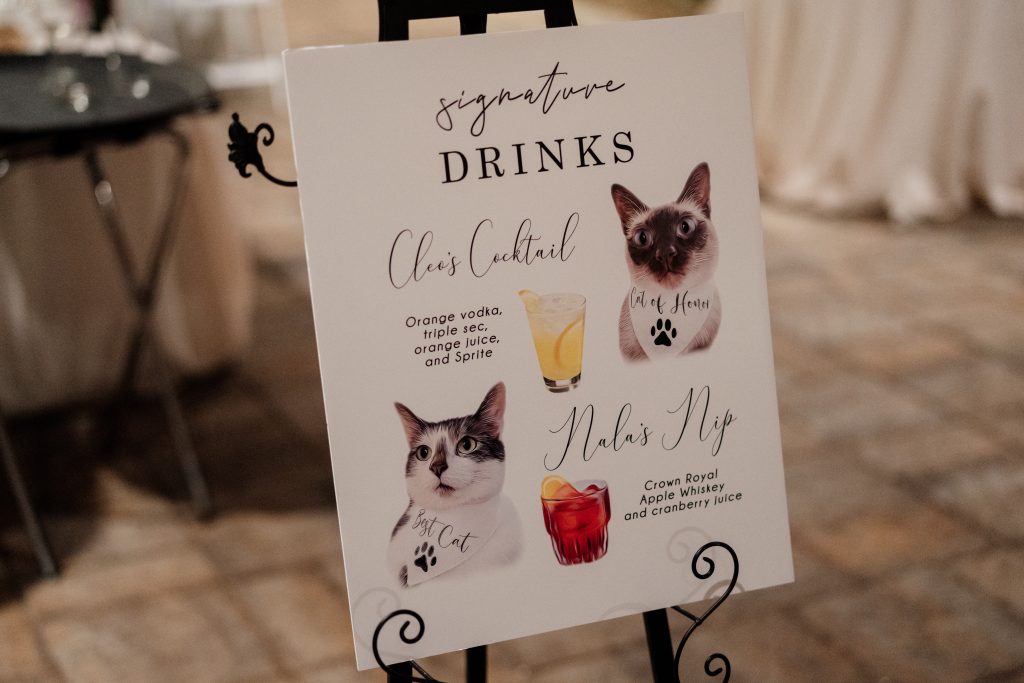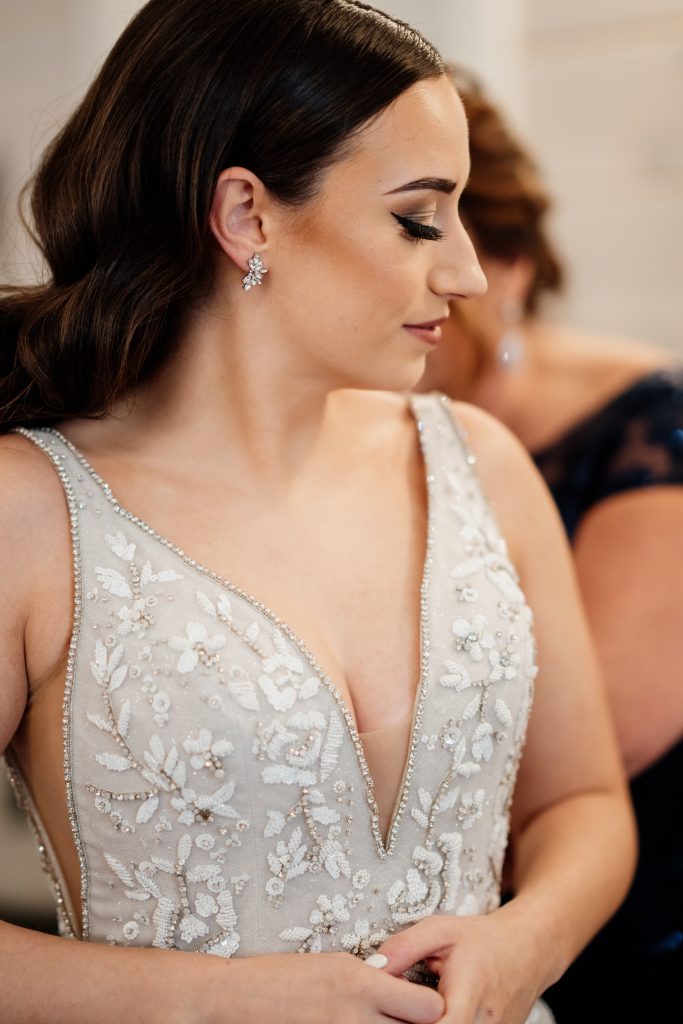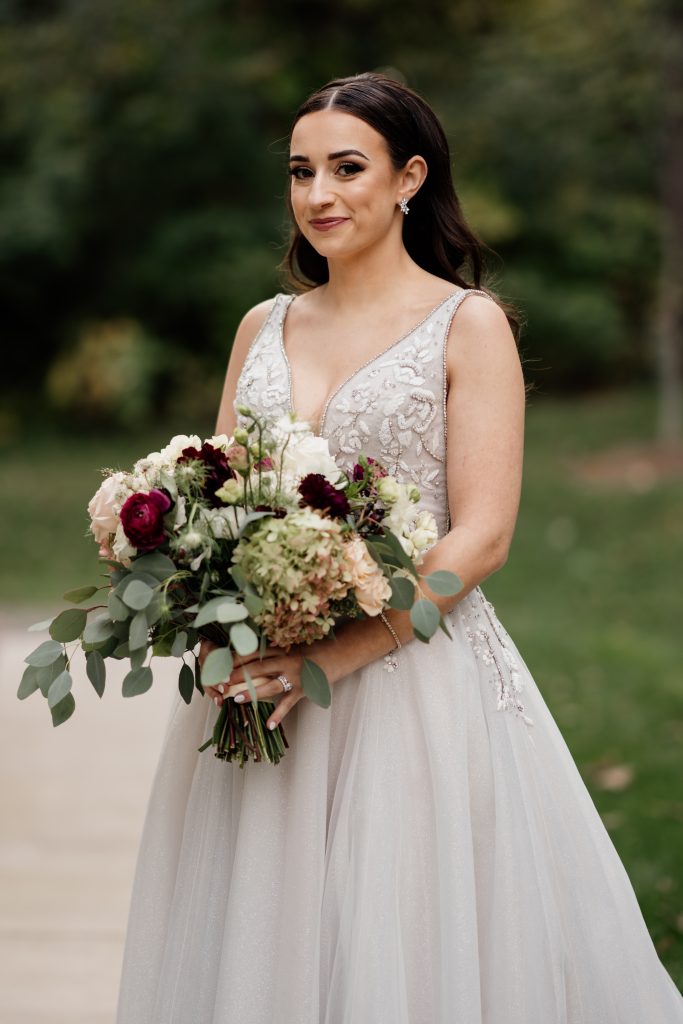 The Scoop
Bride: Stephanie, 28, Registered Nurse with Inova Hospital system
Groom: Christian, 27, Senior Associate at Fannie Mae
Wedding date: 10/8/2022
Number of guests: 165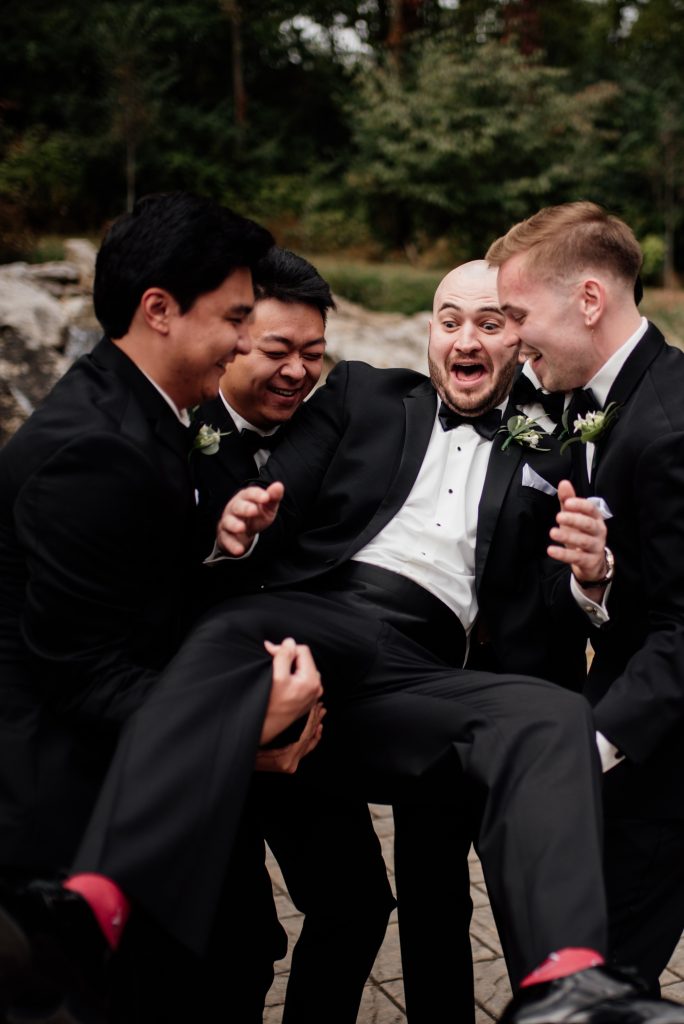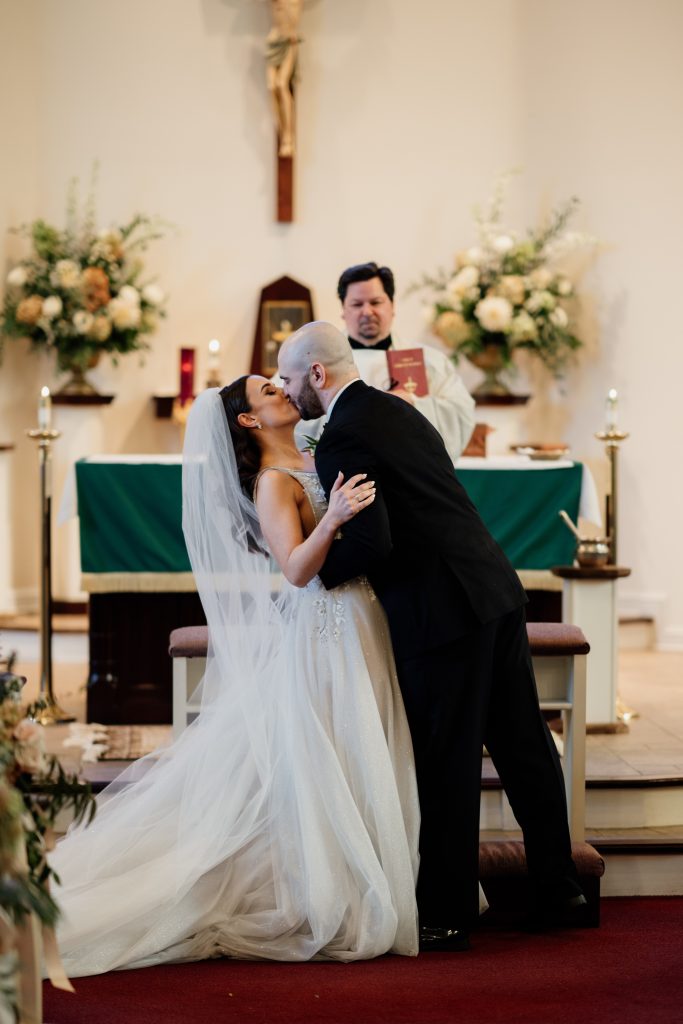 Regarding special backgrounds and plans for the wedding, Stephanie notes, "My mom's side of my family is Greek. We are loud and crazy in the best way possible. I wanted to have little touches of my culture throughout our reception. We served Greek pastries with dessert, and we gave everyone Koufeta at their table settings. They represent health, wealth, happiness, family, and a long life. We danced to Greek music and during the bride dance we raised $1,000 for the American Cancer Society."
"Christian and I also wanted to show our love for the place that brought us together, Virginia Tech. Christian and his groomsmen (who all went to school with us) wore Hokie bird socks with their suits and I gave him a framed puzzle of Lane Stadium as his wedding gift. On Saturdays in the fall, our football team runs into Lane Stadium to Metallica's Enter Sandman, and that's exactly how we entered our reception for the first time as husband and wife."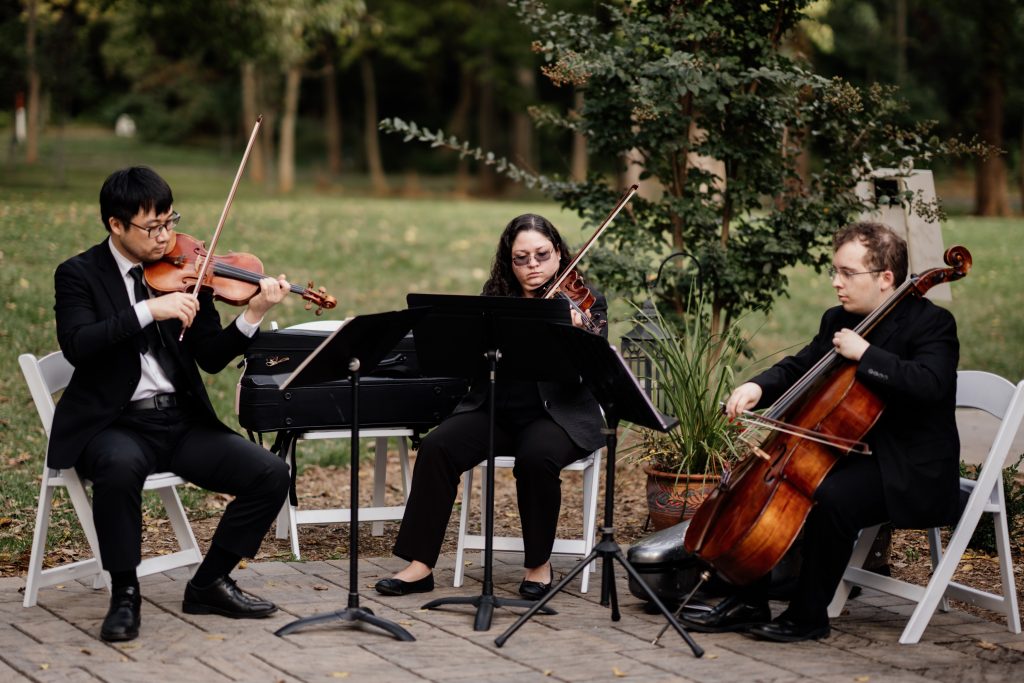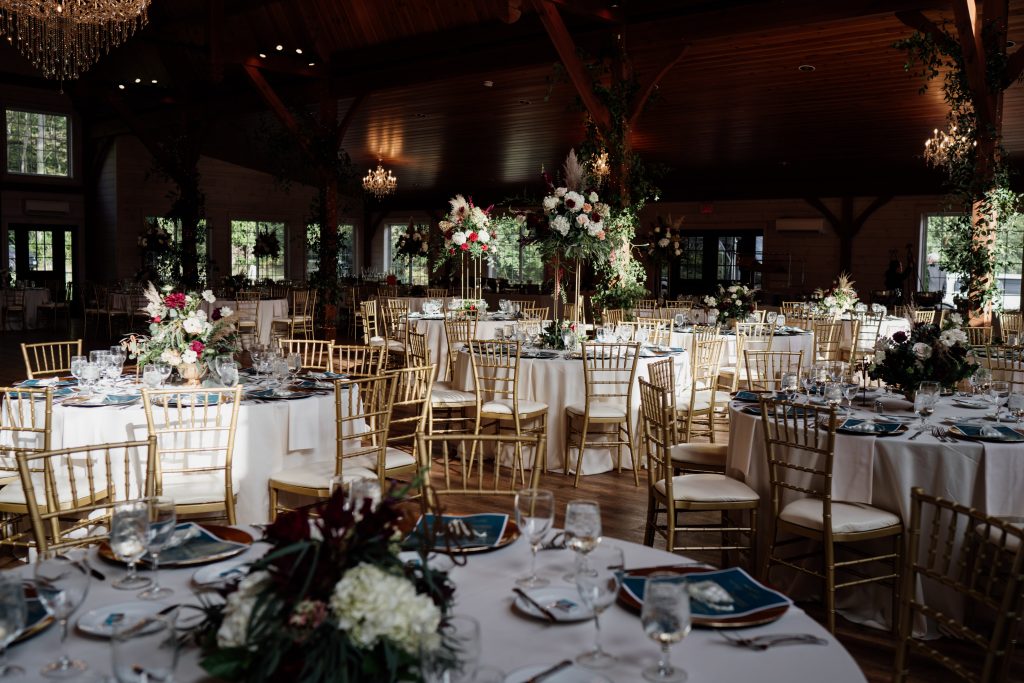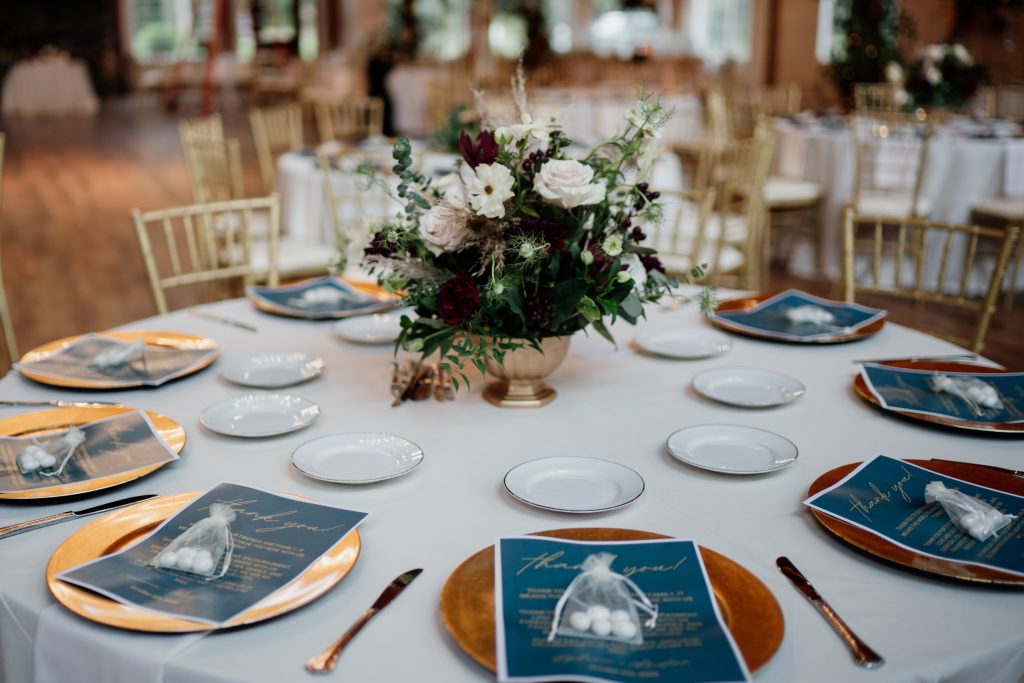 "My dress was the 'Lauren' by Hayley Paige. It was a ball gown with a deep V-neck and layers of blue, silver, and champagne in the skirt. For my shoes, I wore Badgley Mischka blue satin heels to represent my something blue. I wore my Yiayia's diamond tennis bracelet, which is now my mom's, as my something borrowed. I also wore my mom's veil!"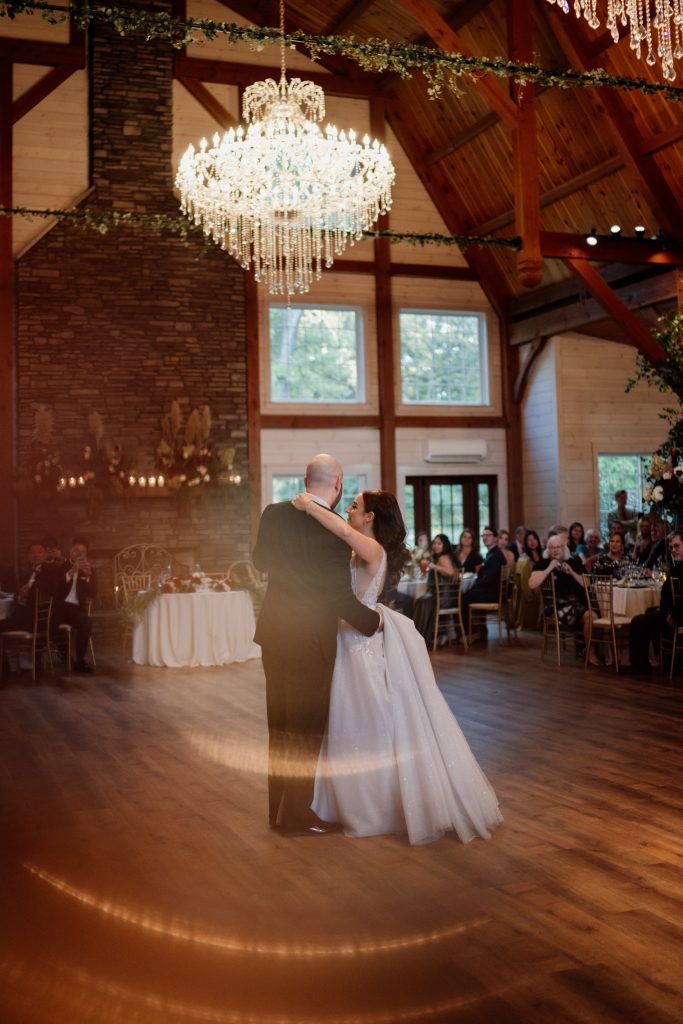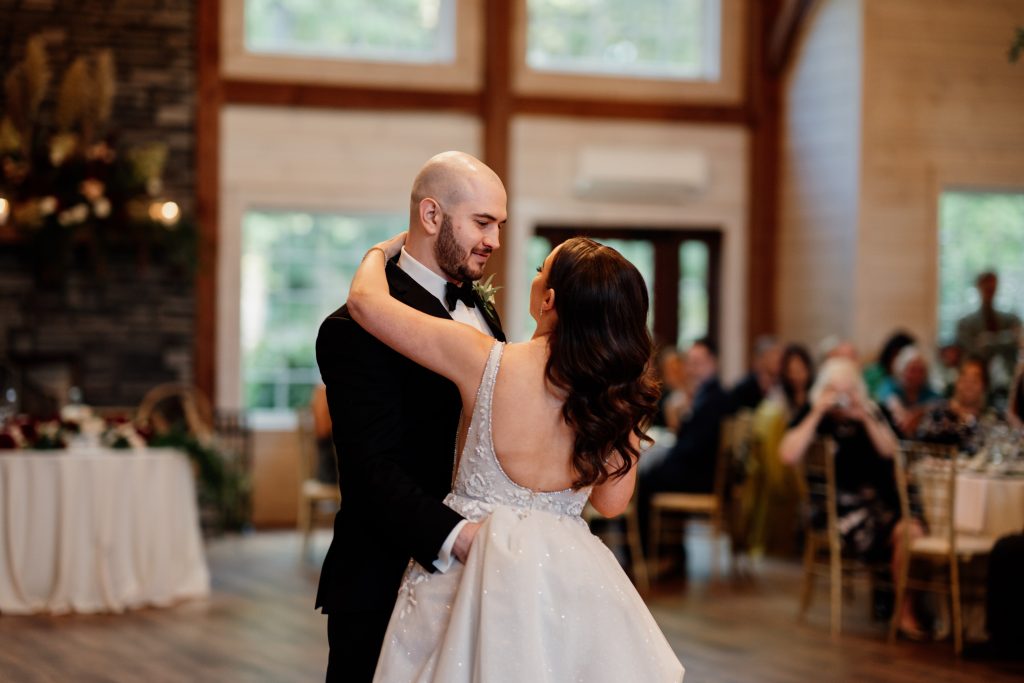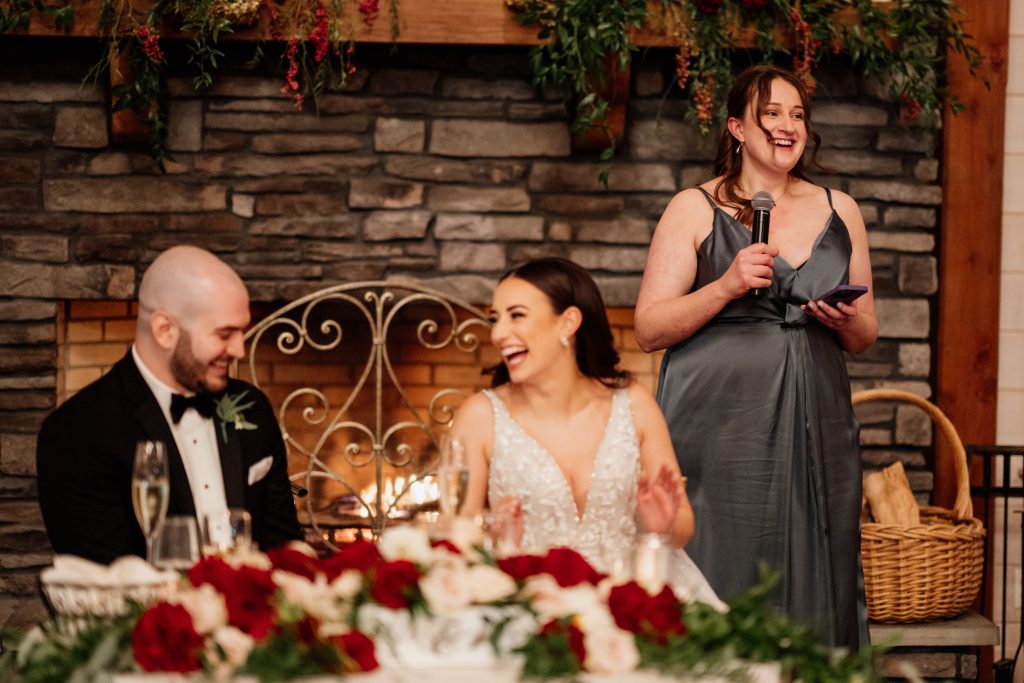 "The bridesmaids' dresses I chose were from Revelry in the color satin eucalyptus. The color of my bridesmaid's dresses were quite unique. I showed my florist a color swatch and we designed a lot of the wedding around the color I had chosen for their dresses."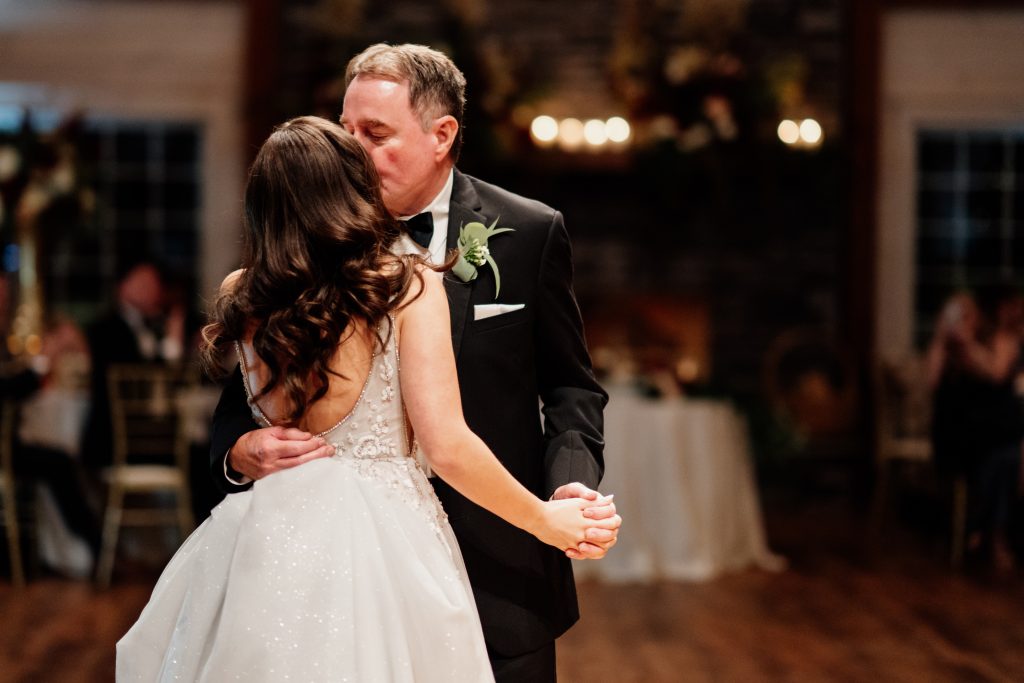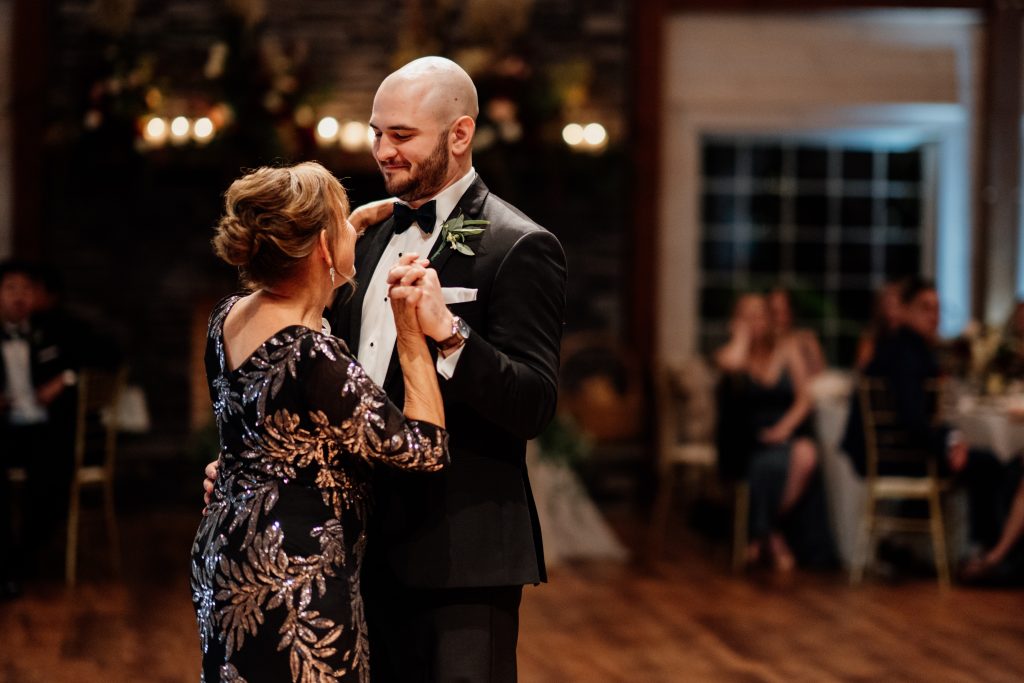 "Rosemont Springs was one of the first venues we toured after we became engaged. The Amish built barn was stunning from the moment we walked in, and I think we both knew we didn't need tour many more venues. The two massive chandeliers over the dance floor had us completely sold."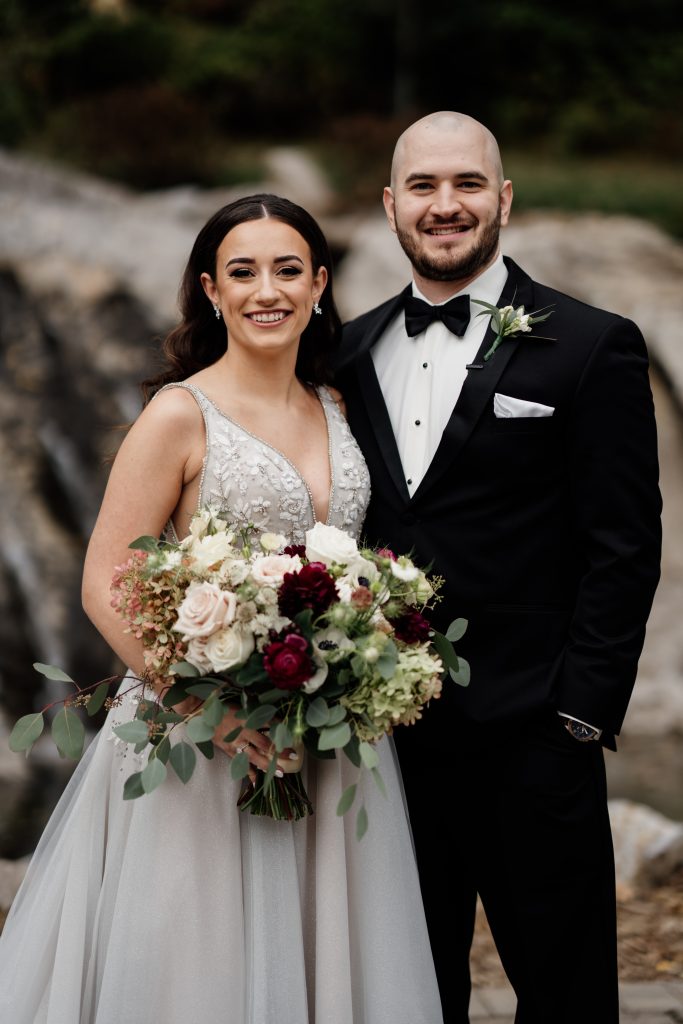 "We were honored to have Christian's grandma fly all the way from Minnesota to attend our wedding. She is our only living grandparent!"
"I wanted my day to feel unique to us as a couple. I wanted my guests to know I spent a lot of time thinking about and planning all the little details. I wanted everyone to feel like they could relax and have a great time!"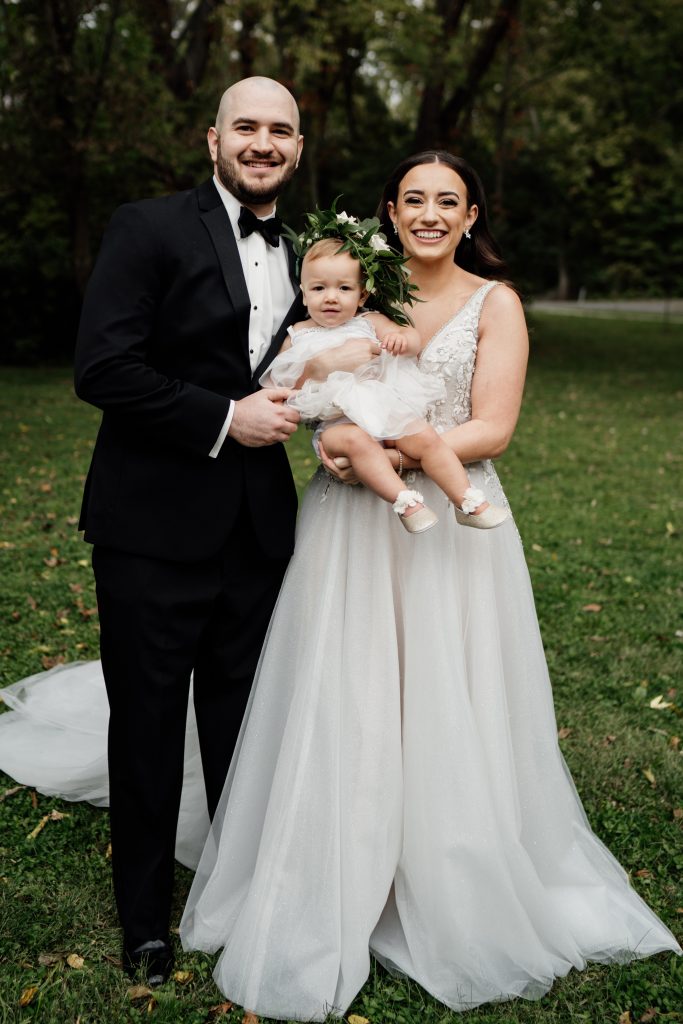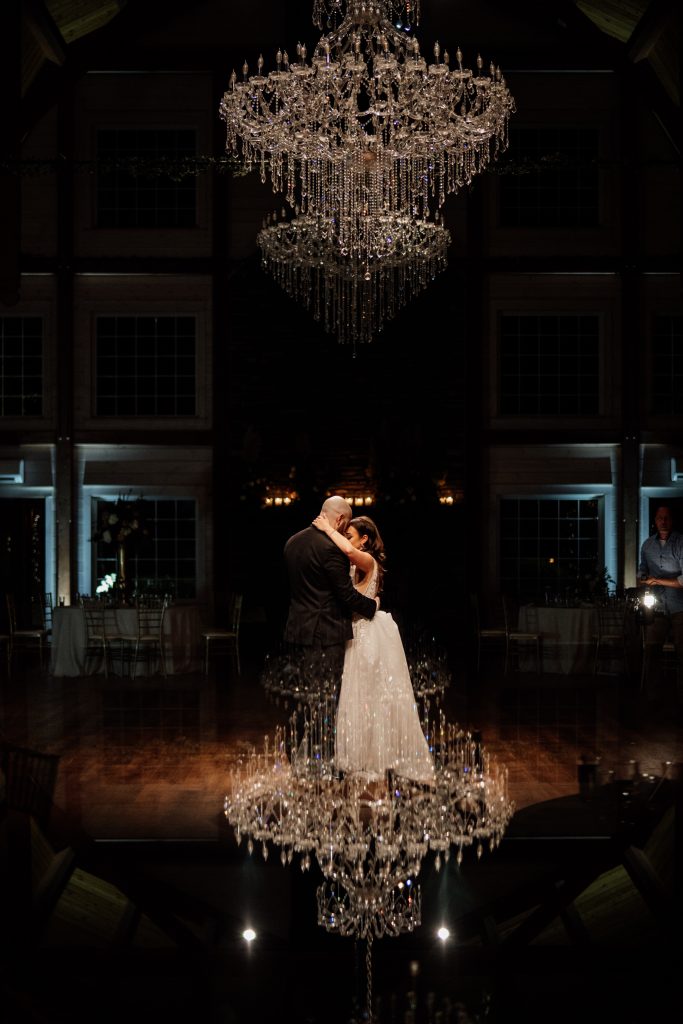 Stephanie offers this advice for fellow couples in planning stages: "I was a part of a few Facebook groups while planning my wedding. Many brides would come back and offer their advice/take aways after their big day. One bride stood out in particular to me and I really took her advice to heart. She explained that it doesn't matter if things go wrong or if it didn't turn out as you envisioned. It matters who was there and made you feel loved. Whether you elope with your future husband or have a 200-person wedding, be grateful to feel the love that you feel. Focus on those who give you their unwavering support, no questions asked. You deserve to feel nothing but pure love and happiness on your wedding day!"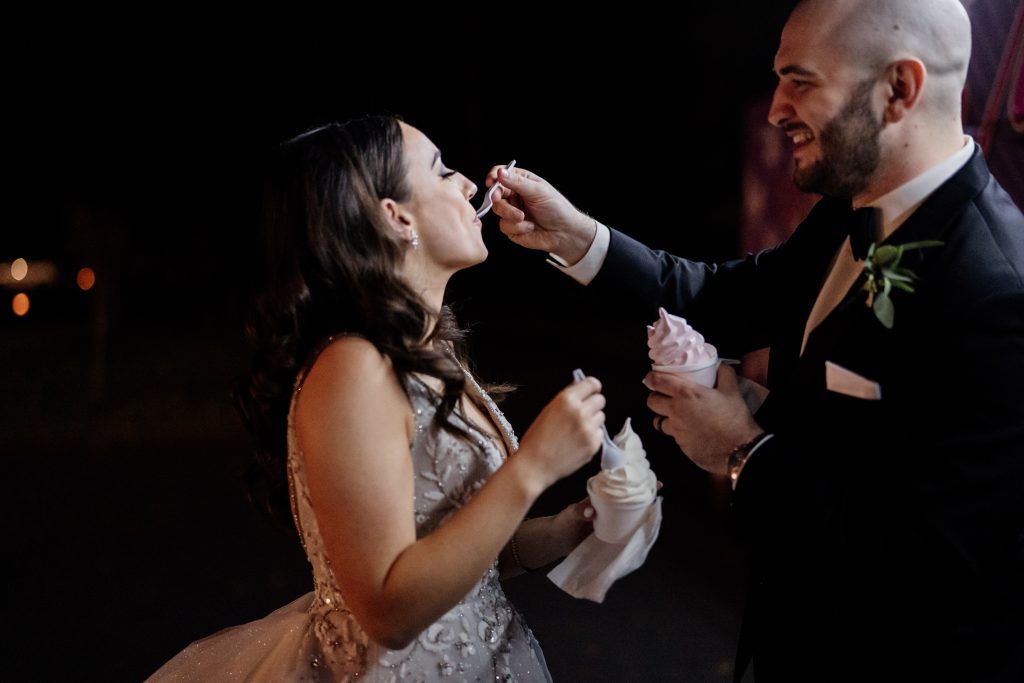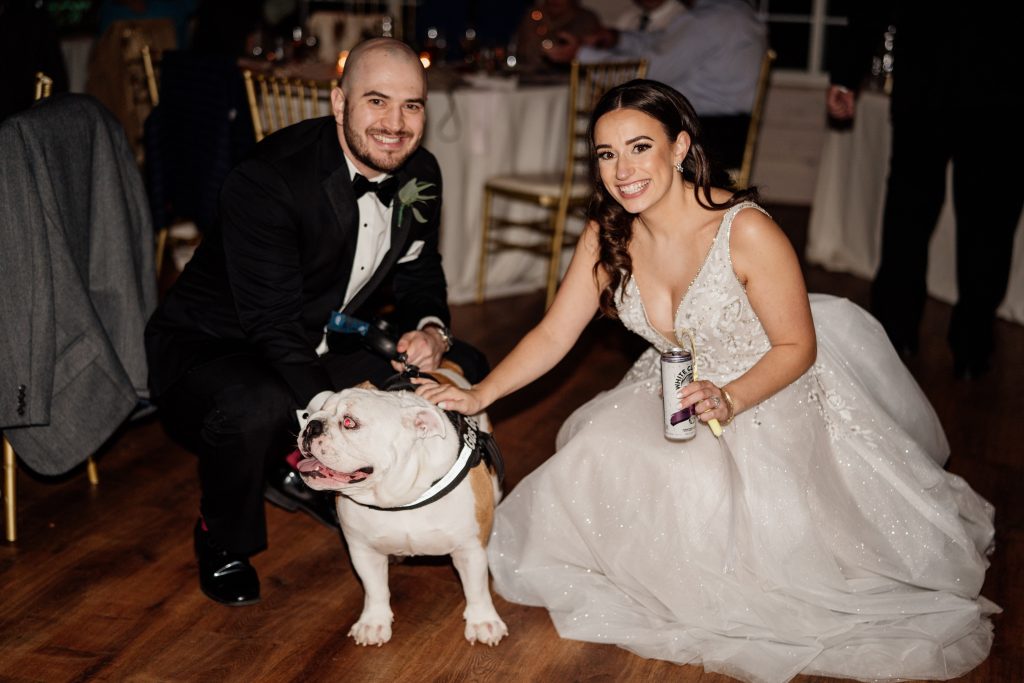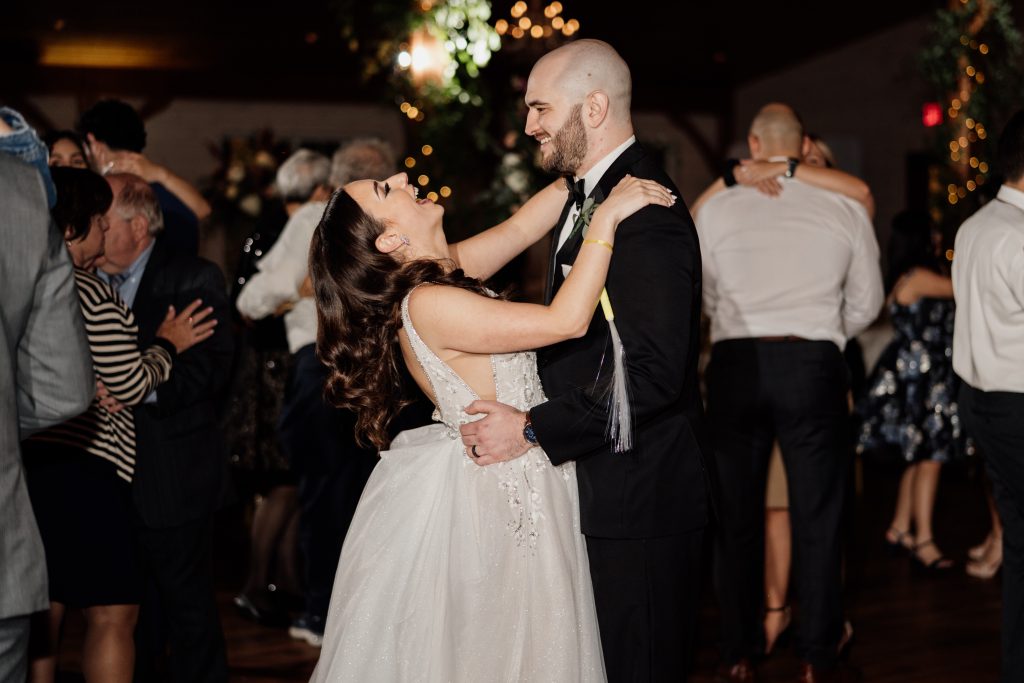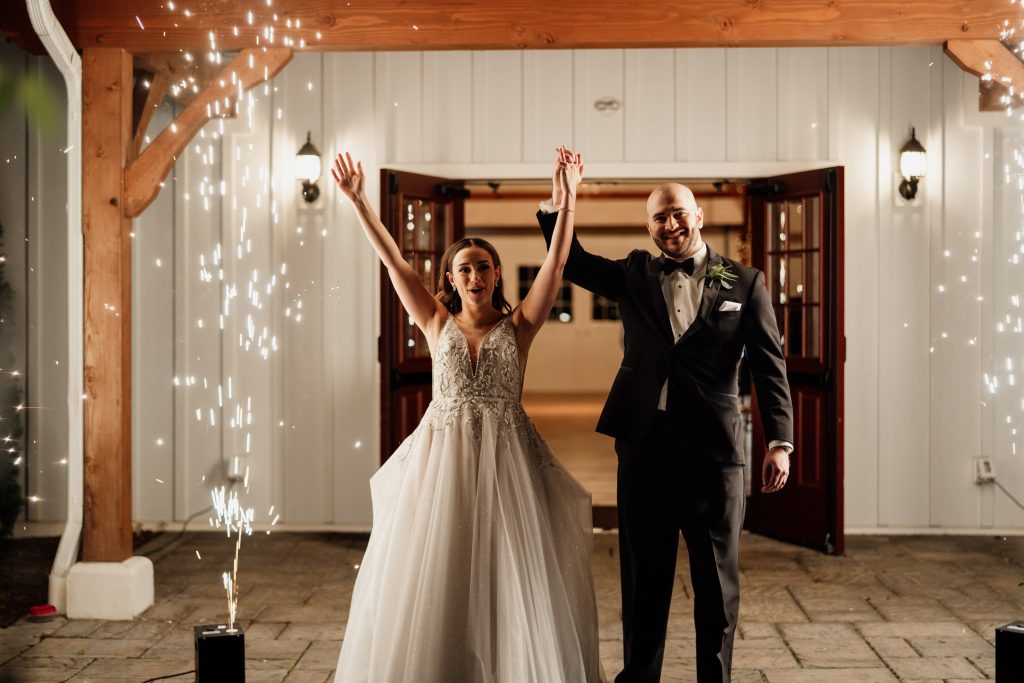 Congratulations to you both!
Vendors List
Venue: Rosemont Springs
Photographer: Molly Majher Photography
Day of planner: Michael Haymaker at Rosemont Springs
Officiant: Father Paul Grankauskas atSt. Bridget of Ireland Catholic Church
Gown: Hayley Paige's "Lauren"; Note – She no longer is able to design dresses due to contract issues.
Veil: The bride's mother
Shoes: Badgley Mischka
Hair: Kathleen Moore
Makeup: Make up by LZ Elzi Camacho
Bridesmaids' dresses: Revelry
Formal wear: Jim's Formal Wear
Invitations: Minted
Flowers: Flowers Unlimited
Rental equipment: Rosemont Springs
Catering: Celebrations Catering
Music: DJ Rick Rohn& Jason Labrador Entertainment
Cake: The Cake Boutique
Photobooth: Summit Events
Transportation: Varsity Travel
Honeymoon: We are taking a cruise in the new year with Celebrity Cruises