Virginia weddings may come from anywhere, and often they begin online, as is the case with Gwen and Scott, this week's featured couple.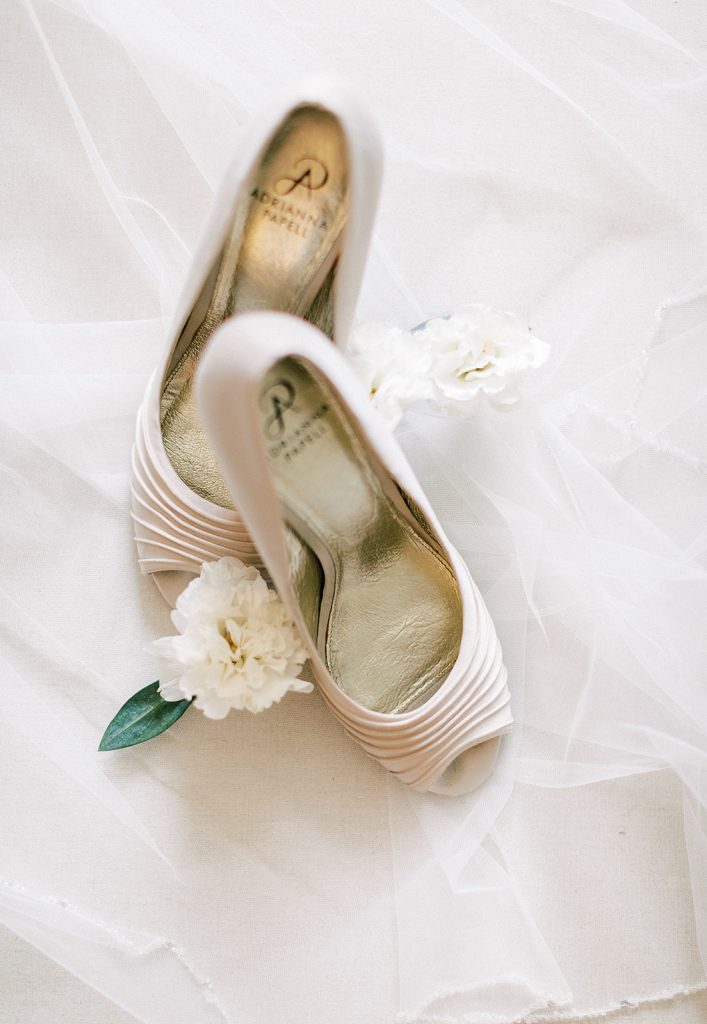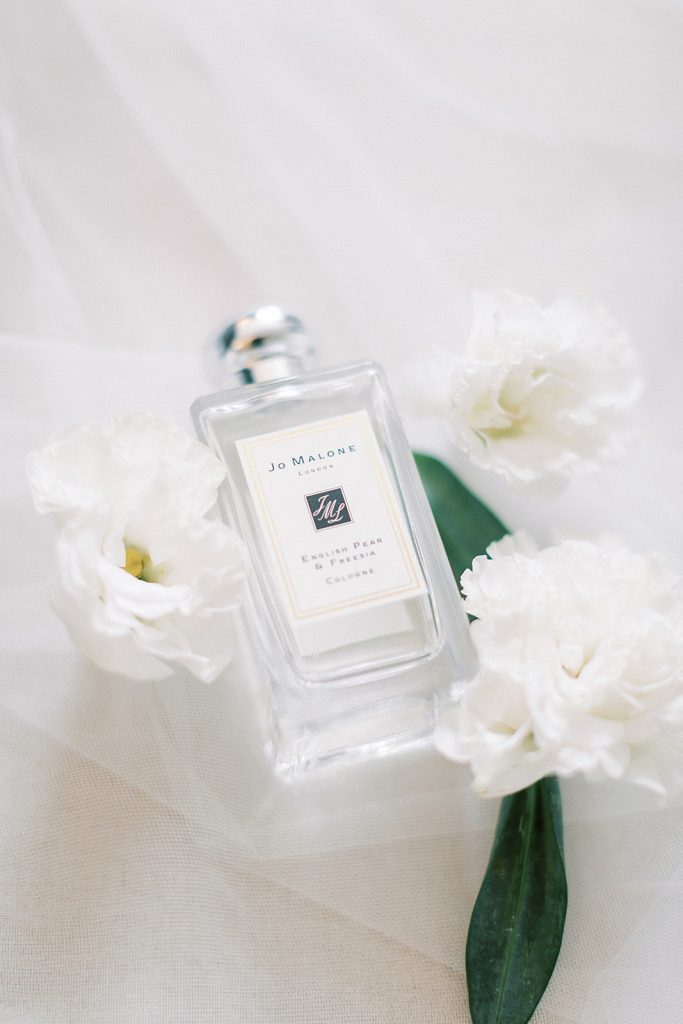 Virginia Bride features weddings weekly here on the blog. Being featured in the blog does not necessarily mean they are featured in the print magazine.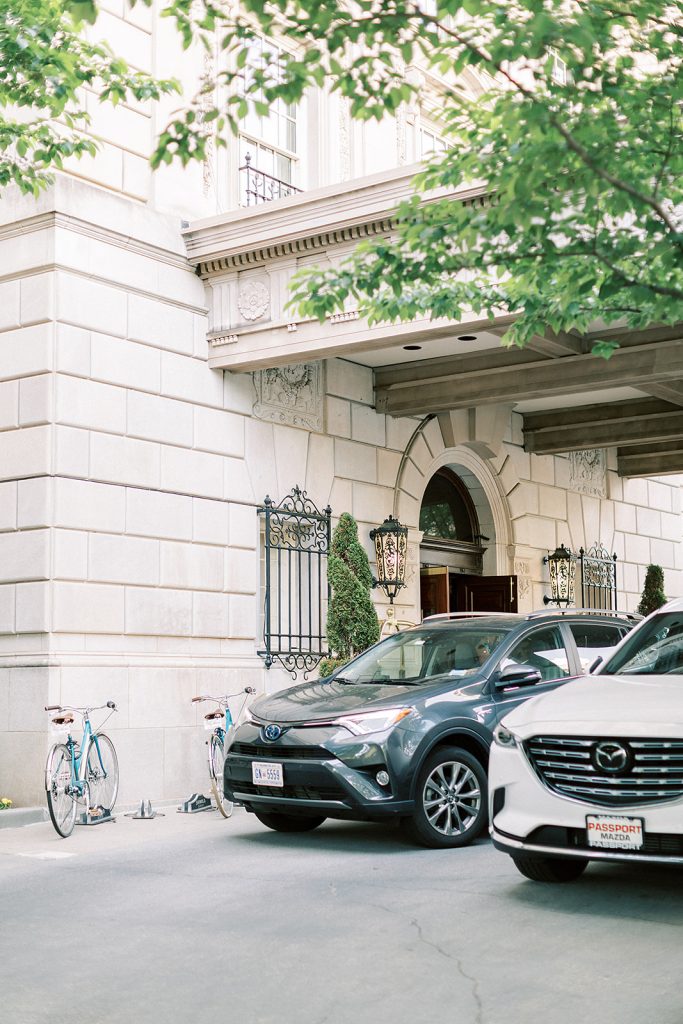 Gwen says of their early dating days, "We actually matched on 2 different apps. We matched in the middle of the summer but our schedules kept us from coordinating our first date until August. In the meantime, we often chatted into the small hours of the morning."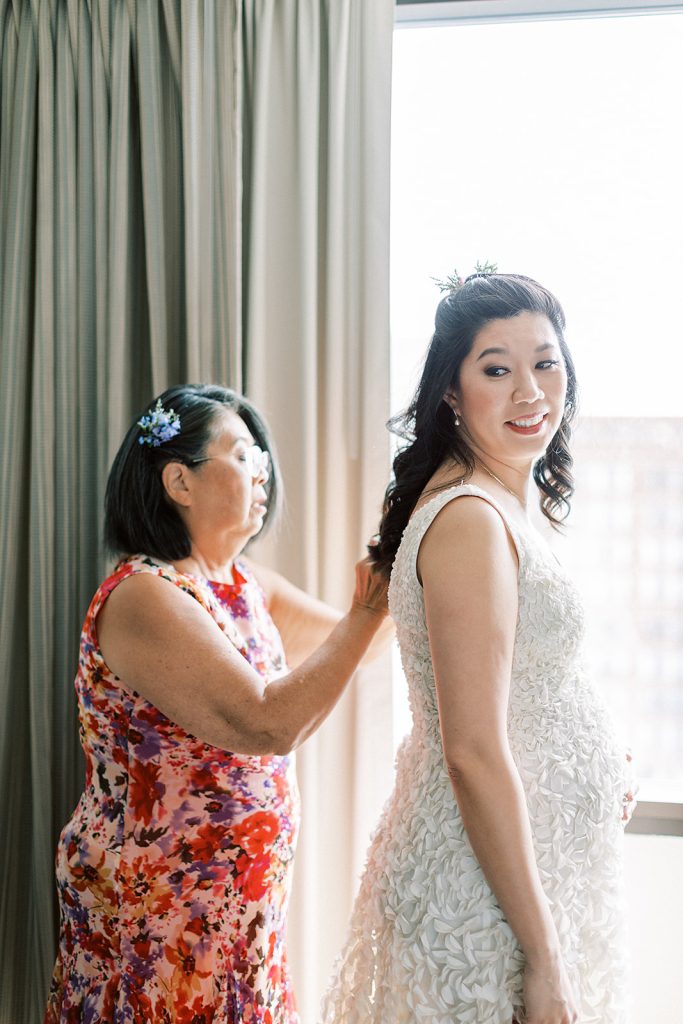 "Our first date was on a Thursday in August 2019 – not a typically 'high value' day for dates, but it actually worked out really well for us because that date really hasn't ended yet. We went to work Friday but spent the whole weekend together. In our dating profiles, we both mentioned enjoying people watching. So, for our first date, we sat at Nick's Riverside Grill in Georgetown. Despite being a dinner date, we completely neglected our food and just sat and talked for hours even moving inside when it started to rain.
"We both felt the click very early, if not right away. Within a month we were planning our first trips together – to Miami and London! Gwen has always been picky about travel companions and knew it would work if Scott felt like a good travel partner. Both trips were fabulous and we were excited to plan more. Almost four years later, we've still not spent more than five days apart since."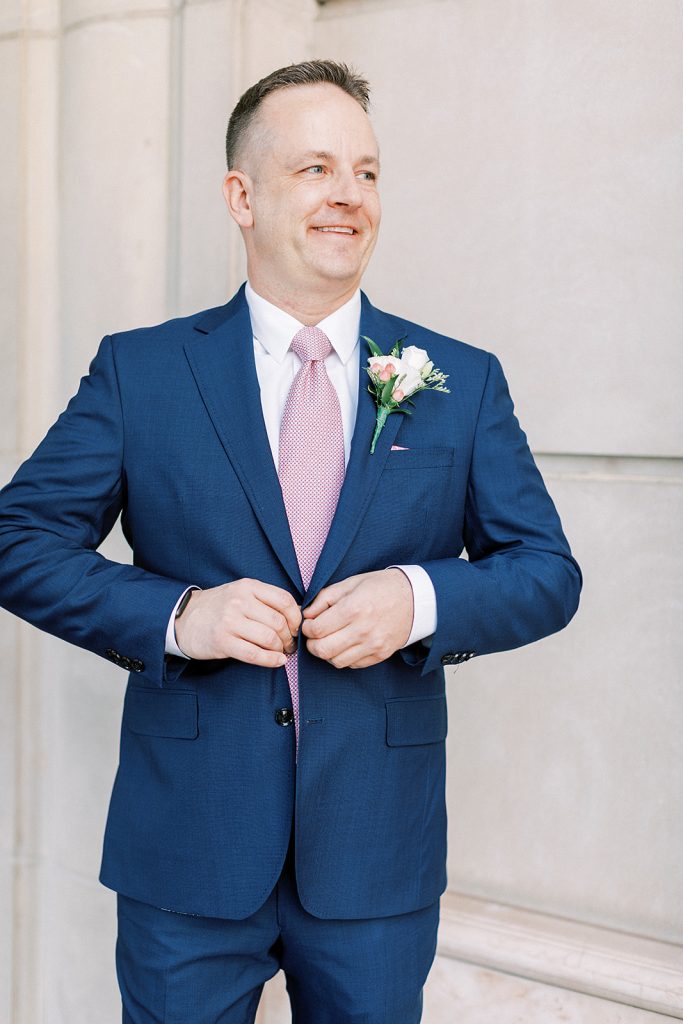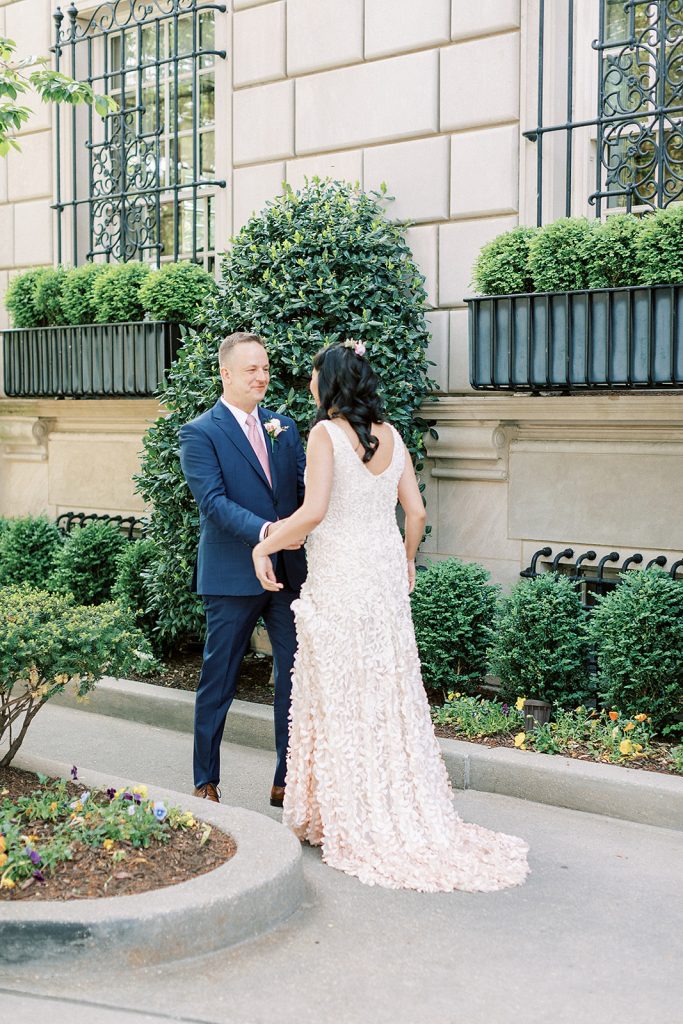 "Alas, The Pandemic hit just a few months later. Though we hadn't been together long, it felt natural and obvious to live together during quarantine. Like the early travel plans, living together so soon could have been bad news, but it felt completely comfortable quickly."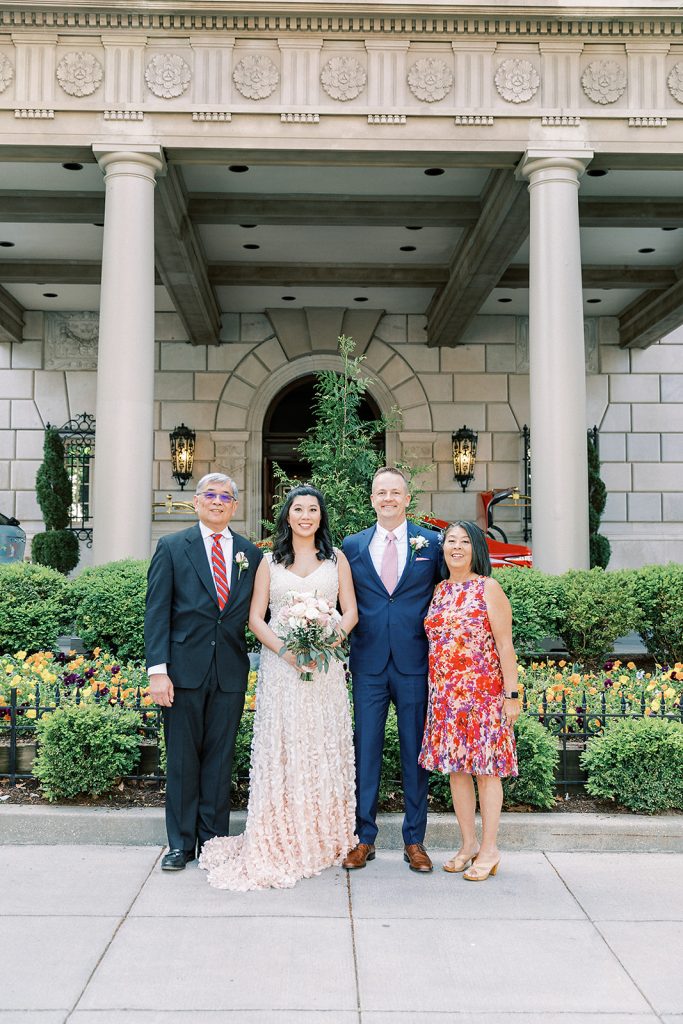 The Scoop
Bride: Gwendolyn, 37, Marketing and Engagement at Tales2go
Groom: Scott, 43, Commercial Sales Manager at Home Depot
Wedding date: April 30, 2022
Number of guests: 18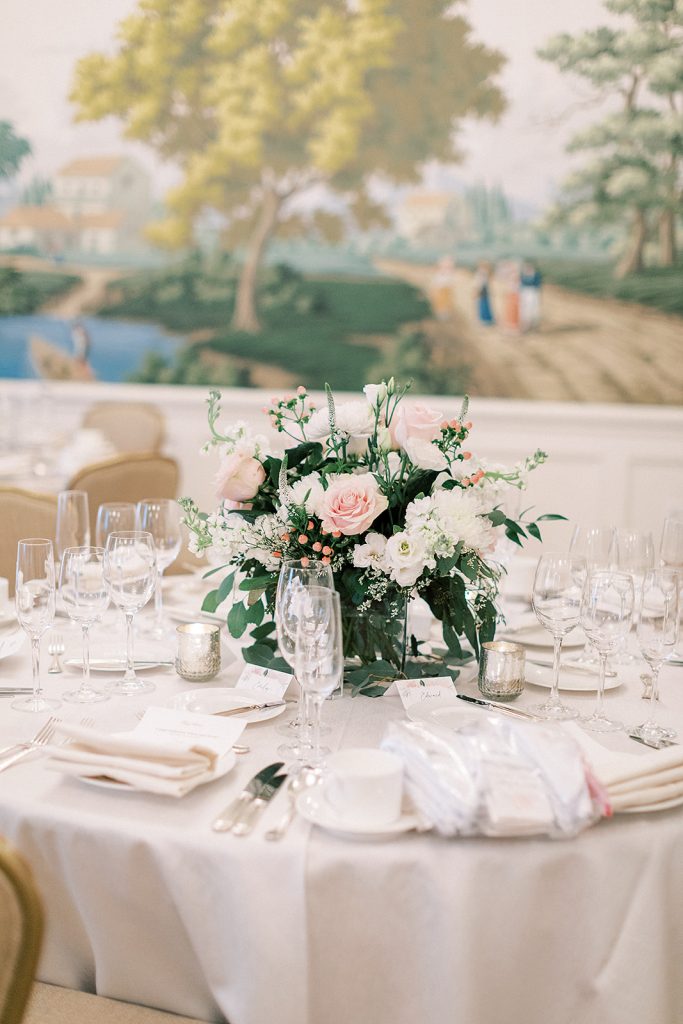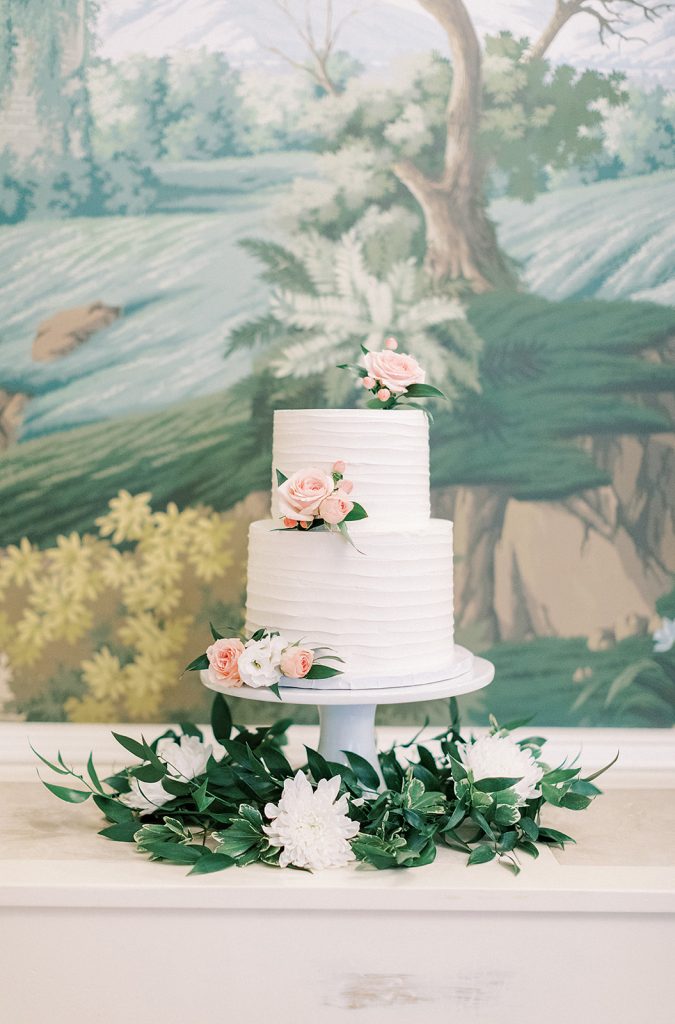 "Because of considerations for our family and friends, we ended up having a micro wedding rather than putting it off for a later time. We celebrated with just our immediate family members. The small guest count allowed us more options for the actual celebration, so we were able to create an experience we really loved. Family is the most important thing for both of us, so our main goal was to maximize the amount of time our families could spend all together. To that end, we rented an Air BnB so people could hang out in a homey environment and everyone who wanted to could spend the weekend at the house.
"Our families are really awesome and helped throughout the weekend. From Scott's aunt getting and styling all our flowers, to Gwen's aunt doing all her dress alterations, our parents and siblings all showed up in different ways to really make the weekend just perfect."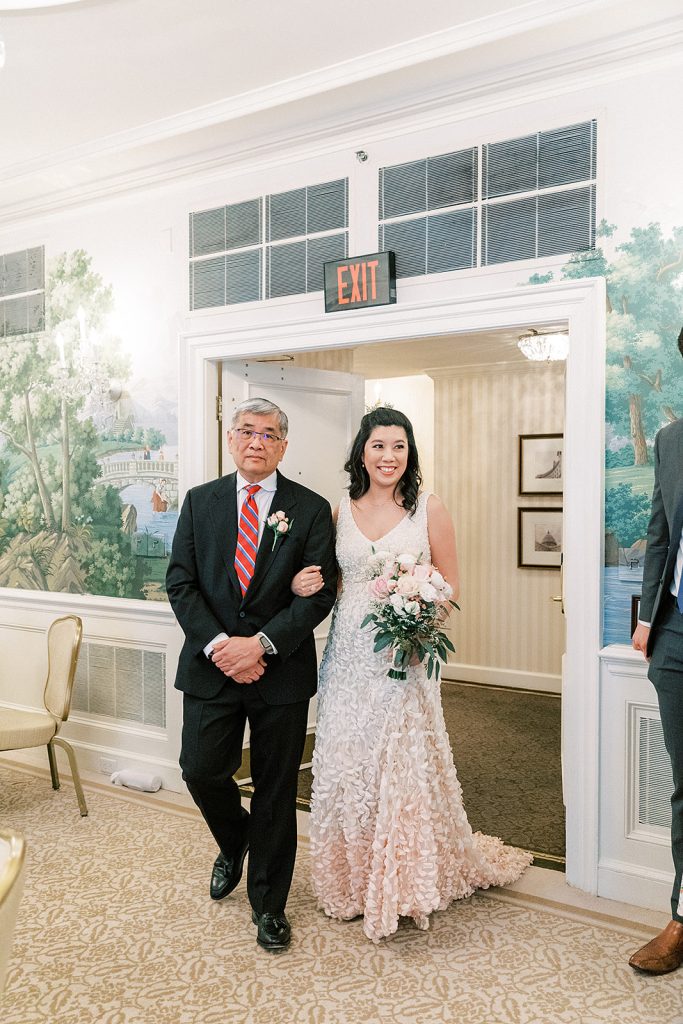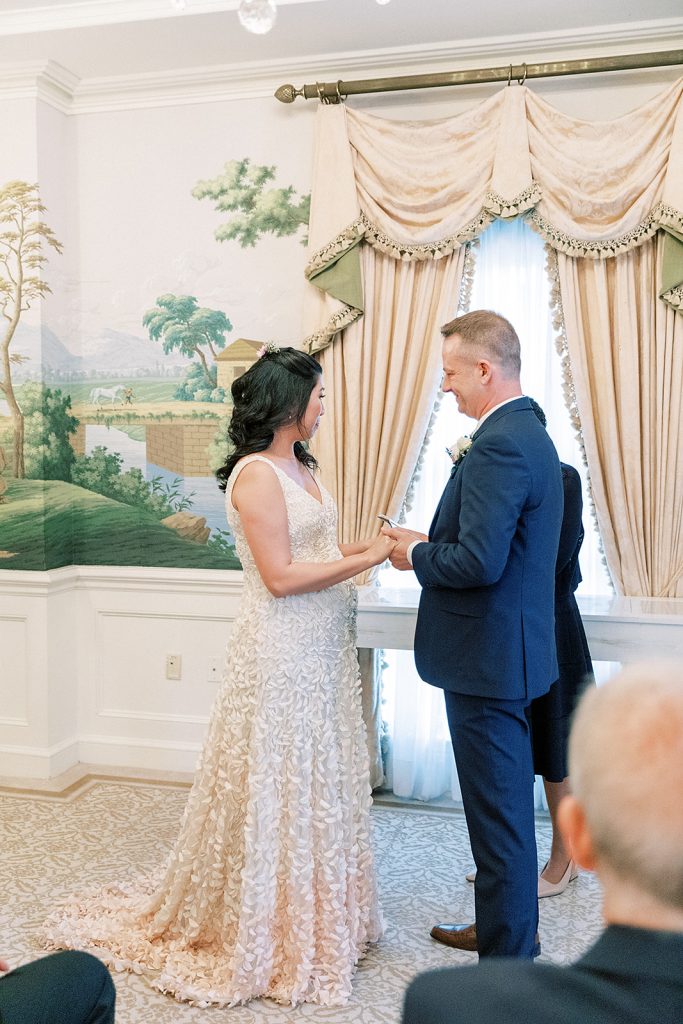 "Gwen has loved the look of BHLDN dresses for years, and even though she was 6 months pregnant, was able to find a dress that she loved. Getting the dress was a group project too. Gwen first saw the dress at the store in Maryland, but they only had one size (that fit perfectly at 4 months pregnant). She called her sister up in PA who was 5 months pregnant at the time. Genny made an appointment at her local BHLDN and brought her 5-year-old daughter, Sienna, along for consultation. Genny tried on a few dresses but both she and Sienna agreed that the dress Gwen liked best was 'The Dress.' Luckily, the style worked well for baby bellies. Genny bought the dress and took it to their aunt who did the alterations to make it fit perfectly.
"Because Gwen's dress had pink in it (that's all Scott knew about it), he wanted a tie that would complement it well. However, between shortages and physical shops carrying less inventory generally, it was difficult to find ties at all. He ended up finding one while shopping with his parents and they gifted it to him."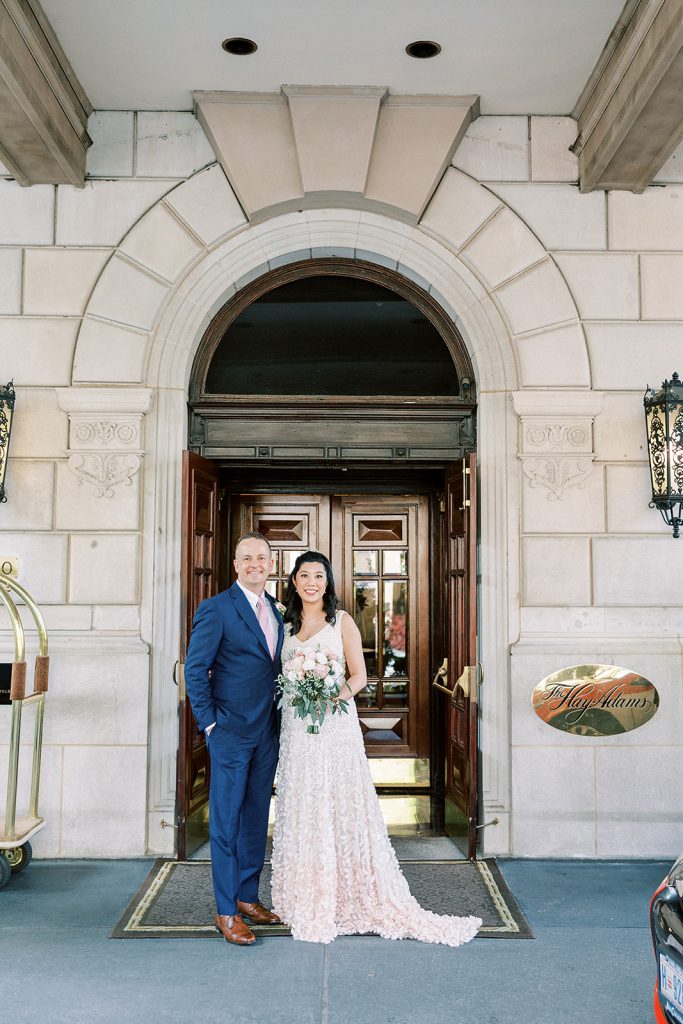 "Our color scheme was loosely tied to the cherry blossoms. We were married on 30 April, which would normally be around that time. Gwen's dress was also inspired by cherry blossoms, with ombré pink petals fading up from the hem. Being spring, it was easy to choose white and pink flowers and we used gold accents."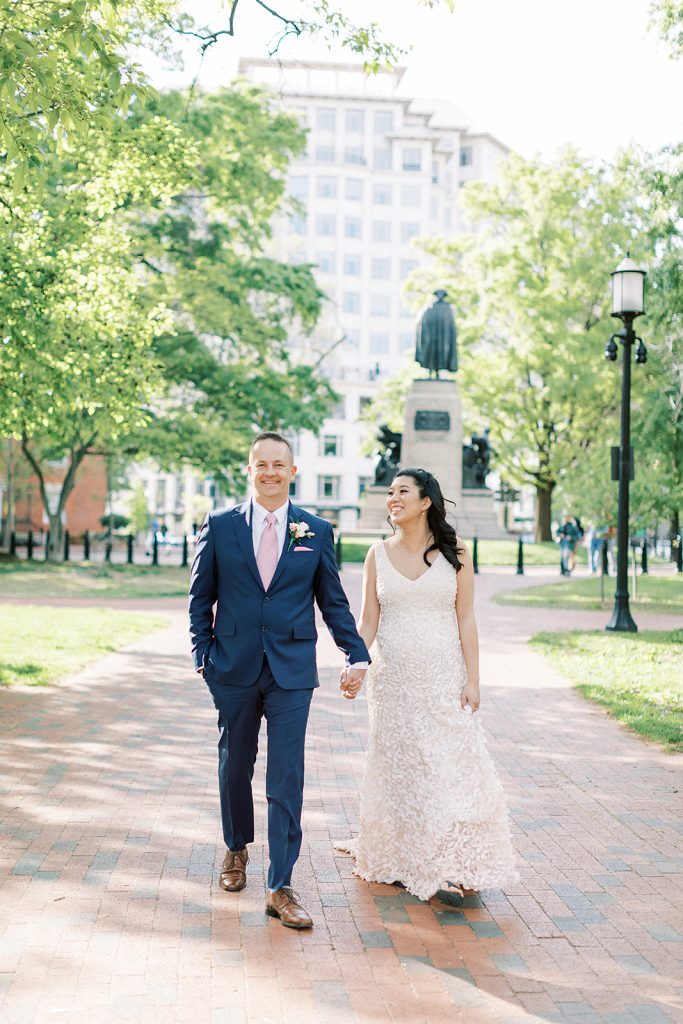 "We wanted a venue in DC proper because it's the midpoint between our two apartments when we met, where we had our first date, and where Scott proposed. When we first visited the Hay-Adams, we immediately loved the Concorde Room for the beautiful decor. Being across from the White House, offering easy access to other points in DC for photos and being convenient to the Air BnB made it an ideal location."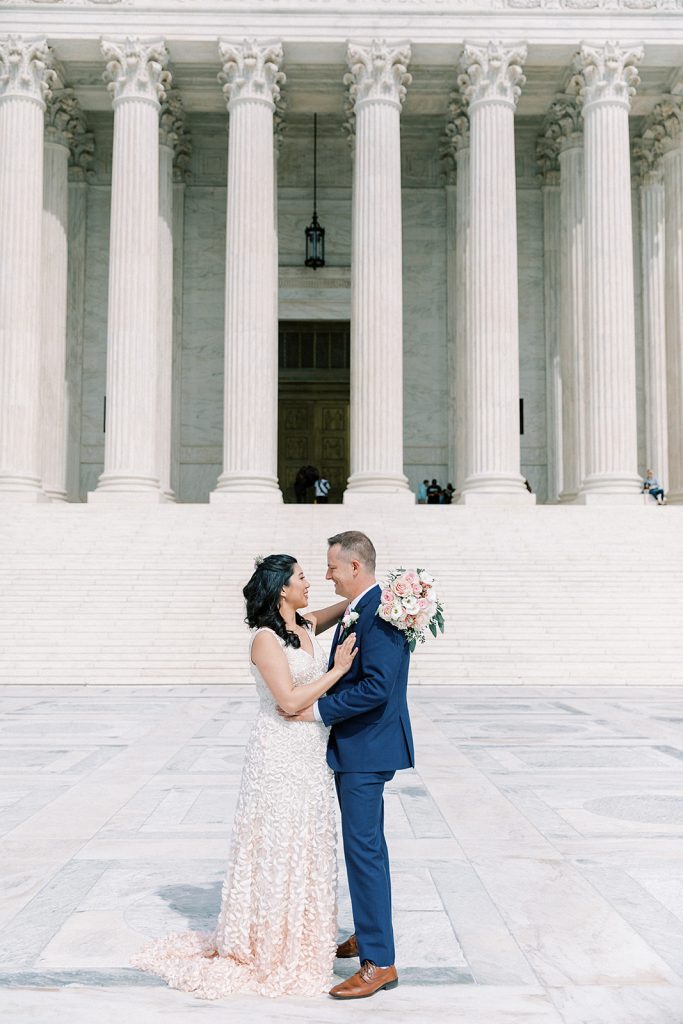 "Gwen wanted photos at some iconic DC landmarks, so we hired a driver to help us get around quickly and easily (especially because Gwen was pregnant!). It was one of the best decisions as we were able to capture some really amazing photos. While we were off taking photos, we provided Afternoon Tea for our families while they relaxed at the hotel and so Gwen's nieces could have some outside play time. It kept the celebration festive without feeling stuffy."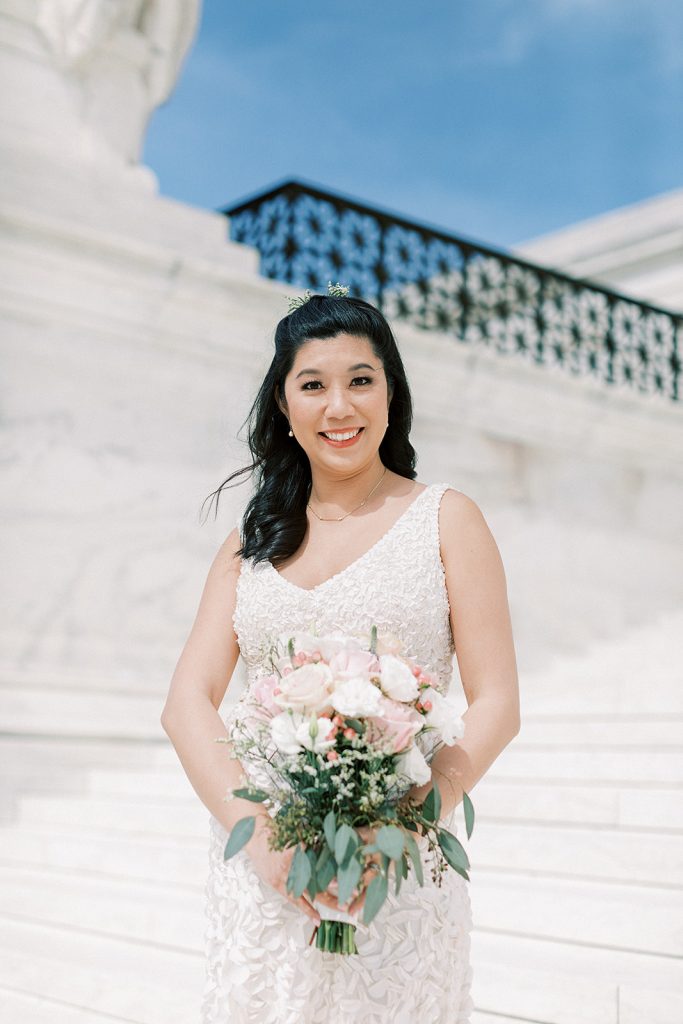 "We planned this wedding in about 2 months from the time we decided we were just going to go for it. The short timeline actually worked in our favor because it didn't give us time to scour the planet for every possible permutation of options. It helped to make decisions more quickly and really focus on what was most important to us. The small size meant we forwent challenges like endless guest lists, seating arrangements, and reduced the amount of logistical planning. The small size also provided us with some special opportunities that might not have been possible otherwise. We were able to get our cake from Buttercream Bakeshop – a bakery we tried in the early stages of our relationship. Scott's aunt Karen was able to get and create all the floral arrangements we wanted (plus some!) and transport them to us herself. Even the space at the Hay-Adams was lucky because it turned out that our wedding was the weekend of the Correspondents' Dinner and the hotel was otherwise completely booked. If we'd had more guests, we would've had to choose a different venue!"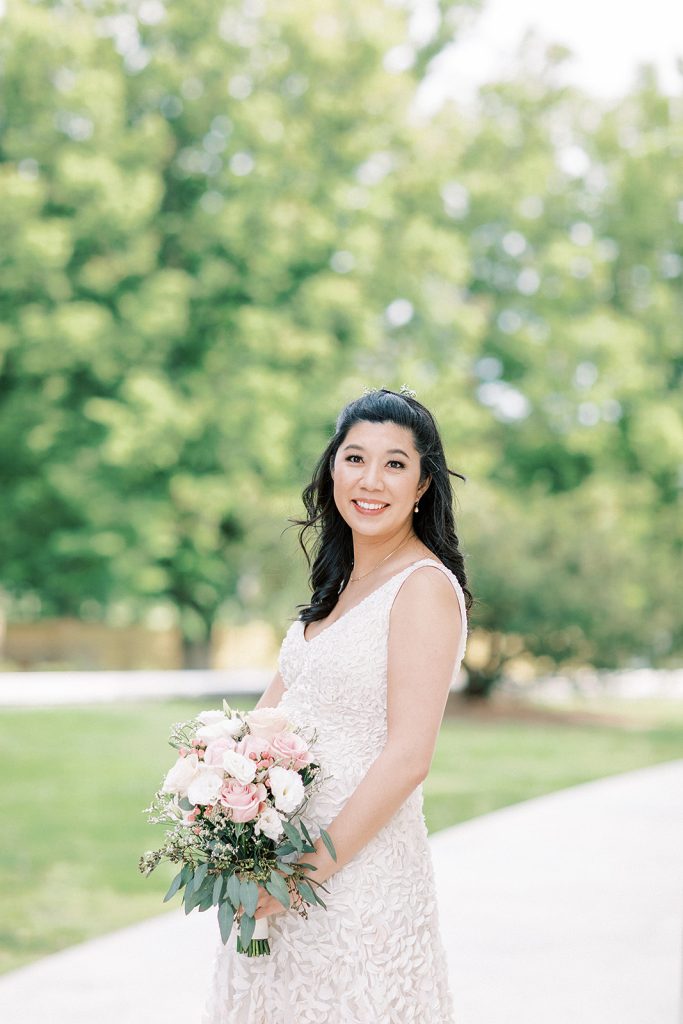 Vendors