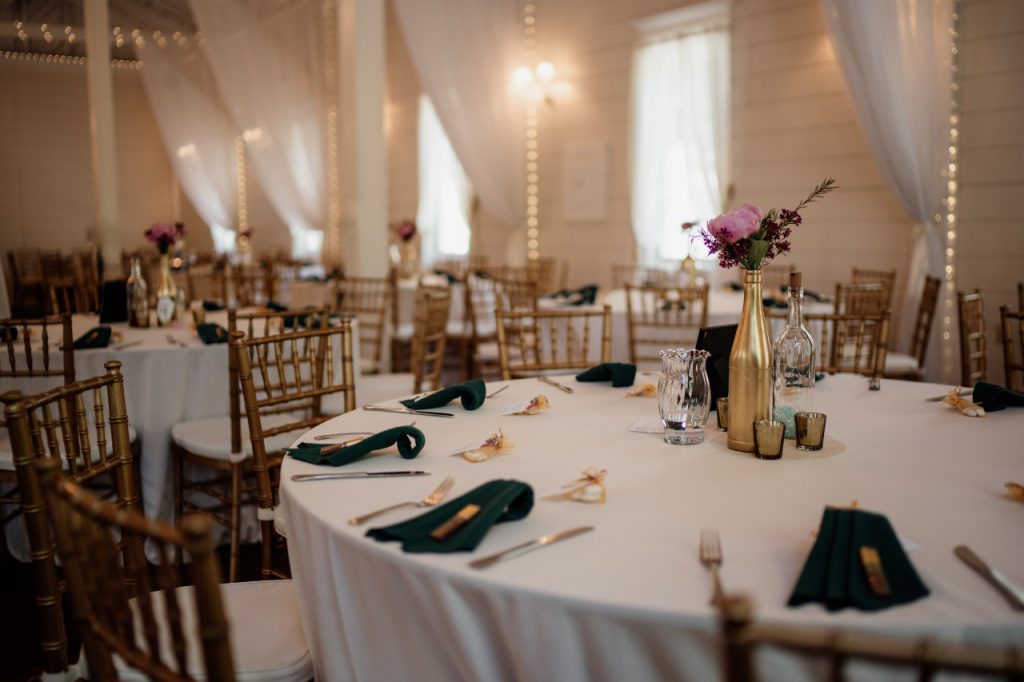 This week's real Virginia weddings story comes to us from a beautiful town called Berryville, where Carly and Jon tied the knot in May.
"Jon and I met in 2017 at a bar in Washington, DC called Wonderland Ballroom. Our eyes met, he came over to say hi, and the rest is history. Carly knew from that moment onward that Jon was the man she always hoped to find."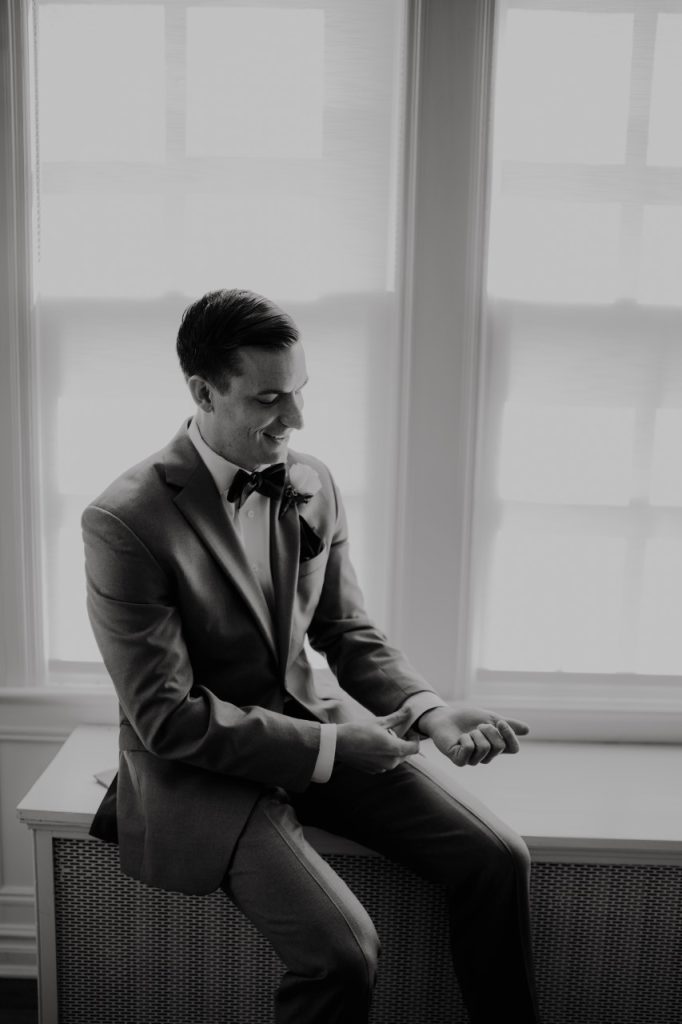 "Jon proposed to Carly at the Lincoln Memorial in April 2021. Not only were there great views of the Washington Monument, but Jon also invited Carly's identical twin sister, Paige, and all of her best friends from around the country to join in on the exciting moment. An avid Wonder Woman fan, Carly remembers the exact moment when Jon got down on one knee and asked her to be his Wonder Woman for life.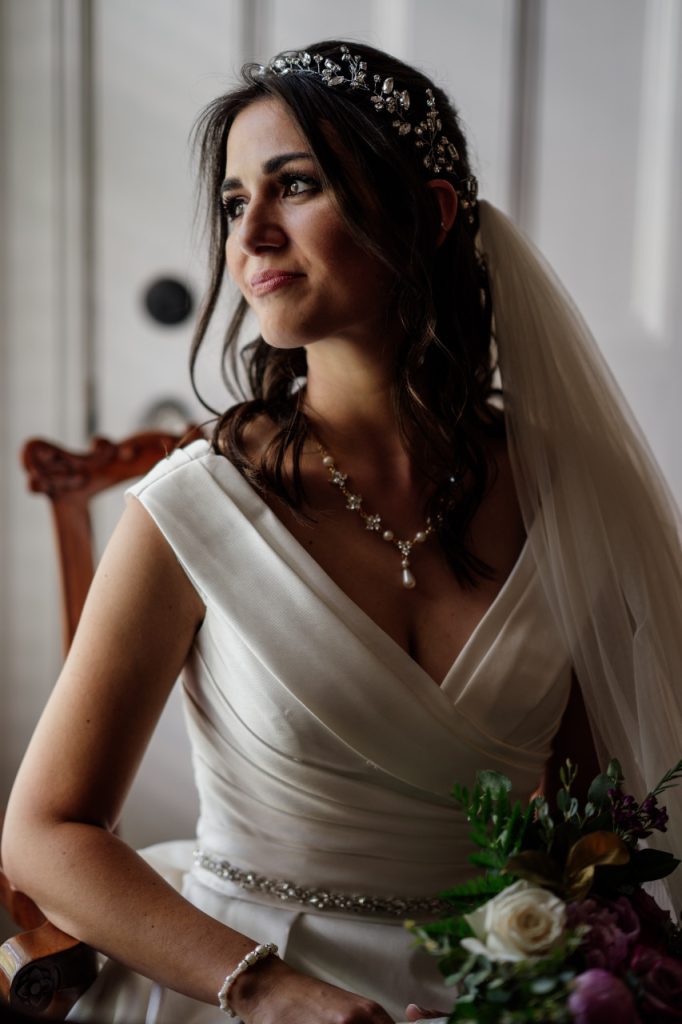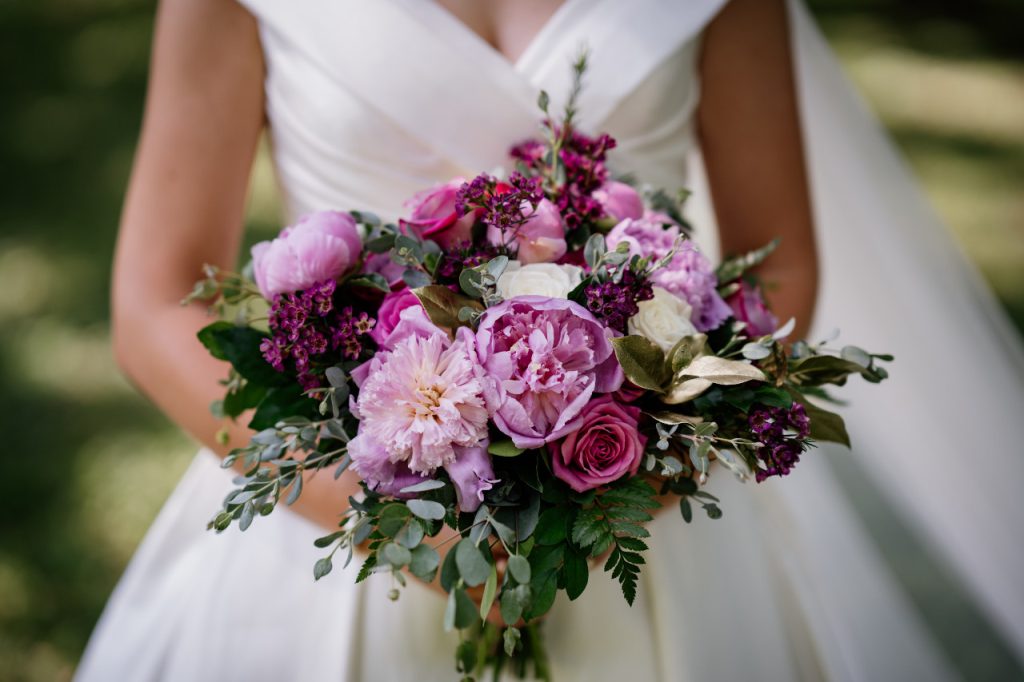 THE SCOOP:
BRIDE: Carly, 28, Marketing Specialist
GROOM: Jonathan, 31, Account Manager
WEDDING DATE: May 21, 2022
VENUE: Rosemont Manor in Berryville, VA
NUMBER OF GUESTS: 125 guests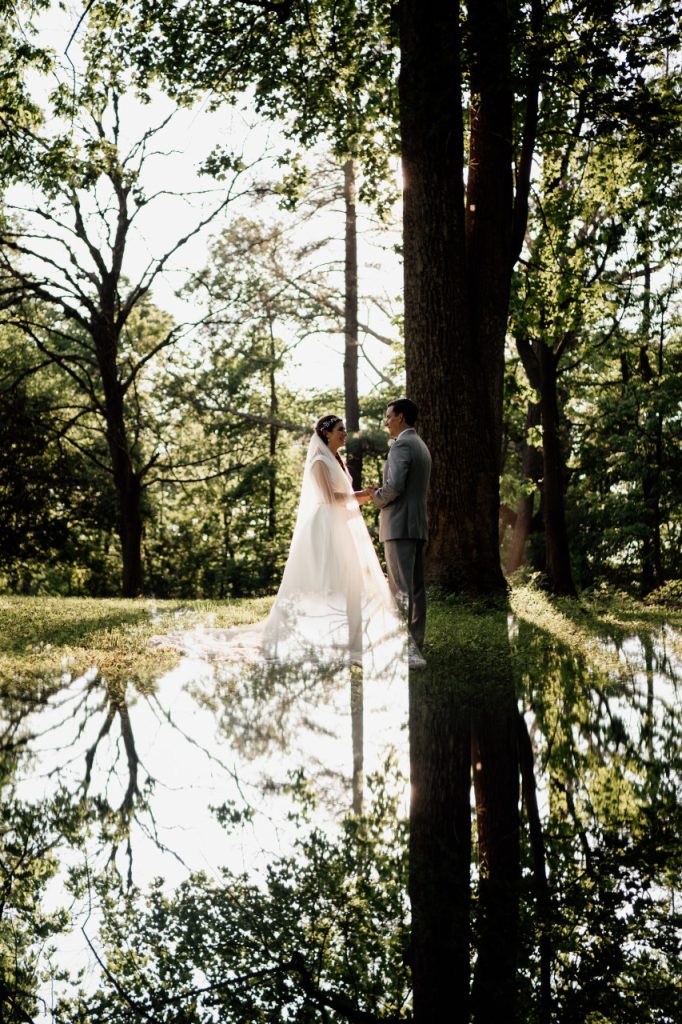 "To help with all of the wedding planning, Carly and Jon worked with an incredible wedding planner at Rosemont named Michael Haymaker. There were so many details to think about but having monthly meetings with Michael definitely helped things seem less overwhelming and allowed the couple to take things in stride. By the time the wedding day came around, Carly and Jon felt relaxed and at ease, knowing that they were prepared for this big day."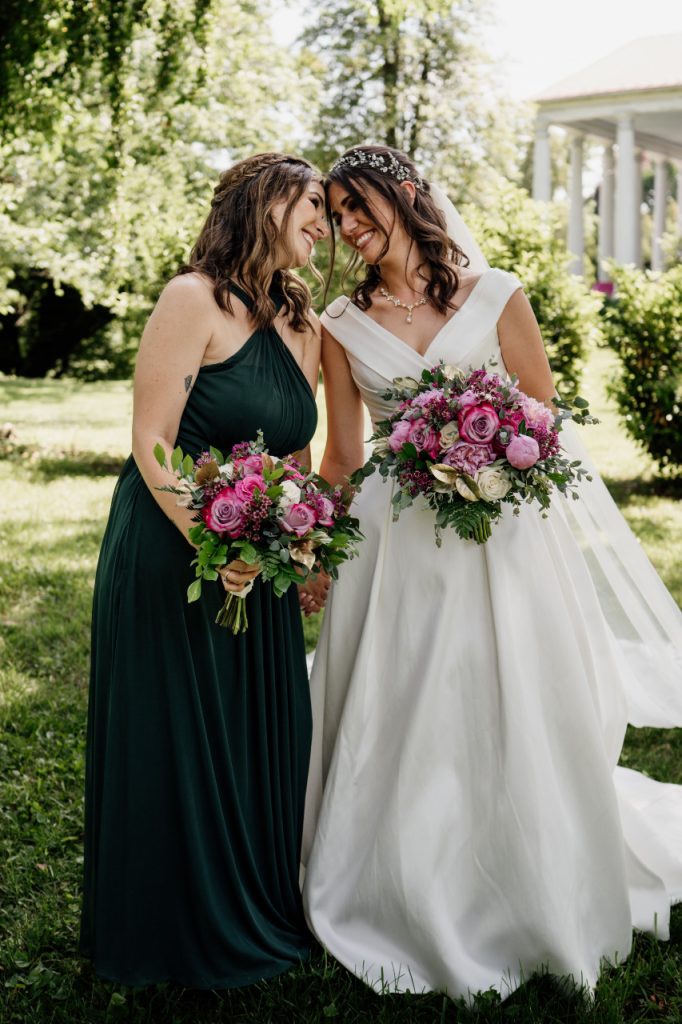 Carly and Jon chose emerald green and fuchsia with gold accents as their wedding colors. "Carly saw a mock invitation on Pinterest at the beginning of wedding planning, and she just knew that this would be her color scheme. She especially loved how the fuchsia flowers really popped against the emerald green color and knew that all her bridesmaids would look amazing wearing emerald green dresses."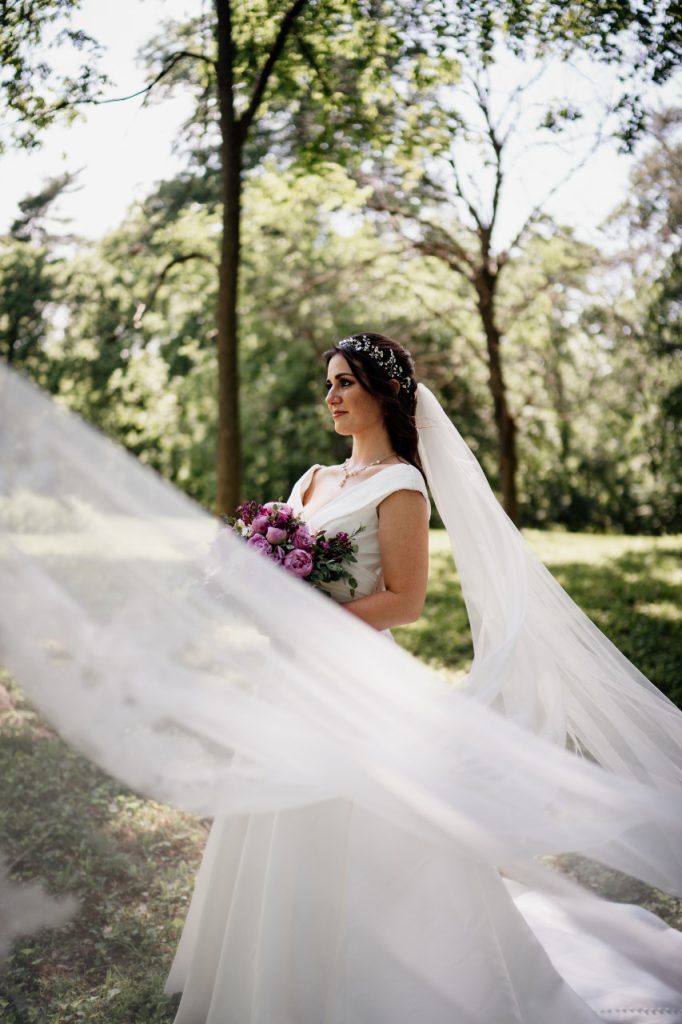 "The bride wore an ivory, off the shoulder A-line gown from Celebration Bridal & Tux (located in Lynchburg, VA) She also wore pearl earrings, a pearl necklace (that also dipped down and could be seen at the back of her dress) and champagne heels. She finished the look with a crystal hair piece, a blingy belt and a cathedral, ivory veil. Her veil, pearl necklace and belt were all purchased from shops on Etsy."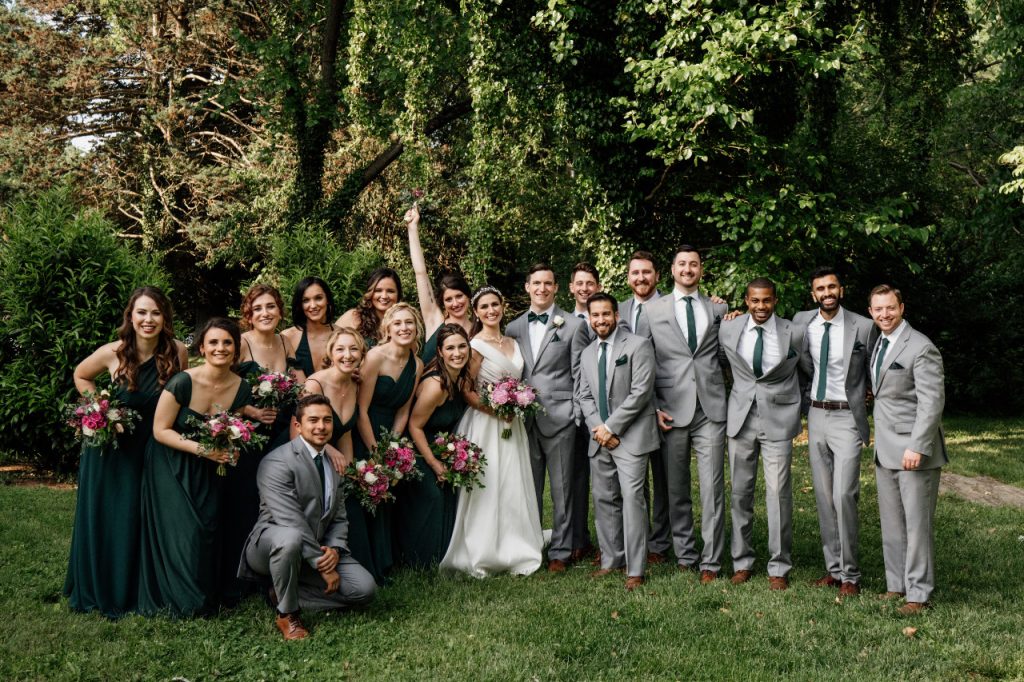 "All of the bridesmaids were able to pick their own style for their dress but had to order it in emerald green chiffon from the website, Birdy Grey. There were 8 bridesmaids, one "Maid of Honor" (which was the bride's identical twin sister) and one 'Man of Honor' in the bride's party. All of them were also given matching pearl necklaces to wear on the wedding day."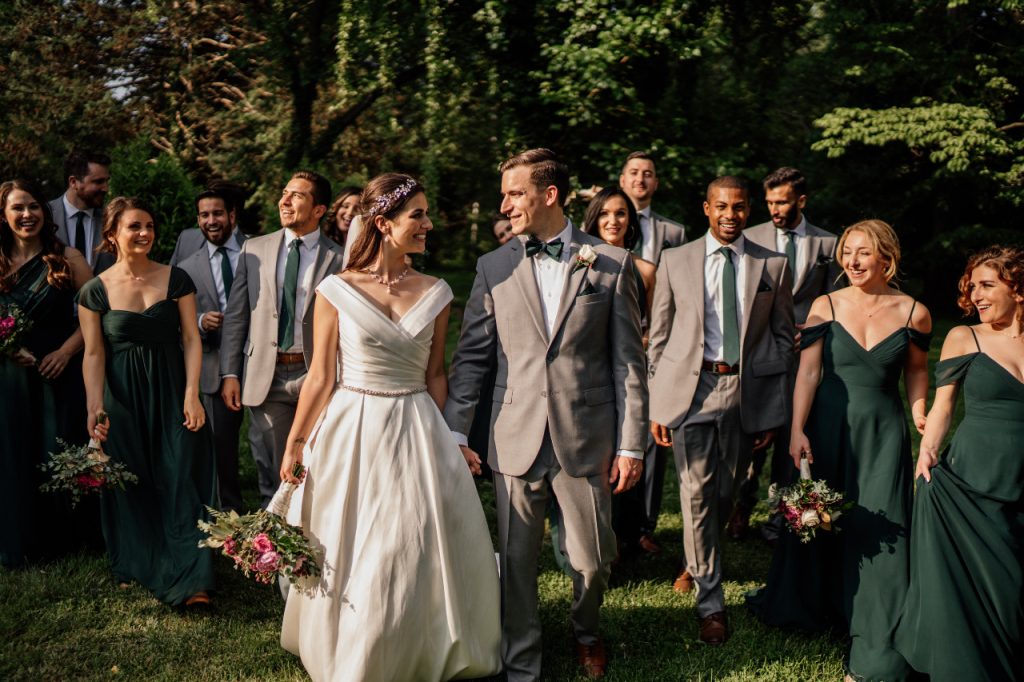 "In total, there were seven groomsmen and they ordered their suits from Joseph A. Bank in light grey. The groom wore Johnson and Murphy cognac Melton cap-toe shoes and the groomsmen wore cognac shoes with a matching brown belt (from the store of their choice). All of the groomsmen also wore matching emerald green, chiffon ties to match the bridesmaids and to stick out, Jon wore an emerald green bowtie.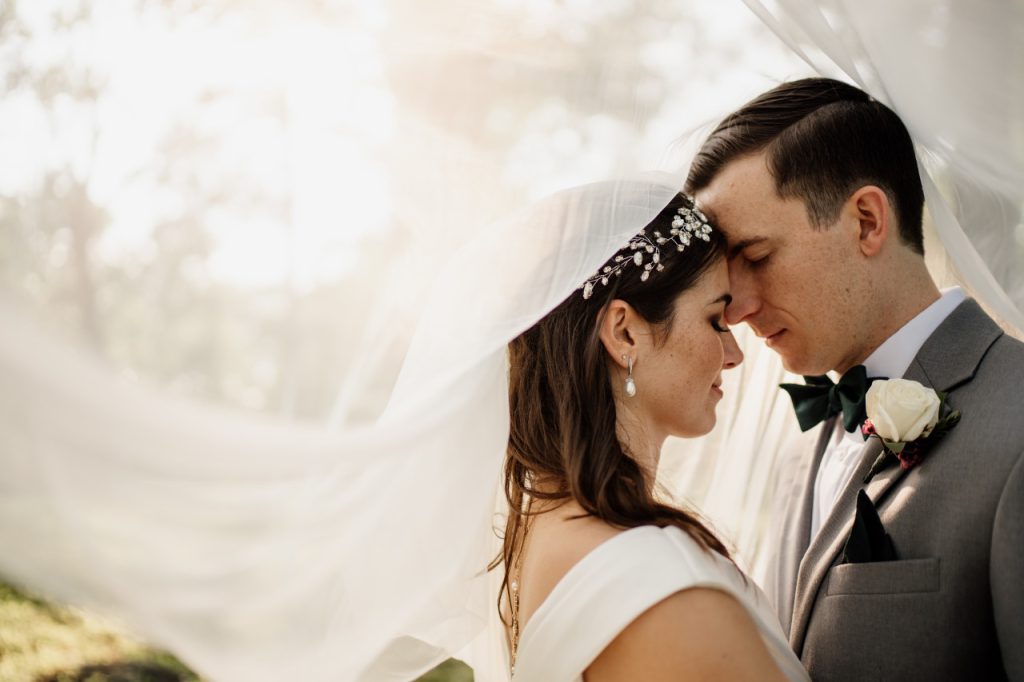 "We took photos around the Rosemont Manor grounds (there were plenty of places to explore and choose from!) Many of the photos were taken during cocktail hour, so our guests were able to enjoy refreshments and appetizers as the bridal party and other family portraits were captured. I chose our specific photographer, Molly, because I loved her photography style. The way she uses light in her photos (whether it's for portraits or scenic shots) is simply incredible. I also really liked how her photos are artistic, creative and capture moments throughout a wedding so well. She was also so easy to work with on the day of the wedding and knew exactly what shots I wanted. I would recommend her to anyone looking for a skilled photographer for their wedding day – you will not be disappointed!"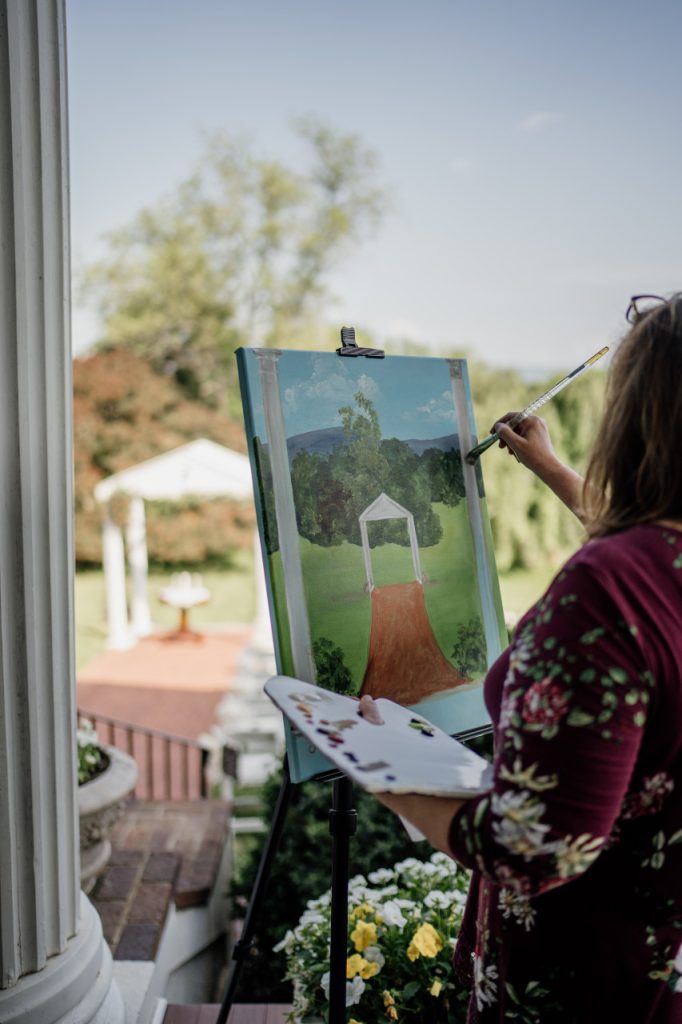 "The ceremony was on the East Lawn outside of Rosemont Manor. It was a beautiful (but extremely hot!) day and the bride and groom met underneath the decorated arbor. The view was beautiful – it showcased the vast Rosemont grounds and showed the Blueridge Mountains peeping in the background."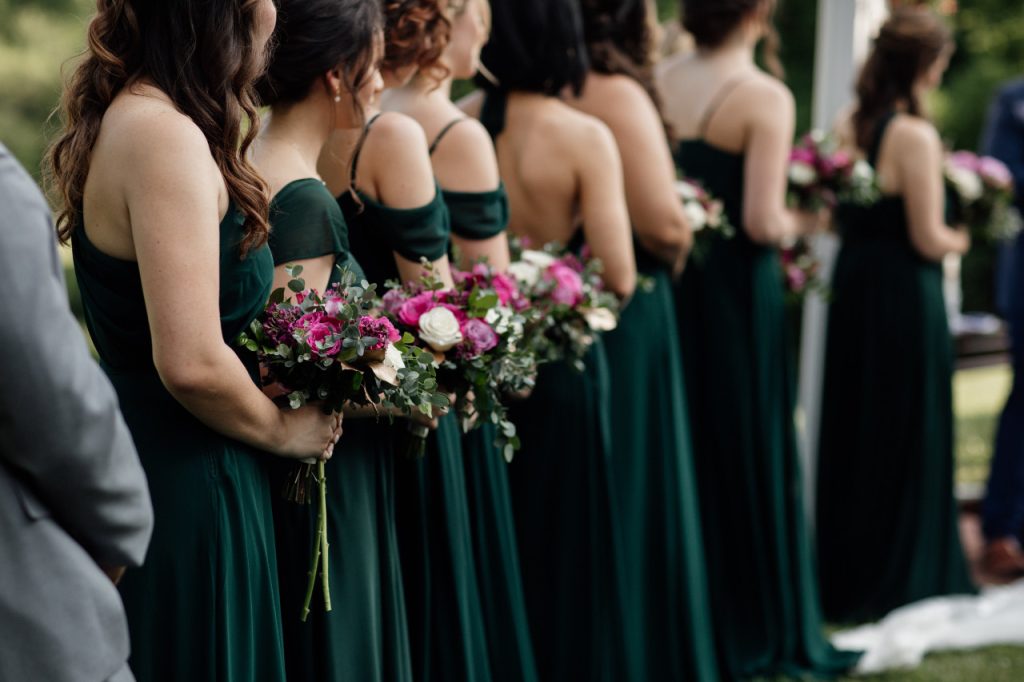 "The bouquets were made up of large, pink, fuchsia peonies, lavender roses, ivory roses and gold painted leaves. The groomsmen did not have boutonnieres, but the groom, groom's father and bride's father did. The groom wore an ivory rose and the two fathers wore tiny pink roses to match the other bouquets. Also, since Carly and Jon did not have a flower girl, they instead asked their two friends to be the "flower man" and "flower woman" and they handed out pink peonies to members of the audience, before Carly walked down the aisle."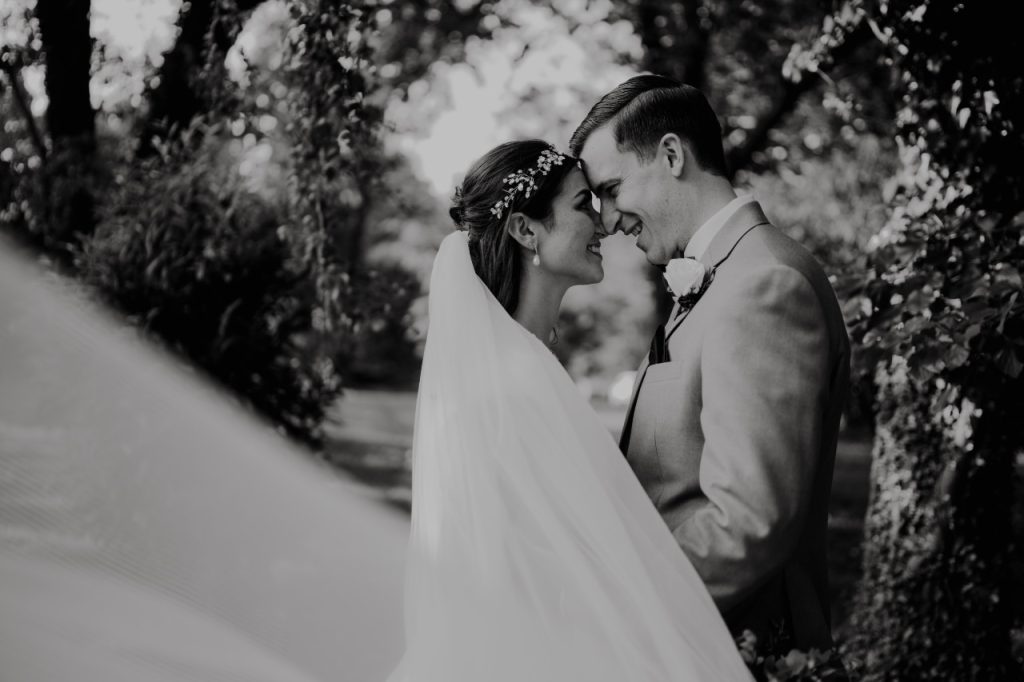 "The ceremony was a Christian ceremony and was officiated by Carly's Sunday School teacher, Steve, who taught her Sunday School when she was a young girl. Both Biblical readings were about love (one reading was taken from the Old Testament and the other one was from the New Testament) and the groom's two sisters read these passages during the ceremony."
"A unity candle was lit during the ceremony, which was used during the bride's parents' ceremony when they got married."
"All of the centerpieces were handmade by the bride's mother, Gayle. She painted wine bottles gold, added in glittery stones and then had the table numbers on the outside of one of the three wine bottles. One of the wine bottles also featured a fuchsia flower. The reception was held in the carriage house, which featured a large dancing space, many tables, and a dessert buffet area. The carriage house is also beautiful! It has beautiful fairy lights at the top of it and white lanterns throughout the space, which gave it a cozy, magical feeling.
"Additionally, guests could enjoy the outdoor area outside of the Carriage House, which featured an outdoor bar, corn hole games, high top tables, and a cigar bar. It was nice that guests could enjoy dancing inside or could go outside if they wanted to talk in a quieter space."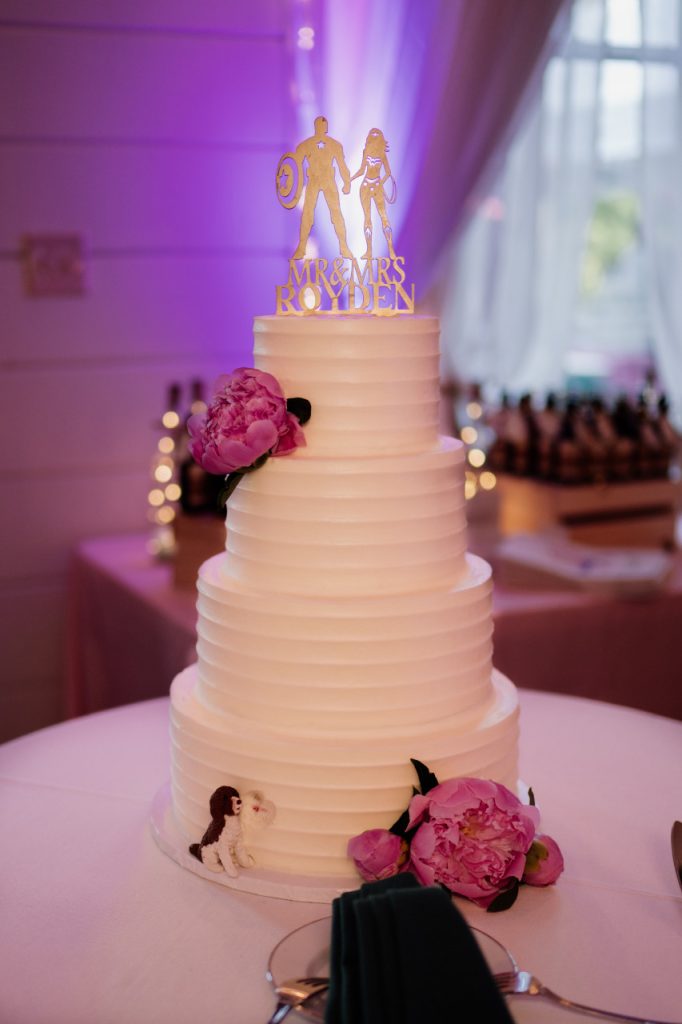 "Our wedding cake was four tiers and had two peonies on the top and bottom of the cake as decor. Also, the cake topper was a glittery Wonder Woman and Captain America design (which Carly personalized on Etsy) and at the bottom of the cake was a small statue of the couple's dog named Scooby. He was there in spirit and taking a bite out of their cake, of course! Guests loved this personal touch."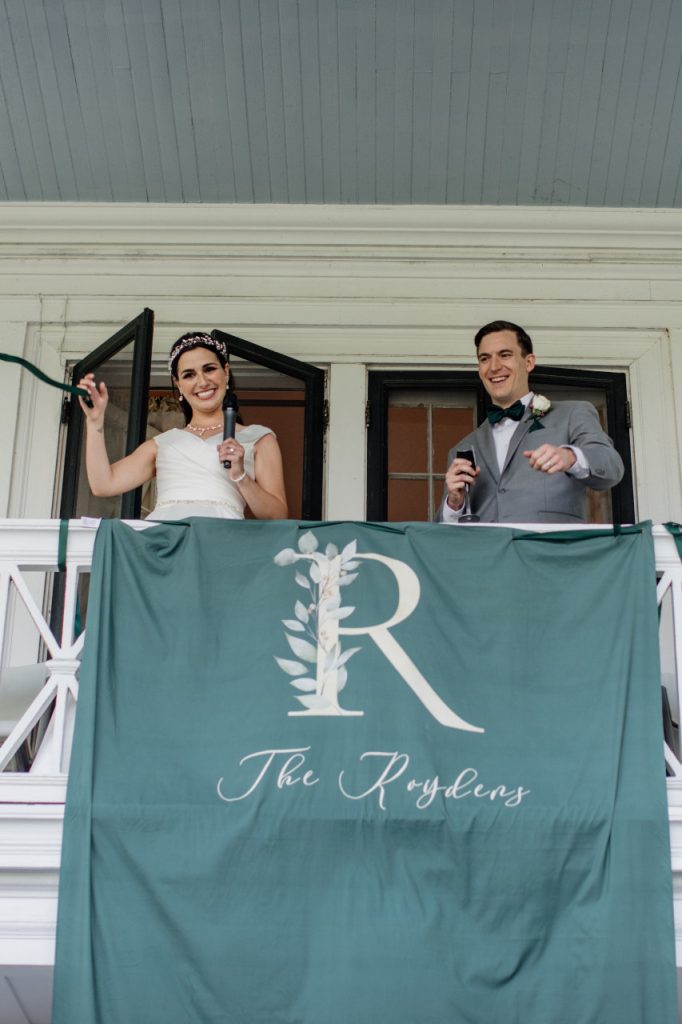 Carly leaves us with this advice for fellow brides, "Some advice I would give to any to-be-wed gal is to just have fun and not sweat the little things on your big day! Also, the more planning you do, the easier this will be to accomplish. Additionally, have fun with the small details and make things personalized/ your own! I could tell how much our guests loved our personal details on our wedding day such as The House of Royden banner during cocktail hour, Scooby there in spirit eating some cake and the Wonder Woman details everywhere."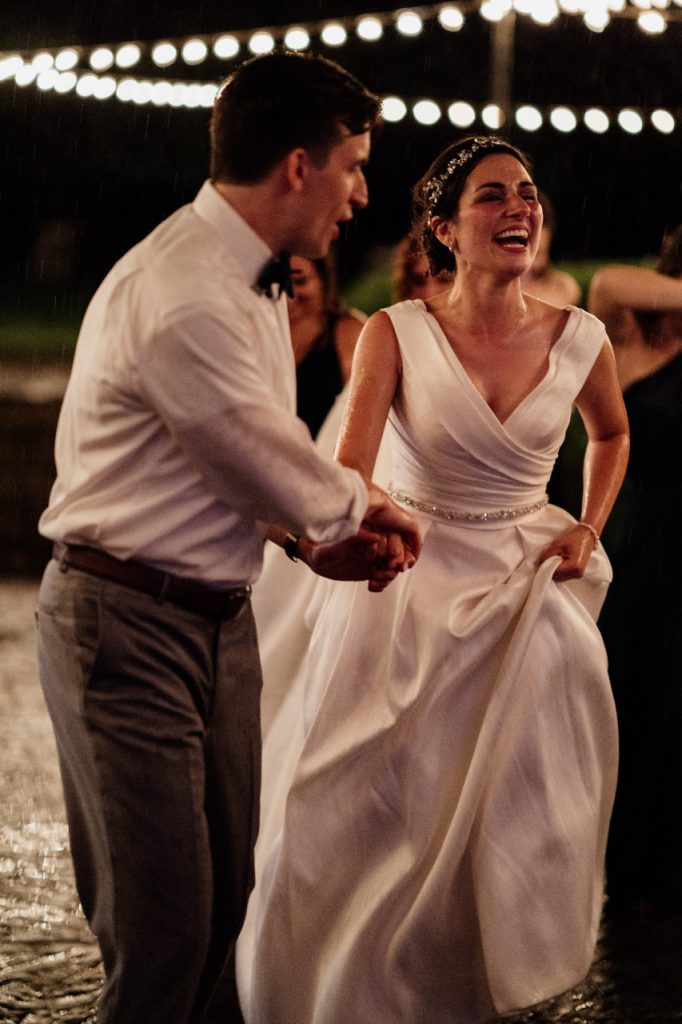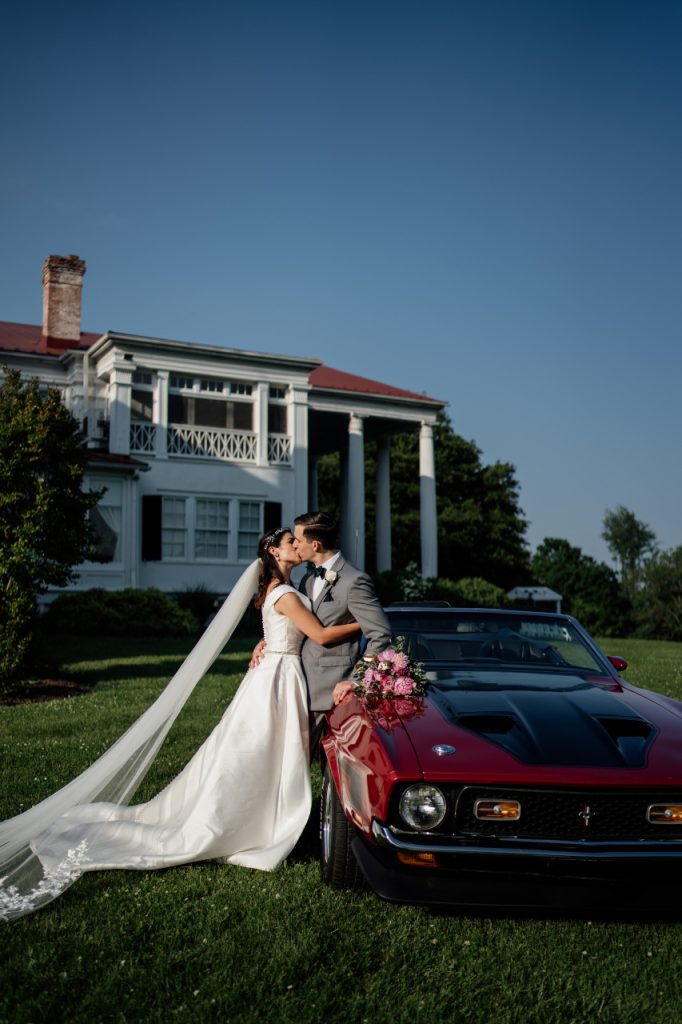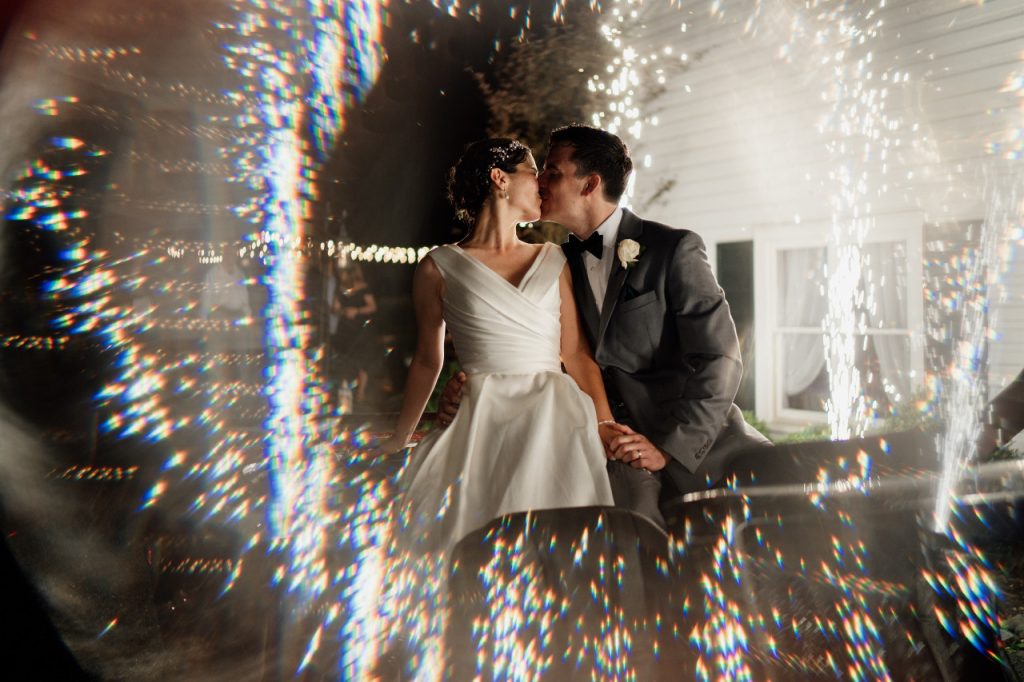 Congratulations to you both!
VENDORS LIST:
CEREMONY & RECEPTION SITE: Rosemont Manor, (540) 955-2834, 16 Rosemont Manor Lane, Berryville, VA 22611
PHOTOGRAPHY: Molly Maher Photography, mollymajherphotography@gmail.com, 540 409-1423
VIDEOGRAPHY: An Affair To Remember Video, LLC, 39 S. Loudoun St., Winchester, VA 22601, 540.667.6220, admin@aatrvideo.com  or aatr@aatrvideo.com
CONSULTANT: Michael Haymaker, wedding planner at Rosemont, weddingplanning@rosemont1811.com, 540 955-2834
OFFICIANT: Steve Weiss (Carly's Sunday School teacher), steve@homecaremarketing.net, 732 882-9414
GOWN: Celebration Bridal, 120 Simons Run F, Lynchburg, VA 24502, (434) 237-5557
VEIL: LorieBughes from Etsy
SHOES: Dillard's – Jessica Simpson Glitter Strappy Block Heel Sandals
HAIR: Cori Campbell, 304-279-5576, hairdresser4859@gmail.com
MAKEUP: Anna Marie Kaczmarzewski
BRIDESMAID DRESSES: Birdy Grey
FORMALWEAR: Joseph A. Bank, 11930 Democracy Dr, Reston, VA 20190, (703) 834-7110
INVITATIONS: Zazzle
FLOWERS: Sponseller's Flower Shop sfsinc@hotmail.com, 540 955-3227, 2 W Main St, Berryville, VA 22611
RENTAL EQUIPMENT: Rosemont Manor, (540) 955-2834, 16 Rosemont Manor Lane, Berryville, VA 22611
CATERING: Celebrations Catering, David@celebrationshospitalityinc.com
MUSIC Ceremony and Reception: Summit Events Co, repeatabledj@gmail.com, 540 771-0746
LIVE PAINTER: Cheri Miller Bridal, CheriMillerBridal@gmail.com, 540 454-2846
CAKE: The Cake Boutique, the.cake.boutique@live.com, 540 664-5605
TRANSPORTATION – I would not recommend our chosen vendor
ACCOMMODATIONS: SpringHill Suites by Marriot Winchester, 280 Market St, Winchester, VA 22603, USA, (540) 431-3330
HONEYMOON: Turks and Caicos (we planned this on our own)