Real Virginia Weddings
Tiffany & T.C.
BRIDE: Tiffany Cox, 35, Public Health Professional
GROOM: Melvin "T.C." Carter, 36, Market Research Advisor
DATE: August 18, 2018
LOCATION: The Historic Jasmine Plantation, 4500 N. Courthouse Road, Providence Forge, VA
NUMBER OF GUESTS: 130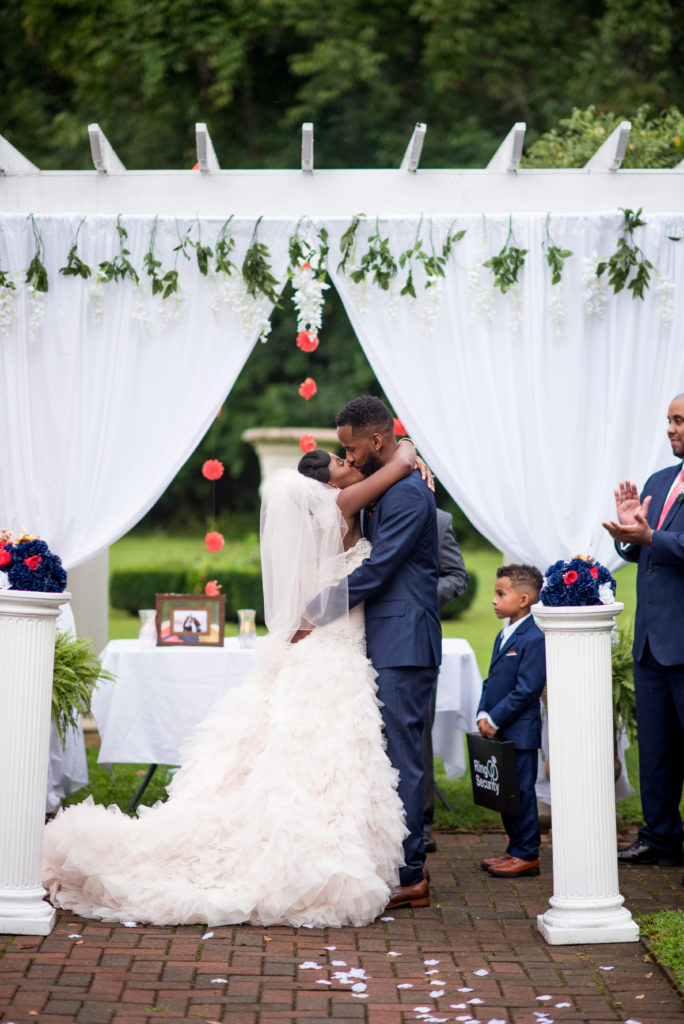 This beautiful couple met one cold, rainy night when Tiffany was looking at a house-share where T.C. just happened to live. He introduced himself, showed her the house, and soon became housemates and friends. As time progressed, friendship blossomed into love.
After they'd been together for a while, T.C. seemed to be leading up to the big question. Tiffany dressed up, ready for the romantic evening – which did not disappoint, though she was surprised when a proposal didn't come by the end of dessert.
After enjoying the special champagne at the specific table T.C. chose, with the wait staff snapping discreet photos throughout, the couple exited and found themselves beneath the holiday lights strung up.
"Then I started to hear our song (Where I Sleep by Emeli Sande) playing in the background as he started to tell me how much he loved me and wanted to be with me," says Tiffany. "He got down on one knee and friends came running out holding signs that read 'WILL YOU MARRY ME, TIFFANY?' I looked back at him and he was holding a shiny ring and asked the question himself. I said yes and we hugged and kissed as we heard people applaud from behind us and inside the restaurant."
In August 2018, Tiffany & T.C. said their "I dos" at the stunning Historic Jasmine Plantation in Providence Forge. Tiffany wore a full-length, pale pink gown by David Tutera. The dress has a dropped waist, full skirt with flowing ruffles, and a long train. Her waist-length, pale pink veil with beaded trim matched the mood of the day perfectly.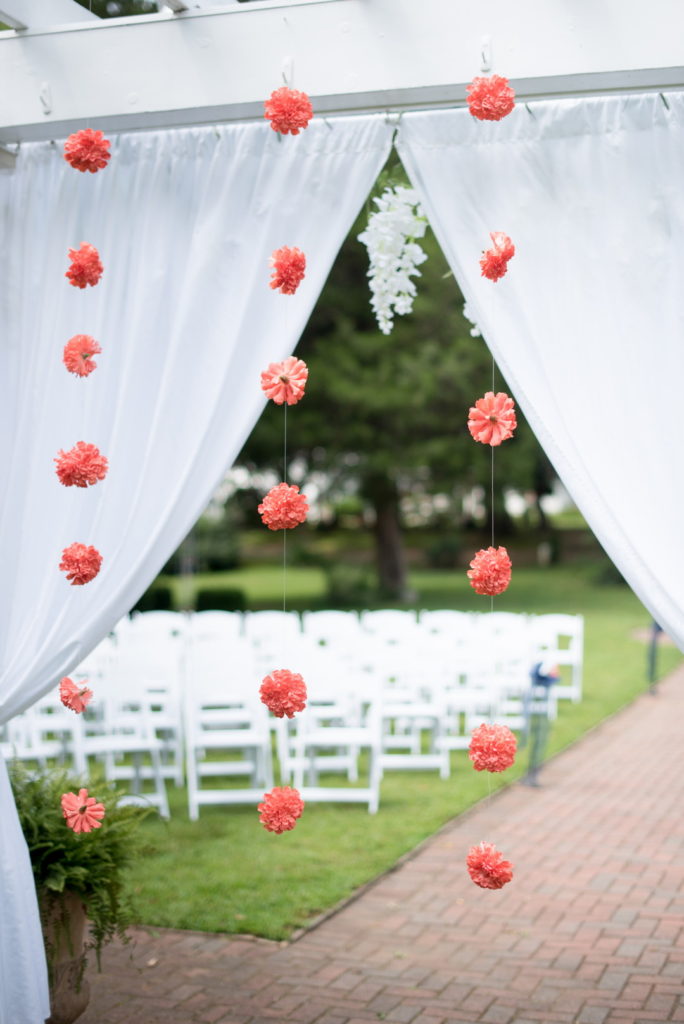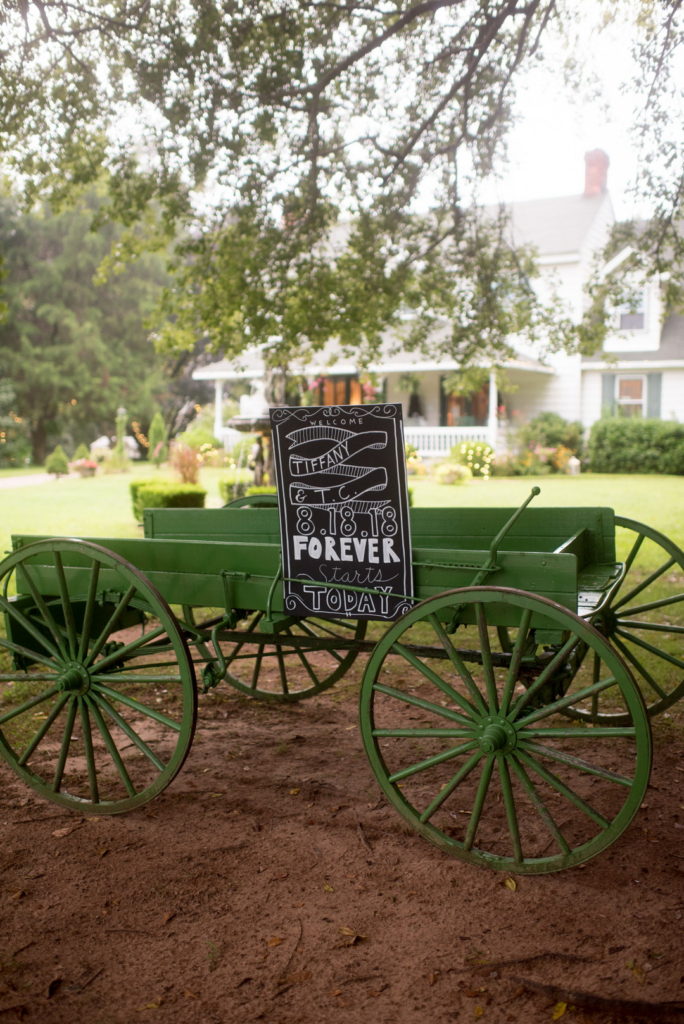 T.C.'s attire, along with that of his groomsmen, was a navy-blue tux with a coral necktie to match the coral full-length dresses worn by the five bridesmaids. The groom's daughter, aged ten, wore a gold chiffon dress with cream lace flowers and cream belt alongside white and gold sandals, looking every bit of her title as the flower princess.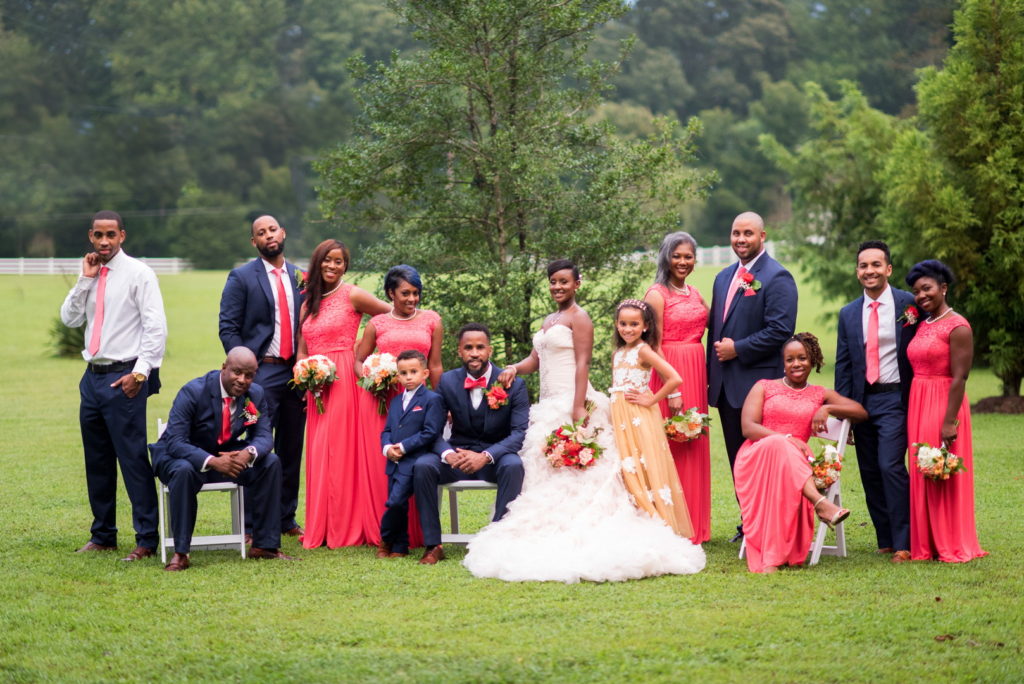 The couple shares the Christian faith and incorporated their beliefs into the ceremony along with symbols of their blended family by pouring colored sand into a box surrounding their family photo.
While Tiffany loves tea, T.C. has a talent for the visual arts. They incorporated their love of these into the wedding with gifting personalized teacups and teabags as wedding favors while T.C. created all the printed materials using his gifts.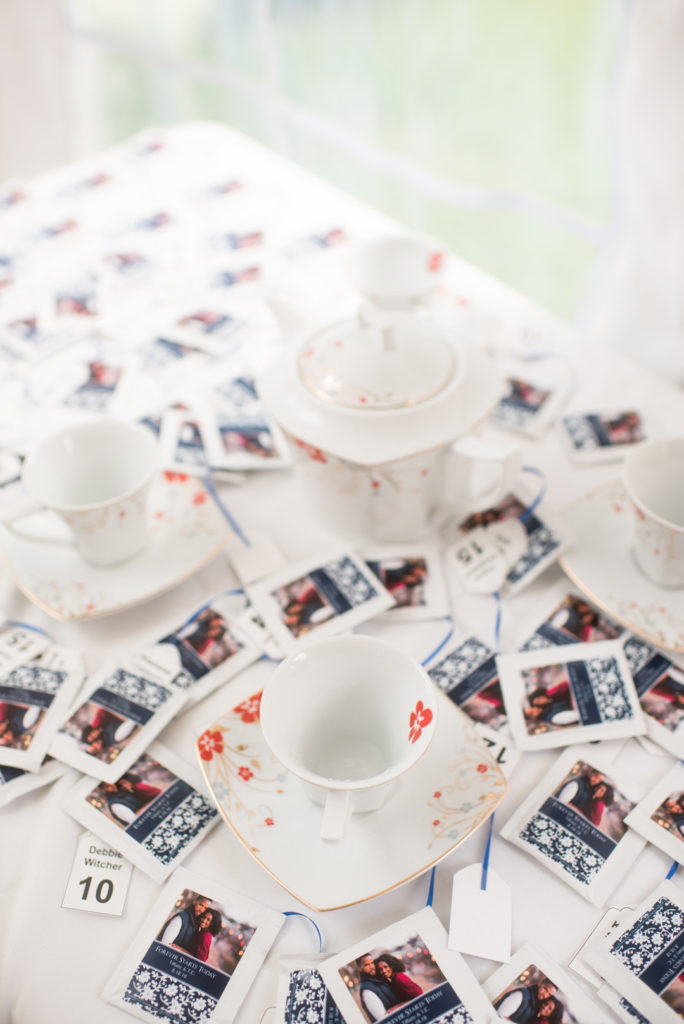 Instead of the traditional cake, Tiffany & T.C. chose to have a cupcake tower, with each cupcake wrapped in gold foil and topped with a half-white, half-coral rosette. A 6-inch round cake of white with gold trim capped the tower with a touch of elegance.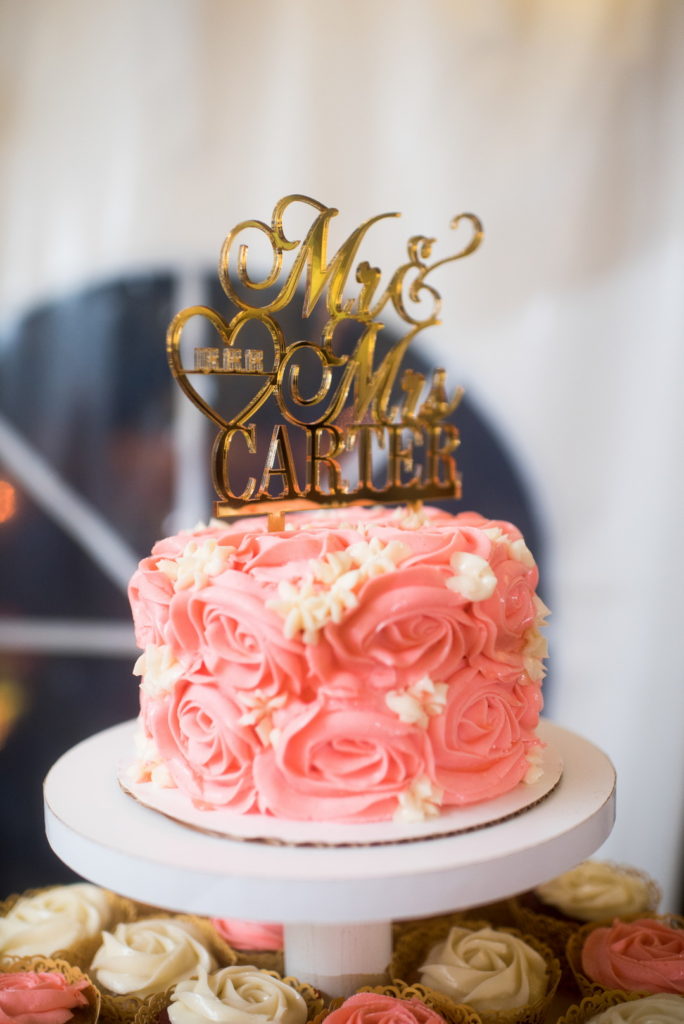 While some elements of their wedding were traditional, Tiffany & T.C. truly made this stunning day their own, including their kids, their personalities, and their love of the arts to celebrate this beautiful new life together.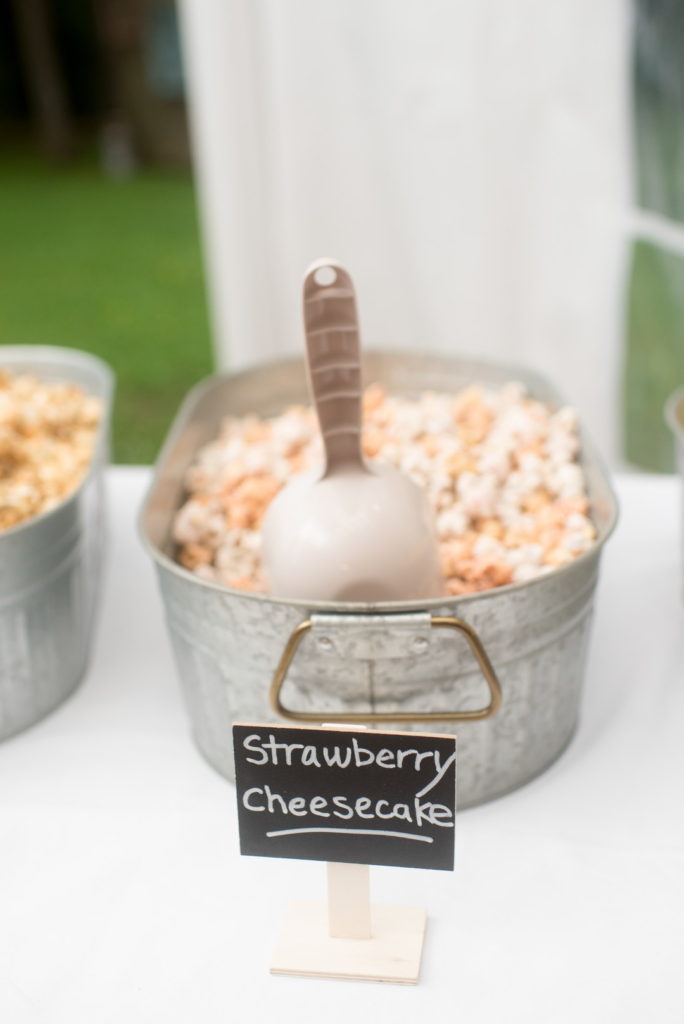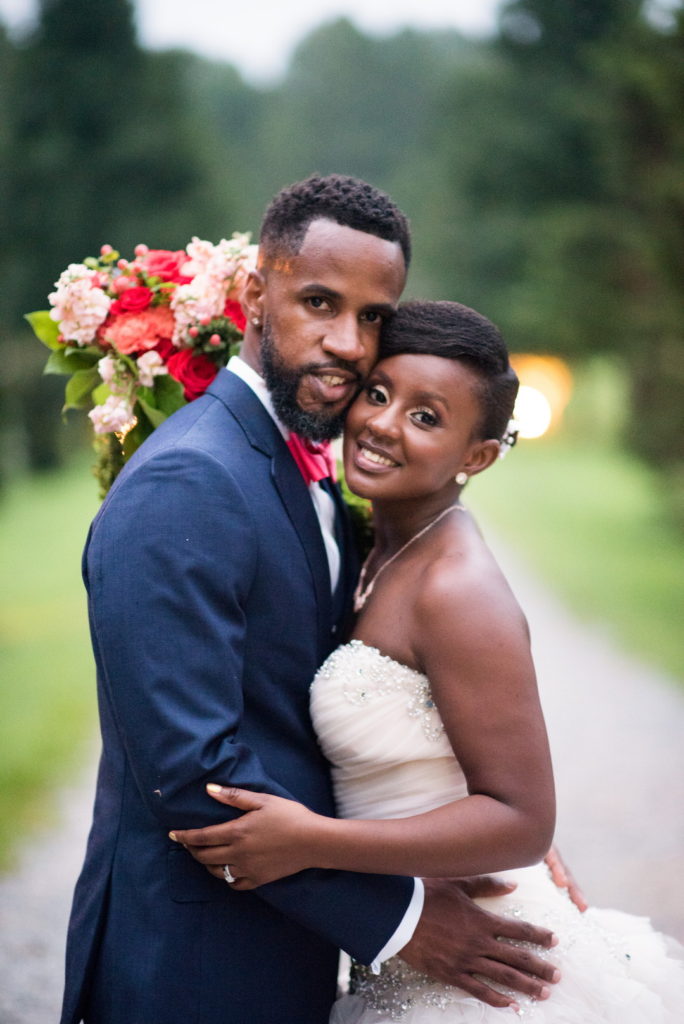 CEREMONY+RECEPTION SITE:  The Historic Jasmine Plantation, 804-966-9836, Providence Forge, VA
PHOTOGRAPHY: IYQ Photography Richmond, VA 804-253-5420
VIDEOGRAPHY: Chandler Film Productions, Chesterfield, VA
OFFICIANT: Pastor Kevin Bordeaux of Thrive Church 804-271-4329, North Chesterfield, VA
GOWN: David Tutera gown bought at Tiffany's Bridal, Henrico, VA, 804-273-6303
VEIL: Bought at Tiffany's Bridal
SHOES: David's Bridal
HAIR: Blow Hair Salon, Richmond, VA, 804-935-8933
MAKEUP: Alisha White of Beauty-N-Motion, Richmond, VA, 804-439-6733
BRIDESMAID DRESSES: David's Bridal
FORMALWEAR: The Black Tux, online
INVITATIONS: Mel Mel Photography, North Chesterfield, VA, 804-240-0671
FLOWERS: Pandora's Posies, Chesterfield, VA, 804-379-2514
DECORATIONS: Sweet Nan's Creations, Greenville, NC
CATERING: Mission BBQ, Richmond, VA, 804-548-4622
MUSIC CEREMONY AND RECEPTION: DJ Big-Q with Hurt Em' Bad, 804-247-6657
DANCE LESSONS: YouTube
CAKE: Carytown Cupcakes, Richmond, VA, 804-355-2253
ACCOMMODATIONS: Homewood Suites, Sandston, VA
HONEYMOON: El Dorado Seaside Suites, Riviera Maya, Mexico, 1-844-887-9488
TRAVEL AGENT: The Vacation Chic, Richmond, VA, 804-370-8294