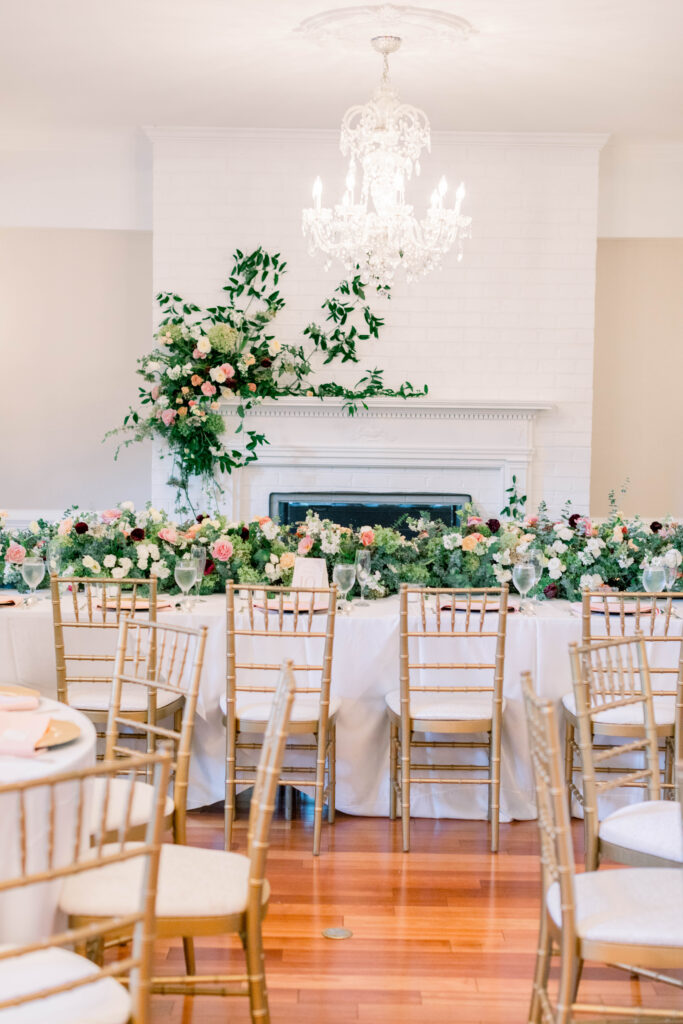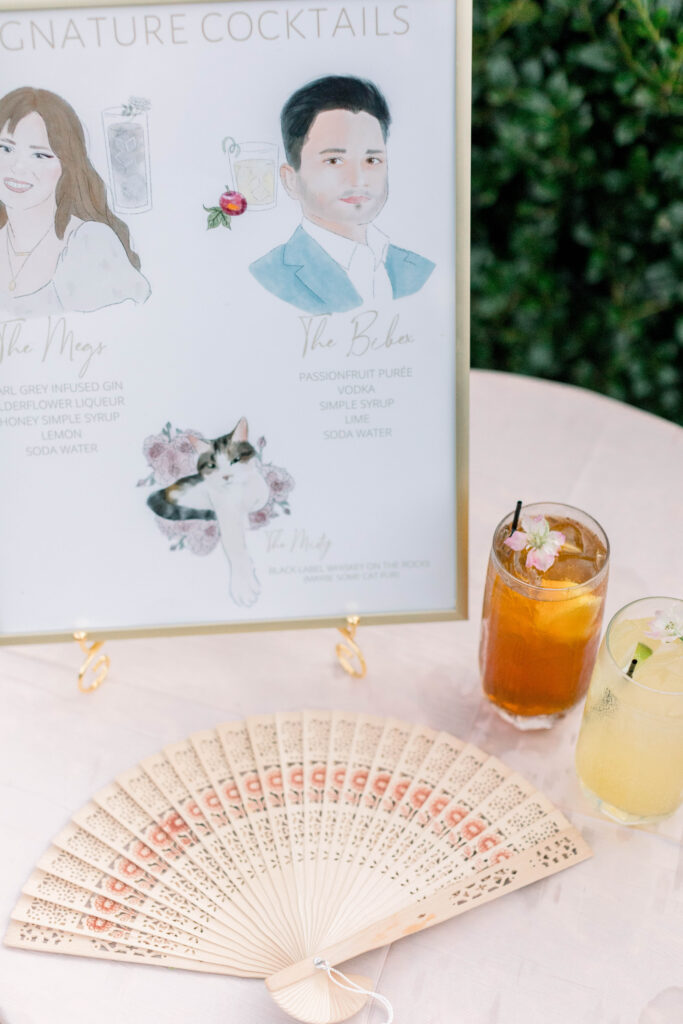 This week, our real Virginia Weddings story comes from many cultures and spaces, landing in our own backyard with the beautiful story of Meghan and Bibek, how they met, how they fell in love, and, of course, their beautiful Virginia wedding!
Meghan says, "I wish we could say that we met on Hinge or something, but Bibek and I met on a forum for memes. He DM'd me a joke (it was kind of dumb and I can't really remember what he said but I guess it worked because now we're married), and we ended up having some back and forth for weeks, which became months.
"We were separated by an 8,000-mile distance. I lived in Guam, and he lived in Virginia. I came to Maryland for a bit because I had family living here and wanted to determine if it was the right place for me to move for college. When I had to go back to Guam, Bibek decided he wanted to come with me. We met for the first time in person at the airport.
"I guess you could say that our 22-hour plane ride was our first date. It was really something to be physically stuck with someone you've never met in person; yet we talked for the entire flight, laughed when we almost missed our connection from Hawaii to Guam, and somehow enjoyed airplane food together. I am usually exhausted after long flights, but I think we were really distracted by one another to be tired."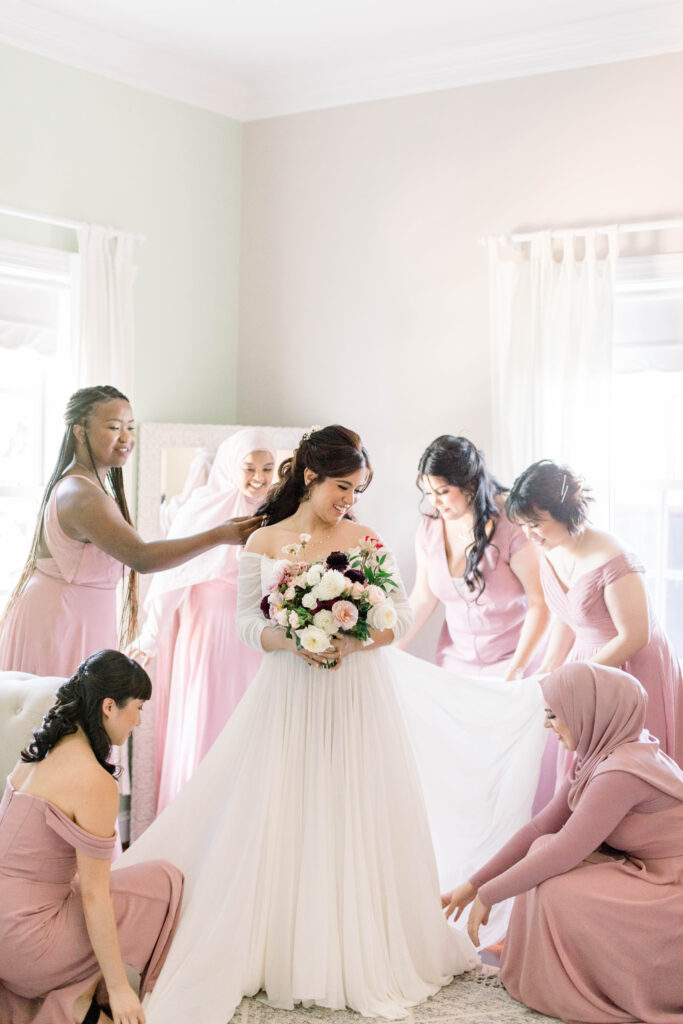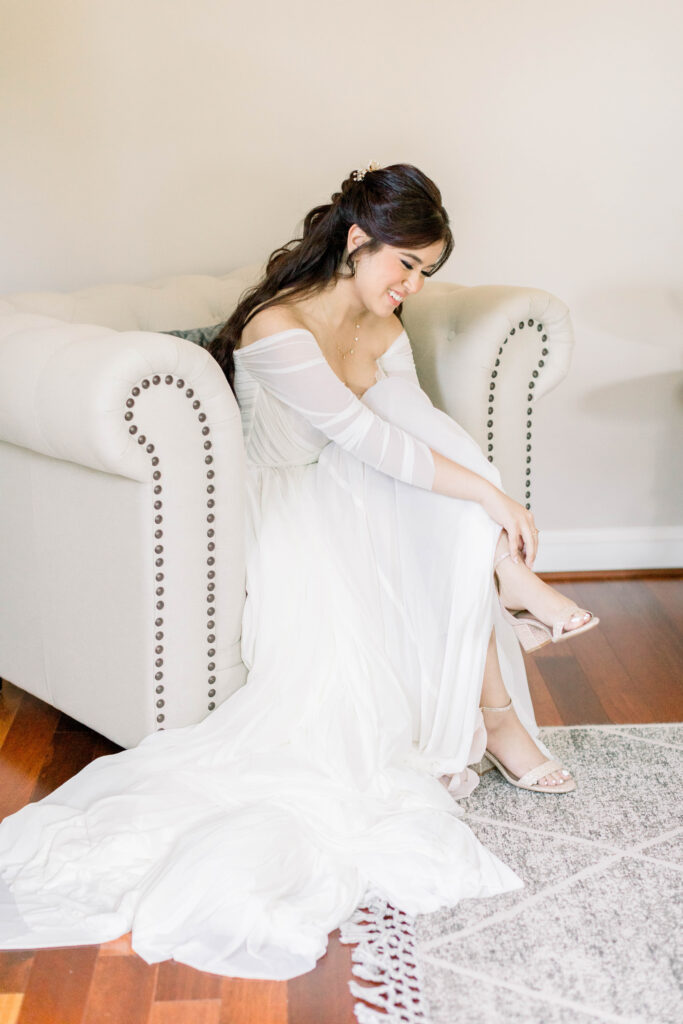 The Scoop
Bride: Meghan, 23, Masters Student in Behavioral Psychology, UMBC
Groom: Bibek Singh, 30, IT specialist, SAP
Wedding date: 09/04/2021
Number of guests: 131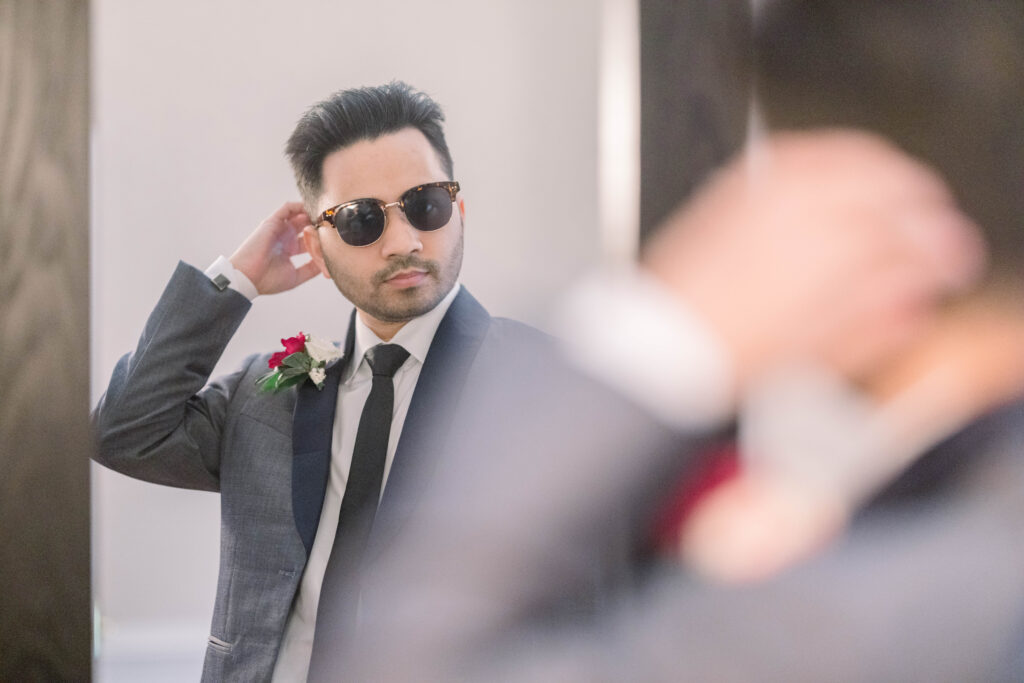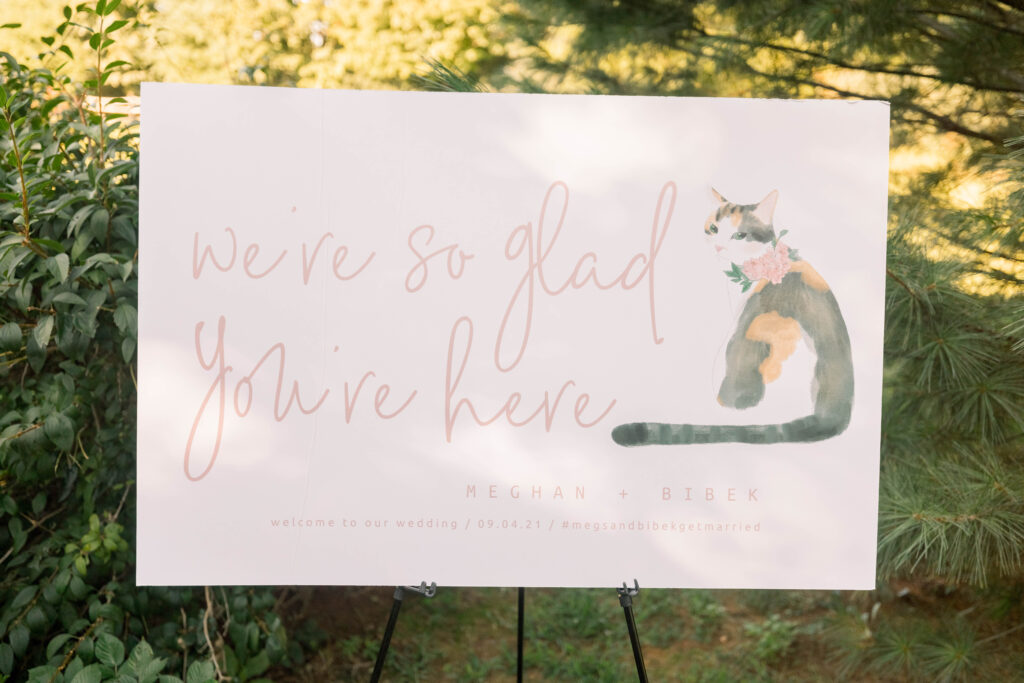 Meghan and Bibek chose many special elements to help make their big day unique and lovely – just for them and their family.
"We have a 15-year-old cat named Misty, who is obsessed with Bibek. As in, she glares at me when I attempt to sit next to him on the couch, waits by the door when he leaves, and overall, just prefers him over me. Since she couldn't come to the wedding, I added sketches of her in places I could. She was on our Save the Dates, our specialty cocktail menu (with her cocktail being a glass of black label whiskey), our welcome sign, our seating arrangement, etc. I made a life-sized cardboard cutout of her (that we put at the aisle) and photobooth props of some of her best pictures for guests to use. In addition to a bouquet toss, Bibek did a "cat toss" – whoever caught the stuffed cat was either supposed to adopt a cat or if they have too many cats already, we would make a donation in their name to a local shelter of their choice."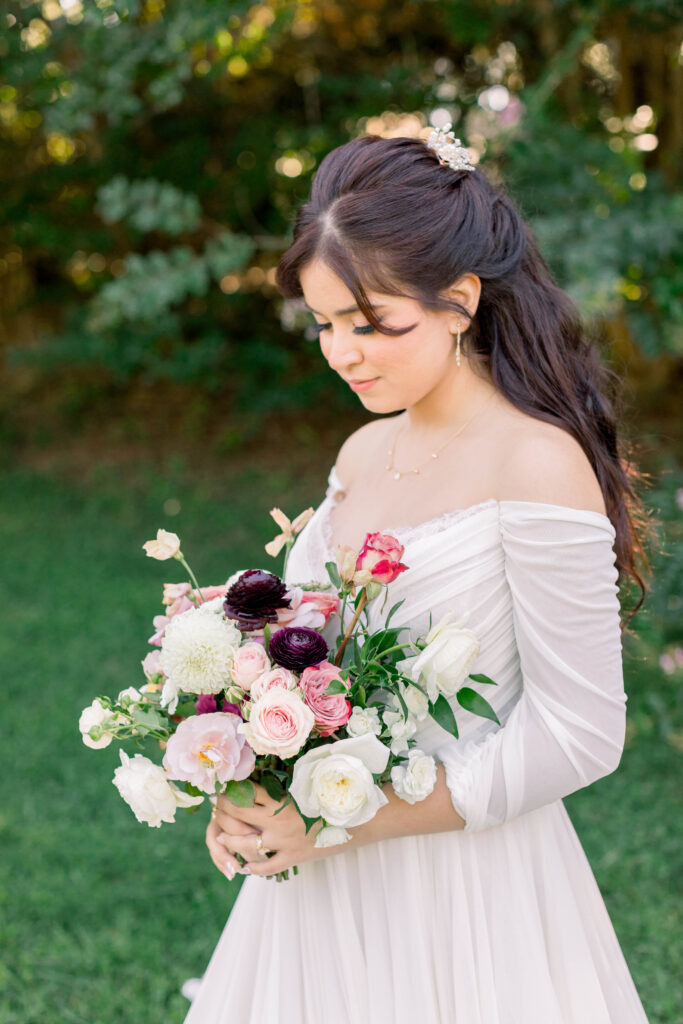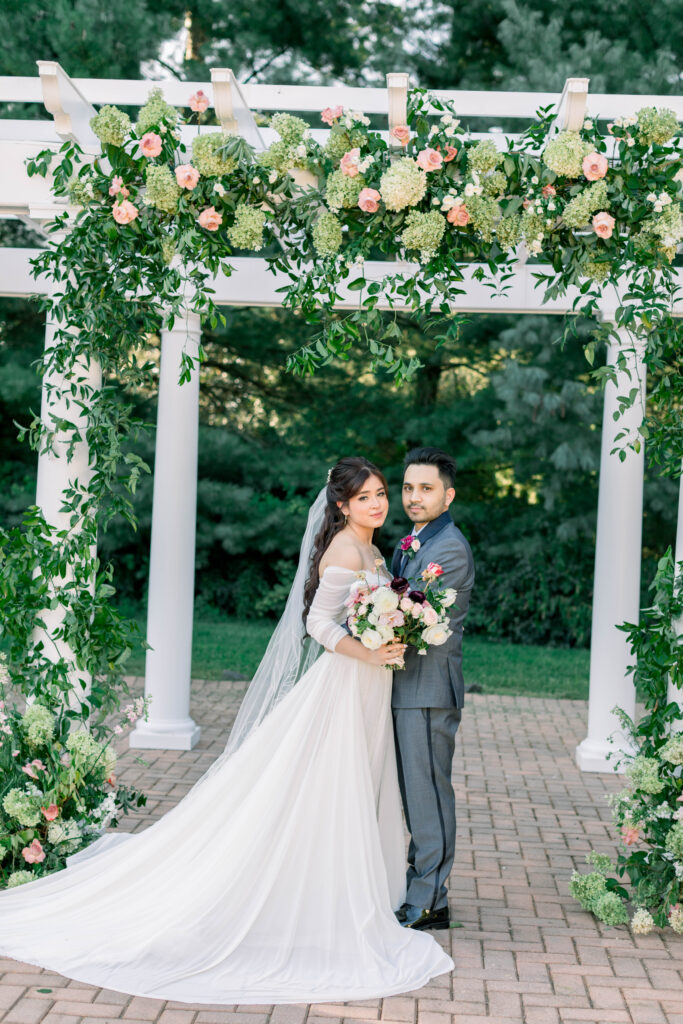 "For our favors, we stressed because we weren't sure what people wanted. My good friend, Natatia, offered to bake 1,000 cookies for our guests. The flavors were Toasted Sesame Chocolate Chip, Ginger Molasses Spice, and Lavender Earl Gray. Needless to say, she is famously known as the "cookie lady" by our friends and family."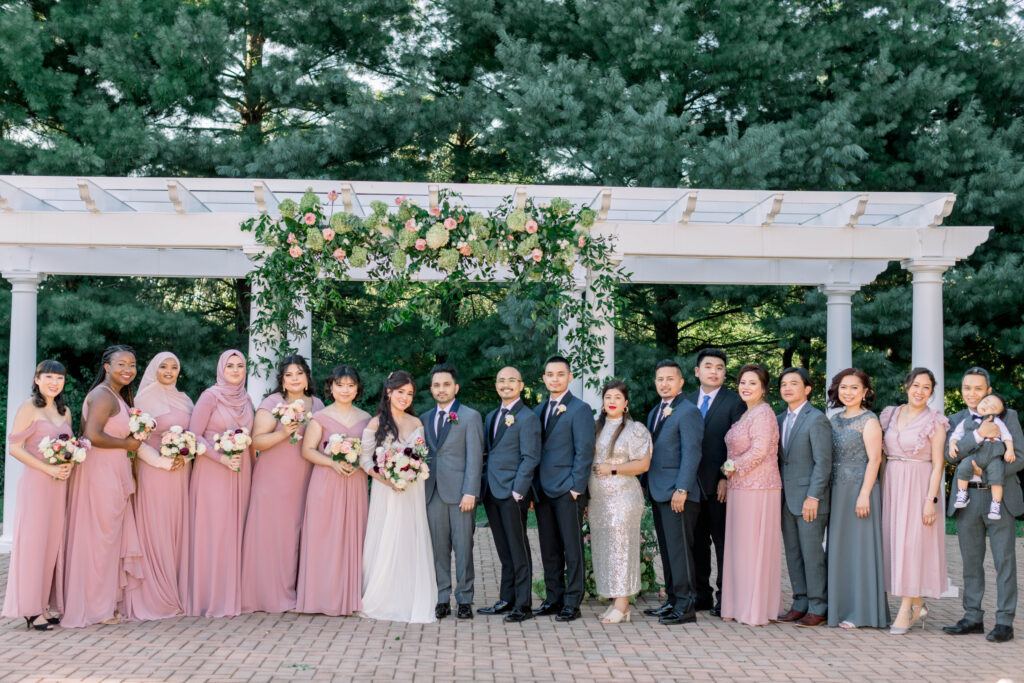 "Bibek is Nepalese and I am Filipina/Indian. While we opted for an American wedding, we incorporated music and cuisine from our cultures as well. We also had tons of guests wear traditional attire if they wanted to!"
"My wedding dress, I think, was the opposite of what I expected to choose. It is the Wtoo by Watters from BHLDN, which is an A-line dress with mesh layers and a pinkish undertone. It is an off the shoulder dress with a lace bodice/corset. It was simple, but the only dress that my bridesmaids cried for when I put it on. My shoes were from Amazon, because I didn't really plan on wearing shoes for the reception to be more comfortable!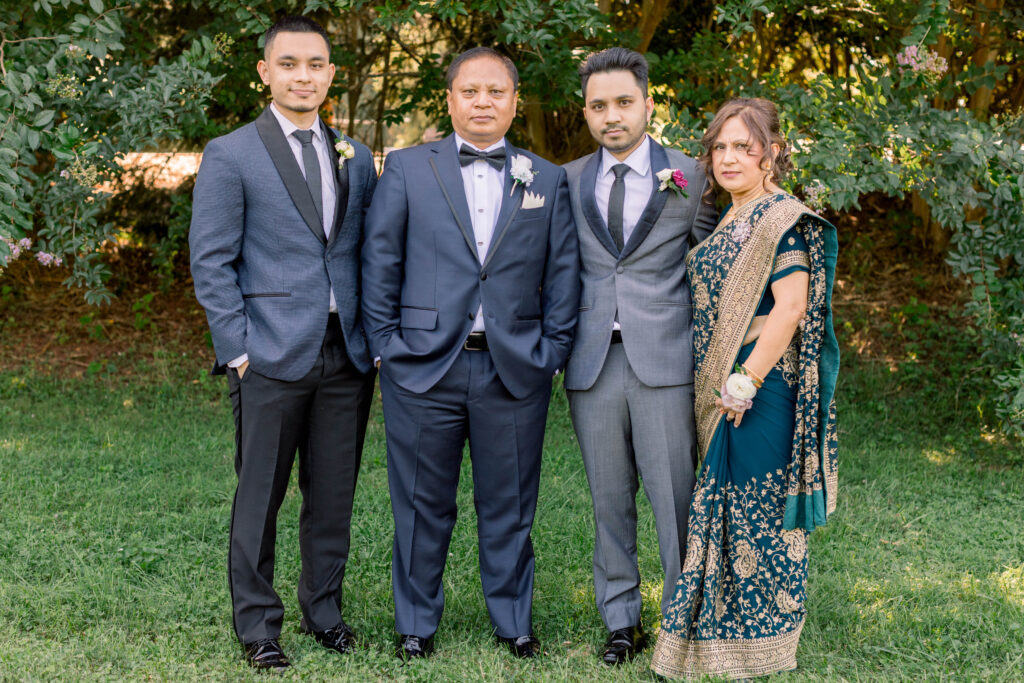 "My veil was a last-minute splurge – I tried it on at BHLDN when I got my dress and didn't decide to buy it until 3 days before the wedding. It is a fingertip length veil with an outline of flowers at the bottom. Lastly, my jewelry (from Quest Jewelers), was from my in-laws. It is tradition in their culture to provide the bride with jewelry. I don't usually wear jewelry aside from my engagement ring, so I know they took some time to really choose the perfect set for me. And it was perfect."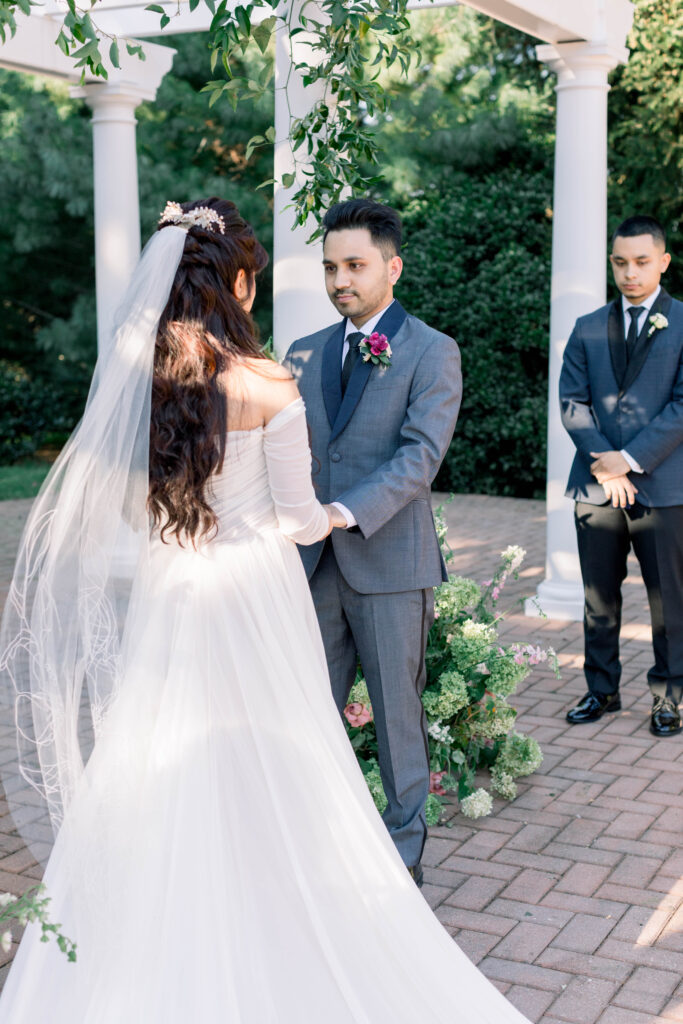 "Bridesmaid dresses were in the shade 'dusty rose' and came from Azazie. Each bridesmaid chose a style of their own, which I loved."
For their colors, they "chose dusty rose, dusty blue, and sage. Bibek always chooses shades of blue and I always choose shades of pink if we have a choice. The sage was chosen simply because it is a nice color and went well with all the greenery and blooms."
"I don't have any family here aside from my mom (and Bibek's family), but I view every single person that came [to our wedding as] special. A huge chunk of my guest list were my coworkers from the grocery store I work at (Mom's Organic Market), and I can say with my entire chest that they are my chosen family. We also had a lot of people coming from out of state, who we haven't seen in a long time due to the pandemic. This includes Bibek's grandfather, who came 2 months before the wedding from Nepal to settle in for his eldest grandson's wedding.
"Some of my colleagues that I worked with at school were also able to attend. The funniest thing about that group of people is that I had only met them once in person prior to the wedding due to the pandemic, but worked with them on various research projects throughout the year! Lastly, one of my mother figures growing up was able to attend with her husband and son. She took care of me when my mom was working, and always joked that I was her first born. It felt like an honor having her and her actual first born at our wedding."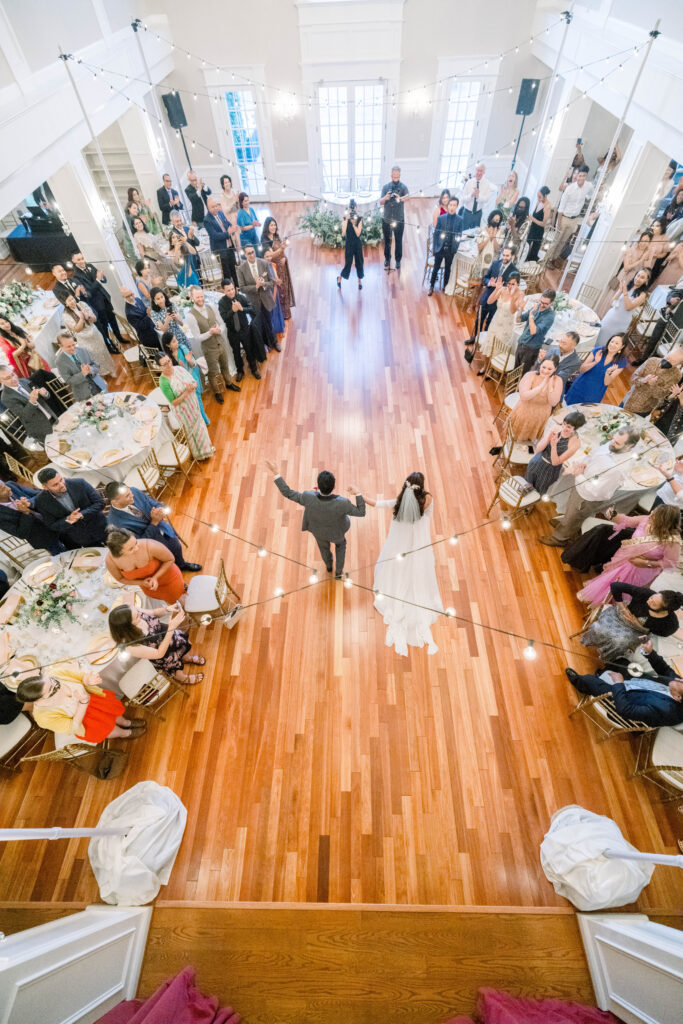 As to inspiration, Meghan says, "I don't think our wedding was inspired by one thing, but a combination of what we've seen on Pinterest and what we thought would suit us the best. I just wanted a lot of flowers because they are significant in our relationship. To illustrate, one of the dates we planned before we met was to see the cherry blossoms at the Tidal Basin (where we also ended up taking our engagement photos); Bibek also proposed to me in an azalea garden in Japan. So, in a sense, our wedding was inspired by our experiences and relationship that is constantly growing and blooming, filled with delicious food, and surrounded by love."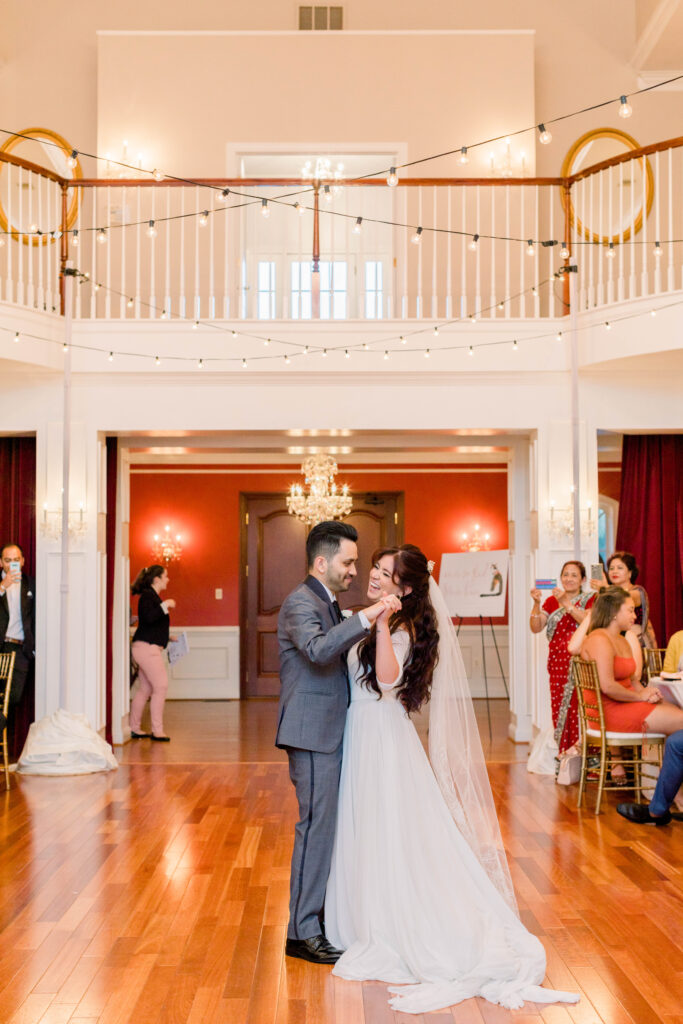 "Our florist described our wedding as 'Garden Party Chic' when we first described to her what we wanted in terms of blooms. I think she captured it perfectly with those three words. I wanted the reception space adorned with flowers, and we also added cafe lights inside to give it that comfy, cafe feel. Gold was important, so we added that where we could."
Meghan leaves fellow brides and grooms to be with these thoughts. "I think all the cliches of, 'don't stress', 'focus on you and your partner', and 'don't feel pressured to do anything you don't want to do' are all 100% true. While this is one of the most important events of your and your partner's life, it is only one event compared to the rest of your lives. It is important to think about how you would feel looking back at the event as well, therefore, don't do anything you don't want to do and focus on your unity!"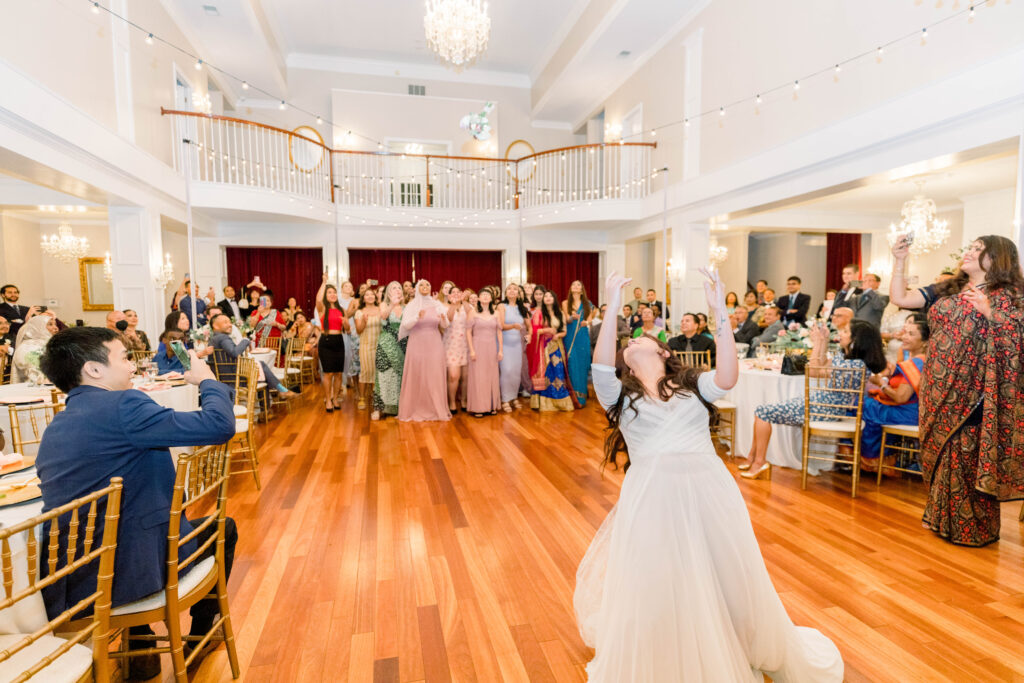 Vendor Credits
Venue: Rose Hill Manor
Photographer: Sarah Shank Photography
Consultant: Nouvelle Weddings/LynnAaron Nichols
Day of planner: LynnAaron Nichols
Officiant: Rev. Lisa Tumbarello
Gown & Veil: BHLDN
Shoes: Amazon
Hair & Makeup: Priscilla M Beauty
Bridesmaids' dresses: Azazie
Formal wear: Azazie
Invitations: Minted
Flowers: Flor de Casa Designs
Rental equipment: Rose Hill Manor
Catering: Rose Hill Manor
Music (DJ, band, singers, etc.): District Remix
Cake: Classic Bakery
Favors: Cookies made by family friend
Transportation: Point to Point Limousines
Where did you go for your honeymoon? Cancun!