This wedding is featured in the current spring 2020 issue of Virginia Bride.
By: Brittany Tilley
The Scoop:
Bride: Kelli Dent, 31, Senior Manager
Groom:EJ Dent, 33, Business Manager
Date: June 24, 2017
Location: Whitehall Estate, Bluemont, VA
Number of Guests: 156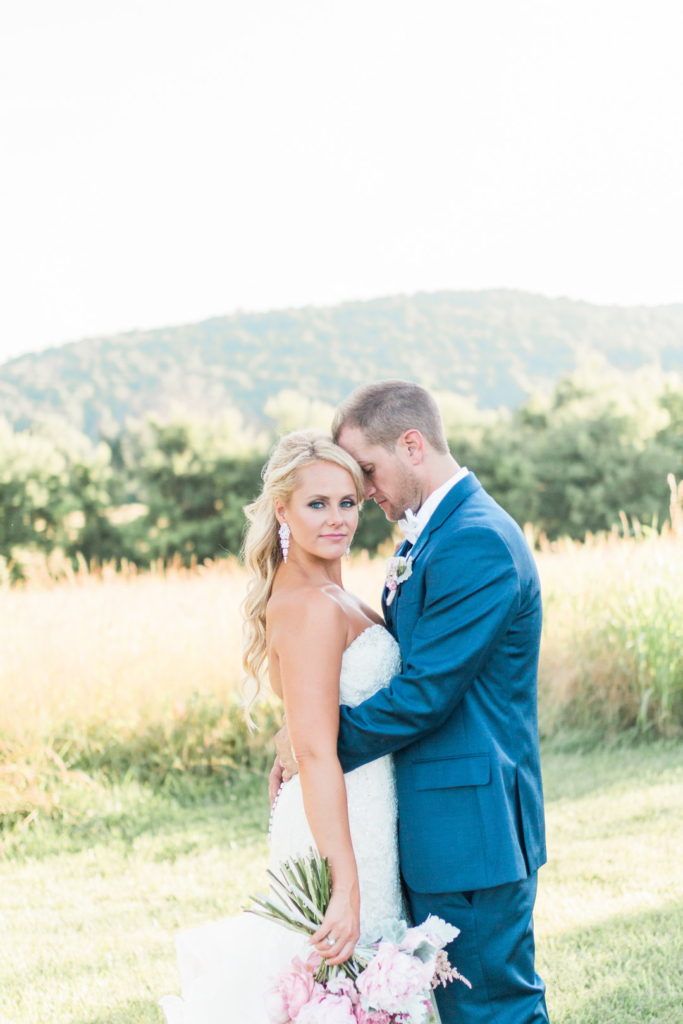 One chilly day in 2009, Kelli headed to look for a new car having no idea that her life was about to change forever. That day, her car battery died at the dealership, she picked out a new car, AND met EJ, the man that she would one day call her husband.
Fast forward 7 years later, and EJ got down on one knee after executing the perfect surprise proposal for Kelli! He did it at a vineyard with all of their friends around. "My body was in total shock! I didn't know what EJ was saying," Kelli recalled. "I just knew he was down on one knee and my dream was finally coming true!"
Kelli planned the whole wedding day herself and described it as whimsical, romantic, and glamorous.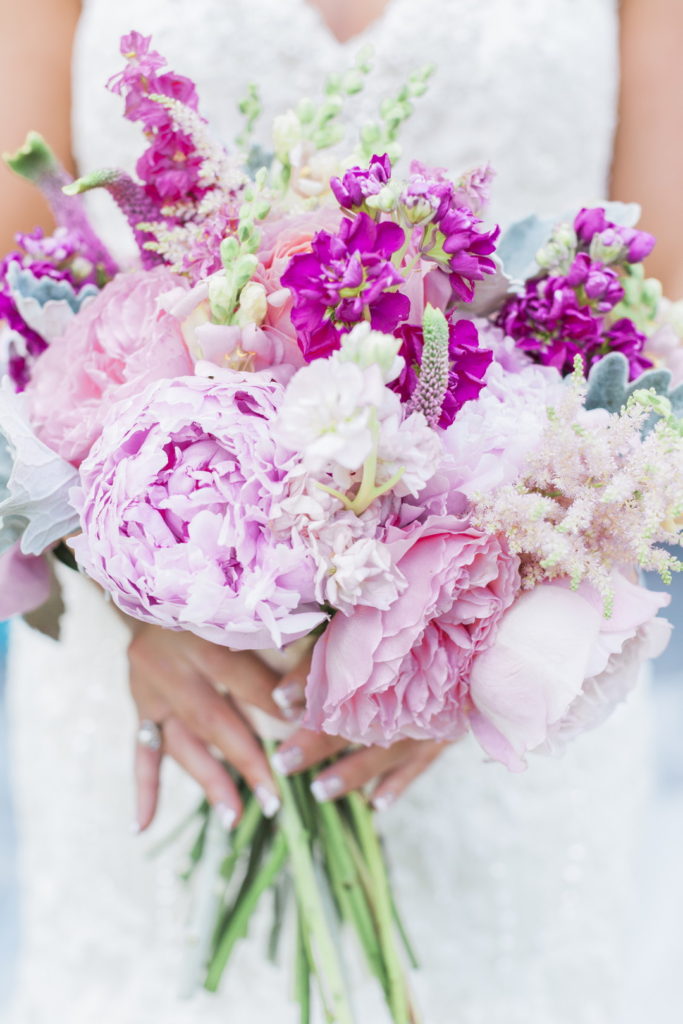 The ceremony took place outdoors and the aisle was lined with balls of pink flowers dangling from shepherds' hooks.
After saying their vows, the couple took photos around the Whitehall Estate property. They had so much fun posing for the camera, until EJ saw a wolf spider on his bride! He acted quickly to save her, just as he had done on that fateful day when they met by helping her replace her car battery. EJ, you are quite the knight in shining armor!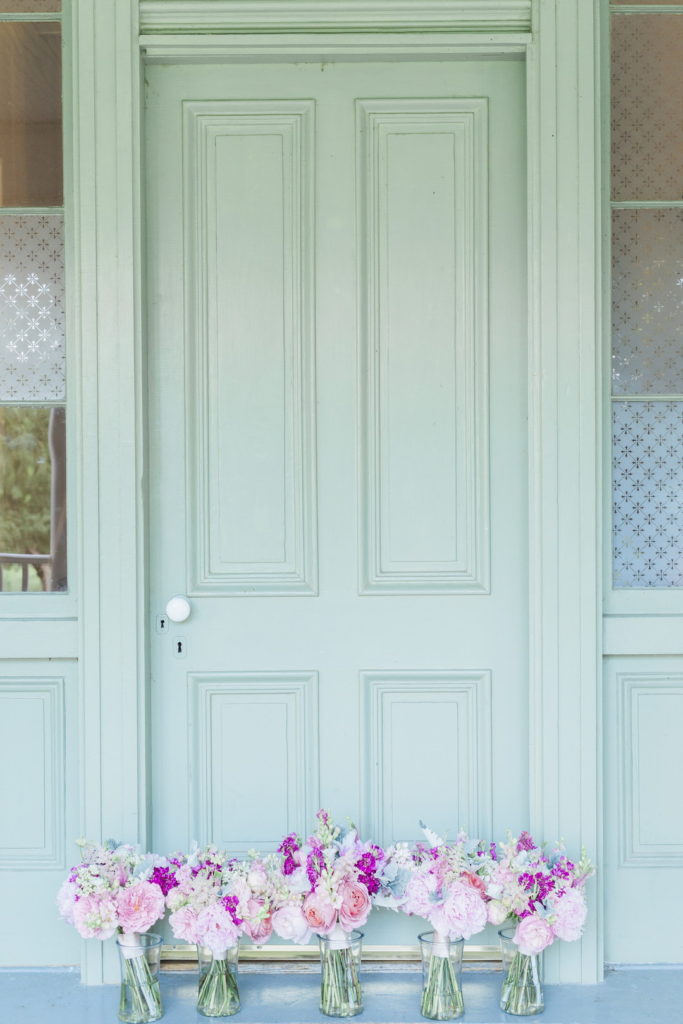 After sipping the couple's signature drink, the "Dirty Banana", at cocktail hour, guests moved into the indoor reception. The mansion's white columns were lit with pink up lighting, and the tables were covered in navy blue linens with teal napkins and candelabras.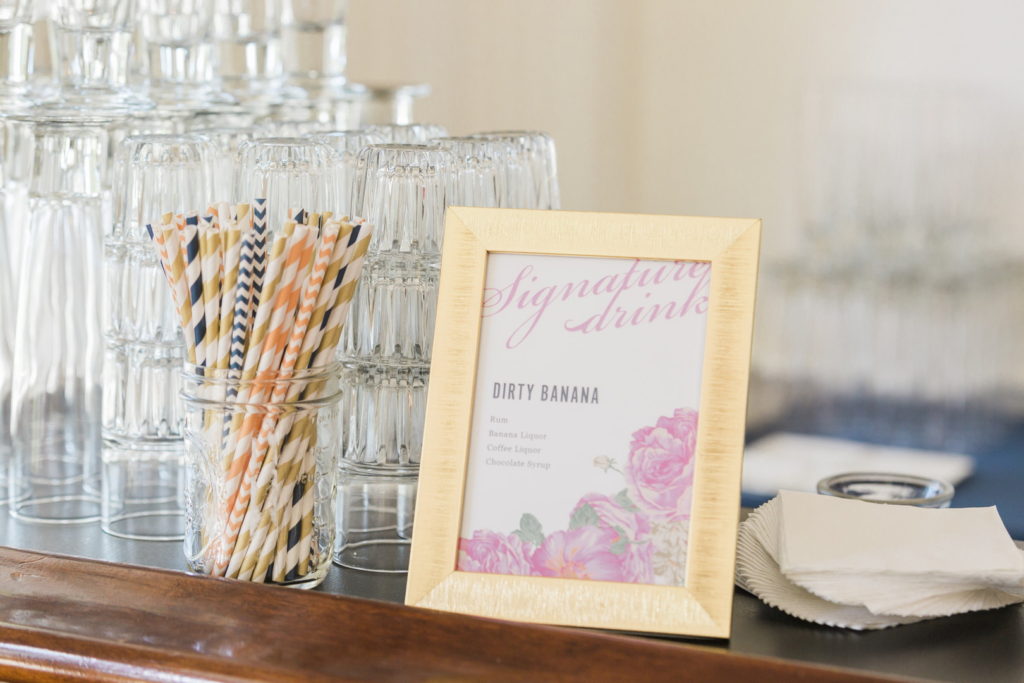 The dinner menu included staples like London Broil and glazed chicken. Kelli and EJ also had a late-night food bar with tacos and s'mores!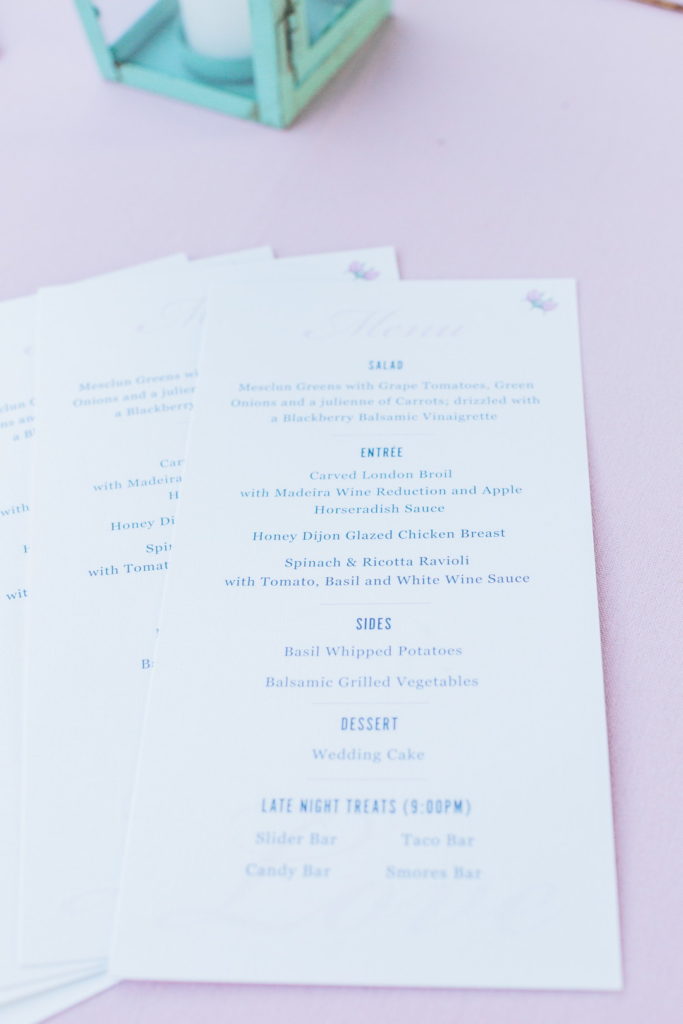 When it came time for their grand exit, sparklers were lit, and the couple was off to their honeymoon in Maui! They exited in the bride's father's 1978 Corvette that he had gifted EJ when he passed away. One of the sweet ways Kelli's dad was there for her without being physically present.
PHOTOGRAPHER: Brittany Drosos Photography, Catharpin, VA, 571.238.4733
VENUE: Whitehall Manor Estate, Bluemont, VA, 703.948.2999
GOWN: Kitty Chen Couture, Style: Martina, Le Reve Bridal in Leesburg, VA, 703.777.3757
VEIL: Le Reve Bridal, Leesburg, VA, 703.777.3757
SHOES: Kate Spade
HAIR: Kristin Stone, 571-367-9103, Chantilly, VA
MAKEUP: Blushin Beauty, Morgan Palmedo, 301-325-5227, Ashburn, VA
BRIDESMAID DRESSES: Bill Levkoff,  Style: 334, Color: Glacier Blue
FORMALWEAR: The Black Tux, theblacktux.com
INVITATIONS: Paperbliss Designs, Seattle, WA
COORDINATOR/PLANNER: Tricia Christine Weddings, Leesburg, VA, 703.727.5274
CAKE: Sweet Creations Cakes, Manassas, VA, 703.791.5996
FLORALS: Bee's Wing Farm, Bluemont, VA, 571.271.8004
OFFICIANT: Time Martin
PHOTOBOOTH: Mid Atlantic Entertainment, Dover, DE, 302.526.4492
VIDEOGRAPHER: Fonz Media
DJ: DJ Stacks, Ashburn, VA, 703.439.7064
If you are planning a wedding in Roanoke Virginia, Richmond Virginia, Fredericksburg/Northern Virginia, The  Shenandoah Valley, Coastal Virginia or in Charlottesville/ Lynchburg Va, we can help with your wedding planning and ideas.