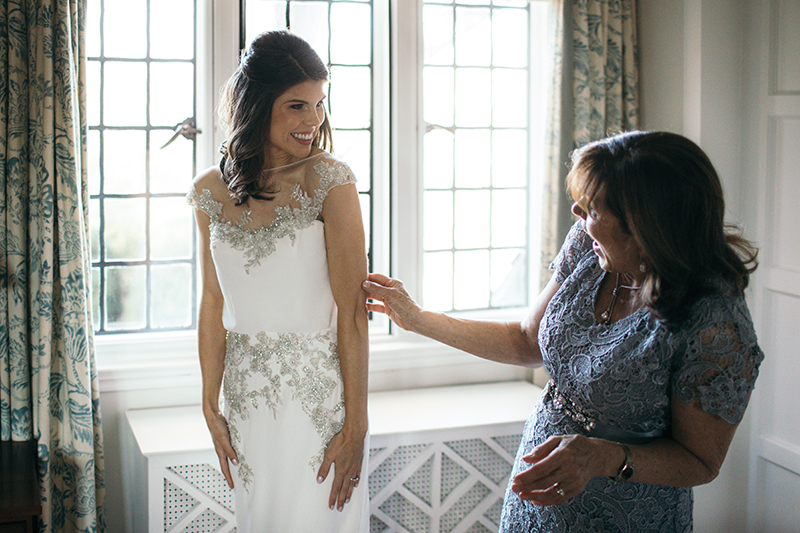 This lovely lady on the left here is Emily and I had the same reaction as her mom when I, Tilley, saw her wedding gown because it is a STUNNER! Emily married Brian this past November and their big day had #Virginia written all over it!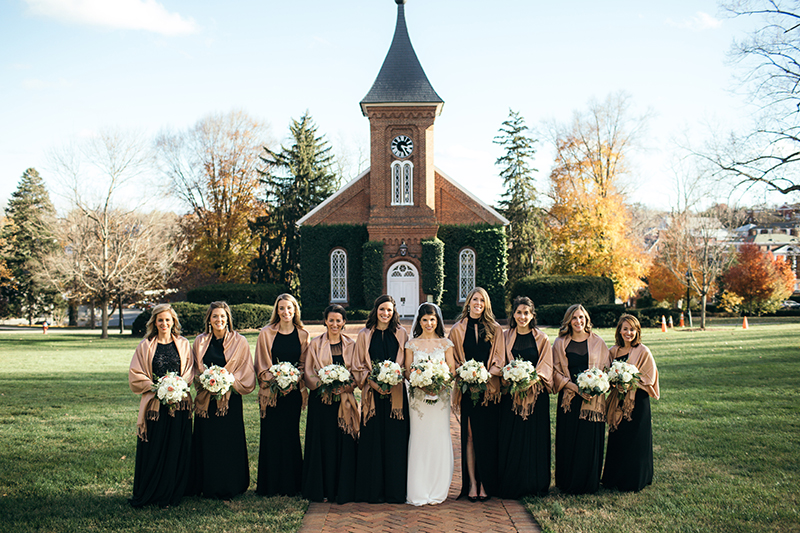 Both love birds attended Washington and Lee University so it was only right that they'd be married there at
Lee Chapel
 which Emily and her maids are standing in front of in the above photo.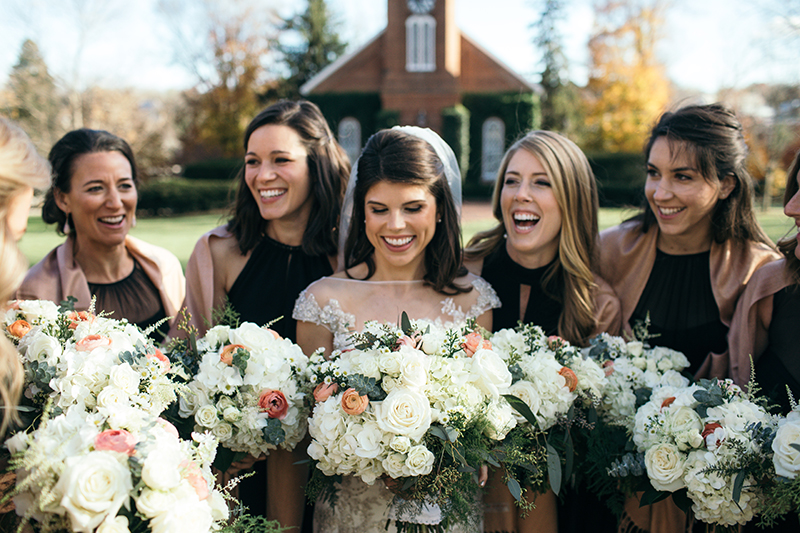 I love that her maids are wearing black dresses (which are the only bridesmaids dress that will probably ever be re-worn lol) and look at those florals! A variety of greens, hydrangeas, roses, and a touch of peachy-coral ranunculus…all the heart eyes.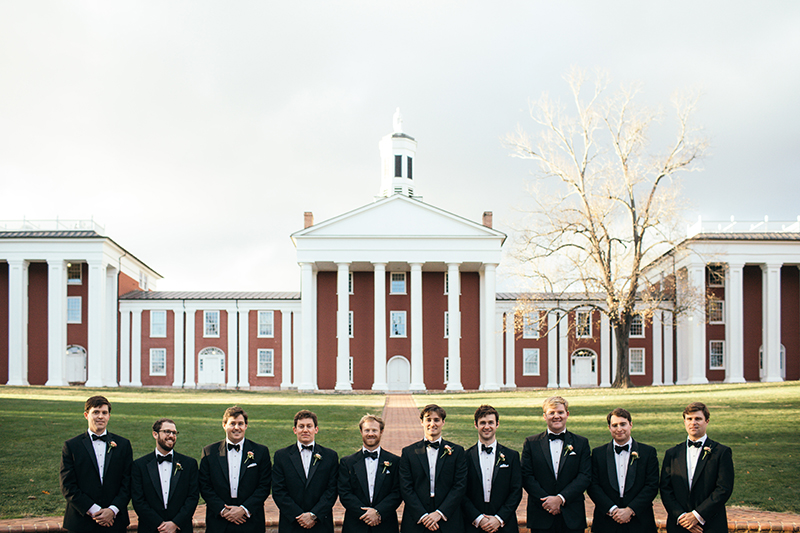 Brian and his groomsmen looked extra symmetrical in front of the colonnade in their tuxes.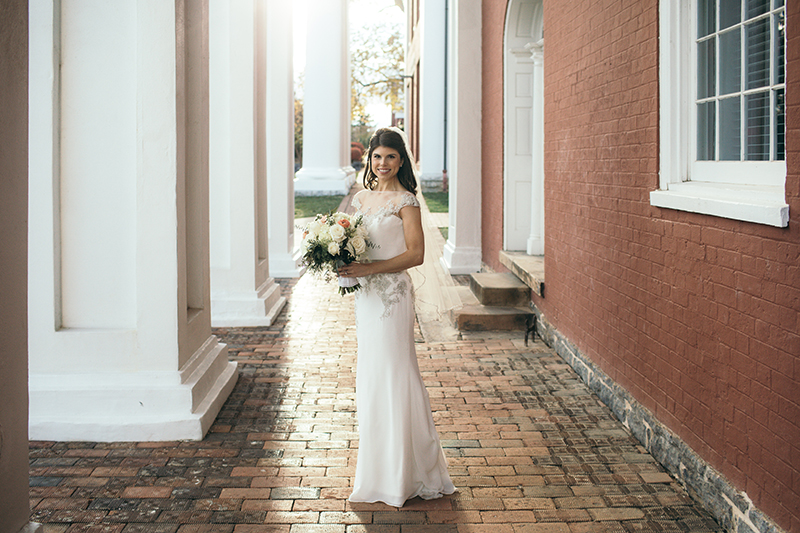 The pair decided to forgo a first look so after bridal party pictures, it was ceremony time!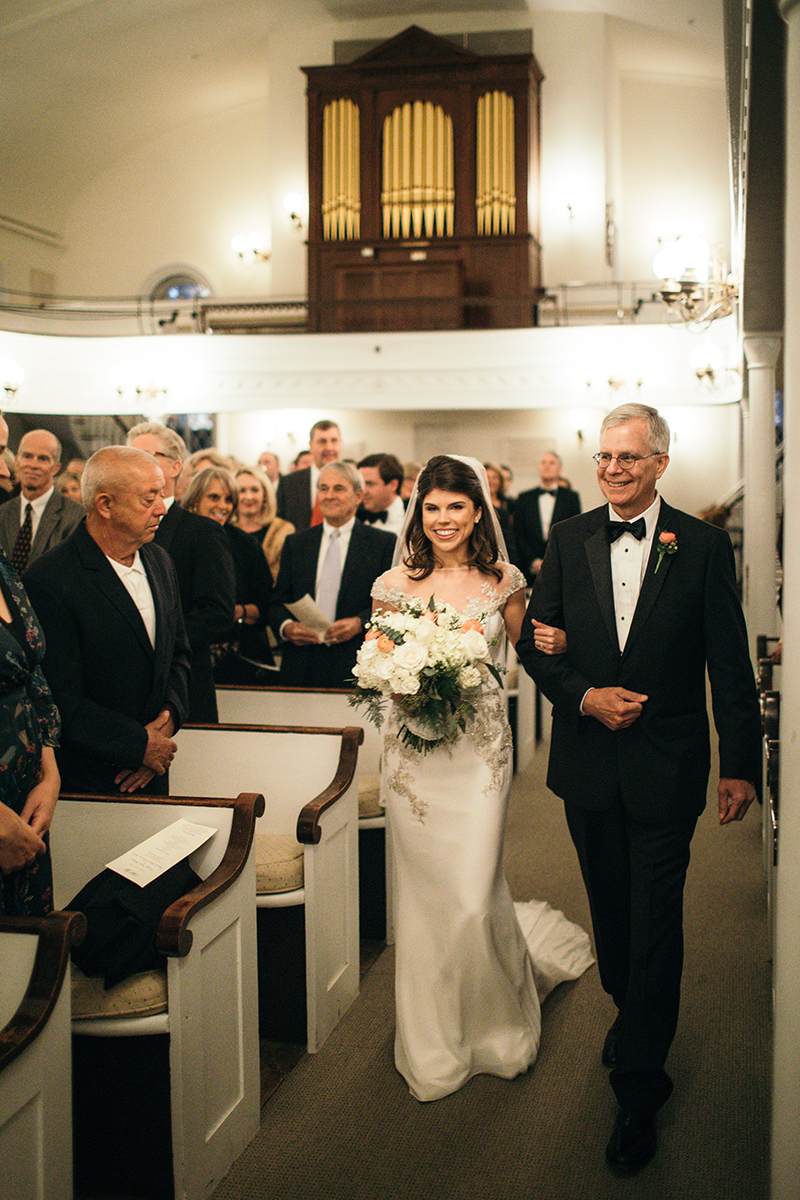 Emily's father, who also attended Washington and Lee (adorbs), walked her down the aisle.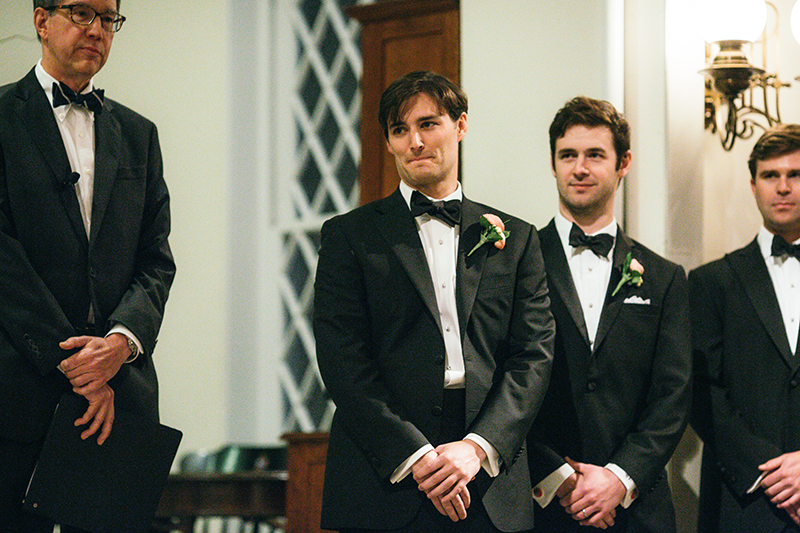 Brian looked at Emily with the sweetest face as she walked towards him. Emily described it as "worth the wait." Cue, the waterworks.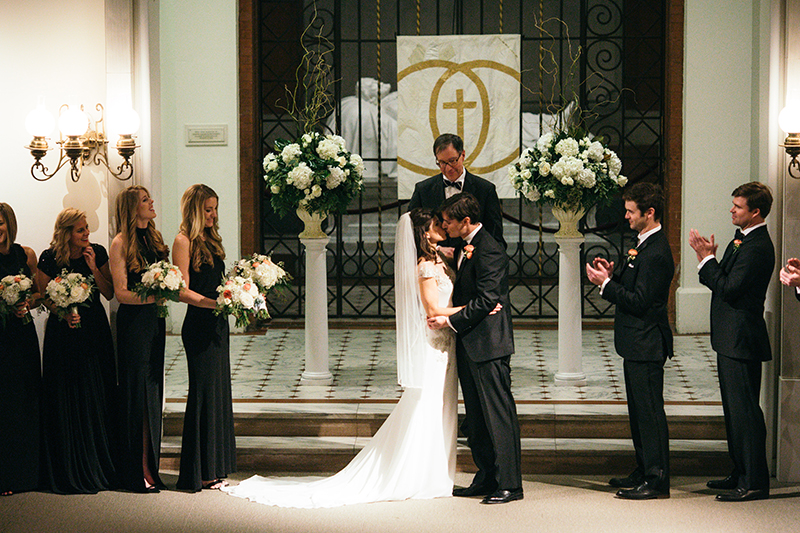 With a kiss, they were man and wife!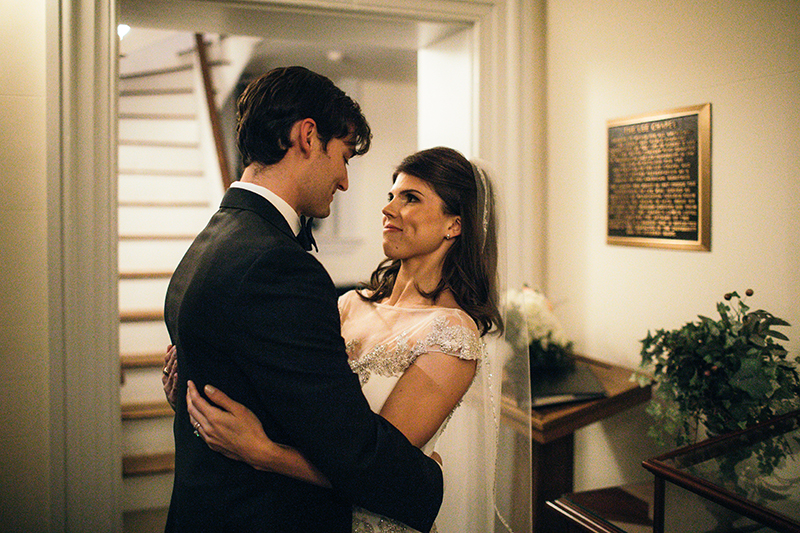 How perfect is this moment captured after they pledged forever. I love the sincerity in her eyes.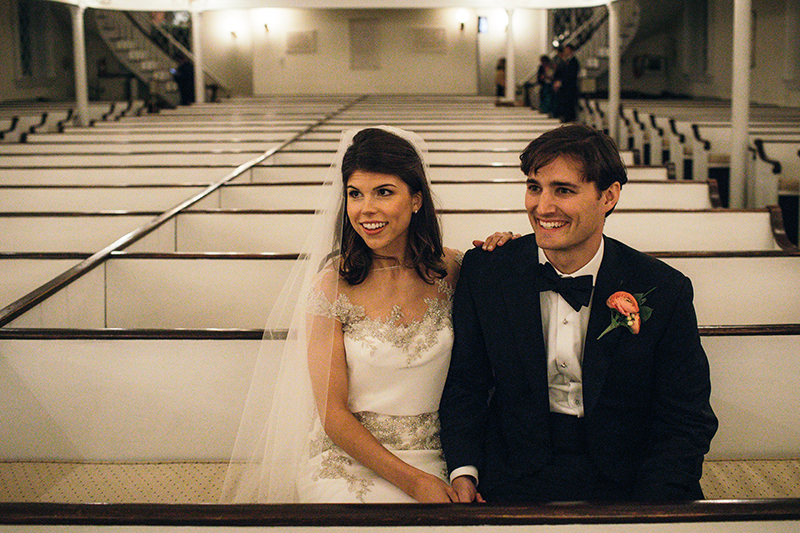 Would you look at their dimples?! I can't even handle it.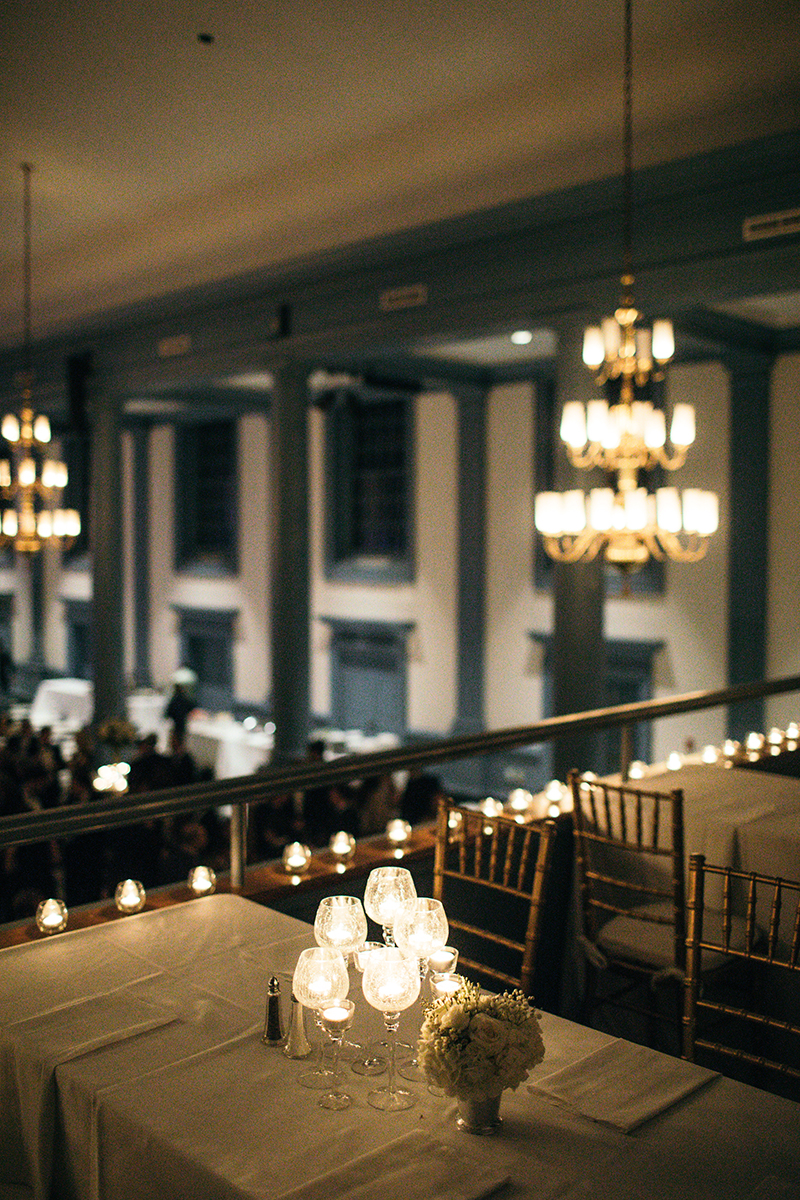 The reception took place inside Evan's Dining Hall on W&L's campus and with all the candles, I'd have to say that the romantic ambiance was on point! Probably because Emily is also an interior designer (check out her blog
here)
.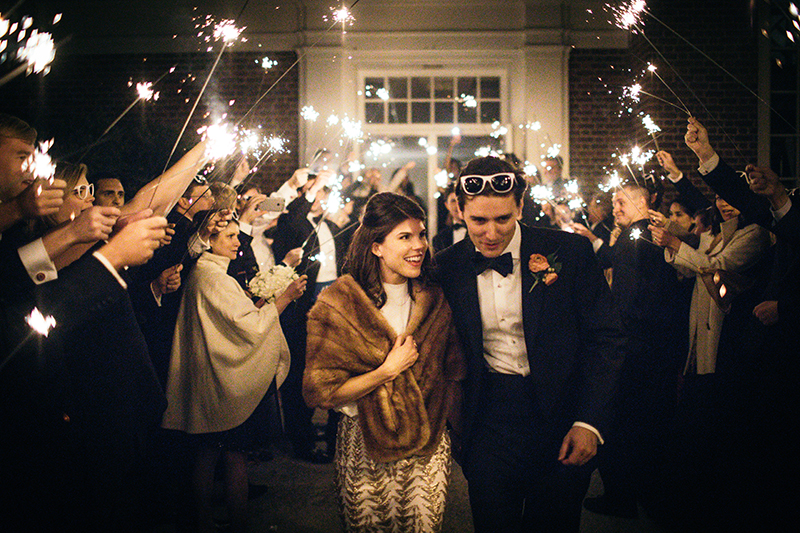 Here's to the chicest bride and groom around! Congrats Emily and Brian!
From the Bride:
What was your favorite detail of the day? "We specified "Shenandoah" to be played by the string quartet just before the seating of the mothers. I was afraid that I would miss hearing it, but my Dad and I arrived at the back of the chapel just in time. It was magical, as I had heard the song sitting in the same chapel while a student at W&L. A second favorite detail was using Gray Malin's book "Beaches" for our wedding guests to sign rather than a traditional guestbook. It was a nod to our new home of Sydney, Australia as its beautiful beaches are featured. Even more special, we happened to go to a book signing in Sydney just a couple months later where we met Gray and had him sign the book! He loved that we used his book in this way. Finally, we asked my dad's best childhood friend Ted Blain, an English professor at Woodberry Forest School, to officiate the ceremony. He even went to W&L with my dad. His words were flawless, message memorable, and presence so special."
What advice would you give to a bride to be? "Take time to plan ahead in the months prior so that you can enjoy every moment of the actual weekend. I was never nervous or stressed since I had done so much planning and organization in the days and weeks prior. I had an absolute ball the day-of; I was dancing around to Motown in my bathrobe, eating peanut butter M&Ms, the morning of the wedding."