BRIDE: Christina LaRose, 27, Nanny & Model
GROOM: Bryan Barrows, 26, Aerospace Research Engineer
DATE: November 23, 2019
LOCATION: The Cavalier Hotel in Virginia Beach
NUMBER OF GUESTS: 59
This wedding is a featured wedding in the fall 2021 issue of Virginia Bride.
By Rita Pike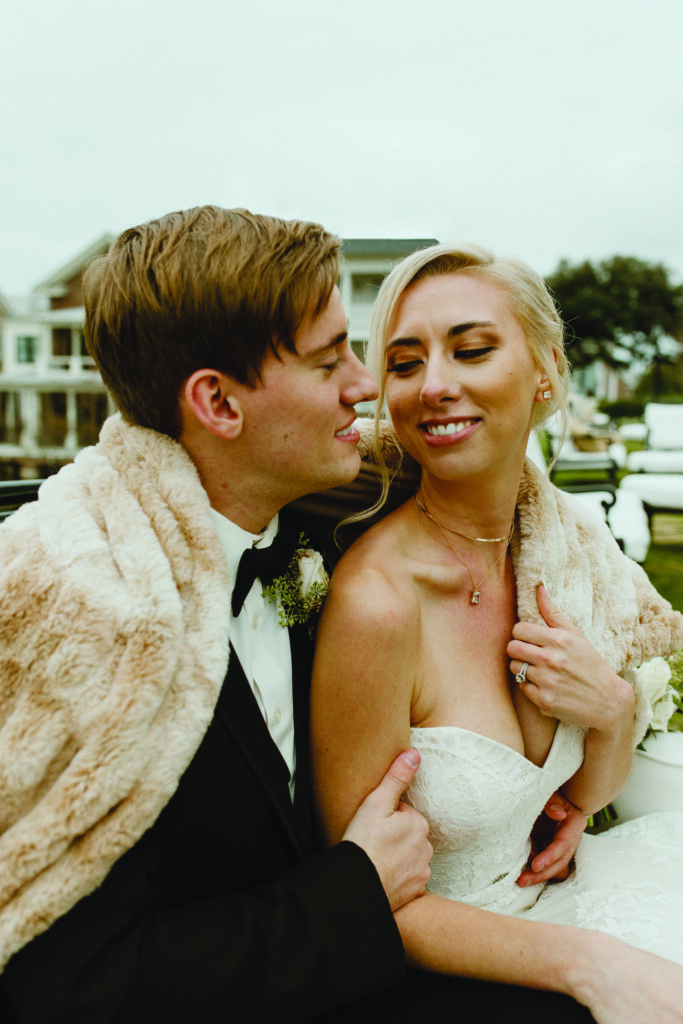 Christina and Bryan met the way more couples are doing these days: through a dating website. "Our first date was at a pizza joint in Blacksburg, VA, while Bryan was attending Virginia Tech, and I lived in the area near family. He beat me in a game of darts and requested a kiss as his prize."
Bryan knew how to make that all-important proposal special and romantic, with Fort Monroe in Hampton by the water as their backdrop. "We had a little picnic, and Bryan pulled out a photo album he had put together filled with pictures from our time together. At the end was a note that said, 'And now for something more special.' Then he got down on one knee and asked me to marry him."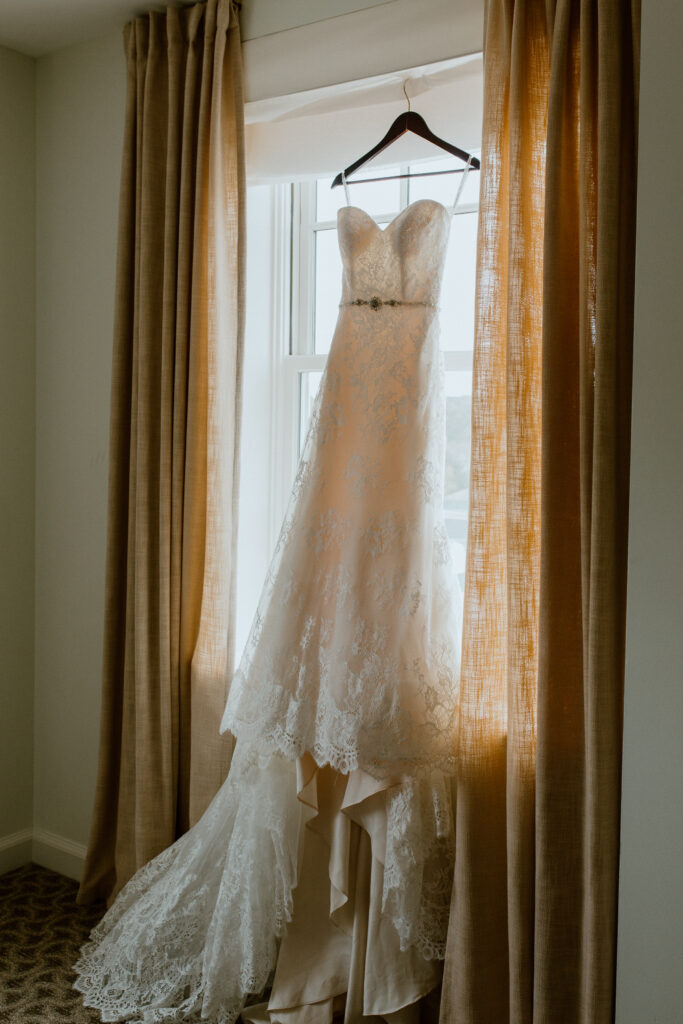 The couple decided to do most of their planning themselves, though Jessica Brandon at their venue, the Cavalier Hotel, was a huge help as they planned and coordinated with them. "She and all the staff put our minds at ease in bringing everything together on the wedding day."
The pair chose the classy pairing of black, white, and gold for their big day. "I originally was leaning toward gold alone, but my mother had recently done florals for a wedding with a black color scheme. I loved the elegance and uniqueness of incorporating black for a wedding and am happy with the classic vibe it gave to our wedding. Our colors also really fit the setup and style already there at the Cavalier Hotel. I loved how they had big floor plants everywhere with brick walls, gorgeous chandeliers, and big open windows to allow a lot of natural light.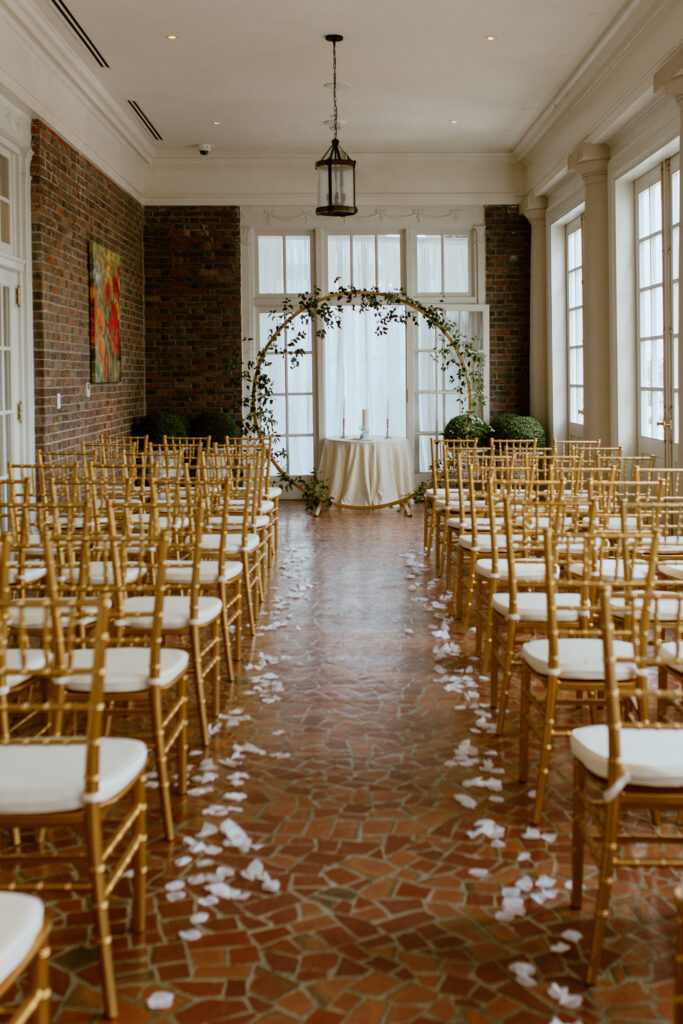 For the big day, Christina wore a Kenneth Winston gown purchased from Truly Yours Bridal in Williamsburg. "I went with an ivory strapless dress with a sweetheart neckline. I love how it fell straight on me and had a long train. I opted for a traditional veil and wore simple gold jewelry. I added a little personality by wearing white jeweled flip-flops. Those who know me know I would wear flip-flops everyday if I could, plus they kept my feet comfortable throughout the day."
Bryan wore a traditional black Vera Wang tux and bowtie, and the one groomsman and ring bearer wore traditional black suits. Due to the pandemic, Christina chose one bridesmaid, who wore an elegant black, floor-length dress for the affair.
"We made full use of our gorgeous venue taking photos both inside and out. Family photos were done immediately following the ceremony in front of our circular gold arbor while the remaining guests were able to enjoy the cocktail hour. Our individual couple photos were taken after the reception mainly outside and in the Raleigh room of the Cavalier. Our photographer Samantha Leto was great and so easy to work with. We chose her because we loved her photography style and personality."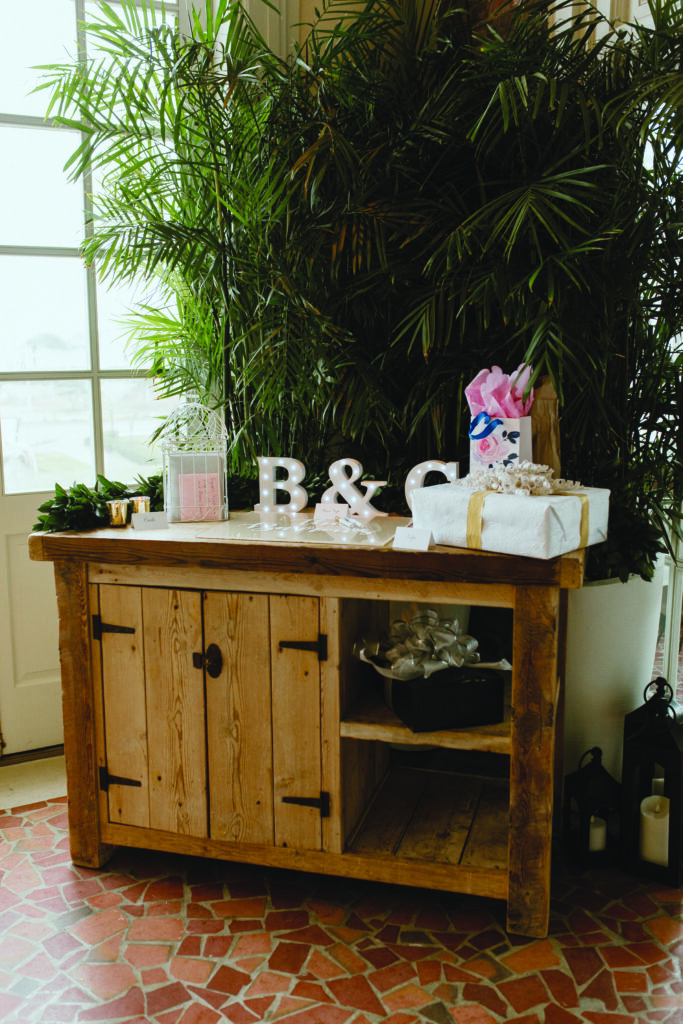 For the flowers, Christina's mother, Melissa LaRose, created incredible bouquets for the bride and bridesmaid using ivory roses, seeded eucalyptus, anemones, and gold and black accents to match the color scheme. The boutonnieres used one white rose with greenery and gold accents.
"We wanted to opt for less traditional and non-religious vows that really spoke to the heart of how we felt. Our vows spoke on becoming family, lifelong friends, parents, lovers, and partners through each stage of life. We also wrote our own personal statements that we read aloud to each other expressing our personal love and feelings. This added a very special and personal touch for us on our day."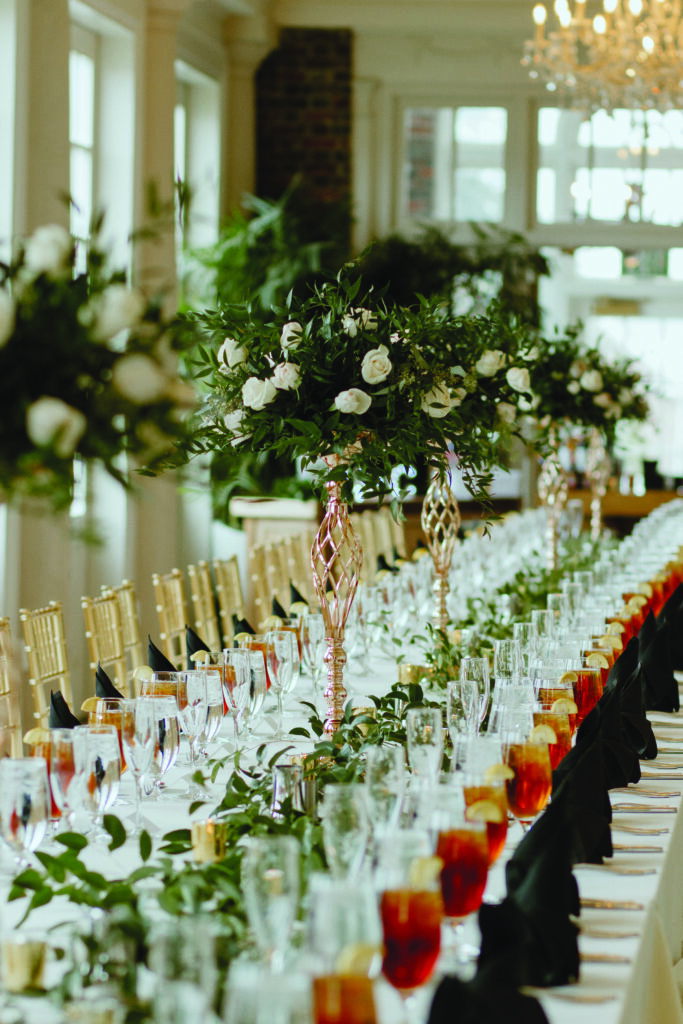 "During the processional, our ring bearer (and younger brother of the bride) gave the entire pillow with the ring still tied to it to our Best Man. When it came time to exchange the rings our Best Man couldn't undo the knot to get the rings off. It took a little time and an awkward pause before finally undoing it to get the rings off. But it added a nice laugh and a little personality to the ceremony!"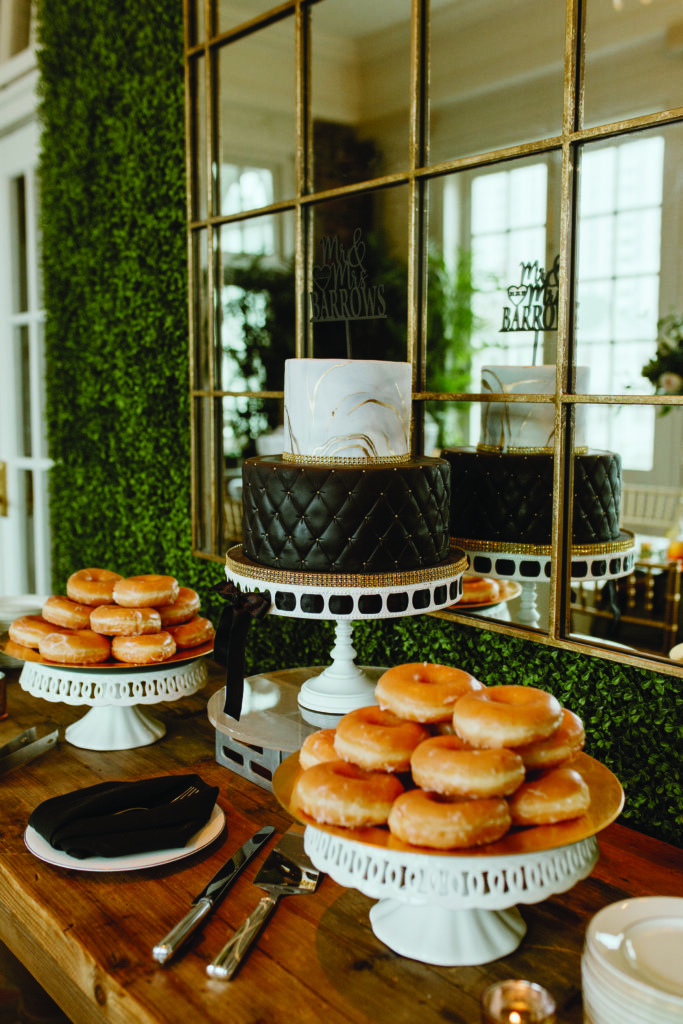 For more special touches, "We included a candle lighting ceremony as a tradition on the bride's side of the family. This symbolized the uniting for two families into one. At the beginning of the ceremony, we also wanted to be more inclusive instead of the traditional giving away of the bride. When our officiant asked who supports the marriage of Bryan and Christina, we had both sets of parents answer 'We do.'"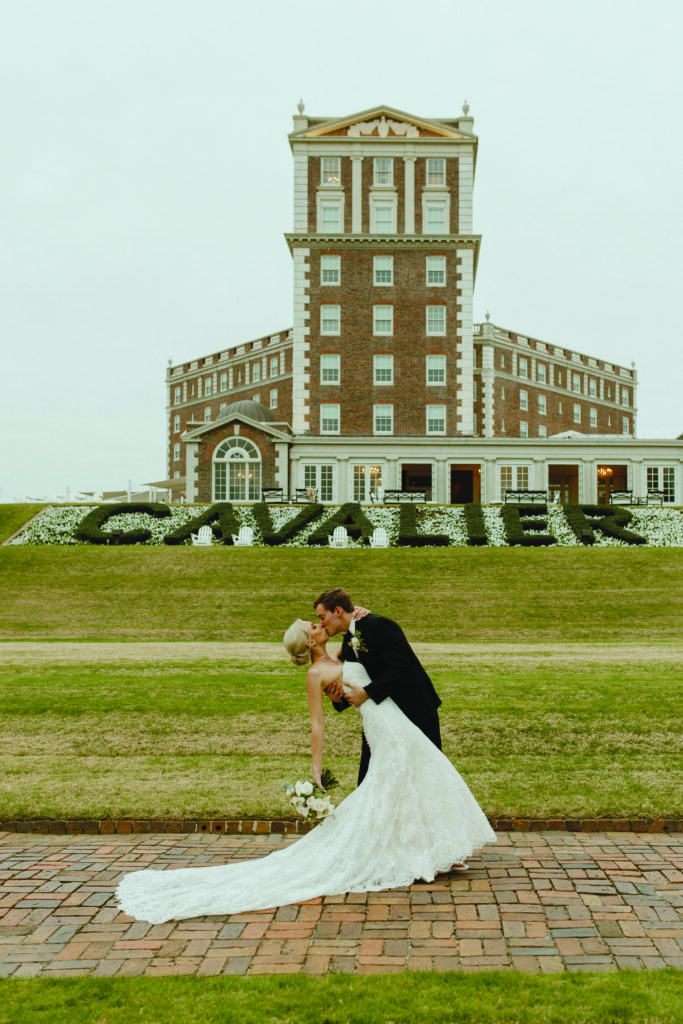 CREDITS
CEREMONY AND RECEPTION SITE: The Cavalier Hotel, Virginia Beach, VA, 757.425.8555
PHOTOGRAPHY: Samantha Leto, Centreville, VA, 631.332.7953
OFFICIANT: Reverend Bruce Begault, Virginia Beach, VA, 757.422.0334
GOWN: Kenneth Winston bought at Truly Yours Bridal, Williamsburg, VA, 757.378.5376
HAIR AND MAKEUP: Luminous By Jen, Virginia Beach, VA, 208.419.6607
FORMALWEAR: Vera Wang at Men's Wearhouse, Newport News, VA, 757.269.0280
INVITATIONS: Shutterfly.com
FLOWERS: Melissa LaRose, Christiansburg, VA, 540.529.1250
RENTAL EQUIPMENT: The Cavalier Hotel, Virginia Beach, VA, 757.425.8555
CATERING: Jessica Brandon, head of catering at the Cavalier Hotel, Virginia Beach, VA, 757.425.8555
MUSIC: Harpist, Shelly Greene, Richmond, VA, 804.223.0183
DJ: Famcco Productions, Newport News, VA, 757.528.7539
CAKE: The Mad Batter Bakery, Gloucester, VA, 804.413.3772
FAVORS: Amazon
ACCOMMODATIONS: The Cavalier Hotel, Virginia Beach, VA, 757.425.8555
HONEYMOON: Carnival Cruise Line