This week, our real Virginia weddings story finds inspiration in family, culture, history, and a beautiful dress worn in 1982.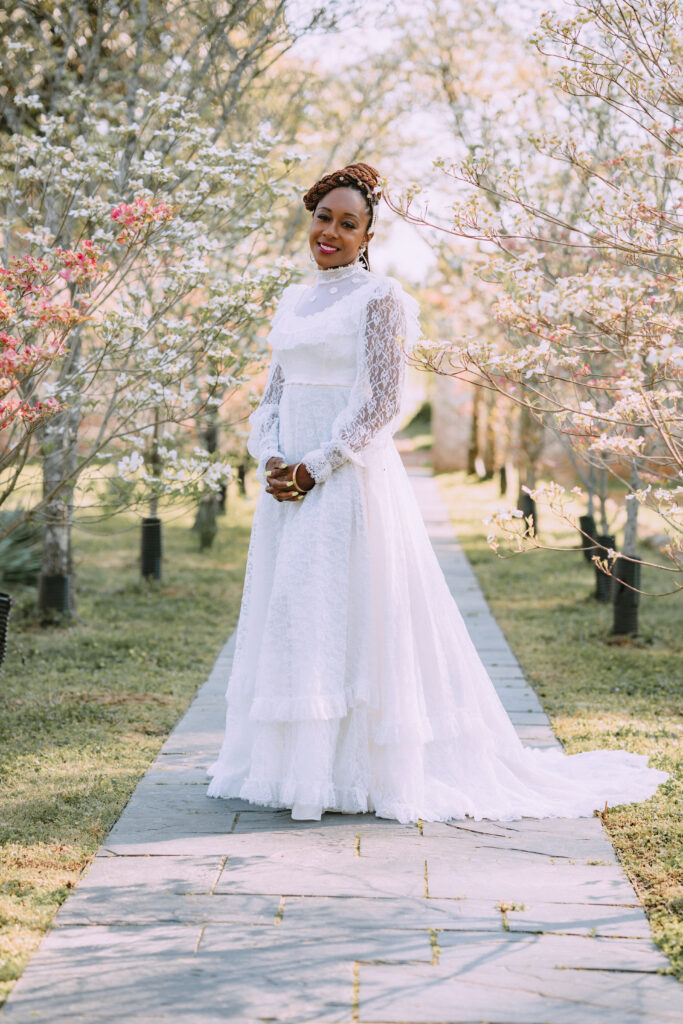 "Thirty-nine years ago, in 1982, my mother wore a beautiful gown on a warm summer day when she married my father. They were young and in love and decided to get married outside at my grandmother's house. My mother wore a beautiful, flowy, bohemian lace dress with a beautiful veil. The day was spent celebrating their nuptials with close family and friends. I am so much like my mother in so many ways, from the subtle ways I am her clone to our unique personalities. We were the best of friends…"
Teknesha and her fiancé, Jean, met on a warm, sunny day in June 2017. "It was an amazing day overall. I went to work for half of the day and then left to go sign my life away to the bank, as I was closing on my 1st home that day. As I left, having signed my life away, I decided to drive back into town and start looking for furniture. Once I made it back into town, I decided to stop at a Furniture Outlet to look for a new couch. On my way out of the store, I saw a massage spa. After seeing the massage spa, I thought to myself, 'Hmmm I believe I have a Groupon for this place.'
"I looked into my Groupon account and sure enough, there was a Groupon for this exact establishment. So, instead of scheduling my appointment over the phone, I decided to walk in since I was so close. I walked in and the sweet smell of essential oils welcomed me. However, no one was at the front desk to welcome me. I softly said 'hello,' and no one returned my answer. Approximately, a minute or so later, a handsome young man came out of an office in the building and asked me if he could help me. That's how we meet. We met through a Groupon I bought, surprisingly."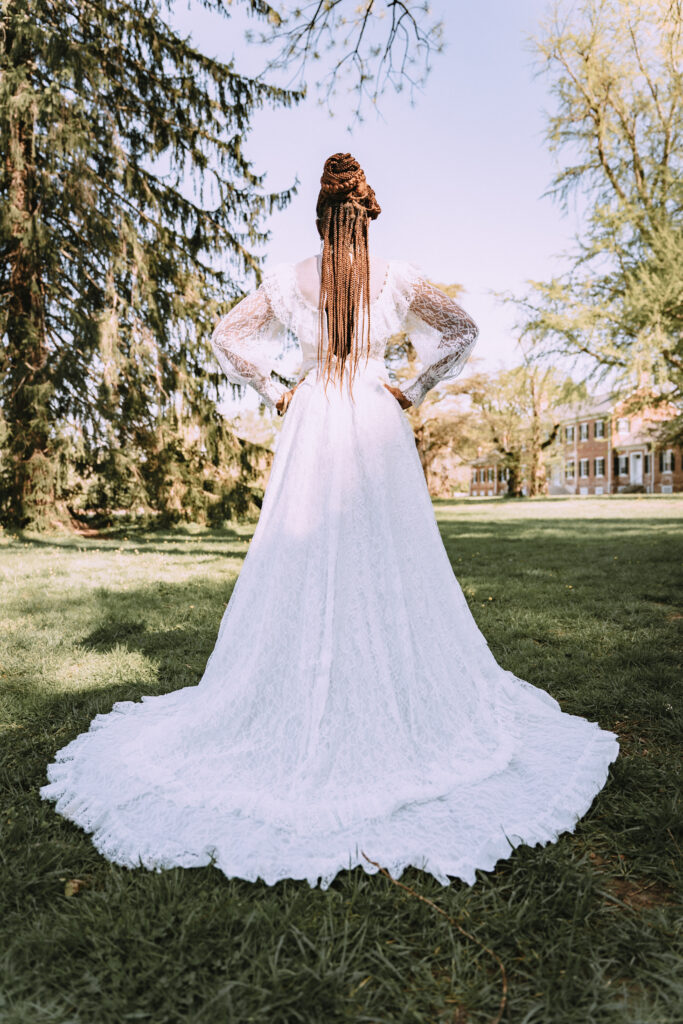 Their first date soon followed. "The next day, I came into get my massage. I spoke to Jean before I got my massage and we made small talk. After my massage, as I was opening my car door, he bluntly asked me 'Hello, what are you about to do?'
"I was caught off-guard and I told him I was headed home. He said, 'Would you like to join me for a bite to eat?' In my head, I was wondering what his catch was or why he wanted to go out to eat? After all, we did not know each other. He encouraged me to go and further asked me where I wanted to eat. So, I obliged and told him I wanted to eat at Olive Garden. How about we ended up at Applebee's because he couldn't find Olive Garden. That was our first meet and greet. A week later our first real date occurred. We went to a Carl's Ice-cream in Fredericksburg, a local staple in the downtown area, and we walked the 3-mile trail around town to get acquainted with each other."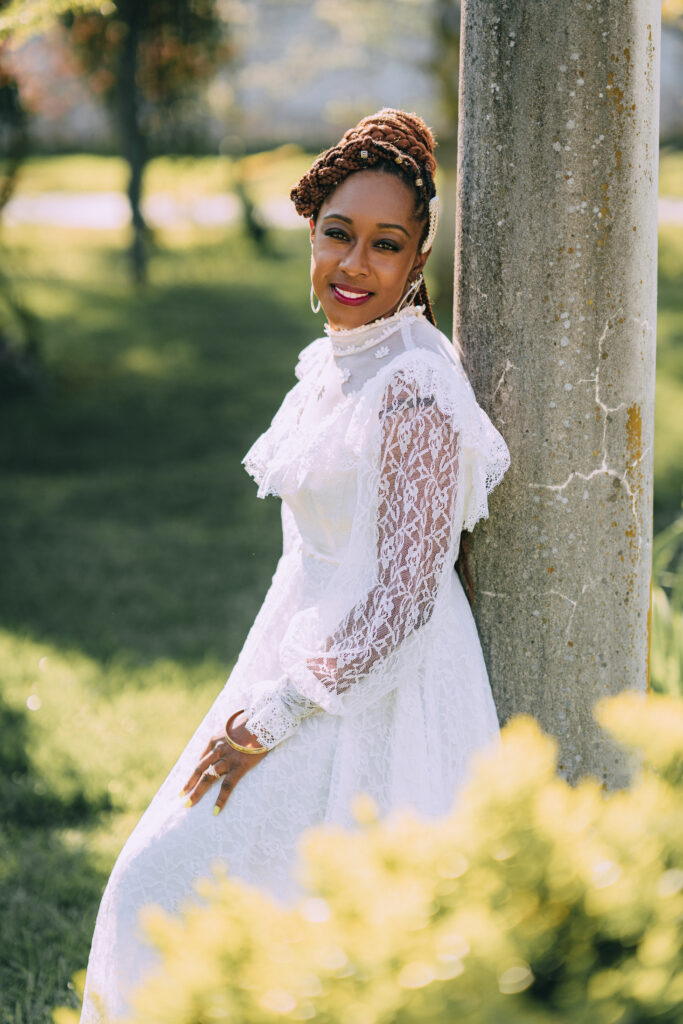 Teknesha already has the dress: the same one her mother wore for her wedding day. "The dress is a lace, bohemian style dress from the 1980's. My mother bought it from JC Penney's for around $500. It is a size 5 and is more of the A-Line silhouette."
The bridesmaids will wear wine colored dresses from David's Bridal, while the maid of honor will wear a petal pink dress from David's.
Teknesha chose the color palette to match her parents' wedding day. "My mother's bridesmaid actually wore Wine/Burgundy in 1982 when my mother got married, so I thought it would be nice to incorporate that into my own wedding day. We will add in some of my fiancé's wedding traditions from his Haitian culture into our wedding. My heritage is Bahamian/America and his is Haitian, so we wanted to ensure we added bits of our culture into our wedding and the food."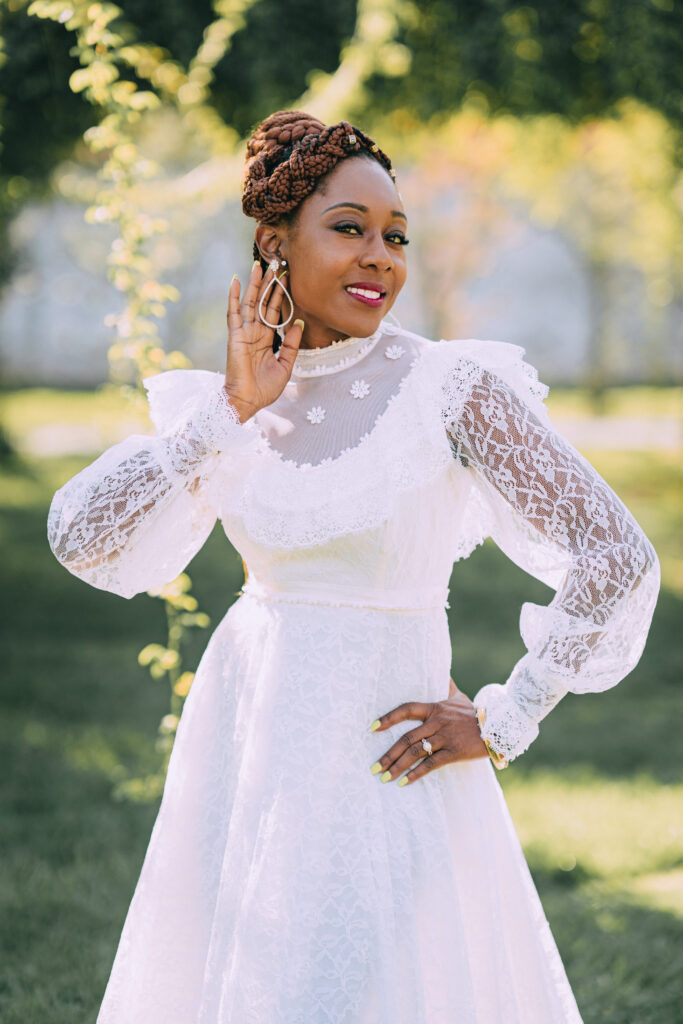 Teknesha had other plans for their big day on June 20, 2021. "I wanted a destination wedding but with the uncertainty of Covid, I didn't want to risk having a destination wedding. So, I was blessed to find a wedding venue in Maryland that is just what I was looking for. The venue faces the Chesapeake Bay and has palm trees to give the island feel. It has a beautiful garden, and it's near the water, and gives me tropical vibes which is exactly what I wanted. My grandfather is from the Nassau, in the Bahamas, and so I've always loved tropical, warm weather. I wanted that same feel for my wedding."
Teknesha's mother is no longer with us, but she has many special things to remember her on this special day. "My mother was an avid writer. I once read a poem she wrote entitled 'A Prayer for Remembrance.'Well, 17 years later, I still remember her and all that she taught me. To commemorate her memory while celebrating my own upcoming nuptials, I wanted to take a piece of her and have a moment of celebration. I am blessed to have this piece of her here, and it is even more special in my eyes because it is the original dress she wore when she married my father. I will forever be grateful for the time and space we spent together. I cannot wait to wear my own wedding dress and marry the man that God put on this earth for me."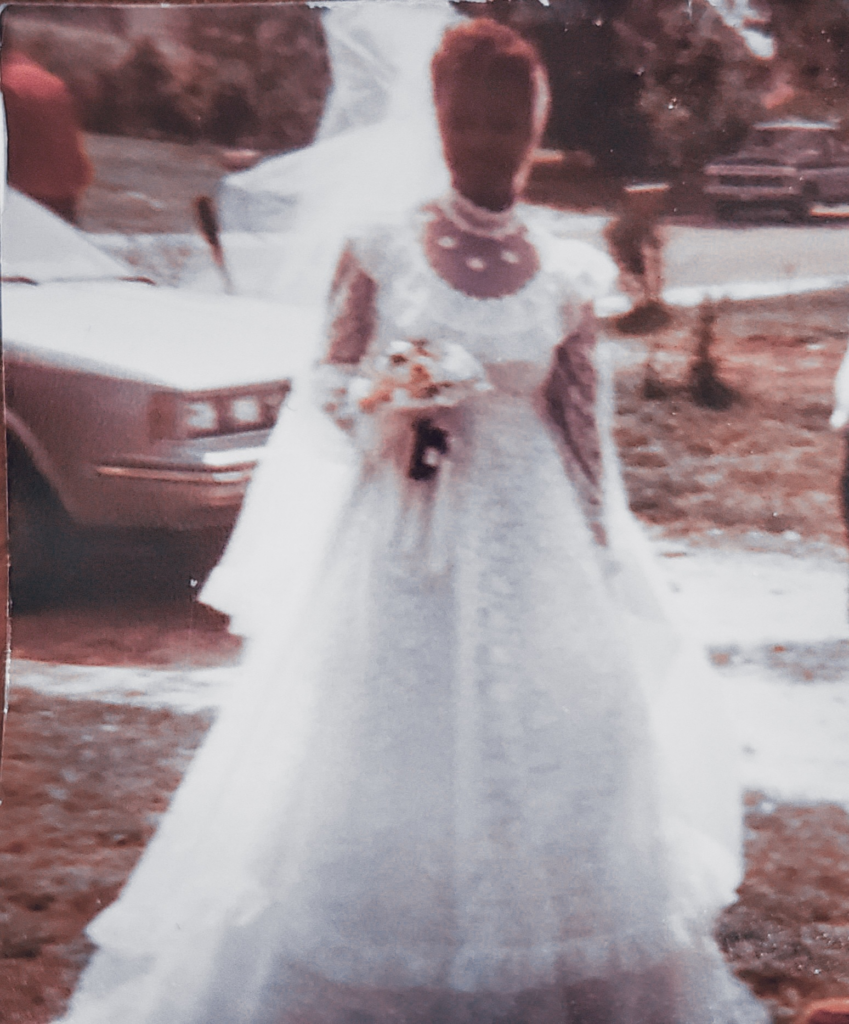 Vendor Credits
Photographer: Jermaine Dabney of 20 VSN Photography, Fredericksburg, VA
Hair & Makeup: by the bride
Venue: Chatham Manor