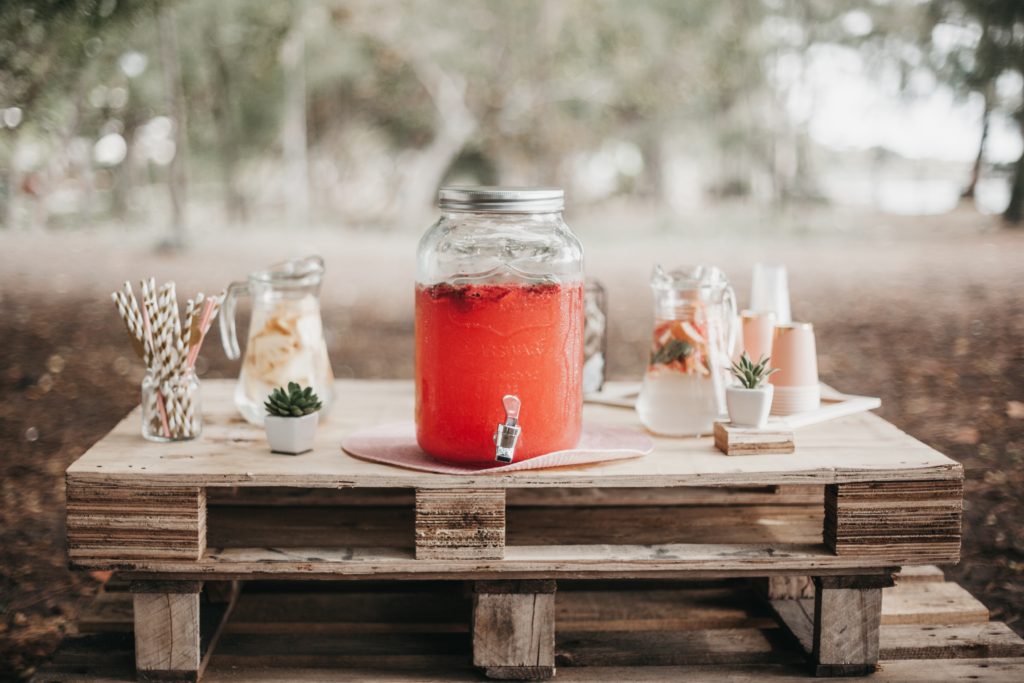 Your wedding day is one of the most amazing 24 hours of your life. That means when you plan your wedding, you should be planning this day to suit your needs and desires based on your personality and preferences, inviting your guests to join in your celebration of who you are as a couple.
Sometimes, that means having a dry wedding. Your religious beliefs, personal preferences, history with alcohol – for the happy couple or guests – are all possible reasons you might want to cut the liquor from the catering load. Any of these, or the need to keep the budget in check, are reasonable.
For a lot of people, this isn't an issue. Why wouldn't you offer some bubbly and an open bar? If you're like me, with some friends and family who don't blend so well with wine and spirits, you might be wondering if it's okay to skip the bar. I remember logging into a forum on a wedding planning site and noted something about going alcohol-free. Some folks were supportive and some less so.
When my parents were married, they had a relative that they feared would get drunk and make a scene and potentially ruin the wedding day. For my own wedding, I chose not to serve alcohol because I, too, had some family who might make an unsightly appearance with too much imbibement going on. We also don't drink ourselves, so it wasn't a priority for us to serve vino.
You can do some things to boost the enjoyment of your wedding reception for those folks who would typically have a drink or two at the open bar.
Let the Guests Know in Advance
One of the most important things for your dry wedding is letting your guests know in advance that the reception won't be alcohol-laden unless you mostly run in dry circles. The surprise might confuse some guests otherwise. You can do this simply by adding a note to the invitation or RSVP card.
Time the Reception Well
One way to make the absence of alcohol less socially awkward for some guests is by holding your wedding midday and serving a brunch. People are a little less likely to crave that cocktail at 11 am than they are at 8 pm.
Make Up for the Drinks with Fun Food
A flavorful and fun snack or beverage bar is another balm for the lack of liquor at a wedding reception. My husband and I served hot tea, cocoa, and coffee, with dozens of flavor options, and our guests loved it. We also used a virgin family punch recipe that involved sherbet, lemon-lime soda, and some other colorful ingredients.
Having a cookie bar, ice cream bar, or similar are fun dessert bars options that pair well with your cake. Or, if you can follow trends this year by going nostalgic. Serve grilled cheese sandwiches and cheese doodles at your snack bar along with soda, chocolate milk, and other fun items that complement the mood of your wedding theme without contradicting your meal menu. Your caterer is likely to be able to accommodate these fun items as well, making it even easier to plan.
Set Out Icebreakers at Every Table
You may also want to include some fun icebreakers at each table. Folks feel more comfortable with strangers after they've had a drink or two, so these icebreakers might help to loosen things up. You can do this through things like Madlibs, improv games, or even a collection of conversation starter cards.
Book a Really Fun DJ
When you book your DJ, make sure she or he knows that it's going to be a dry wedding. Work through a song list that especially focuses on music that folks will enjoy dancing to. If kids are attending, focus on kid-friendly music that will get people out of their seats and dancing with those kiddos.
Have Some Games or Other Entertainment
Games and other unique entertainment options are some of the best ways to encourage your guests to have a good time without the aid of liquor. Book or buy some cornhole games, ring tosses, Jenga, or checkers boards for indoor weddings. Add in some croquet, Bocce ball, a pinata, or giant Connect Four for outdoor fun. Group games, board game stations, and photo scavenger hunts can add fun for any age, as well.
Pick a Fantastic Photo Booth with Fun Props
Adding some colorful, quirky props to your photo booth is another way to add layers of fun to your wedding reception. For a themed wedding, be sure to include props that match the theme. If you're not, you can still find props – or request them from your photo booth company – that align with some of your favorite things.
The important thing to remember on this special day is that your wedding should be the wedding you'll remember fondly. Your friends and family might remember that lack of alcohol, but they'll more happily remember how beautiful your big day was.