A look at getting married, gathering for life celebrations, and social events in the CV-19 era through the lens of the organizers of these once-in-a-lifetime celebratory occasions.
by Elisa Yu-Shan Lion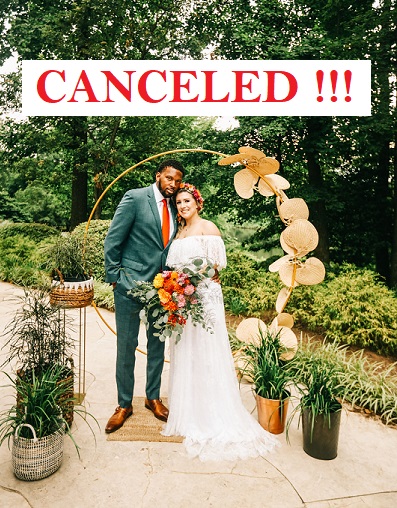 Are you one of those couples that has seen your dreams of a perfect wedding vanish in thin air? Are you one of those families forced to place on hold birthday bashes, baptisms, graduation celebrations, baby showers, annual family celebrations? From sublime wedding celebrations to heart-breaking funerals, social gatherings of all sorts have been unceremoniously swept off our calendars by the invasion of the infamous and microscopic corona virus. And with this unfortunate sweep, in less than a year a once strong and thriving $3-billion-dollar industry in the state of Virginia has dwindled into the red. The appearance of covid-19 has provoked the disappearance of the carefully planned social gathering as we knew it, despite being an industry that already relied on highly structured planning, safety, sanitation, and flow control of large groups. Organization and attention to detail were the hallmark of successful events. Much more so when food and beverages were involved. In a nutshell, the industry is hurting badly, and local governments are overlooking established expertise that would entitle this industry to be regimented in a similar manner to large restaurant and entertainment venues. Why? The Event Planning Industry already has many protocols for sanitation and safety in place due to the nature of the business.
In fact, from June- November 2020, weddings could resume with no more than 250 in attendance and were successfully and safely conducted with all wedding professionals following the state's health and safety protocols. However, in December 2020, the heavy restrictions of no more than 10 persons indoors, and 25 outdoors were put back into place.
At the beginning of the year, the 2021 wedding season looked promising. With the completion and release of the Covid-19 vaccine on the horizon, professionals in the event industry were hopeful for a new beginning. Covid-19 has affected the lives, health, financial stability and future of so many, celebrants as well as planners. Both sides of the event planning equation are now required to wear masks, observe social distancing, and follow strict guidelines. Many of our colleagues' (including ourselves – Exceptional Events by Elisa) businesses were drastically affected by the 2020 shut down, receiving no unemployment benefits, no PUA benefits and no small business grants.
It is pressing that we coalesce, that the general public which hires and uses our services as well as the multitude of professionals in the industry that fall in the category of small business owners, take a moment to carefully read and absorb the stringent EOS under which our business category has been placed.
EXECUTIVE ORDER [EO] 72
Executive Order 72, updated on February 24, 2021, states that ALL public and private in-person gatherings of more than 10 people indoors and 25 people outdoors, ARE PROHIBITED. A "gathering" includes parties, celebrations and/or social events.
Read EXECUTIVE ORDER 72 (updated on 02/24/2021) here: https://www.governor.virginia.gov/media/governorvirginiagov/executive-actions/EO-72-THIRD-AMENDED-and-Order-of-Public-Health-Emergency-Nine-Easing-of-Commonsense-Surge-Restrictions-Due-to-Novel-Coronavirus-(COVID-19).pdf
By comparison, racetracks, speedways, amusement parks, zoos, entertainment and amusement businesses (include performing arts venues, sports venues, convention centers, theaters, museums, aquariums, fairs, carnivals, arcades, arts and crafts facilities, and more) prohibit private gatherings; yet allow a total number of patrons to 30% of the maximum occupancy load and not to exceed 1,000. For example, a wedding venue can host a concert on the property with up to 1000 people attending, but that same venue cannot have more than 25 people for a wedding.
THE DEVASTATING IMPACT of EO 72
On average, upwards of 80% of our spring 2020 couples have had to reschedule their weddings 2-3 times or even cancel their weddings altogether. Below, I will share the journey of five of our contracted couples who had to reschedule and/or cancel their wedding.
R&M
R and M were scheduled to get married in March of 2020. Shut down was enforced 2.5 weeks prior to their wedding. This was an extremely difficult decision for our couple. They had booked our services over 12 months prior to their wedding. Everything had been finalized and paid 30 days prior to the event. When we received the news, the couple and I had 24 hours to reschedule their wedding. This meant selecting a new wedding date, ensuring each wedding vendor was available for the new date, signing new contracts, now their wedding is scheduled in August of 2021. By the time we service their wedding, I will have been working with this couple 2.5 years. The cost of food and florals has gone up and the wedding pros selected for this event must honor their original contract at a loss to them.
L&N
L and N were scheduled to get married in April of 2020. They rescheduled their wedding once. The current restrictions required them to reschedule their wedding a second time if they chose not to reduce their wedding guest list to 25 guests. They chose to cancel their wedding altogether. This was an extremely difficult decision for this couple. They selected their venue and their wedding pro team to bring their wedding vision to life a year prior to their wedding. L chose her wedding gown and had been dreaming of walking down the aisle in it. Their decision to cancel their wedding required wedding pros to return a total of $14,000 (no-retainer fees).
A&D
A and D were scheduled to get married in May of 2020. Due to the shut down and Covid-19 restrictions, they have had to reschedule their wedding twice. Their new date is in April of 2022. They hope that this new date will allow for D's family to be able to travel and be present at one of their most important days in their lives. The reschedule incurred additional deposits (costs).
S&S
S and S were scheduled to get married in May of 2020. Due to the shut down and Covid-19 restrictions, they have rescheduled their wedding 3 times. Their new date is in September of 2021. The 3 changes have incurred additional deposits and the need for new wedding pros as one of their original wedding pros is not available on their new rescheduled date. This couple has had to reschedule their entire wedding at short notices and make decisions in less than a few hours period. Some of these reschedules have taken place during extremely busy times at their employment companies or while they are on travel.
K&A
K and A are scheduled to get married in May of 2021. K has been working with her mom and future mother-in-law on every detail of her upcoming wedding. She found her dream dress in the summer of 2020. She has been dreaming of her wedding day since she was a little girl. The current EO updates has brought her wedding planning to a complete stop. We are entering the final stages of her wedding planning – the invitations are in the process of being printed, addressed and ready to go out in 2 weeks, we are currently working on the timeline drafts, finalizing the processional and recessional order and reviewing all details of their wedding day. Sadly, the future of K and A's wedding is uncertain. If they decide to move forward, based on the current EO 72 gatherings restrictions, K and A would have to uninvite 80%+ of their guests (guests who received their Save-The-Dates months ago). From a logistics perspective, we are planning the last phase of the wedding day blind as we don't know what to expect. This will require preparing a backup plan for the backup plan. While this can be somewhat challenging to an experienced event panner, this process can be an emotional roller coaster for the couple and their immediate family.
CLARIFICATION: Most wedding vendors require a signed contract and non-refundable retainer fee to lock in the client's event date and designated team to cover that event. The remaining balance is not due until 15 to 30 days prior to the event completion. While events are rescheduled or pending, final payments are still open in our ledgers.
HOW HAS EXECUTIVE ORDER 72 AFFECTED YOU?
Many of you have asked what your options are given the current restrictions, many of you have voiced your frustrations, many of you have cried over the phone, many of you have loudly stated you need your loved ones present at your wedding.
The event industry is mostly composed of small businesses. The owners of these small businesses are passionate individuals who depend on booked events to sustain their businesses – pay their office space, business insurance, etc., as well as sustain their households – pay their mortgages, buy groceries, pay for their children's needs, etc. Many of our friends, business partners and comrades have been forced to close their venues (were couples had weddings booked), to close their businesses (services couples had booked), file for bankruptcy and more. Many of these friends, business partners and/or comrades had their life savings and/or personal assets tied to their wedding/event businesses.
DISCLAIMER: Please note this is not a political blog; simply a blog to provide some answers, clarification, and guidance to our readers.
We urge our readers, our colleagues and the population of celebrants at-large to make your voices heard! ACT NOW! Contact your government officials. Contact information provided below.
Let them know that the EVENT PLANNING industry as well as CITIZENS desirous of fulfilling engagements, commitments, and celebrations important to their lives are hurting badly. Remind our local officials that there is established expertise that would entitle this industry to be regimented in a similar manner to large restaurant and entertainment venues. Why? The Event Planning Industry already has many protocols for sanitation and safety in place due to the nature of the business. It's a win-win situation because standards, protocols and safety measures have already been followed by these businesses, both celebrants and Professional Planners fulfill their contractual agreements and the State gains fiscal revenue.
Contact your Governor, Senator and Representative.
Virginia Governor
P.O. Box 1475
Richmond, VA 23218
Phone: 804-786-2211
Virginia Senators
Virginia has 2 Senators who served six-years terms with staggered elections.
703 Hart Senate Office Building
Washington, DC 20510
Phone: 202-224-2023
231 Russell Senate Office Building
Washington, D.C. 20510
Phone: (202) 224-4024
Fax: (202) 228-6363
Virginia Representatives
Virginia has 11 Representatives (also known as congressmen/congresswoman). Representatives are elected for two-year terms.
FIND YOUR REPRESENTATIVE HERE: https://www.govtrack.us/congress/members/map#address=
1st District:
2055 Rayburn House Office Building
Washington, DC 20515
Phone: (202) 225-4261
Fax: (202) 225-4382
2nd District:
412 Cannon House Office Building
Washington, DC 20515
Phone: (202) 225-4215
3rd District:
2328 Rayburn House Office Building
Washington, DC 20515
Phone: (202) 225-8351
Fax: (202) 225-8354
4th District
314 Cannon House Office Building
Washington, DC 20515
Phone: 202-225-6365
Fax: 202-226-1170
5th District
1213 Longworth House Office Building
Washington, DC 20515
Phone: (202) 225-4711
Fax: (202) 225-5681
6th District
2443 Rayburn House Office Building
Washington, DC 20515
Phone: (202) 225-5431
Fax: (202) 225-9681
7th District
1431 Longworth House Office Building
Washington, DC 20515
Phone: (202) 225-2815
8th District:
1119 Longworth House Office Building
Washington, DC 20515
Phone: (202) 225-4376
Fax: (202) 225-0017
9th District:
2202 Rayburn House Office Building
Washington, DC 20515
Phone: 202-225-3861
Fax: 202-225-0076
10th District:
1217 Longworth House Office Building
Washington, DC 20515
Phone: (202) 225-5136
Fax: 202-225-0437
11th District:
2238 Rayburn House Office Building
Washington, D.C. 20515
Phone: (202) 225-1492
======================================
Primary Sources
The information on this page is originally sourced from a variety of materials, including:
The House Website
The Senate Website
The Virginia Governor's Website