Ever since I drank my third cup of Rooibos tea in South Africa, I've been in love with the brewed, flavorful delight. I've expanded my horizons looking for other brilliant teas to try from all over the world and now have a literal cart full of choices for my family and guests to choose from whenever they want a cuppa.
So, the idea of an elegant, beautiful bridal shower featuring this hot brew for Virginia weddings seemed like just the suggestion for a bridal shower theme. I thought I'd offer you a how-to for it, too, to help make it just right!
Pick the Right Date
For hosting your bridal shower as a garden tea party, the season and weather have to be right – unless you can book an indoor venue like an arboretum or sheltered butterfly garden.
If need be, host the shower closer to the wedding date to help make sure you've got the perfect date in mind for this nature-based, elegant event.
Find the Right Venue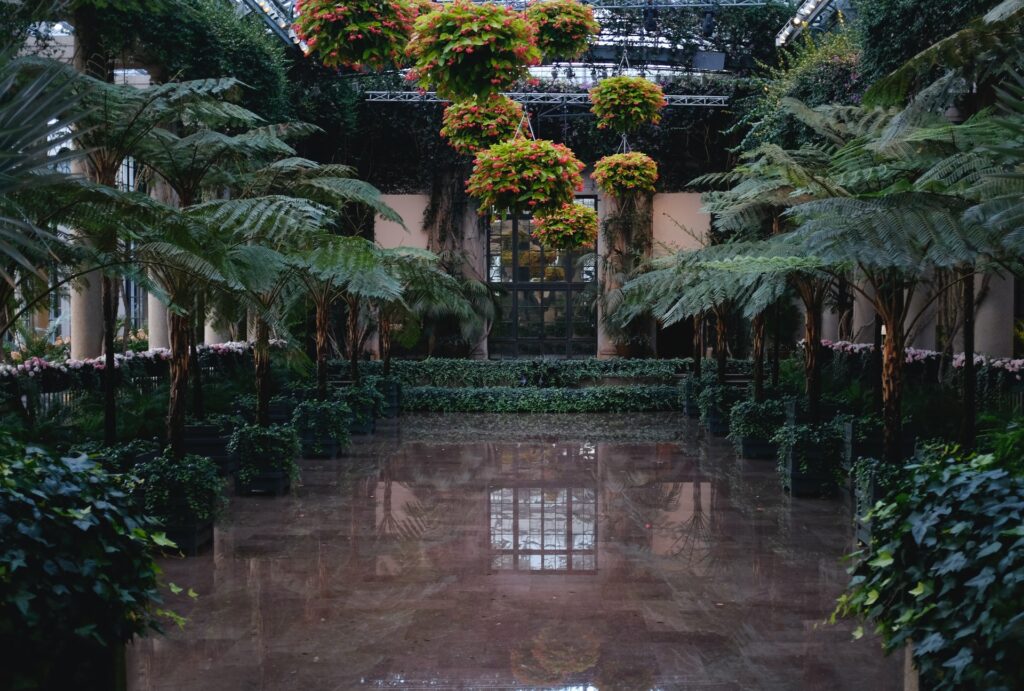 As mentioned above, the right venue is going to be key for your event. There are lovely arboretums, parks, gardens at resorts and wedding style venues, restaurants, and hotels that offer garden settings that could be perfect for your bridal shower.
Before you choose your venue, though, make sure that there will be:
Enough seating (or that you can bring in rented seating, if need be)
Some kind of shelter, in case the day turns rainy
Tables to use for service
The ability to heat up water for your tea
Refrigeration or space for coolers for food being served
Bathrooms
A sink for washing up
Drinkable running water (or bring enough bottled water!)
Access to staff in case you need assistance
Accessibility for any guests who may have disabilities
Plenty of parking nearby
Use Elegant Invitations
Once you have your date and venue set, you're ready to start planning – and get those invites out!
While the idea of this sort of party is most closely associated with British society, using an elegant invitation of any variety will work for this party. You can find some fun paper invites on a variety of sites like Zazzle or Minted or, if need be, create your own using Canva or Stencil.
Use themes that depict nature, gardens, or tea, with elegant font for best results.
Choose Your Tea
Another key component to your garden tea party bridal shower is going to be the tea selections you use.
You'll want a variety of options including black teas, herbal teas, green teas, and some fruit teas. Typically, I would recommend loose leaf tea for such an event, as well, but with the nature of such events in mind, I would generally stick to bagged teas, unless you know most folks coming are familiar with steeping loose leaf selections or someone specific will be serving all the teas.
These are some of the best teas (personally reviewed by moi):
Find the Right China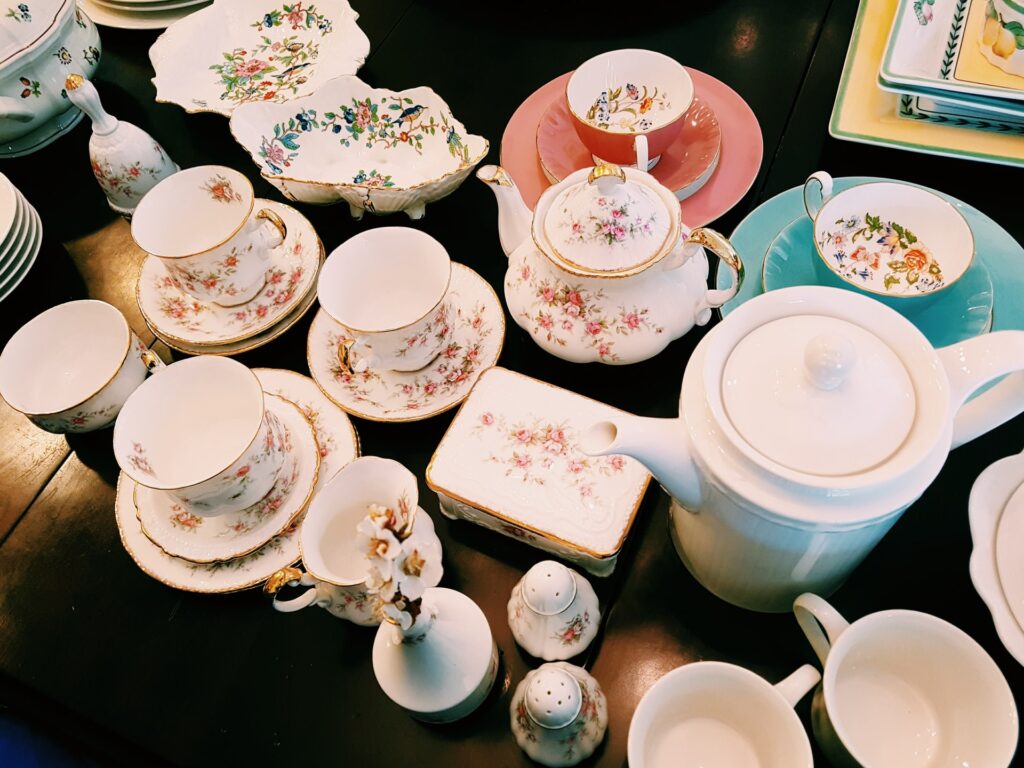 It's not truly an elegant affair unless you're using some lovely china to serve and enjoy your tea in. However, since purchasing a brand-new tea set is a bit on the pricey end (unless you're planning to give it to the bride as a gift!), I'd recommend visiting some local thrift stores to find unique pieces to have some fun with.
I'd specifically recommend looking for a collection of different teacups and saucers with dessert or sandwich plates, if possible (i.e., one teacup, one saucer, and one small plate each set). If the small plates aren't possible, that's when I'd get out paper plates or plain white china options.
If you take this approach, you've got a lovely party favor for each guest – the cups and saucers!
Choose Elegant Tea- or Garden-Themed Décor
As you prepare for the special event, you'll want to consider nature, tea, and garden themed items for your décor. If the bride, for example, particularly likes butterflies, birds, dragonflies, ladybugs, or a specific animal, this gives you a natural lean into the party theme.
If you're not aware of such an affinity, you can choose one that generally fits the bride's personality, the venue, or the theme of the venue itself. Say, for example, you're hosting the party at the local butterfly garden, the theme of butterflies would naturally flow from that. You can then choose paper napkins with butterflies on them or use tea service with butterflies. Perhaps attach butterflies to napkin rings or create a butterfly collage for guests to sign and write well-wishes for the happy couple.
Host a Tea Tasting
If you're so included, host a tea tasting at the event. This means you'll need to have several teapots going at once with the various teas to taste. You'll also want to provide small cups for the tasting rather than serving tea repeatedly in the same teacups. This could be done with small paper cups since they won't need to last past a single small serving.
The tea tasting provides an educational piece to the event (learning all about the teas!) and allows guests to decide which teas they'd like to enjoy a full cup of.
Plan High Tea Finger Foods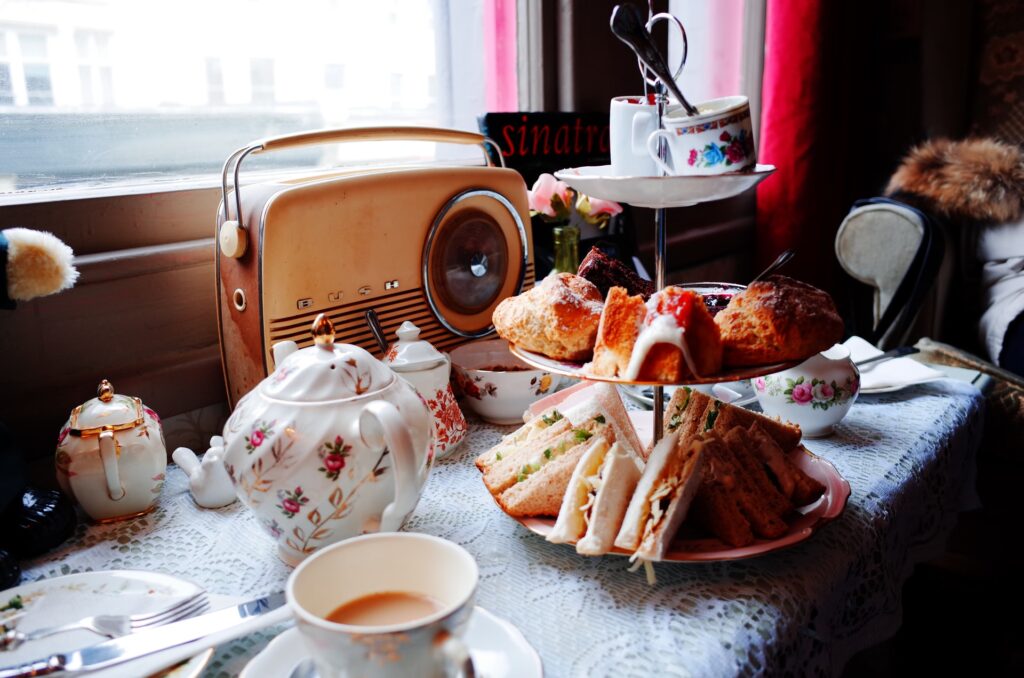 And what tea party (or any party, really?) would be complete with the right food selections?
Some of the most popular foods served during High Tea include
Finger sandwiches
Macarons
Scones
Petit fours
Mini quiche
Brownies or brownie bites
Cookies (known as biscuits in some areas of the world)
Mini fruit tarts
English shortbread
Canapes
Mini cheesecake bites
Mini cupcakes
Lemon squares
Battenburg cake
Deviled eggs