Looking for a unique getaway at a luxurious resort on the Chesapeake Bay?
Tides Inn in Irvington, Virginia has a variety of amazing events to make this holiday season memorable!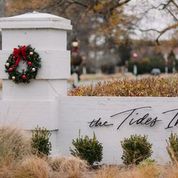 CHRISTMAS
Thursday, December 19 and Monday, December 23
APPEARANCES FROM SANTA CLAUS
Santa Claus will be visiting the View Room at the Tides Inn to greet guests, take photos and to read the favorite holiday story, 'Twas the Night Before Christmas.
Thursday, December 19 and Tuesday, December 24 at 7:30 PM
MUSICAL PERFORMANCES by the Harmonic trio Holiday Dolls
CHRISTMAS EVE
Dining in the Chesapeake with Christmas Eve specials from Chef Truman Jones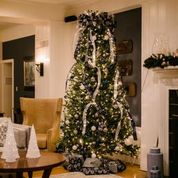 CHRISTMAS DAY
Dining in the Chesapeake 7-10 am Breakfast, 11 am-3 pm Christmas Buffet, 4:30-9 pm Christmas Dinner
NEW YEAR'S EVE
NORTHERN NECK NEW YEAR'S EVE
This New Year's Eve, celebrate in a serene setting, the  Tides Inn. Our waterfront resort presents a romantic  retreat for the New Year's holiday weekend. Start your New Year's Eve on a gourmet note with a  prix fixe dinner from Chef Truman Jones and team at  Chesapeake Restaurant. Guests will enjoy a menu of  contemporary coastal cuisine and ambiance set by a professional pianist. Chesapeake will have two seating's  on December 31: 6 pm and 8 pm. Retire to your room or suite afterward and enjoy a  leisurely New Year's Day at our resort.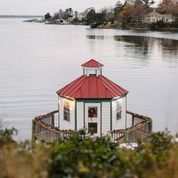 MAKER SPACE
MAKER SPACE HOLIDAY POTTERY PAINTING
November-December
This fun and artistic workshop gives you the opportunity to create your on lasting holiday memory. Guests pick their pottery piece, paint and decorate, and we will do the rest.
OYSTER ORNAMENT WORKSHOP
November-December
Marilou Bray, the Northern Neck's leading oyster jewelry artist, guides you through the creation of a fabulous holiday ornament design process.
SEASONAL FLOWER ARRANGEMENTS
November-January
Local floral designers from Cathi's Garden lead this enriching and creative workshop. Guests create a tailored centerpiece or stand-alone arrangement, designed to reflect the themes of the holiday celebrations they have in mind.
OYSTER SHELL CANDLE MAKING
December-January
With your collection of seashore keepsake shells, sea glass, or smooth stones, create a beautiful reminder of your time at the Tides Inn.
SANDY SOAP MAKING
December-January
The Virginia soap makers at Bird Song Soaps help you create a fragrance filled gift for you or your loved ones.
ANTIQUE RESTORATION
January
An antique restoration expert consults with you one-on-one about your heirlooms.
POTTERY CLASSES
BEGINNER POTTERY WHEEL EXPERIENCE, 2.5 HOURS
Join our resident pottery artist for an introduction to the pottery wheel. Arrive prepared for a rewarding experience from which you will not only take newfound knowledge but photos of your new skills.
HAND BUILDING POTTERY, 2 HOURS
Our resident potter helps you create your first (or next) masterpiece. Having allowed for proper setting time, we will box and ship this memory home to you.
HOLIDAY POTTERY PAINTING, 2 HOURS
Allow a piece of pottery to be your canvas and your imagination to lead the way. Once you have completed finishing touches on your beautiful piece of art, it will be fired, boxed and ready to take home with you.
POTTERY & PINOT, 2 HOURS
Sunday, Tuesday, Wednesday and Friday evenings from 8:00 to 10:00 pm
With your choice of a bottle of Pinot Noir or Pinot Grigio, join our pottery instructor for a hands-on beginner's class enlivened by a glass or two these popular local varietals. $100 per Guest. Guests must be at least 21 years of age.
THE TIDES POTTERY EXPERIENCE
Session One: 3 hours, Session Two: 3 hours, Session Three 1 hour
This all-immersive pottery experience guides you from an introduction to the pottery wheel through the firing process and onto the glazing of your final masterpiece. Challenge yourself to learn a new skill, create art, be inspired and enjoy the company of those who share a passion for lifelong learning.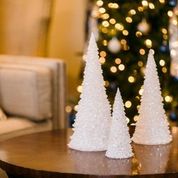 LIVE MUSIC AT THE TIDES
VIRGINIA'S JAZZ SINGER STEPHANIE NAKASIAN
Saturdays, December-January, View Room
Stephanie Nakasian is a master of innovative jazz improvisation, completely authentic with a fresh and vibrant sound all her own. Bringing high energy to every performance, Stephanie enthralls listeners with her pure tones and a flawless delivery, engaging them on a personal level with a love for the music that is playful, electric and spontaneous in story and song.
SOLO GUITARIST PAIGE MELTONE
Wednesdays, November-January
View Room
Join rising Virginian star, Paige Meltone.
HOLIDAY DOLLS
Thursday, December 19 and Tuesday, December 24
7:30 pm | View Room
This harmonic trio sings all your holiday favorites.
ADDITIONAL HAPPENINGS
WELLBEING AT THE TIDES INN
December 13-14: The Gift of Enough January 10-11: TBA
Escape to Virginia's beloved coastal resort for an all-inclusive wellness retreat led by author and master coach, Elizabeth Trinkaus.
LOCALS AND LOCAL WINE
Thursday-Sunday 4:30 pm | View Room
Dog and Oyster Vineyard owner's, Dudley & Peggy Patterson, host an extraordinary local wine tasting, infused with the stories, rumors and history of Virginia Wine. Quench your curiosity and palate.
OYSTER ACADEMY
September-December Fridays from 11:00 am to 2:00 pm and Saturdays from 9:30 am to 12:30 pm
Located on the Virginia Oyster Trail, your day begins with a brief discussion of the history of Virginia's oyster industry, oyster ecology and tools of the harvest. You will then accompany a traditional Virginia waterman by boat for a one-hour harvest excursion. After the voyage, a seasoned chef will teach you the art of oyster shucking before demonstrating how to expertly pair oysters with delicious sauces and a variety of wines. Weather permitting.
WINTER WEEKEND TOAST
Fridays, Saturdays and Sundays November-January 6:00 to 7:00 p.m.
Our vintage bar cart will appear in a special new setting each evening offering you an opportunity to discover at once a new wine or cocktail, meet new friends and capture a new photo memory.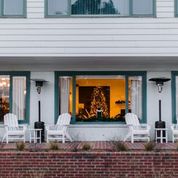 If you are planning a wedding in Roanoke Virginia, Richmond Virginia, Fredericksburg/Northern Virginia, The Shenandoah Valley, Coastal Virginia or in Charlottesville/ Lynchburg Va, we can help with your wedding planning and ideas.