It's the most wonderful time of year according to a lot of us – me in particular. Christmastime is my absolute favorite time of year. The sparkling lights, the twinkling stars on the trees, the angels and nativities, the hot cocoa and stockings – there's something incredibly magical around this time of year.
In 2006, good friends of mine invited me to their day-after-Christmas wedding. Until then, I'd never heard of such a thing. Weddings at Christmas? Well, ever since walking around the beautiful gardens where they had their ceremony, still all decked out for the holiday, I've been in love with the idea since. And since you're reading this post, I'm guessing you are, too!
Here are some of the best ways to incorporate the holiday into your wedding in subtle and overt ways, depending on your style. I hope these are helpful for you as you plan that beautiful, special, holiday magic Virginia wedding.
Christmas Décor
The easiest and most obvious way to add some Christmas into your holiday wedding is using Christmas decorations around the venues. If the venue isn't already decked out for the holidays, consider some budget-friendly choices like grabbing pre-lit trees from Walmart or even Dollar General, some sparkling ornaments and garland from your favorite shop, and candy canes for a dazzling red and white Christmas display.
You can add Christmas centerpieces (check out a post from earlier this month on DIY ideas for some ideas on these), DIY place card holders, or even get colorful with some poinsettias in your favorite shades of red, white, pink, or even purple.
Of course, adding colorful (or all one shade – white, red, green, blue – whatever color!) lights can add a lot of inexpensive, easy Christmas magic. The twinkling lights add a lot of interesting touches for photos, too, so, they're kind of the perfect way to bring the holidays home to the wedding.
You could also consider getting some mini-Christmas trees with battery-powered string lights and deck them out for your centerpieces. Grab some colorful ribbons in your wedding theme colors or cute little ornaments that match your theme and go crazy. You can even send the mini trees home with guests afterward so you don't have so many to deal with after.
Christmas Cookies!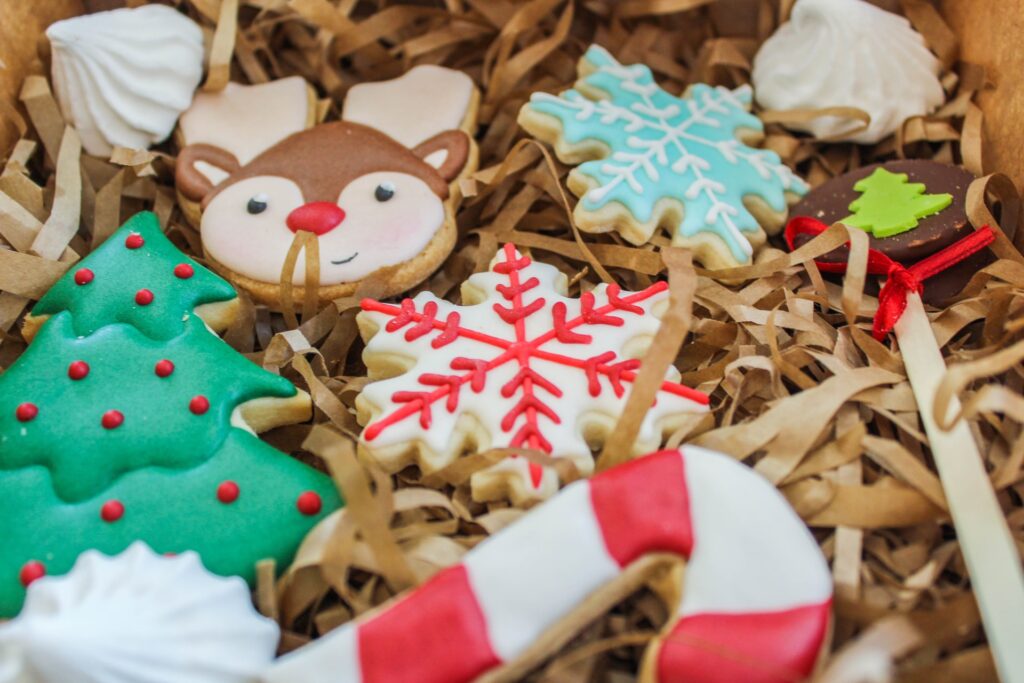 Need I say more? Well, I suppose I should.
If you've got some of the bridesmaids in town, you can whip up a bunch of sugar cookies together as a fun time together, then decorate the cookies in your favorite Christmas goodness from frosting in green, red, and white to sparkling edible glitter or sprinkles in your wedding themes.
You can also make chocolate chip cookies but switch out the chips for red and green M&Ms.
Prefer snickerdoodles? Those are great Christmas cookies, too! And don't forget, you can freeze most varieties of cookies so you can make them a few weeks ahead of time to save yourself time and energy in the days leading up to the celebration.
And if you' don't have the time or penchant, there are tons of bakeries around that most likely would be thrilled to help take the burden of baking from your shoulders for the big day.
Christmas Carols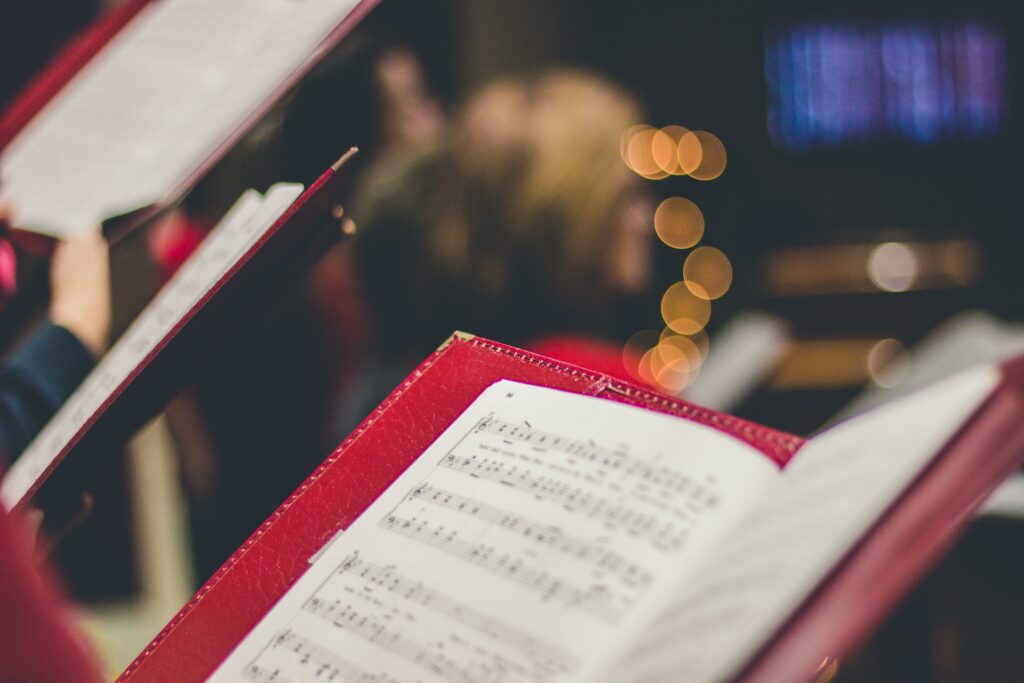 If you're like me and love Christmas music, you can incorporate your favorite carols into the wedding festival. Ask the DJ to play your favorite tunes (or avoid your least favorites!), bring in musicians to play them as part of the live band performance – or, if you have a family member or friend who does a particular carol really well, ask them to perform for the wedding reception or ceremony. I've sung a few carols in my day, and there's nothing sweeter than offering the song as a gift to people you love.
Christmas-Themed Favors
For your wedding favors, you can give any number of unique, fun, or elegant favors themed around the holidays. Some of my suggestions include:
Hot cocoa jars with Christmas tags
Personalized Christmas ornaments
Christmas shot glasses
Christmas candles
Christmas candies
Christmas potpourri
Christmas wine stoppers
Personalized Christmas mint tins
Decorative Christmas soaps
Unique Guest Book
Instead of having a standard guest book, you could commission a "Naughty or Nice List" from an artist on Etsy or someplace similar. Let them know it's for your wedding and you're looking for it to be extra fun or elegant – or whatever you're leaning into for the special list.
After the wedding, this will become one of your favorite Christmas décor pieces to have around the house, year after year, remembering those who celebrated your special day with you. And it'll make a great talking point for guests over at the holidays!