Reinvent the Wedding Menu
COMFORT FOOD IS HOME GROWN & ALL DRESSED UP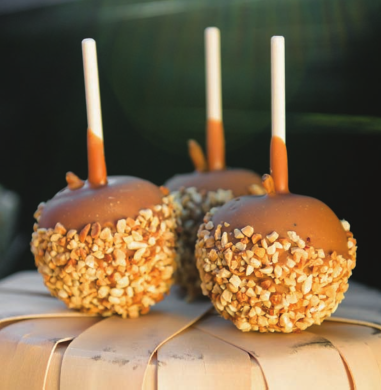 Whether you are planning a sit-down dinner for 200 or a cocktail hour for 50, the days of the standard chicken or fish are over. With many more options, brides are becoming increasingly creative with menu planning. More and more couples are putting their heads together to offer selections that reflect their personal tastes.
GET COMFY
After months of restraint all to fit into that gorgeous dress, no wonder brides
want comfort food on their special day. Whether it's lobster rolls or mashed
potatoes, these delectable guilty pleasures are quickly becoming staples on the
wedding menu. The key is to dress them up and serve smaller portions. Who
says you can't go back for seconds?
Consider serving mini Kobe beef sliders or Gruyere and Colby mac n' cheese
bites. Chicken pot pie has made a tremendous comeback; upgrade it with lobster
and the crowd will go wild. Even traditional breakfast items, like pancakes and
waffles, are showing up for dinner.
CELEBRATE LOCAL FLAVOR
Fresh food simply tastes better, so brides are requesting locally sourced options
for their menu. While there are limitations to what is available each season, the
quality of local ingredients are far superior to the alternative.
Consider the time of year you are getting married. Summer brides can look
forward to a strawberry shortcake bar; those who plan to wed in the fall can
enjoy peak-of-season Oysters Rockefeller.
Pairing local craft beers and wines with food is another creative way to integrate the
local theme throughout the celebration. Local beer samples served in petite glasses
are a whimsical way for wedding guests to experiment with several local beers.
Nearby vineyards and wineries offer a broad variety of wines for every taste.
Taking advantage of seasonal harvests and fresh flavors also drives the local
economy and minimizes carbon footprints, offering a great way to celebrate in a
sustainable, Earth-friendly way.
A MATTER OF TASTE: DIY STATIONS
Traditional sit-down dinners and buffets are still popular, but many brides are
planning much less formal affairs. In their place, couples are hosting cocktail
parties with heavy hors d'oeuvres and self-serve do-it-yourself (DIY) food
stations. The DIY approach is perfect for foodie couples that want to offer guests
a variety of options. This format also helps keep the conversation flowing as
guests move between stations and engage throughout the venue.
Cheese platters, crepe bars, and ice-cream sundae stations abound. Love Mexican
cuisine? Consider a DIY taco bar and a Margarita station. DIY stations are also the
perfect setting for unexpected desserts and sweets. Guests will have fun making
their own desserts. Brides nostalgic for campfire s'mores can invite guests to make
their own, complete with crunchy cookies, rich chocolate, and creamy marshmallows.
Colorful food stations brimming with assorted crostini, caprese salad spoons, sweet
potato martinis, crab cakes laced with Pommerey mustard, and other specialties are
a feast to the eyes—and the palate. Brides love creative stations that draw from
their cultural background or highlight fresh local cuisine. Stations enable guests to
sample different foods and the layout encourages mingling and conversation.
POUR YOURSELF INTO IT
Many brides use the menu as a platform to celebrate their heritage or
share a personal story. This extends from the food they choose to the
bar, where drinks are taking on innovative names and new personalities.
The Tuxedo and the Diamond Martini may be the perfect drinks for your
wedding. But what about personalized signature cocktails? Traditional
cocktails can be easily modified to punch up flavor and surprise guests.
Consider designing a cocktail specifically for your special day. A
cocktail with a twist on the bride or groom's name—or a silly, made-up
word that reflects the couple's personalities. This is where brides—and
grooms!—can get really creative.
Drinks don't always have to be alcoholic. Include your own favorite
signature beverages like Root Beer, or your grandmother's oldã'shioned
punch recipe served in crystal teacups.
THE NEW CUPCAKE
The traditional tiered wedding cake is still king, but it's losing ground to
a growing number of alternative dessert options.
Cupcakes and cake-pops, beware. The donut has rolled onto the
scene—sometimes in a food truck all its own. Gourmet donuts are all
the rage this season. Donut cake towers lined with every one of the
bride's favorite flavors and icing. It begs the question: are there any left
to freeze for the bride and groom's first anniversary?
If you're not a donut fan, macaroons, pie-pops, and old-fashioned ice
cream cones are also in vogue.
FOOD FOR THOUGHT
Celebrations are almost always centered around good food. It's your
wedding, so pick things that you like to eat. Have fun creating a menu
that reflects your personality and enjoy it with those you love most.