Elevate Your Summer Escape with Luggage That Really Moves You 
Fashion meets function and affordability in the all-new Voyageur Matelassé travel collection from celebrated designer Gretchen Christine Rossi
 You've been anxiously waiting all winter long, and now summer travel season is finally here. Whether your plans include palm trees or skyscrapers, elevate your escape with luggage from the Gretchen Christine Collection. Celebrate the journey as much as the destination with the chic new Voyageur Matelassé travel collection, the latest addition to the popular À la Rentrée line from acclaimed designer Gretchen Christine Rossi. With this collection, the multi-talented Hollywood celebrity, visionary and Creative Director behind the Gretchen Christine collection and GretchenChristine.com again delivers her trademark blend of durability and luxury at an irresistibly accessible price point.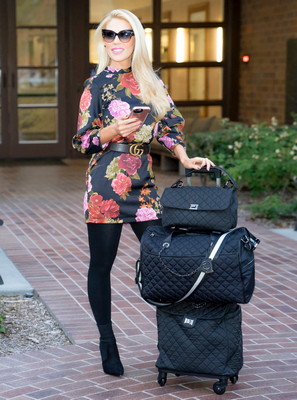 Translated from French, the name means "quilted traveler," and is a nod to the understated elegance and soft sophistication of each gorgeous piece. The Travel Purse nests perfectly atop the Travel Trolley and feature a gunmetal clasp closure with a handle and lining crafted from Rossi's signature 100 percent Vegan leather formulation. The Trolley's chain-link detailing adds movement and texture, with a sturdy Vegan leather and black woven nylon lining and a retractable top handle that extends up to three feet for easy transport. Built to follow you everywhere, the Trolley's roller wheels spin a full 360 degrees, with a bumper guard at the base to protect your precious cargo. Ample interior storage and a full zip-closure keep your belongings organized and secure, while dual exterior pockets allow quick access to your essentials.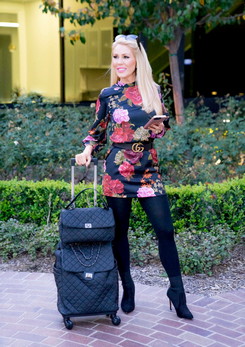 Coveted for its stunning looks and outstanding performance, the two-piece set weighs only six pounds and is available in your choice of Quilted Marble finish with metallic gunmetal-plated hardware against a brilliant white backdrop, or a finely textured Quilted Cross-Stitch pattern in classic black. Triple your storage or pack for a short getaway with the Duffle Matelassé, available in black Quilted Cross-Stitch. With convenient front and side pockets and a Vegan leather handle, this bag is both an ideal weekend companion and a perfect complement to the Travel Purse and Trolley set. An ivory stripe adds sporty flair to the detachable shoulder strap that makes traveling a breeze, while gunmetal chain-link detailing and closures make this piece an essential addition to the Quilted Cross-Stich or Quilted Marble set, pairing seamlessly with each.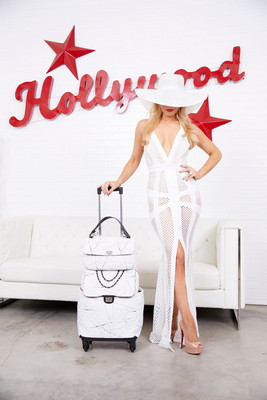 Captivate from head to wheels this season with the brand new Voyageur Matelassé collection, new from Gretchen Christine. Adventure with the Travel Purse and Trolley set for just $299 and the Duffle Matelassé for only $199. Celebrate everywhere the road may take you this summer with the style and sophistication of a superstar at a fraction of the cost. The fresh Voyageur Matelassé collection is available now, only at GretchenChristine.com.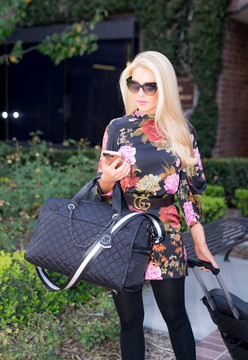 About The Gretchen Christine Collection:
Founded by "Real Housewives of Orange County" star and seasoned entrepreneur and designer, Gretchen Christine Rossi, the Gretchen Christine Collection emerged as an accessible way to help all women look and feel their best. The line exemplifies Gretchen's love for fashion, her creative talent, and exclusively features handbags designed by the star herself. The collection is part of Rossi's ever-expanding empire that includes Gretchen Christine cosmetics, hair tools, jewelry, luggage, swim and home décor. The collection carries forward Rossi's vision to offer the highest quality fashion and beauty solutions at affordable prices because every woman deserves to "look 'Red Carpet' ready without paying 'Red Carpet' prices." Discover more about the founder and her internationally successful products at GretchenChristine.com, and find the star's fashion and lifestyle insider tips on her blog at GetGlamWithGretchen.com.
If you are planning a wedding in Roanoke Virginia, Richmond Virginia, Fredericksburg/Northern Virginia, The  Shenandoah Valley, Coastal Virginia or in Charlottesville Va, we can help with your wedding planning and ideas.