Written by: Elisa Yu-Shan Lion from Exceptional Events by Elisa
Edited by: Glenda B. Winters
As a wedding planner, I have the honor of working with and being part of a couple's wedding planning journey. Weddings are the celebration of two individuals' union with their loved ones present and is as unique as each couples' likes and personalities. A big part of that journey is the food selections. Food is substance for life, an important part of cultural heritage – and in weddings, a couple's identity. Food brings families, friends and loved ones together.
In this article, I will begin by highlighting some information about wedding tastings and then offer an inside look at one couple's journey that I was privileged to be included in (shared with their permission).
First, two critical wedding realities:
The majority of a wedding's budget is allocated to food, venue, photography, and attire, closely followed by décor and entertainment.
The five top things guests talk about (whether good or bad) after a wedding are: food, ambiance/décor, the bride's dress/look, if the wedding started on time and lastly but certainly not least – the CAKE!
Some general information about wedding tastings:
Definition
During the wedding tasting, everything selected for a wedding celebration can be tasted. This tasting is usually hosted 1-2 months prior to a wedding by the venue or caterer.
Importance
Couples select venues/caters based on their experiences or recommendations from others close to them. Tastings allow a couple to see portion sizes and presentation of the selected menu as well as to taste it with plenty of time to make changes and/or adjustments to the menu.
Preparing for it
As a couple, ensure to go with an APETITE! We suggest having just a light breakfast. Have a clear idea of the desired menu selection, yet keep an open mind to unique twists. Make sure to be mindful of guests with food allergies, dietary restrictions and cultural or religious restrictions during the tasting.
What to Expect
The venue/caterer will guide the tasting process. They will share the name and ingredients of each menu selection, answer all questions, comments and/or concerns that are raised. Portions and presentation of menu selections are seen and, the best part, everything is available for tasting!
Etiquette
If the venue/caterer is already booked, the wedding tasting is a complimentary service. Additional guests such as parents or wedding attendants may also accompany a couple and be prepared for an additional cost per guest. Be honest and respectful with your feedback. Share specific, preferred tastes desired in the food selection; there are frequently several versions of each dish. Remember, a skilled culinary team has prepared every detail of the wedding tasting appointment. Give them undivided attention. You are welcome to take the food home.
Throughout my years as a wedding planner, I have had the privilege of joining several couples on their wedding tastings. Among the best wedding tastings I have attended, these places remain the top experiences: 2941 Restaurant, Falls Church, VA, The Ritz Carlton, Washington, DC, The Willard Intercontinental Hotel, Washington DC, and Zesty Gourmet (caterer). The food taste, presentation and level of customer service in these venues were unparalleled in my opinion.
I want to share a recent wedding tasting experience as seen through the eyes of one of October 2020 couples at our home venue, 2941 Restaurant. My dear and talented friend Amanda Godlove from Lux Photography documented the experience (see photos below).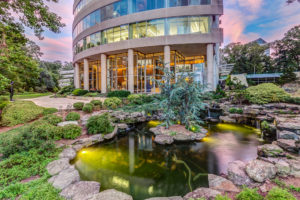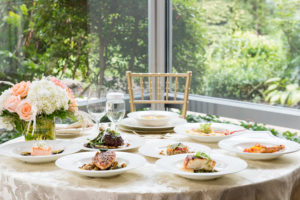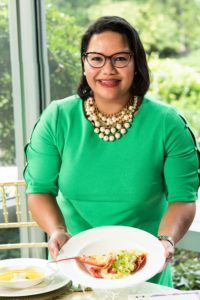 I need to pause here and clarify further about my experience with wedding tastings at 2941 Restaurant – they are by far the best in all my experiences! They focus on the whole experience – their edible art and customer service are unmatched. As far as I know, 2941 Restaurant is the only venue in Northern Virginia that prepares and executes the entire season's wedding menu for wedding tastings. (Others prepare a pre-selected menu for their wedding tastings.) For 3 straight hours, couples are served every hors d'oeuvre, appetizer, salad, and entrée for the season, paired with wines and seasonal signature beverages. Chef Bertrand Chemel's philosophy is that couples should have the options to see, smell, touch and taste all options available to them in order to finalize one's wedding menu. I COULDN'T AGREE MORE WITH CHEF BERTRAND! At the end of the tasting, couples receive a box containing 6 pieces of cake with seasonal flavors for them to take home and enjoy later in the evening with a cup of coffee, tea or their favorite beverage.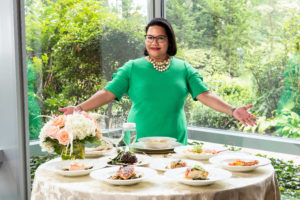 Maralei & Tim are so excited for their wedding celebration – coming up in just a few weeks! They are really looking forward to their event; and ensuring safety and comfort for their guests was a focus for them as they sat enjoyed their wedding tasting. To reflect their newly combined heritage, the day prior to their wedding, they will have a tea ceremony, honoring their elders' nurturing and supporting them in their life journeys so far. Just like selecting the menu for the wedding day, including this ceremony as part of their celebration reflects the varied and unique cultures many of our couples expect to incorporate into their event.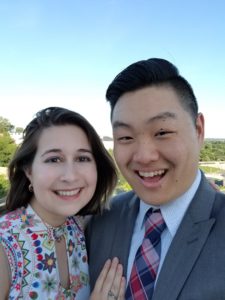 "Not only were the food and drinks that 2941 prepared for us amazing, but I was really impressed by the staff's commitment to making sure all the food was distributed to us safely- covered plates, mask/glove usage, etc. I feel confident about the safety level of our wedding given my experience at the tasting." – Maralei & Tim
And now, here is a look at Maralei & Tim's recent wedding tasting experience – in pictures – for your viewing pleasure…….
2941 RESTAURANT's FALL 2020 TASTING MENU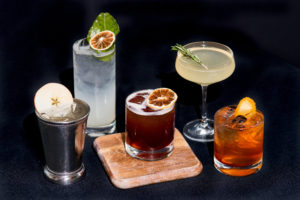 HORS D'OEUVRES
VEGAN: Shiitake & Spinach Roll
VEGETARIAN: Fingerling & Olives Pintxo, Deviled Quail Egg, Goat Cheese Vol Au Vent, Truffle Arancini, Spanakopita
SEAFOOD: Lobster Roll, Smoked Salmon Millefeuille, Tuna Tartare, Shrimp Tempura, Crab Cake
MEAT: Chicken Taco, Duck Egg Roll, Mini Burger, Grilled Lamb Loin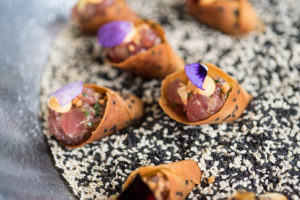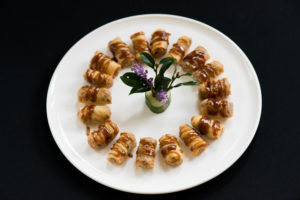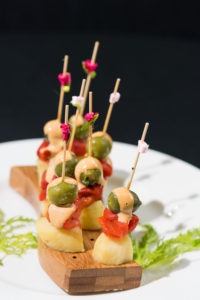 SALADS
Caesar Salad, Butterhead Lettuce, Wedding Bouquet, Fall Harvest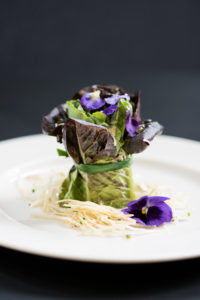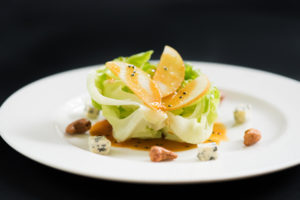 APPETIZERS
Goat Cheese Mousse, Tuna Tartare, Crab Salad, Sautéed Jumbo Prawn, Maine Lobster Thermidor, Exotic Butternut Squash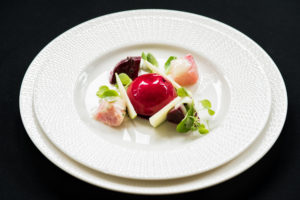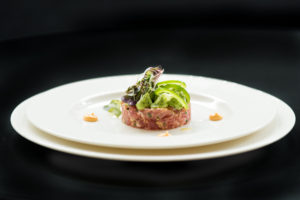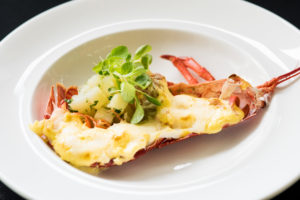 ENTREES
Fall Caponata, Miso Glazed Chilean Sea Bass, Pan Seared Salmon, Roasted Amish Chicken Breast, 8-oz Filet Mignon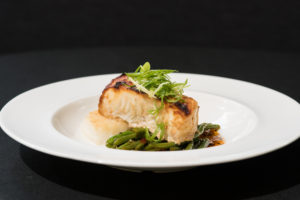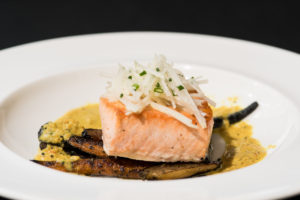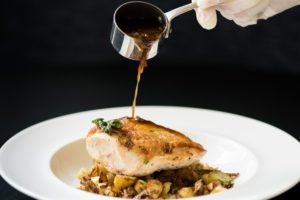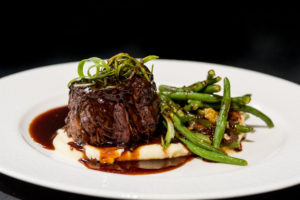 CAKE FLAVORS
Vanilla Caramel, White Raspberry, Chocolate Hazelnut, Autumn Spice, London Fog, Double Chocolate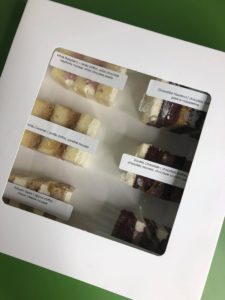 A SPECIAL THANK YOU to Maralei & Tim (one of our October 2020 couples), Executive Chef Bertrand Chemel (Executive Chef at 2941 Restaurant), Michelle Marquez (Director of Weddings and Private Events at 2941 Restaurant), Bryan Swann from Karin's Florist for preparing the table centerpiece, and to Sammy Pineda from Sammy's Rental for providing the linens for the tasting.
Elisa enjoys connecting with others. If you would like to share your wedding tasting experience with our readers, please feel free to contact Elisa at 703-752-6287, or email her at eyushan@exceptionaleventsbyelisa.com .